Please note this post contains affiliate links.
A Smoked Orange Old Fashioned is a simple yet elegant twist on a traditional old fashioned to make your next cocktail hour more memorable. The addition of orange bitters and a touch of smoke gives the classic cocktail just the right citrus note and depth of flavor!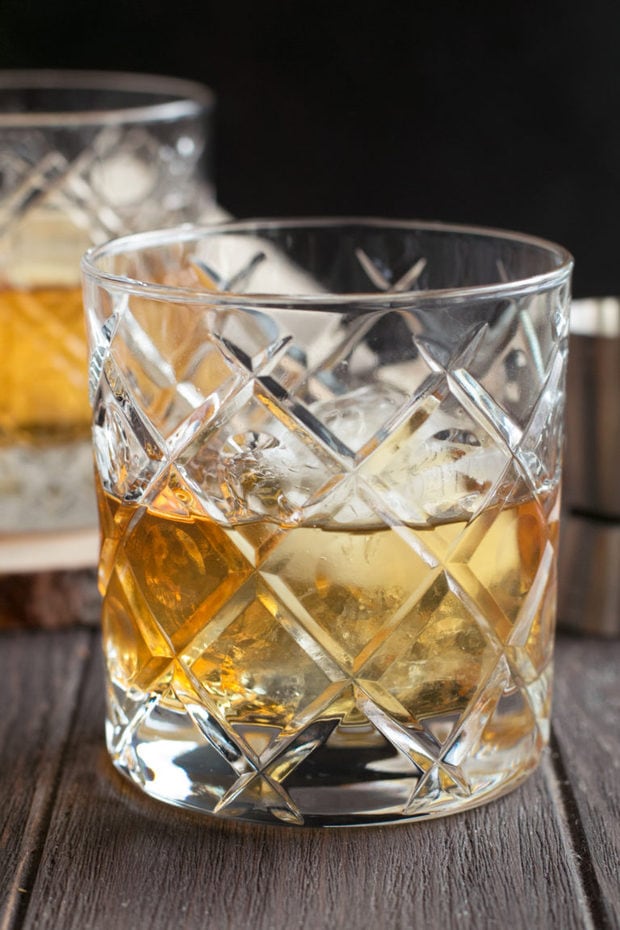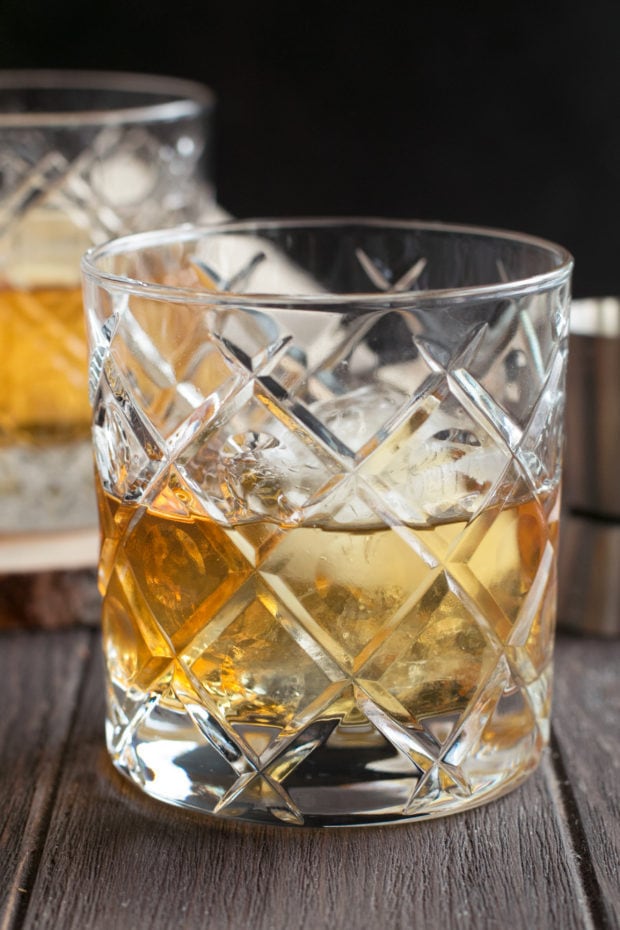 about this orange smoked old fashioned
When I went on my cruise with Carnival, I was introduced to a couple of the most amazing bartenders at the Alchemy Bar on the ship.
Two Romanian blondes who were sassy, snarky and wayyyyy too much fun to visit every night for some of the best (and wonderfully strong) cocktails I've ever had.
It was while sitting at the bar, watching these ladies work their magic, that I saw them play with fire and smoke.
When they quickly flamed an orange peel, rubbing it around the rim to add a little smoky essence, I was intrigued immediately.
So when I made it home, I started playing around with cocktails. I knew they made a whiskey drink with that bit of smoked orange peel, but it had some other elements that made it sweet. While I occasionally enjoy a sweeter cocktail, I generally prefer a strong, spirit forward cocktail with a little bitterness.
I love this cocktail because it's really simple but it's a fun twist on a classic old fashioned. It's a traditional old fashioned cocktail, but you need orange bitters instead of the classic dashes of Angostura bitters. Easy enough swap to make, right?
A little bitter, a little strong, and a touch of sweetness. Then you flame up a piece of orange peel, and the whole cocktail changes.
The smoke from the orange peel essence being lit on fire puts a smoky scent into the air. When you rub it around the rim, it gives you that scent every time you bring the glass to your lips.
The whole cocktail comes together to bring a delightfully rich depth of flavor that is irresistible.
It's perfect for a cold winter night, whether you are serving it up at a party or just coming home from a long day of work for a smart cocktail to relax with.
Cheers, friends! I hope you enjoy the fun smokey twist on this cocktail.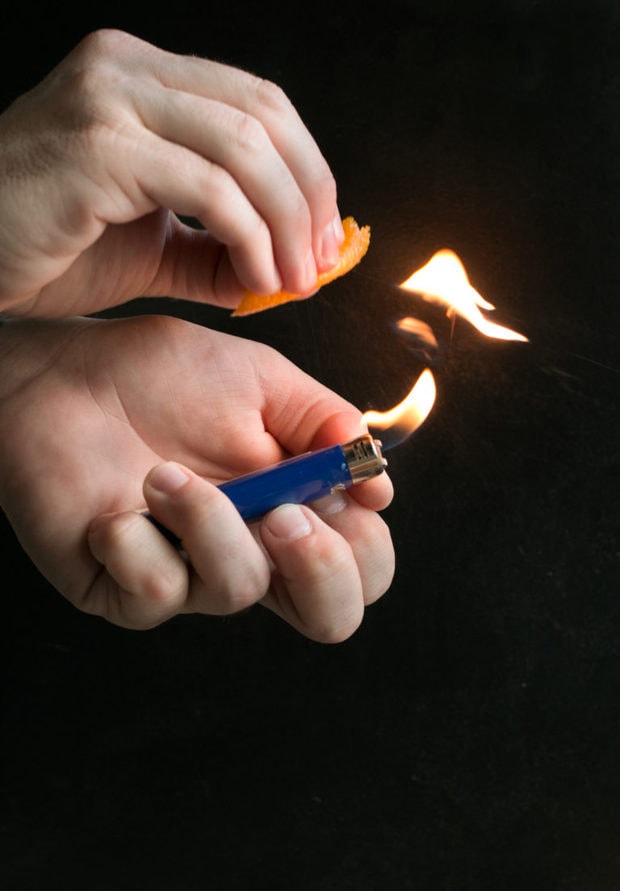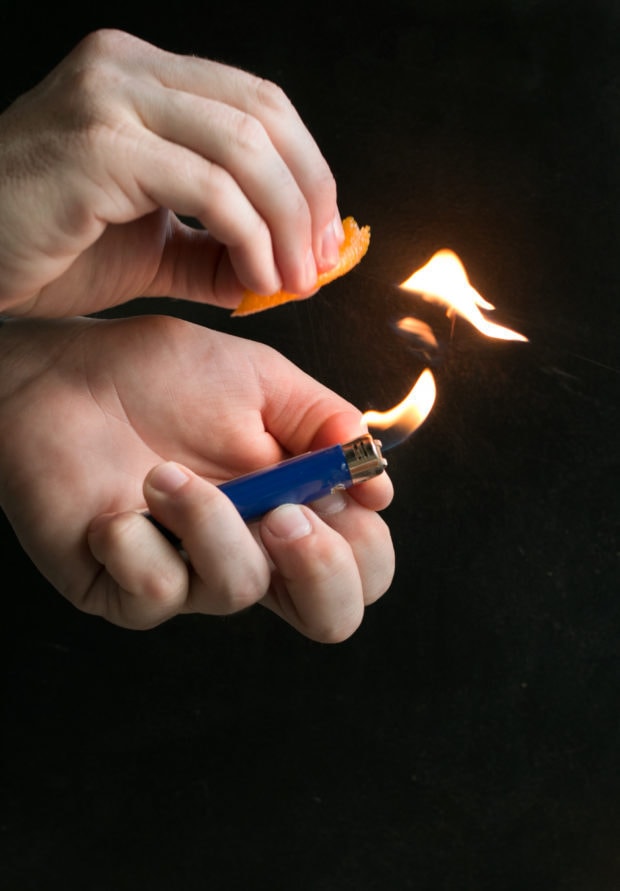 ingredients
simple syrup. you can pick this up at your local store (liquor or grocery!), but I prefer to just make it at home. All you need are equal parts water and sugar. I have a whole guide on how to make simple syrup on the site so you can get all your questions answered over there!
rye whiskey. rye whiskey is known for its peppery and spicy flavor! Compared to bourbon, it's more aggressive in flavor because of its sting on the tongue. The flavor is a fantastic pairing for the orange and smoke flavors in the cocktail. You could also use bourbon, just note that the drink will have a sweeter taste as a result.
orange bitters. a must-have for any bar cart! It's the easiest way to change up a cocktail by using orange instead whatever flavor is called for. If you don't already have it, go get it.
orange peel. Grab an orange and peel off a segment for each cocktail you plan to make.
fire. I like to use a traditional BIC lighter for making the flame this cocktail needs. Of course you could also use a match! However I find that the lighter is easier to work with and less risk of getting burned. You don't need a smoking gun or any fancy wood!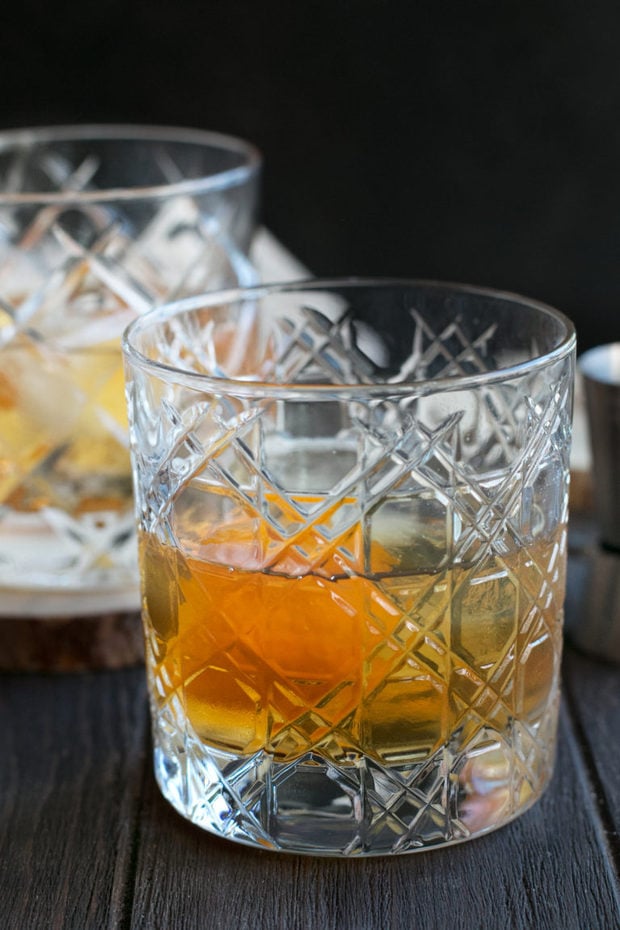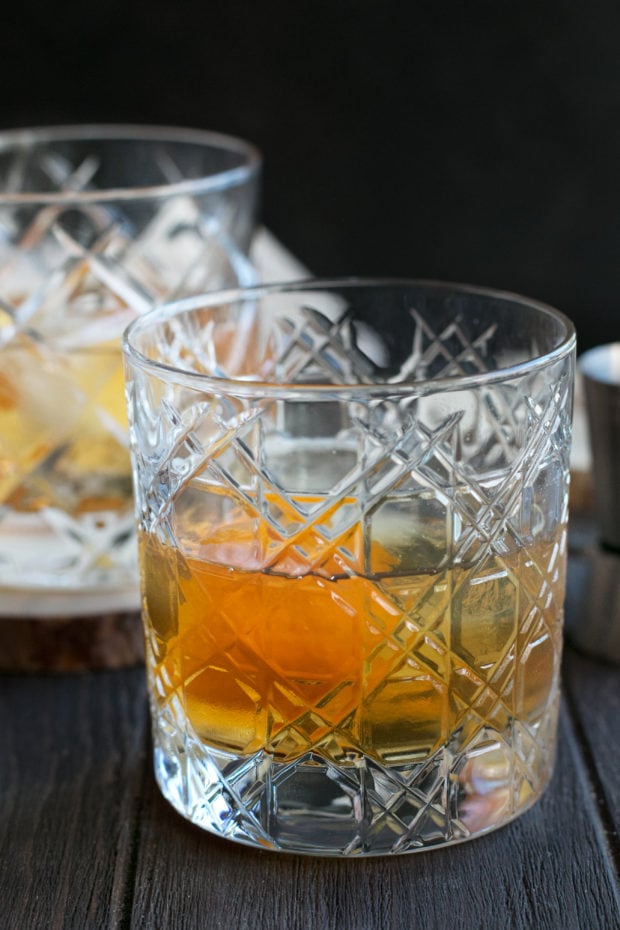 this recipe's must-haves
For this simple cocktail, you will need to start with large sphere ice molds like these. I love using these for all cocktails, because the ice melts slower and doesn't dilute the cocktail.
The cocktail is come together right in the glass, so you just need a cocktail spoon to stir it.
Finally, make sure you have orange bitters like these Angostura Orange Bitters
! If you want extra smoky flavor, look for smoked orange bitters instead.
Don't forget one of these BIC Lighters to get that smoked flavor.
here's how to make a smoked orange old fashioned
assemble cocktail
Add a large ice cube to a double old fashioned glass or rocks glass. Pour in simple syrup, whiskey, and bitters. Stir briefly.
make fire
Take a piece of orange peel and bend it between two fingers over the cocktail glass, with the outside peel facing the cocktail glass. As you bend the orange peel, bring a lit lighter to the bent exterior of the orange peel and briefly ignite the orange peel. Note that you are igniting the little juice from the peel that comes out, and not the piece of peel itself. The peel should not light on fire. Note that you should not have your face, hair, or any other body part close to the glass when using fire. There is a slight flair up that happens!
Rub peel around the rim of the glass and add to the cocktail. Serve immediately.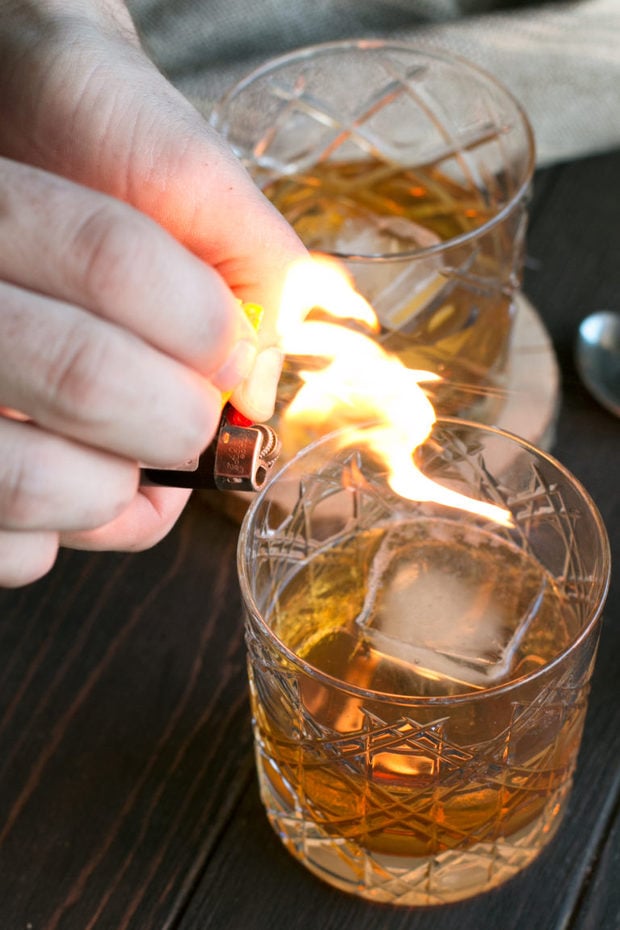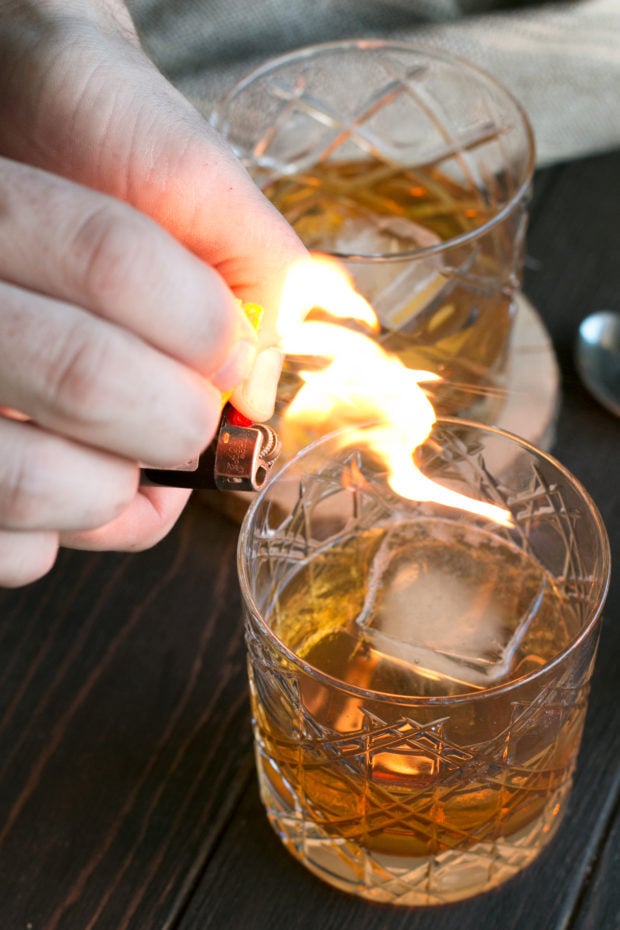 tips for success
be careful. Please be careful when working with fire and this cocktail. Be sure not to light the peel on fire – you are simply igniting the juice as it squirts from the peel. There will be a slight flare up so be sure that you don't have your face hovering closely to the glass.
try other citrus. You can use this fancy lighter trick with all your favorite citrus, like lime, lemon, and grapefruit. Use other citrus to change up the cocktail, or take this technique to use with other cocktails! The aroma is absolutely delish.
More tasty whiskey-forward cocktails to check out: Sparkling Whiskey Sour | Jameson Whiskey Sour | Cherry Whiskey Smash | Apple Whiskey Sidecar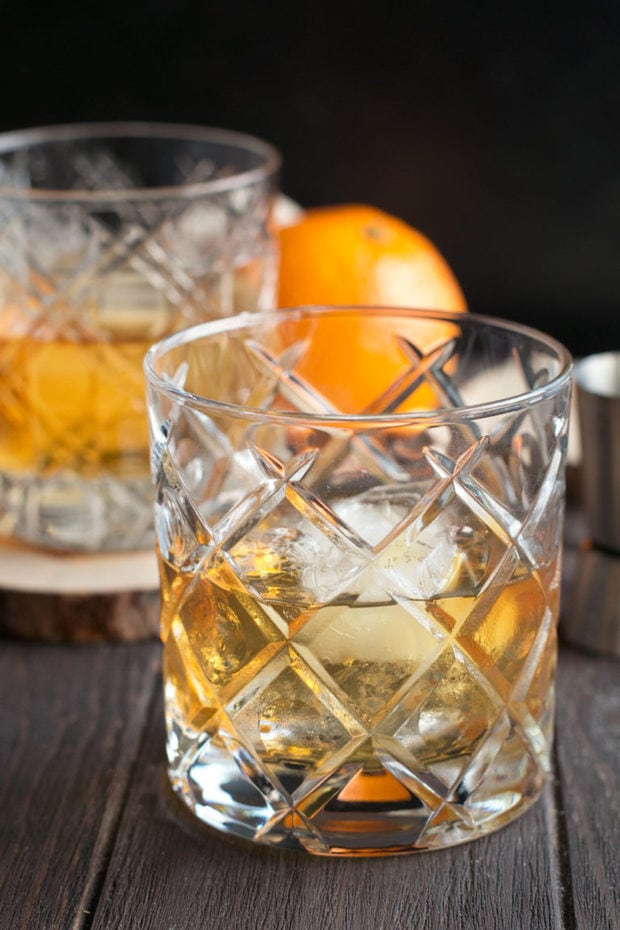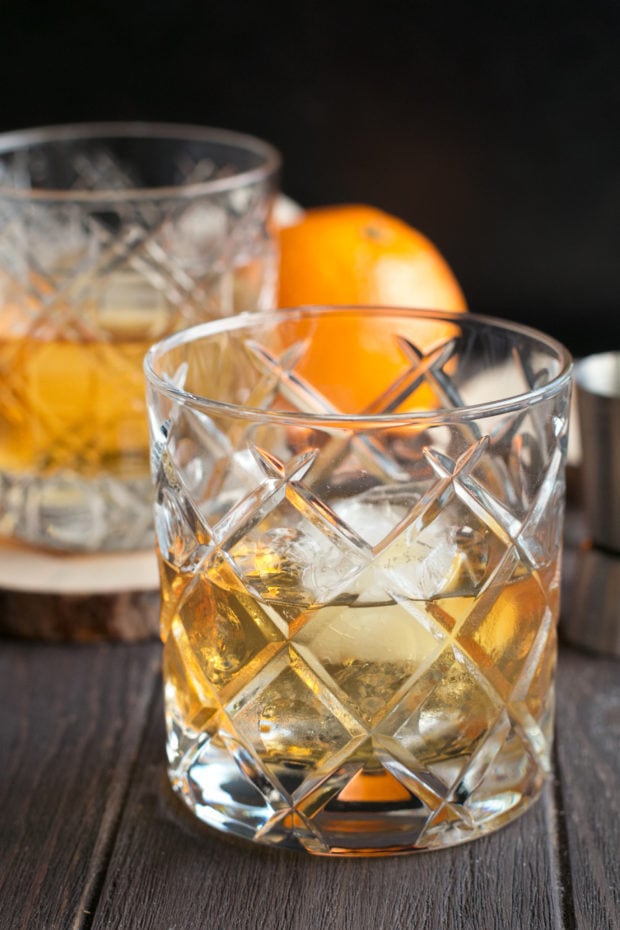 do I need to use wood to create smoke?
The point of this smoked old fashioned cocktail is a little different than the classic smoked old fashioned cocktails you see out there. The smoky element comes from igniting the juice expressed from the orange peel.
If you do happen to have a wood piece that's made to smoke a cocktail glass, you can definitely use that to add another layer of smoky flavor to this cocktail.
can I use bourbon?
If you prefer bourbon whiskey over rye, you can definitely use it in this cocktail. The cocktail will be a bit sweeter if you keep all the measurements the same, though. Therefore, when I'm using bourbon to make this cocktail, I like to cut the amount of simple syrup used in half.
Need more inspiration for cocktail hour? Check out my cocktail recipes page!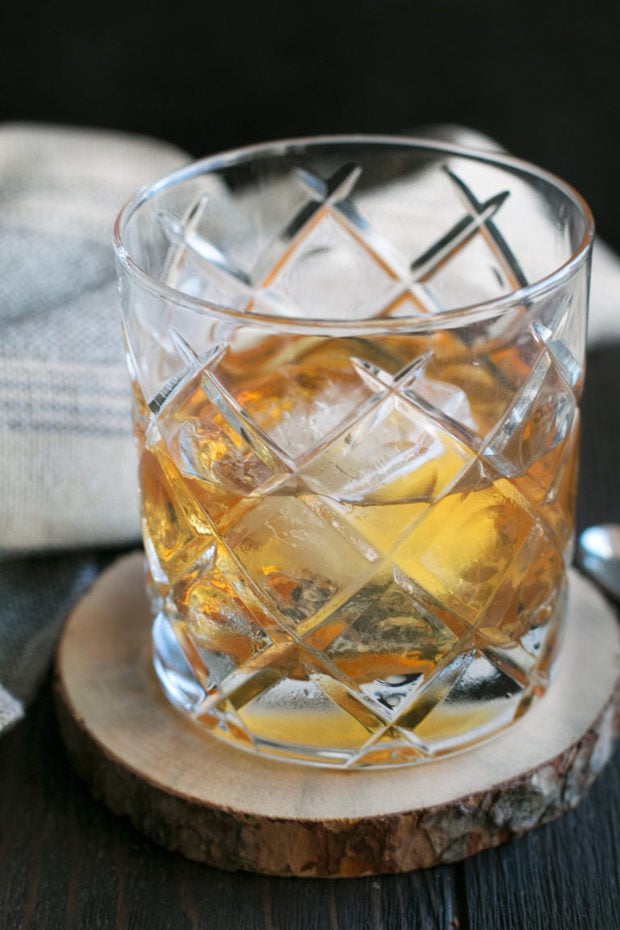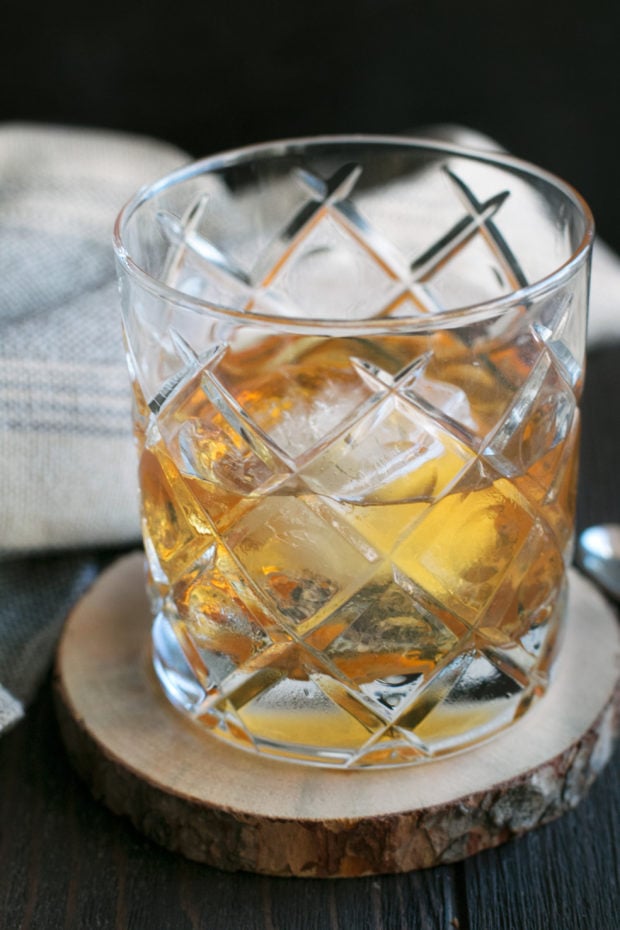 what to serve with a smoked orange old fashioned
When it comes to serving this smoked old fashioned cocktail with food, you can bet that I am going to go for something straight off the grill. I love when the flavors in a cocktail complement the flavors in the food that I'm eating!
Here's some favorite recipes to consider pairing with this cocktail, depending on the occasion:
For more delicious on the rocks cocktails, you can explore the full list here.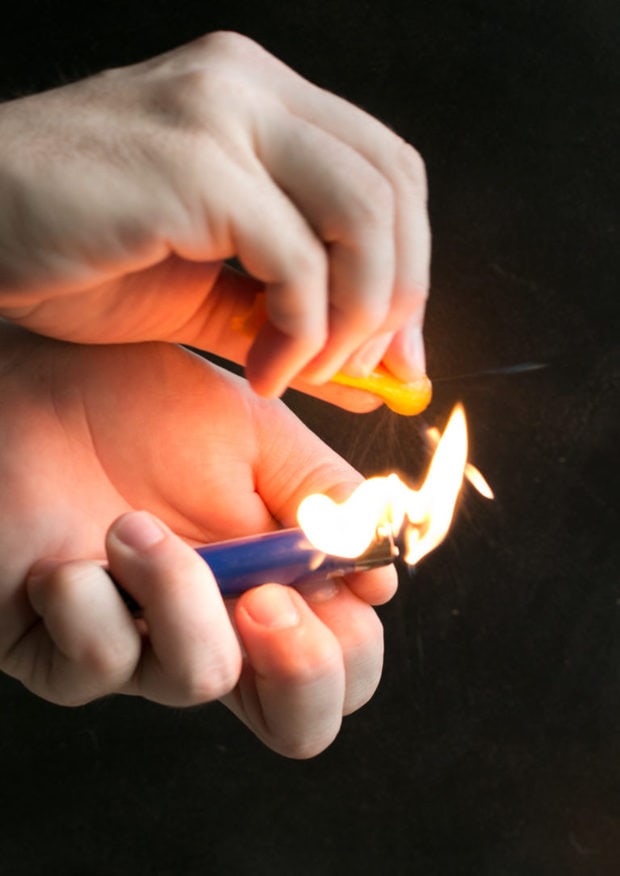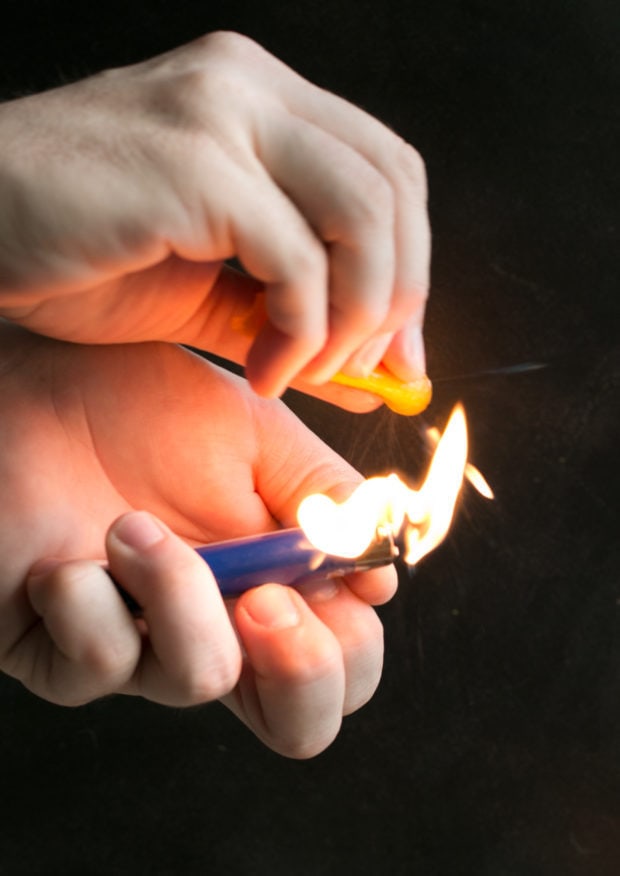 Finally, if you make this smoked orange old fashioned recipe, please be sure to give this recipe a rating or leave a comment! I love to hear when you all make recipes. I do take the time to respond to every single comment. Feel free to drop questions below too, if you have them!
Oh and be sure to tag me on Instagram if you make the recipe! I love being able to see these recipes come to life in your homes – it's my favorite thing to look through those photos. It really means the world to me!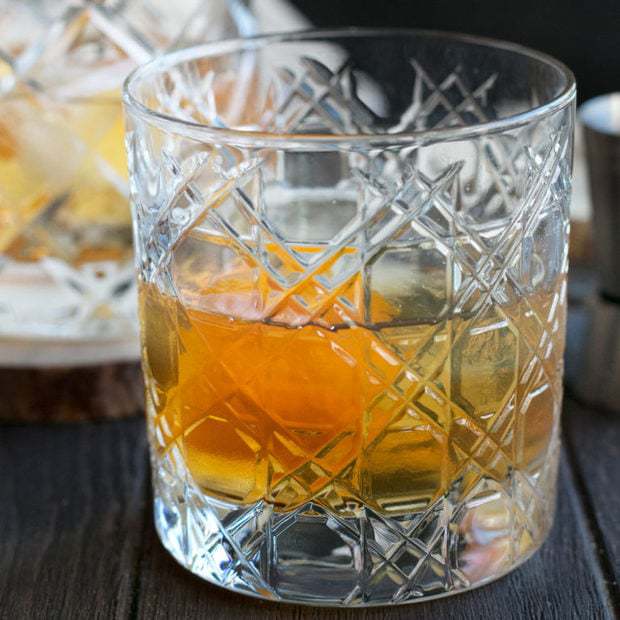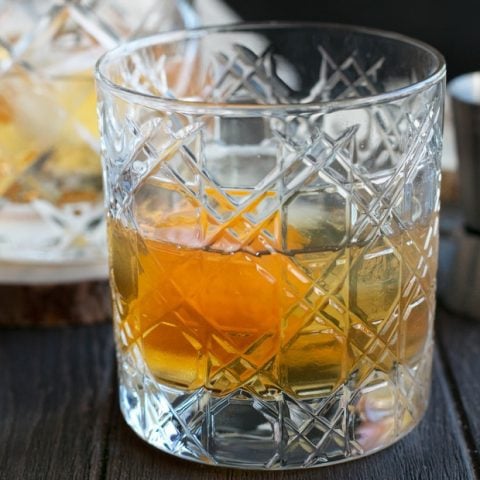 Smoked Orange Old Fashioned
Give your traditional old fashioned a orange twist with a surprising subtle note of smoke!
Ingredients
1/2 oz simple syrup
2 oz rye whiskey
2 dashes orange bitters (or smoked orange bitters if you can find them!)
Orange peel
Fire (i.e. a lighter or match that can make fire)
Ice
Instructions
Add large ice cube to a rocks glass.
Add simple syrup, rye whiskey and bitters to the glass.
Stir briefly.
Take a piece of orange peel and bend it between two fingers over the cocktail glass, with the outside peel facing the cocktail glass. As you bend the orange peel, bring a lit lighter to the bent exterior of the orange peel and briefly ignite the orange peel. Note that you are igniting the little juice from the peel that comes out, and not the piece of peel itself. The peel should not light on fire.
Rub the peel around the rim of the glass and drop into the cocktail. Serve immediately.
Recommended Products
As an Amazon Associate and member of other affiliate programs, I earn from qualifying purchases.