Please note this post contains affiliate links.
Pear Moscow Mule is THE fall ginger cocktail you need to be drinking right now. The pear and ginger combination is perfect for cozying up with as the weather starts to cool off.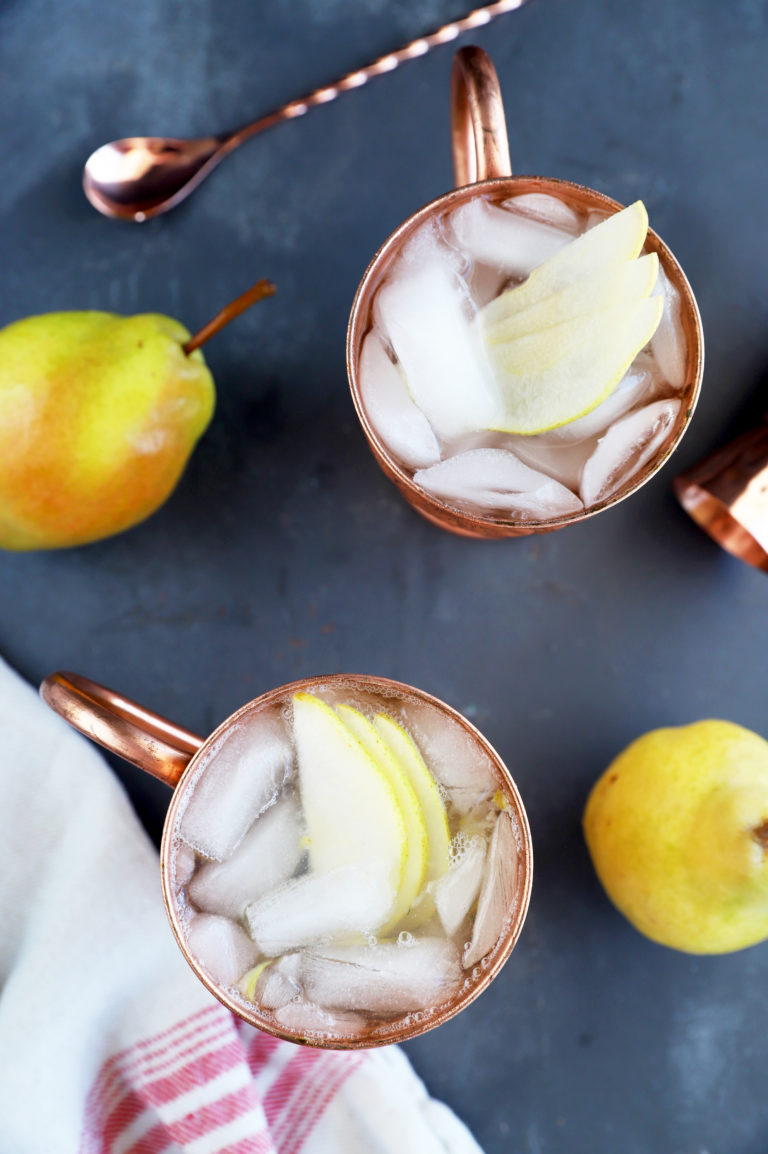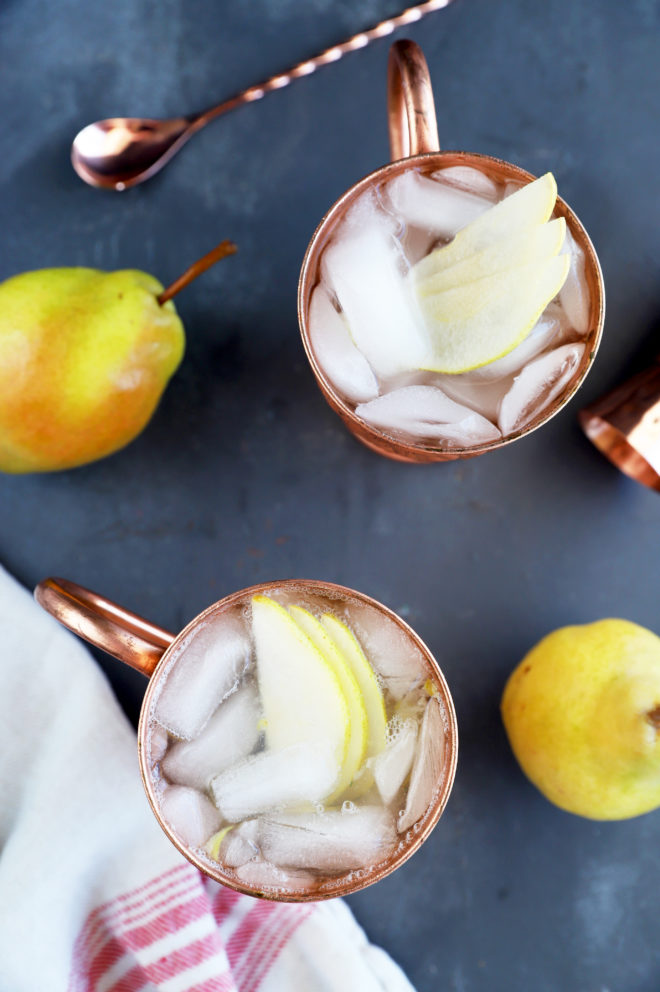 You know when you find a cocktail that you love and you get into a serious groove with it? That's exactly where I'm at with this pear moscow mule right about now.
Starting my night off with a crisp gingery, bubbly cocktail is becoming a habit for me. With my drinking habits I suppose it's more of a craving. I am constantly getting distracted by other shiny boozy things. Plus I keep running through ginger beer at a pace that is a little bit ridiculous.
I can't help it though! The ginger, the bubbly bite, I don't even need any booze in it to enjoy sipping on it.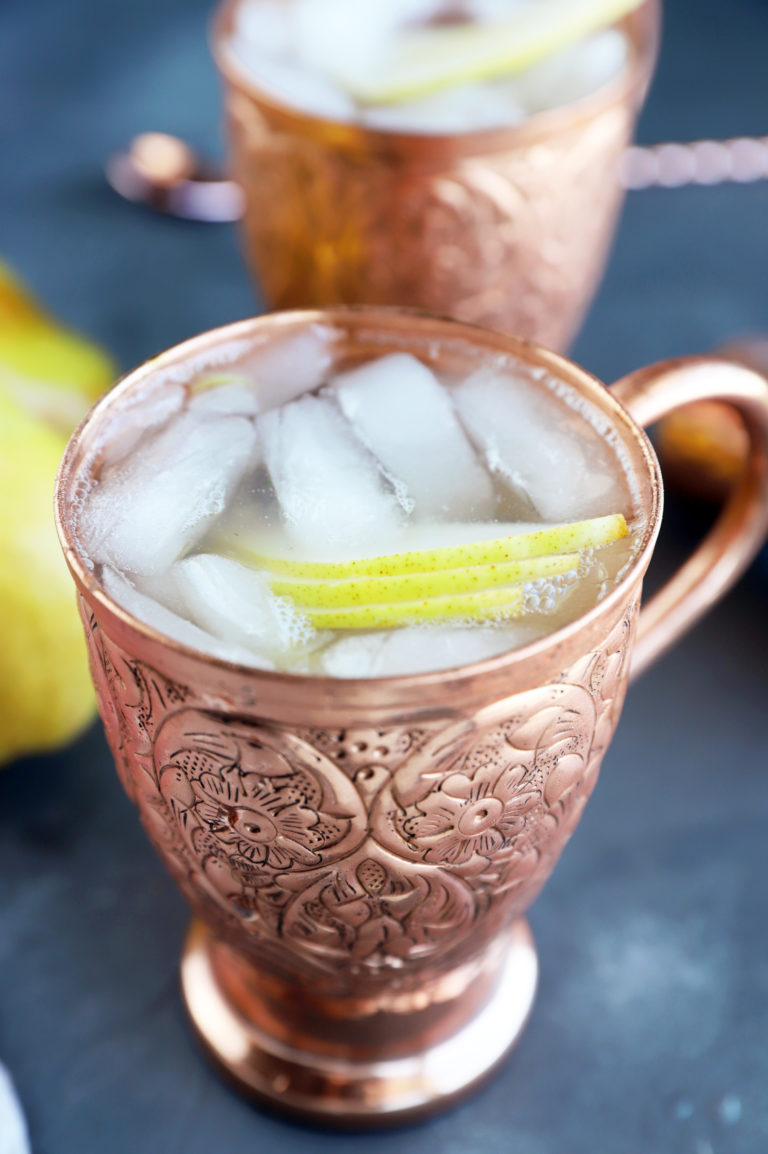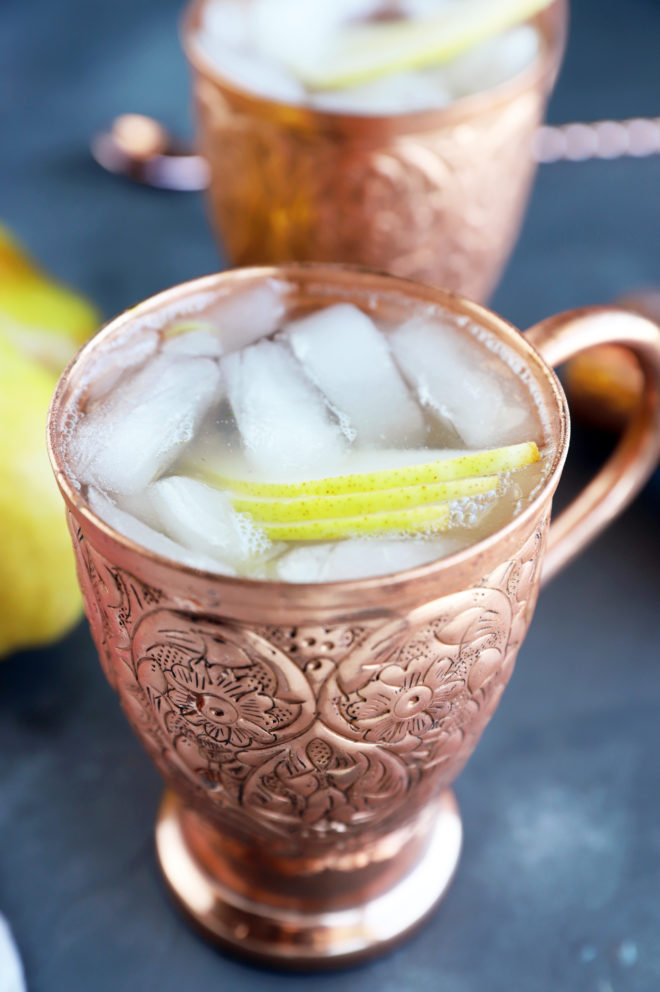 Note: this post is an updated version of the original posted on September 8, 2016.
But let's be real, it tends to be so much better with booze doesn't it? Especially when you're adding fresh fruit to the mix.
I can't lie, this week is a wee bit intense for me so I'm kind of having trouble thinking of what to tell you right now. It's like writer's block, except there's tons that I could tell you about – like the fact that we finally launched the new site or that I've got a fun new challenge popping up over on Instagram in the very near future – but I just can't seem to tap into the creative juices. All of the stuff is right here at the surface, ready to share, and I am just staring at my computer screen like a halfwit. I think I could probably use another 10 hours of solid sleep to reset my mind.
I'll be back to better functionality next week, I swear. For now, just appreciate the deliciousness that is this cocktail and kick back with me while I delve further into binge-watching The Witcher because OMG IT IS SO GOOD.
Need more inspiration for Thanksgiving? Check out my Thanksgiving recipes page!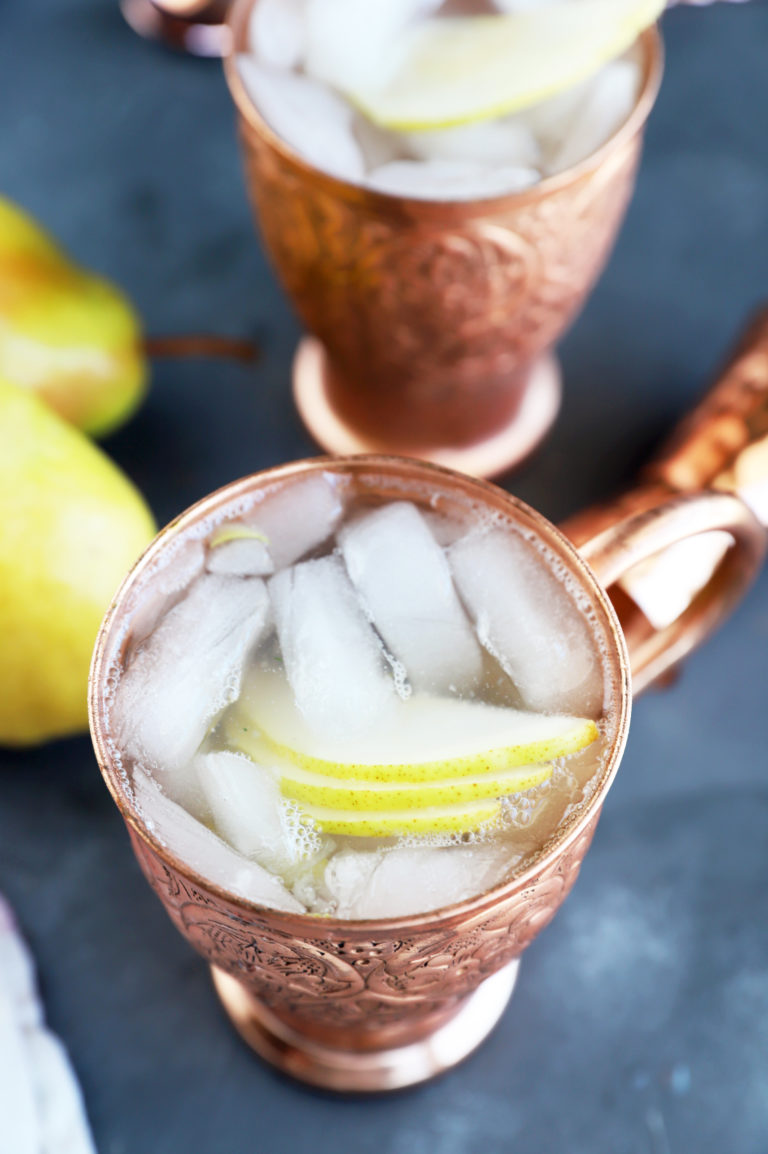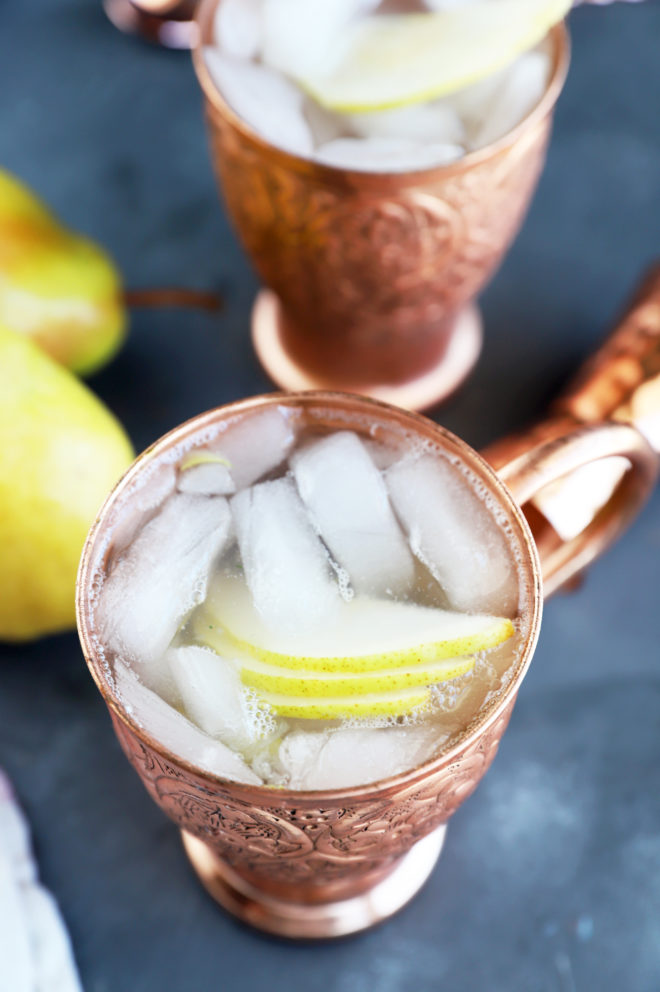 this recipe's must-haves
For this cocktail, you will need the standard barware. This includes a cocktail stirring spoon, a muddler, and a jigger.
I always recommend having a set of standard moscow mule mugs on hand for all your moscow mule needs! Of course, if you want to get the look you see here, check out these gorgeous (and totally affordable, btw) floral moscow mule mugs.
ingredients
vodka – when it comes to choosing a vodka, I always say pick the best vodka that is in your price range. Since you are using this vodka in a cocktail, there's no need for it to be the top end that you might use for a martini where vodka is the star of the show. I recommend Tito's or Absolut (splurge for Absolut Elyx if you want to!).
pear – there are so many different varietals of pears, but my go-to's for this recipe are bartlett (green) or bosc (brown). Both bring their own unique pear flavor to the cocktail and blend beautifully with the ginger beer.
lemon juice – I always prefer fresh lemon juice, especially for cocktails. While I will reach for the bottled stuff from time to time, when it comes to making cocktails, fresh is ALWAYS better.
ginger beer – for those of you who are unfamiliar, ginger beer isn't actually beer. It's a non-alcoholic beverage that's bubbly and has a big kick of ginger. I prefer brands that are spicier with a big kick of ginger like fever-tree ginger beer. However, if you prefer less spice, there are other brands out there that you can defer to like bundaberg ginger beer.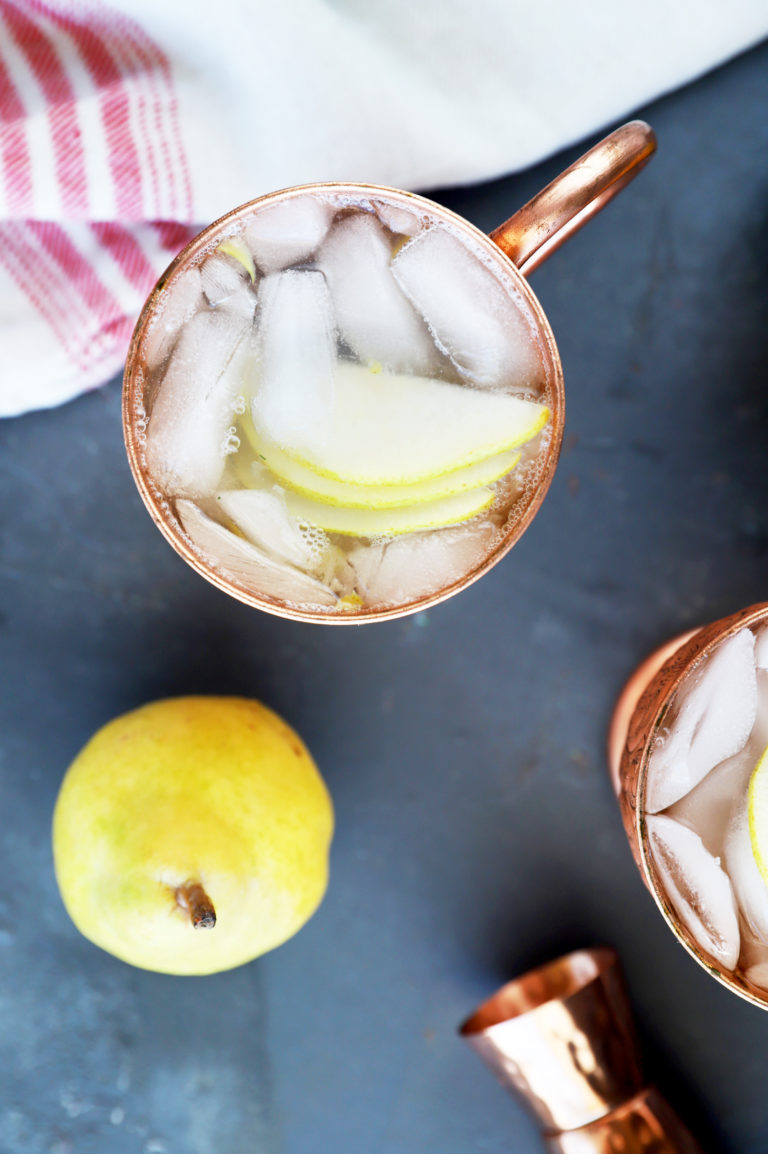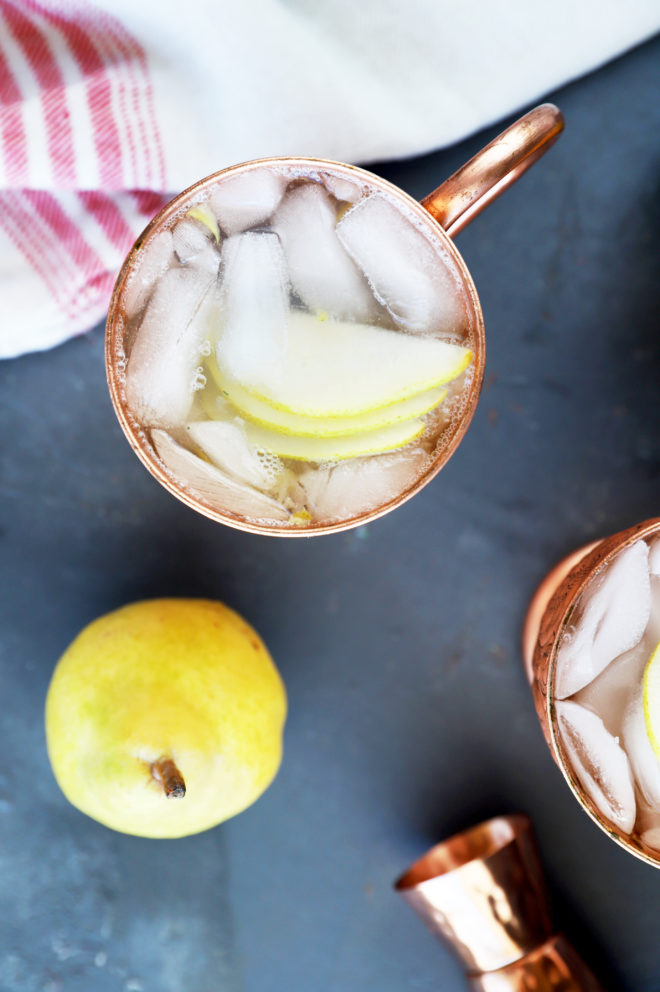 let's make a tasty pear moscow mule!
Muddle
To make a pear moscow mule, start by muddling together the fresh pear and lemon juice.
Add Vodka
Stir in vodka and top with ice.
Finish
Top with ginger beer and give everything a final stir. I like to top mine with a fan of pear slices as you see here, but one pear slice or a lemon wheel is great too!
what type of alcohol is in a moscow mule?
For this moscow mule (and the classic moscow mule), we are using vodka! As I described above, I like to recommend grabbing a bottle of whatever brand is best within your budget. This is usually Tito's or Absolut, but I also really like Headwind if you are looking for a smaller distillery.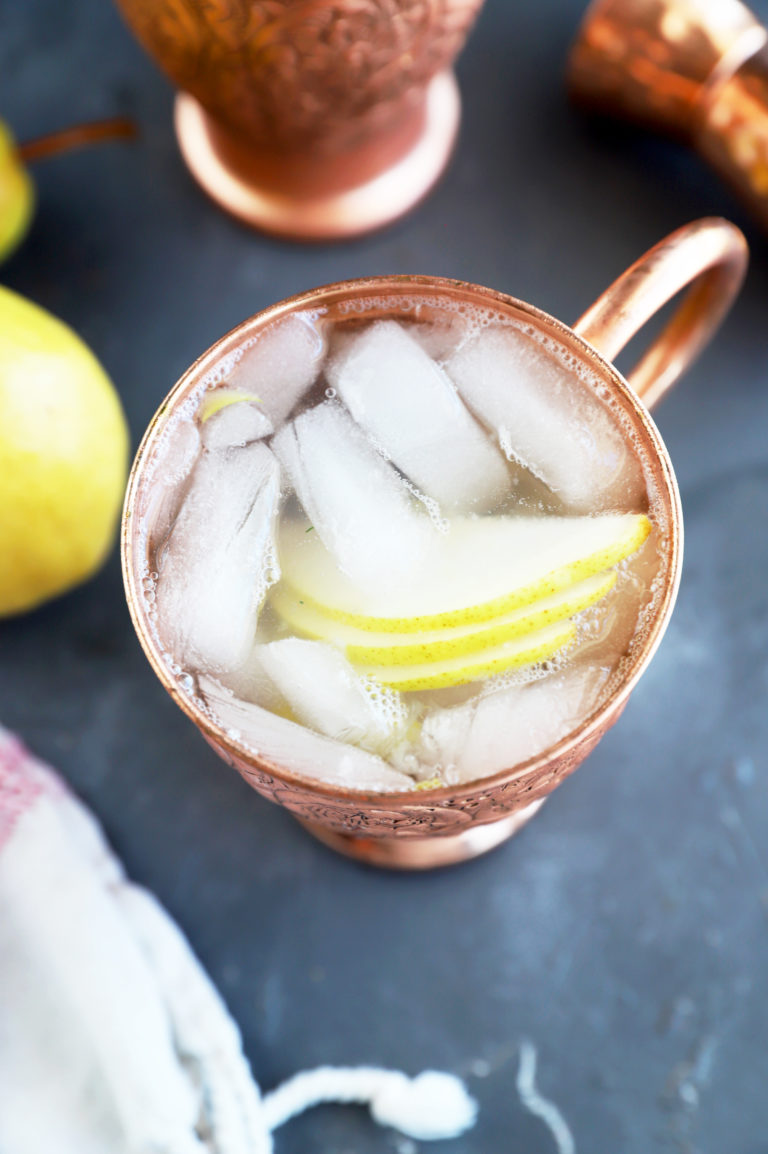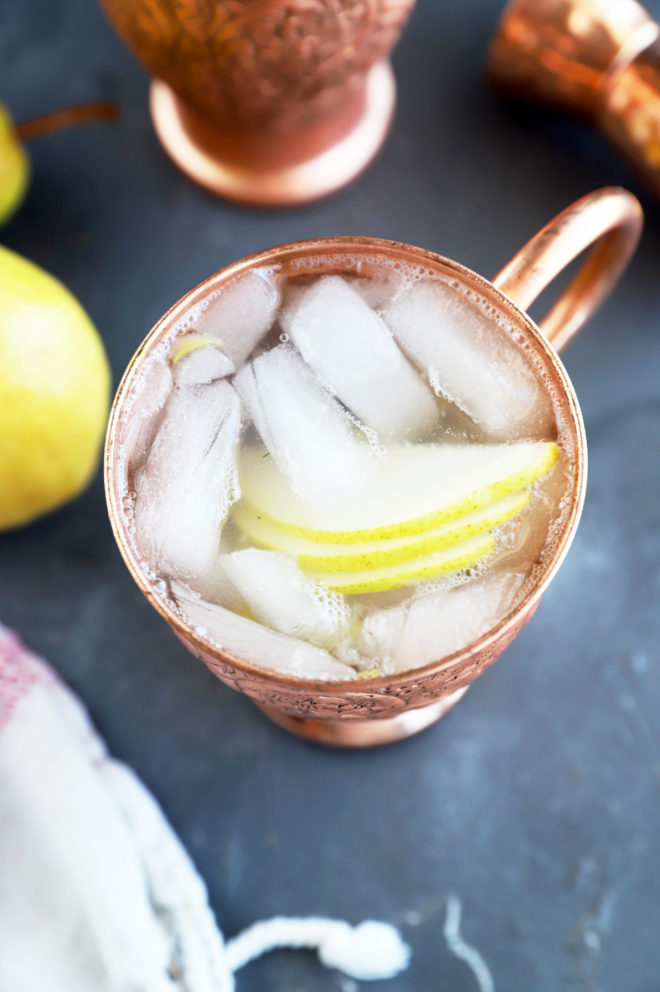 what goes well with moscow mules?
Ginger is so often including in classic Asian food cuisine, so a drink with ginger beer is a fantastic matchup for this pear moscow mule. The cooling element of the moscow mule is especially tasty when paired with spicy food! Here are some of my favorite Asian-inspired recipes to start with:
Miso Glazed Sriracha Burgers with Asian Cucumber Pickles
Sriracha Glazed Salmon with Asian Avocado Salsa
Teriyaki Pulled Pork Bowls with Mandarin Salsa
If you aren't feeling Asian flavors at the moment, turn to a seafood recipe! The light and neutral taste that seafood usually has is a great protein to pair with the flavors in this moscow mule. Here are a couple I love to pair with this cocktail!
seasonal tip
Choose the best ripe blackberries! Make sure that the blackberries are dark purple-black all over. Don't be afraid to open the container to check behind the label. The berries should be plump and large because these are the sweetest. Be sure to check for any signs of mold as well. Once you get home, wash the berries well before using them in this recipe or enjoying on their own!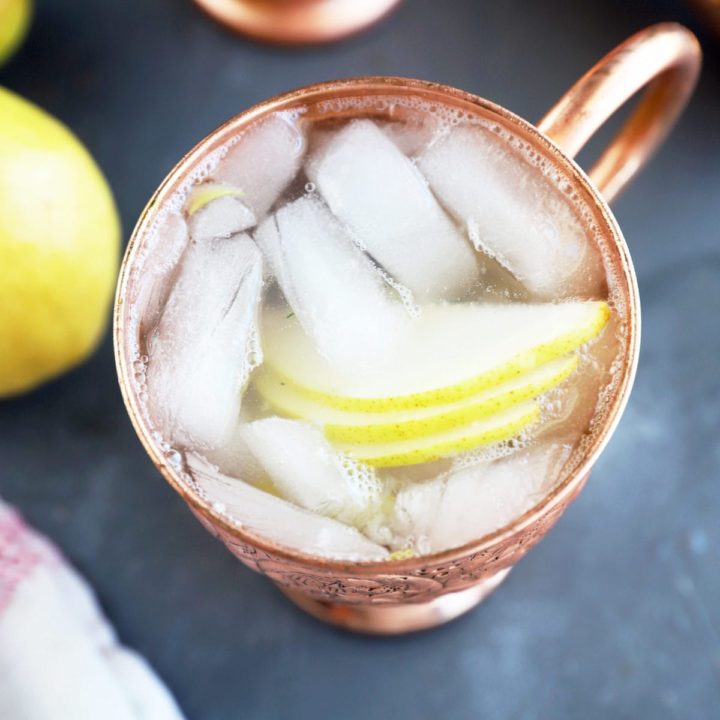 Pear Moscow Mule
The combination of pear and ginger in this cocktail is a fun update to the classic Moscow Mule!
Ingredients
1/2 pear, roughly chopped
1 oz fresh lemon juice
4 oz vodka
8 oz ginger beer
Instructions
In a copper mug, muddle together pear and lemon juice.
Pour in vodka and stir to combine.
Fill the mug with ice and top with ginger beer. Give it a quick stir and garnish with a pear fan.
Recommended Products
As an Amazon Associate and member of other affiliate programs, I earn from qualifying purchases.