The Dumpling Galaxy Cookbook + Spicy Beef Dumplings is the key to becoming a dumpling master in your own home. From totally approachable instructions to incredible flavors, this book is going to be a staple on your shelf. Just try the Spicy Beef Dumplings recipe and you'll see for yourself!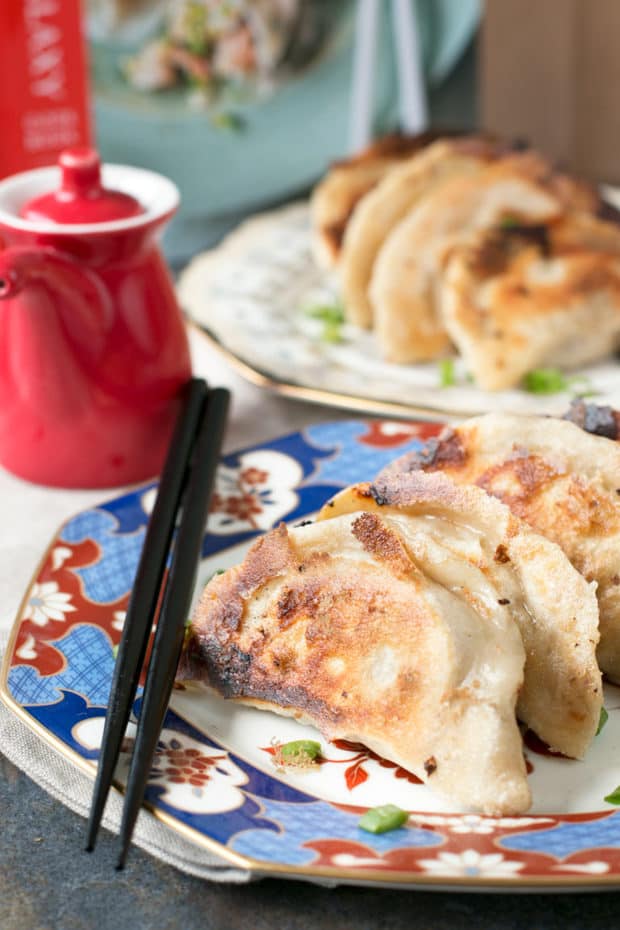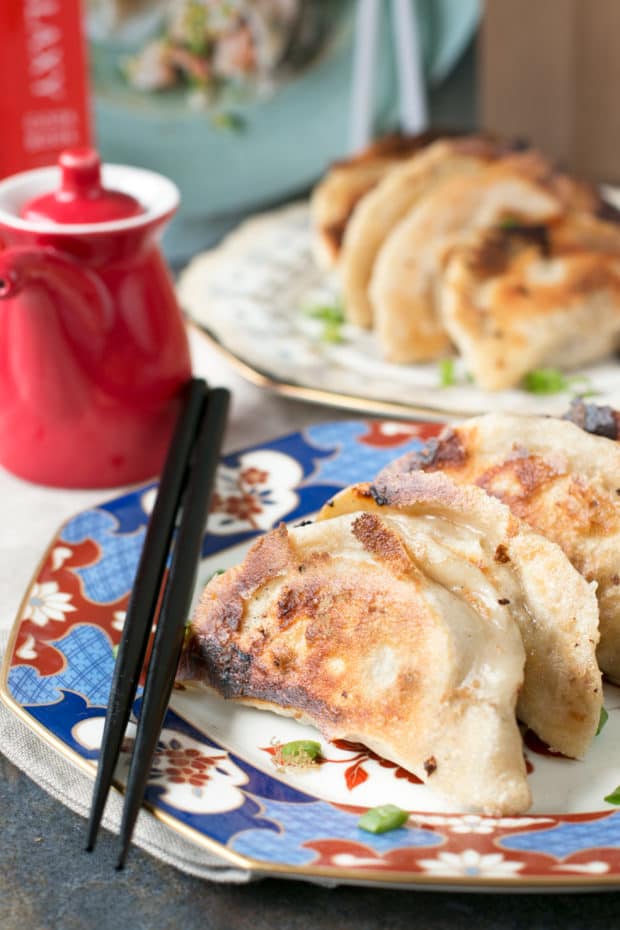 Please note that some of the links below are affiliate links. If you make a purchase through one of these links, I will receive a small commission. Thank you for supporting Cake 'n Knife!
Whenever I order in from our favorite Chinese/Thai place, I ALWAYS make a point to get dumplings.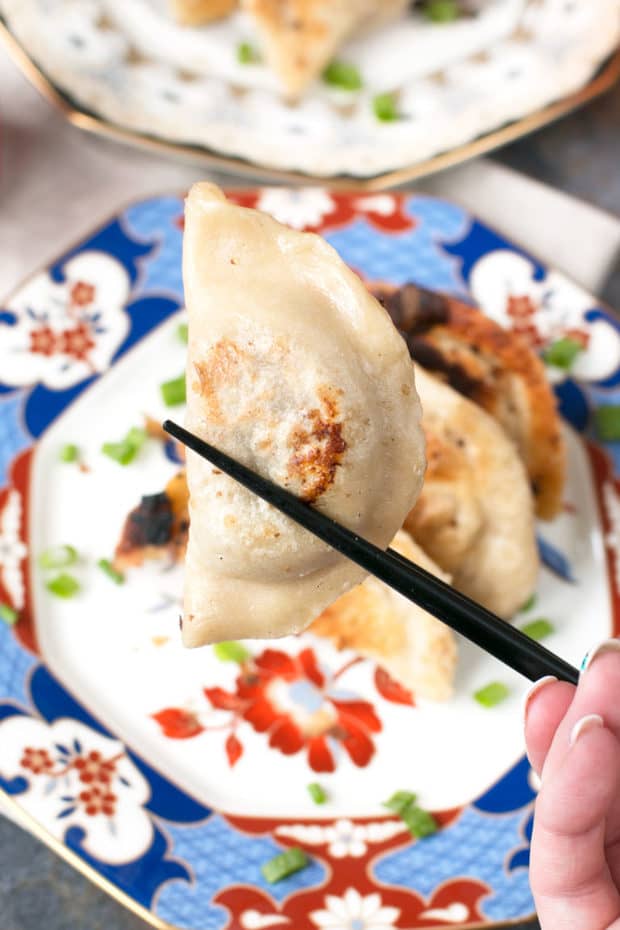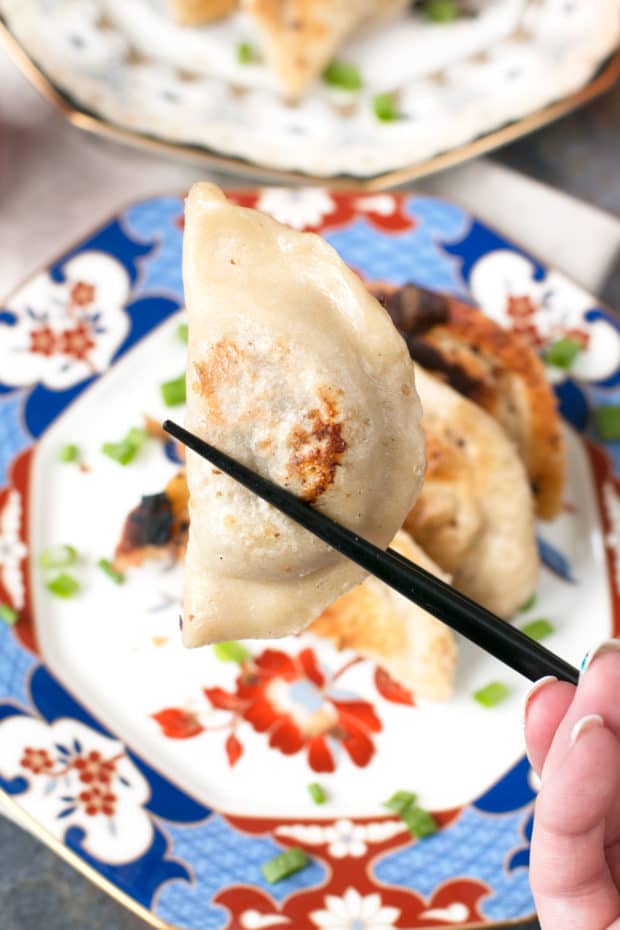 I am a wee bit obsessed with them, and yes, I totally base my opinion of any takeout/delivery place on their dumplings.
So when I stumbled up on The Dumpling Galaxy Cookbook, I knew I had to have it.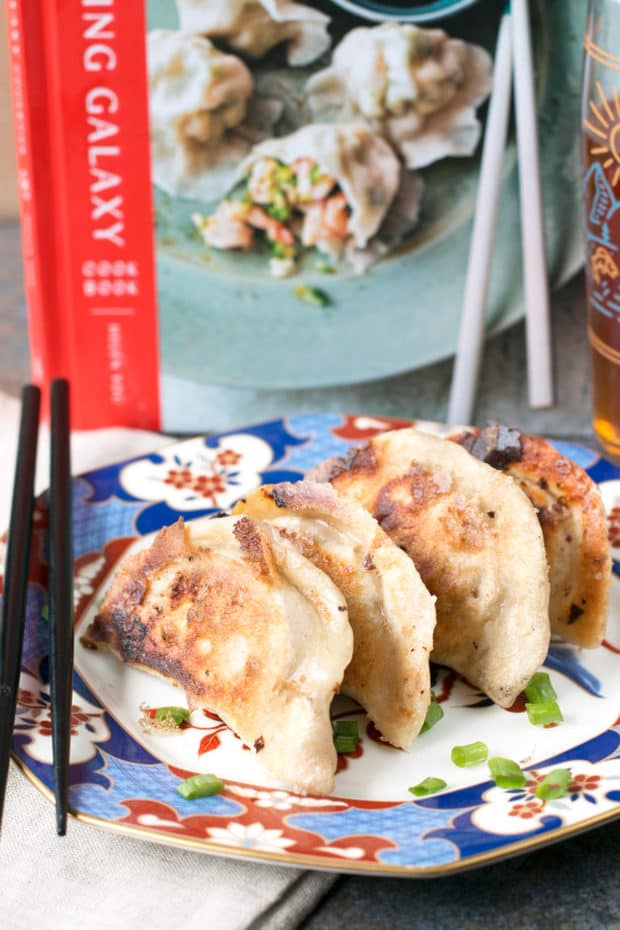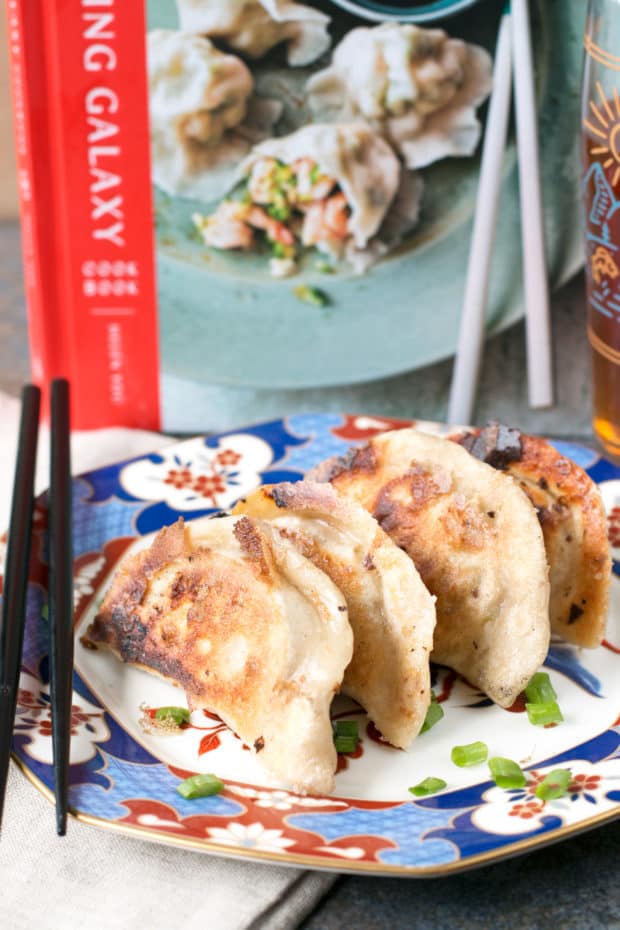 Mastering dumplings can be intimidating. The perfect dough, the dainty folds, making sure nothing comes exploding out the sides… It's all a lot to think about.
With this cookbook, you actually DON'T have to worry about any of it. The Dumpling Galaxy Cookbook is totally approachable for cooks of any skill level. It is organized really well, and all of the detailed instructions are oh-so appreciated by this cook over here.
The step-by-step photos of folding the dumplings was SO helpful for me to get that perfect crescent shape.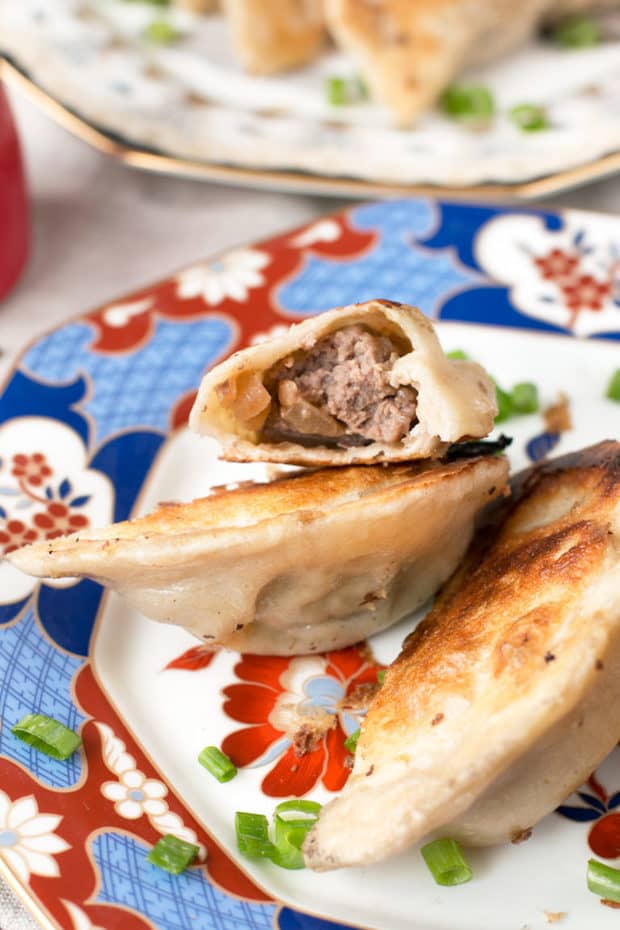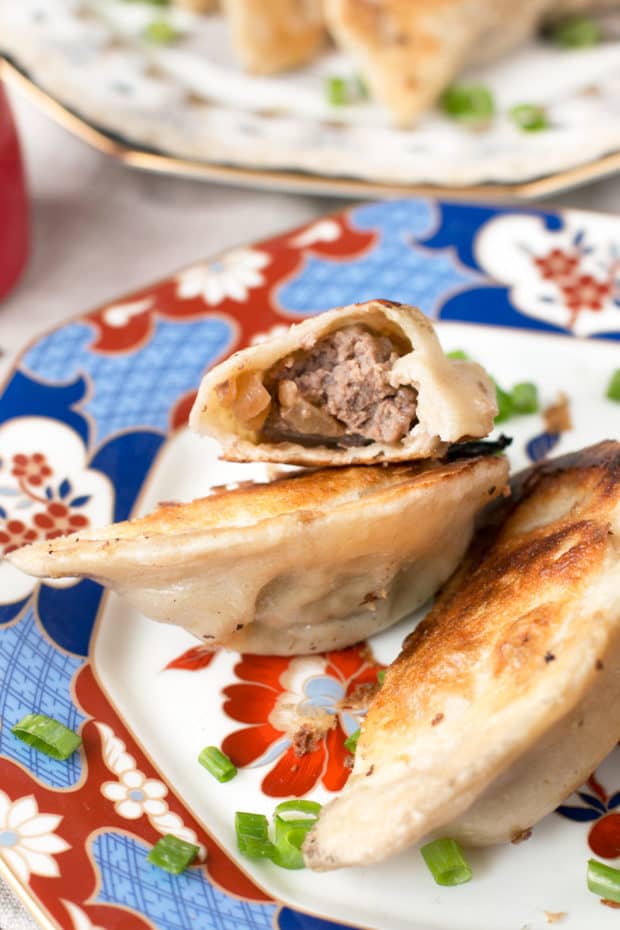 Honestly, the best part of the entire book is that you learn everything from Chinese dumplings to classic dumplings, dessert dumplings to flavorful sides to serve up with the dumplings you make. There's literally everything you would ever need to know in this book!
I was tentative about trying my hand at this Spicy Beef Dumpling recipe, but it couldn't be easier! Not to mention the cooking technique is unlike anything I've ever tried before (you make this weird disc thing in the skillet so the dumplings come up extra crunchy on the bottom!).
The delicacy of the dumplings, the explosion of flavors, and the inspired ideas all have me coming back to this recipe again and again and again.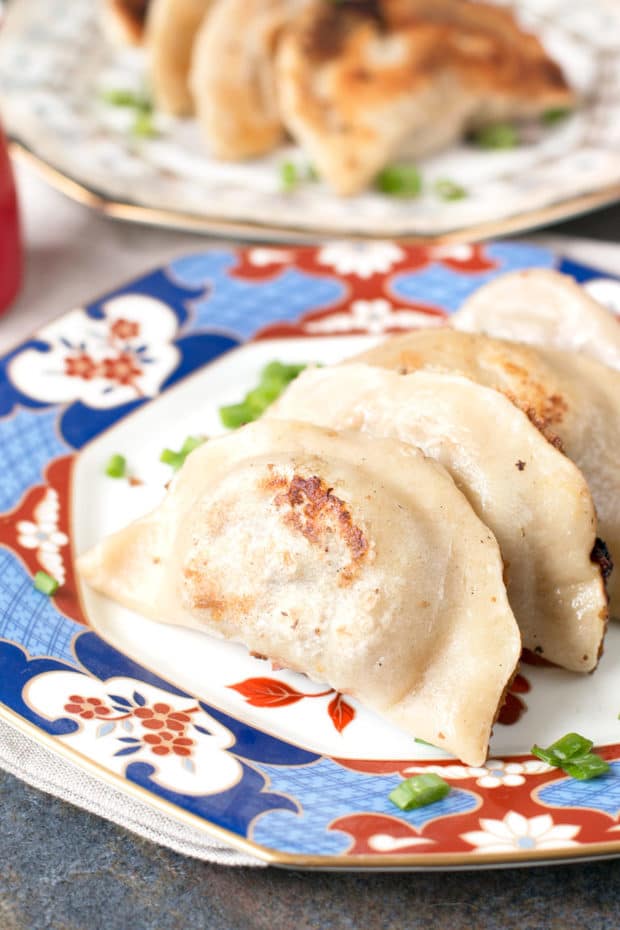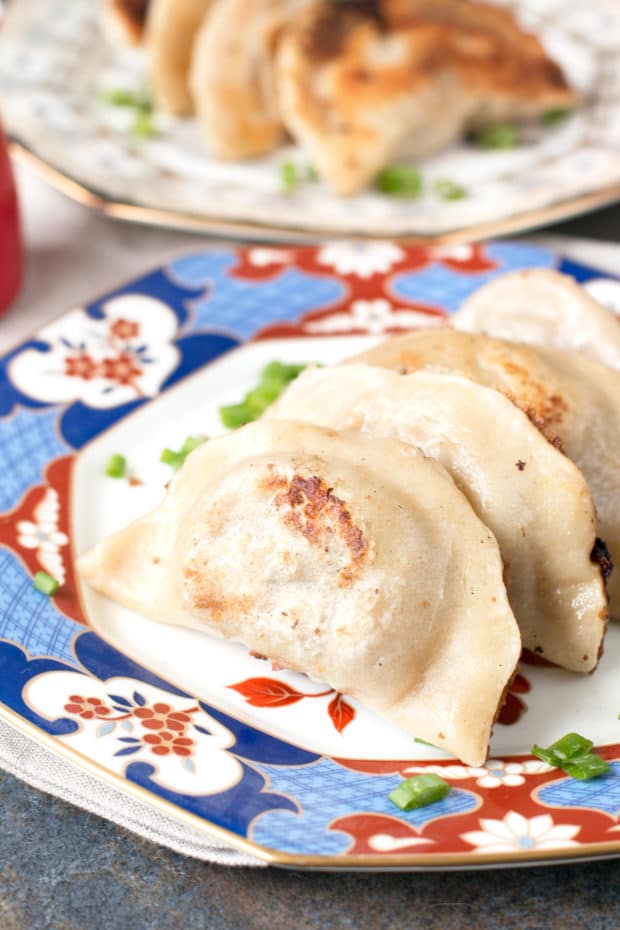 The Man has been asking for them ALL the time, if that's any indication (it's a rare thing to have a constant repeated recipe in our world, so that's high praise, just in case ya didn't know. Now ya do. Ok I'm done.).
For anyone who wants to learn the art of making dumplings at home (and save money on all those takeout orders), this cookbook is a definite must-buy for your collection!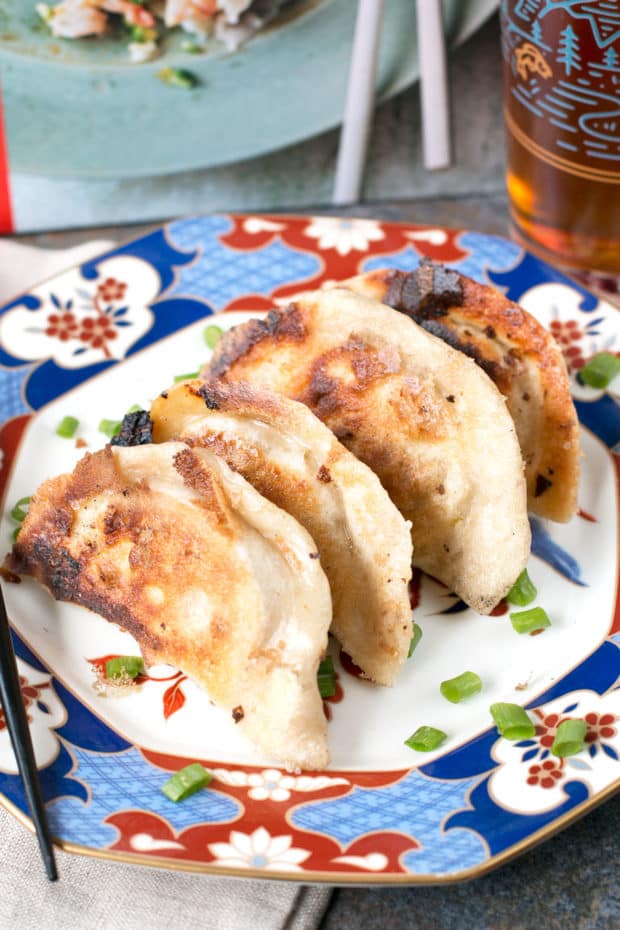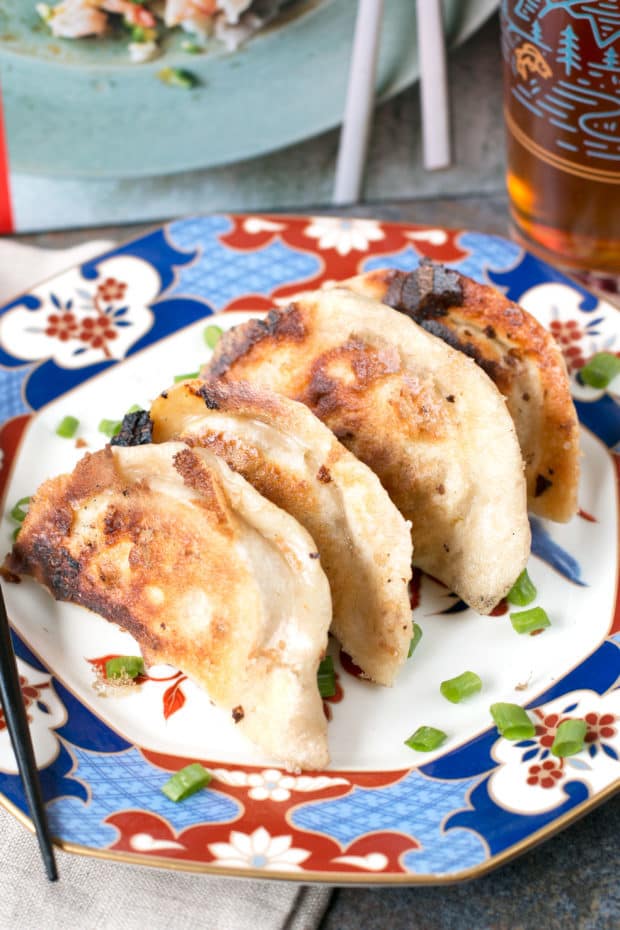 This Recipe's Must Haves
Pin this Spicy Beef Dumplings recipe for later!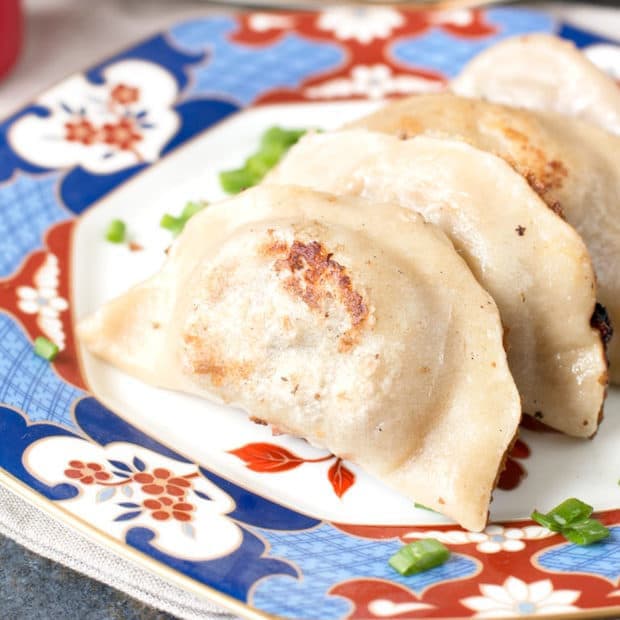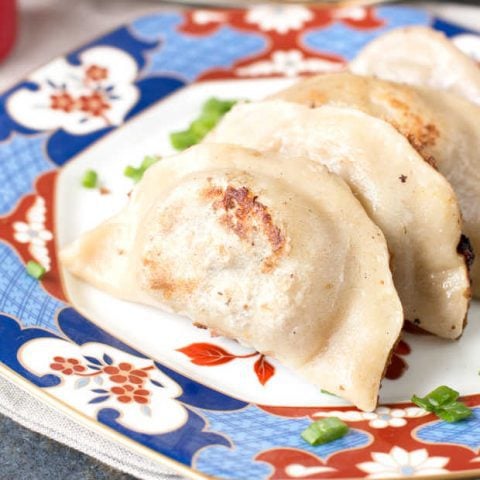 Spicy Beef Dumplings
Yield:
Makes 24 dumplings
There's no question that beef takes well to chiles - just ask anyone from Sichuan (or Texas, for that matter). In this recipe, which almost begs for a cold beer, the spice comes in the form of homemade chile oil, which delivers a potent lick of heat that tickles the back of your tongue. As for many dumplings in this book, I add a good amount of ginger to this recipe to keep the flavors fresh.
Ingredients
2 Tbsp plus 1 tsp vegetable oil
1 medium onion, finely chopped
1 tsp chile oil, store-bought or homemade
1 lb ground beef
3 scallions, finely chopped, white and green parts
2 Tbsp soy sauce
2 Tbsp oyster sauce
1 Tbsp freshly grated ginger
1 Tbsp toasted sesame oil
1 tsp freshly ground black pepper
1/2 tsp kosher salt
24 panfried dumpling wrappers (for homemade recipe, see cookbook)
2 Tbsp all-purpose flour
2 Tbsp white vinegar
Instructions
In a medium skillet, heat the 2 Tbsp vegetable oil over medium-high heat until it starts to shimmer. Add the onions and cook, stirring occasionally, for 9 to 10 minutes, until they turn soft and translucent. Stir in the chile oil, then remove the pan from the heat and set aside to cool.
In a medium bowl, use your hands to combine the beef, scallions, soy sauce, oyster sauce, ginger, sesame oil, pepper and salt, and mix until well blended. Gently fold in the onions and mix until fully incorporated.
Make the dumplings. Holding a wrapper in your palm, use a fork to add about 1 tablespoon of the filling to the center of the wrapper, then lightly pat down the filling with the fork to get rid of any air bubbles.
Fold the dumplings in a half-moon, pinching it shut with your thumbs and index fingers, then press the center of the dumplings while pulling on the corners to push out any air bubbles and shape into a curved crescent. Inspect the dumplings for any holes and pinch them shut. Repeat with the rest of the wrappers to make 24 dumplings.
In a small bowl, whisk together the flour, vinegar, and 1 cup of water until combined to make a slurry. Brush the remaining 1 teaspoon oil in a medium cast-iron or nonstick skillet and heat over medium-high heat, until the oil starts to shimmer. Add 6 dumplings with the sealed edges lying slat in the pan, spacing them 1 inch apart, then slowly pour in just enough of the slurry to come one-third of the way up the dumplings. Partially cover the pan, leaving a small gap for steam to escape.
Increase the heat to high and cook for 2 minutes for cast iron (1 minute for nonstick). Lower the heat to medium for 2 minutes for cast iron (3 minutes for nonstick). Then lower the heat to low for 2 to 3 minutes for cast iron (3 minutes for nonstick).
Cook until the water has evaporated, leaving a paper-thin disk of golden-brown starch on the bottom of the pan. Remove from heat and slide a thin, flexible spatula around the rim of the pan to loosen the edges of the starch disk, then carefully slide the spatula underneath and flip the disk onto a plate in one piece, crispy side up. Serve immediately, then clean the skillet and repeat its remaining dumplings. Serve immediately.