Strawberry Basil Frozen Daiquiris bring a bright, seasonal freshness to the classic frozen cocktail. Kick back on the front porch and enjoy those blue skies with one of these in hand.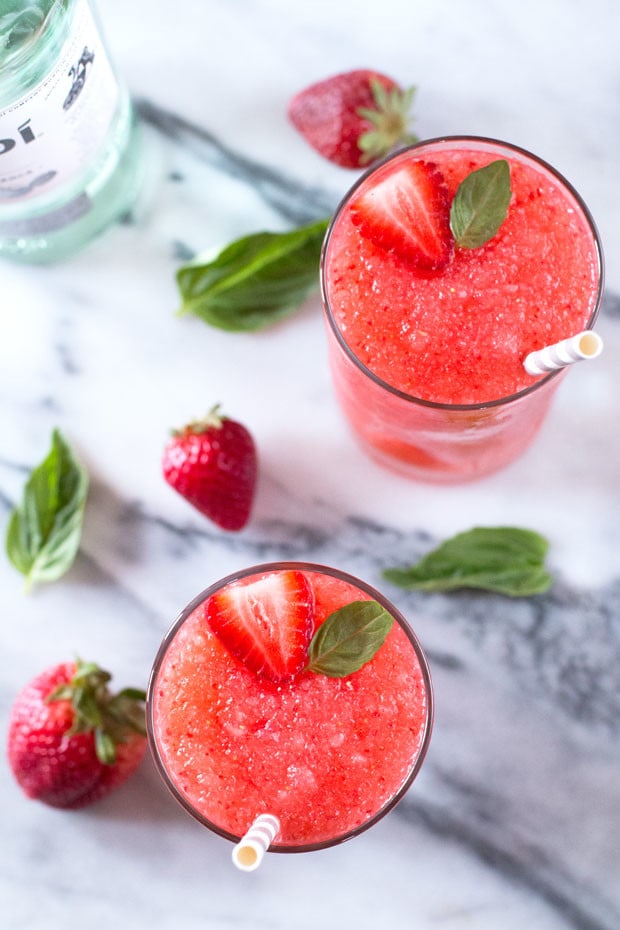 Colorado and I are having a little bit of a fight right now. I am so ready for spring, warmer temperatures and blue skies, but apparently this state has different things in mind. Just when I think, "FINALLY it's getting warm!" another snowstorm rolls in. I am ready to be on the porch all day, every day. Colorado wants to dump snow and make me get my workout in shoveling instead of running.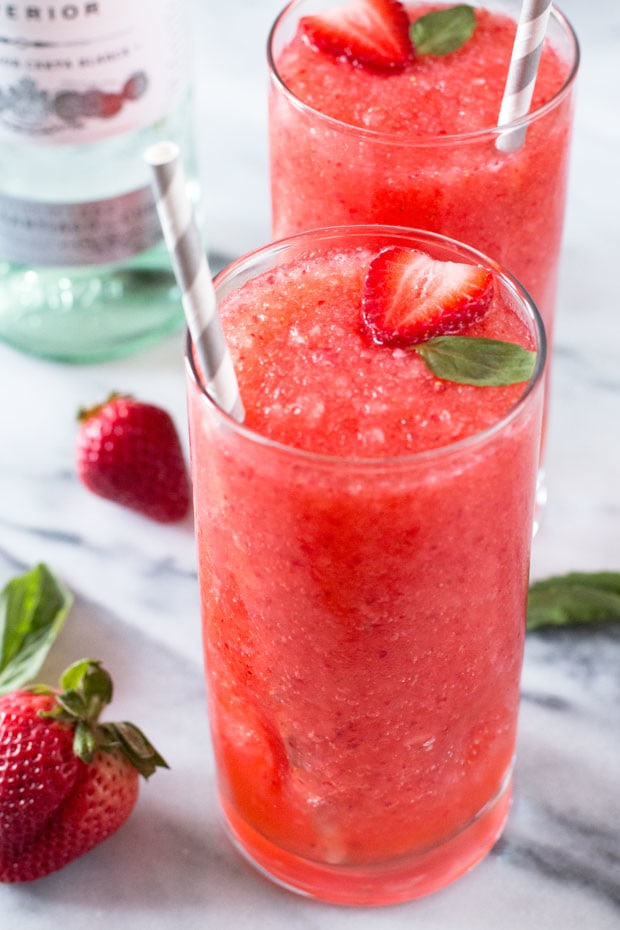 Thanks CO, really loving it. Thumbs up.
Even as the clouds roll through Colorado, I am going to fight back the only way I know how to. With booze.
Because booze is the ultimate weapon right? Just nod and pretend with me here, mmkay?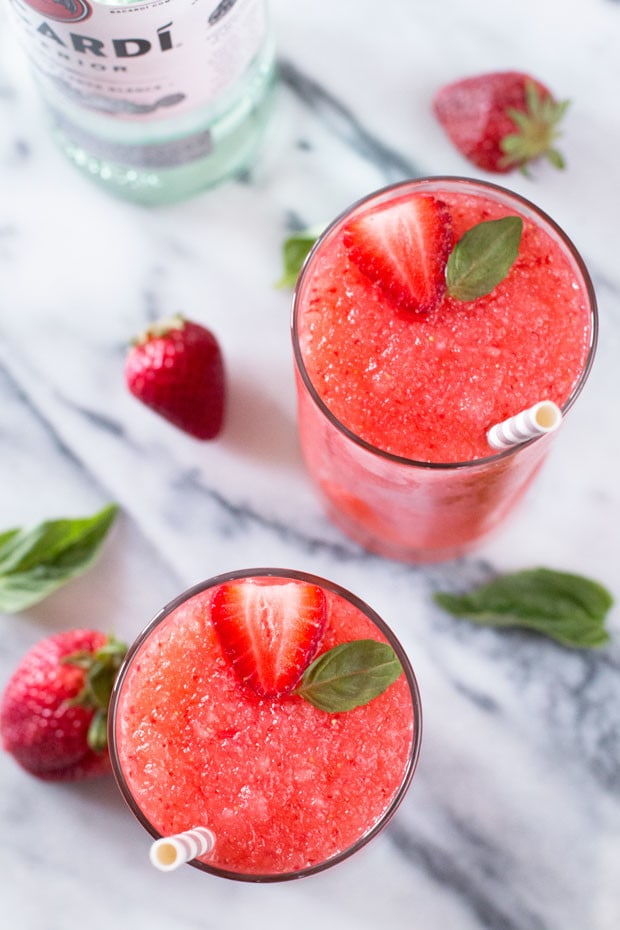 I usually don't opt for the frozen drinks, probably because I had one too many virgin pina coladas and strawberry daiquiris growing up. However, with just a simple twist, like the addition of basil, I have fallen head over heels for frozen drinks yet again. I know it doesn't seem like the biggest change in the world, but the super duper easy basil simple syrup I add to this strawberry daiquiri brings a next-level kind of freshness that we are all craving right about now.
PLUS, I recently dyed my hair a red ombre and this drink totally embodies the color. Bright, fiery and rockstar hot (or at least that's what I've been told because I would never describe myself that way, LOL).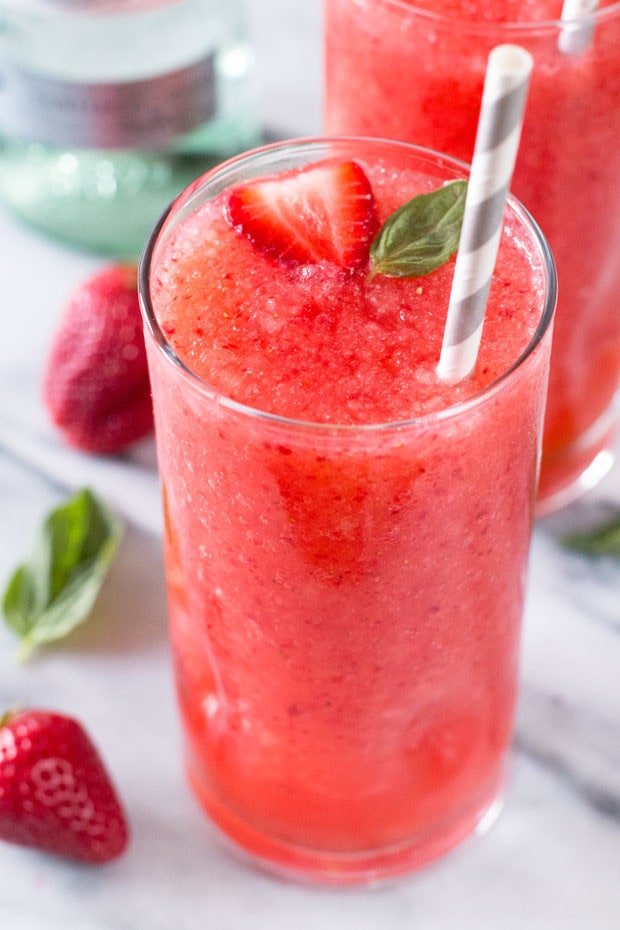 You can bet your butts that I'll be sippin' on this bad boy with my red hair, looking out on the porch at my red car. Because red.
#cantstopwontstop
Happy drinking!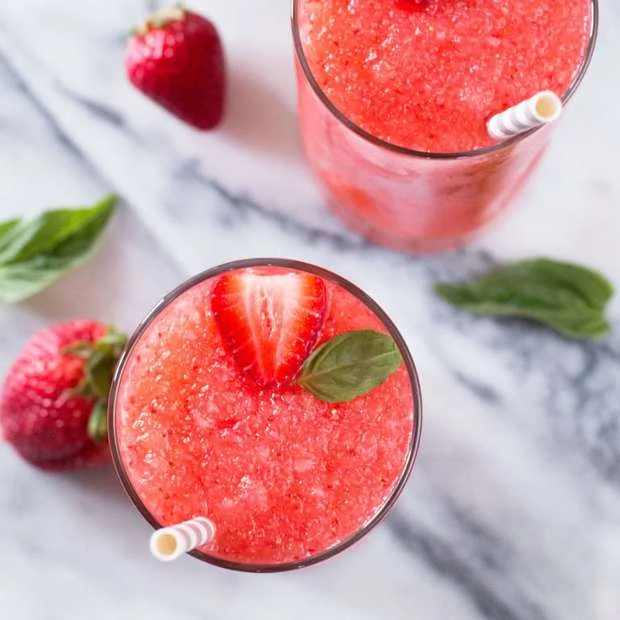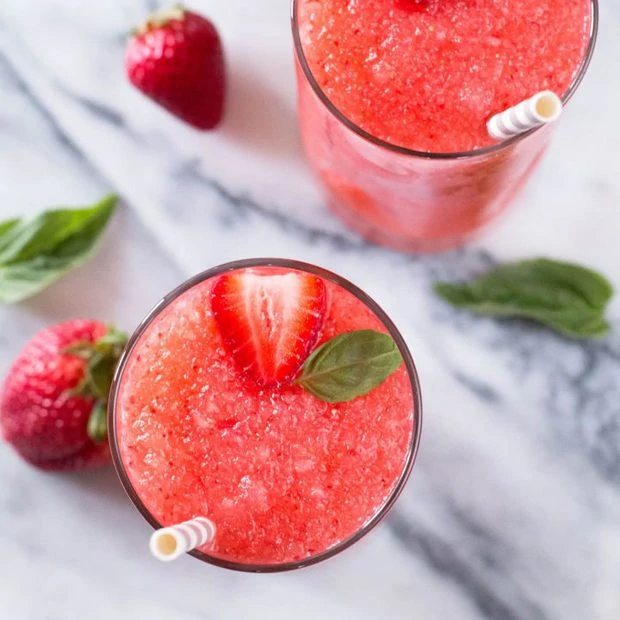 Strawberry Basil Frozen Daiquiris
Strawberry frozen daiquiris are given a burst of freshness with a super easy basil simple syrup.
Ingredients
4 oz light rum
2 oz triple sec
1 cup strawberries, tops cut off
1 oz fresh lime juice
2 oz basil simple syrup
4 cups ice
Basil Simple Syrup
1/2 cup water
1/2 cup sugar
10 fresh basil leaves
Instructions
In a small saucepan, stir together water, sugar and basil leaves. Bring the mixture to a boil over high heat. Once the sugar is dissolved, remove from heat, cover and steep fore 30 minutes. Remove basil leaves and store in an airtight container in the refrigerator. Cool the syrup completely before using in the cocktail.
To make the cocktail, blend together light rum, triple sec, strawberries, lime juice, basil simple syrup and ice. Pour evenly between to tall glasses and garnish with a slice of strawberry and basil leaves.