Please note this post contains affiliate links.
A Strawberry Basil Margarita is an herbaceous twist to a strawberry margarita, served on the rocks! The vibrant flavors make this cocktail sweet, tart, and totally refreshing. It's ideal for sipping on the patio all summer long! Makes 1 cocktail (big batch instructions included!).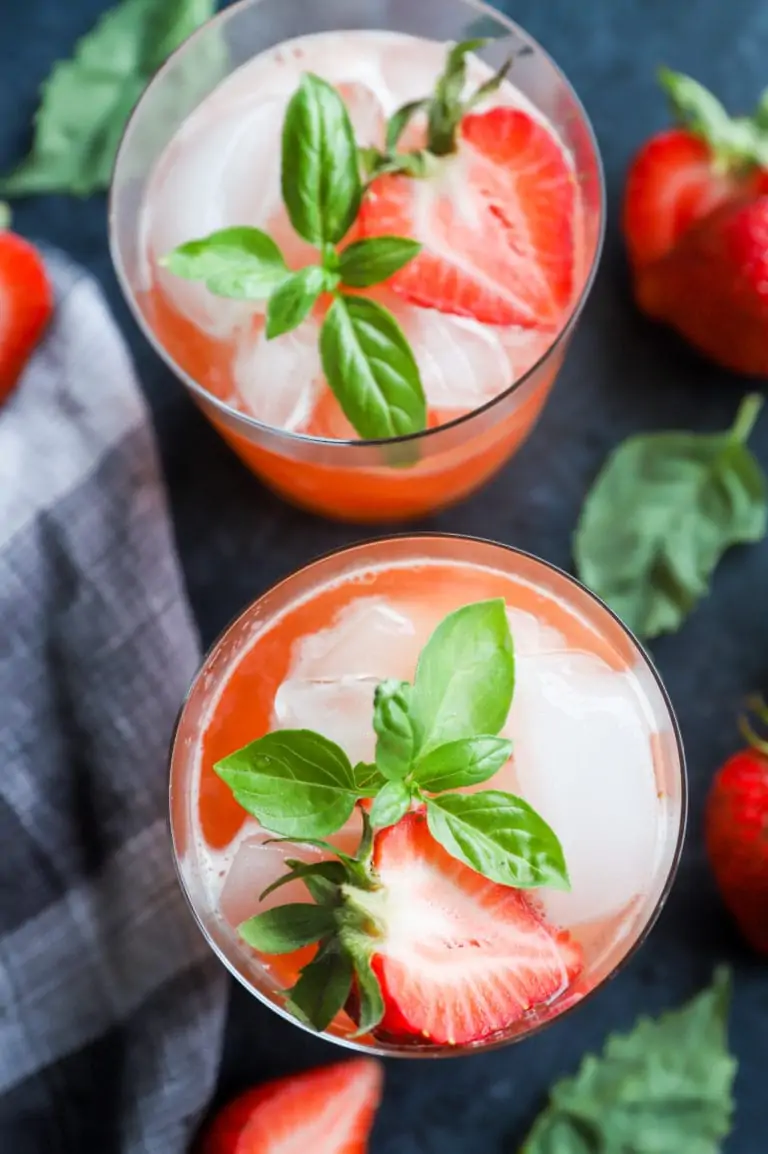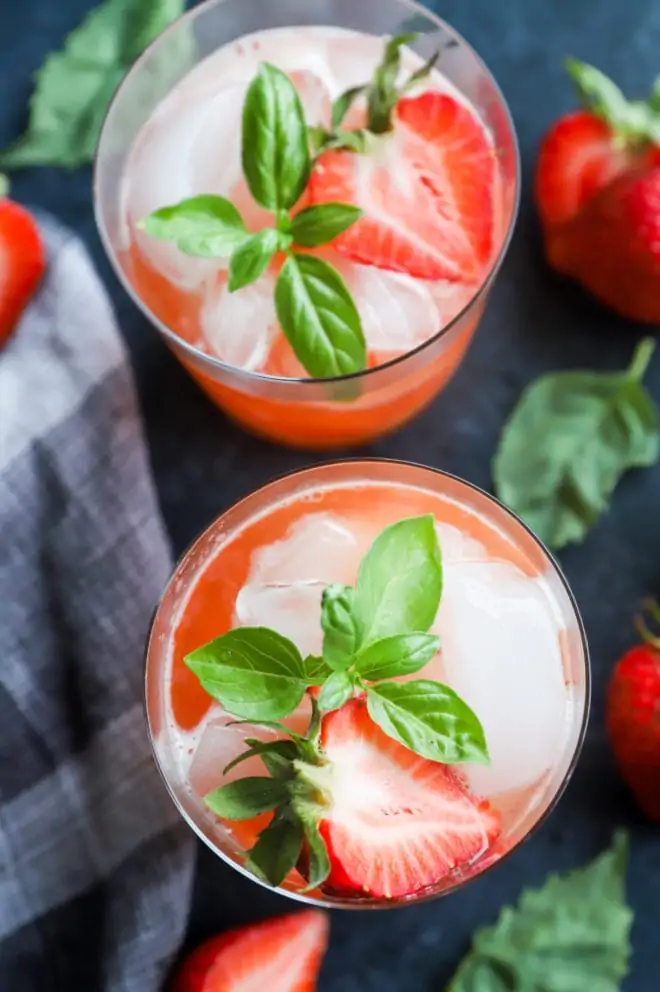 about this strawberry basil margarita
Say hello to the summer cocktail of the year!
I had a refreshing and fruity margarita when we were out last month, and I was reminded just how much I love a good fruity margarita!
what makes a good fruity margarita?
It's all about balance! I want sweet, but I also want tart and refreshing. It can't be so sweet that it feels like I'm drinking dessert, and it can't be so tart that it makes my lips pucker uncontrollably.
This recipe mashes up strawberries and basil leaves (literally!) to take your favorite strawberry margarita to the next level in terms of flavor.
It's such a simple addition to a margarita, and it's served on the rocks (which is my personal preference!). You'll want to sip on these all summer long, trust me!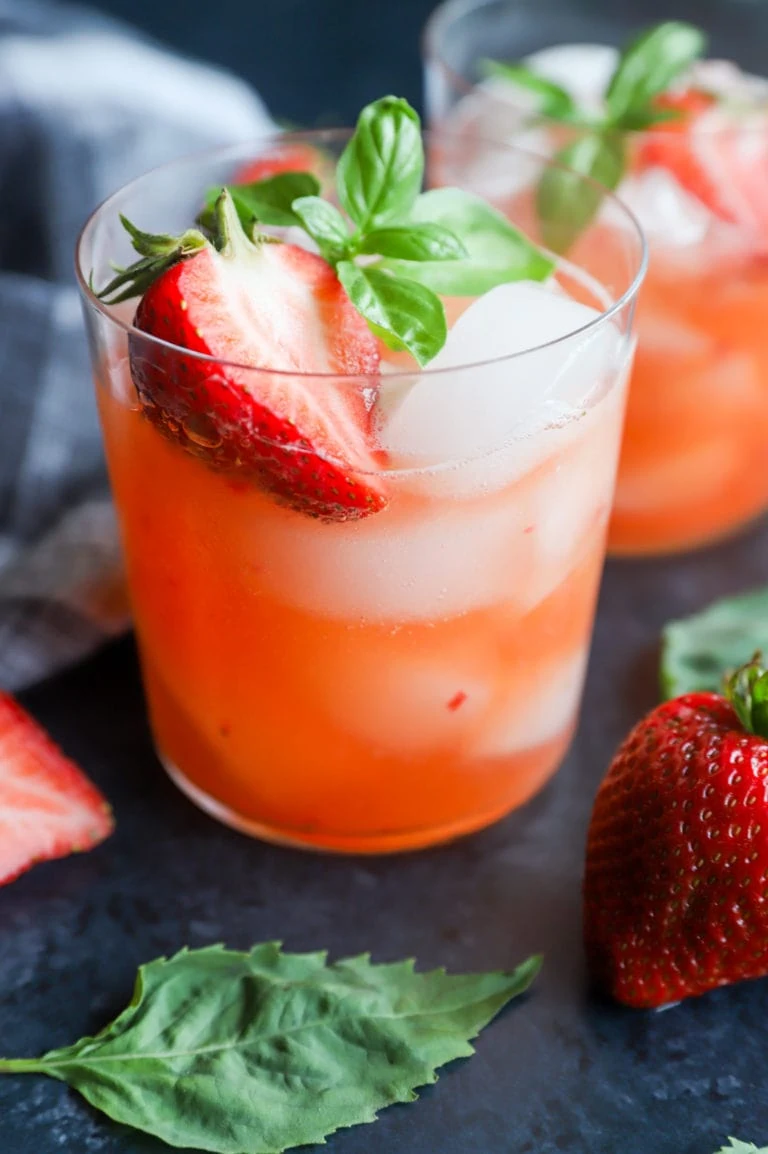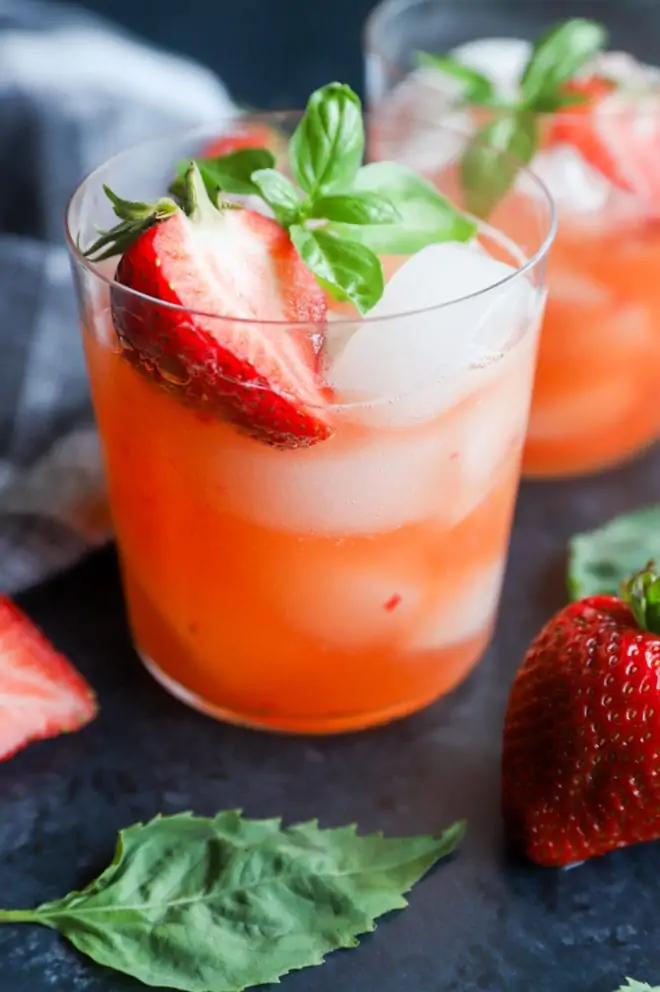 ingredients
strawberries – you can use fresh or frozen strawberries for this recipe! Just be sure to thaw frozen strawberries before using them.
basil – fresh basil is key! You will need it not only for the cocktail recipe, but also for garnish if you want to achieve the same look you see here.
lime juice – I always recommend using fresh lime juice!
agave – the flavor that agave adds to a margarita is elite. It's definitely my go-to but you can also swap it out for honey or simple syrup if you prefer.
tequila – I recommend using a blanco (silver) tequila. You can use one that is at a mid-range price point like El Jimador or Dobel. You can use something more top shelf if you prefer like Patron.
orange liqueur – for this cocktail, I recommend using Cointreau, but you can also reach for the triple sec if you need a more affordable option.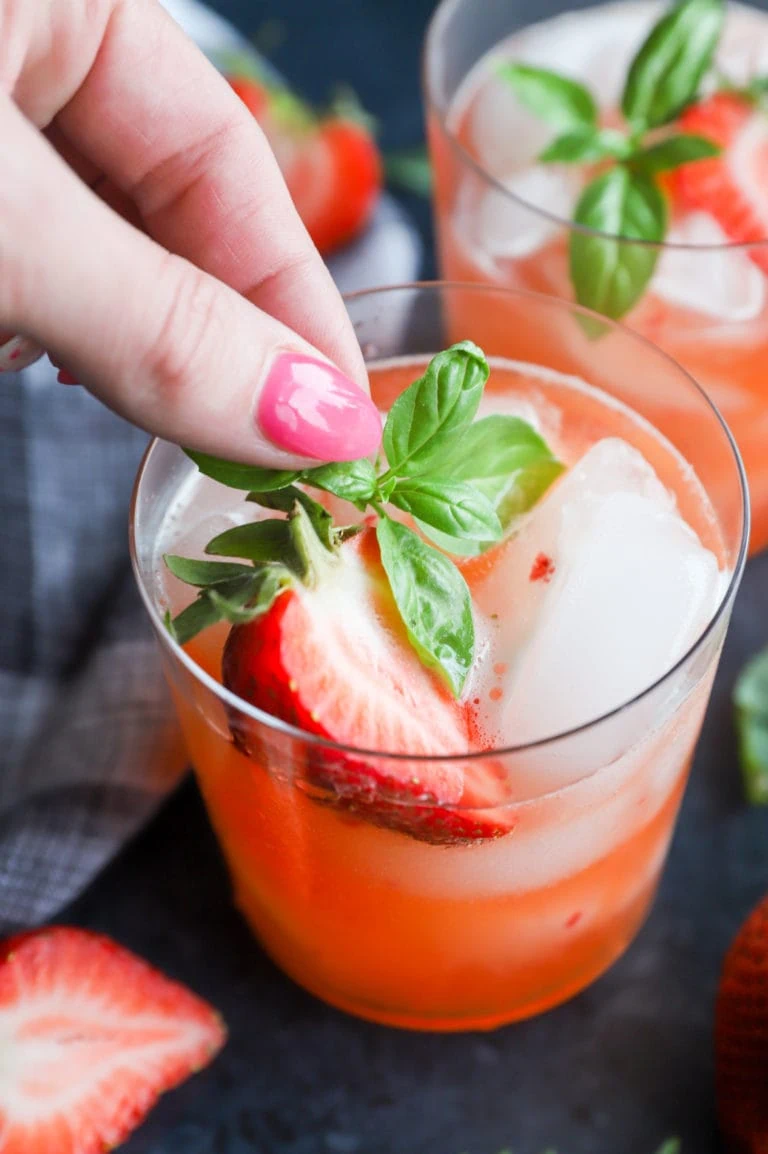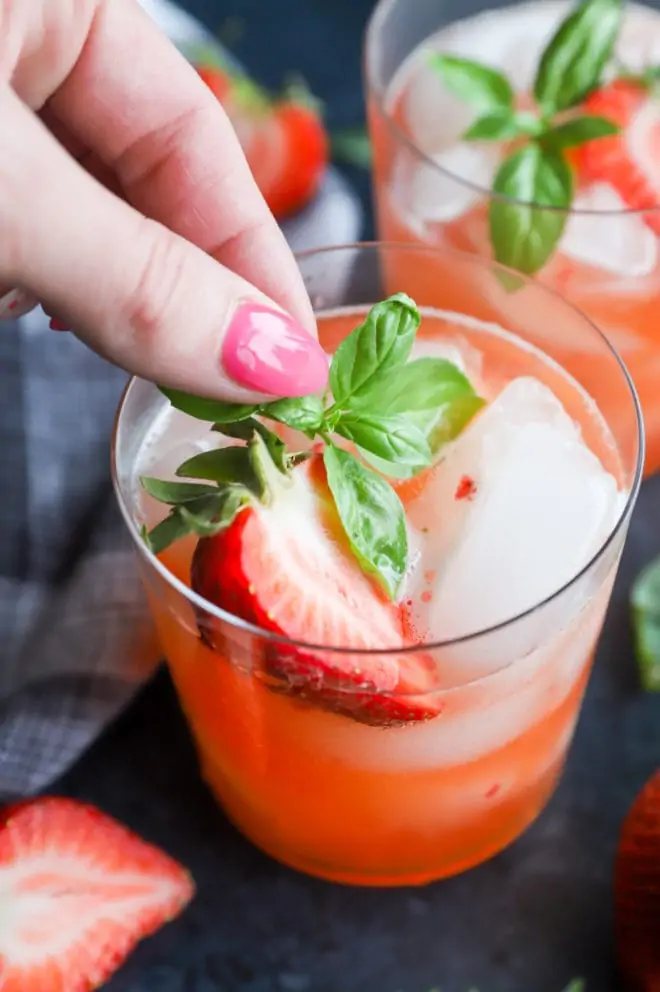 this recipe's must haves
To start, I like to use a Boston cocktail shaker because it's very easy to muddle the ingredients together in the bottom of the glass.
Of course you will also need a muddler and a cocktail shaker to finish off the drink.
I used double old fashioned glasses here for serving (from CB2 but discontinued now).
our favorite cocktail glasses
here's how to make a strawberry basil margarita
muddle
In an empty shaker, muddle strawberries, basil leaves, lime juice, and agave until the strawberries are broken up.
shake
Top with tequila and Cointreau, then add ice. Shake well.
strain
Strain into glasses filled with ice. Garnish with strawberry and basil.
Pro Tip! Muddle the ingredients together, but don't over-mash them! Take your muddler, press it down and twist into the mixture gently. Don't grind into the glass as you don't want to tear up the leaves!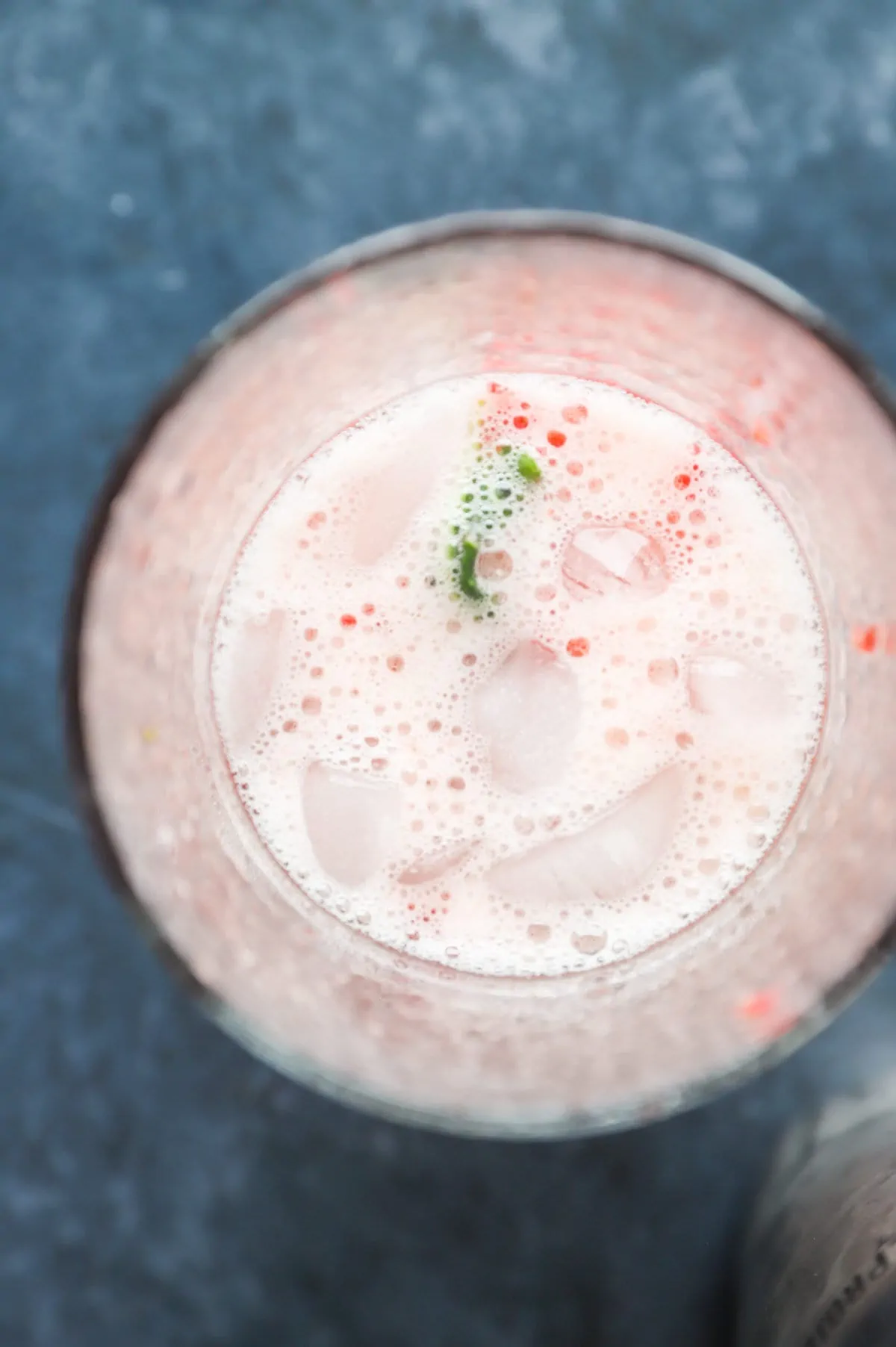 tips for success
be sure to shake it. Shaking this cocktail is a must since it aerates the cocktail and coaxes more texture out. If you don't have a cocktail shaker, simply use a sealed mason jar with ice!
don't serve it frozen. I know people like their frozen margs, but this margarita is not meant to be served frozen! By throwing it into the blender with ice, you'll dilute the overall flavor. This recipe has not been taste tested as a frozen drink, just so you know!
make it a large batch! Want to make this a pitcher drink? I've included large batch instructions in the recipe card notes below!
More strawberry cocktail recipes to try: Strawberry Tequila Fizz | Strawberry Margarita Mimosa | Vodka Strawberry Lemonade | Strawberry Mint Vodka Gimlet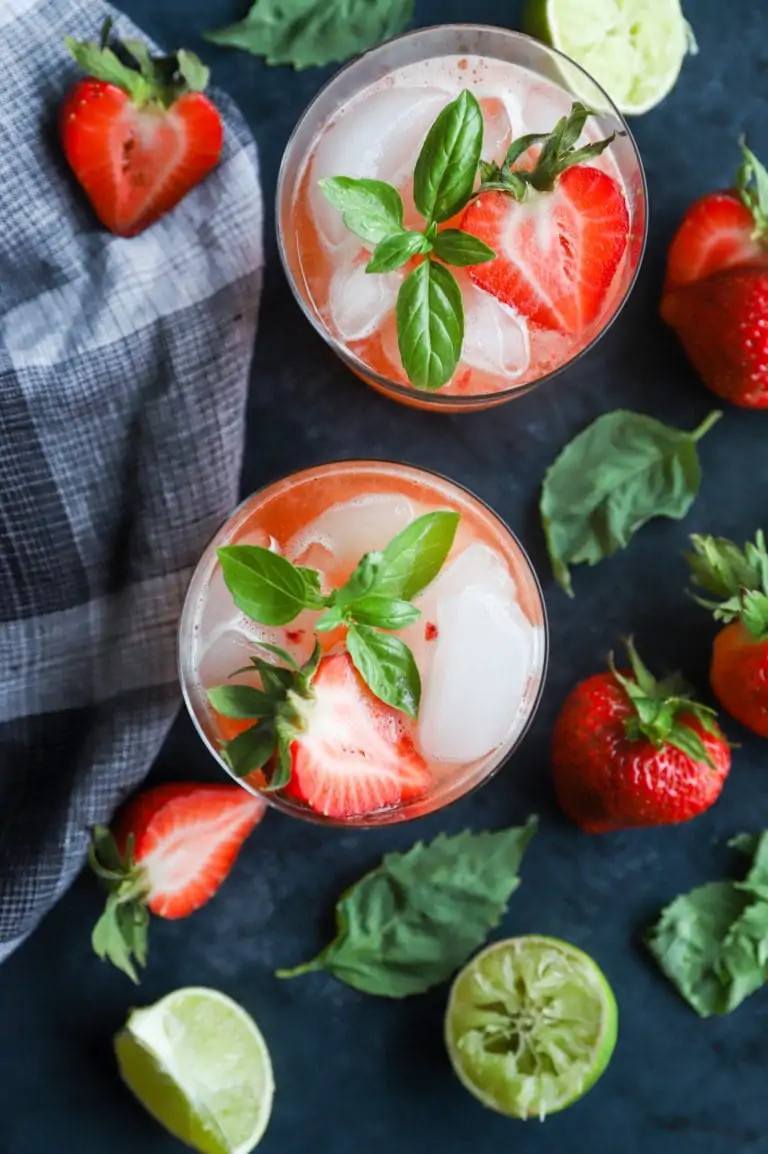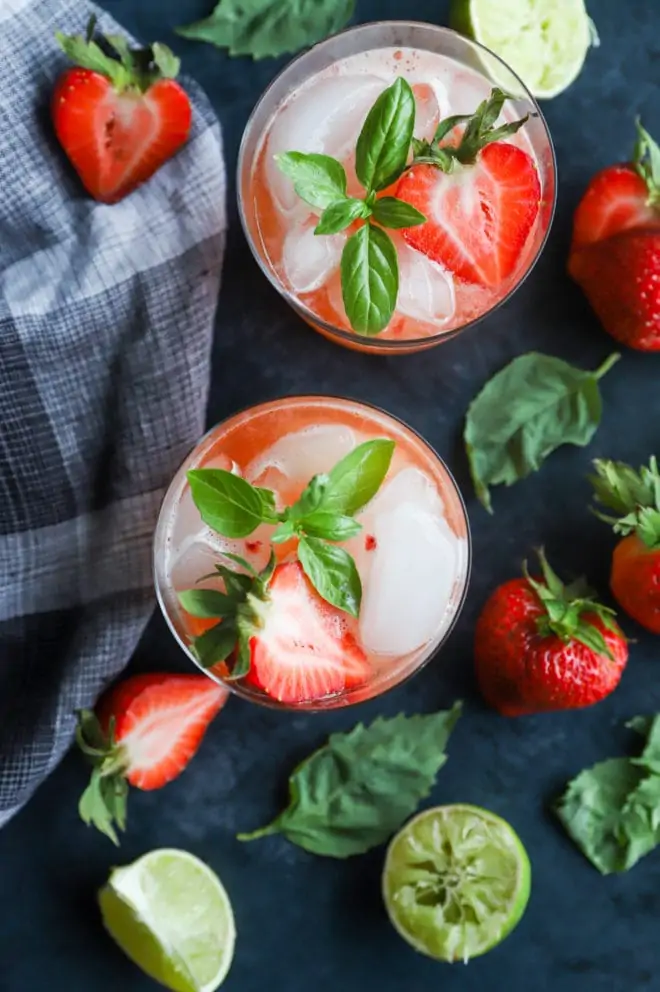 should I use triple sec or Cointreau?
You can use either! Cointreau is technically a type of triple sec. Triple sec is an inexpensive orange liqueur that is often used in cocktails, but Cointreau is a smoother and more complex flavor.
I personally like to use Cointreau, but unless you use it often, it can be expensive! Using triple sec will give you the right amount of orange in the cocktail without the big ticket price.
can I use frozen strawberries?
Yes! Just be sure to thaw them before you use them as this will make the whole muddling process a lot easier, haha!
do I have to use fresh basil leaves?
I recommend using fresh. It's the best way to get the purest flavor from the basil. Dried basil is tough to muddle and it ends up not tasting quite right in the cocktail. Either use fresh or omit!
Need some more inspiration for cocktails? Check out my cocktail recipes page!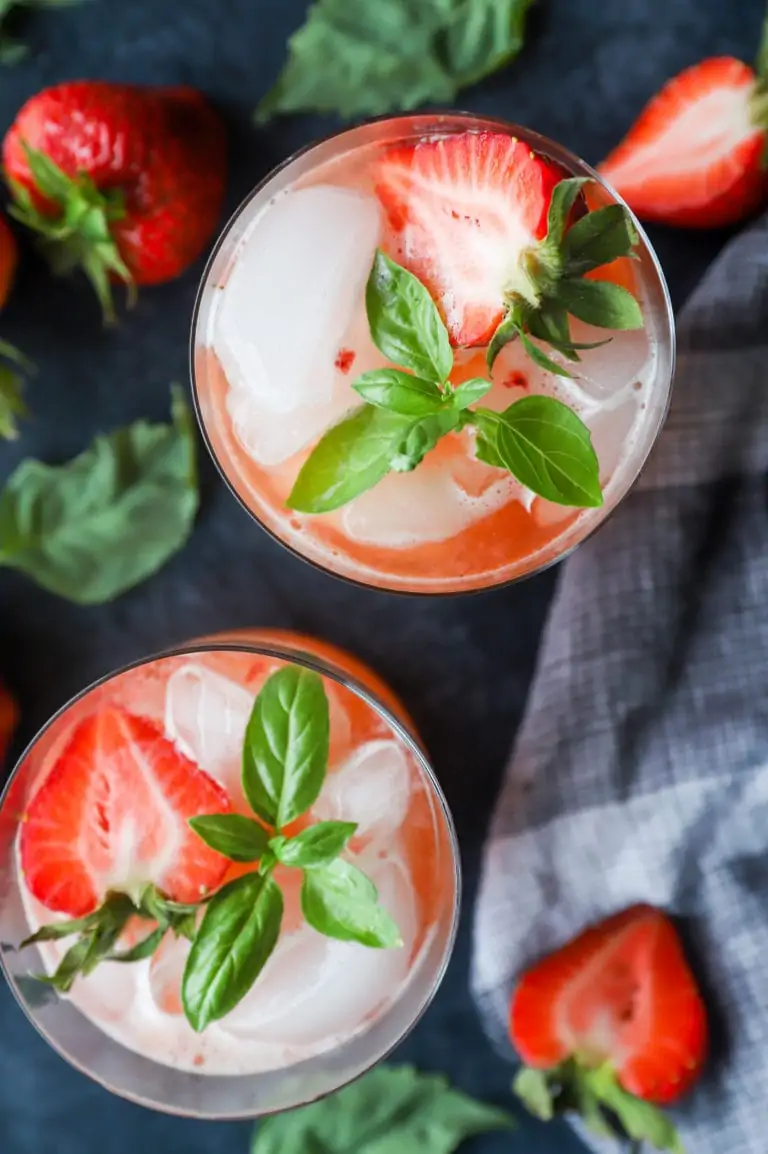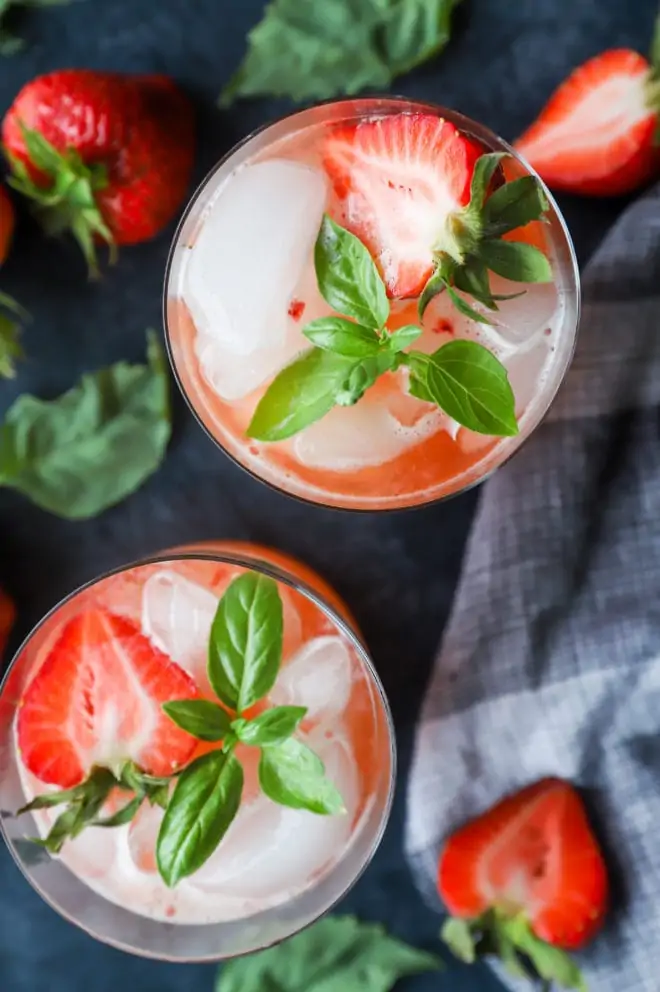 what to serve with a strawberry basil margarita
A refreshing cocktail like this is meant for the classic pairings that you usually see with margaritas! So I've listed below what to serve this cocktail with, whether you are making it for a party in a big batch or making it to go with your Taco Tuesday dinner.
seasonal tip
Looking for the best fresh strawberries? When selecting your berries, look for bright red berries with fresh green leaves. The berries should be plump, but know that size doesn't matter – they grow in different sizes so small or big can both be equally delicious!
Finally, if you make this strawberry basil margarita, please be sure to give this recipe a rating or leave a comment! I love to hear when you all make recipes, and I do take the time to respond to every single comment. Feel free to drop questions below too, if you have them!
Oh and be sure to tag me on Instagram if you make the recipe! Love being able to see these recipes come to live in your homes – it's my favorite thing to look through those photos. It really means the world to me!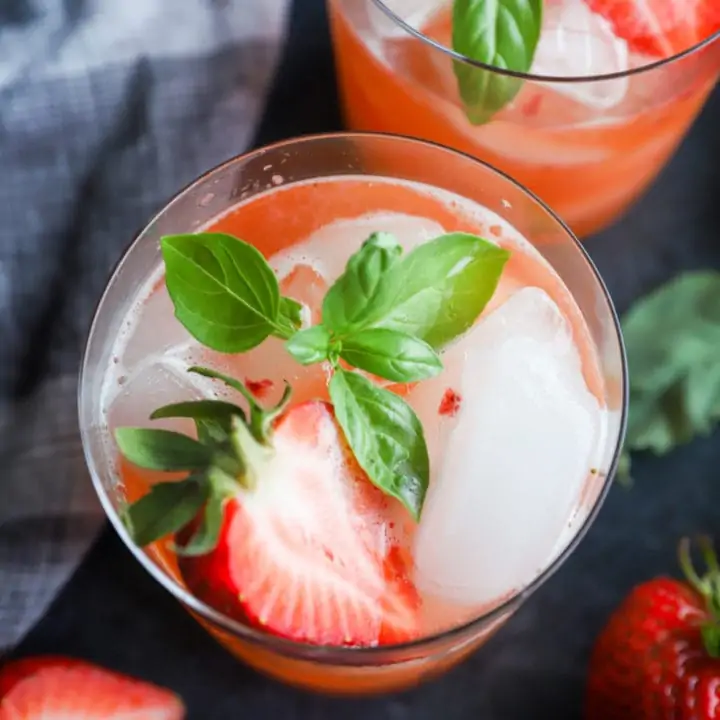 Strawberry Basil Margarita
Sweet, tart, and refreshing, this cocktail is the ultimate summer sipper!
Ingredients
3 strawberries, hulled
4 basil leaves
1 oz lime juice
1/2 oz agave
2 oz tequila
1/2 oz Cointreau or triple sec
Instructions
In the bottom of an empty cocktail shaker, add strawberries, basil leaves, lime juice, and agave. Muddle together until strawberries are broken up.
Top with tequila and Cointreau. Add ice and shake well.
Strain into cocktail glass filled with ice. Garnish and serve.
Notes
to make it a big batch (6 cocktails):
1 lb strawberries, hulled
1/2 cup basil leaves
1 1/2 cups tequila
1 cup lime juice
3/4 cup cointreau or triple sec
3 Tbsp agave

Muddle strawberries, basil, lime juice and agave in the bottom of a pitcher.
Add tequila, Cointreau and plenty of ice. Stir well to combine. You can either strain out the drink before serving or serve as is!
Recommended Products
As an Amazon Associate and member of other affiliate programs, I earn from qualifying purchases.