Please note this post contains affiliate links.
Tomato Peach Bruschetta is a fruity upgrade on the Italian appetizer that you will not be able to stop eating. The sweet peaches with the meaty tomatoes, garlic, and fresh basil are the easiest and tastiest bread topping ever!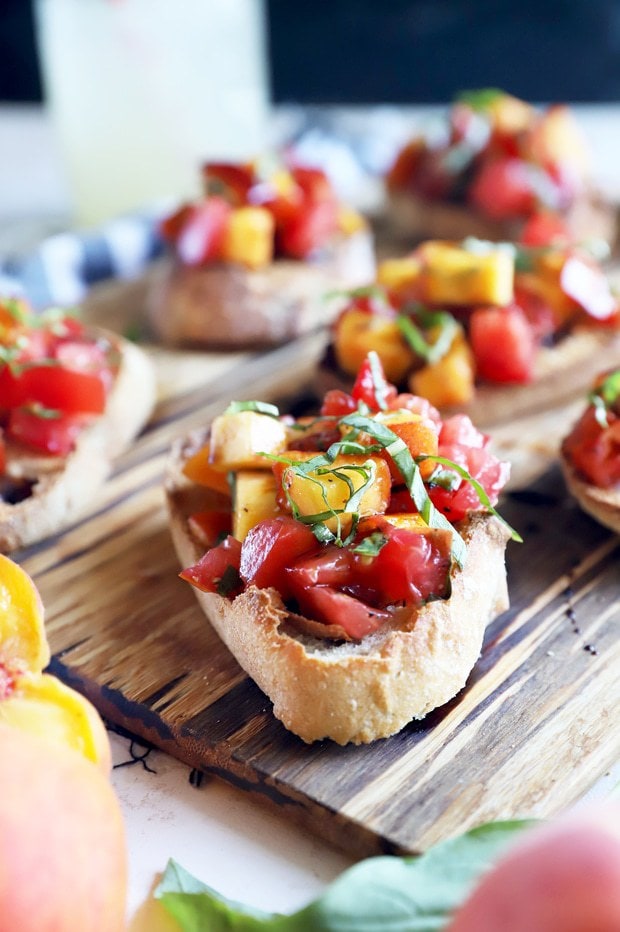 So this might be my new favorite way to devour bruschetta for the summer…
I feel like I might say that for every bruschetta recipe I make for the blog, but this is really the best one to date, I PROMISE.
Why is it so good?
Because of the peaches.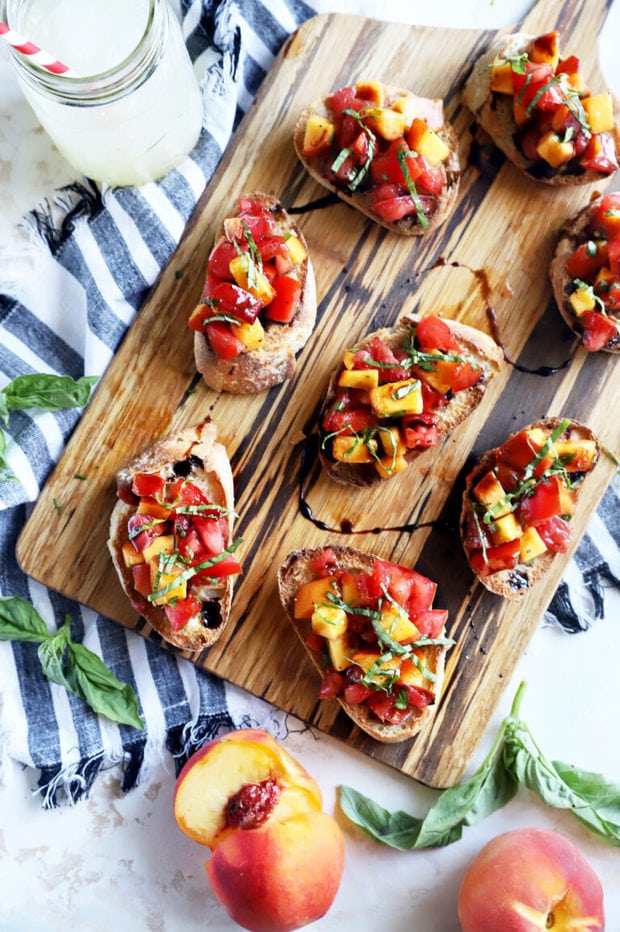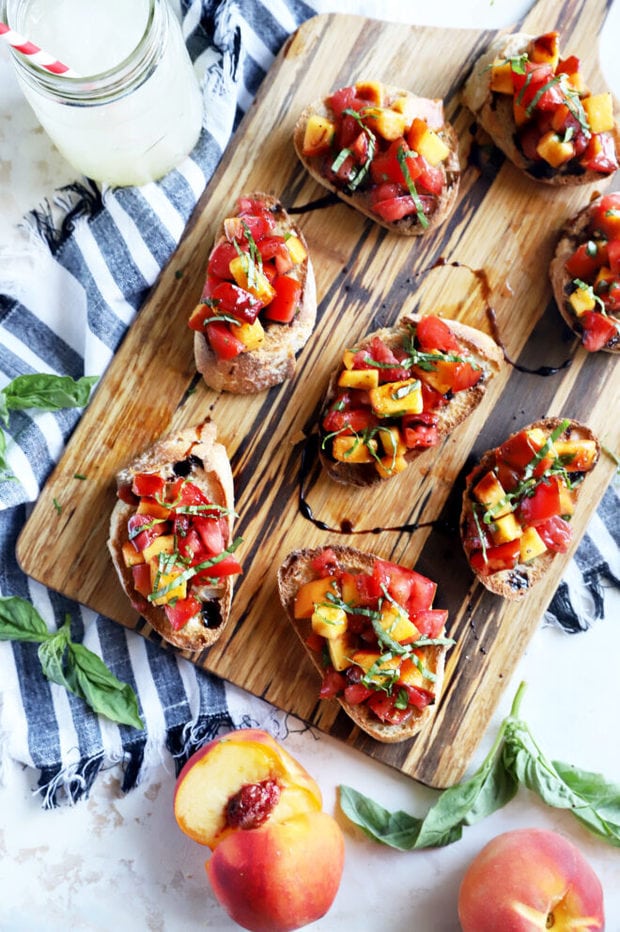 I've waxed poetic about my love for peaches in the past, and that obsession still rings true. There's something about the soft flesh and dribbling juices that my brain and taste buds go absolutely crazy for.
Now I'm taking that juicy goodness and I'm putting it in bruschetta to pair with perfectly plump summery tomatoes.
The flavor of this bruschetta simply explodes in your mouth. It's sweet and tart, herbaceous and a little tang with the zip of balsamic vinegar on top.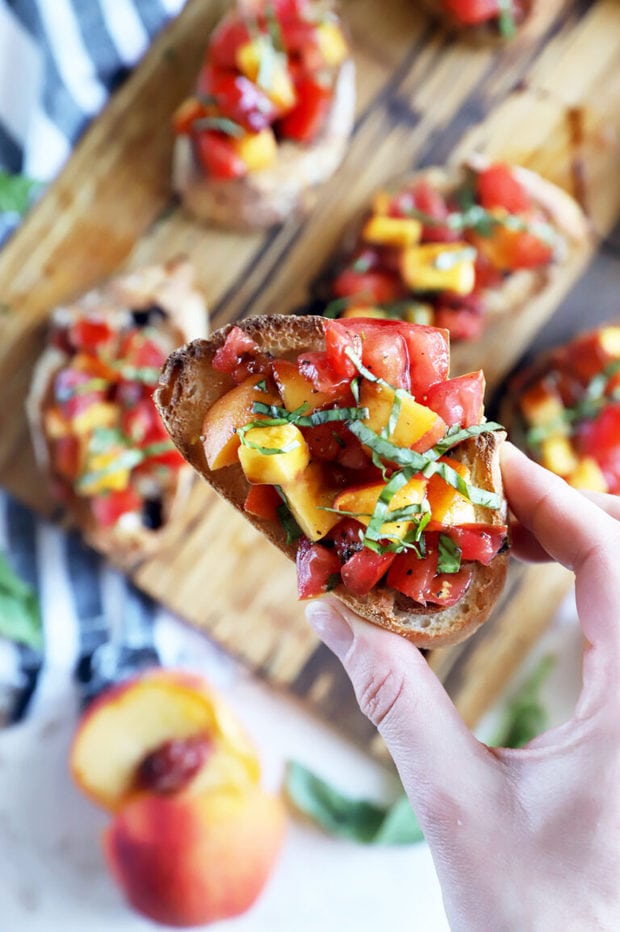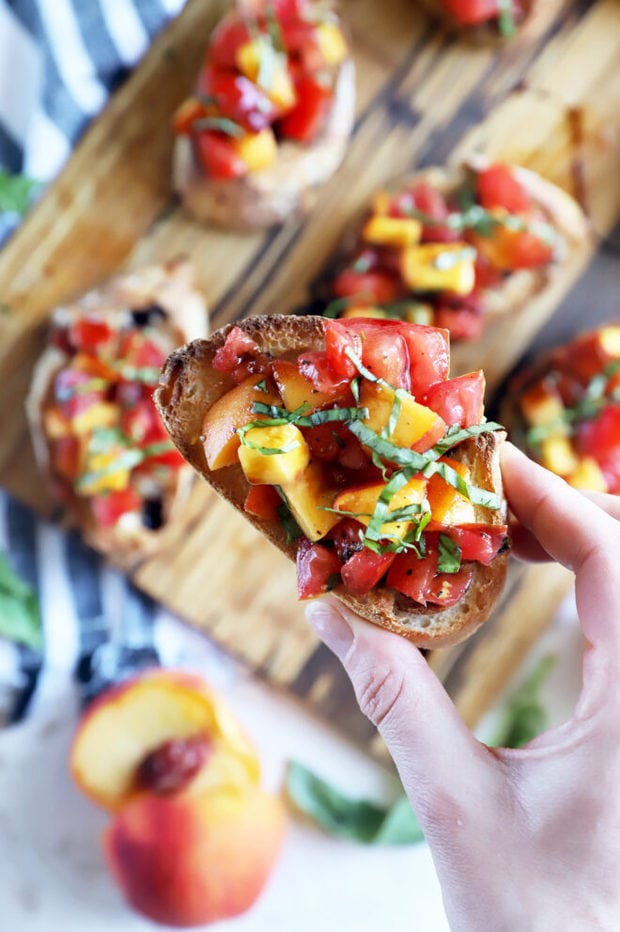 Pro tip: use a balsamic reduction if you really want to amp up the balsamic flavor! I used a fig flavored balsamic from California that my mom brought home for me last year and it was AMAZEBALLS.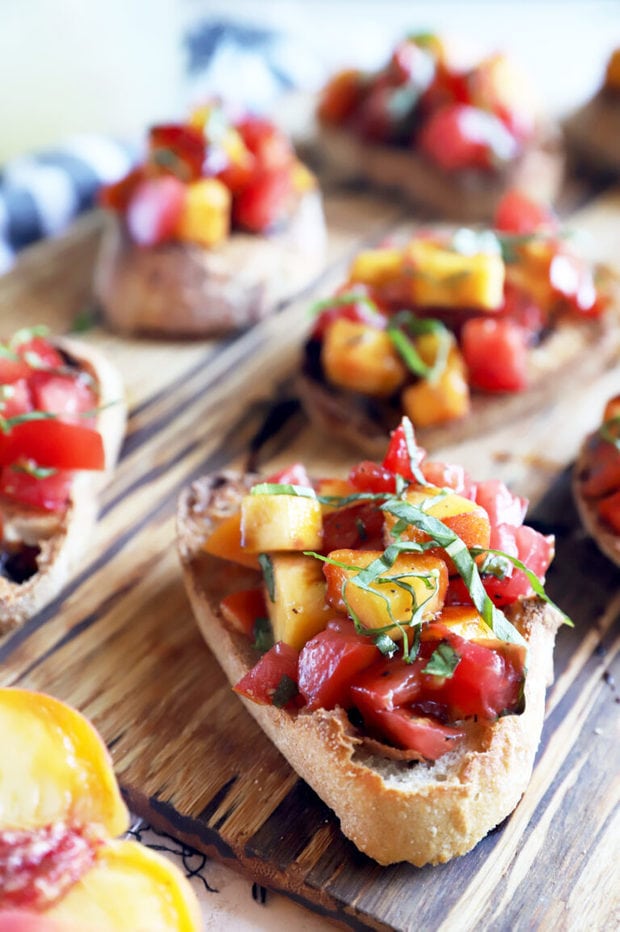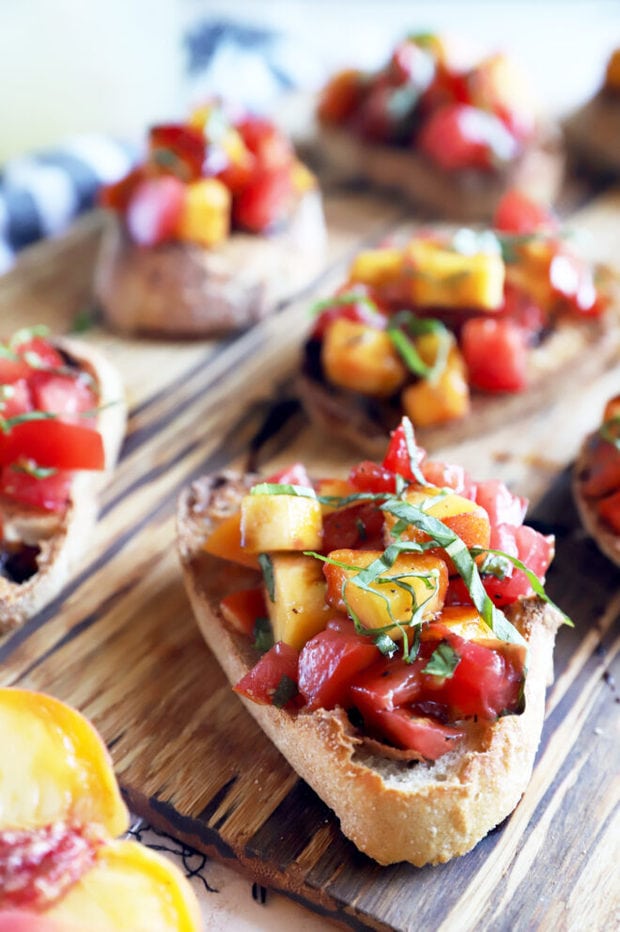 this recipe's must-haves
This recipe is so ridiculously simple to make, so you don't really need that many tools!
There's lots of chopping involved, so have your favorite cutting board and chef's knife handy.
I like to use one of these mixing bowls to mix up the tomato peach mixture.
If you don't want to turn on your oven, I love this countertop convection oven because it doesn't heat up the house at all in the middle of the summer!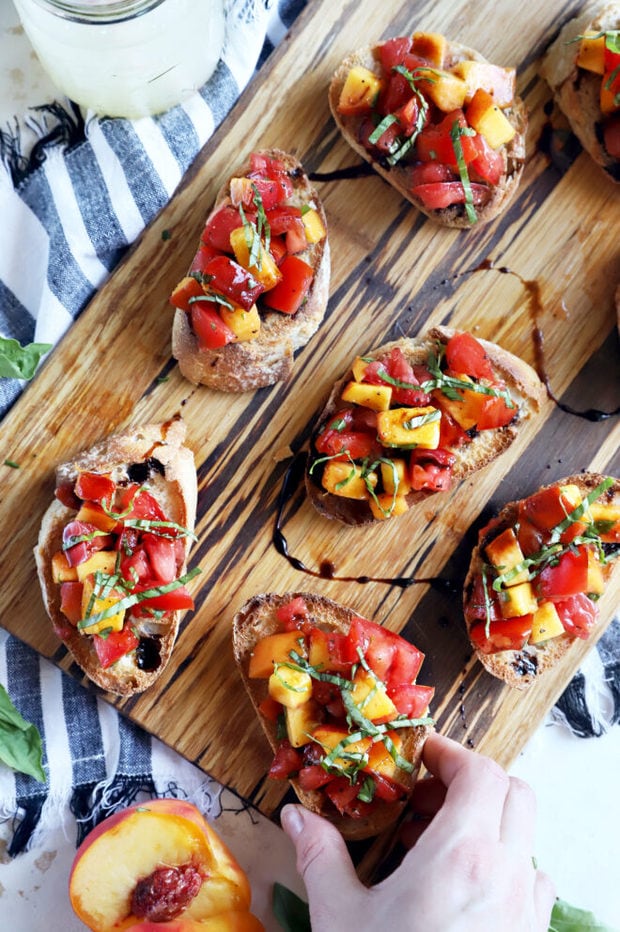 we're making tomato peach bruschetta!
Mix
In a large bowl, stir together all the ingredients for the bruschetta topping.
At this point, if you aren't ready to serve, you can cover the bowl with plastic wrap and place it in the refrigerator for up to 4 hours.
Assemble
To assemble, top the toasted slices of bread with the tomato peach mixture. Drizzle with balsamic vinegar and sprinkle with red pepper flakes lightly. That's it!
Need some more inspiration for appetizers to enjoy? Check out my appetizer recipes page!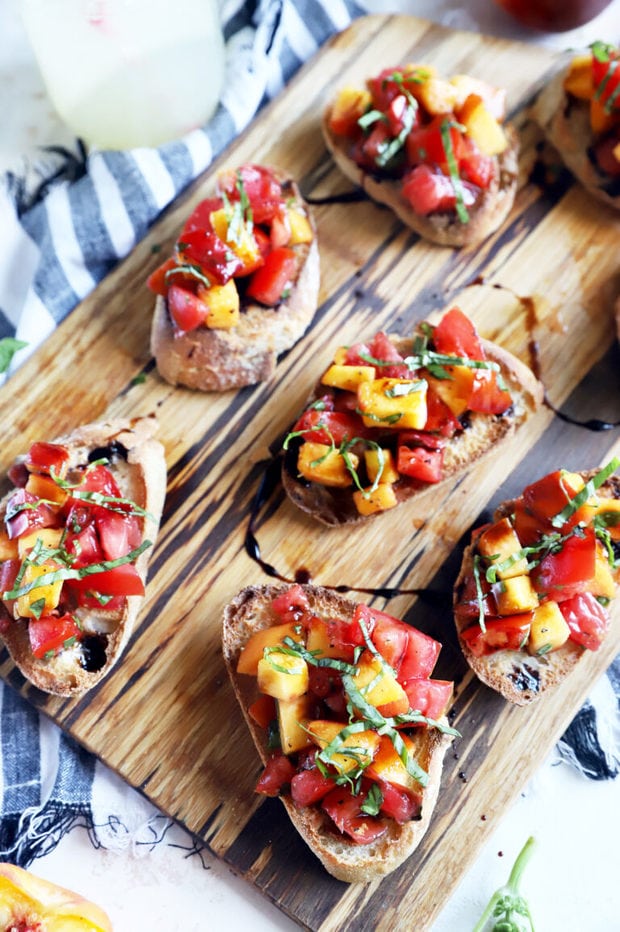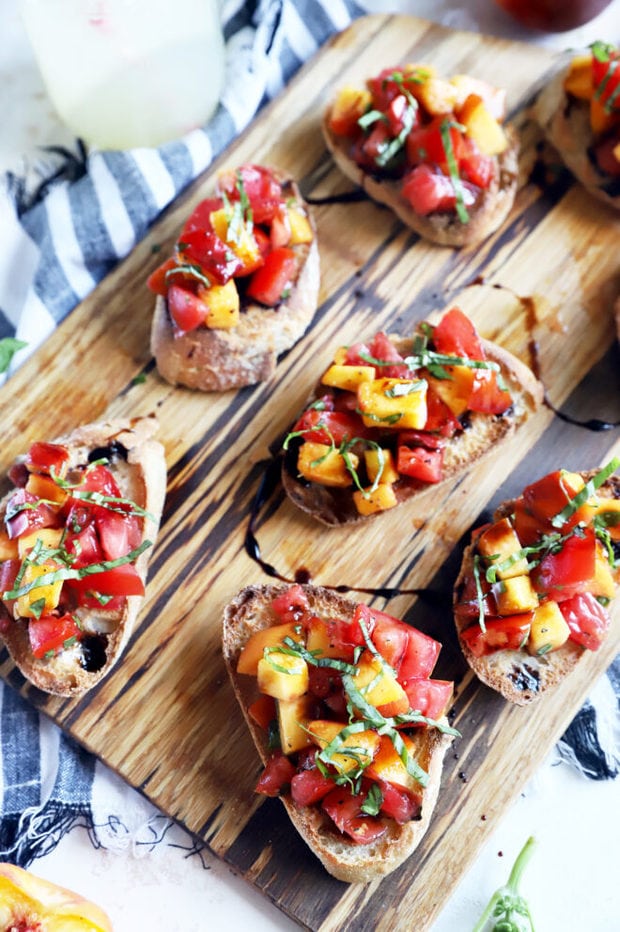 got questions?
What cocktails should I serve with this bruschetta?
Personally, I love to go super classic with this appetizer and go straight for the white wine because any varietal will go with it. You can even serve it with rosé or a chilled red wine if you prefer.
If you want a cocktail though, definitely reach for an aperol spritz, a grilled lemon lime mojito cocktail, or a limoncello martini! Both are a lovely and bright compliment to the appetizer!
How can I quickly ripen peaches?
When you end up with underripe peaches and want to quicken the process, simply stick the peaches in a brown paper bag and set them in a warmer part of your house. You'll be surprised how quickly they turn ripe!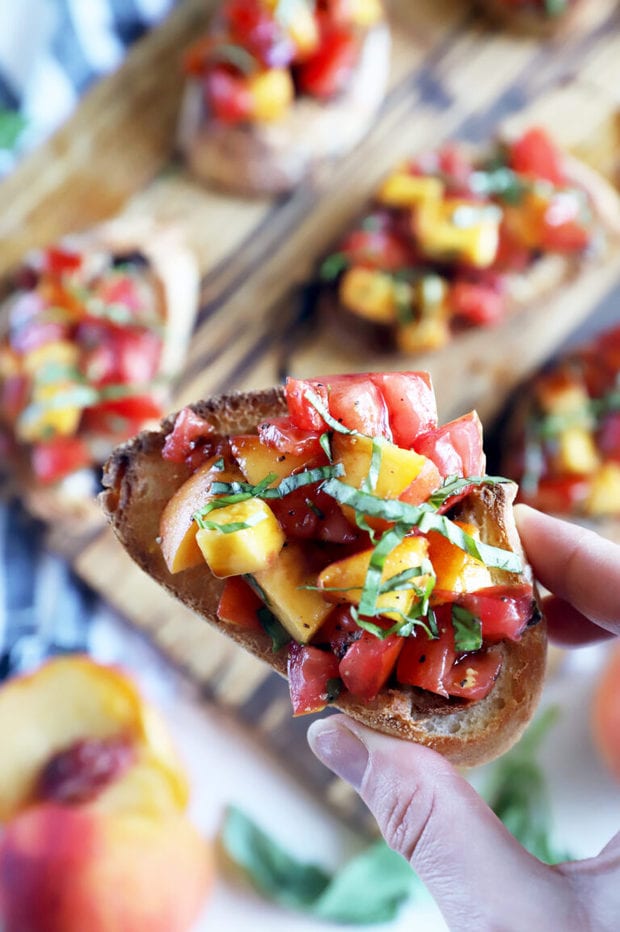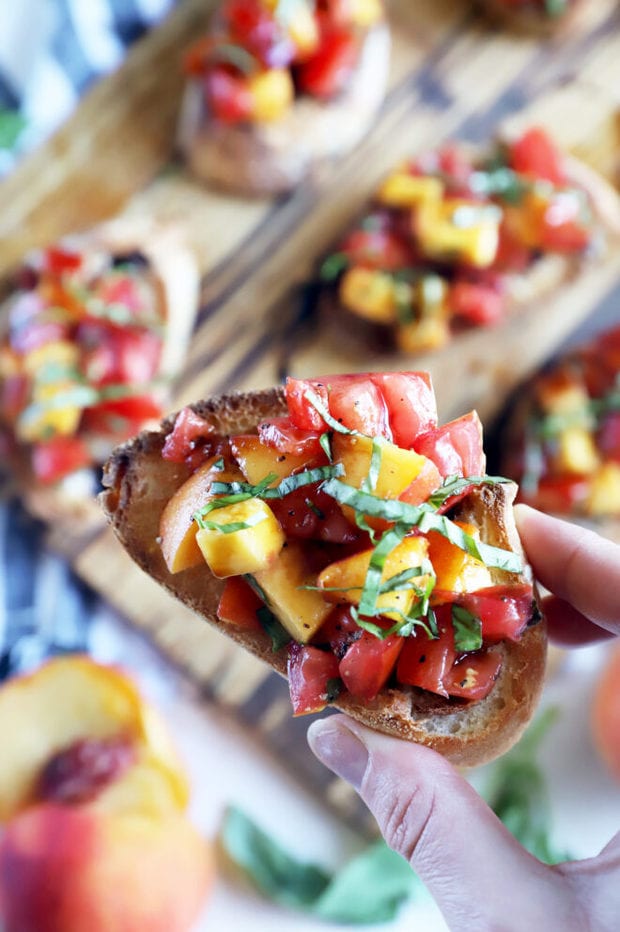 Tomato Peach Bruschetta
Your favorite Italian appetizer gets a summer fruit twist!
Ingredients
4 cloves garlic, minced
3 Tbsp olive oil
3 large peaches, chopped
2 ripe tomatoes, chopped
1/3 cup fresh basil leaves, chopped
1/2 tsp salt
1/2 tsp black pepper
1 baguette, sliced and toasted
2 Tbsp balsamic vinegar
Pinch of red pepper flakes
Instructions
Stir together garlic, oil, peaches, tomatoes, basil, salt, and pepper in a medium bowl until well combined.
Top the toasted slices of bread with the tomato peach mixture.
Drizzle with balsamic vinegar and sprinkle with a pinch of red pepper flakes.
Recommended Products
As an Amazon Associate and member of other affiliate programs, I earn from qualifying purchases.