Please note this post contains affiliate links.
Lemon Basil Gin & Tonic is how I'm upping my gin and tonic game before the summer is over. The bite of the lemon and sweet basil bring out every flavor in the gin! This is all I'm going to be sipping on until the weather turns…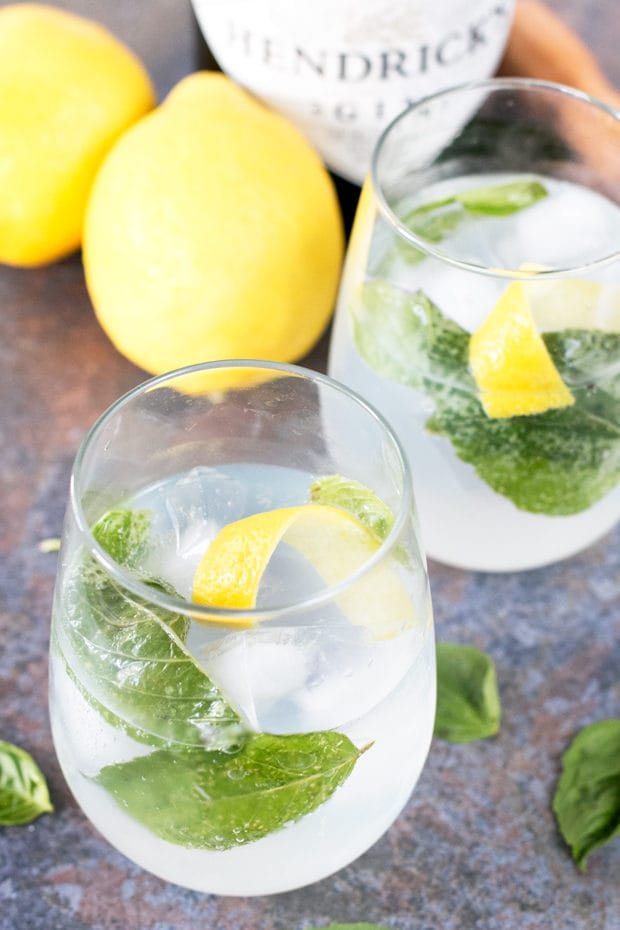 Labor Day weekend is almost here… Today is the first freaking day of September… I honestly can't believe how quickly this year is flying by.
I know I've been obsessing about this for the past two months (well ever since we hit June, let's be real) but it's not slowing down. It's only going faster.
*internal scream*
I swear, I have it together over here. *deep breath* Ok so, this cocktail.
Isn't that lemon and basil gorgeous?? I love how fresh this lemon basil gin & tonic cocktail looks!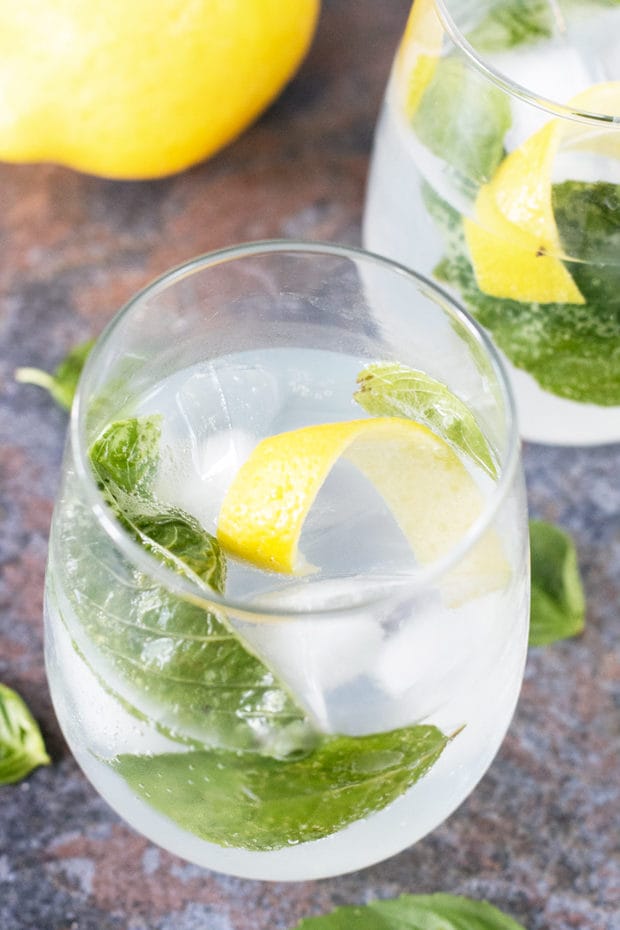 It's this bright little ray of lemony sunshine, with a hint of sweet herby basil to wash it all down with. Basically it's all you want to be kicking back with over the long weekend while you soak up the last holiday for a whiiiiiiiiiiiile.
Isn't that the worst part about Labor Day? Oh hiiiii, here's a three day weekend but surprise!
You don't get another day off until Thanksgiving. UGH.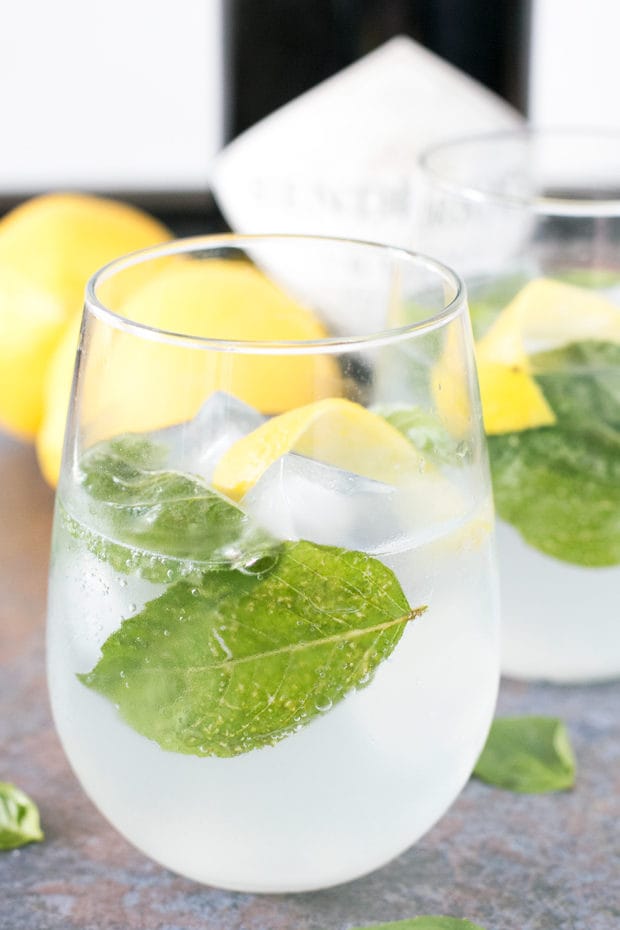 It's my least favorite realization because it always hits me hardest on Labor Day around 7pm when I'm wishing I had done so much more with my weekend.
Read: relaxed and actually slept over the weekend. So many first world problems up in here, I know.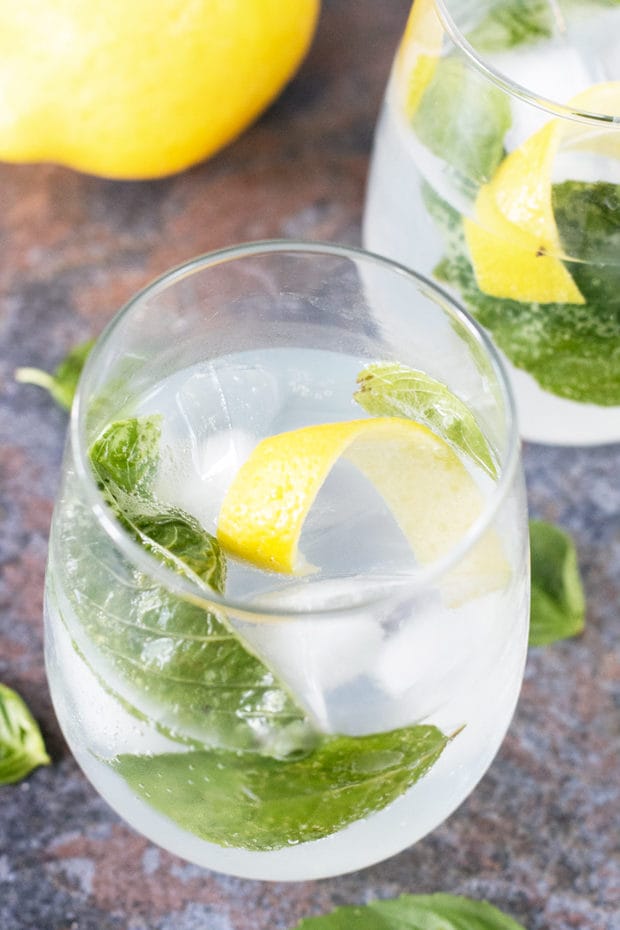 Anyway, back to focusing on this bomb dot com gin and tonic. The lemon and the basil are just a great pairing in a gin and tonic, because they truly enhance the flavors in the gin.
You can't help but exhale with an enthusiastic "ahhhhhhhhhhhh" after each sip of this lemon basil gin & tonic.
My secret hope is drinking these while practicing my cornhole skills over the weekend will make me some sort of savant.
Hey, it could happen!
Maybe?
Want to add a little sweetness? Try using 1/2 oz basil simple syrup in your glass!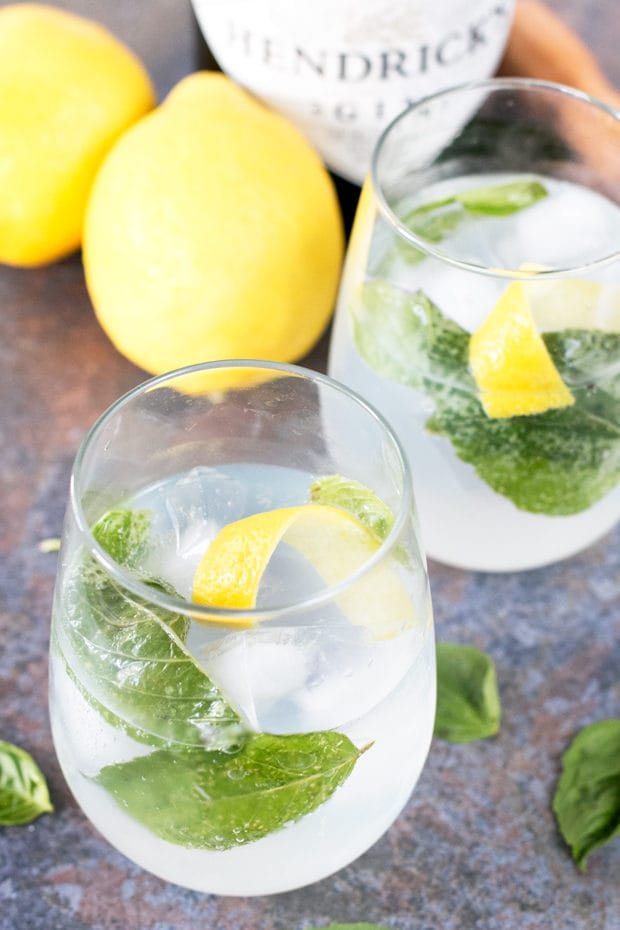 One day I will be a corn hole STAR, you all just wait and see. WAIT AND SEE.
Need more summer cocktail inspiration? Check out a delicious Wild Berry Vesper (video below!) or a refreshing lemon basil cocktail!
This Recipe's Must Haves
Libbey Stemless 9 Ounce Wine Glasses
help you get the look just like in these photos! I love these reliable, simple glasses – they are gorgeous for wine AND cocktails. You can also use them for water glasses if you want!
Hiware Stainless Steel Cocktail Muddler to mash up those basil leaves to get all that flavor out in the cocktail.
It's the most important part of the cocktail!
I highly believe knives are the most important item to invest in when it comes to kitchen tools and this chef's knife is no exception. It makes the perfect lemon zest spirals!
Ozera 2 Pack Silicone Ice Cube Tray Molds
to get perfectly formed square ice cubes. For me, these are so much better because they melt a lot slower than the ice you can get from the refrigerator.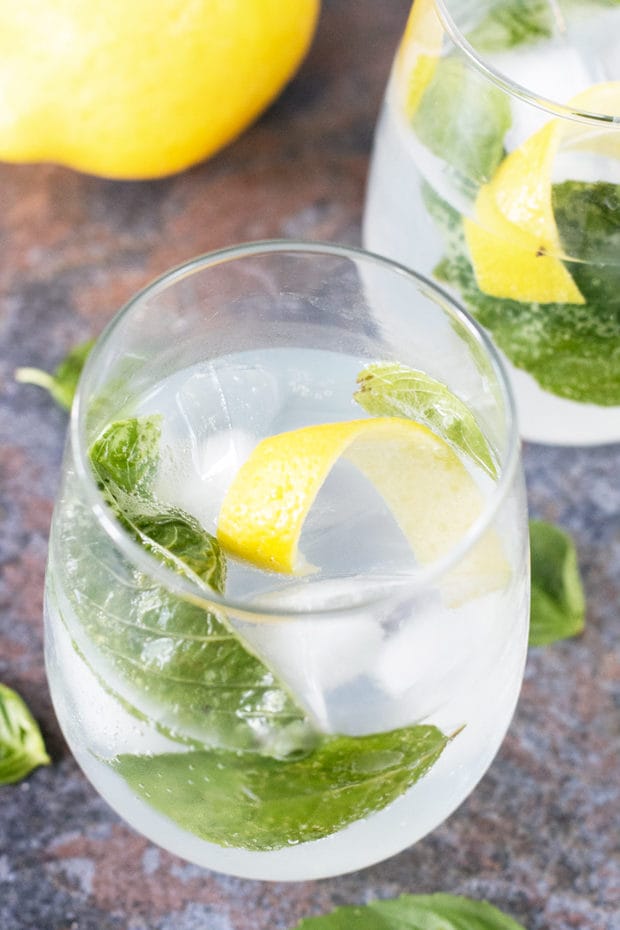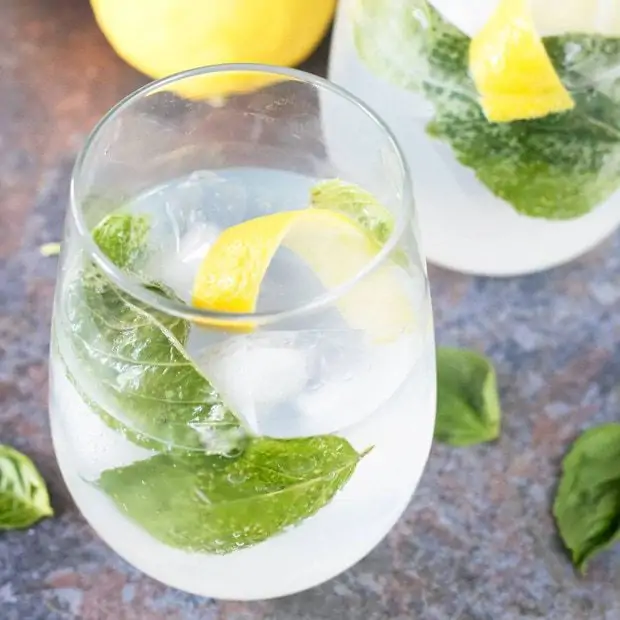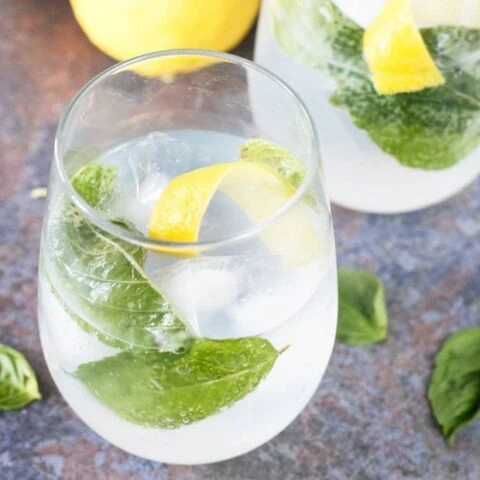 Lemon Basil Gin & Tonic
Basil and lemon are the perfect way to amp up your gin and tonic game!
Ingredients
1/2 oz fresh lemon juice
4 basil leaves
2 oz gin
Tonic
Garnish: lemon twist
Instructions
In the bottom of a cocktail glass, lightly muddle together basil leaves and lemon juice.
Add gin and stir.
Fill the glass with ice.
Top with tonic water.
Give it one final stir before serving with a lemon twist.
Notes
Be sure to only lightly muddle the basil leaves as they can turn bitter very quickly. You don't want to muddle them so vigorously that they break apart - just enough to release the flavor.