Please note this post contains affiliate links.
Basil Simple Syrup is an easy way to add herbaceous flavor to your favorite beverages. Crafted from simple ingredients, this recipe infuses the essence of aromatic basil into every sip. It is perfect for adding a touch of fresh elegance to cocktails, mocktails, desserts, and more.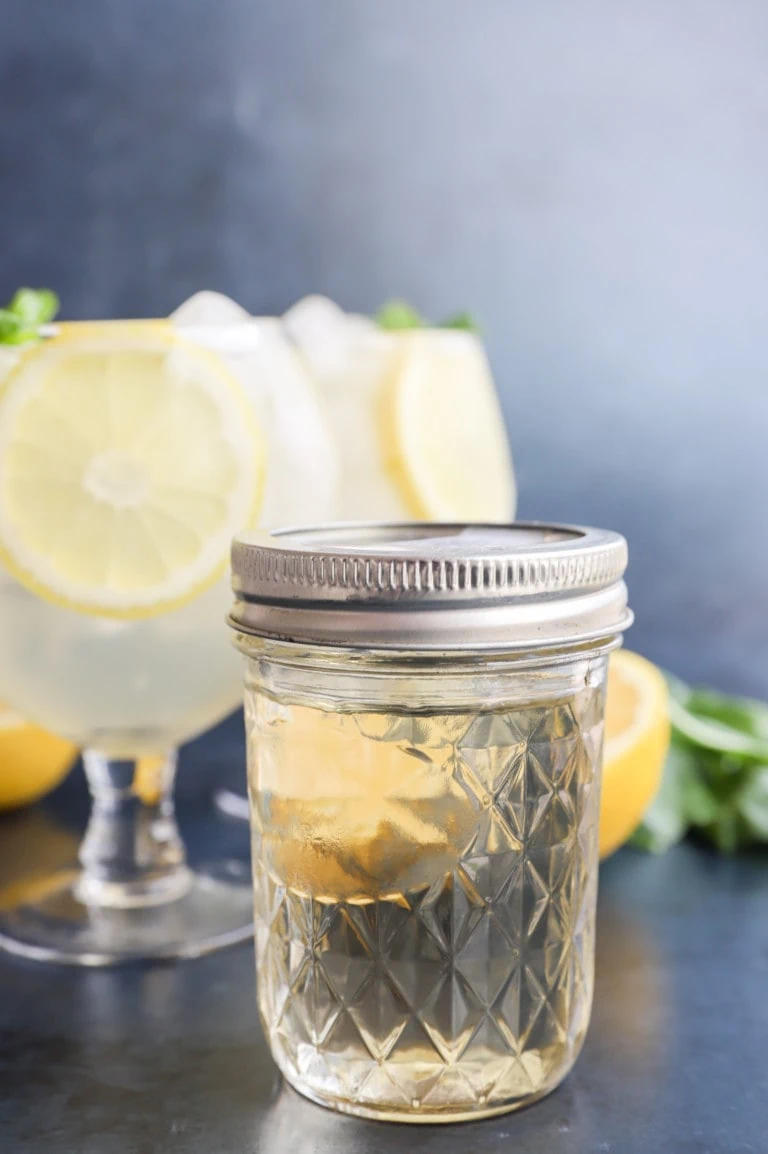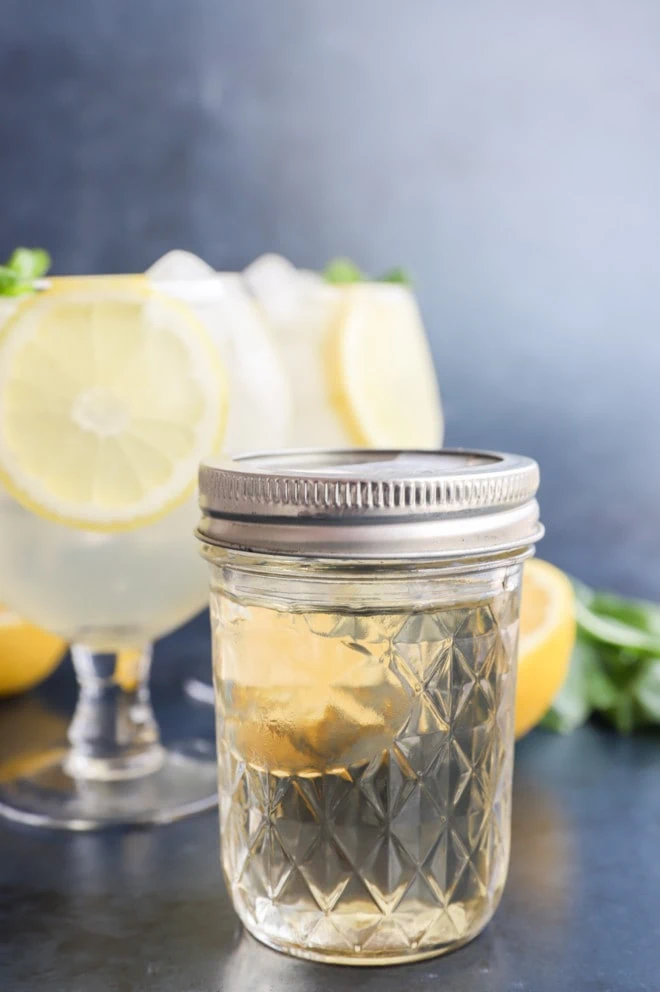 about this basil simple syrup
Basil simple syrup is an aromatic addition to your summer bar cart, whether you are using it for cocktails, mocktails, lemonade, or dessert. It adds a unique herbal and slightly peppery note to you beverage and culinary creations, elevating them to a whole new level.
I love using simple syrups for cocktails, as I'm sure you've seen in my previous recipes.
With basil simple syrup, you don't have to worry about the hassle of muddling fresh basil leaves or dealing with any of the gritty texture. The syrup is easy to use and dissolves easily into drinks, whether they are hot or cold.
Whether you are a mixologist, a dessert enthusiast, or simply someone who enjoys experimenting with flavors, basil simple syrup offers a convenient and flavorful way to incorporate the summery essence of basil into your everyday creations.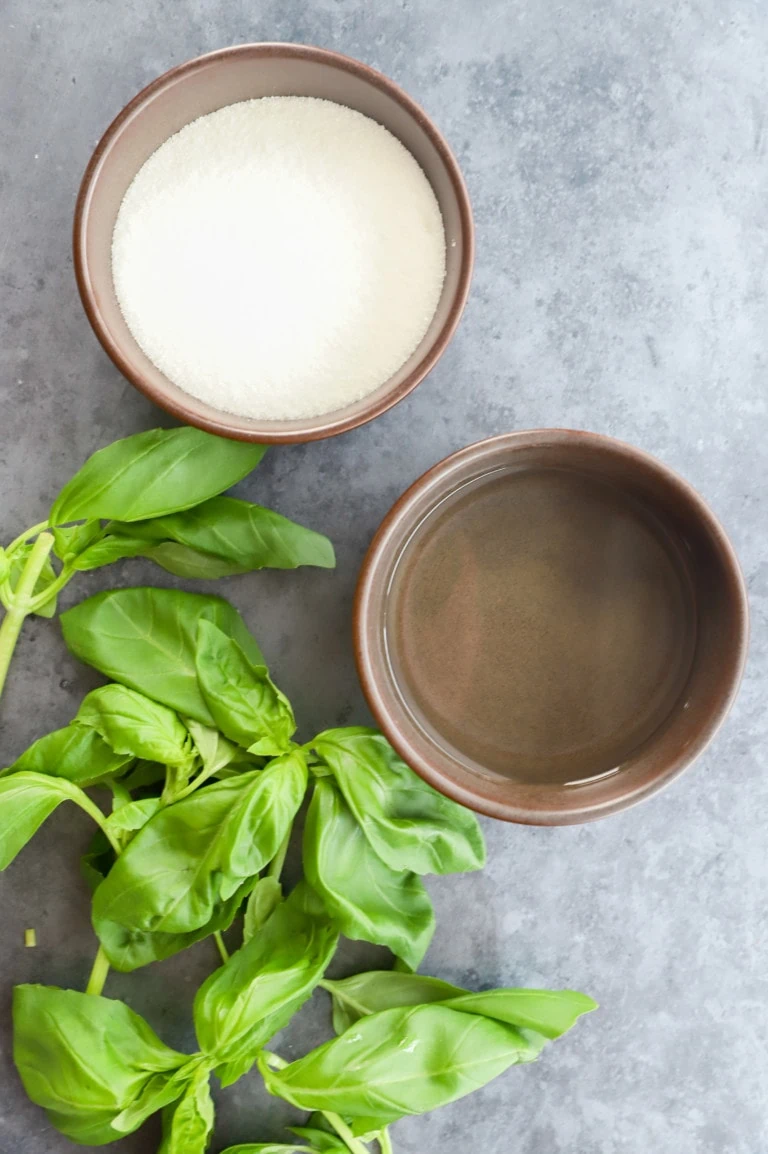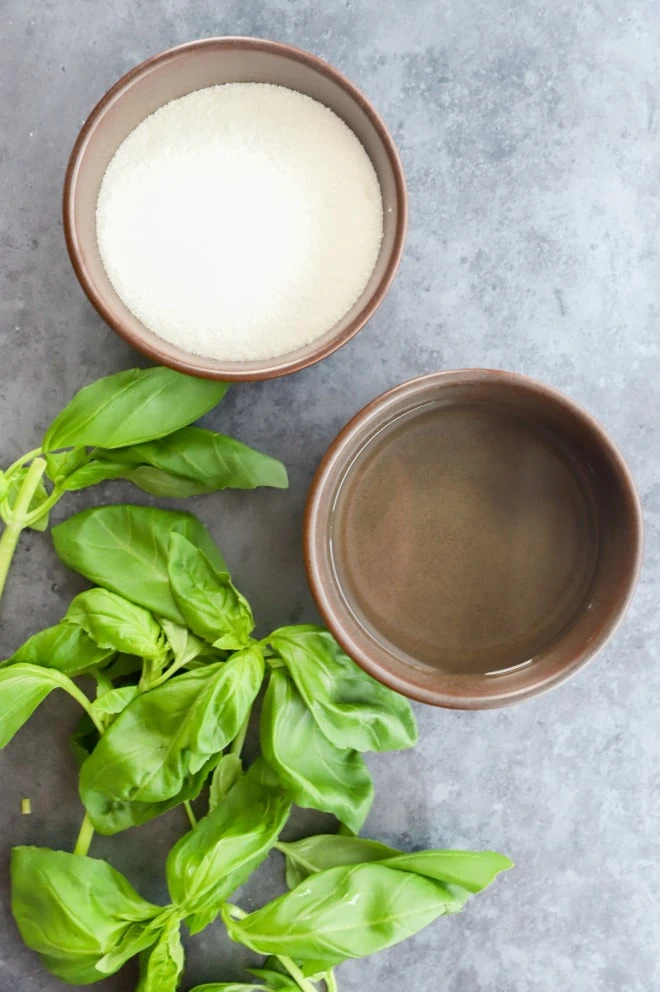 what is simple syrup?
Simple syrup is an incredibly versatile ingredient for cocktails, nonalcoholic drinks, and more. The process of how to make simple syrup is a simple one. Put plainly, it involves the dissolving sugar in water over heat. We use simple syrup as a sweetener in a variety of ways to enhance the flavor and even texture of a variety of drinks, desserts, and dishes.
We are in favor of using simple syrup as a sweetener because it evenly distributes sweetness and easily integrates into other recipes. Its liquid form makes it simple to incorporate, whether you are working with hot or cold liquids. The consistency of the syrup helps avoided the dreaded issue of sugar crystals hanging out at the bottom of the glass instead of properly incorporating into a drink.
Additionally, simple syrup can be used to moisten cakes, glaze pastries, or drizzle over fruit salads. It is a fundamental ingredient for cooks of any level to easily elevated your creations.
Plus it is incredibly easy to customize and infuse with a variety of flavors, like we are doing today with this basil simple syrup.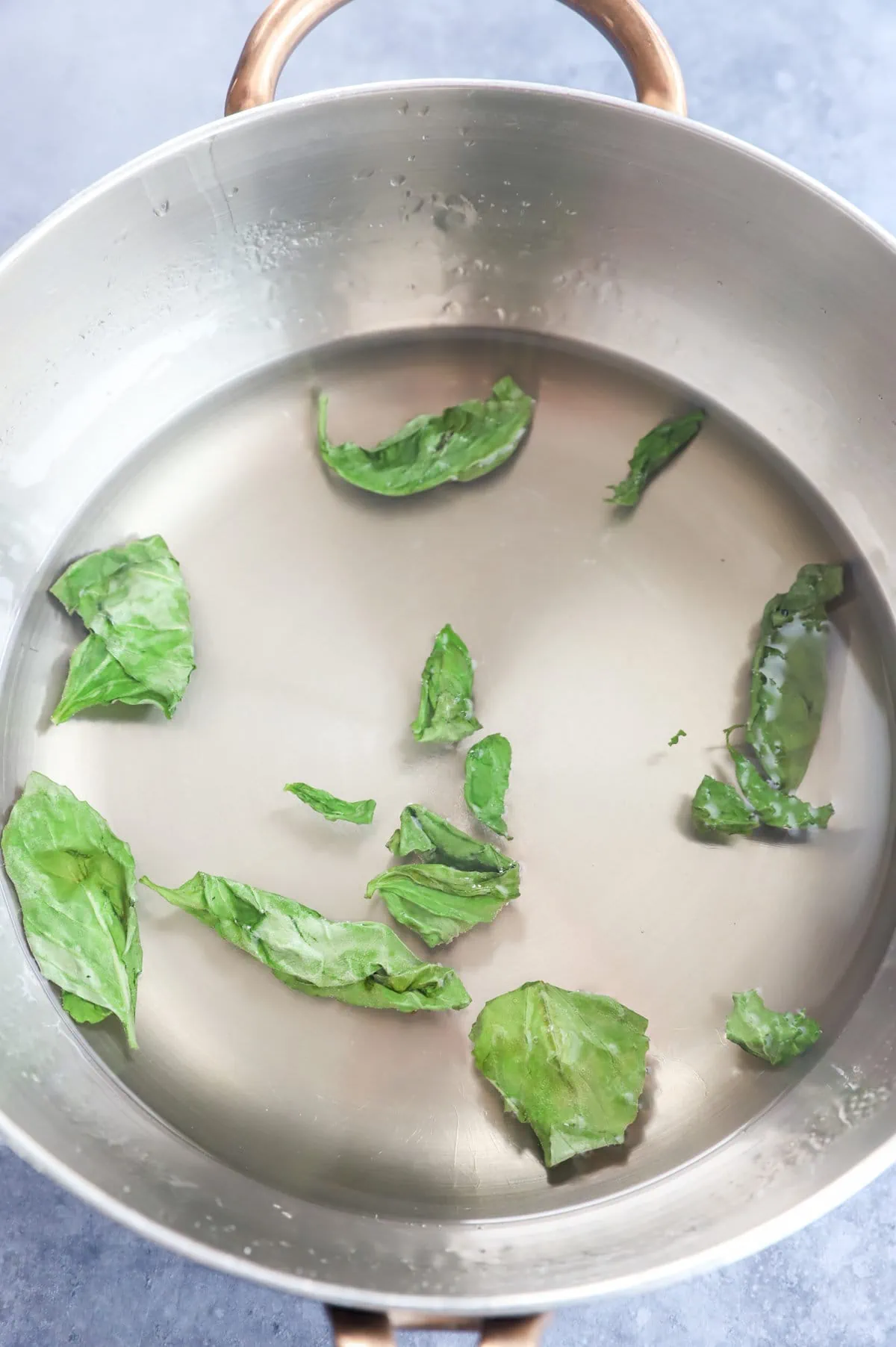 ingredients
basil. Fresh basil is key! This is how to get a fresh vibrant flavor for the syrup. If you try to use dried basil, the flavor will taste a little bitter.
sugar. All you need is granulated sugar for this recipe.
water. You can use tap water or filtered water. I prefer to use filtered water for the most optimal flavor in the final result.
this recipe's must haves
You don't need too many tools to create this recipe! You will need a saucepan, preferably one that comes with a lid.
A wooden spoon comes in handy to stir together the mixture as it simmers.
Finally, strain through a fine mesh sieve. I like to store my syrup in a mason jar, but you can use any sealable jar or airtight container.
tips for success
clean the basil. Be sure to remove any dead leaves and discard them. Rinse off the leaves you plan to use in cold water to remove any dirt.
use fresh basil. Fresh basil leaves are best to use in this recipe. You can buy them at the store, but I recommend growing your own basil if you can! It's simple enough and you can harvest it easily.
add a splash of lemon juice. If you want to change up the flavor of the syrup, add a splash of lemon juice to turn it into a lemony basil syrup.
More tasty simple syrup recipes: Lemon Simple Syrup | Strawberry Simple Syrup | Lavender Simple Syrup | Cinnamon Simple Syrup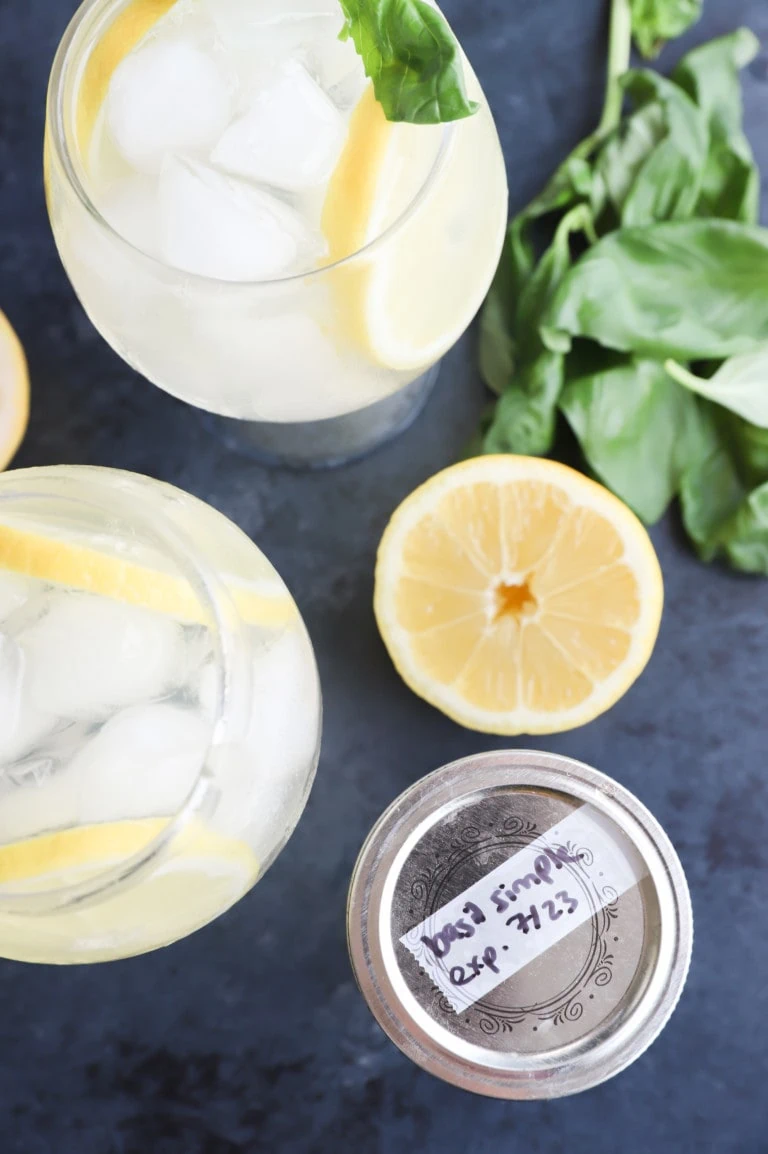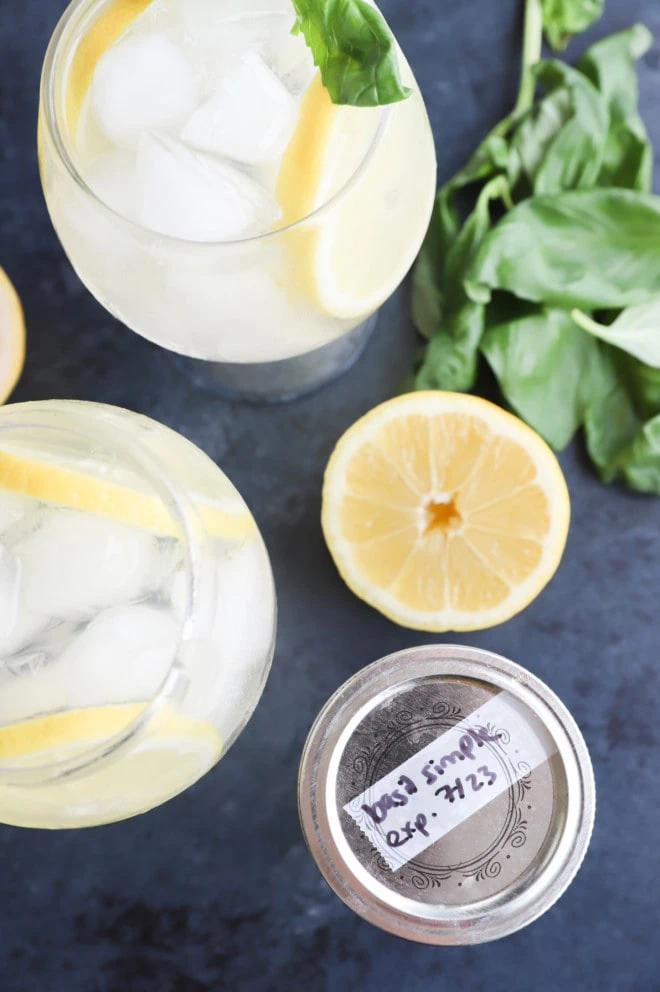 how long does basil simple syrup last?
This basil simple syrup will last in the refrigerator for up to 1 month in a sealed jar or airtight container.
You can also freeze it in cubes and store in the freezer for up to 3 months, thawing as needed. See my instructions just above the recipe for freezing and storing!
how much syrup does this make?
You will end up with 1 1/2 cups basil simple syrup from this recipe. A typical serving size is 1/2 ounce to 1 ounce for a beverage, so you will have about 12 to 24 servings total.
how do I use simple syrup on cakes?
I particularly love to use this recipe on fresh lemon or vanilla cakes throughout the late spring and well into summer. It adds a light herbaceous flavor to them, without overpowering the flavor of the cake itself. The syrup also moistens the cake so it further improves the texture as well as the flavor.
Use a basting brush to lightly brush the syrup onto your cakes.
can I use dried basil leaves for this recipe?
I do not recommend using dried basil leaves in this recipe. The flavor of the syrup really relies on the fresh basil leaves!
Need more inspiration for cocktail hour? Check out my cocktail recipes page!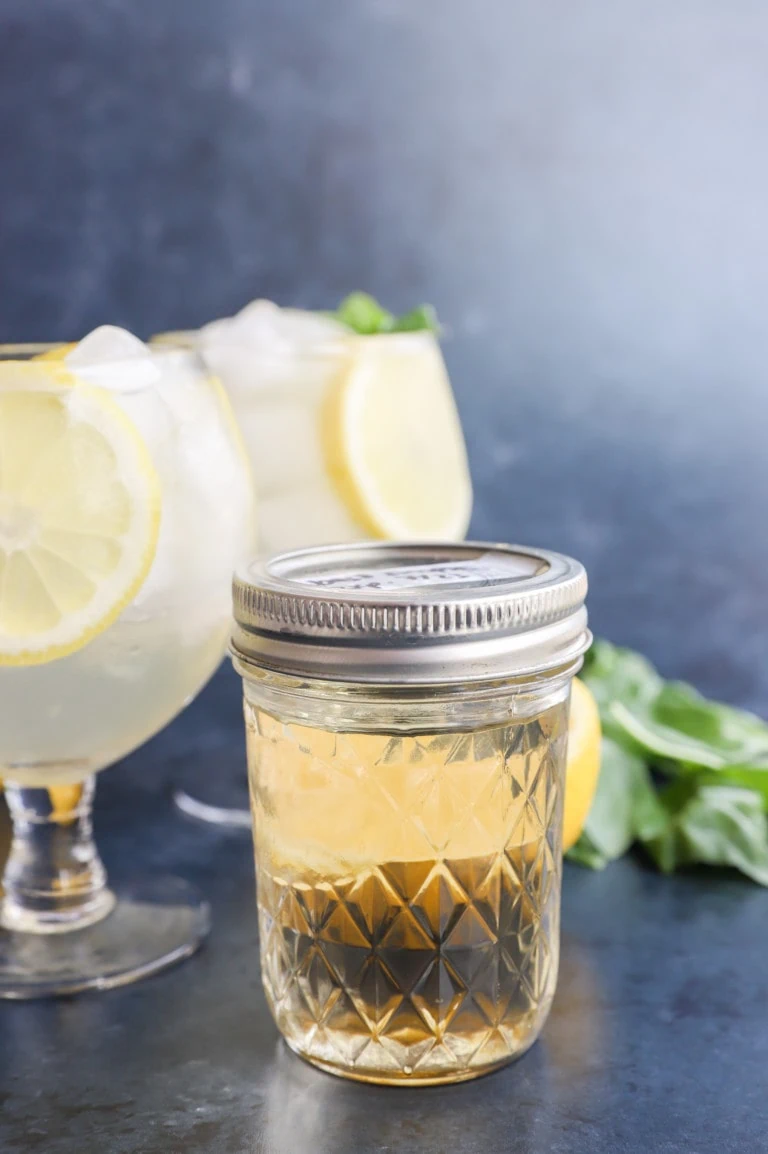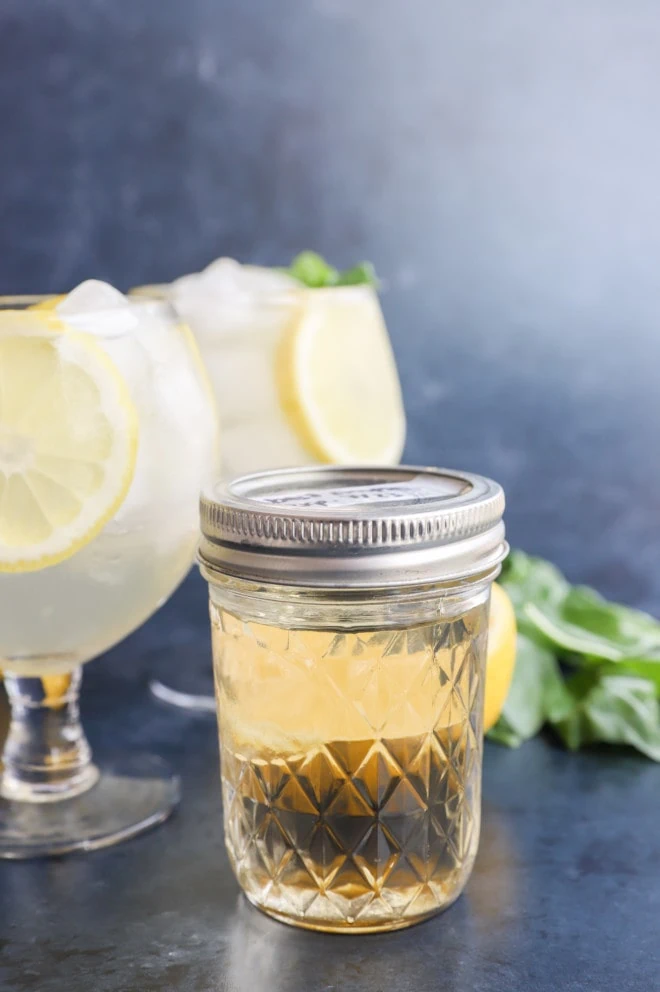 how to use this basil simple syrup
An herbaceous simple syrup is the easiest way to elevate so many recipes, from drinks to desserts and more. The basil is a particularly great pairing with flavors like lemon, strawberry, blueberries, blackberries, peaches, and orange.
Here are some ideas to get started with if you are looking for inspiration:
Use in place of simple syrup in your favorite cocktails! Add fresh fruit to elevate the cocktail even more.
Enjoy it in this lemon basil cocktail!
Sweeten lemonade or iced tea with the syrup for an herby twist.
Brush it on fruit tarts or breakfast pastries for a lovely glaze.
Drizzle over strawberries in a bowl and allow them to macerate.
Brush on top of whole cakes before frosting them, or on slices of pound cake or bundt cake just before serving.
Incorporate it in your favorite fruit salad recipe.
Stir 1/2 ounce to 1 ounce into your next glass of sparkling water with a squeeze of lemon juice or fresh berries.
basil cocktails to try
A refreshing strawberry basil margarita is an herbaceous twist on the classic margarita, served on the rocks.
Cool off with a delicious lemon basil gin and tonic to make the most of summery fresh basil.
Tart blackberries and basil elevate the smash cocktail in this blackberry basil bourbon smash.
A bright strawberry basil frozen daiquiri is perfect for any day of the week.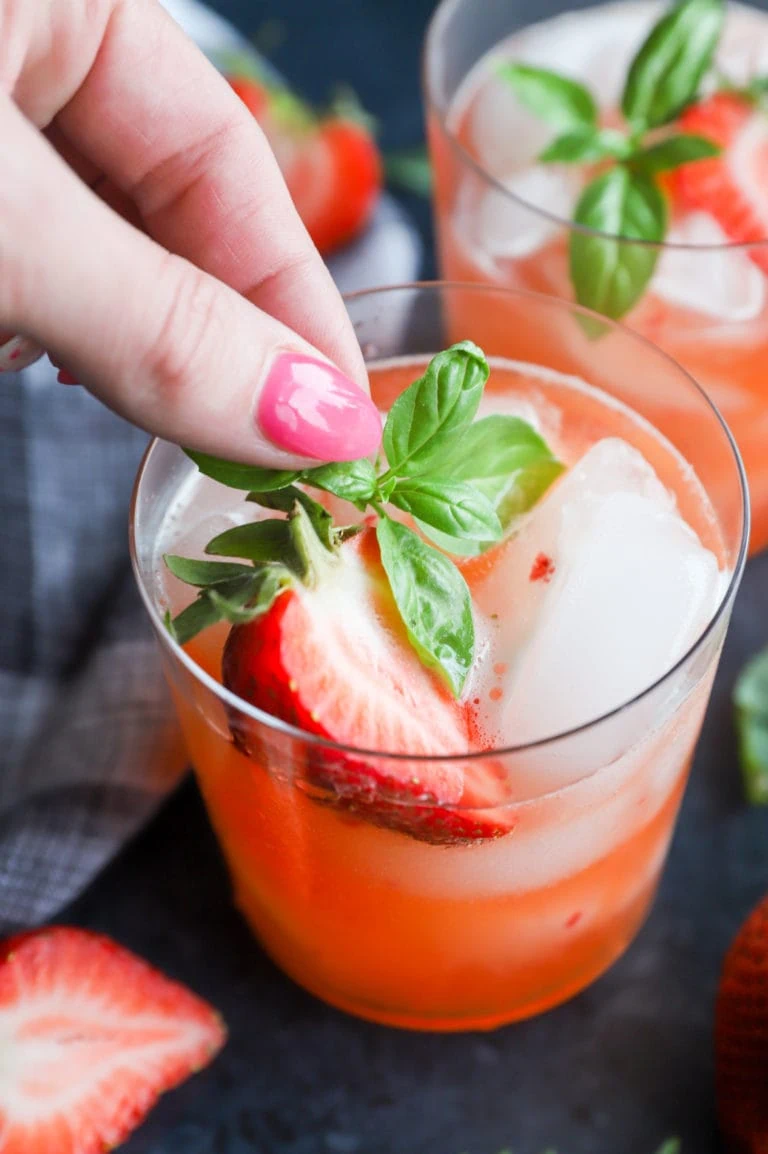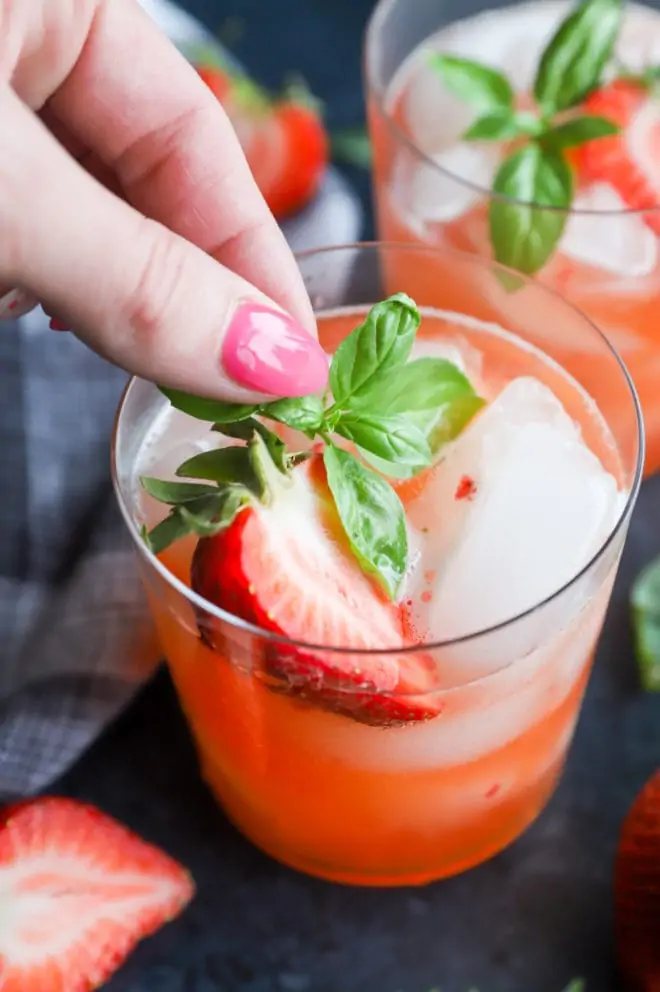 how to store
Store. Bring simple syrup to room temperature before adding to a sealed jar or airtight container. Store in the refrigerator for up to 1 month. Do not leave out at room temperature.
Freeze. To freeze, pour into ice cube trays. Allow to freeze fully before popping them out and storing in a freezer resealable bag or airtight container. The basil simple syrup cubes will keep for up to 3 months.
Thaw. Place as many cubes as you'd like to thaw in a bowl. Thaw overnight in the refrigerator, then use as desired.
seasonal tip
Pick your basil before they flower! If you are growing your own herb garden, make sure that you are harvesting basil before it has the chance to flower, as this will stop the herb's growth. Cut sprigs of basil just above a leaf cluster. Remove any dead or damaged leaves and wash off any dirt before using.
Finally, if you make this basil simple syrup recipe, please be sure to give this recipe a rating or leave a comment! I love to hear when you all make recipes, and I do take the time to respond to every single comment. Feel free to drop questions below too, if you have them!
Oh and be sure to tag me on Instagram if you make the recipe! I love being able to see these recipes come to life in your homes – it's my favorite thing to look through those photos. It really means the world to me!
Basil Simple Syrup
Additional Time:
10 minutes
Fresh, aromatic, and flavorful, this simple syrup is an easy way to elevate your everyday drinks and cooking!
Ingredients
1 cup sugar
1 cup water
12 to 14 basil leaves
Instructions
Combine sugar, water, and basil leaves in small saucepan. Bring the mixture to a simmer over medium heat, stirring constantly, until the sugar dissolves.
Remove from heat and cover. Let steep for 10 minutes.
Strain the leaves out with a fine mesh sieve and let cool completely.
Store in a sealable jar or airtight container in the refrigerator for up to 1 month.
Recommended Products
As an Amazon Associate and member of other affiliate programs, I earn from qualifying purchases.