Please note this post contains affiliate links.
Cherry Simple Syrup is the perfect way to add fresh cherry flavor to your favorite summer drinks! I love adding it to cocktails, but you can also mix it with club soda for an easy homemade soda. Makes 8 servings.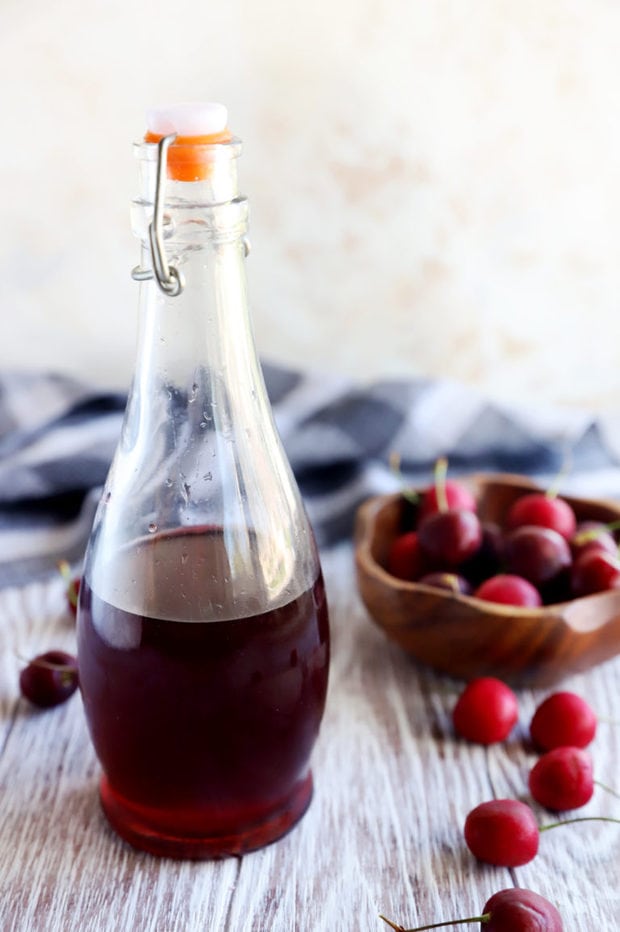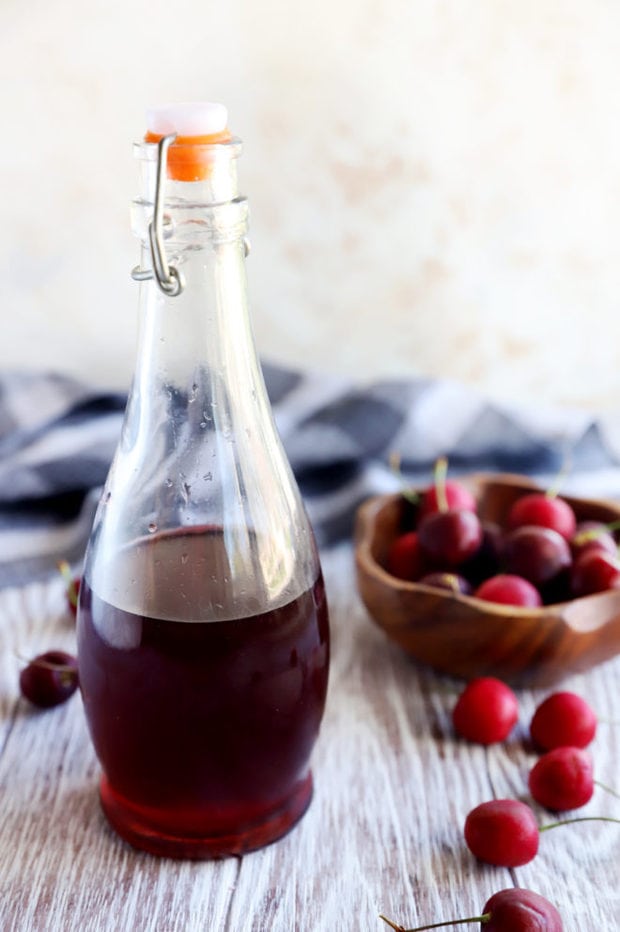 Who else loves cherries in the summertime?
I can't say that I have tons of fond memories of eating cherries growing up, but I CAN say that cherry is one of my favorite flavors in the summer, especially when it comes to beverages.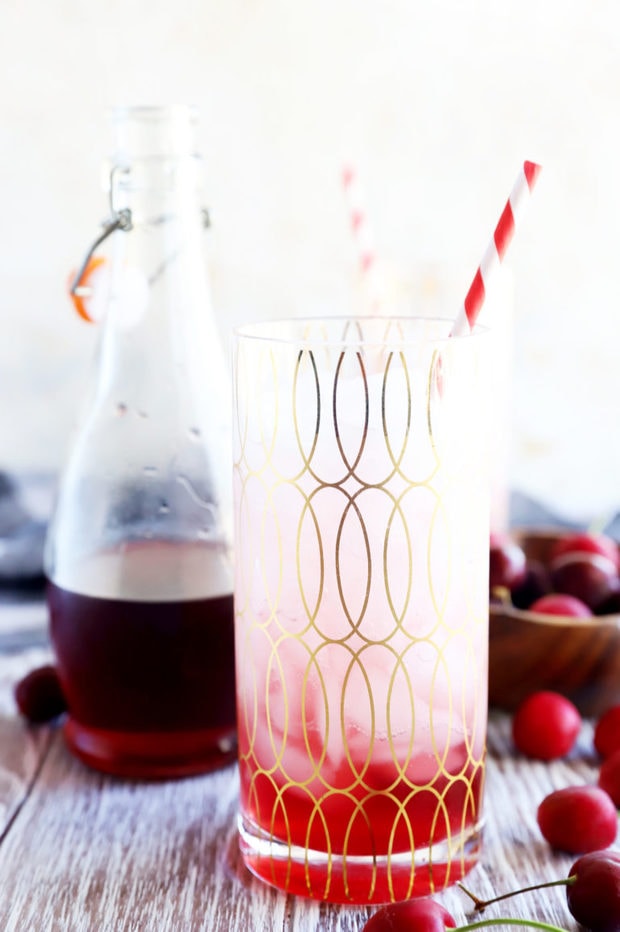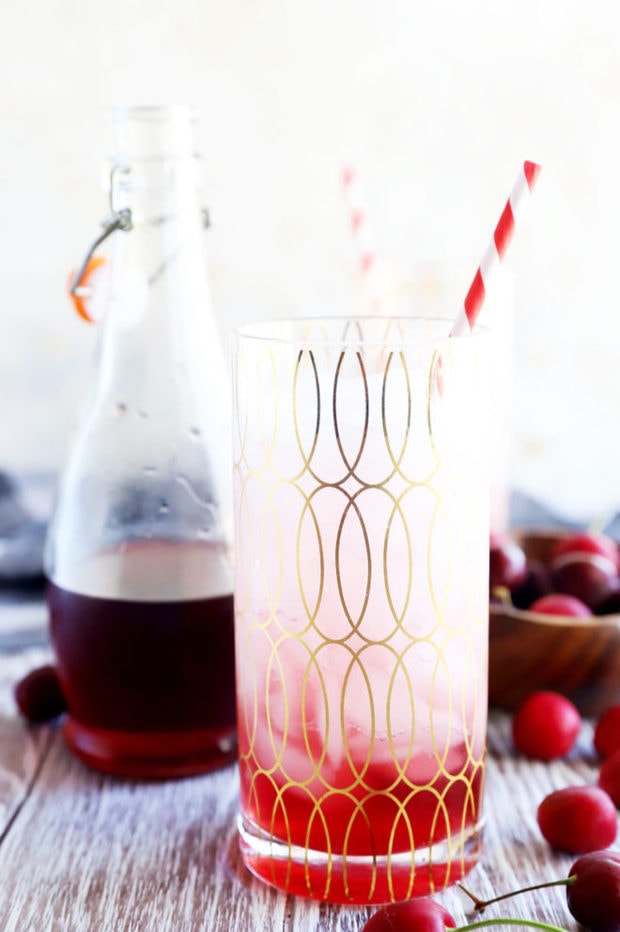 The easiest way to add unique flavor to traditional cocktails is with simple syrup. They are so easy to make and all you have to do is add your favorite fresh ingredients to make them your own.
Here's what you need to remember if you want to memorize this recipe…
It's a 1:1 ratio.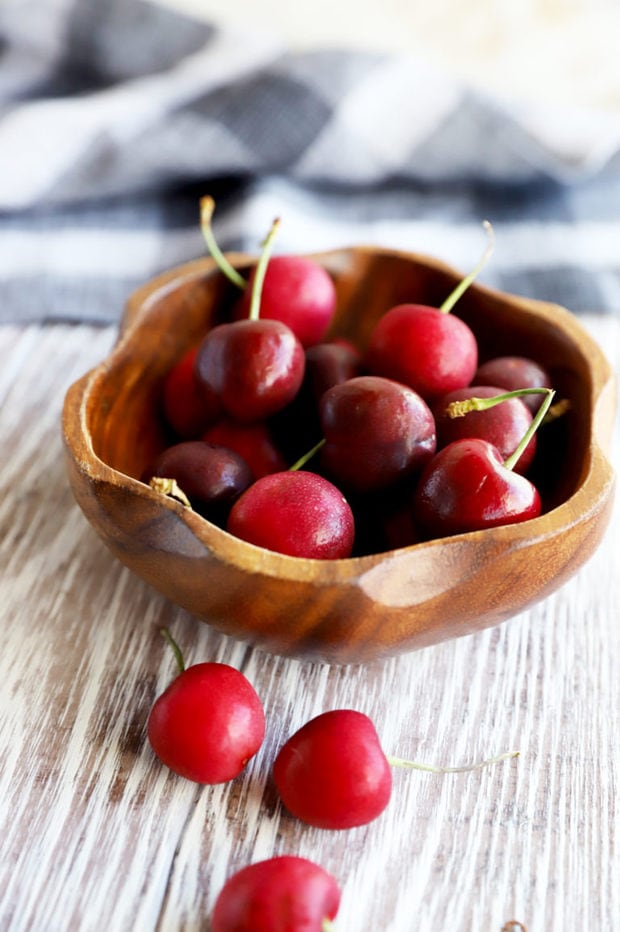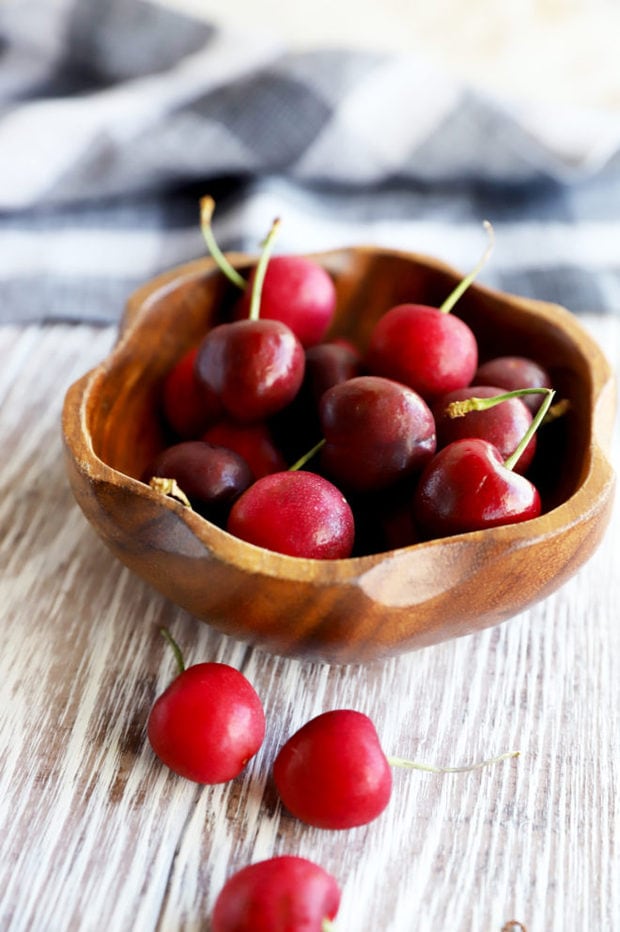 That means 1 cup sugar and 1 cup water. 2 cups sugar? 2 cups water. And so on and so on.
Pretty simple, am I right? All you do now is add in your favorite flavorings. Today, it's all about the cherries!
You can transform an old fashioned into a cherry old fashioned with this simple syrup (and I like to use smoked orange bitters with it – SO GOOD). The humble vodka soda can use a dash of this tasty syrup to make it perfect for summer. Whatever you like to drink, whether it has alcohol or not, this cherry simple syrup will infuse it with fruity flavor!

this recipe's must-haves
The syrup cooks in a saucepan and I like to use a wooden spoon to stir it all up as it cooks.
I use a muddler to smash up the cherries before straining through a fine mesh sieve into the container I plan to store it in. A mason jar is perfect for storage if you don't have syrup jars at the ready!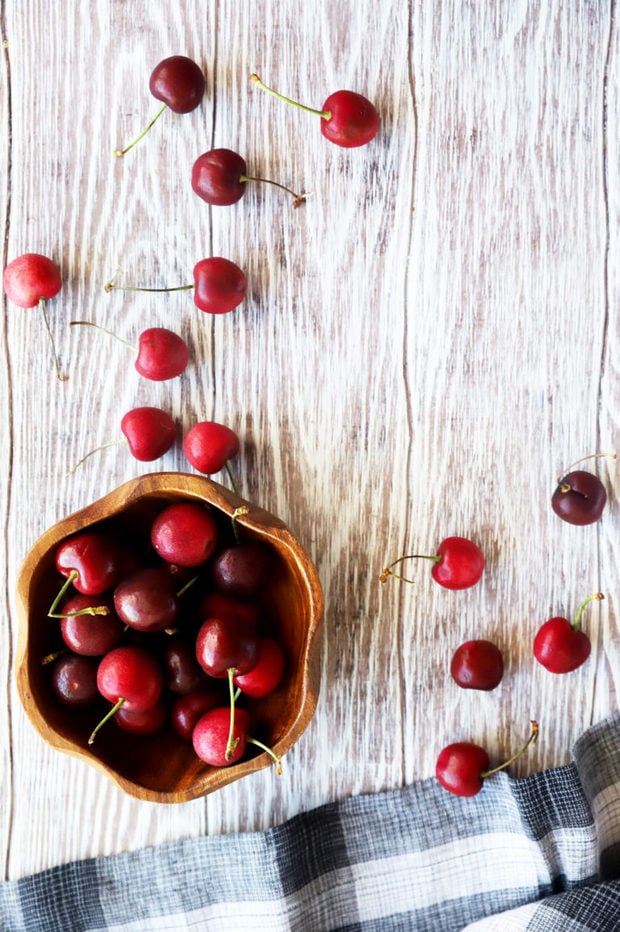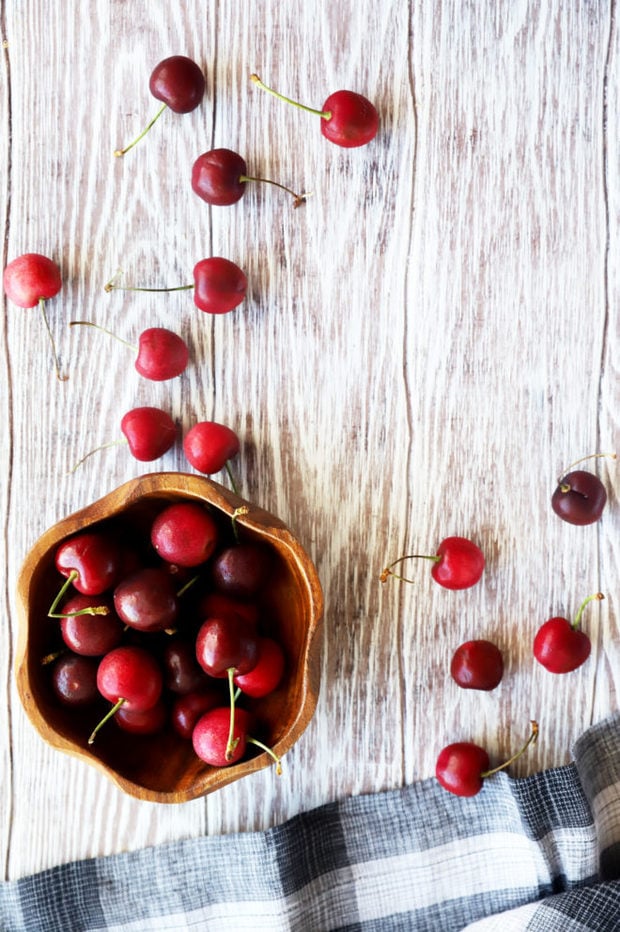 we're making cherry simple syrup!
Simmer
Bring the sugar, water, and cherries to a summer over medium-high heat. Let the mixture cook, stirring occasionally, for 10 minutes then remove from heat.
Rest and Strain
Smash up the cherries in the pan with a muddler (or the back of a fork) and let the mixture sit for about 15 minutes. This allows the mixture to steep a bit to get extra flavor from the cherries.
Strain the syrup into an airtight storage container (I recommend using glass!).
Store
Cool the syrup down before placing in the refrigerator. This syrup can be stored for up to 3 months in the refrigerator!
Need some more inspiration for cocktail hour? Check out my booze recipe page!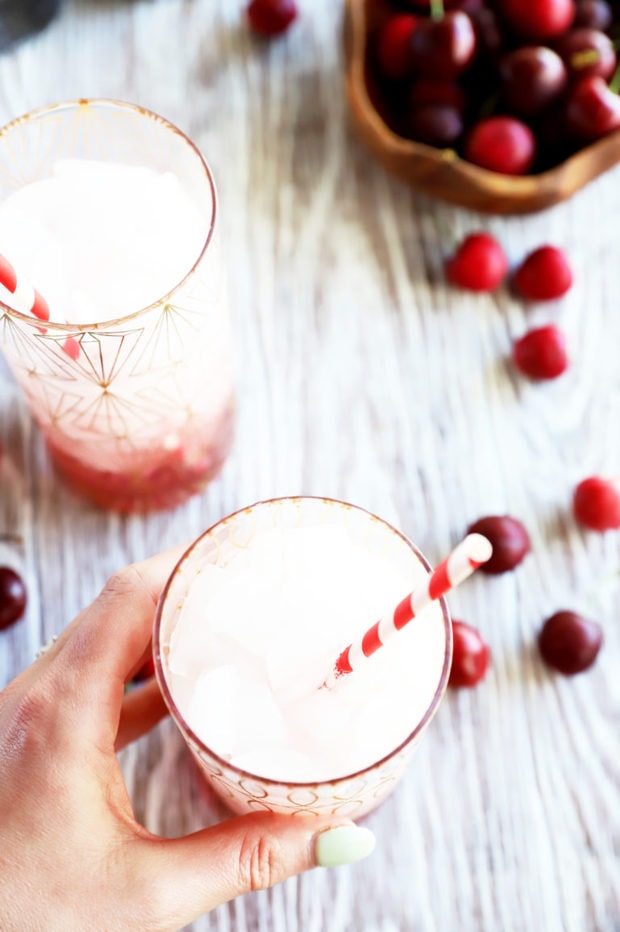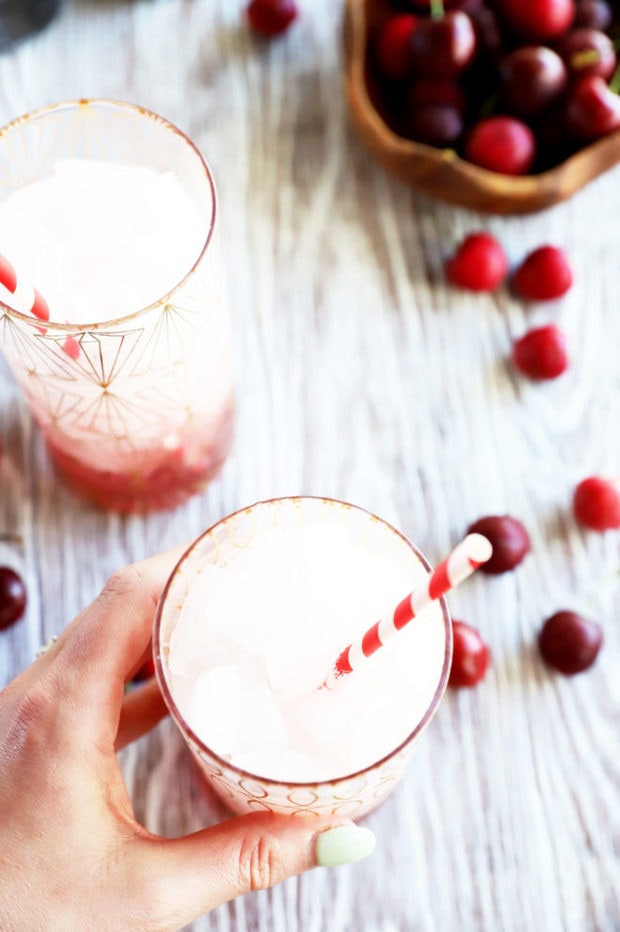 can I use frozen cherries?
If you want to make this recipe and don't have fresh cherries available, you can use frozen! Be sure to thaw them completely before draining and slicing them in half.
how do I make a non-alcoholic cherry soda?
Use 1 1/2 to 2 ounces cherry simple syrup with 6 ounces club soda to make your very own cherry soda. If you want, add a bit of vodka for the adults!
how do I use this cherry simple syrup?
There are so many ways to use this cherry simple syrup! Here are some ideas to get you started:
Use it in your favorite cocktails! Just swap out regular simple syrup with this for a cherry twist!
Make a custom cocktail like this cherry vodka sour or cherry bourbon sour.
Add it to lemonade for a cherry lemonade!
Use it in sparkling water for a bubbly cherry soda (details mentioned above).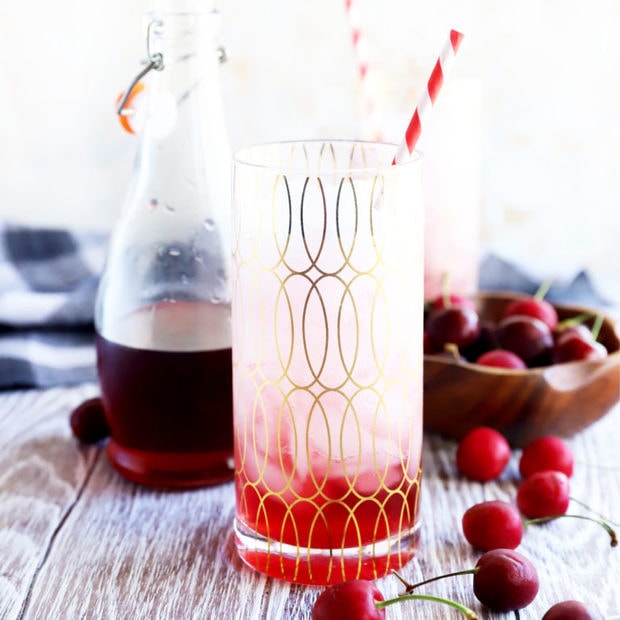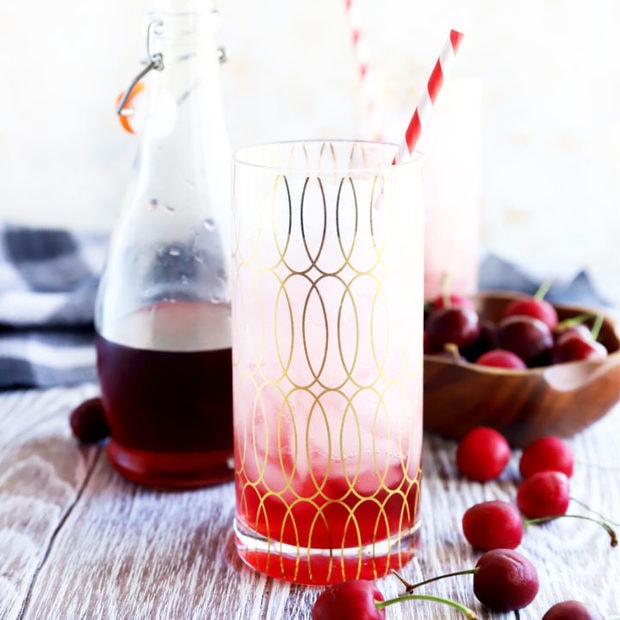 Cherry Simple Syrup
Additional Time:
15 minutes
Using fresh or frozen cherries, this simple syrup is an easy way to add fruity flavor to your favorite drinks!
Ingredients
1 cup fresh or frozen and thawed, pitted cherries, sliced in half
1 cup water
1 cup granulated sugar
Instructions
Heat sugar water and cherries in medium saucepan over medium-high heat.
Simmer 10 minutes then remove from heat.
Smash up the cherries with a muddler or the back of a fork. Cover and let the syrup sit for 15 minutes.
Strain and store in a sealed, glass container in the refrgierator.
Recommended Products
As an Amazon Associate and member of other affiliate programs, I earn from qualifying purchases.