Please note this post contains affiliate links.
Indulge in the mouthwatering symphony of flavors with our tasty Pulled Pork Burger. Succulent pulled pork, cooked to perfection, nestled between soft buns, topped with crunchy coleslaw, pickles, and fried onions. Get ready to experience BBQ nirvana with every bite!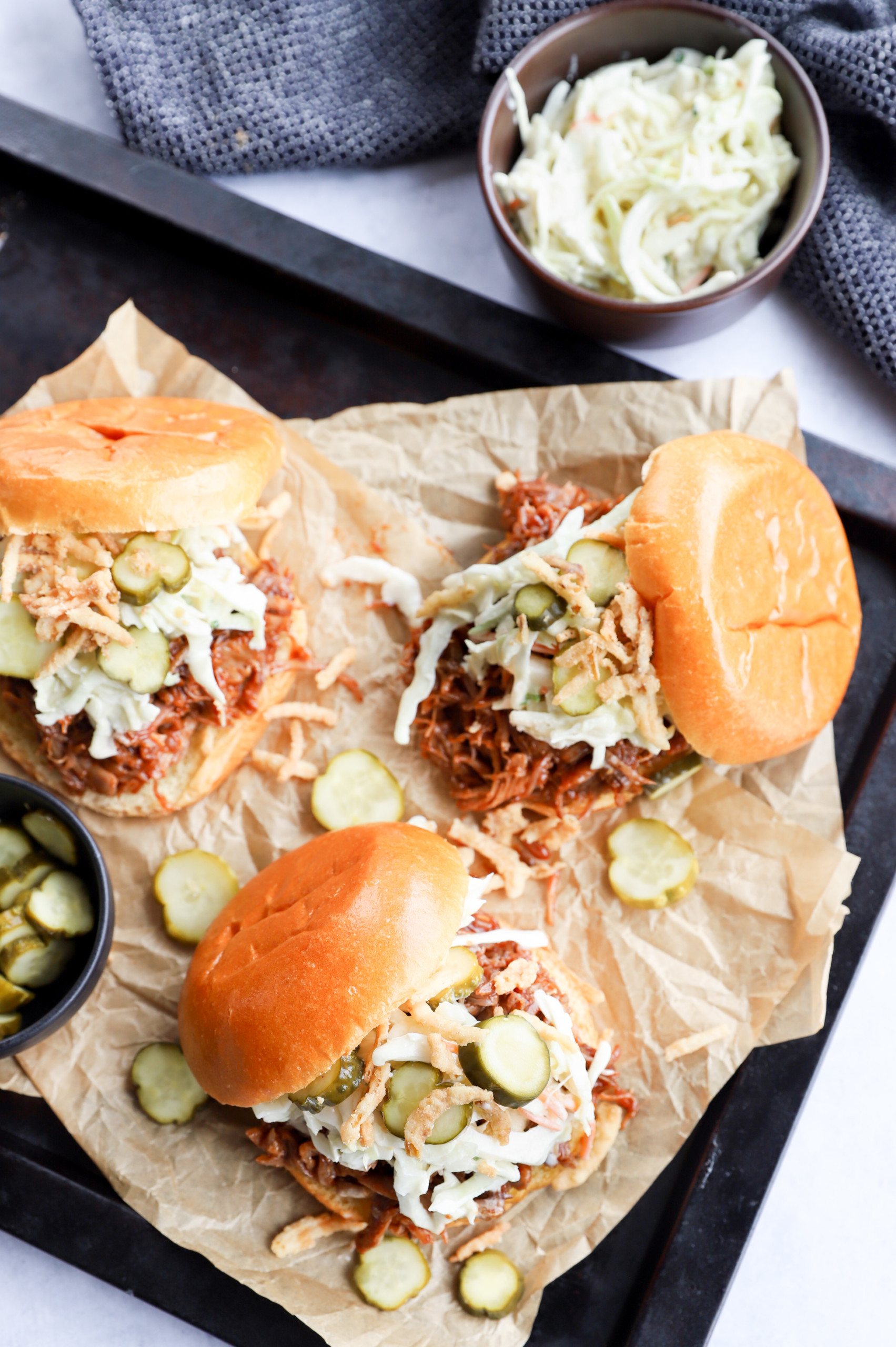 about this pulled pork burger
Pulled pork burgers have earned their reputation as a delectable and irresistible treat for several reasons. From the succulent texture to the incredible flavor profile, these burgers offer a culinary experience like no other.
They just so happen to be my favorite thing stuffed between a bun. One of the key factors that make pulled pork burgers so delicious is the cooking process itself. Typically, the pork shoulder or butt is slow-cooked over low heat for hours, allowing the fat and connective tissues to break down gradually. This slow and low cooking method results in tender, juicy meat that practically melts in your mouth.
Of course, as an average human being with a craving for pulled pork and limited time, I bust out the Instant Pot to make this recipe come to life.
The magic of the Instant Pot allows the meat to cook quickly, while breaking down all the fat and connective tissues. The meat will still melt in your mouth and be nice and juicy!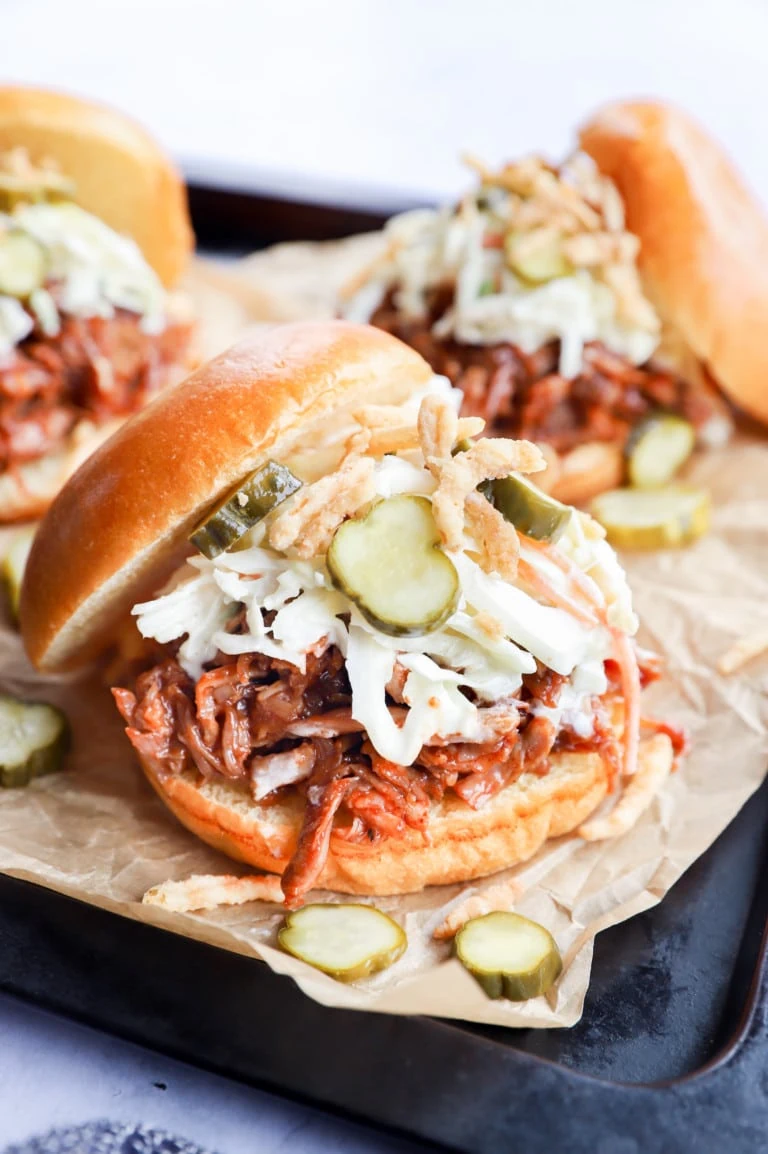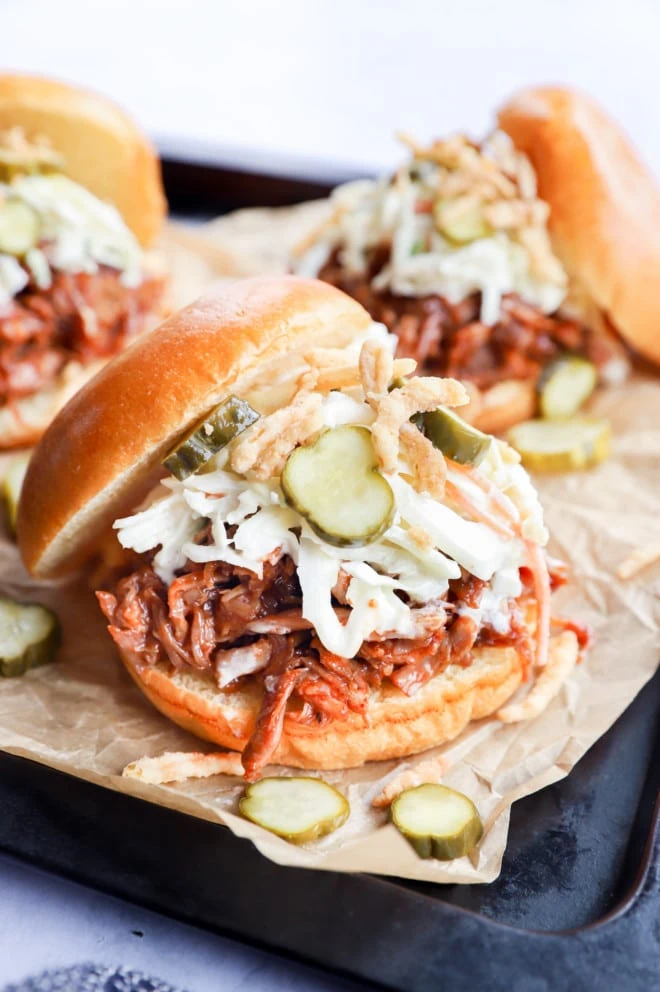 The indulgence of a pulled pork burger cannot be ignored. The combination of juicy meat, savory barbecue sauce, and the satisfaction of biting into a soft bun creates a truly blissful experience for your taste buds.
Pulled pork burgers are undeniably delicious due to the flavorful rub, combination of toppings, and the overall indulgent experience they offer. Whether enjoyed at a backyard barbecue or savored at a restaurant, these burgers are a testament to the artistry of BBQ and the pleasure of enjoying a well-crafted culinary delight.
what is the difference between a pulled pork burger and pulled pork sandwich?
Honestly, nothing really. It's just a difference of how you like to say it. To put it simply, both are the combination of pulled pork stuffed between two bun halves.
Some people call it a pulled pork sandwich. Others call it a pulled pork burger.
If you really want to drive people insane, switch between the two terms in the same sentence and see their eyes bug out… I may or may not be speaking from experience when talking to my husband about the recipe, haha.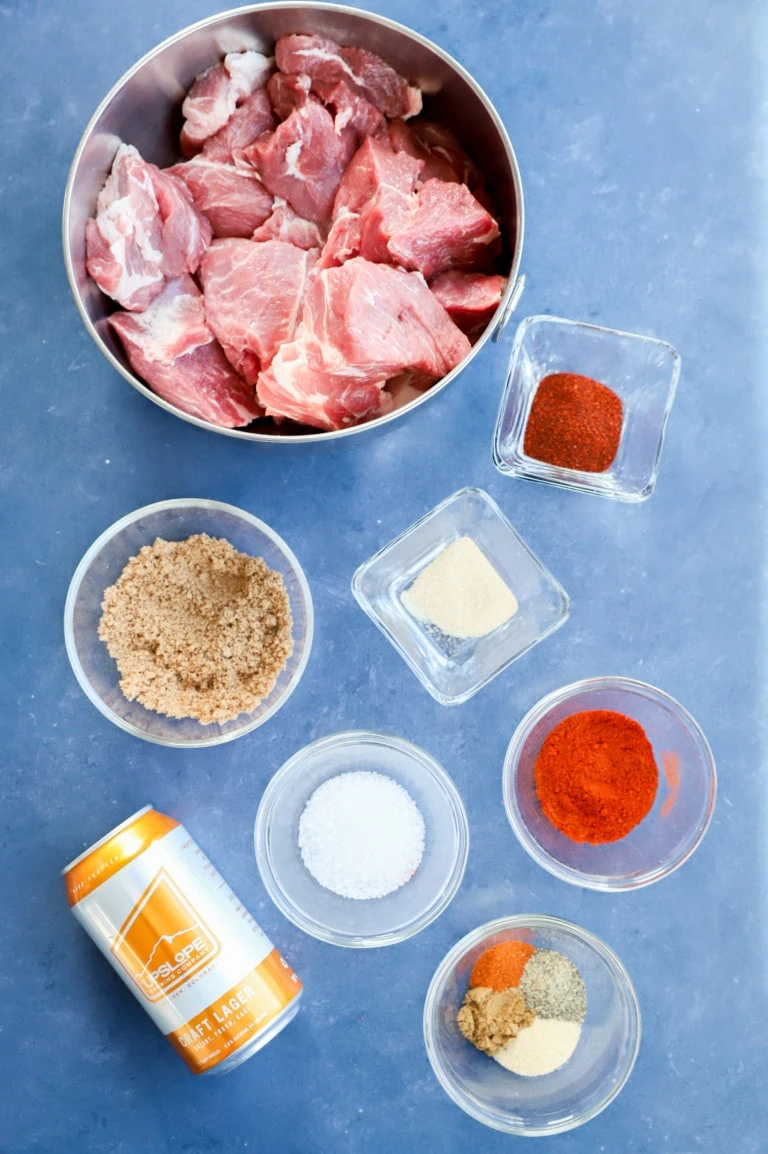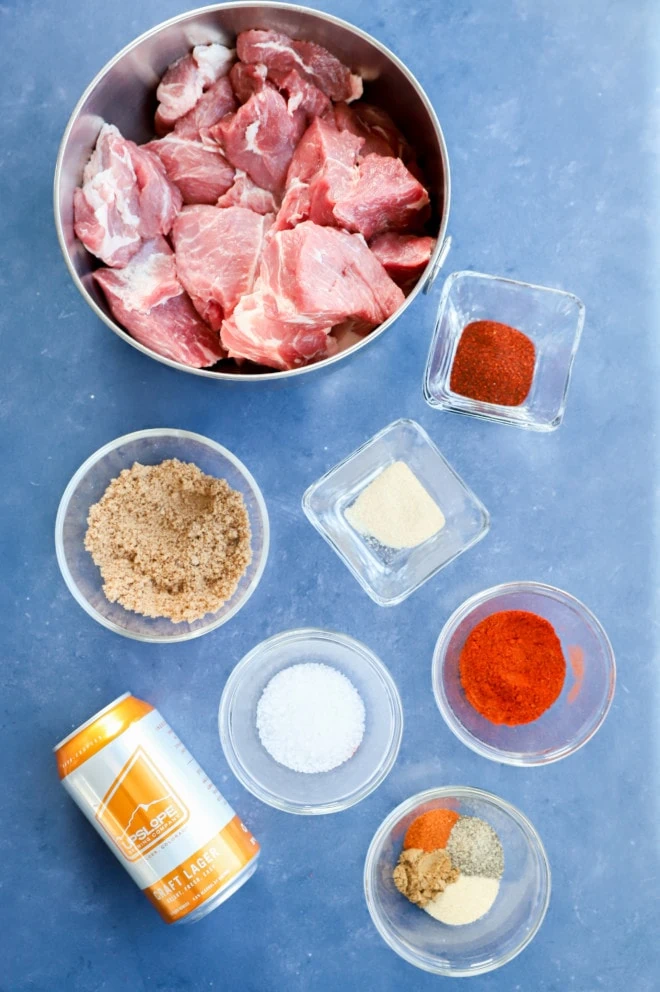 ingredients
pork. I use boneless pork shoulder, also called pork butt, for the recipe.
sugar. All you need is dark brown sugar for this recipe. You could also use light brown sugar.
spices. The spices you will need for this recipe include salt, smoked paprika, chili powder, garlic powder, onion powder, ground cumin, cayenne pepper, and black pepper.
beer. A lager is best for pork! You could also use a pale ale.
bbq sauce. Whatever BBQ sauce you love is your favorite, use that! I like to use my favorite classic BBQ sauce, but you could also play with other BBQ sauce flavors.
mayonnaise. Use your favorite mayonnaise, whether it's light or full-fat.
mustard. I use dijon mustard in the recipe. Do not use yellow mustard as this will throw off the flavor of the coleslaw dressing.
vinegar. Apple cider vinegar is my favorite for coleslaw. However you could also use white wine vinegar or champagne vinegar instead.
honey. I like to use honey, but you could also use agave if you prefer.
onion. You will need green onions for the coleslaw!
coleslaw. I pick up a 16 ounce bag of coleslaw mix at the store. You could use plain cabbage or tri-color deli style like I do.
buns. In my opinion, brioche buns are simply the best. Use whatever buns you prefer to eat pulled pork on!
toppings. I love adding pickle slices and onion strings on top! You could also add pickled red onions if you like.
this recipe's must haves
To make this recipe, you will need a few bowls from a set of mixing bowls. You will also need a whisk, a wooden spoon, measuring cups, and measuring spoons.
Finally, you will need an Instant Pot! I love the Instant Pot Duo Crisp Ultimate Lid, but the Instant Pot Duo is also a fantastic model. Don't forget a pair of tongs for searing, removing, and adding the meat to the insert.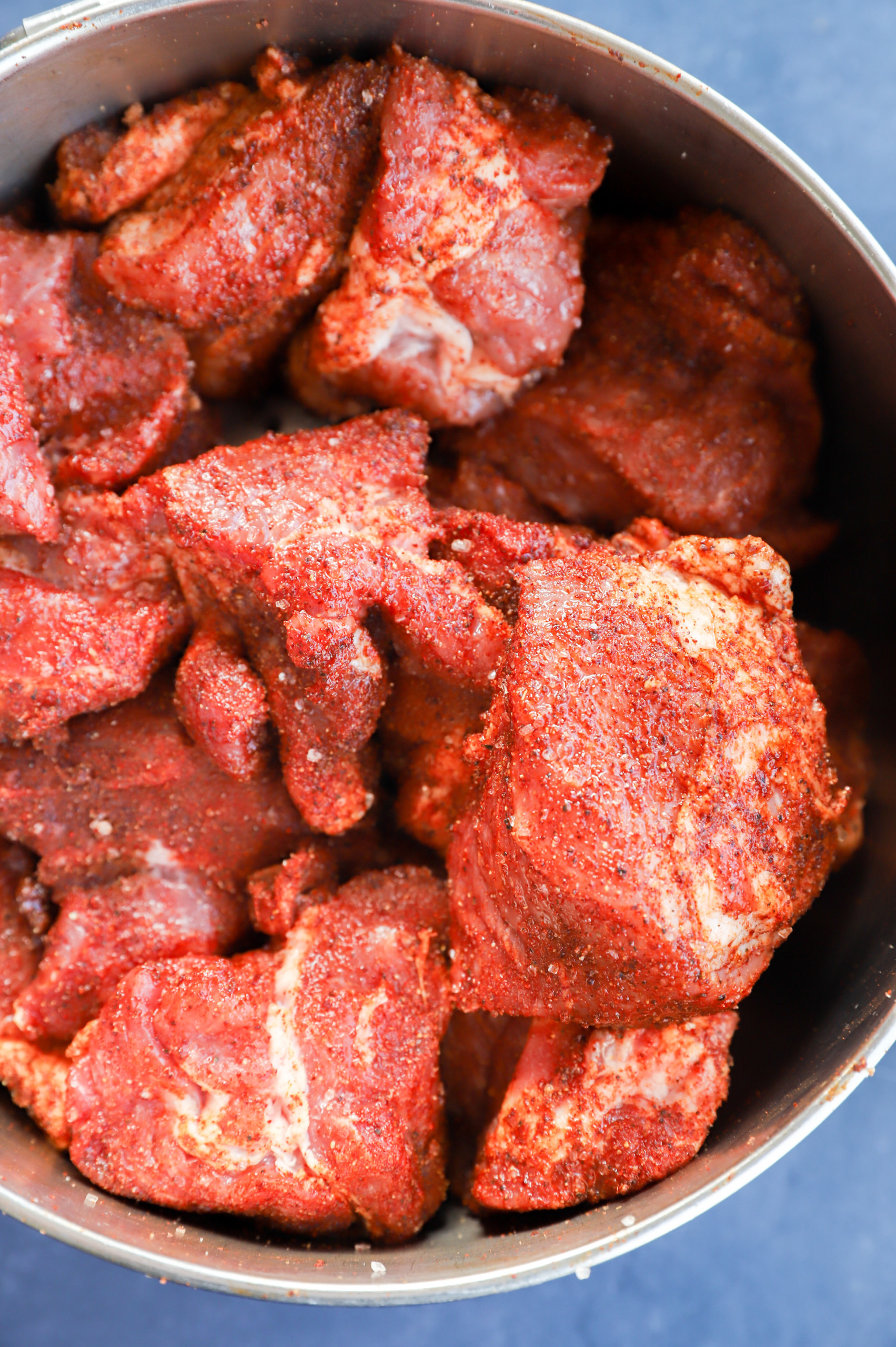 here's how to make pulled pork burgers
make coleslaw
In a large bowl, whisk together mayonnaise, mustard, vinegar, honey, salt, and garlic powder until combined. Add green onion and coleslaw mix to the bowl. Stir until the coleslaw is well-coated. Set aside in the refrigerator for an hour before serving.
sear meat
Make the rub for the pork by combining the spices in a small bowl and stirring together. Season the pork pieces evenly with the homemade seasoning and set aside.
Add oil to the insert of the Instant Pot and set to the Sauté function. Once the oil is shimmering and hot, add pork chunks, searing them in batches until golden on all sides. This will take about 3 to 4 minutes per batch.
Remove seared pork to a plate and set aside.
deglaze
Add beer to the insert and use a wooden spoon to scrape up the browned bits on the bottom. Add the pork chunks back to the Instant Pot and seal.
pressure cook
Cook on High pressure for 40 minutes.
Once done, manually release the pressure at the end (also known as quick release).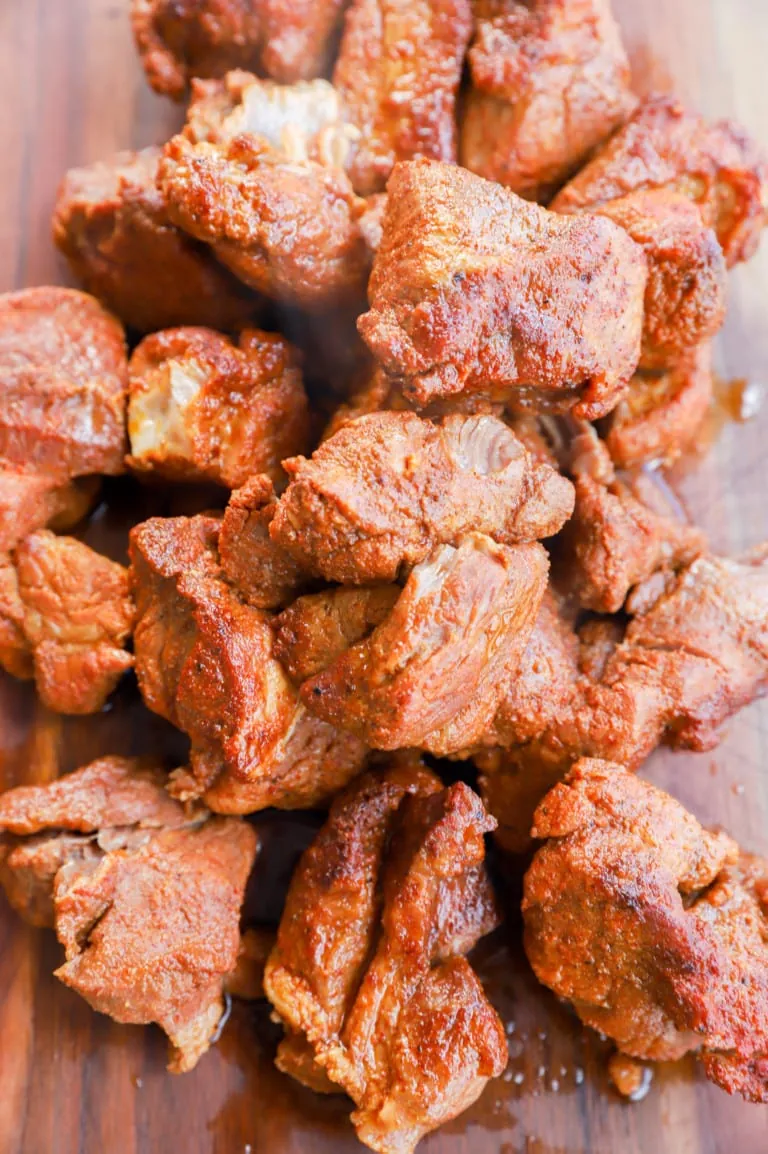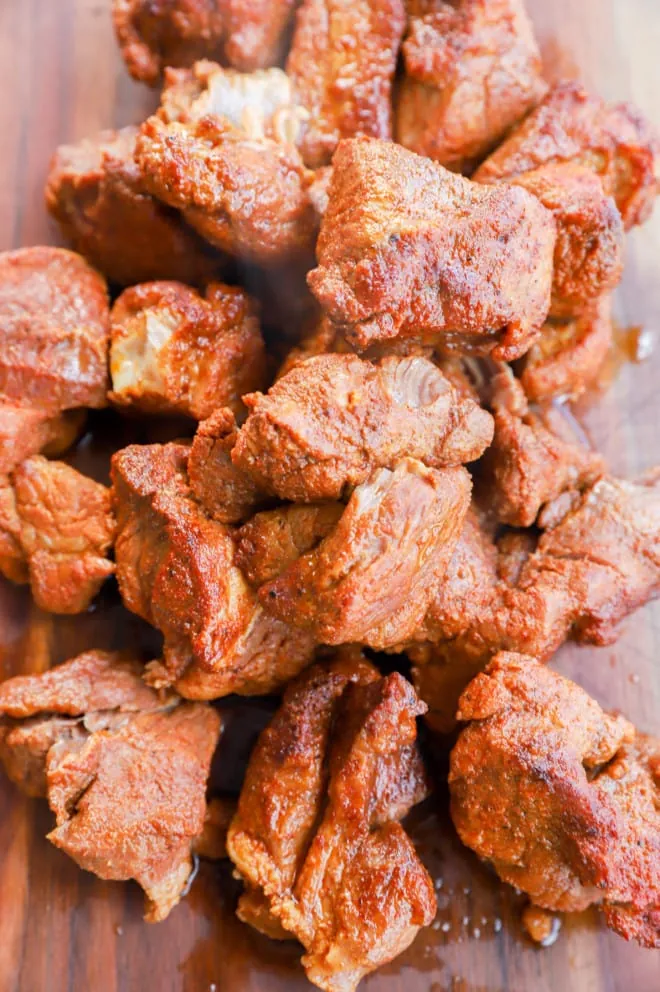 shred meat
Remove the meat to a cutting board. Use two forks to shred the meat. Add to a large bowl and add BBQ sauce. Stir until the meat is coated well.
assemble and serve
Add pork, coleslaw, pickles, and fried onion to the bottom half of the buns. Top with the other bun halves and serve.
tips for success
toast the buns. Before serving, toast the buns! This will add a little extra texture to the sandwich.
scrape the bottom when you add liquid. One of the most crucial steps in this process is to scrape the bottom of the Instant Pot insert after you've seared the meat and added the beer. This will help you avoid the burn notice when you cook the meat!
More delish pork recipes to try out: Shredded Pork Korean BBQ Wraps | Pork Belly Breakfast Sandwich | BBQ Pulled Pork Sliders | Spicy Pork Instant Pot Ramen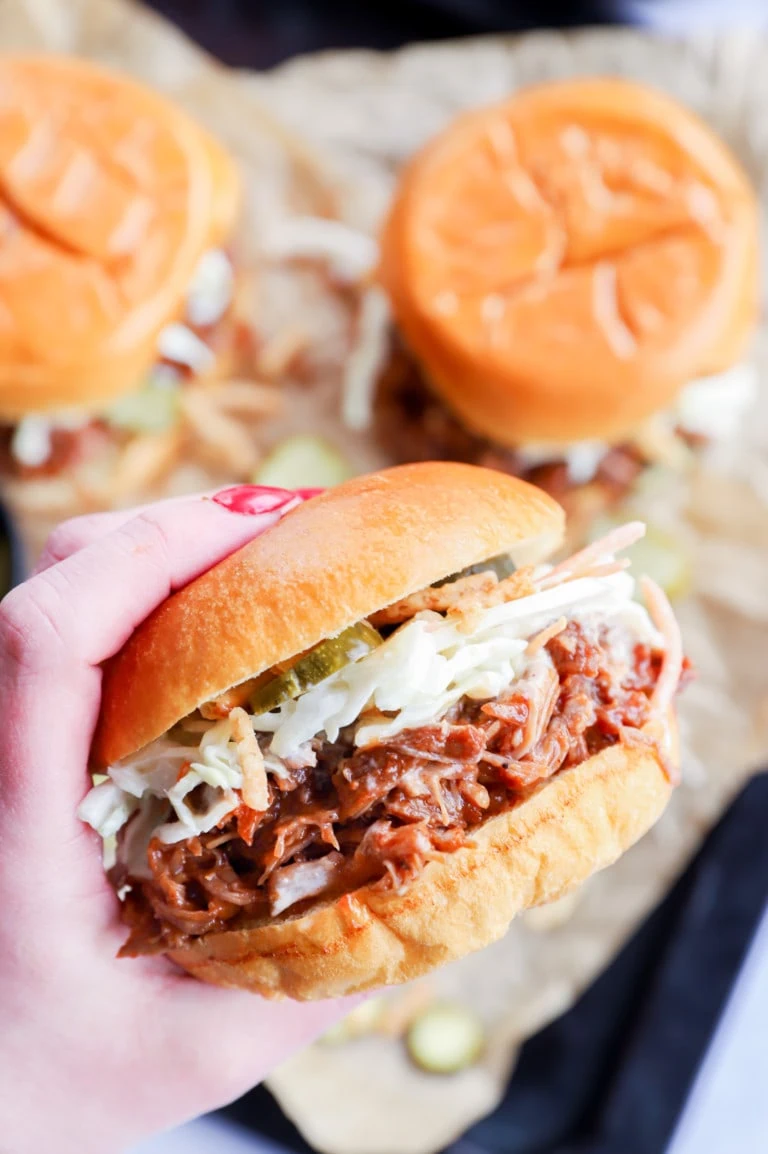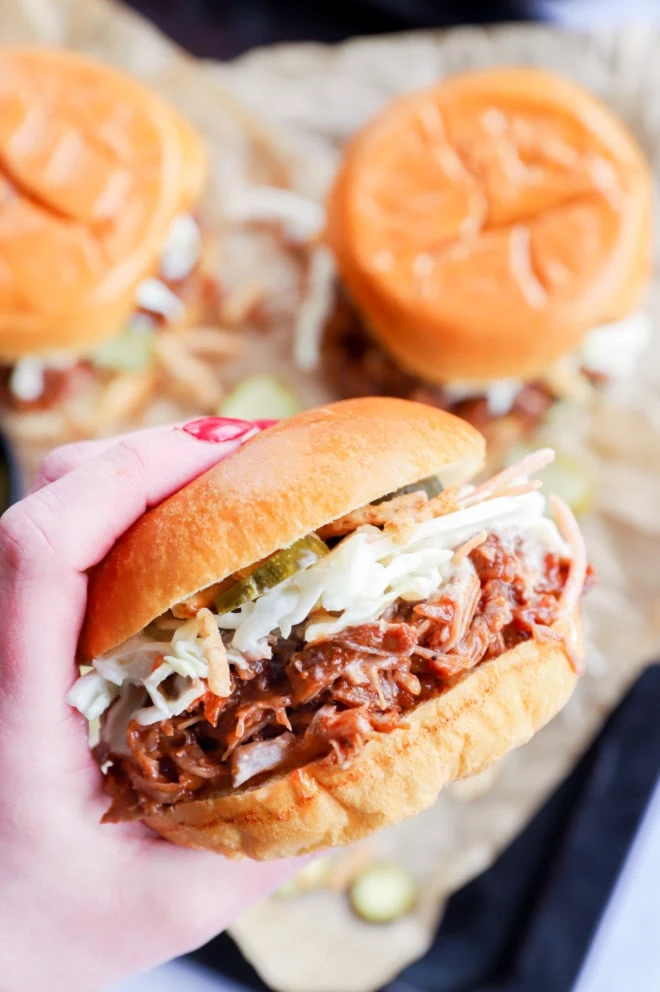 what's cut of meat should I use for a pulled pork burger?
I recommend using boneless pork shoulder or boneless pork butt for this recipe.
how long does it take for pulled pork to cook in an Instant Pot?
The total cook time on High pressure is 40 minutes. This does not count the time required for the pressure cooker to come to pressure.
what liquid do you use to cook pulled pork?
For this recipe, I use beer as the main liquid in the Instant Pot. I like to use a lager, but you could also use a pale ale if you prefer.
If you prefer not to use beer, you could also use chicken broth or beef broth.
do I have to sear the meat?
Yes, you should definitely sear the meat! I do not recommend skipping this step, because that crust that's developed from searing is what locks the moisture into the meat. If you are on a time crunch, you can skip the step, but it won't taste nearly as tender and juicy in the end.
Need more inspiration for summer dishes? Check out my summer recipes page!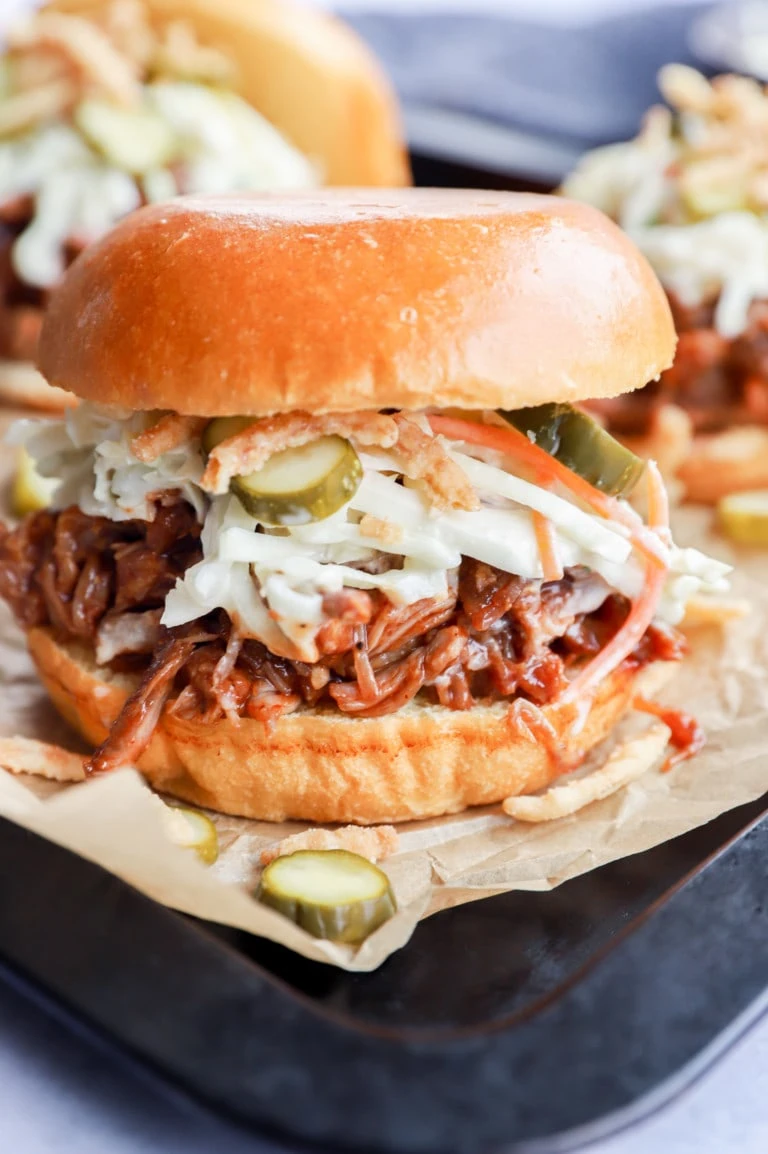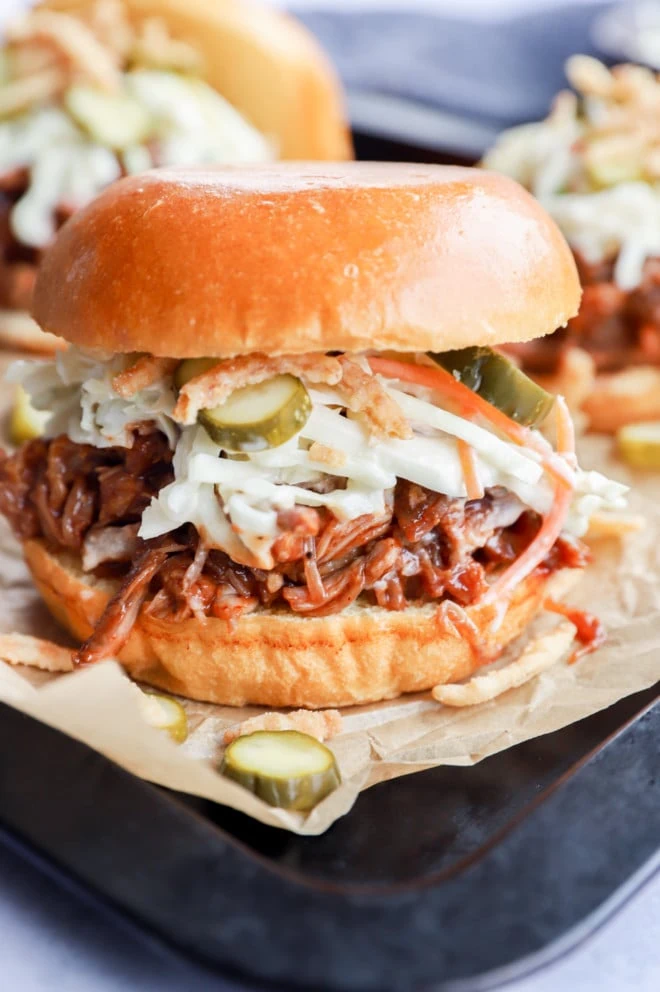 what goes with the ultimate pulled pork burger
This pulled pork burger is similar to a traditional pulled pork sandwich, so you can serve it up with all your favorite classic BBQ side dishes. This could be pasta salad, potato salad, corn, fries, chips, fruit salad, and more. Here are some of my personal favorite recipes:
For more bbq inspiration, there's always this list of delicious backyard bbq dishes to get you through barbecue season.
how to store and reheat
Store. Cool the cooked pork down to room temperature before placing in an airtight storage container. It will keep in the refrigerator for up to 3 days.
The coleslaw will last up to 5 days in the refrigerator when stored in an airtight container.
If you do make the pork and coleslaw ahead of time, be sure to store them separately. Reheat the pork before assembling the pulled pork burgers, then serve.
Reheat. The pulled pork can be reheated in a large pot over medium-low heat on the stovetop. You can also reheat it in the microwave. I recommend having more BBQ sauce handy for serving as this will help loosen up the meat.
Freeze. Freeze pulled pork in an airtight container for up to 3 months. Thaw in the refrigerator overnight before reheating as instructed above and serving.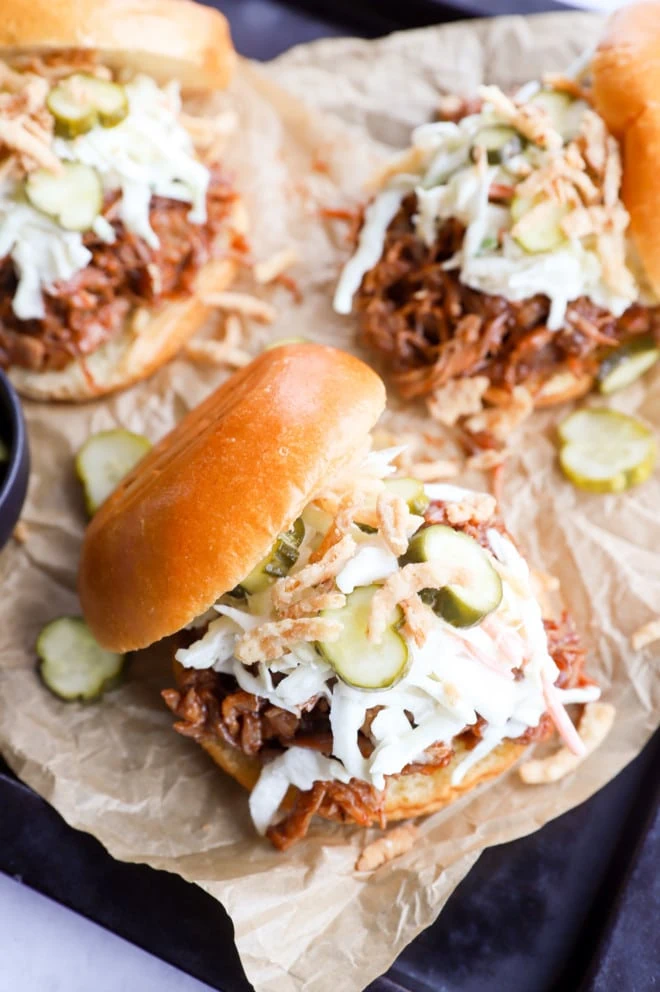 Finally, if you make this pulled pork burger recipe, please be sure to give this recipe a rating or leave a comment! I love to hear when you all make recipes, and I do take the time to respond to every single comment. Feel free to drop questions below too, if you have them!
Oh and be sure to tag me on Instagram if you make the recipe! I love being able to see these recipes come to life in your homes – it's my favorite thing to look through those photos. It really means the world to me!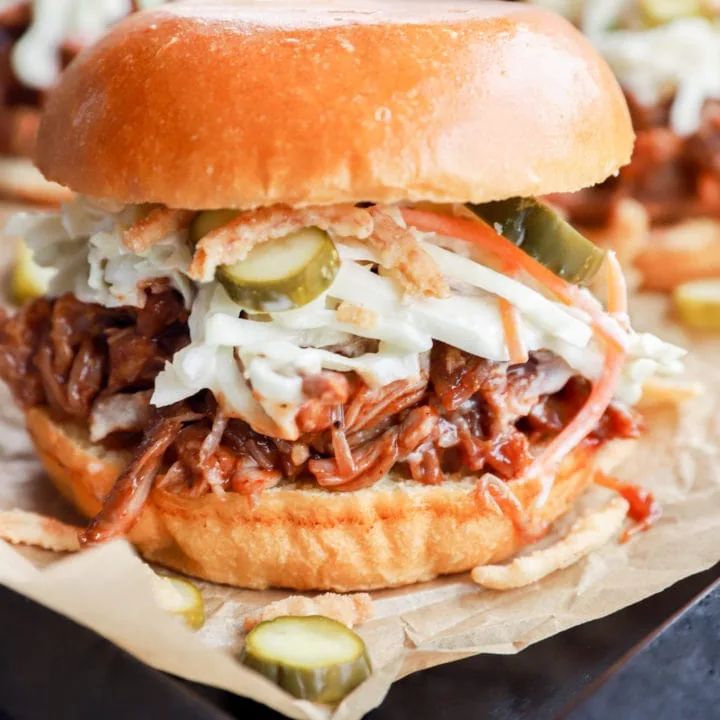 Pulled Pork Burger
Total Time:
1 hour
5 minutes
Tender, juicy, and flavorful, these pulled pork sandwiches are a must-make!
Ingredients
coleslaw
1 cup mayonnaise
1 Tbsp dijon mustard
2 Tbsp apple cider vinegar
2 Tbsp honey
3/4 tsp kosher salt
1 tsp garlic powder
2 Tbsp finely chopped green onions
1 16 ounce bag of coleslaw mix plain cabbage or tricolor deli style
pulled pork
3 to 4 lbs. pork shoulder (often called pork butt)
3 Tbsp dark brown sugar
1 Tbsp salt
1 Tbsp smoked paprika
2 tsp chili powder
1 tsp garlic powder
1/2 tsp onion powder
1/2 tsp ground cumin
1/2 tsp cayenne pepper
1/2 tsp black pepper
12 oz. can of lager beer
2 cups your favorite BBQ sauce
burgers
4-6 brioche buns (or your favorite buns, bread, or rolls)
Onion strings
Pickles
Instructions
In the bottom of a large bowl, whisk together mayonnaise, mustard, vinegar, honey, salt, and garlic powder for the coleslaw. Add green onions and coleslaw mix. Stir to coat well with the dressing. Place in the refrigerator for 1 hour before serving.*
In a small bowl, combine sugar, salt, smoked paprika, chili powder, garlic powder, onion powder, ground cumin, cayenne pepper, and black pepper. Season the pork chunks with the seasoning and set aside.
Turn on Instant Pot to Sauté. Add canola oil and once hot, sear pork chunks until golden brown on all sides. This will take about 3 to 4 minutes and you will likely need to work in batches to get the pieces seared. Remove pork to a plate and set aside.
Add beer to the Instant Pot insert. Use a wooden spoon to scrape the bottom of the insert and remove all the browned bits stuck on the bottom. Add pork back to the Instant Pot.
Cook on High pressure for 40 minutes. When done cooking, manually quick release the pressure.
Remove pork from the Instant Pot and place on a cutting board. Shred the meat using two forks. Add to a bowl with BBQ sauce and stir until the sauce coats the meat well.
Assemble the sandwiches with pork, coleslaw, pickles, and onion strings.
Notes
*The coleslaw can be made up to 1 to 2 days in advance. Before using it, be sure to drain out any excess liquid before tossing and serving.
Recommended Products
As an Amazon Associate and member of other affiliate programs, I earn from qualifying purchases.