Please note this post contains affiliate links.
A Blackberry Basil Bourbon Smash is going to take your next cocktail hour to the next level of deliciousness. The tart blackberries are the ideal pairing for sweet basil, and the bourbon just brings it all together for a strong finish. It's all about the bourbon this summer, so squeeze it in while the temps are hot!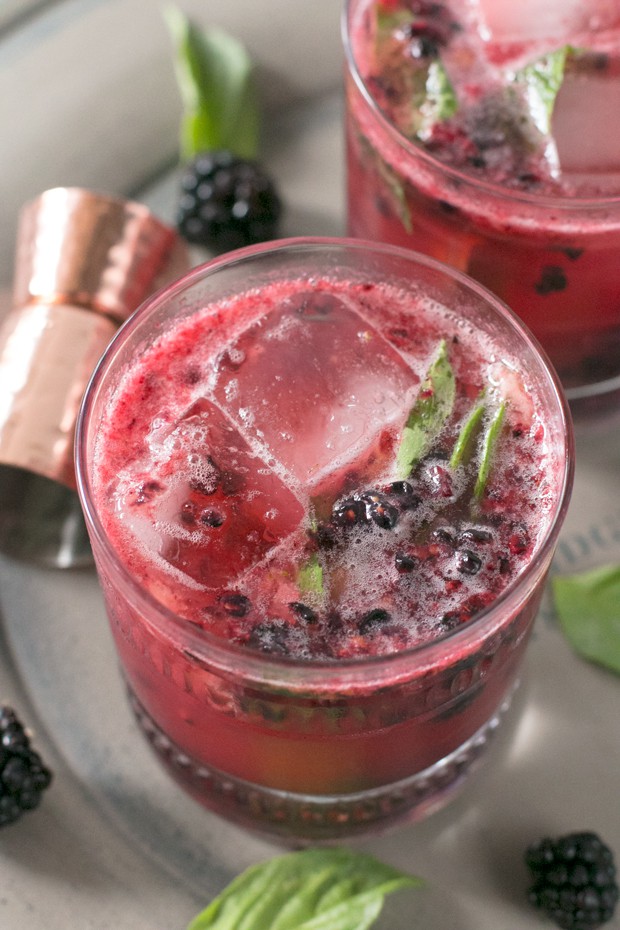 Do you ever make a cocktail for yourself – whether it's your own invention or using a recipe – and after the first sip be all like, danggggggggggg that's freakin' GOOD.?
I won't be so full of myself to say that happens after every cocktail I make (there have been some serious duds… like that one time I thought I could make a shrub. Just. No). However there are those times where I can really nail it – I'm so humble, right?
This happens to be one of those cocktails that I feel like I nailed. It also helped that I happened to have a wonderful audience that day, fanning my ego and making me feel like a cocktail goddess from the land of Bourbonia.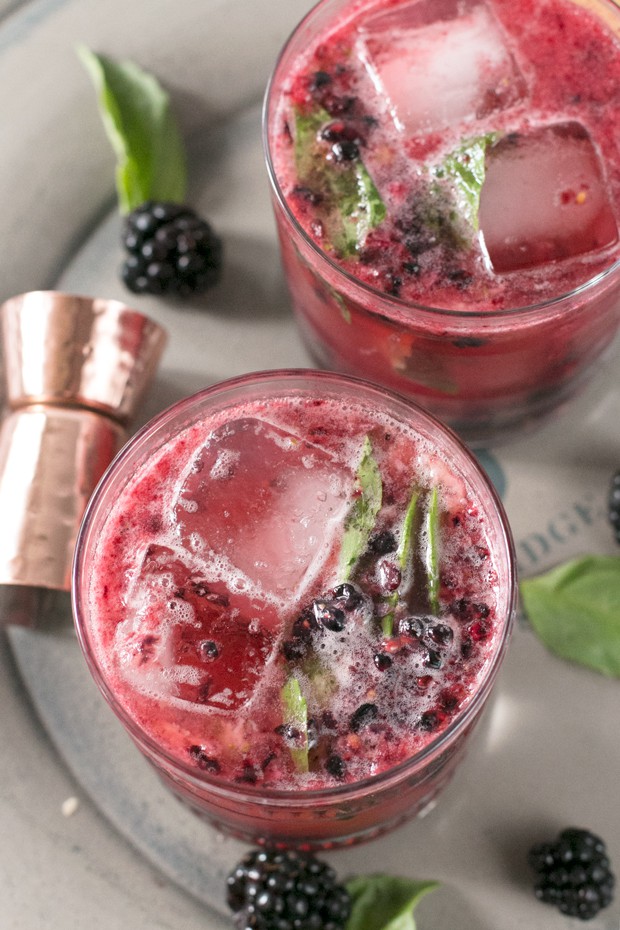 But seriously, this bourbon smash goes above and beyond the call of a normal cocktail. Yes it is refreshing and it gives you the perfect buzz after you guzzle one down. There's also this depth to the flavor that makes me feel like I might be able to handle being a craft cocktail specialist.
I joke, of course. I know craft cocktail experts. They are a whole other level of WHOA. Please don't verbally lash me for a hyperbole ok?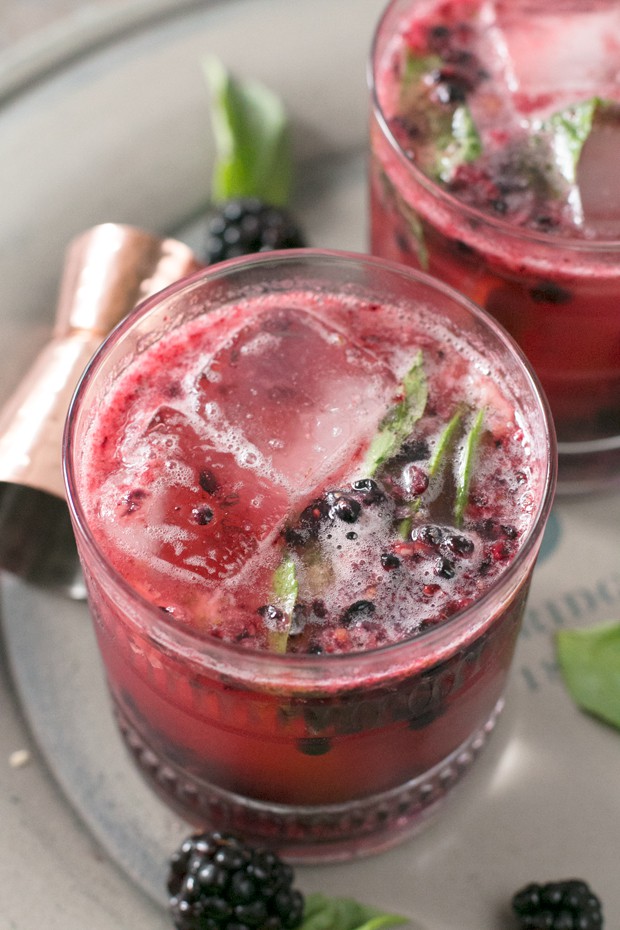 You really do need to try this cocktail though. I know I've been all about the smash cocktails this year (see here and here), but there's a real reason for that. You literally smash whatever you want into a cocktail. Muddle it up, throw in some booze and top with a little soda water. This leaves the door WIDE open for endless possibilities and flavor combinations.
In other words, don't expect the smash cocktails to be going anywhere. I have a handful of ideas left for the rest of the year already…
Get excited.
Psh, I know you already are. Let's be real. This cocktail whoops all those other boring cocktail's butts.
Plus, I just love the color… it's so rich and vibrant, you can't help but perk up the moment one is set down in front of you.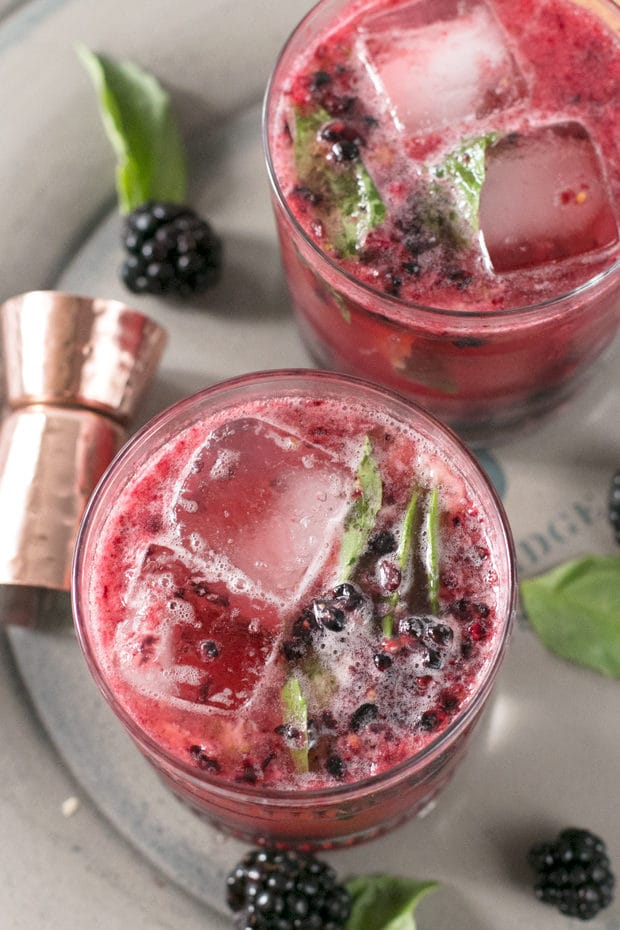 This Recipe's Must-Haves
This cocktail is so simple! All you need are a couple of tools. First, you will need a muddler to for the "smash" part of the cocktail. This is where the blackberries let out their flavor and the basil is opened up. Just make sure you don't muddle too long or the herb will get a little bitter.
All you need to bring it all together is a bar spoon. This is where you stir in the final ingredients before you serve it up in double old fashioned glasses.
Need more inspiration for cocktail? Check out my booze recipe page for some tasty ideas.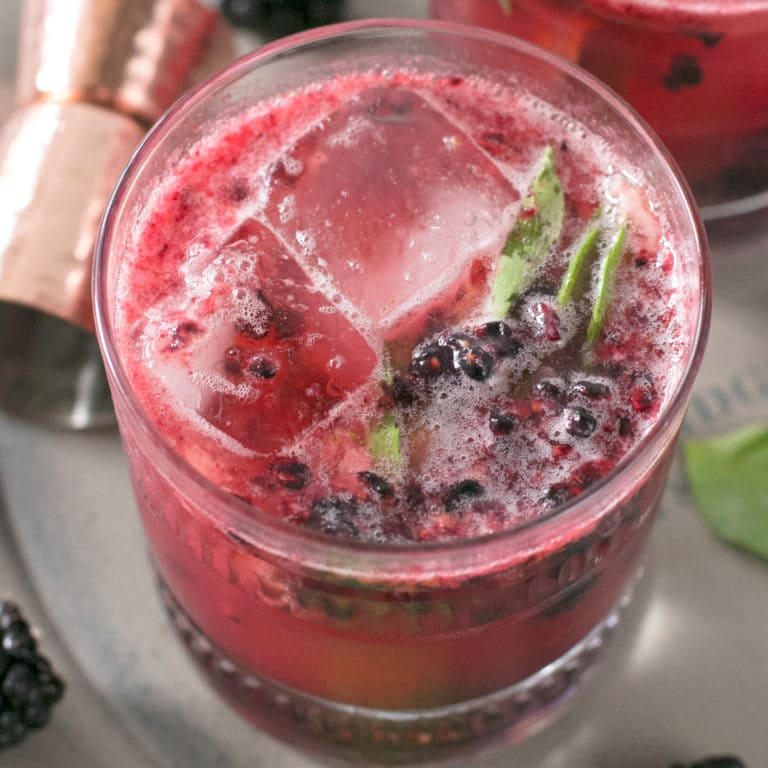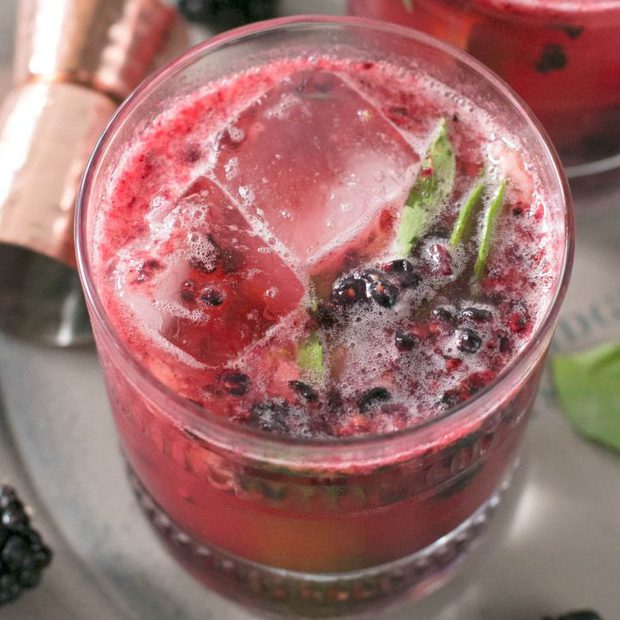 Blackberry Basil Bourbon Smash
Blackberries smashed with basil leaves bring bourbon to a whole other level in this simple cocktail.
Ingredients
3 basil leaves
1/4 cup blackberries
1/2 oz simple syrup
1 oz fresh lemon juice
2 oz bourbon
Soda water
Ice
Garnish: blackberries, basil leaves
Instructions
Muddle basil leaves, blackberries, simply syrup and lemon juice.
Fill halfway with ice. Add bourbon and stir.
Fill the glass the rest of the way with ice and top with soda water. Stir once more before serving.