Please note this post contains affiliate links.
Air Fryer Scallops with Chive Lemon Butter are tender, flavorful, and incredibly easy to make! You don't have to worry about the grease associating with frying and when served with a chive lemon butter, it's an easy meal that goes with so many different side dishes.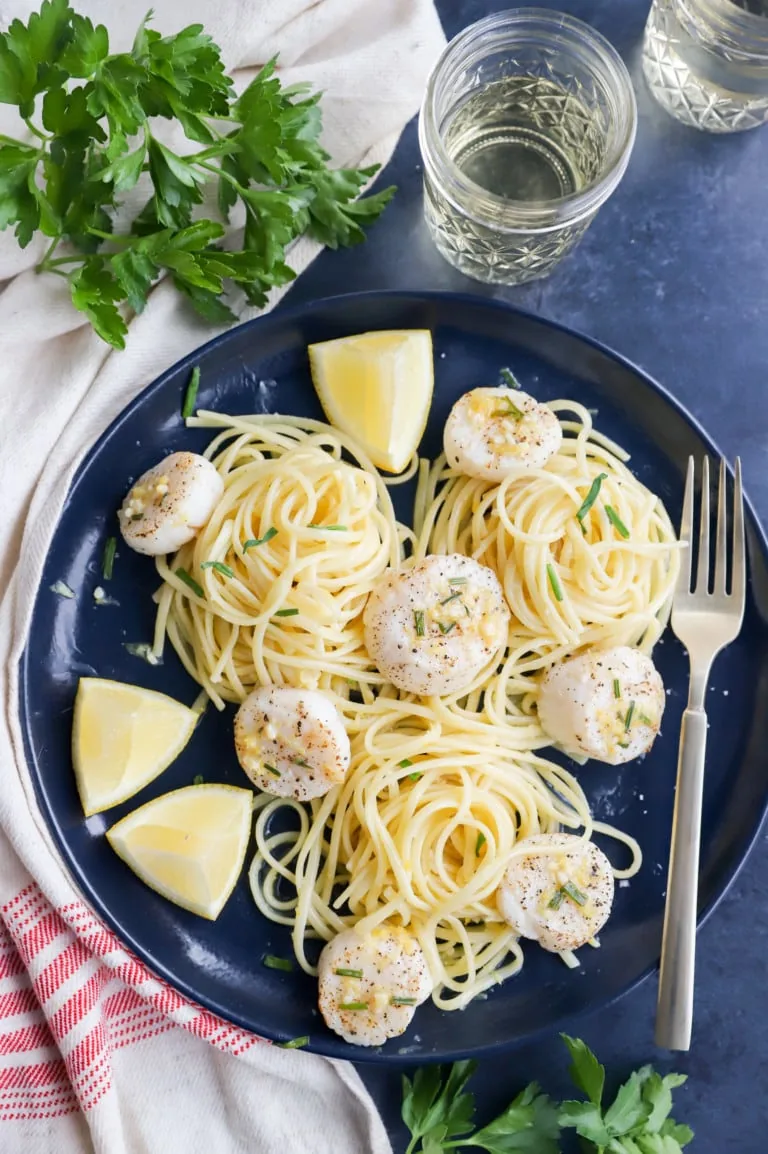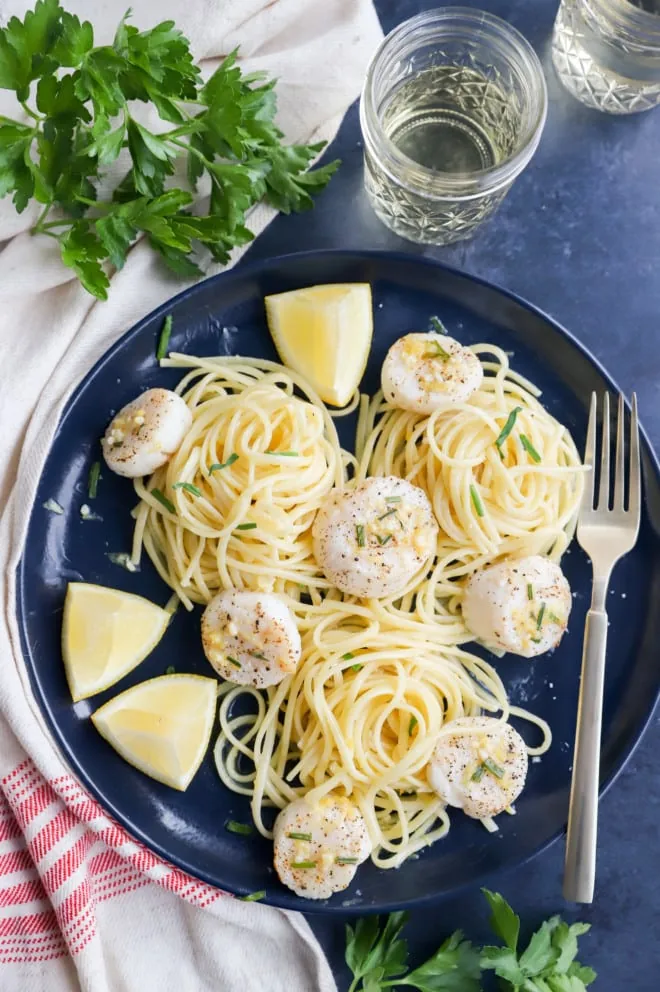 about this air fryer scallops recipe
I absolutely love scallops (especially when served with bacon cream sauce… because YUM). Usually I pan sear them, but when I want to incorporate scallops into my everyday cooking, I tend to shy away from them because they take a little tending to.
Well, I've been craving scallops and I really wanted to serve them to Babycakes, so I made it my mission to figure out a way to cook scallops WELL without a lot of effort.
Thus, quick air fryer scallops are here and they are about to change your life.
why do I love these air fryer scallops so much?
They are ready in less than 10 minutes, so that's a serious W-I-N.
You can serve them as a main with pasta or rice and vegetables, but they are also fantastic for lunch or as an appetizer.
They come out just as plump and tender as they do when you cook them in a skillet on the stovetop!
My biggest note? Air fryer scallops will not come out with a deep golden crust like what you see when you pan fry them (or when you watch Hell's Kitchen). They are still perfectly cooked and the texture is spot on, so don't continue cooking them hoping for a golden brown top.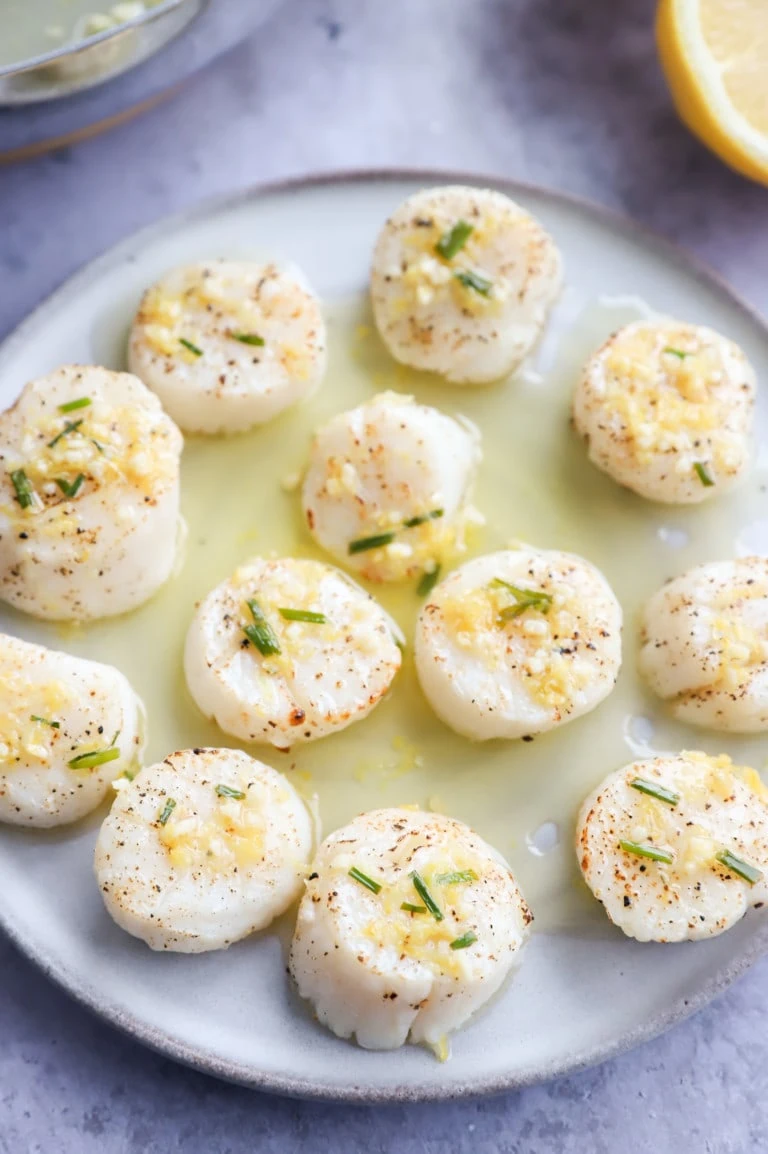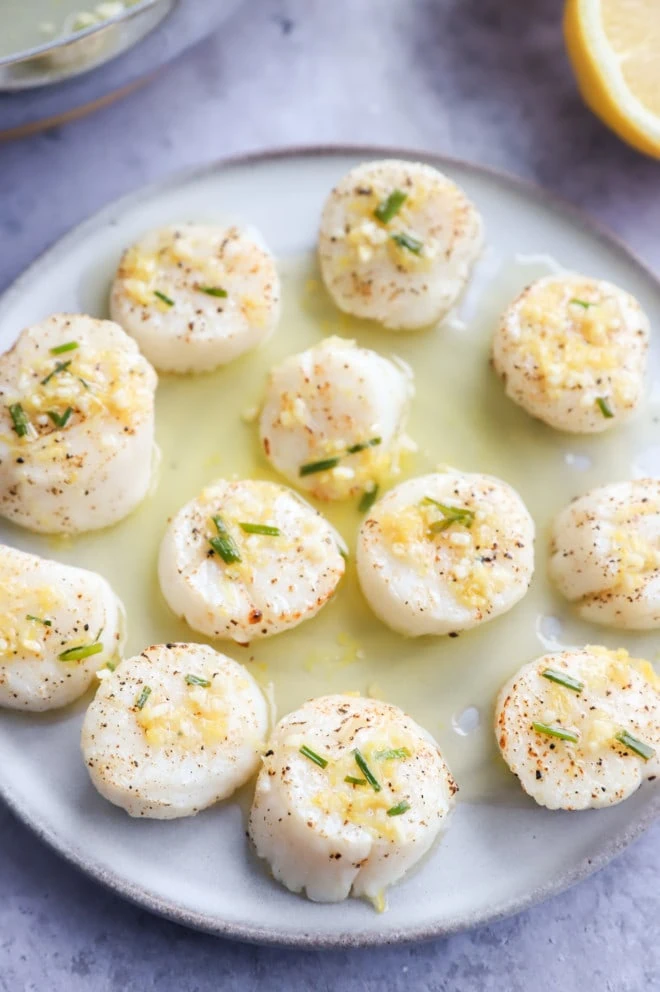 ingredients
scallops. When using scallops for this recipe, I recommend using the freshest you can find! Since I am not on the coast, the freshest scallops I can find are usually frozen for transport and there is nothing wrong with that! Just make sure to use large scallops. If you use bay scallops, you will need to cut the cooking time (see my tips for success section below).
butter. I like to use unsalted butter so I can adjust the salt myself. You can also use salted butter, but you should need to add much more salt. Make sure that you taste as you go along!
garlic. Minced garlic is a must for EVERYTHING, so I have a jar of minced garlic living in my fridge at all times. No smelly hands, no peeling garlic. The best shortcut to pay for, in my opinion.
lemon. You will use one lemon for this recipe for the zest. Save the lemon to use the juice for another recipe!
chives. Fresh chives are best! You can also use dried, but be sure to cut the total amount in half.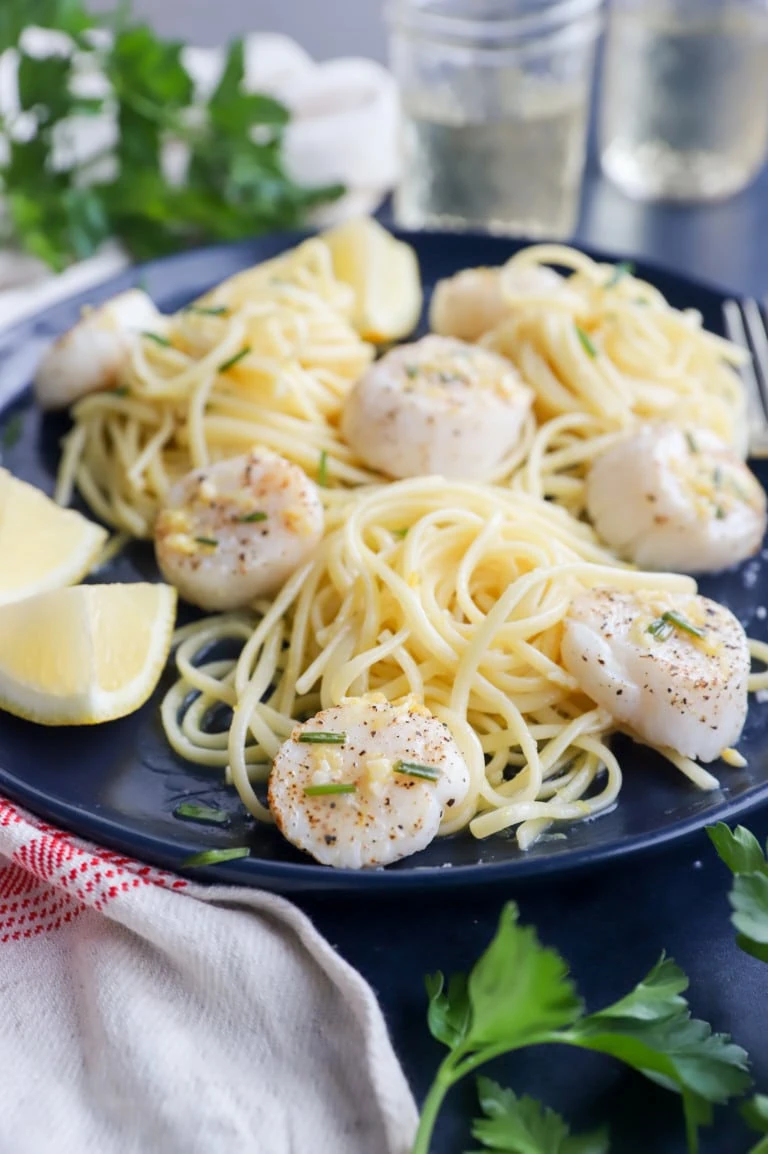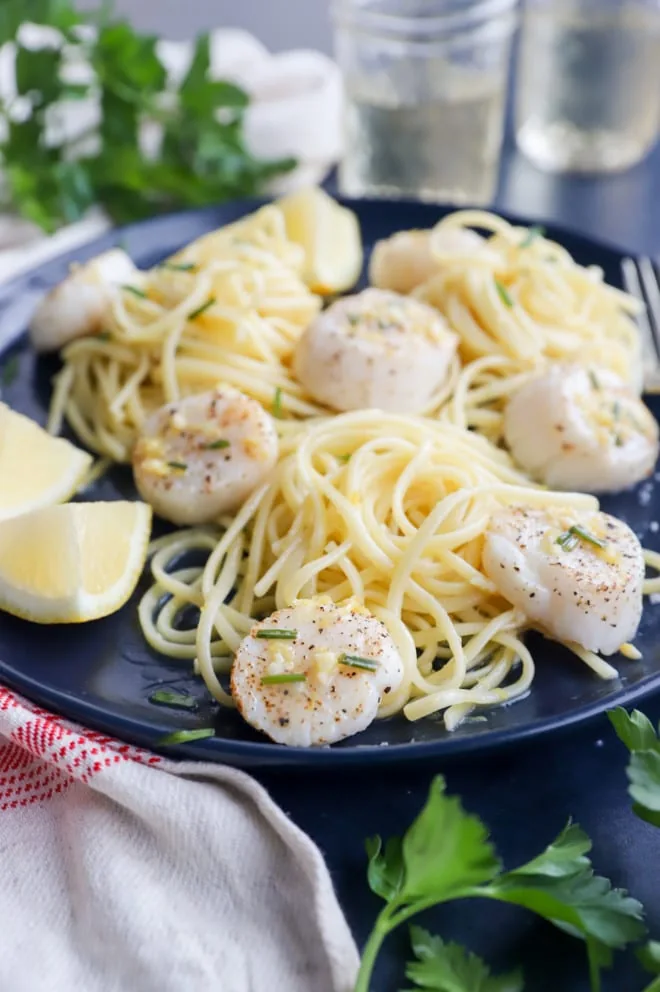 this recipe's must haves
You will need an air fryer for this recipe! I have the Instant Pot Duo Crisp Ultimate Lid and it's my favorite appliance in the kitchen. Period.
All you need for the sauce is your favorite skillet or saucepan and a wooden spoon.
Finally you just need a pair of tongs to flip the scallops and to remove them from the air fryer.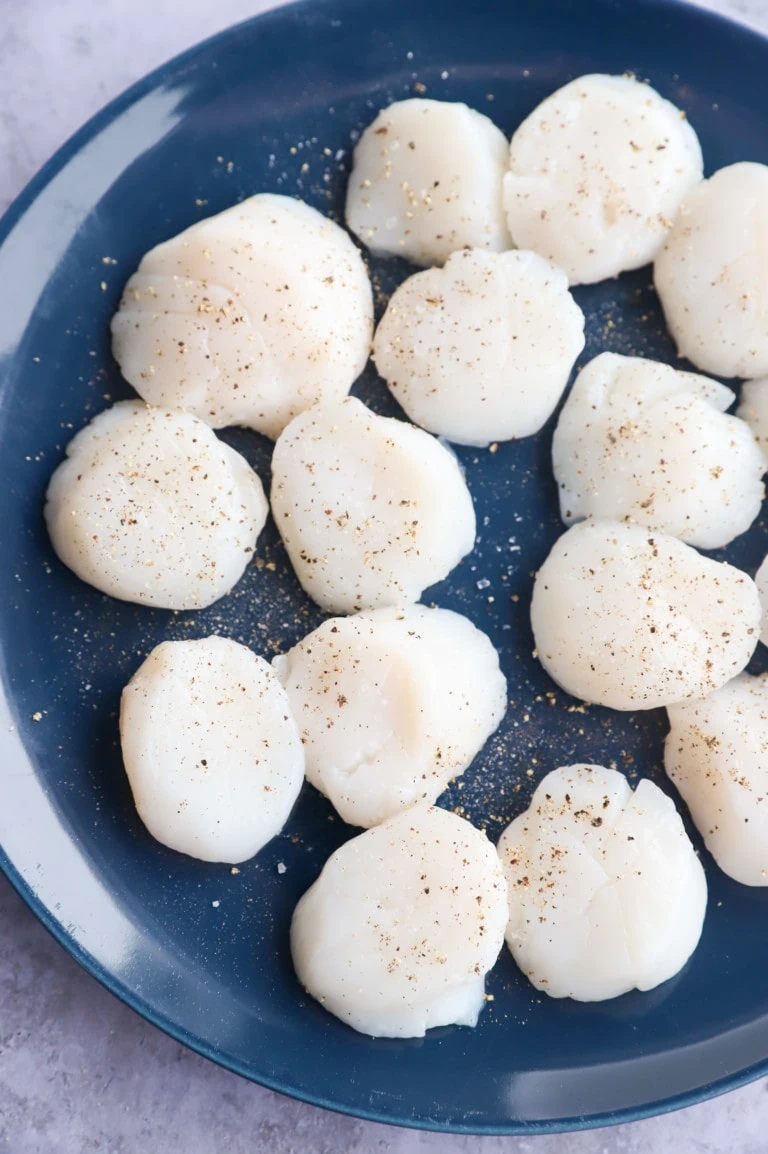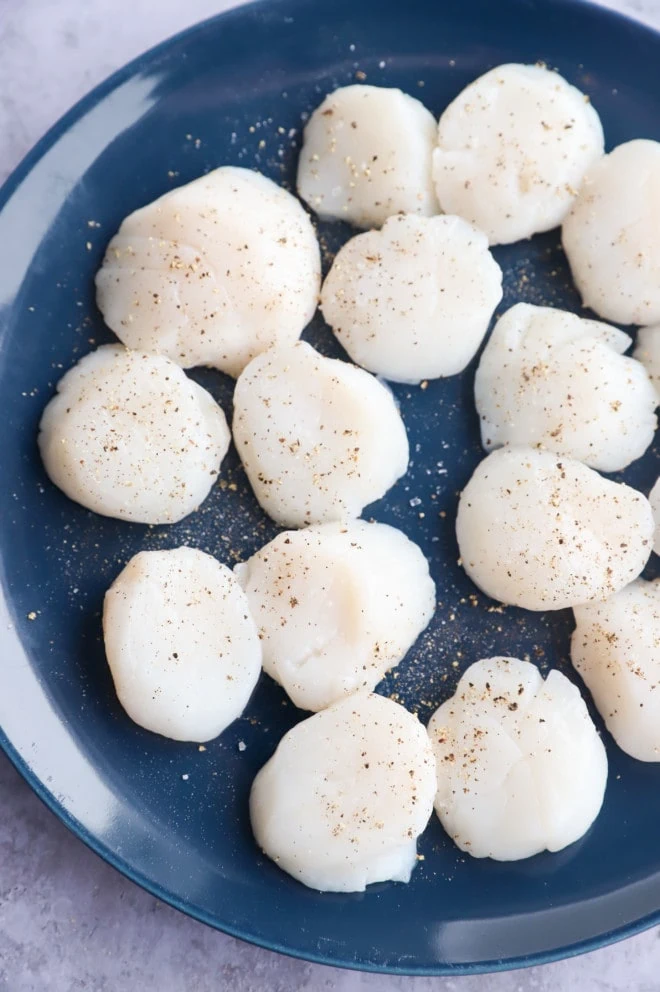 here's how to make air fryer scallops with chive lemon butter
air fry
Preheat the air fryer to 400˚F. Once preheated, spray the air fryer basket with cooking spray.
Season scallops well with salt and pepper on both sides. Place the scallops in the air fryer and cook for 6 to 7 minutes. If you are using very thick scallops, you may need to add another minute of cooking time. Flip the scallops halfway through cooking time.
make sauce
While the scallops are air frying, make the chive lemon butter sauce. Melt butter in a small skillet with garlic, lemon zest, and chives. Sauté for 2 to 3 minutes, until fragrant.
serve
Remove scallops to plate to serve. Drizzle with chive lemon butter and enjoy.
Pro Tip! If you are using frozen scallops, be sure to thaw them in your refrigerator overnight. Pat them dry before using as instructed in the directions below.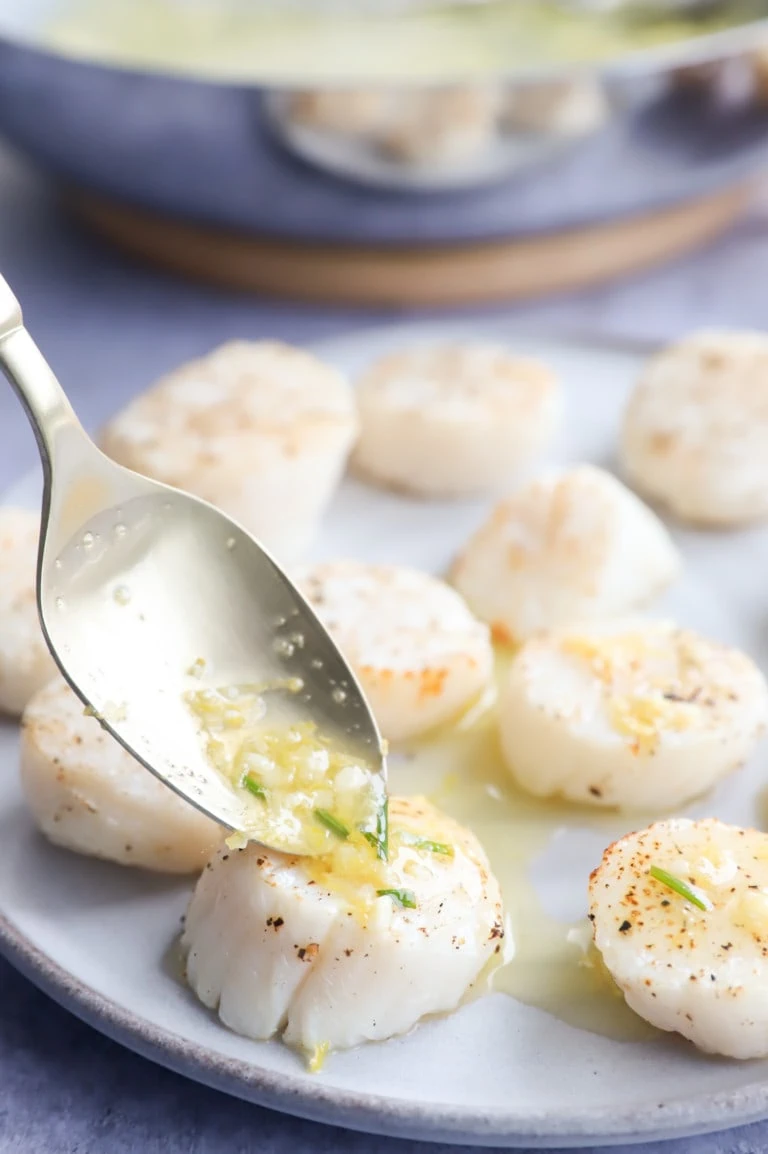 tips for success
know your scallop type. For this recipe, I use large scallops. Therefore if you are using small bay scallops, be sure to adjust the cooking time as that type is significantly smaller. I recommend setting the cook time to 3 minutes instead of 6 to 7 minutes.
make this a pasta dish! I like to serve scallops with linguine so I'll cook a box and then I'll double the recipe for the chive lemon butter sauce. That way I can use the sauce to toss with the linguine and drizzle on the scallops!
pat them dry. Before cooking these easy air fryer scallops, make sure to pat them dry with a paper towel and then season well.
More tasty seafood recipes to try out: BBQ Bacon Wrapped Shrimp | Baked Lemon Garlic Salmon | BBQ Beer Battered Fish and Chips | Spicy Tuna Poke Wonton Cups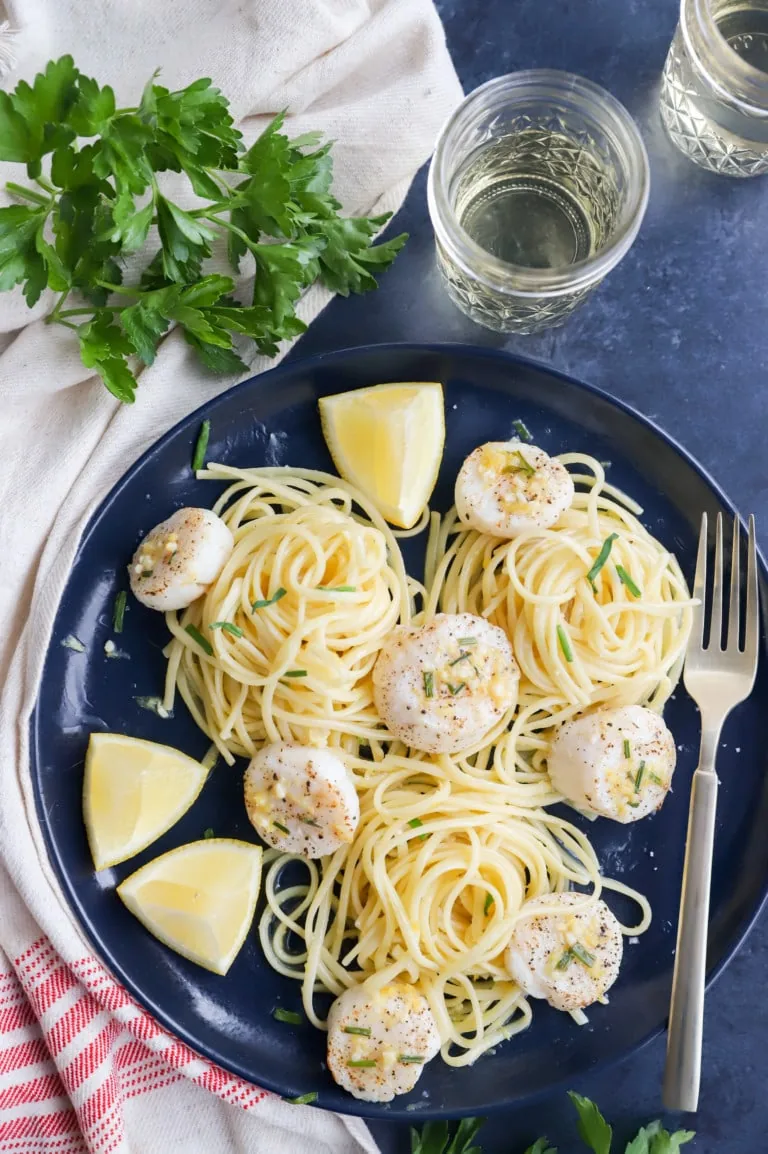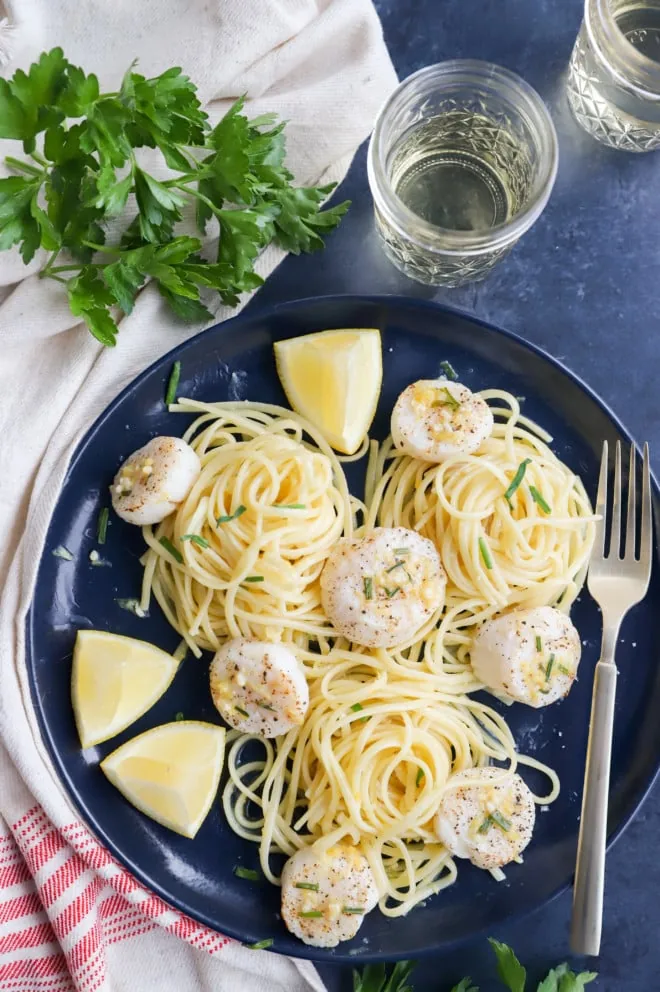 do I have to use an air fryer?
Nope! You can make these in a skillet on the stovetop if you prefer. Heat some oil in a small skillet over medium-high heat. Cook the scallops for about 3 to 4 minutes per side until cooked through. Simply make the butter sauce in a separate skillet and serve as directed.
how do you know when scallops are cooked through?
Scallops are cooked through when they register about 125˚F to 130˚F internally. They will look opaque all the way through and feel a little firm to the touch.
what kind of scallops should I use?
For this recipe, I am using sea scallops. Sea scallops are the large ones you see here.
The other common type of scallop is bay scallops. They are small and easy to cook, but when you are going out to eat and order scallops, sea scallops are the ones you are served.
They are meaty, tender, and light, making them such a delight to make!
Need some more inspiration for dinner tonight? Check out my main dish recipes page!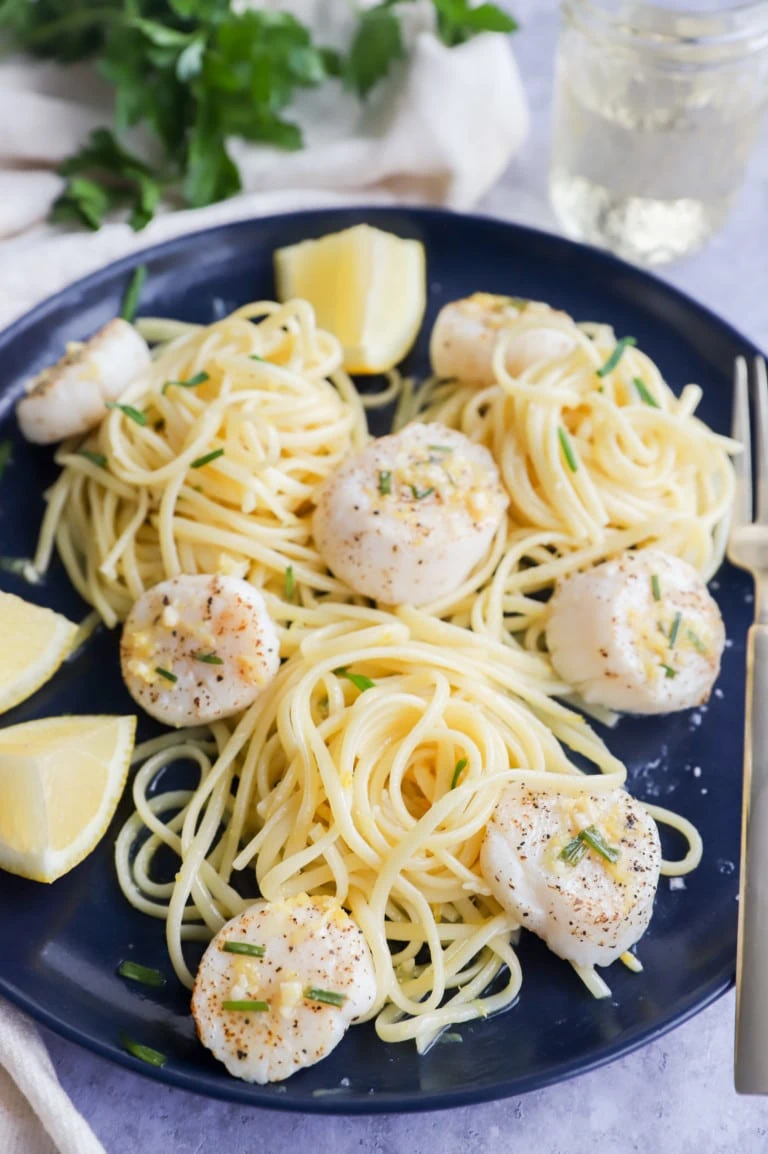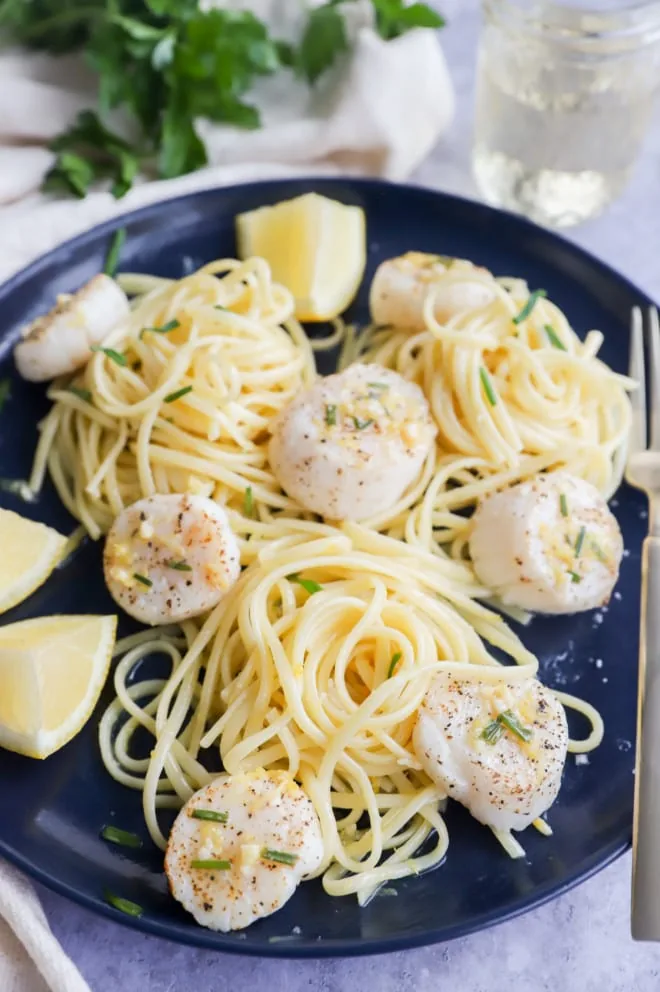 what to serve with air fryer scallops with chive lemon butter
I personally LOVE to serve mine with pasta. A nice linguine with a light butter sauce or lemon sauce is the ideal pairing. You can also serve them up with rice and your favorite roasted or steamed vegetable on the side (drizzle some extra chive lemon butter over the rice and vegetables to bring the whole dish together!).
Other side dishes that are great to pair with scallops are a classic risotto, crispy brussels sprouts, or spicy-sweet roasted broccolini.
If you are looking for an appetizer to lead into this recipe, caprese bruschetta is a creamy take on the classic Italian recipe.
how to store and reheat
Store. These scallops are best consumed immediately after cooking, but you can store leftovers in the refrigerator. Store in shallow airtight containers for up to 2 days.
Reheat. Reheat on the stove over medium-low heat in a skillet.
Finally, if you make this air fryer scallops with chive lemon butter, please be sure to give this recipe a rating or leave a comment! I love to hear when you all make recipes, and I do take the time to respond to every single comment. Feel free to drop questions below too, if you have them!
Oh and be sure to tag me on Instagram if you make the recipe! I love being able to see these recipes come to life in your homes – it's my favorite thing to look through those photos. It really means the world to me!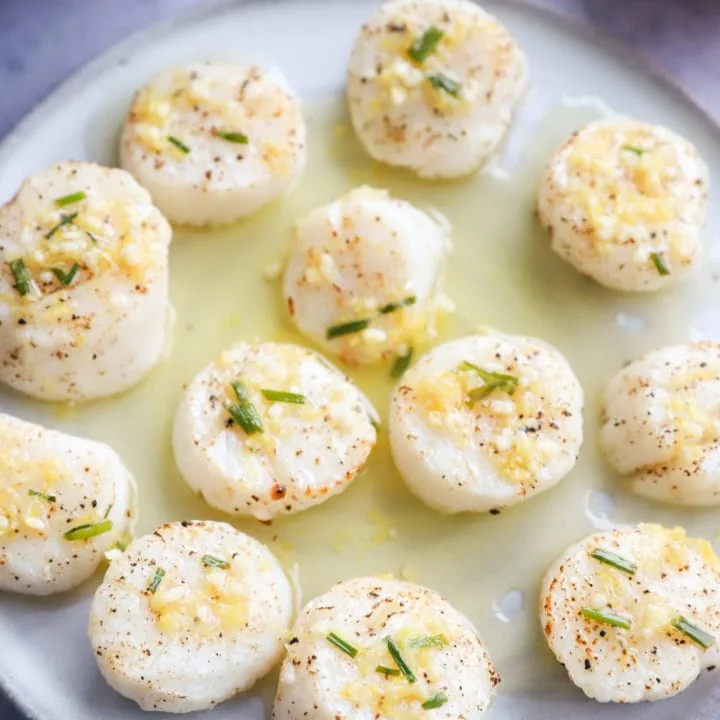 Air Fryer Scallops with Chive Lemon Butter
Perfectly plump and tender, these scallops are an ideal easy meal!
Ingredients
1/2 lb scallops
salt and pepper
4 Tbsp unsalted butter
4 clove garlic, minced
Zest of 1 lemon
1 1/2 tsp freshly chopped chives
Instructions
Preheat air fryer to 400˚F. Once preheated, spray the air fryer basket with cooking spray.
Pat the scallops dry and season well with salt and pepper on both sides. Place the seasoned scallops in the air fryer. Cook for 6 to 7 minutes (for really thick scallops, 8 minutes). Flip halfway through the cook time.
While the scallops are air frying, melt butter with garlic, lemon zest, and chives in a saucepan over medium heat. Sauté for 2 to 3 minutes until fragrant.
Serves scallops with butter drizzled on top.
Notes
*If you would like to serve the scallops with linguine or your favorite pasta, I recommend doubling the sauce so you can also dress the paste with the sauce!
Recommended Products
As an Amazon Associate and member of other affiliate programs, I earn from qualifying purchases.