Please note this post contains affiliate links.
Easy avocado bruschetta is a flavorful snack that is killer for a party and also as a midday treat. The bright flavors are so satisfying, and the creamy addition of avocado is the best twist on the Italian classic!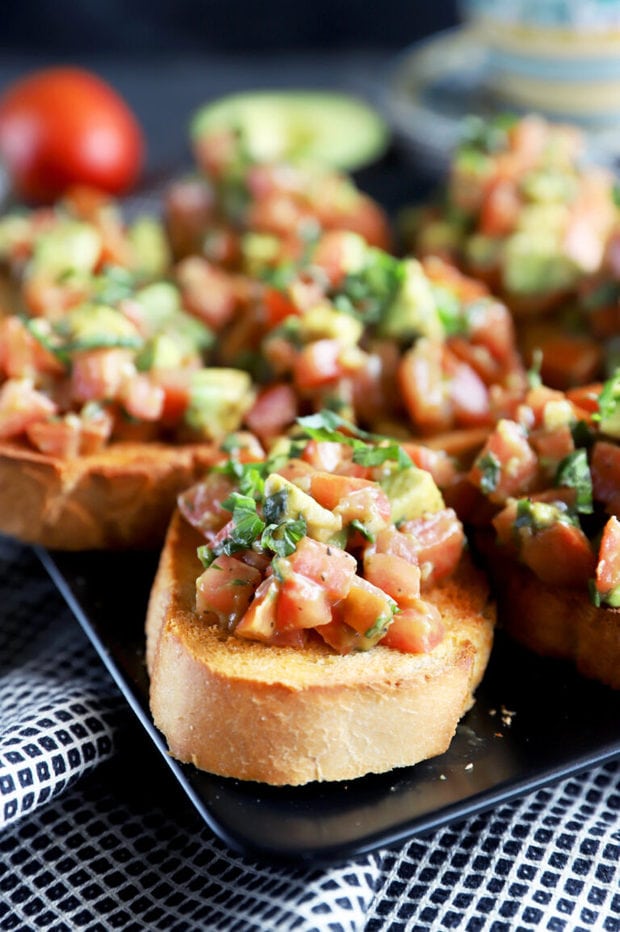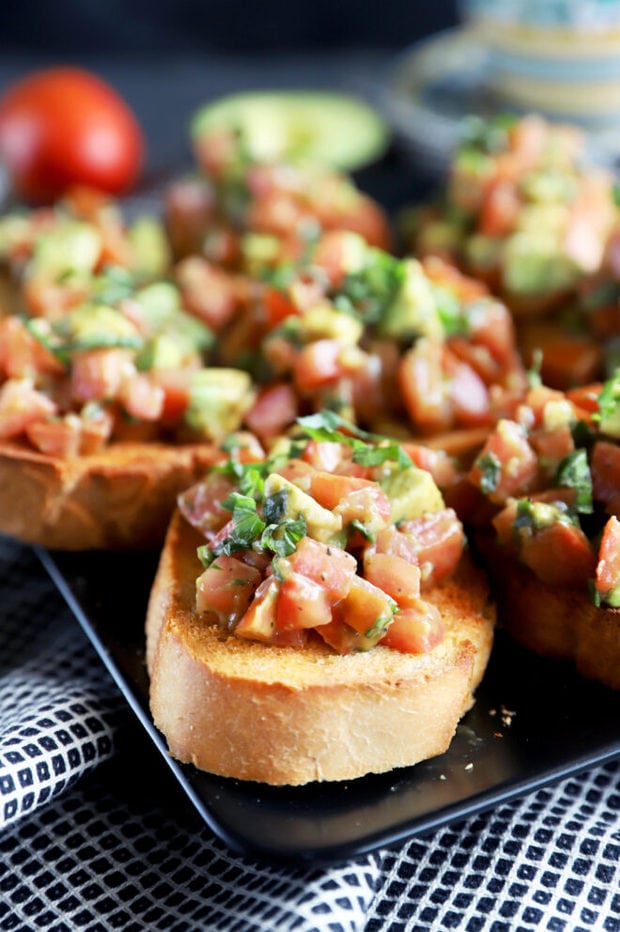 I'm sure I've talked about it before, but bruschetta is my JAM.
I love the simple combination of bright tomatoes, sharp balsamic, and fresh basil. It's my favorite way to celebrate the flavor of the tomato, and every time I eat it, I am transported right back to Italy.
There was this one afternoon on vacation in Sienna where I was sitting in the main square, sipping wine and enjoying the afternoon sounds of kids playing, chattering adults, and bustling tables of clinking wine glasses. The bruschetta came to the table and in the first bite, it was like the life of the square burst alive in my mouth.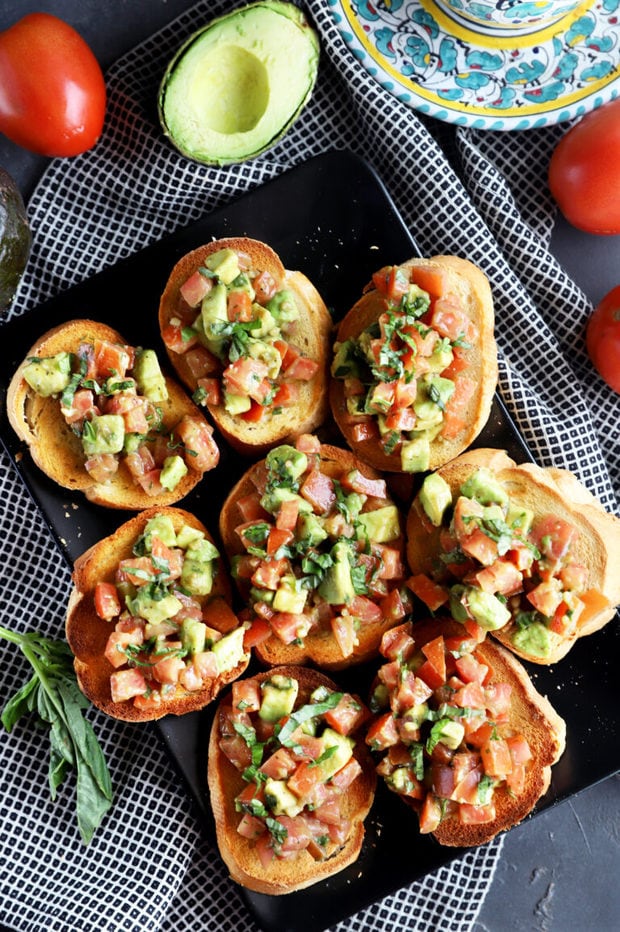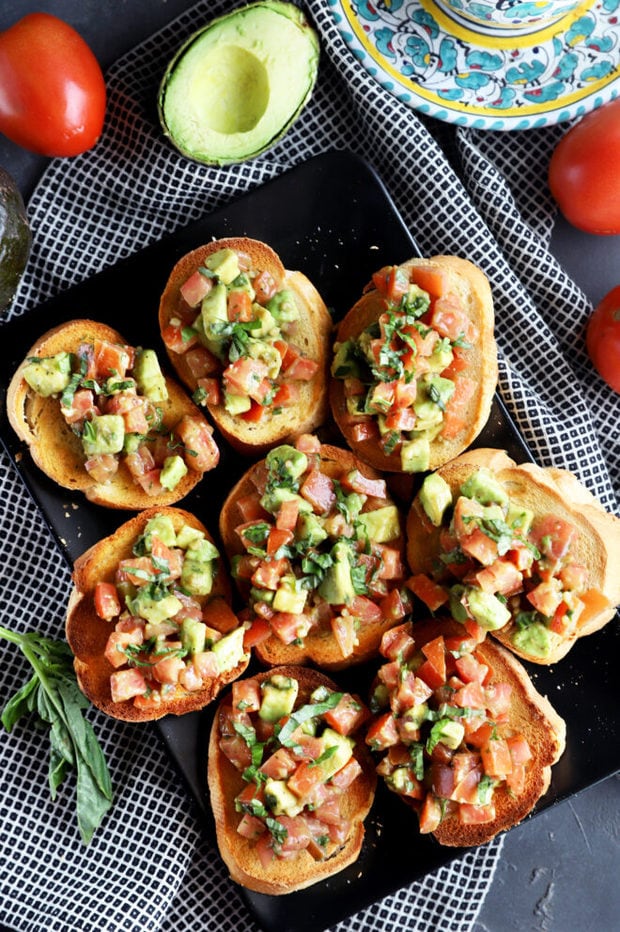 All those flavors instantly washed over my taste buds and then they lingered as I languidly sipped on a glass of red wine. It's one of my favorite memories in Italy, and it's the one that I think of the most when I eat bruschetta now.
You all know I love avocado, and the other day I was trying to think of a way to incorporate avocado into more Italian dishes. I already created this grilled avocado caprese chicken recipe, but I wanted something more snacky.
What's better than bruschetta, am I right?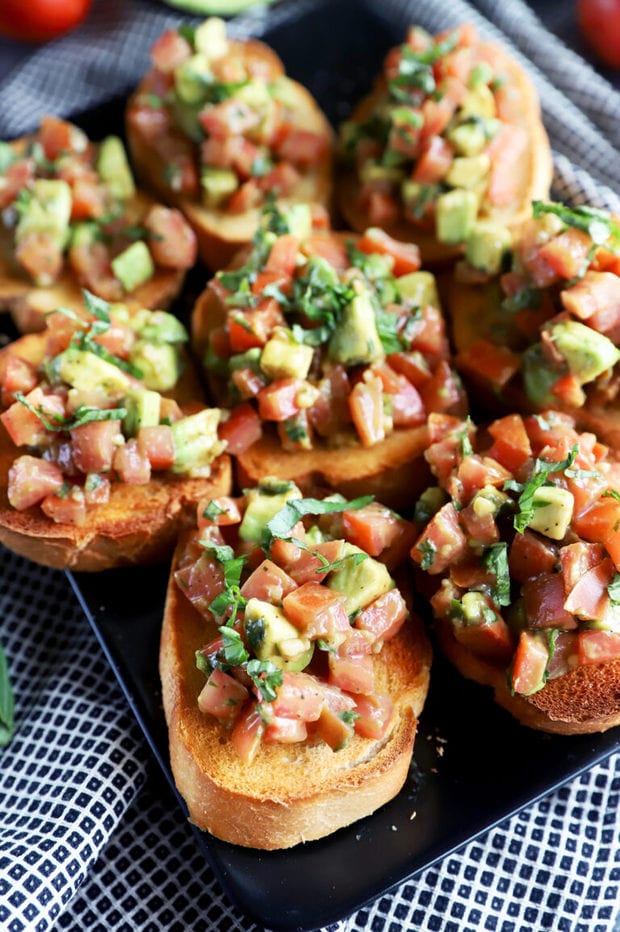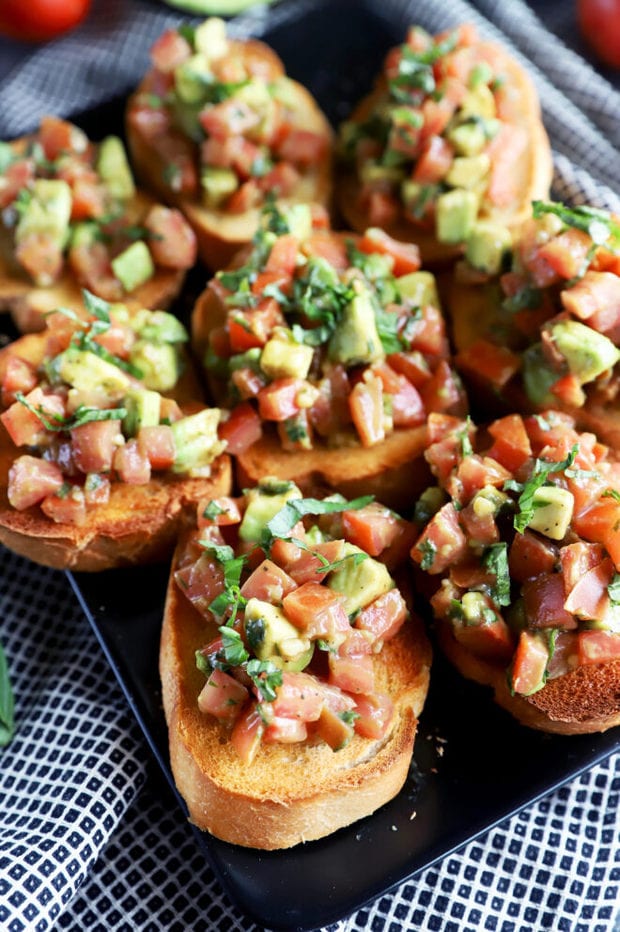 The addition of avocado to the classic bruschetta mixture is a natural fit, giving a little added richness and creaminess to the dish. For me, it's the ideal happy hour (or even lunch/dinner depending on how I'm feeling!) snack. It goes so well with red wine, white wine, cocktails, and beer. You can hoard it all to yourself, share with a roommate or boo, or you can serve it up at your next party!
The good news? It comes together in just 5 minutes, and other than toasting the bread, there's no cooking required!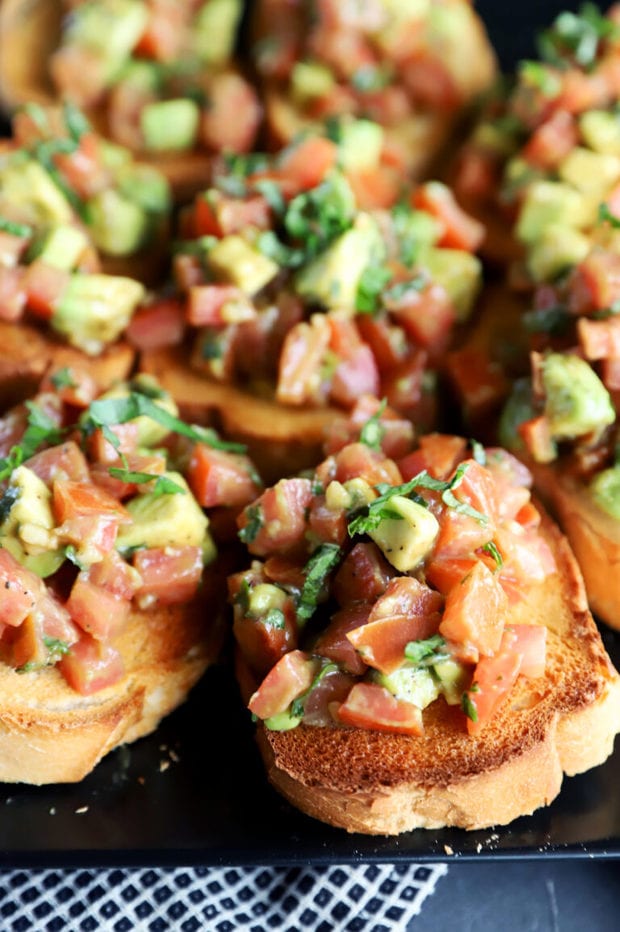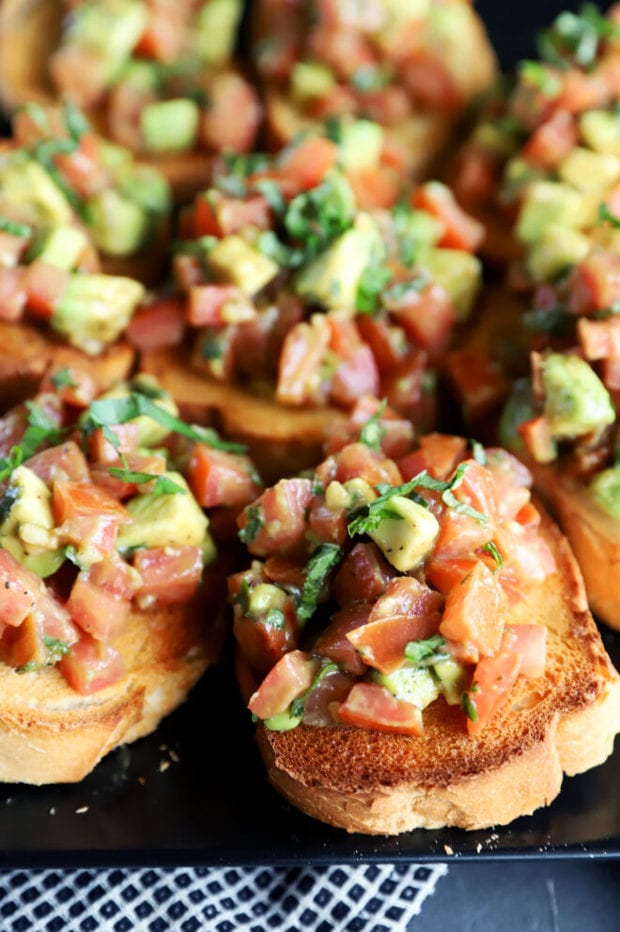 This Recipe's Must-Haves
Since this recipe is so insanely simple, all you need is a chef's knife and cutting board to prep the ingredients.
You'll also need a medium bowl from your set of mixing bowls to make the bruschetta topping in.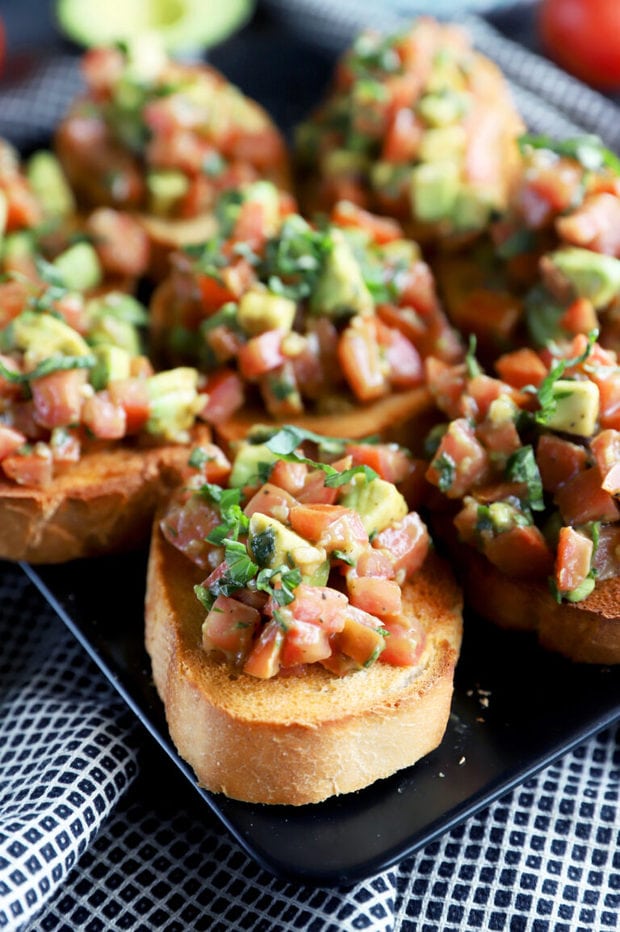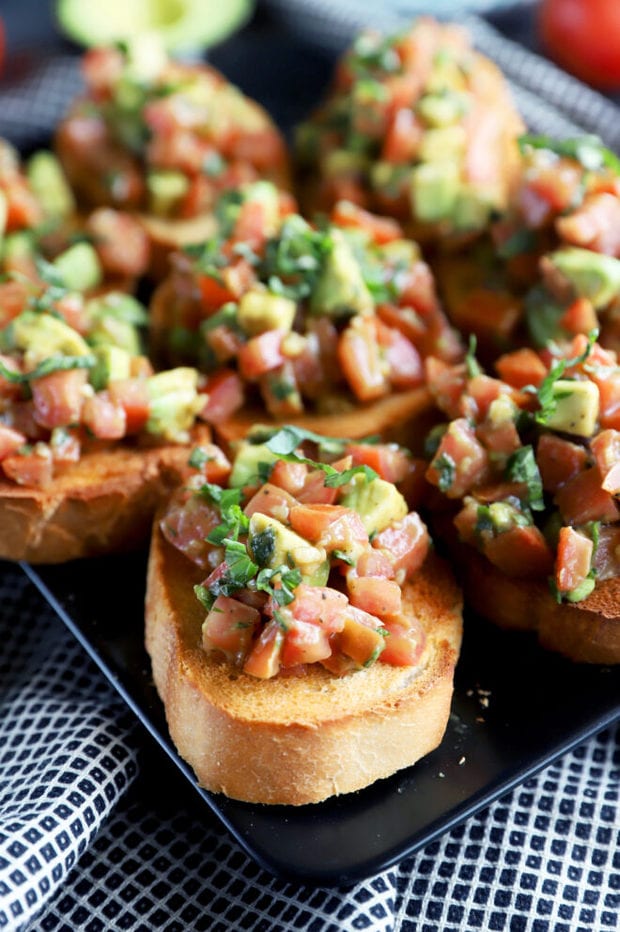 Make Bruschetta Topping
Throw all the ingredients together in one big bowl! Stir it up and set aside until ready to serve.
Assemble
When you serve up the bruschetta, all you have to do is top toasted slices of bread with it. Garnish with some parsley and you are good to go!
Need inspiration for a party? Check out my appetizers recipe page for some tasty ideas.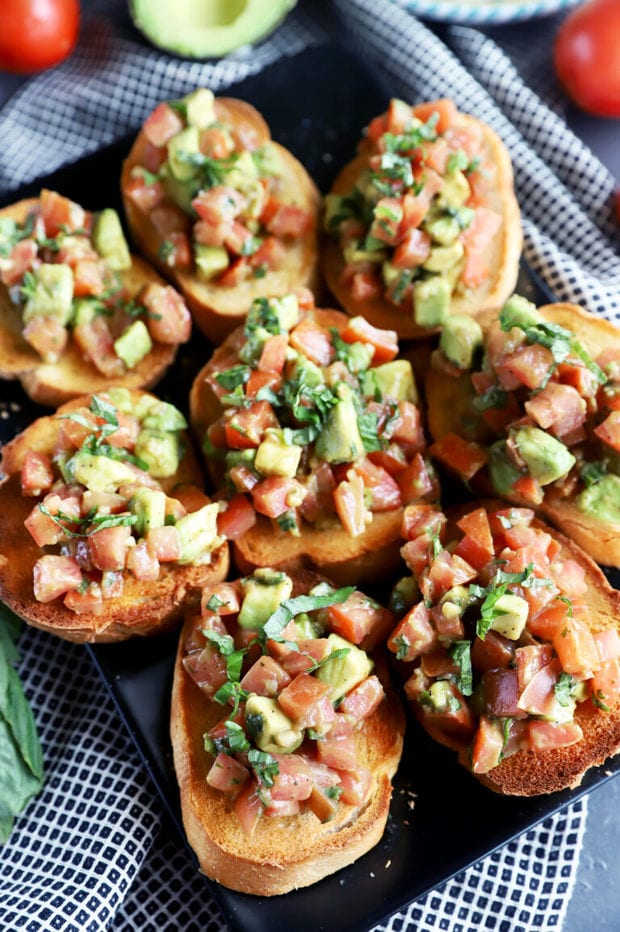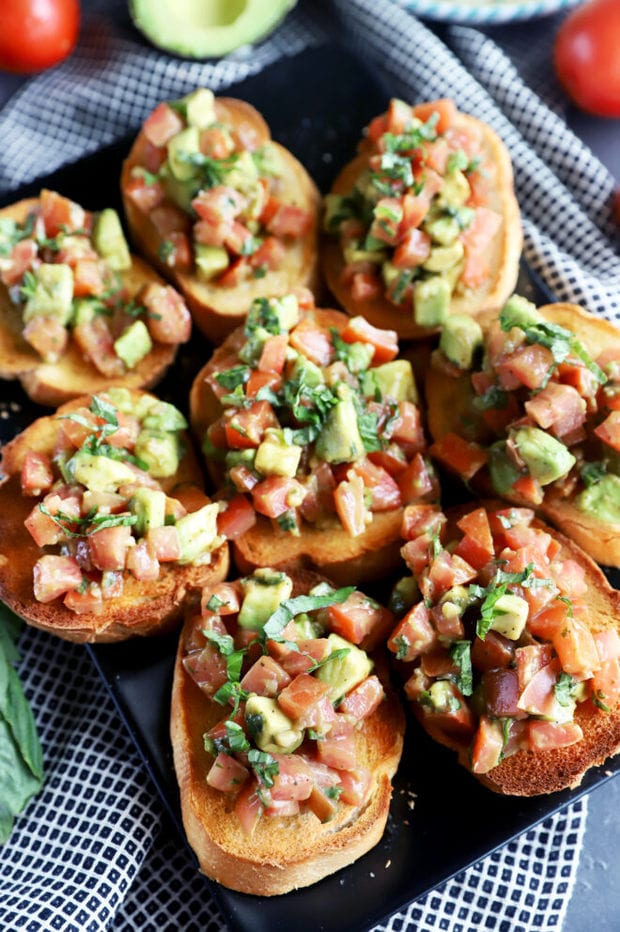 A Few Tips & Tricks
• You can make the bruschetta topping up to 1 hour ahead of time! The acidic ingredients will keep the avocado from browning in that time.
• If you like more herbs in your bruschetta, really amp up the basil garnish. It tastes so good!
• Don't like French bread? No problem, you can use sourdough as an alternative or whole wheat bread.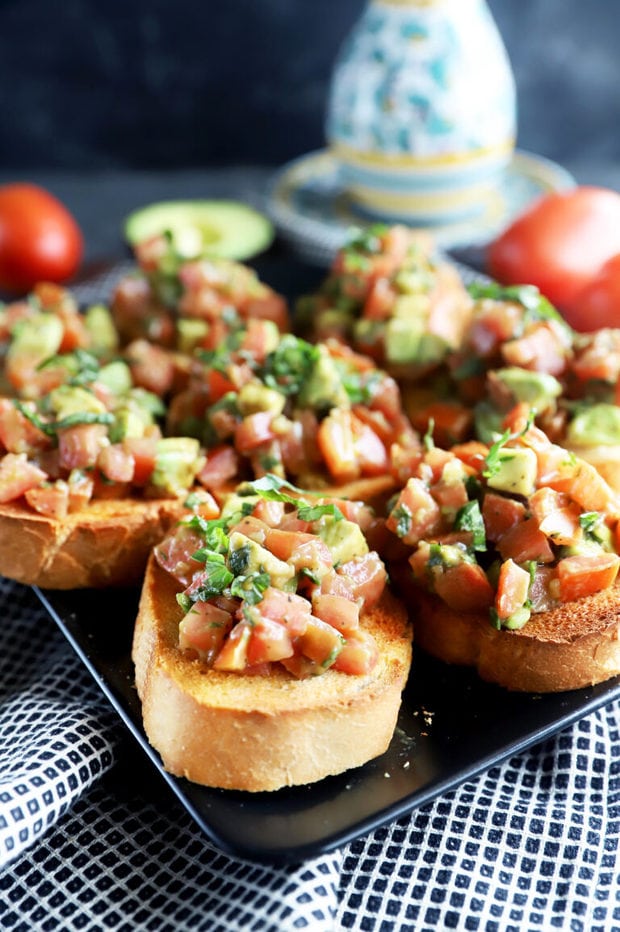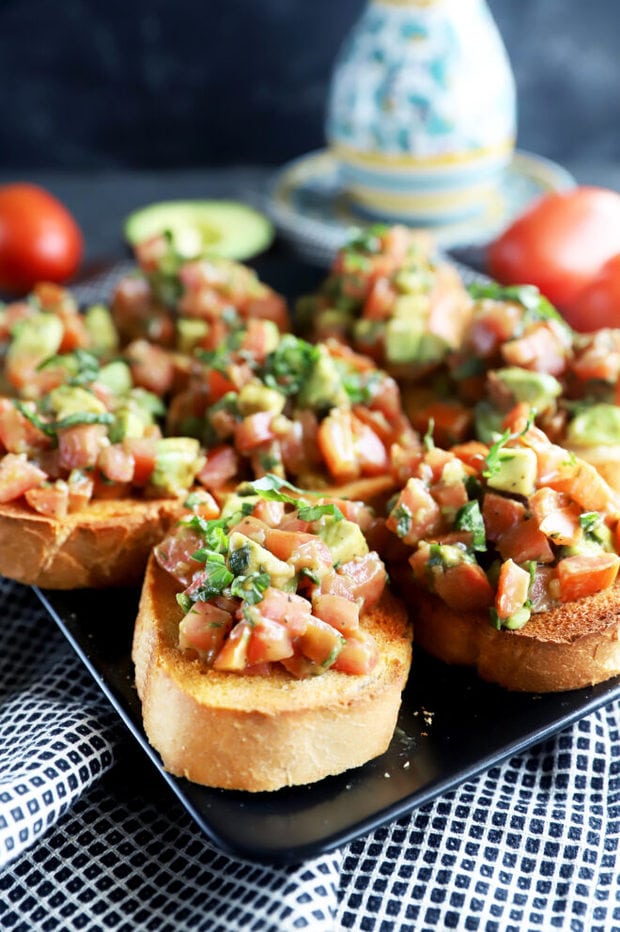 Need another Italian recipe with an avocado spin? This grilled open-faced caprese sandwich is your next recipe to try.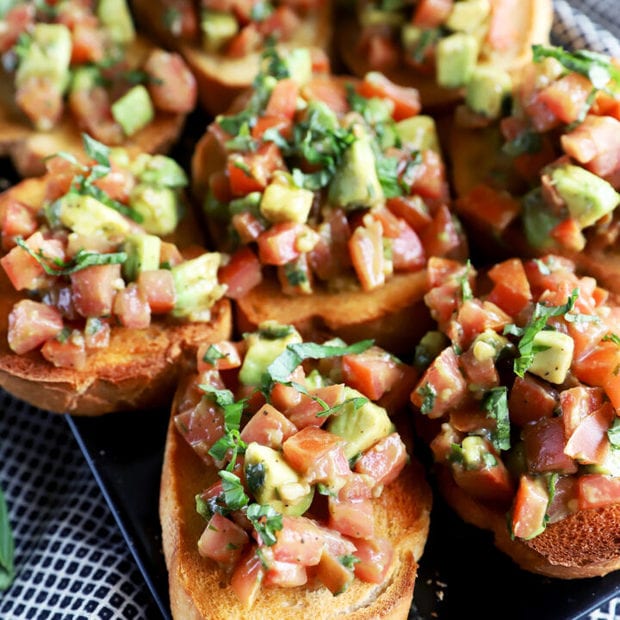 Avocado Bruschetta
The addition of creamy avocado to classic bruschetta is so refreshing!
Ingredients
8 roma tomatoes, seeded and diced
3 avocados, diced
½ tsp lemon juice
1/3 cup chopped fresh basil + more for garnish
2 cloves garlic minced
1 Tbsp balsamic vinegar
1 tsp olive oil
1/4 tsp kosher salt
1/4 tsp freshly ground black pepper
1 loaf French bread, sliced and toasted
Instructions
In a large bowl, add tomatoes, avocado, lemon juice, basil, and garlic. Toss to combine. In a separate small bowl, whisk together balsamic vinegar, 1 tsp olive oil, sat, and pepper.
Pour the dressing over the tomato mixture, tossing to coat.
Place toasted bread slices on a large platter. Top evenly with avocado tomato mixture.
Garnish with freshly chopped basil and serve immediately.

Recommended Products
As an Amazon Associate and member of other affiliate programs, I earn from qualifying purchases.