Please note this post contains affiliate links.
If you are looking for Traeger chicken wings recipes that will take your grilling game to new heights, you have come to the right place! From tangy BBQ to spicy Sriracha, these delectable wing recipes will leave you craving more. Fire up your Traeger grill and get the ultimate wing-spiration below!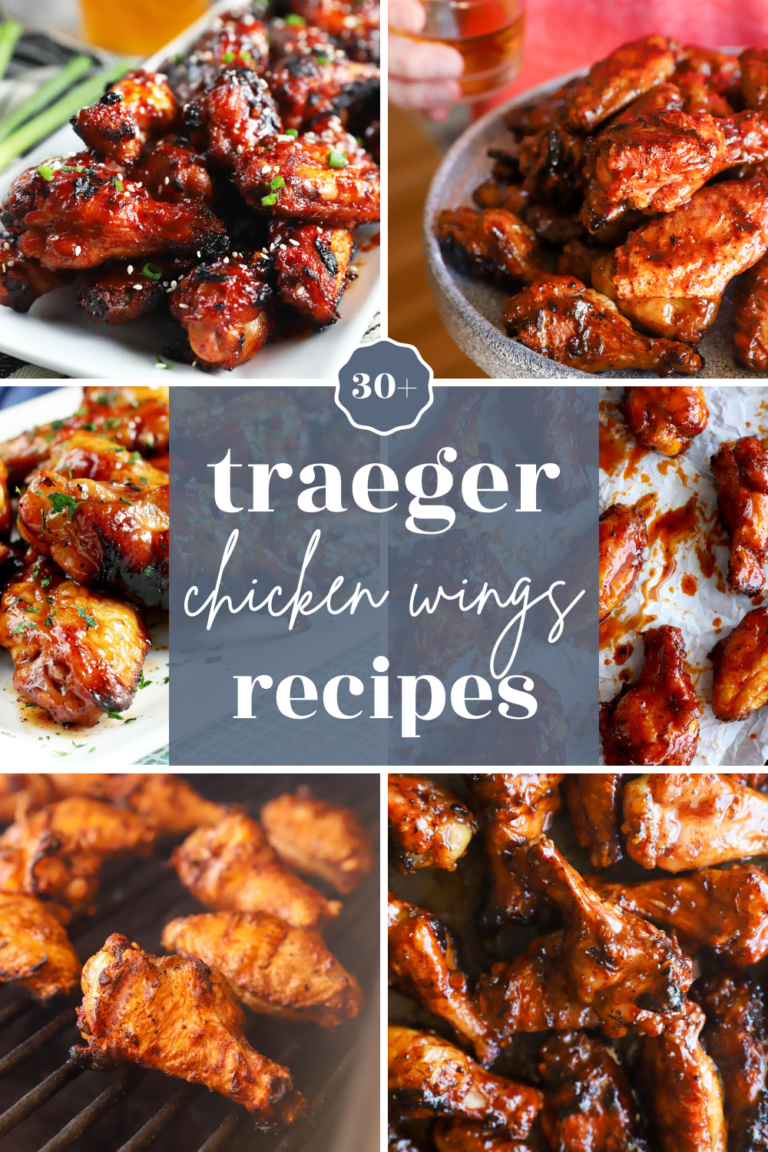 Who doesn't love a big plate of wings fresh off the grill?! When I received my first Traeger grill and fired it up, the first thing I made was wings.
I love the versatility of Traeger chicken wings, because they can be made with so many different flavors. You could have something like honey bbq one week, and the next a spicier version made with Sriracha.
Plus, with a Traeger grill, you have the opportunity to either smoke the chicken wings or grill them!
We are rounding up our favorite Traeger chicken wings (including Traeger smoked chicken wings) in the list below, both with recipes from here on the blog and also some of my favorite recipe sites! You'll find exactly what you are looking for, plus a few recipes to save for later.
my must-haves for traeger chicken wings
If you are going to make Traeger chicken wings, you obviously need a Traeger grill. The one I've linked here has been on our patio for almost a decade now and it still hums along perfectly (with proper cleanings and maintenance, of course). There are a bunch of Traeger pellet grills to chose from depending on the size you are looking for! I love that you can use different types of pellets to get different flavors infused into your grilled dishes. You can always start with Traeger grill signature pellets as a starting point, then expand out to their collection of cherry, hickory, and more.
To prepare the wings, grab your favorite chicken rub and a large bowl from your set of mixing bowls as well. This is the easiest way to coat the chicken wings, without using your fingers.
A set of grill prep and serve trays are excellent to have on hand for carrying out raw wings to the grill and loading them off the grill. You'll also need a set of grill tongs! Finally, this mop brush set is fantastic for mopping sauce onto the wings as well as other meats. Of course you can always just use a silicone brush for adding the sauce to the chicken wings on the grill.
To keep your grill clean, be sure to have a Traeger brush and grill cleaner.
just one more thing
When it comes to getting down on a big plate of Traeger chicken wings, you'll want a tasty beverage to go along with it. Here are some of my favorite drinks to serve alongside wings:
Need more inspiration for dishes to serve alongside wings for a backyard bbq or game day? Check out my appetizer recipes page!