Please note this post contains affiliate links.
Ladies, it's time to get your whiskey drink on. A Cherry Whiskey Smash is a delightful combination of whiskey, fresh cherries, mint and lemon. It's the ultimate ladies' night drink to sip on all summer long. Fresh and fruity, with strong and rich whiskey notes, this cocktail is a home run for you gals (oh heck, the guys can even have one because you know they'll want one!).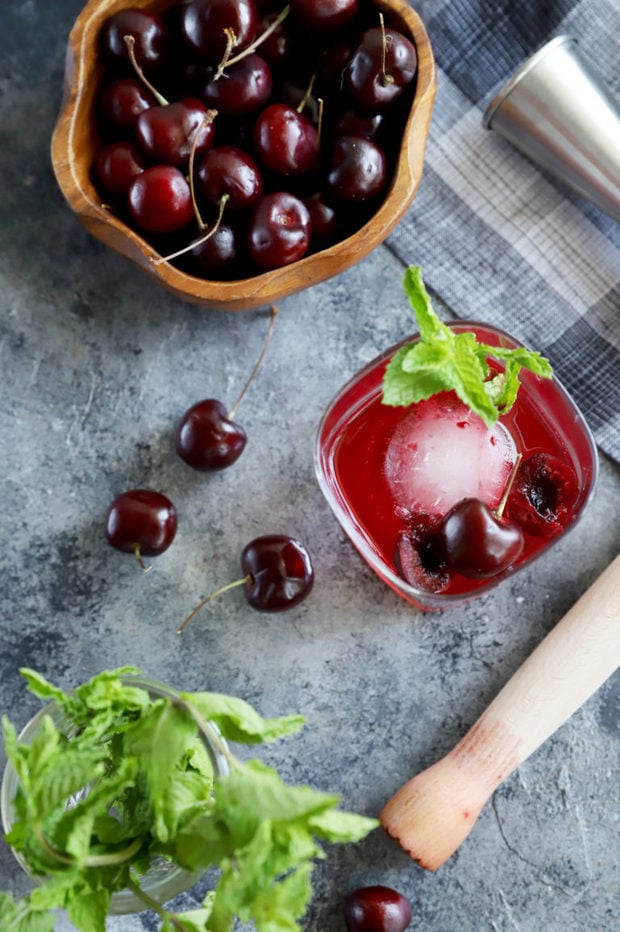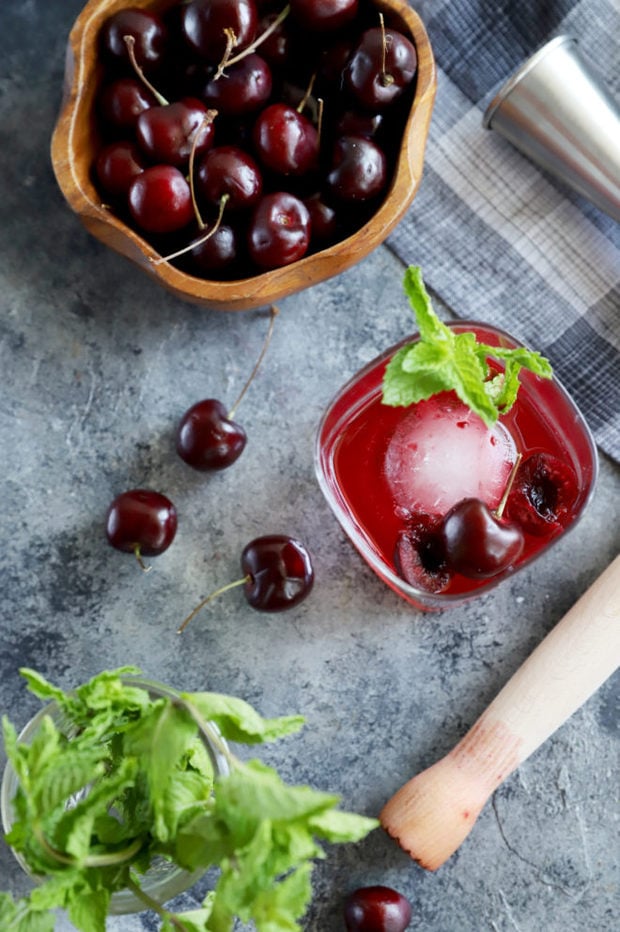 Disclosure: This post was sponsored by Laws Whiskey House. As always, all opinions are my own. This is an updated version of the original post published on May 5, 2017.
about this cherry whiskey smash
Whiskey is my spirit animal of the spirits world. I don't know if it's because I was brought up on Irish coffees or simply the strong, poignant flavors that vary from whiskey to whiskey that hold my heart. Whatever it is that draws me in for another sip, whiskey is always my drink of choice when happy hour rolls around.
I do love a classic bourbon smash, but since I'm more of a whiskey girl, I thought it was about time I made a whiskey smash instead!
If you remember a little while ago, I went on a whiskey and beer adventure in Denver that included a stop at my favorite local whiskey house – Laws Whiskey House.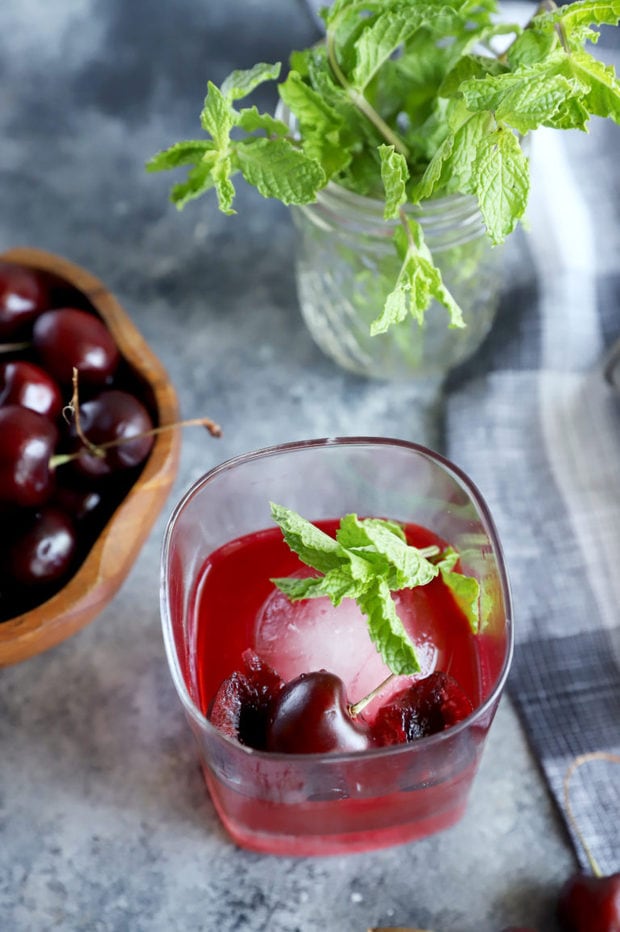 I was so wow'd by their Secale Straight Rye whiskey while I was there, I knew I had to make a summer whiskey drink to share with you all.
Cherries are one of those ingredients I look forward to working with all year long (kind of like cranberries in the winter or various pumpkins and squashes in the fall).
Those fresh little fruits are excellent to bake with, eat straight out of the bag, and (most importantly) make a delicious cocktail out of. The fresh cherry juice pairs well with several different spirits, but I believe its true soulmate is, and always will be, whiskey.
This cocktail has a refreshing blend of fresh cherries, lemon and mint to enhance the slightly sweet and rich flavors of Laws Secale Straight Rye whiskey. It's a simple enough cocktail to make, but like most cocktails I whip up, it's the fresh ingredients that make this cocktail become oh-so addictive.
If you don't have access to Laws Secale Straight Rye, you can use your favorite rye whiskey. For something a little sweeter, reach for a bourbon!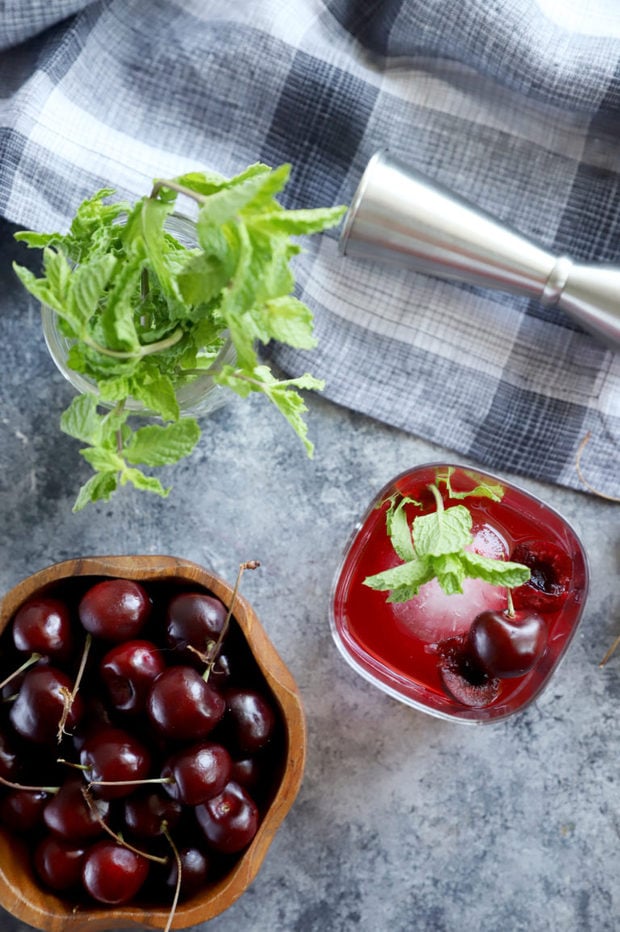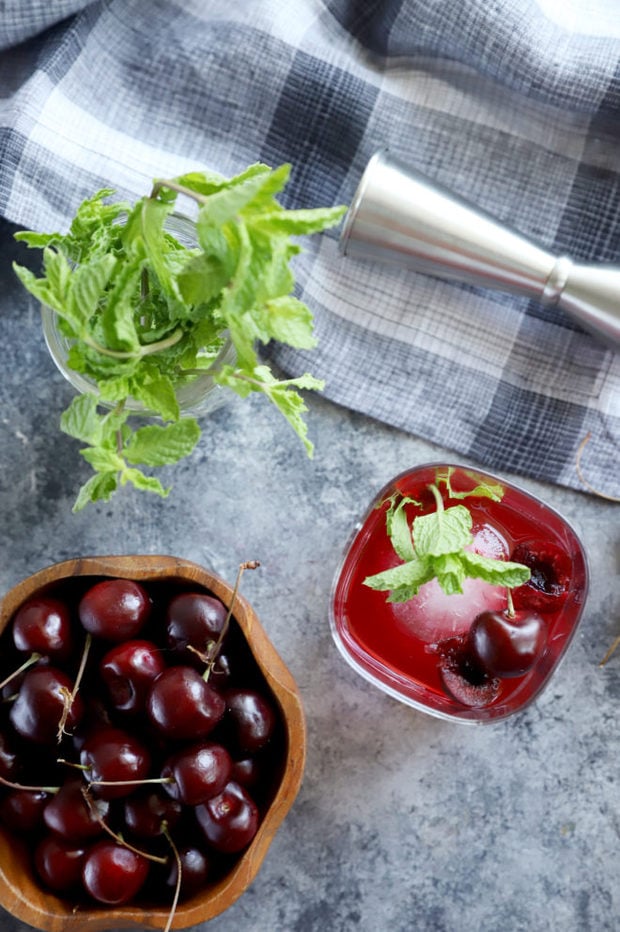 ingredients
simple syrup – you can buy this at your local store (liquor or grocery!), but I just make it at home. All you need are equal parts water and sugar. Bring to a boil in a saucepan and stir until the sugar dissolves. Remove from heat, cool, and store in the refrigerator! I usually make mine in batches of 2 c sugar/2 c water.
cherry juice – use 100% tart cherry juice for this recipe! You can buy this at the grocery store.
cherries – I recommend using fresh cherries for this cocktail – just be sure to remove the pits first. If you need to use frozen cherries you can. Make sure you thaw the frozen cherries before using them.
mint – fresh mint is best here, plus a little extra for garnish.
lemon – each cocktail requires one lemon wedge.
whiskey – I recommend using your favorite rye whiskey here! You can seek out Laws Secale Straight Rye or just choose your favorite that you love to drink.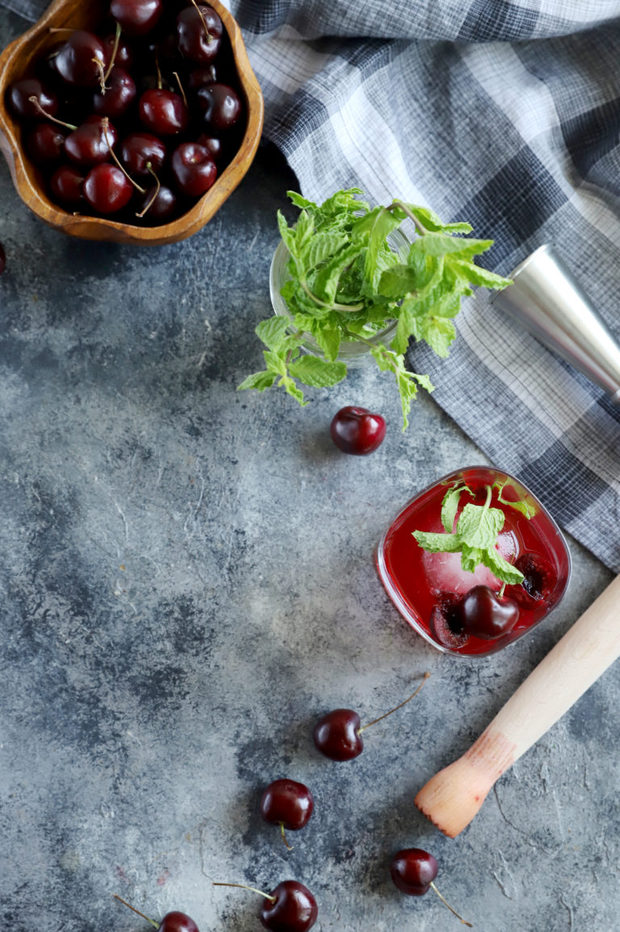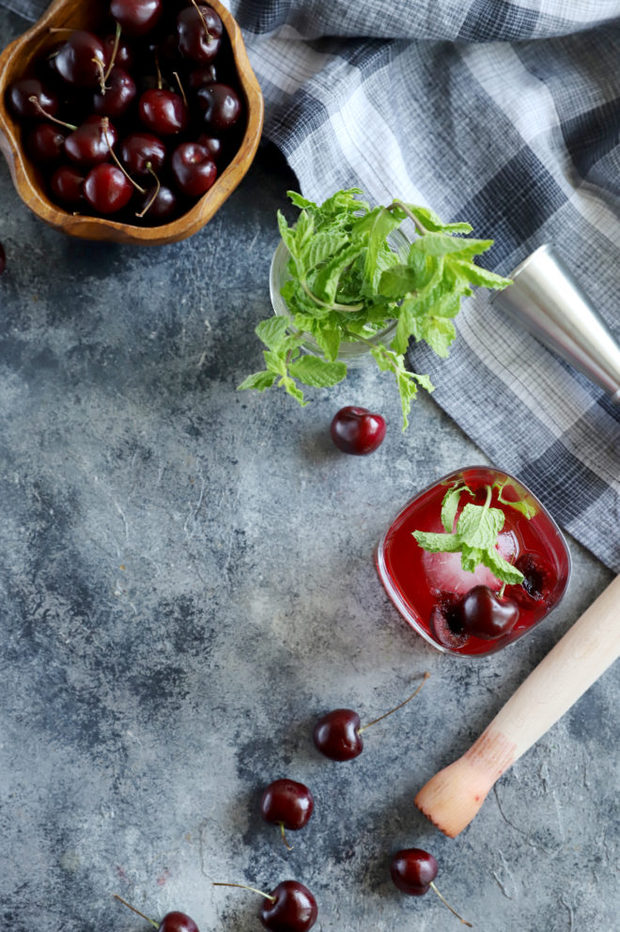 this recipe's must-haves
There are a few bar tools that you will need to make this cocktail. The basics are a cocktail shaker like this Boston cocktail shaker, a cocktail jigger, and a bar spoon as well.
If you want to update your barware, I really love these old fashioned glasses!
here's how to make a cherry whiskey smash
muddle
Add simple syrup, cherry juice, cherries, mint leaves, and lemon wedge to the bottom of an empty shaker. Muddle well, until the lemon wedge is broken down.
shake
Add bourbon to the shaker and fill the rest of the way with ice. Stir to combine.
strain
Strain cocktail into a rocks or double old fashioned glass filled with ice. Garnish with cherries and mint sprigs, if desired.
More tasty cherry cocktails to try: Cherry Bourbon Sour | Cherry Rosé Mimosa | Vodka Cherry Limeade | Tart Cherry Fizz | Cherry Amaretto Sour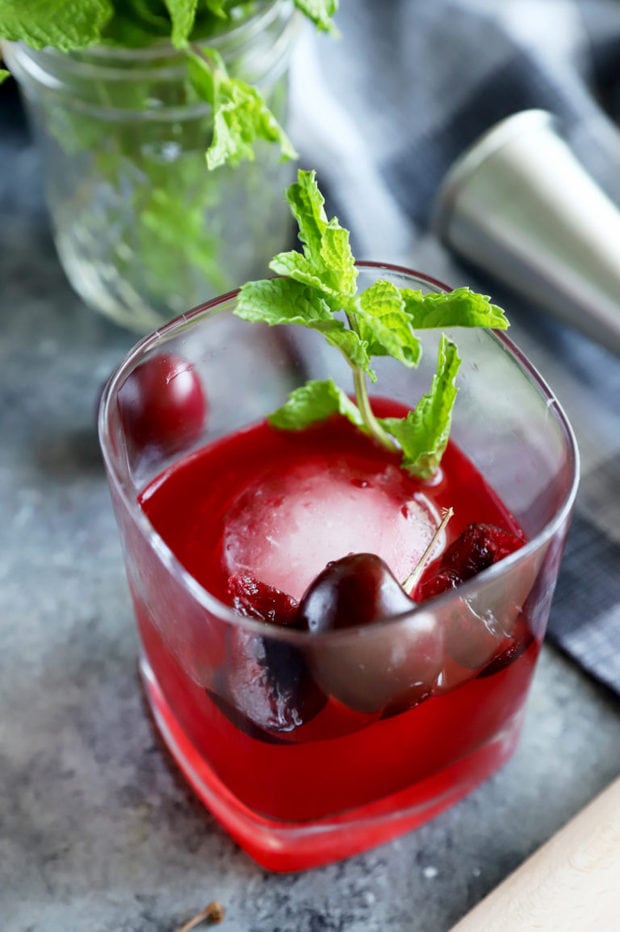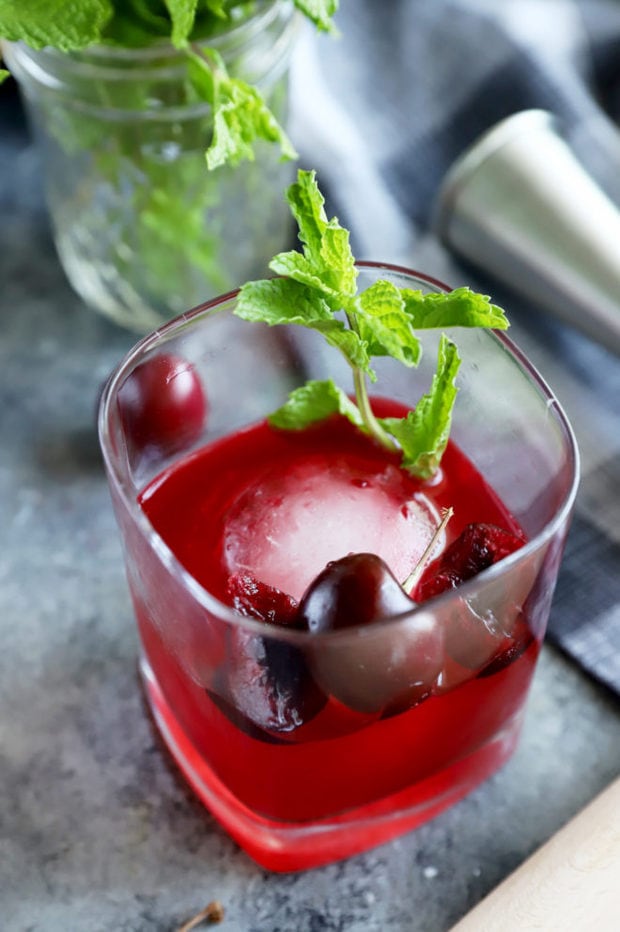 can I use bourbon instead of rye whiskey?
If you prefer bourbon, you can definitely use bourbon instead of rye. Just note that this cocktail is built for rye, so when using bourbon it will be a touch on the sweeter side.
can I use frozen cherries?
When you don't have fresh cherries available, you can use frozen cherries. Thaw and drain the frozen cherries before using them to make this cocktail.
what to serve with a cherry whiskey smash
When it comes to summertime cocktails and summertime eats, you know I am all about the grill and BBQ! If you need some inspiration for dinner to go along with this cocktail:
Need more party bites for a group? Here are some of my favorites to pair with this drink:
If you need more inspiration for your next backyard gathering, I've rounded up our favorite backyard bbq dishes for you.
Need some more inspiration for cocktail hour? Check out my cocktails recipe page!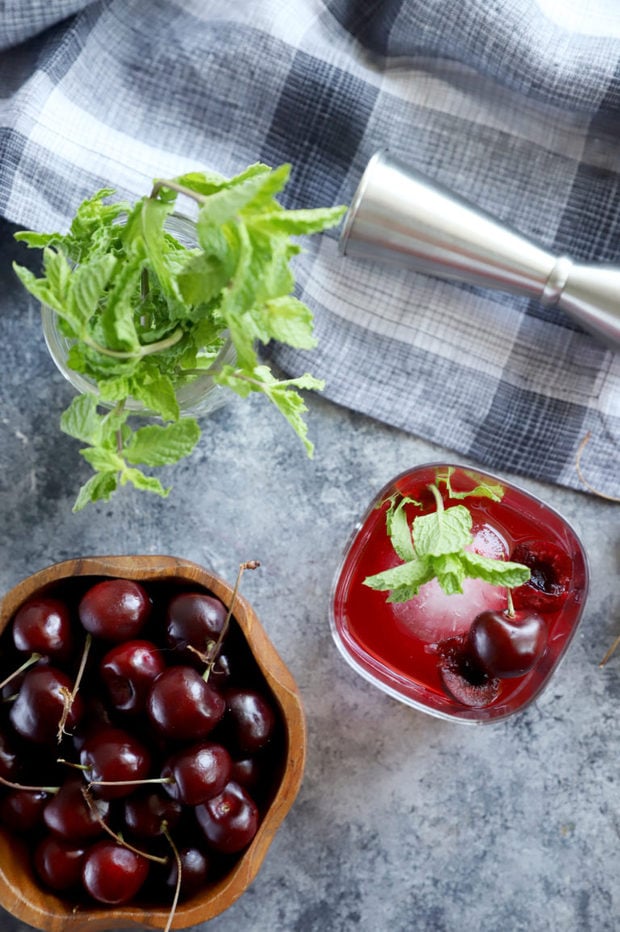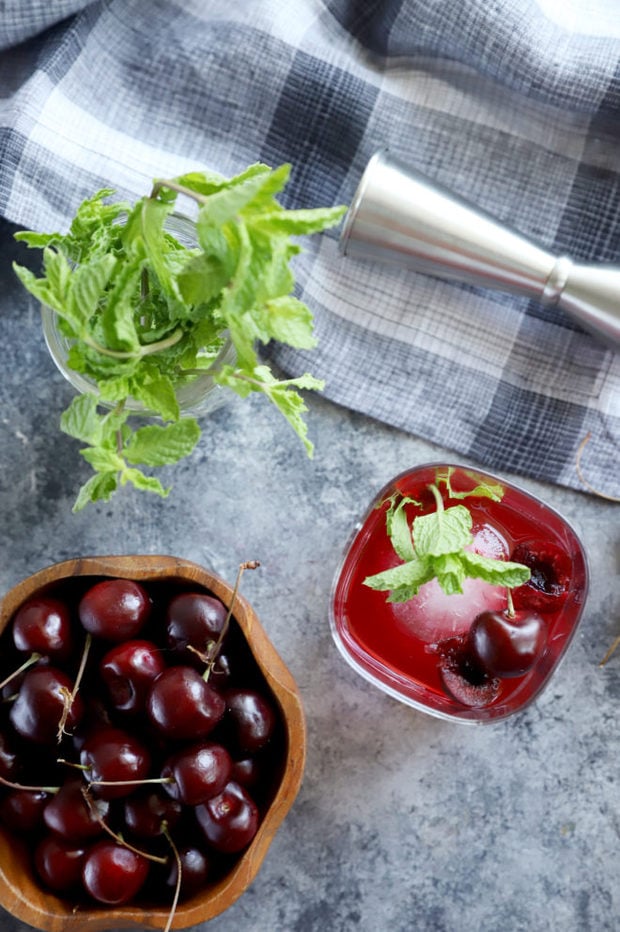 Finally, if you make this cherry whiskey smash recipe, please be sure to give this recipe a rating or leave a comment! I love to hear when you all make recipes, and I do take the time to respond to every single comment. Feel free to drop questions below too, if you have them!
Oh and be sure to tag me on Instagram if you make the recipe! I love being able to see these recipes come to life in your homes – it's my favorite thing to look through those photos. It really means the world to me!
everyday seasonal cookbook
With seasonal produce guides, recipes, and more, this cookbook is filled with seasonal food for every occasion.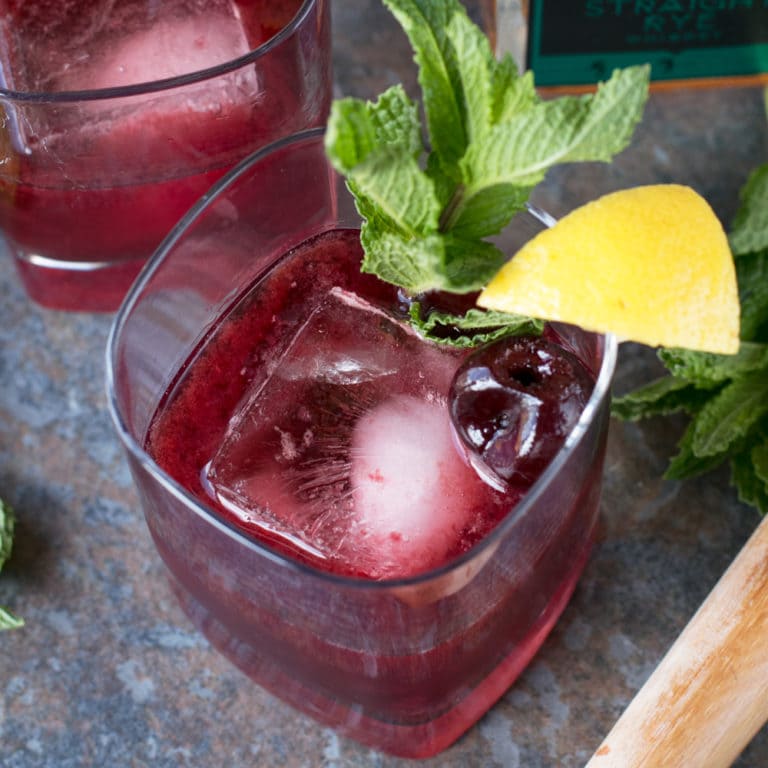 Cherry Whiskey Smash
Fresh cherries, a fantastic whiskey and a few other ingredients get you a summery cocktail that all the ladies and gents will love.
Ingredients
1/2 oz simple syrup
1/2 oz fresh cherry juice
3 fresh cherries, pitted
6 fresh mint leaves + more for garnish
1 lemon wedge
2 oz whiskey (rye is preferred, but you can also use bourbon)
Instructions
In a shaker, add simple syrup, fresh cherry juice, cherries, mint leaves, and lemon wedge. Muddle until lemon wedge is broken down.
Add whiskey and fill shaker with ice. Stir to combine.
Fill a rocks glass with ice.
Strain cocktail into the glass.
Garnish with additional cherries and mint sprigs, as desired.
Recommended Products
As an Amazon Associate and member of other affiliate programs, I earn from qualifying purchases.