Please note this post contains affiliate links.
A Brandy Cherry Galette is a fresh summer dessert without all the work of a pie! The foolproof crust, fresh cherries, and a dash of brandy make this dessert truly special for the summertime. Serves 4 to 6.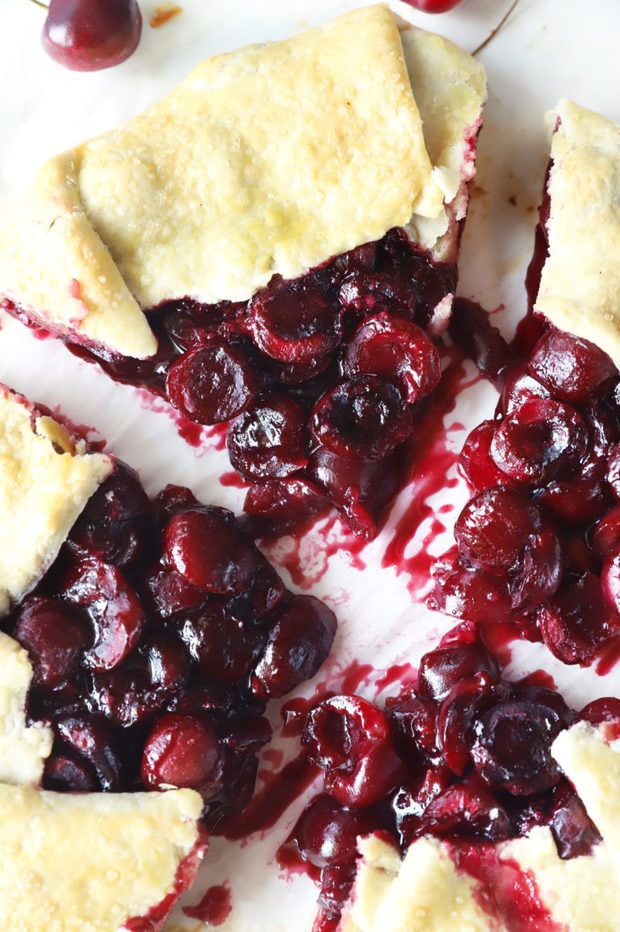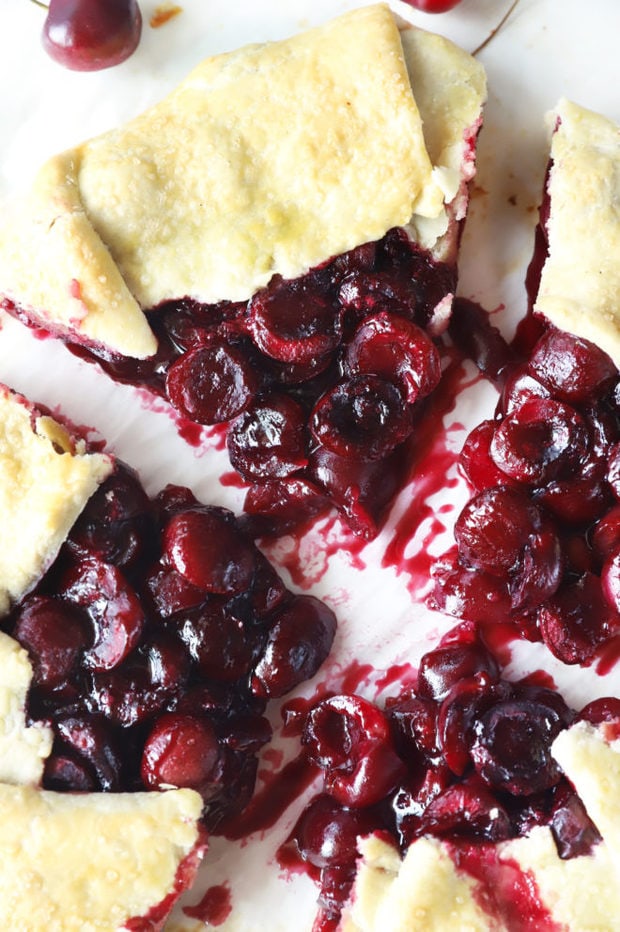 After taking a couple of weeks off to spend time with family and just BE, I'm feeling a little out of sorts coming back to work.
What is it about taking time off that makes it even harder to get back into the groove of things?
My brain is trying to wrap around work, but it feels like this year is FLYING by and there's never enough time!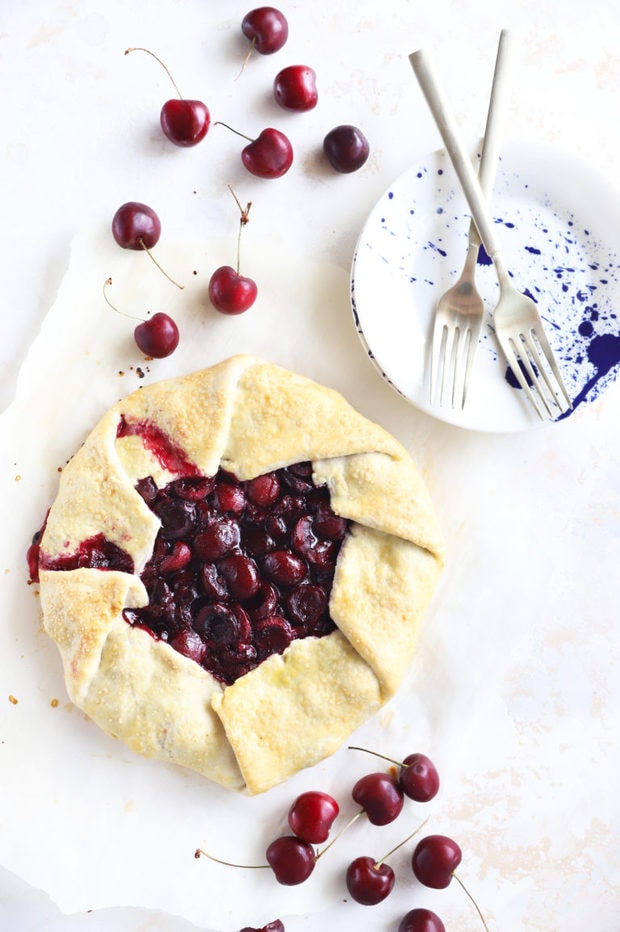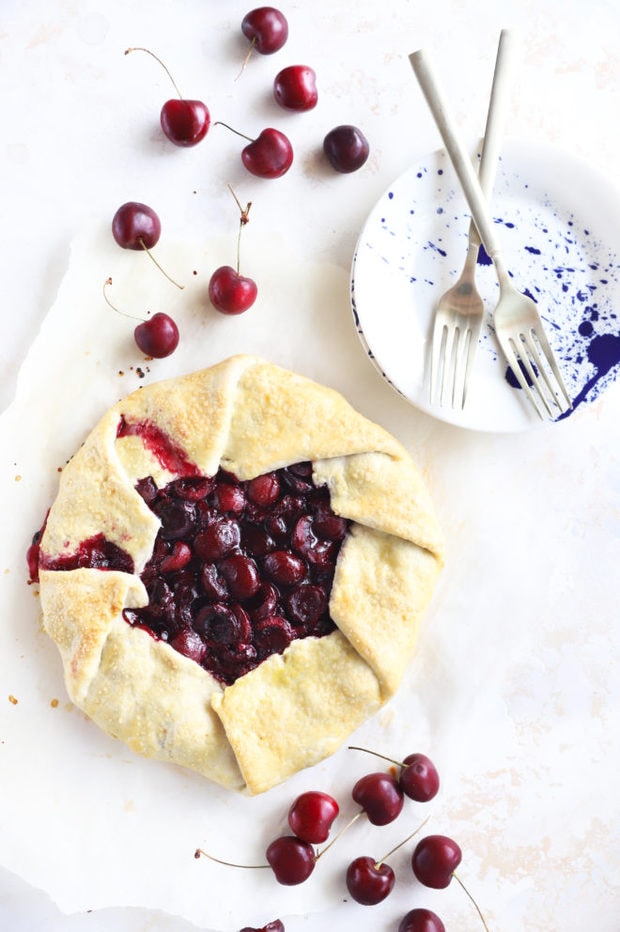 I even received an invite for a media event that is CHRISTMAS THEMED. IN JULY.
Of course I said yes (DUH, it's me after all), but now I can't seem to think about anything but fall, Thanksgiving, and Christmas… While it's about 90+ degrees outside.
Things are going greeeeeaaaaaat…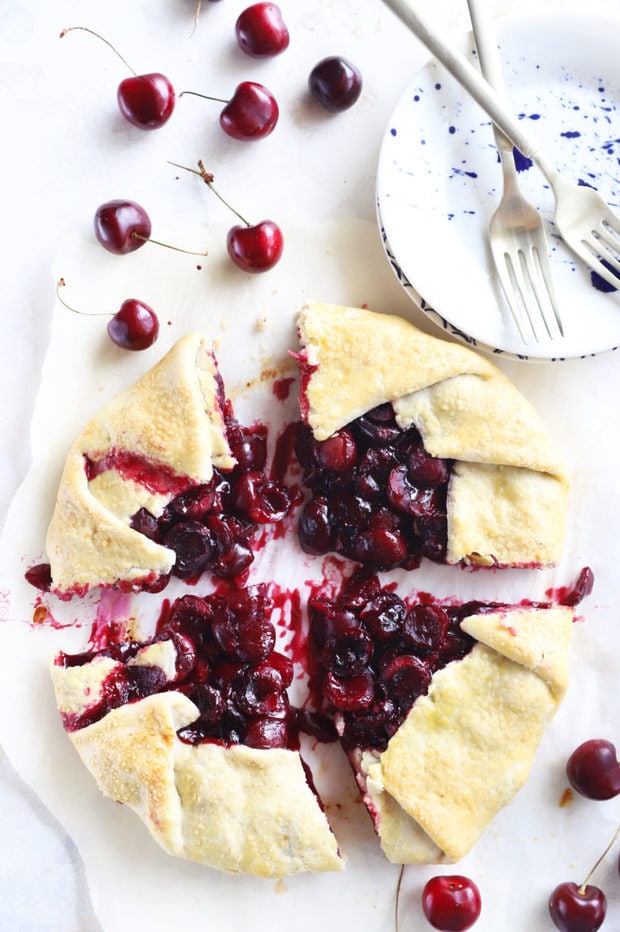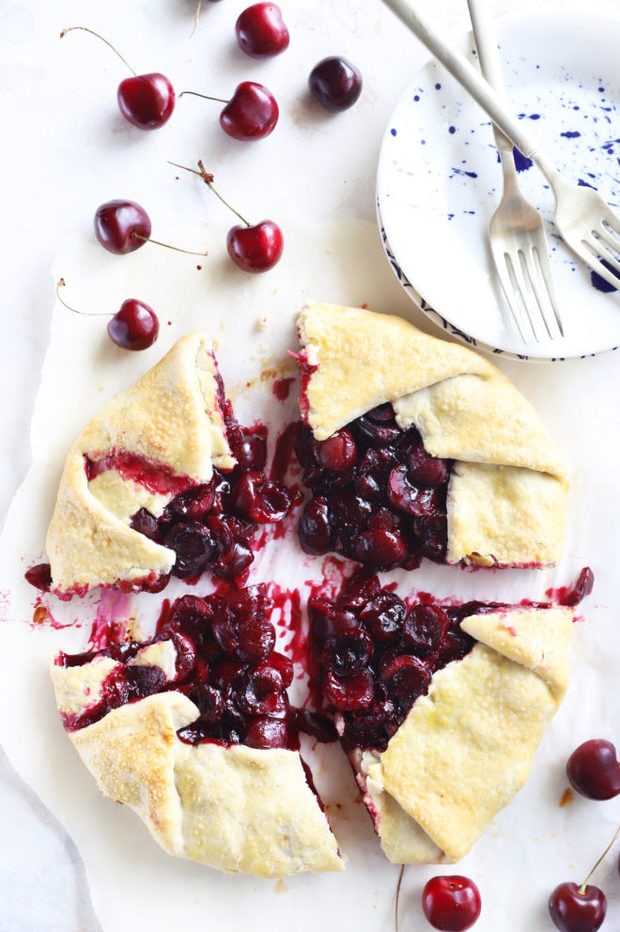 SO I bought a ton of cherries and made this summery galette. Fresh cherry pie is one of my favorite things, but I do NOT have time (or the mental capacity right now) to make a pie from scratch.
This is the reason I always turn to galettes, time and time again. The dough for this recipe is foolproof, to start with. Seriously, it's so easy to pull together and it NEVER fails (at least it hasn't failed me yet, and it's been at least 7 years that I've been using the recipe).
Then the filling which is just cherries, some brandy, a bit of sugar, and a touch of flour. It's rich and the brandy flavor really comes through in every single bite of bursting fruit and buttery crust.
What are you waiting for? Head to the farmers market this weekend to grab some fresh cherries and ENJOY!
Don't forget to pair it with this cherry amaretto sour cocktail!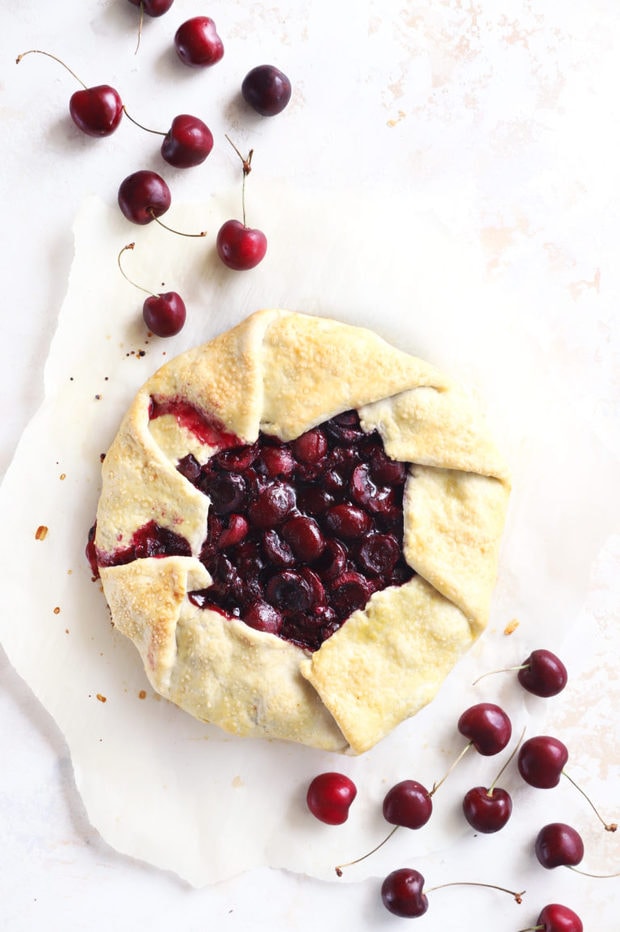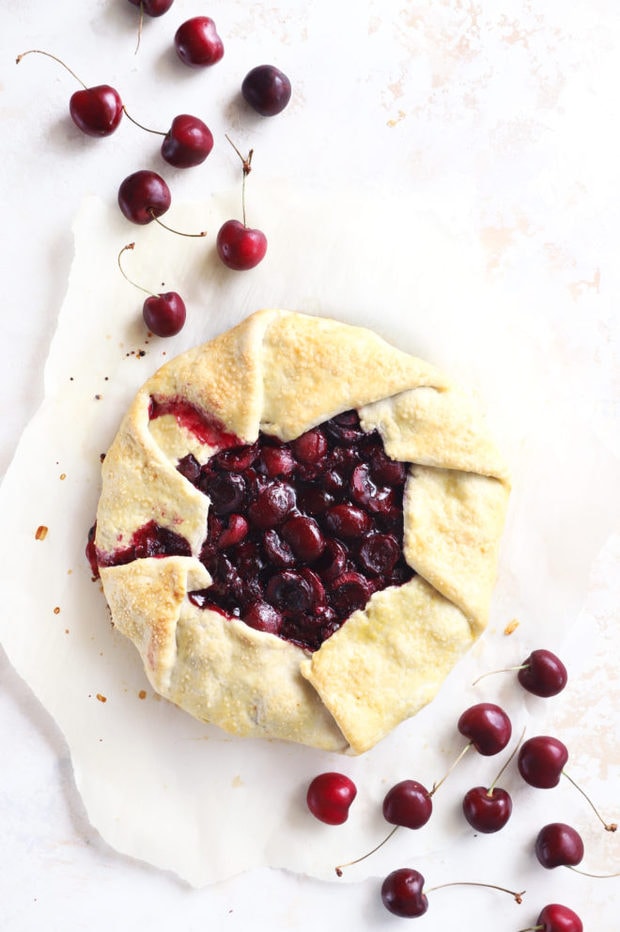 this recipe's must-haves
The dough for the cherry galette comes together in one of your standard metal mixing bowls, and I like to just use my hands to bring it all together.
I love my marble rolling pin to roll out the dough because it rolls out super easy. Then just bake it up on a half sheet baking pan!
we're making a brandy cherry galette!
Make Dough
Start by mixing together the dry ingredients, then add in half of the butter cubes. Use your hands to squeeze the butter, incorporating it into the dry ingredients until the mixture is like a coarse meal. Add in the remaining butter, squeezing it between your fingers again, until the biggest pieces of butter are about the size of a pea.
Drizzle the water over the mixture and knead the mixture together until it's smooth. This can take a couple minutes to incorporate it all. Flatten the dough in a disc and wrap in plastic wrap tightly. Chill for 30 minutes in the fridge.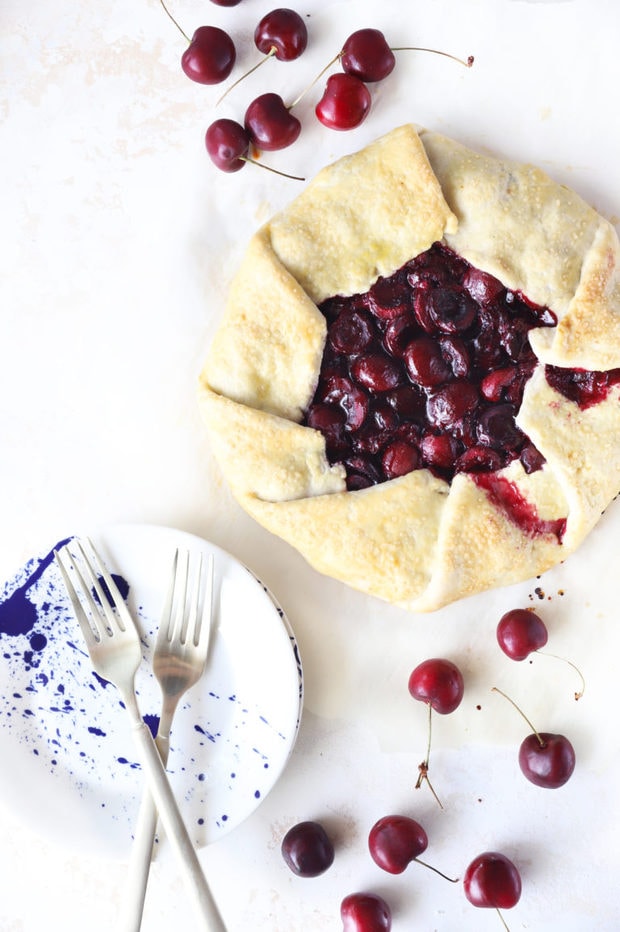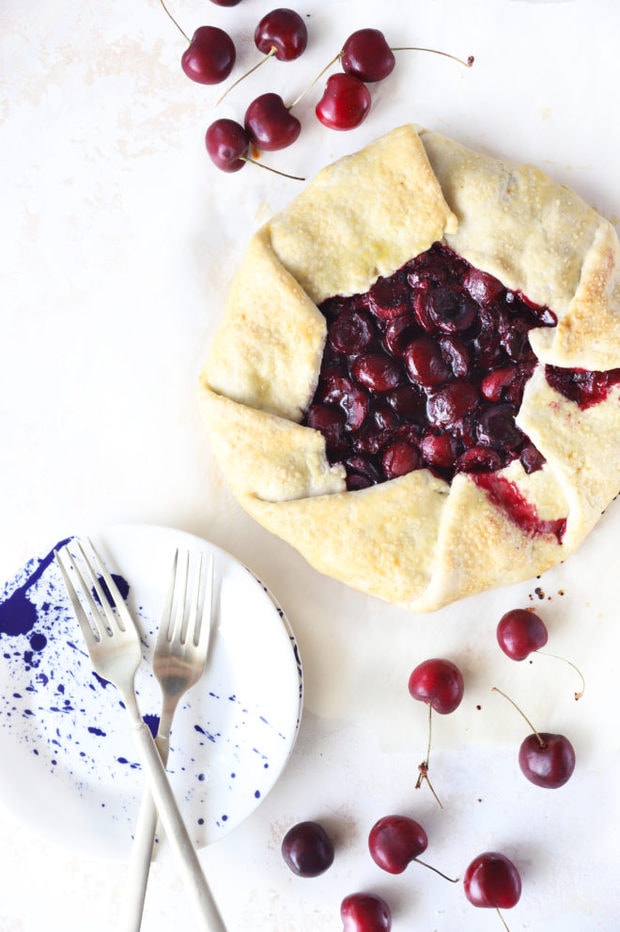 Make Filling
Mix together all the filling ingredients in a bowl until it is all well-combined.
Form and Bake
Roll out the dough to a 14-inch round. Add the cherry filling to the center, leaving about a 1 1/2 to 2-inch border all around. Fold the pastry up over the filling, forming pleats and pressing to seal as you work your way around. Brush the pastry with an egg wash and sprinkle with raw sugar.
Bake for 35 to 45 minutes until the dough is golden brown. Let cool for 15 minutes, then slice and serve!
Need some more inspiration for dessert? Check out my desserts recipe page!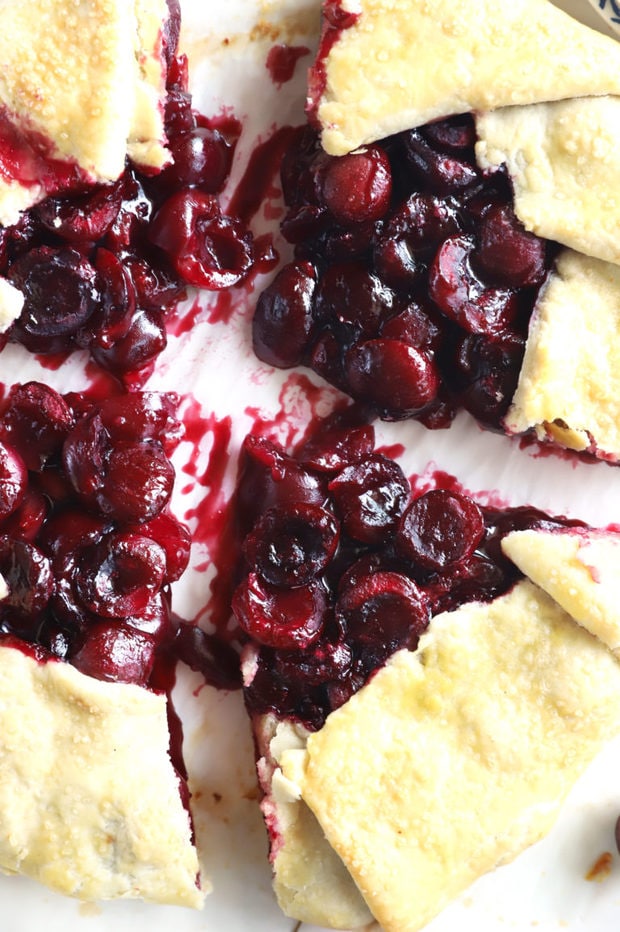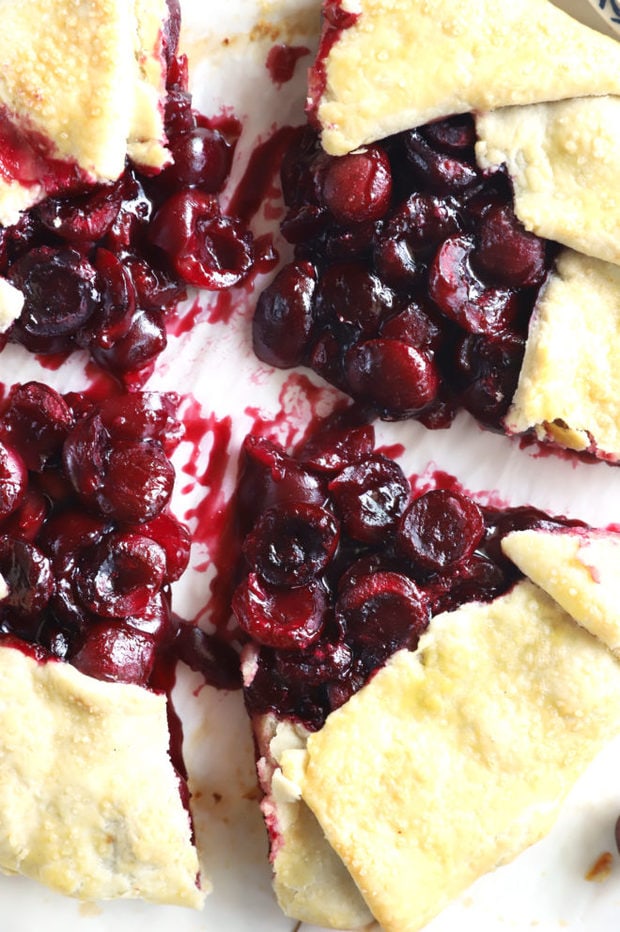 what is the difference between a tart and galette?
A tart is a shallow, straight-sided pastry. A galette, on the other hand, is a rustic free-form tart that is made with a single crust of pastry. I like galettes so much because they are rustic and easy-to-make!
Brandy Cherry Galette
Additional Time:
30 minutes
Total Time:
1 hour
25 minutes
Fresh cherries and a dash of brandy make this rustic dessert ideal for summer!
Ingredients
Crust
1 1/2 cups flour
1 1/2 tsp sugar
1/4 tsp salt
8 Tbsp cold unsalted butter, cubed into 1/2" pieces
1/3 cup ice water
Cherry Filling
4 cups sweet cherries, stemmed, pitted and halved
1/3 cup brown sugar, divided
2 tablespoons flour
1 tablespoon brandy
1/4 teaspoon salt
egg + 1 tablespoon water, beaten together for egg wash
turbinado sugar
Instructions
In a large bowl, mix together flour, sugar and salt. Using your hands, mix in half of the butter, squeezing the cubes between your fingers, until the mixture resembles a coarse meal. Add in the remaining butter, squeezing the cubes between your fingers once again, until the largest pieces of butter are approximately the size of a pea.
Drizzle water over the dough and bring together, kneading 3 to 4 times. Note: you may not need to use all the water depending on where you live so use a little at a time until it comes together.
Flatten the dough into a disk, wrap tightly in plastic wrap and cool in the refrigerator for 30 minutes.
When ready to bake, preheat oven to 375˚F. Line a rimmed baking sheet with parchment paper.
In a bowl, combine cherries, brown sugar, flour, brandy, and salt. Using a potato masher or heavy flat bottom glass mash mixture a few times. Set aside.
Roll out the galette dough into a 14" round. Arrange the cherries in the center of the dough, leaving about a 1 1/2 to 2-inch edge of dough all the way around.
Fold the pastry edge up and over the filling, pleating the dough in evenly spaced folds, pressing to seal as you work your way around. Brush dough with egg wash. Sprinkle the edges generously with turbinado sugar.
Bake for 35 to 45 minutes. Transfer the galette with the parchment paper onto a rack to cool for approximately 15 minutes before serving.
Recommended Products
As an Amazon Associate and member of other affiliate programs, I earn from qualifying purchases.