Please note this post contains affiliate links.
This Bourbon Cherry Peach Crumble is a delightful combination of tart cherries and juicy peaches, topped with a brown sugar oatmeal topping. It's one of those recipes that's easy to make and everyone always goes crazy for! Just be sure to have some ice cream handy to serve it with 😉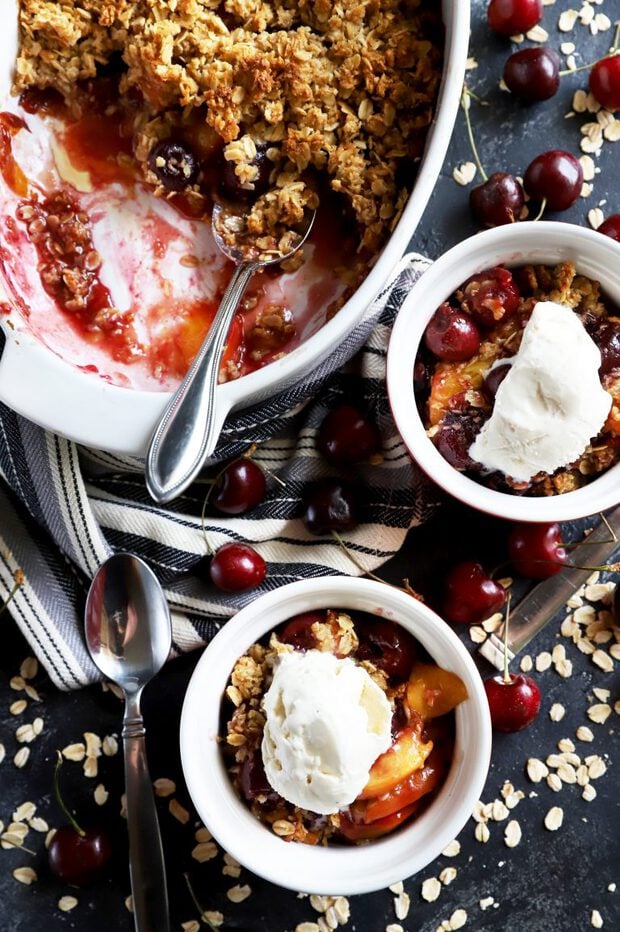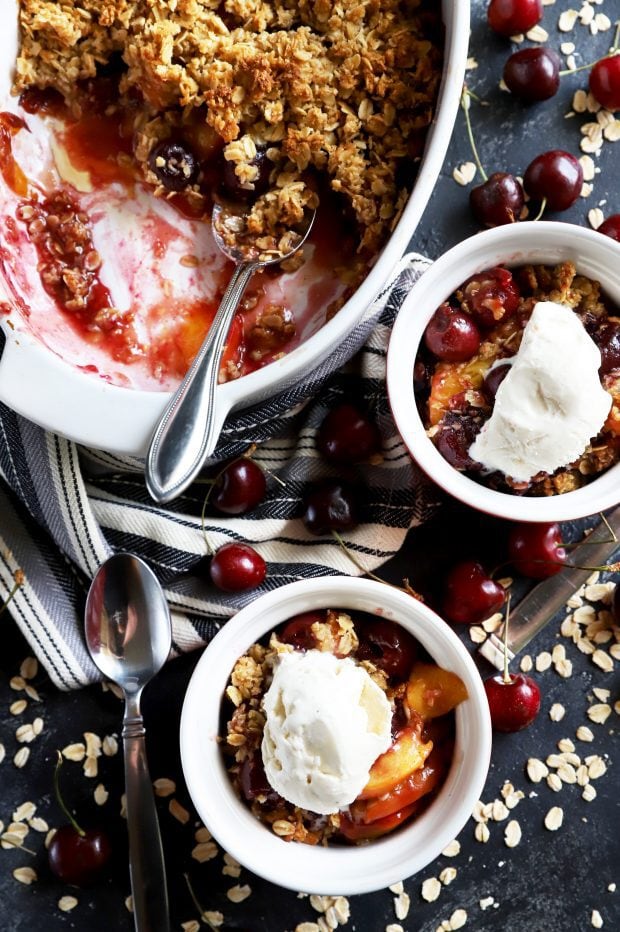 I love a good crumble this time of year.
It's late summer and that means I'm not only ready to eat all the peaches, I'm also getting ready for fall to roll around.
This dessert is the ideal pairing for a late summer/early fall baked recipe. You can get all the gooey warm filling, while also getting all the juicy, tart flavors of fresh summer fruit.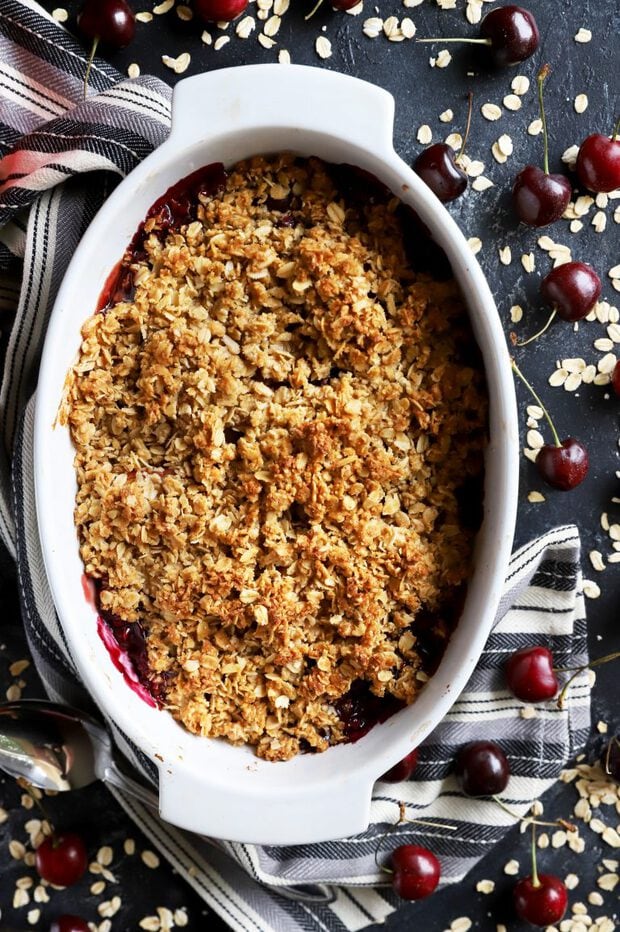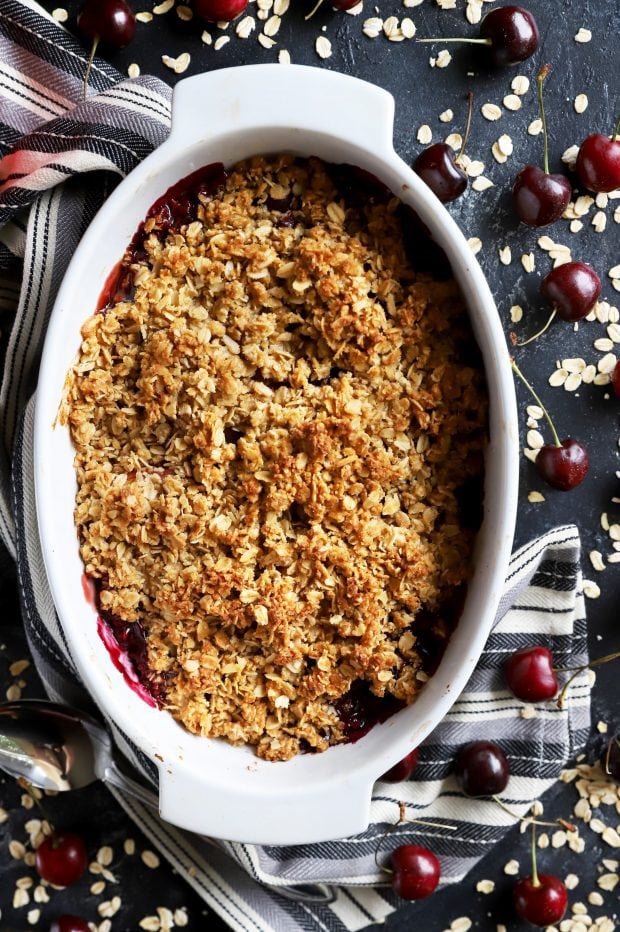 Then there's this crunchy topping that is nice and golden, with just the right amount of brown sugar, oatmeal, and buttery flavor.
Top it all off with a big ol' scoop of ice cream, and you have the easiest dessert that'll have everyone running to the table.
I could literally eat this peach crumble every. single. night. right now. At least I'd be getting my serving of fruit in every day…??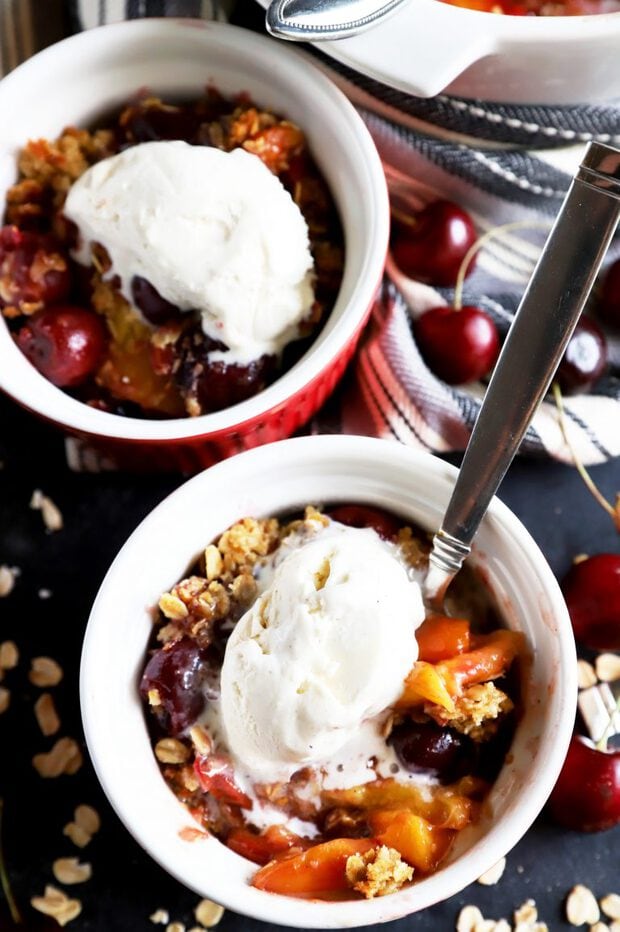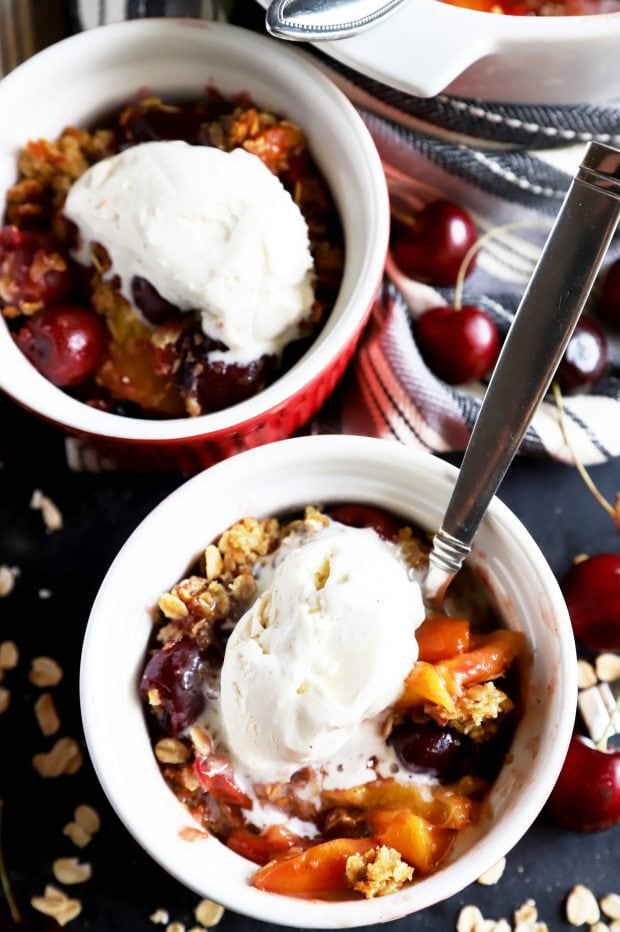 This Recipe's Must-Haves
To make the filling and the crumble topping for this recipe, you'll need to grab your set of mixing bowls and wooden spoon. Also, you'll need to use your hands, but more on that later 😉
I like to bake this recipe in an old 2 1/2 quart baking dish that I picked up at a thrift store many moons ago. However, you can use any shape baking dish that you have that is the right size. You can also use a 9-by-9-inch baking dish (glass or metal)!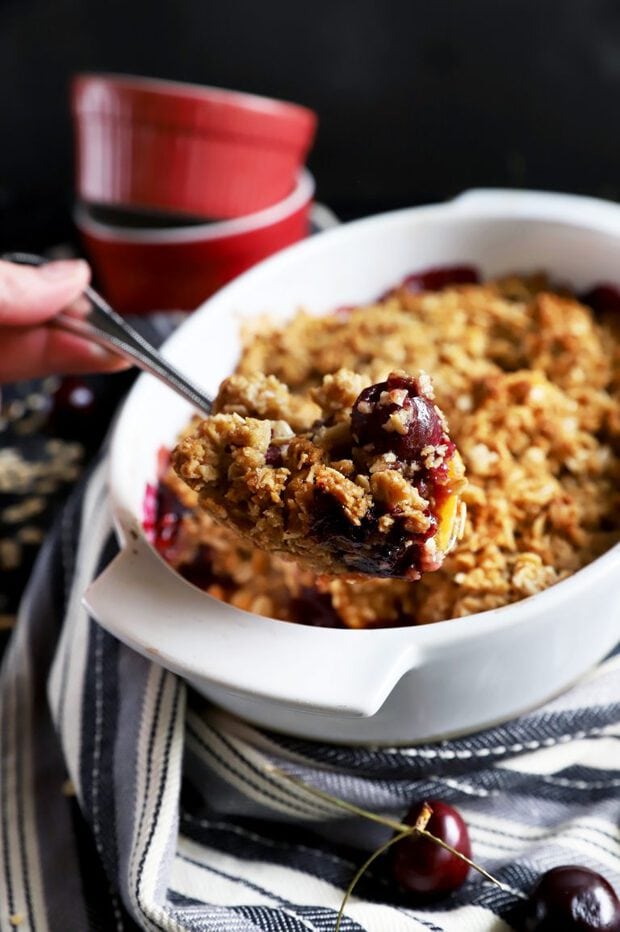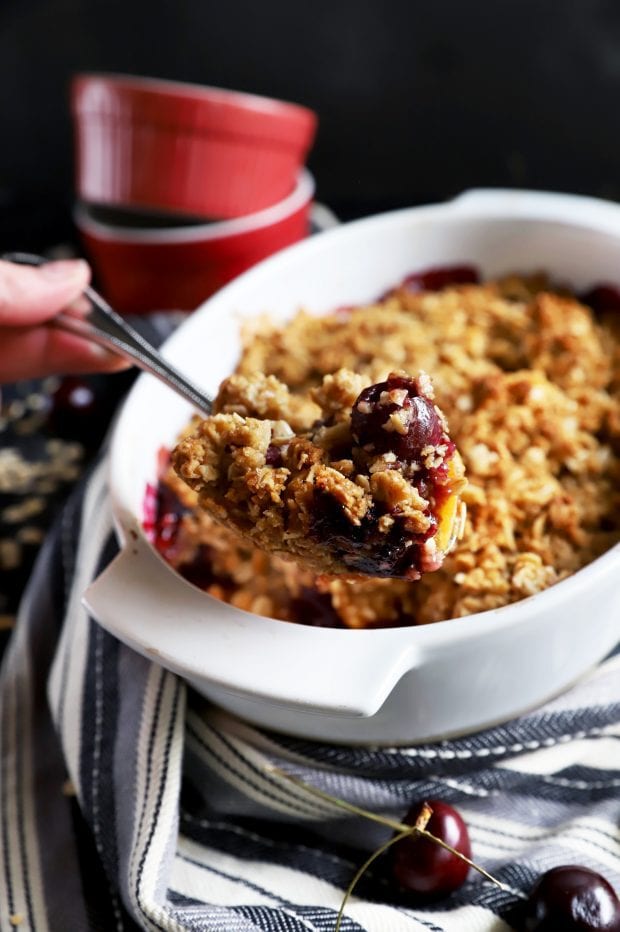 How To Make A Fresh Peach Crumble
Make The Filling
To make the filling, start by preparing the fruit. Start by pitting all the cherries and thinly slicing the peaches.
Then you mix this up with the remaining ingredients for the filling, spread it in a baking dish, and top it with dots of butter.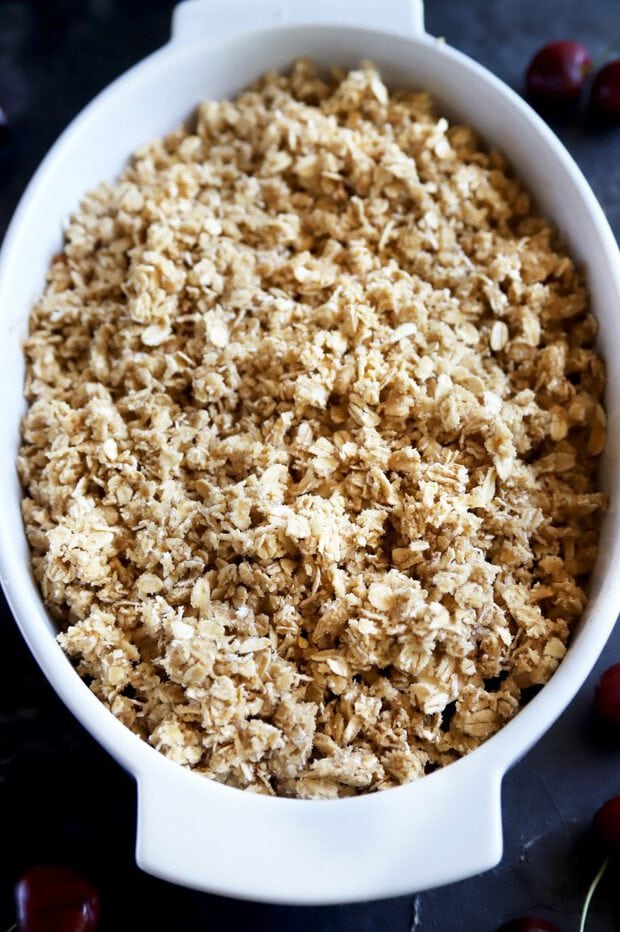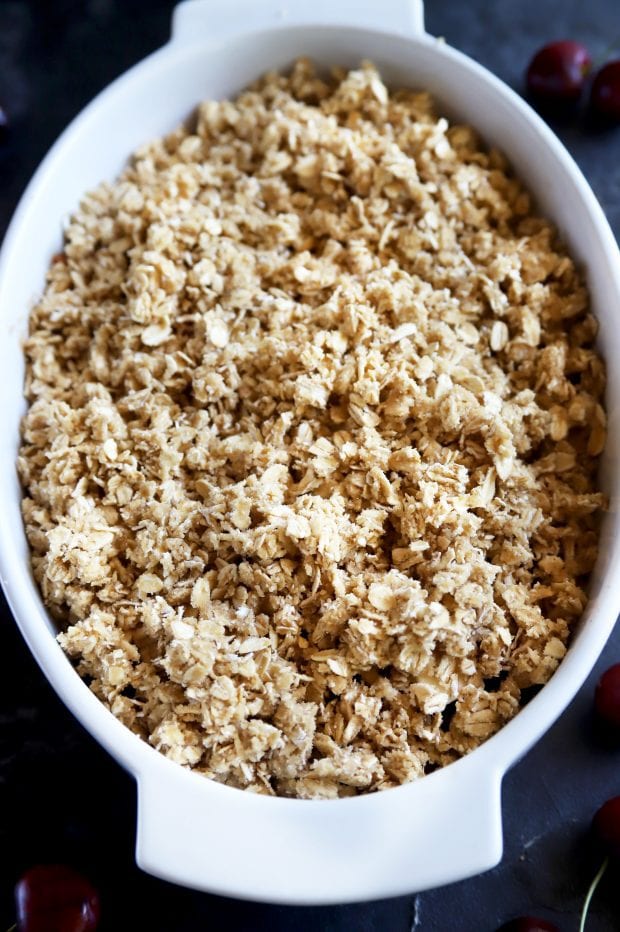 Make The Crumble
The brown sugar oatmeal crumble is one of my favorite parts about this dessert. It gets nice and golden brown when it bakes, giving you a buttery sweet crunch on top of the gooey and warm filling.
When you make the crumble, it's the cutting in of the butter that's important to get right. You want to use your hands, because it's definitely the easiest way to make it. It should be a crumbly mixture that resembles wet sand in your hands.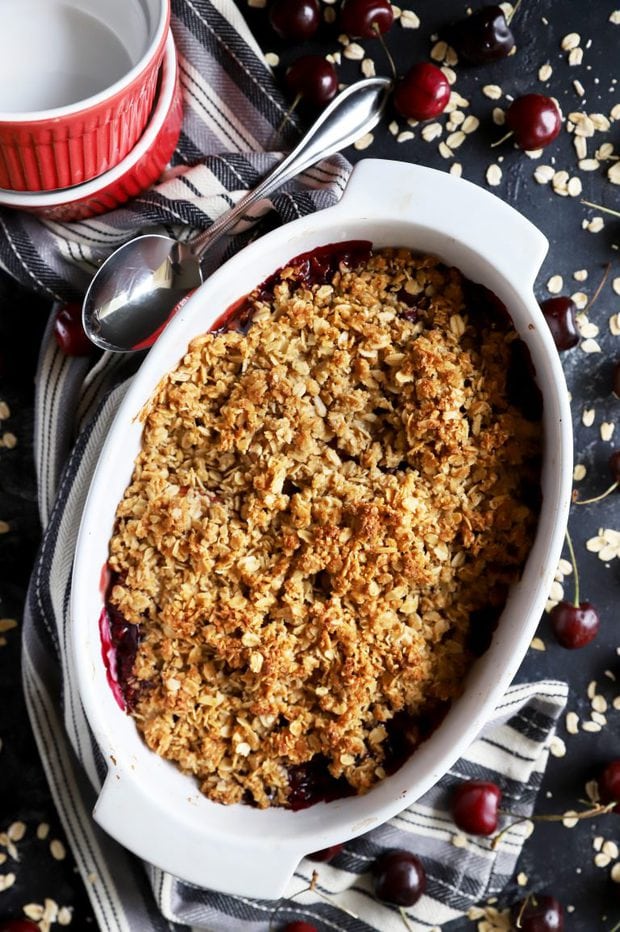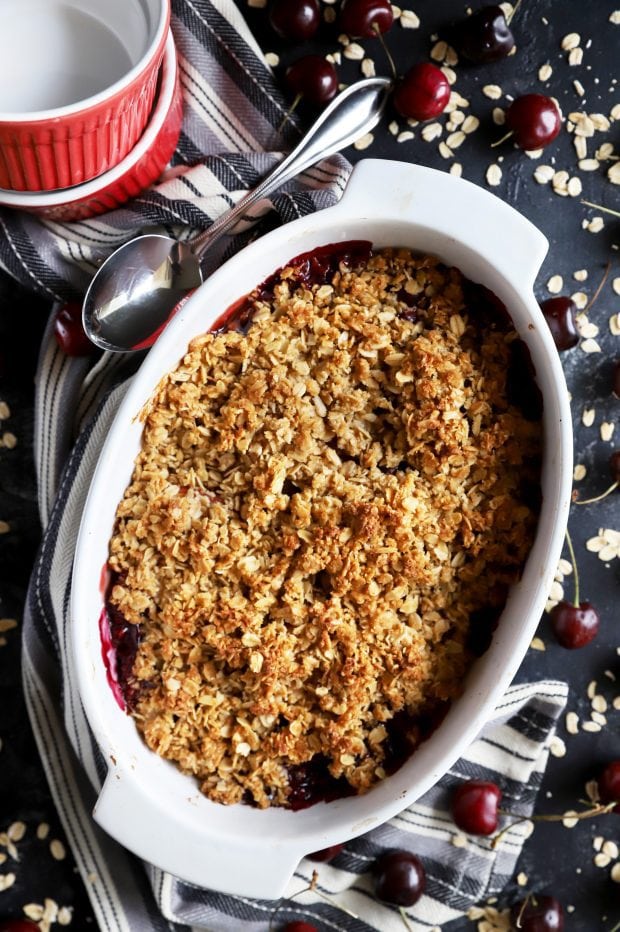 Assemble and Bake
Top the filling with the crumble and stick it in the oven. The filling will be all gooey and bubbling when it's done, and the topping will be nice and golden.
Just be sure to let it cool a few minutes before serving. Similar to pies and other fruit desserts, you want to let those piping hot juices settle.
Serve it on its own, but it's SO much better with a big ol scoop of vanilla bean ice cream on top!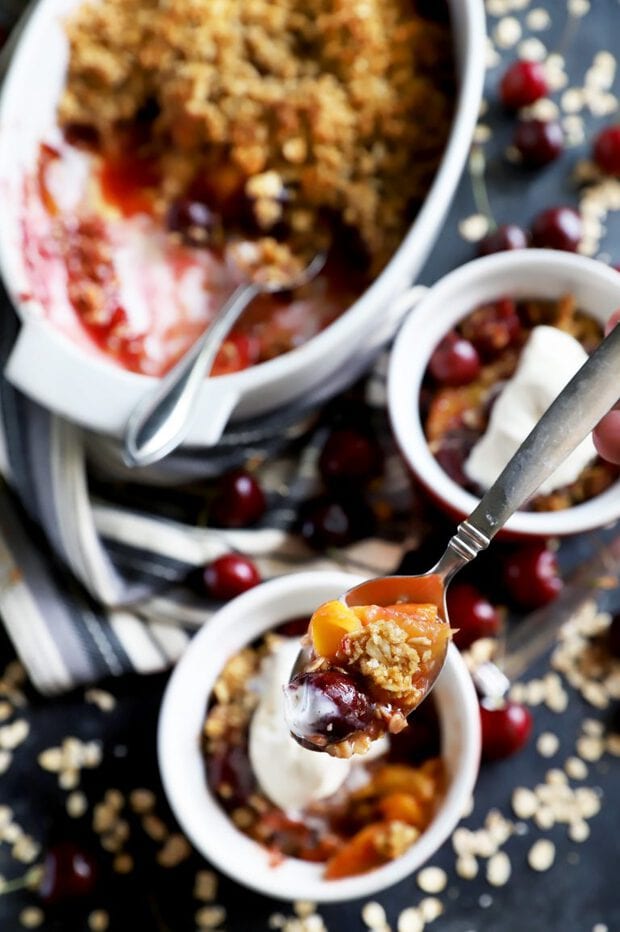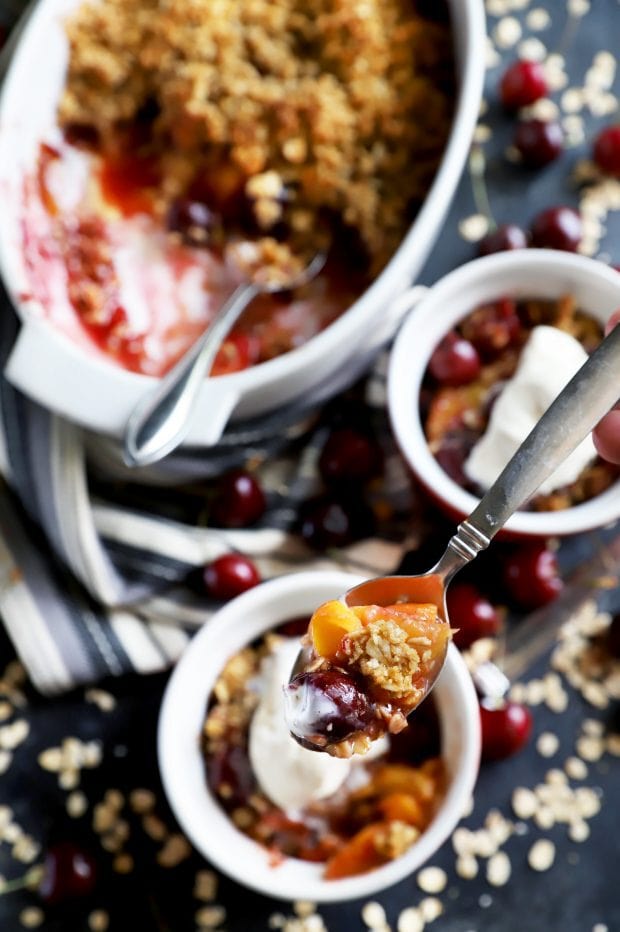 Can I use canned peaches?
While you can use canned peaches, I highly recommend using fresh peaches because the flavor is so much better.
If you have to use canned peaches, be sure to use ones that are in 100% juice. Drain the peaches and lightly rinse them under cold water before using them in the recipe.
Can I freeze peach crumble?
You can keep a baked crumble in the freezer, for up to 2 months! All you have to do is thaw it and then warm it in a 350˚F oven for about 20 minutes until it is heated through. You can also store it pre-baked, but keep the topping separate and freeze. Then continue to assemble, bake, and serve once fully thawed out.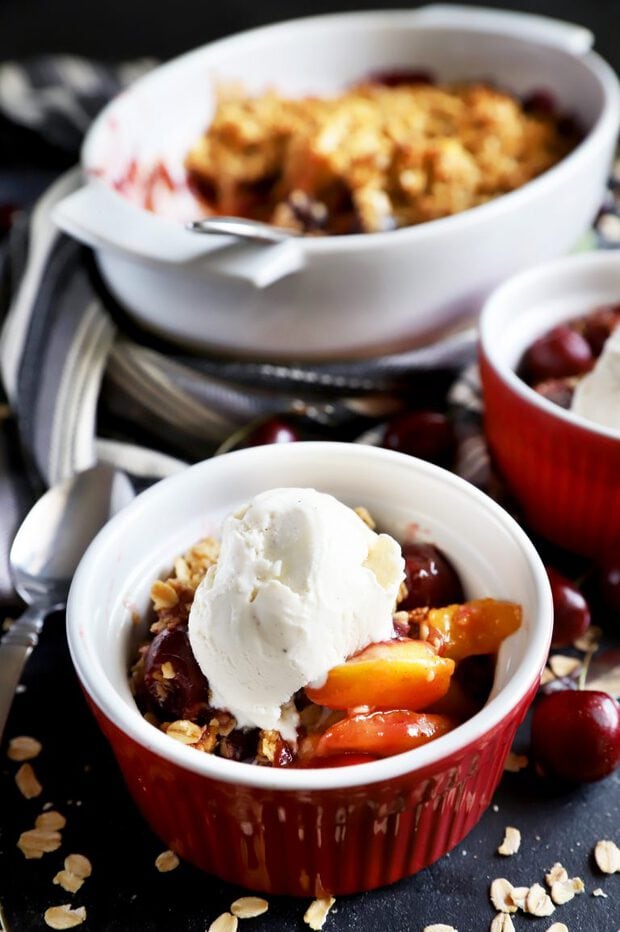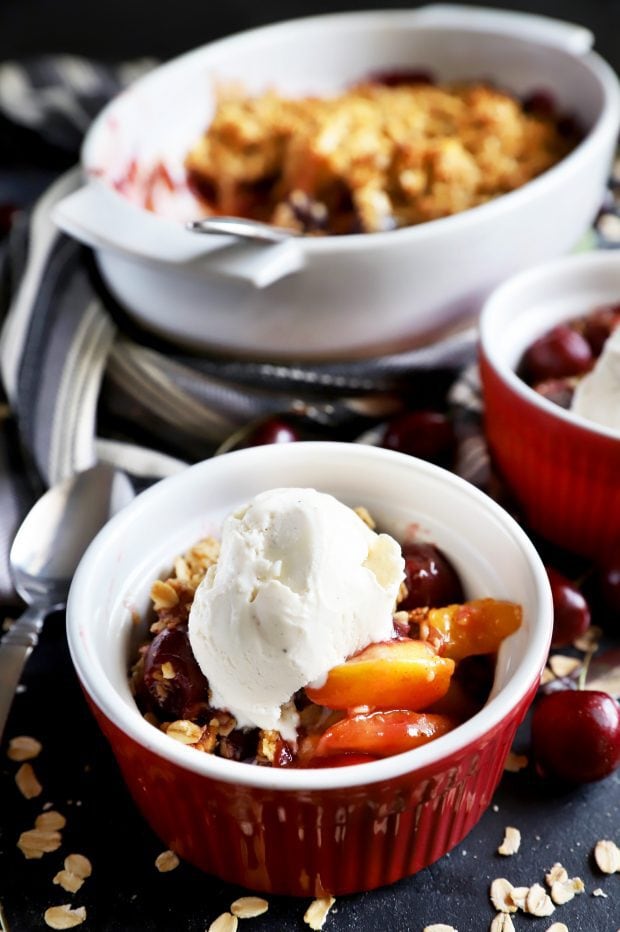 Need more peach dessert recipes?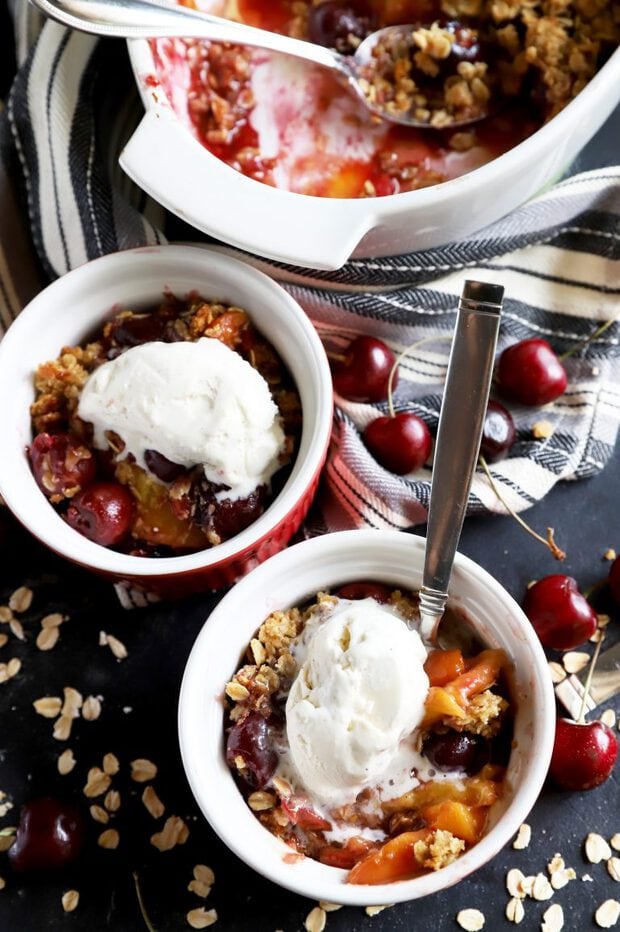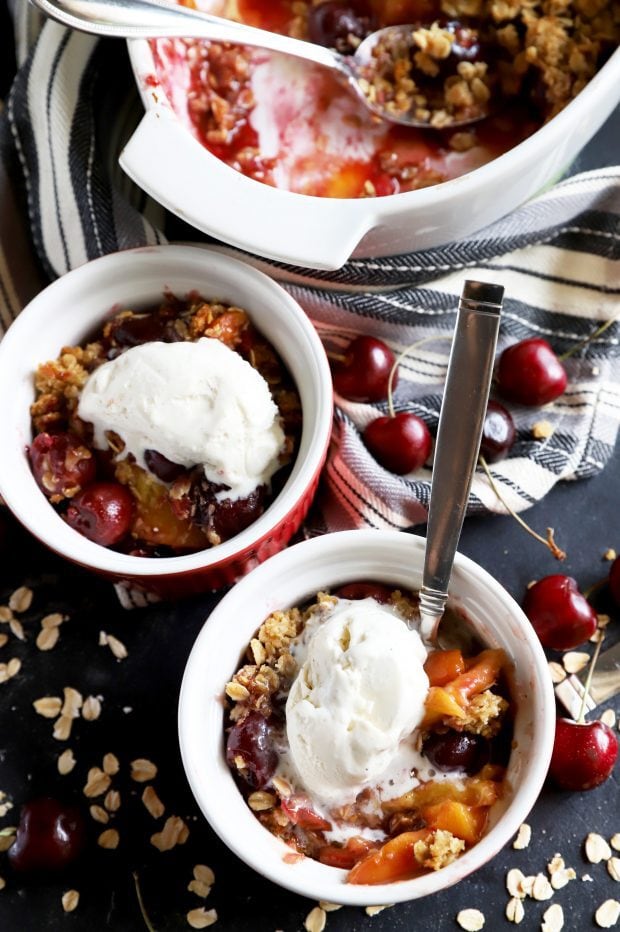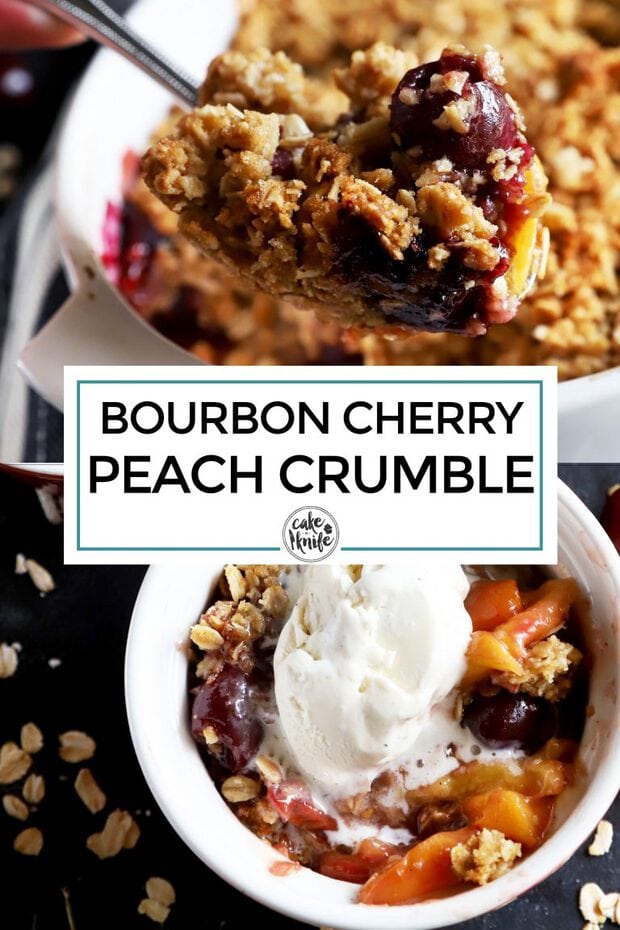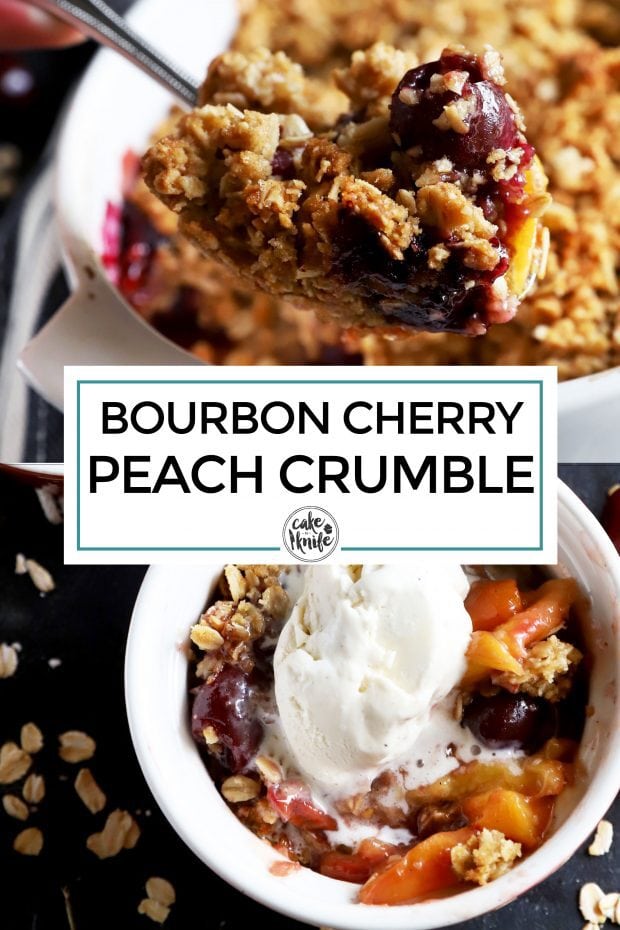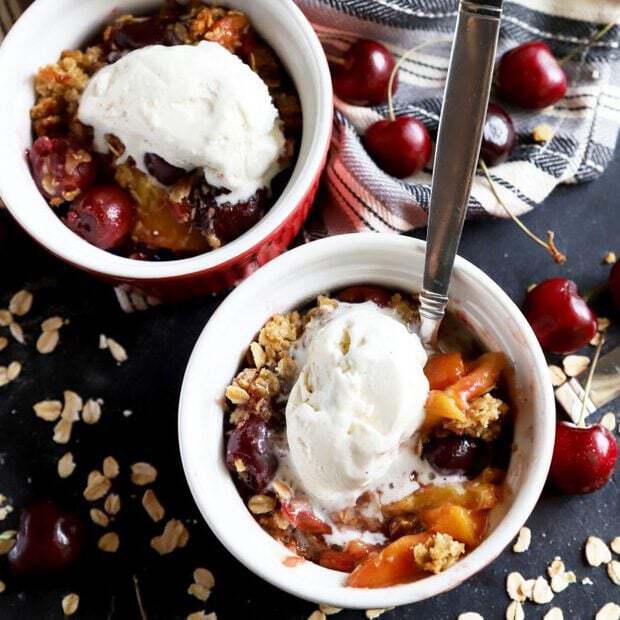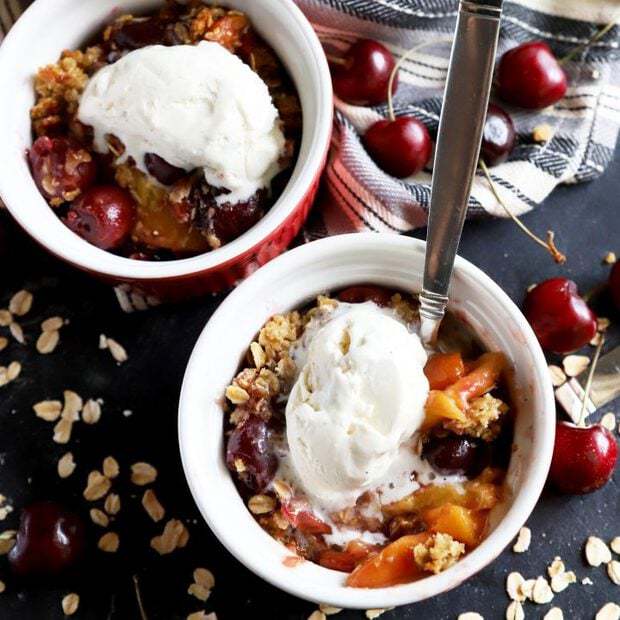 Bourbon Cherry Peach Crumble
Tart cherries, juicy peaches, and a hint of bourbon are topped with a golden brown oatmeal topping that brings together the best flavors of summer fruit!
Ingredients
Filling
2 cups bing cherries, pitted
2 peaches, thinly sliced
1/4 cup light brown sugar
1 Tbsp bourbon
1 Tbsp flour
1/4 tsp salt
1/4 tsp cinnamon
1 tsp vanilla bean paste
2 Tbsp unsalted butter, cut into small cubes
Crumble
1 cup old-fashioned oats
1/2 cup loosely packed light brown sugar
2 Tbsp all-purpose flour
1/2 tsp cinnamon
1/4 tsp salt
4 Tbsp unsalted butter softened
Vanilla ice cream for serving
Instructions
Preheat the oven to 375˚F.
Add cherries and peaches to a medium bowl. Add sugar, bourbon, flour, salt, cinnamon, and vanilla bean paste. Toss to coat the fruit evenly.
Place the filling in a 2 1/2 quart baking dish (or 9x9-inch baking dish). Spread in an even layer and sprinkle the filling with the butter pieces.
Add oats, sugar, flour, cinnamon, and salt for the crumble to a separate medium bowl. Add the softened butter and use your hands to mix it up. Make sure to pinch the larger pieces of butter together with your fingers to break it up. Continue to mix in the butter with your hands until the mixture is crumbly and feels like wet sand.
Sprinkle the crumble mixture over the fruit filling evenly.
Bake for 35 to 45 minutes, until the fruit is bubbling and the crumble topping is golden.
Let cool about 5 minutes before serving with your favorite vanilla ice cream.
Recommended Products
As an Amazon Associate and member of other affiliate programs, I earn from qualifying purchases.