Please note this post contains affiliate links.
This Strawberry Mint Vodka Gimlet is a spin on a classic you definitely need to know! Fresh ingredients and vodka make this cocktail all the summer happy hour goals. You can even make it sugar-free by skipping the simple syrup if you choose!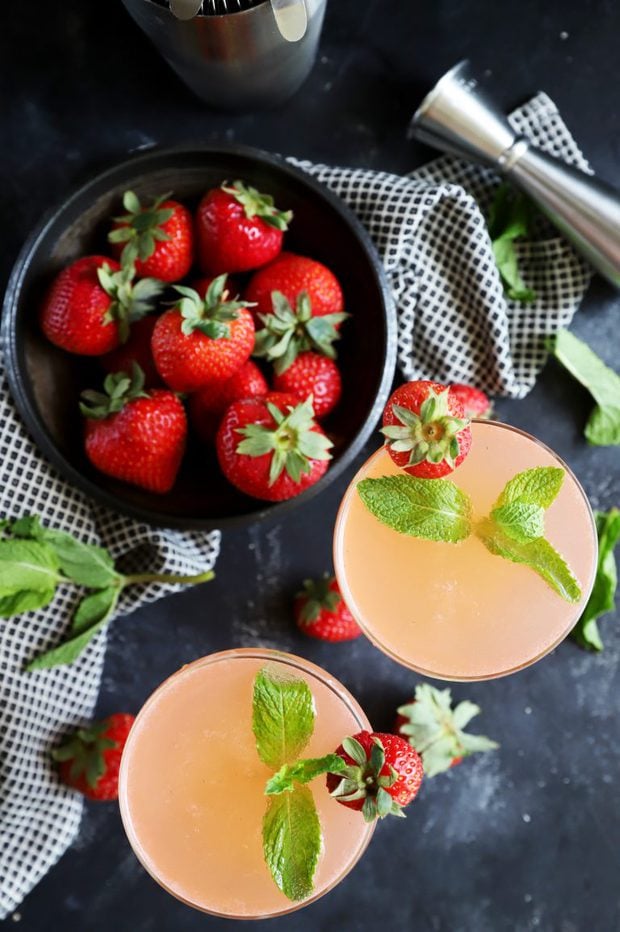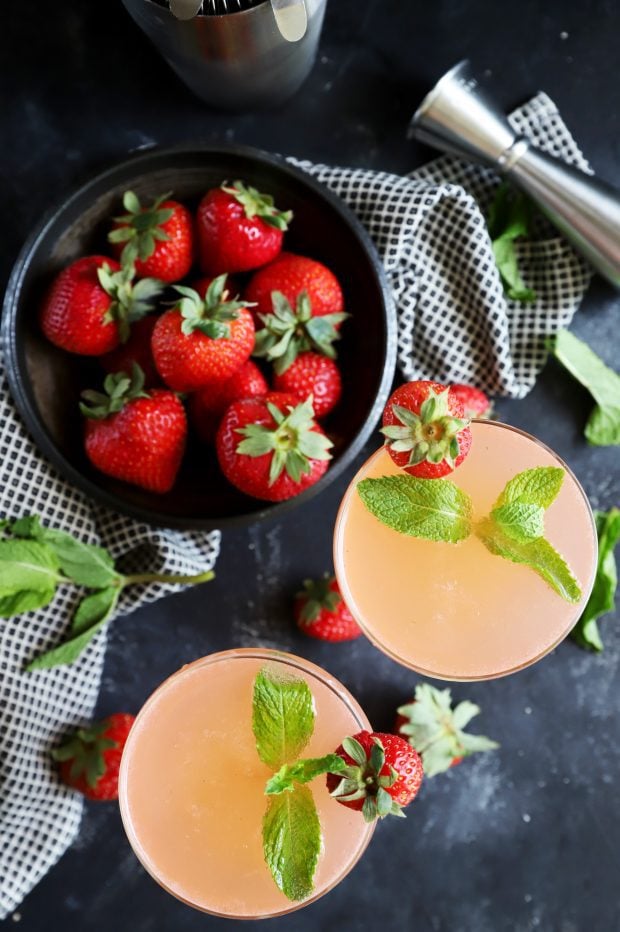 It's the first day of August! And it's hotter than hot outside right now.
ICK.
For all those people who were begging for summer, I hope you are happy right now. I HOPE YOU ARE HAPPY.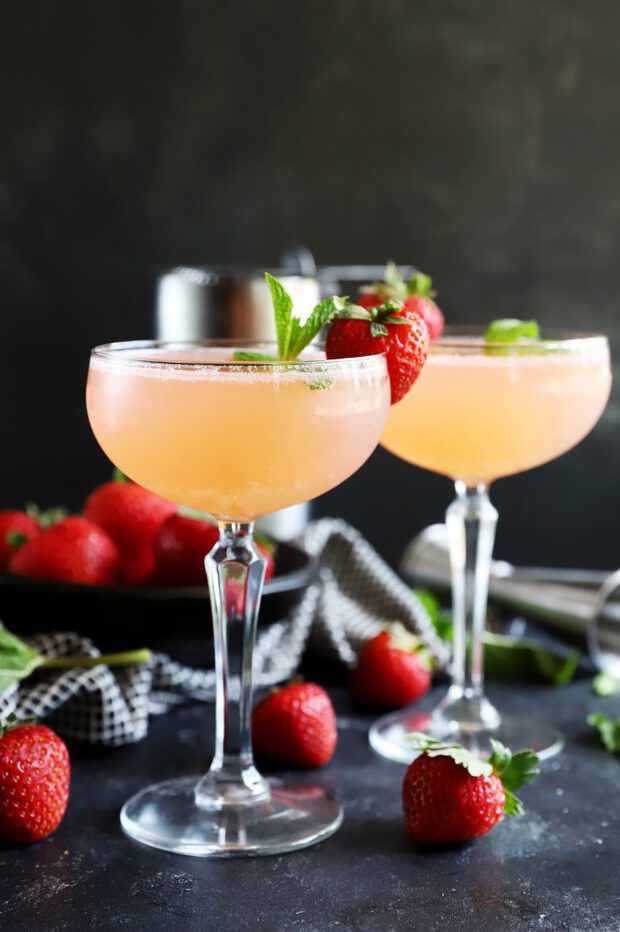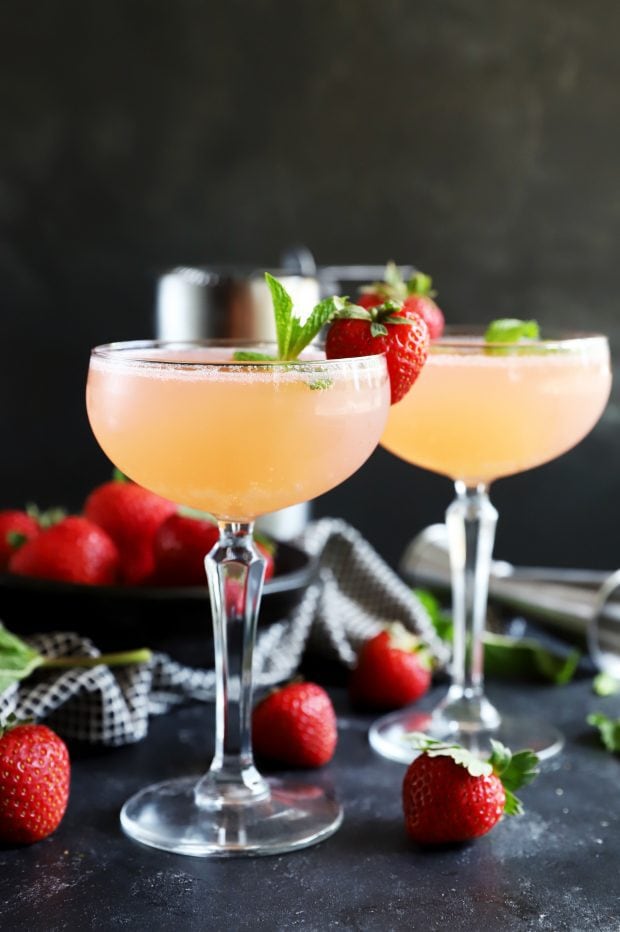 Personally, I just want fall. I want a chill in the air and I want to snuggle up in blankets with pumpkin spice things already.
I know, I know, I'm a monster.
So I'm trying to embrace the remaining days of summer as much as I can… Which usually involves something cooling and boozy!
This fresh and fruity twist on the classic vodka gimlet is one that I cannot stop drinking. It's so easy to make (no extra infusions or simple syrups for this one! SURPRISE!) and it's totally refreshing. You can drink it with lunch or dinner. It can be served at any poolside happy hour. The cocktail even is an oh-so delicious pairing for a summer brunch on the patio!

This Recipe's Must-Haves
I am a big fan of keeping bar tools simple and useable for multiple recipes. If you don't have a shaker, this Boston cocktail shaker is ideal for this cocktail and many more.
Then all you need is a cocktail strainer to strain out the big chunks of strawberry and mint from the cocktail.
Personally, I like to serve this cocktail in pretty (seemingly fancy) coupe glasses. You can also serve these in martini glasses or double old fashioned glasses if that's what you have on hand.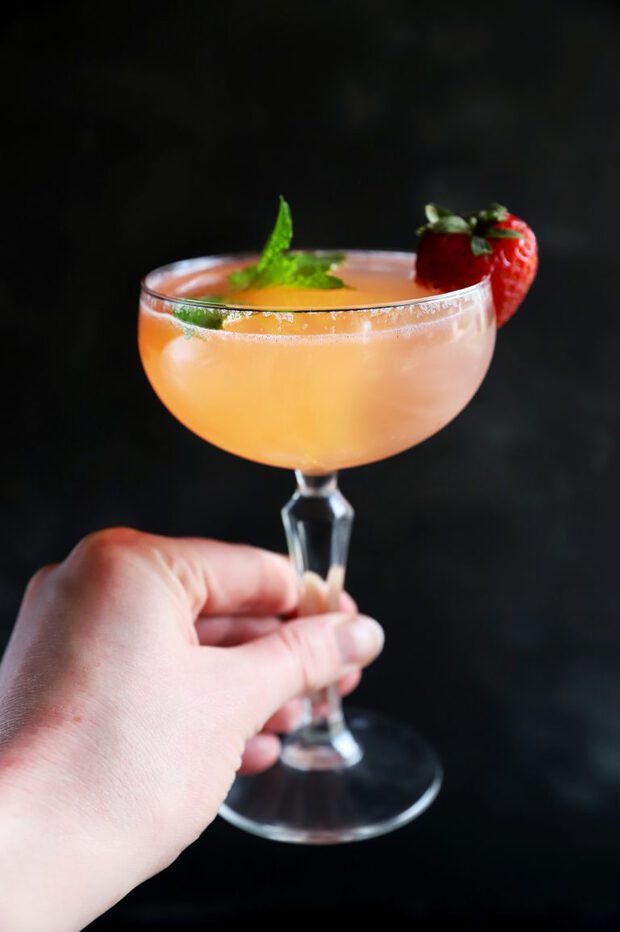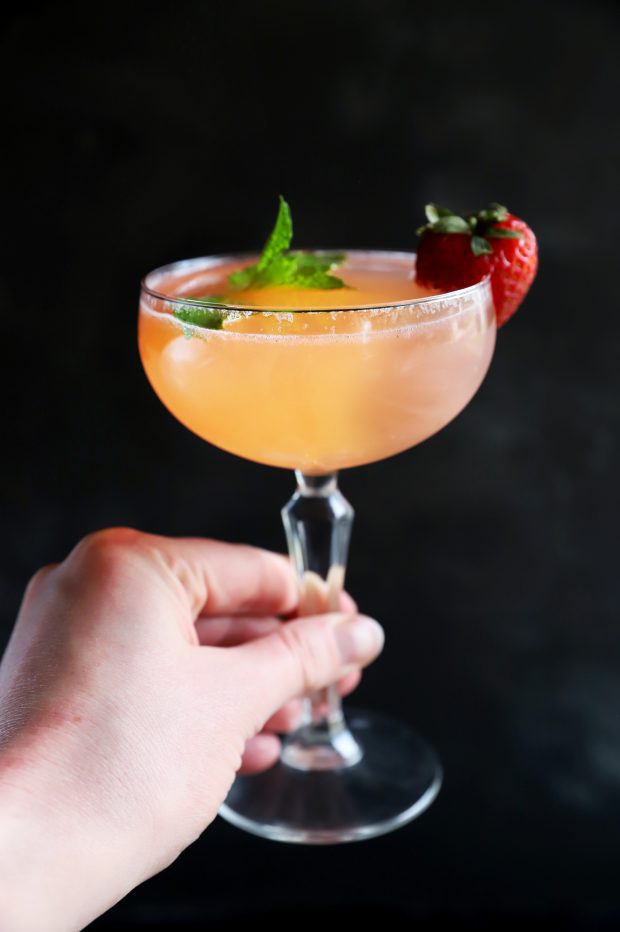 How To Make This Vodka Gimlet
Muddle
First you start by muddling together the fruit and herbs for this cocktail in the bottom of a shaker. Doing this brings out the natural, fresh flavors of the strawberries and mint leaves.
This is one of the easiest way to infuse cocktails with flavor, without the hassle of making a simple syrup or infusion!
Shake
Once you've muddled it all together, you fill the shaker and add remaining ingredients.
Then it's time to shake, shake, shake.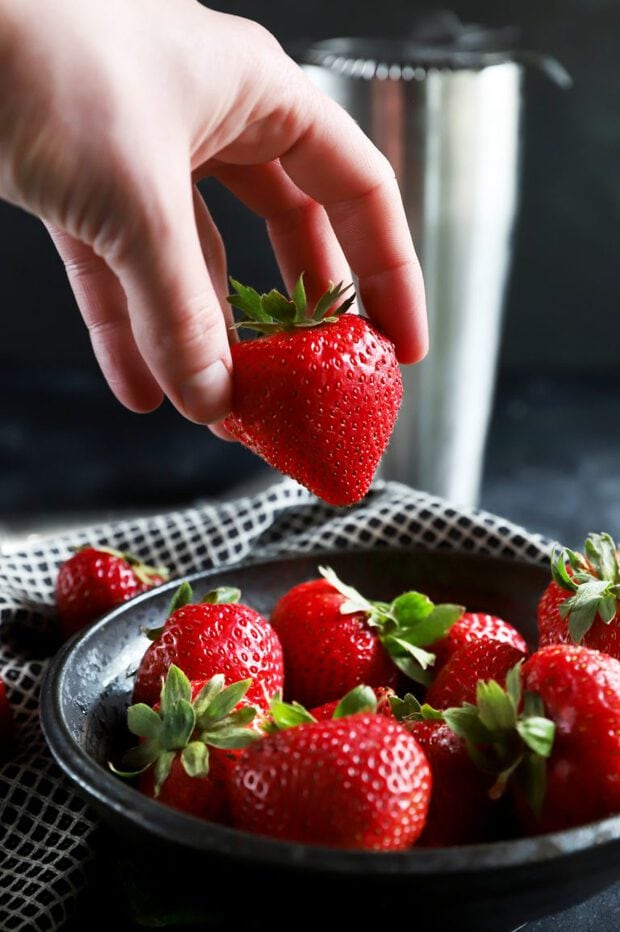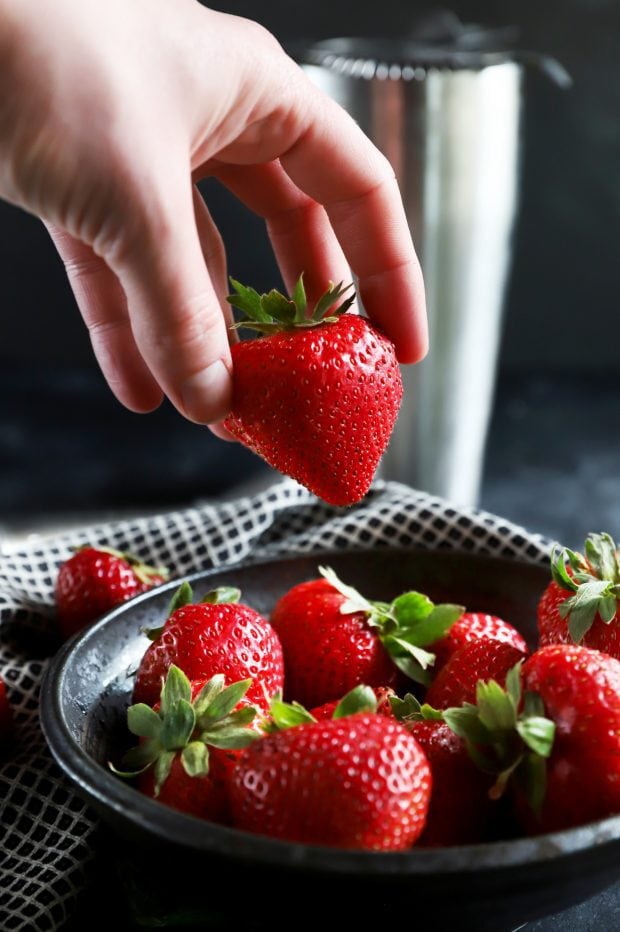 Every time I think about shaking cocktails, I always think about what my shake face looks like. We all have them, and they are typically terrible because, if you aren't a bartender, you usually aren't thinking about what you look like when shaking a cocktail.
Now you will. You're welcome.
Strain
Strain the cocktail into glasses to make sure you don't end up with any big chunks of strawberries or mint leaves. No one wants to eat their cocktail, after all. Then all you have to do is garnish!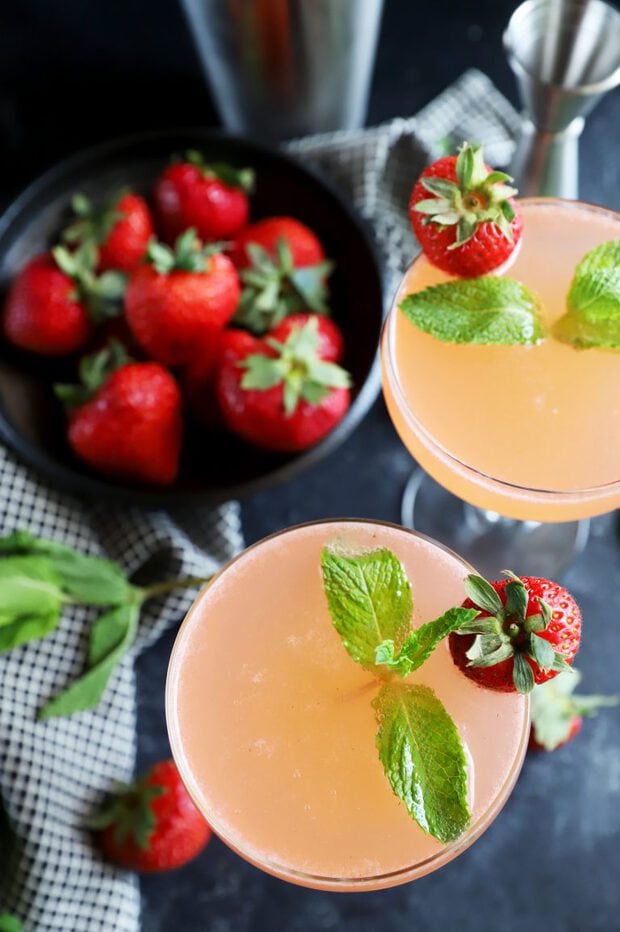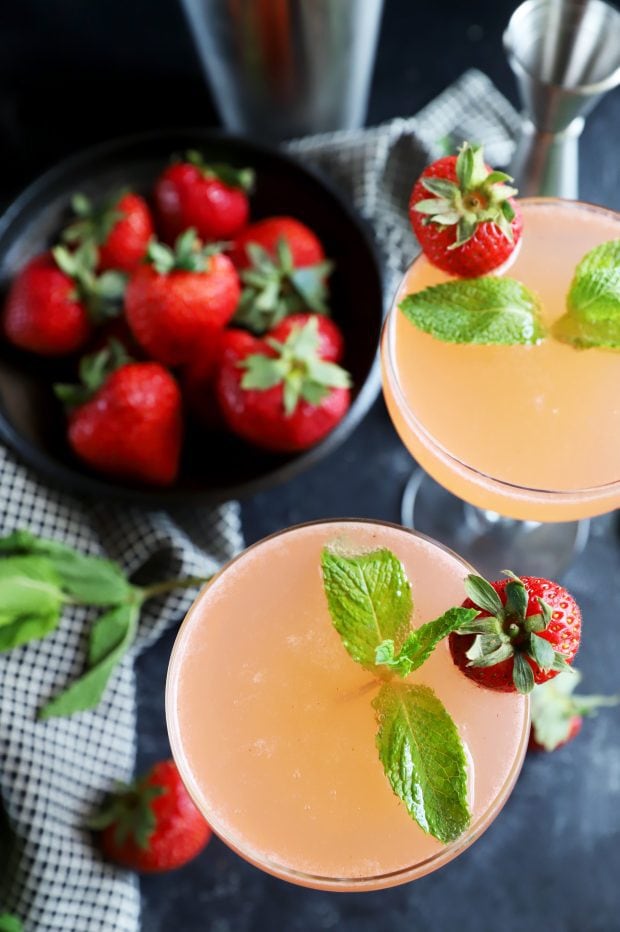 What is a gimlet?
I hadn't heard of a gimlet until I read Julie & Julia many years ago. The author and her husband always made the cocktail, and so I always wondered if I would like it. Well, the gimlet is probably one of the most timeless cocktails out there and now I understand why. It's made with just gin or vodka and lime juice.
Pretty darn simple right? There are versions with soda, which I personally prefer, but others prefer a half booze half juice ratio only.
For me, if you are making the classic cocktail straight up, I like a 2 parts gin/vodka to 1 part juice ratio. However, for this cocktail, I was looking to make the gimlet a little lighter and a little more refreshing. Therefore, you'll find added fresh ingredients, some simple syrup to balance out the tartness, and a touch of soda.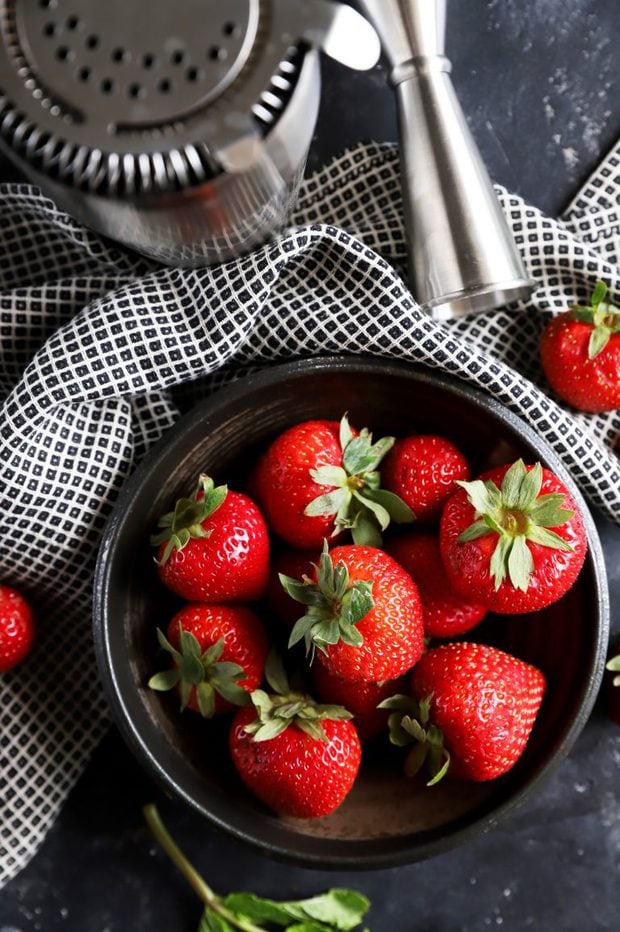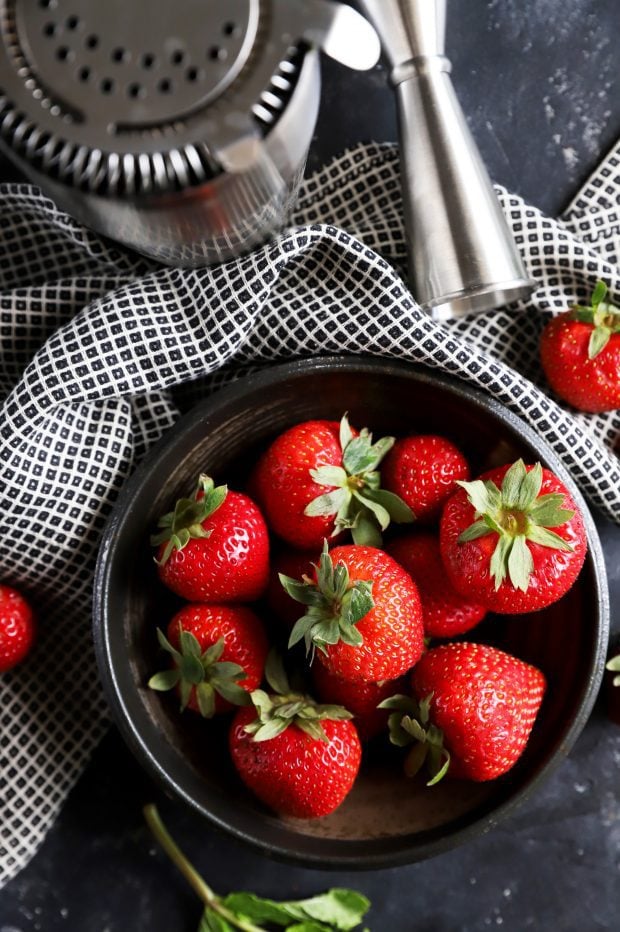 How to garnish a gimlet?
As you can see here, I garnished my gimlet with a whole strawberry and a sprig of mint. You can also choose a mint leaf and a slice of strawberry, or even a lemon peel (since this recipe uses lemon juice instead of lime juice).
You also don't have to garnish your cocktail if you don't want to! Sometimes it can feel like you are wasting all that mint because it's never going to be eaten… so I get it 😉
Suffice to say, this cocktail is one that you and your friends will want to sip on for the rest of August, until the rise of pumpkin takes over our lives. It's bright, light, bubbly, and still strong enough to not be too fruity or sweet.
If you need a tasty summer recipe to pair with this cocktail, this salmon sandwich with creamy dill sauce is absolutely mouthwatering!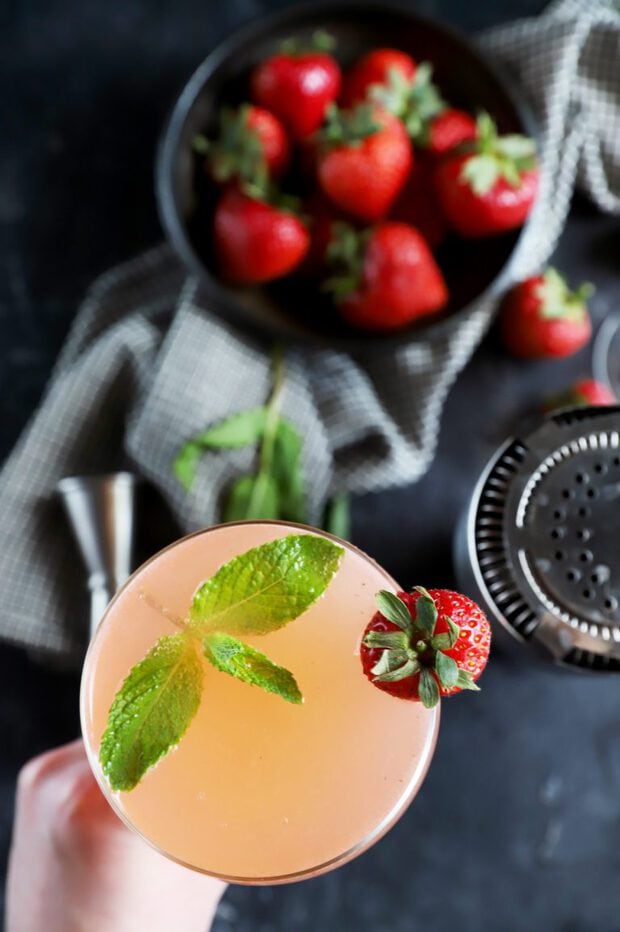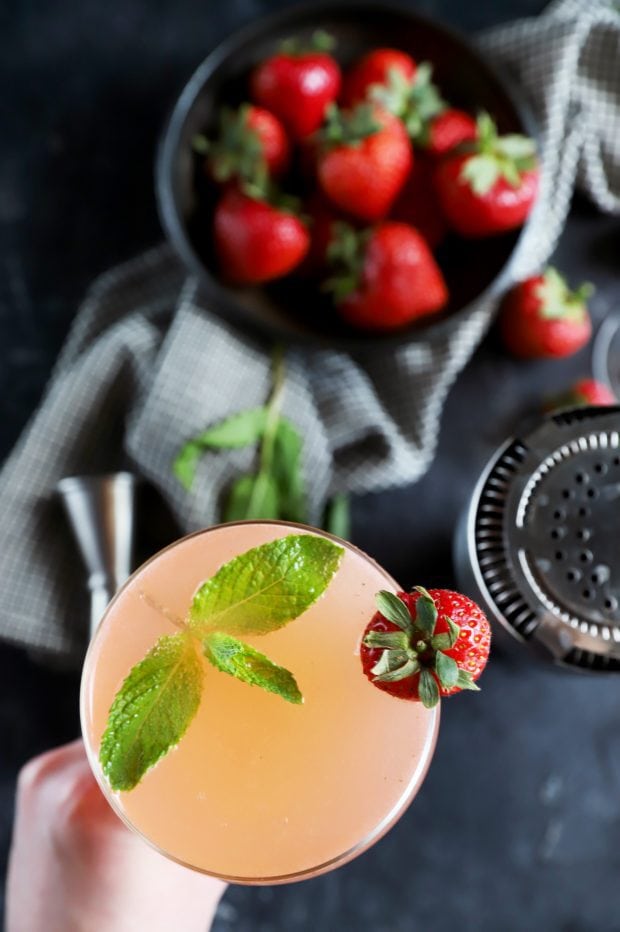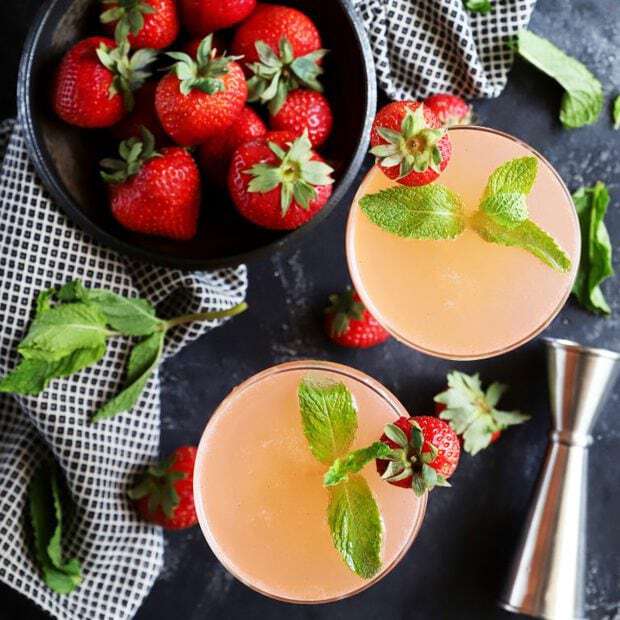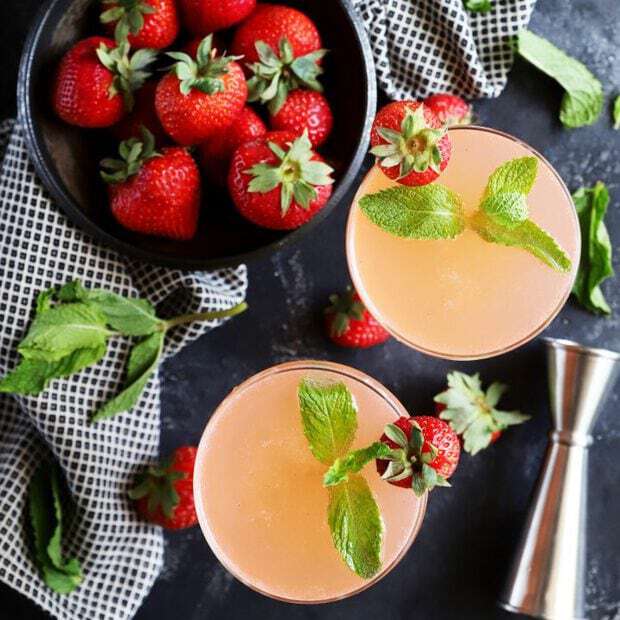 Strawberry Mint Vodka Gimlet
A light and fruity take on the classic vodka gimlet, made with fresh strawberries and mint!
Ingredients
2 strawberries, hulled and sliced
4 mint leaves
2 oz lemon juice
3 oz vodka
1 1/2 oz simple syrup
Soda water, chilled
Instructions
In the bottom of a shaker, muddle strawberry slices and mint leaves. Add lemon juice, vodka and simple syrup.
Fill with ice and shake ingredients well.
Strain into a coupe glass.
Top with chilled soda water and serve.
Notes
To make this cocktail sugar-free, omit the simple syrup and only use 1 oz lemon juice total. The sweetness of the strawberries will balance out the other ingredients.
Recommended Products
As an Amazon Associate and member of other affiliate programs, I earn from qualifying purchases.