A French Onion Burger is juicy, flavorful, and oh-so tasty! All of the flavors of French onion soup are in this epic burger – the herbs, the caramelized onions, and even the gruyere cheese. Served on a fluffy brioche bun, this will become your favorite dinner this summer. Makes 4.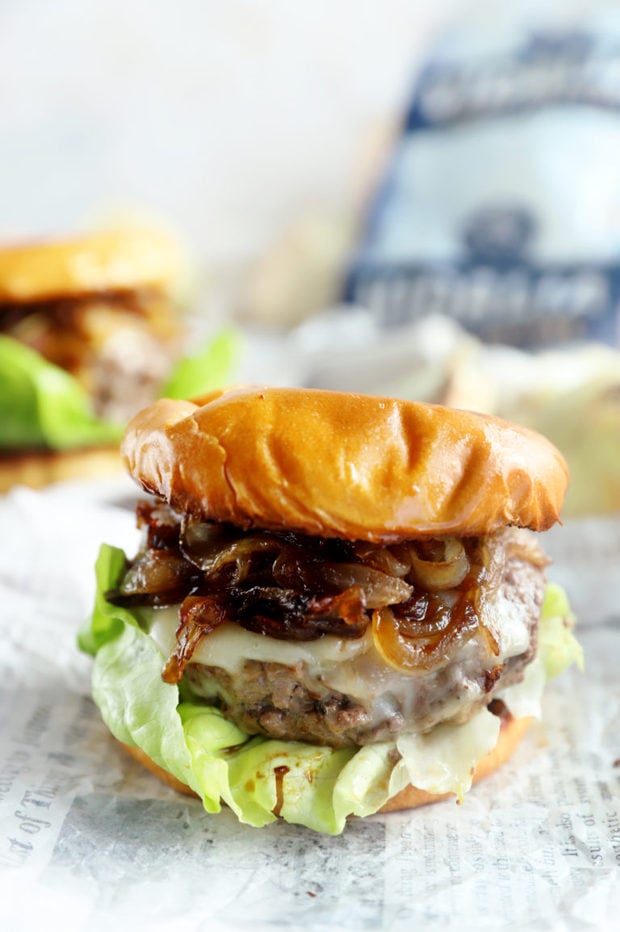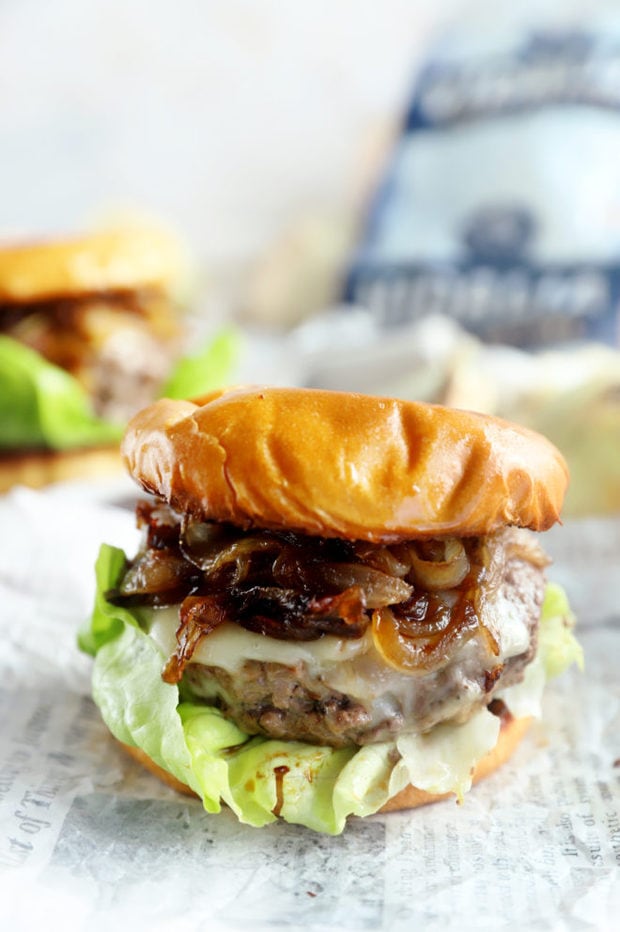 Disclosure: This post is sponsored by Sprouts Farmers Market. As always, all opinions are my own.
Burgers are the quintessential recipe of the summer, don't you think?
There's something about the burgers hitting the grill that harkens memories of summer's past. The sizzle of the meat, the smell of the charcoal, and that first juicy bite all scream summer to me. All that's missing is a glass of strawberry lemonade in hand.
Normally I am pretty predictable with my burger toppings. A little blue cheese, some ketchup, and I'm a happy gal.

However, I've found the burger recipe that I want to eat forever and ever… The French Onion Burger.
They are so rich and flavorful, I am practically salivating just thinking about that first juicy bite. I absolutely love French onion soup, and this burger packs in all those flavors you love.
There's gruyere cheese melted on top. The burger patties contain all the herbs and spices you would get from the rich soup. And then there are the caramelized onions…
For this recipe, I am using Sweet Vidalia Onions from Sprouts Farmers Market. I am normally a lover of sweeter onions and this particular varietal doesn't disappoint!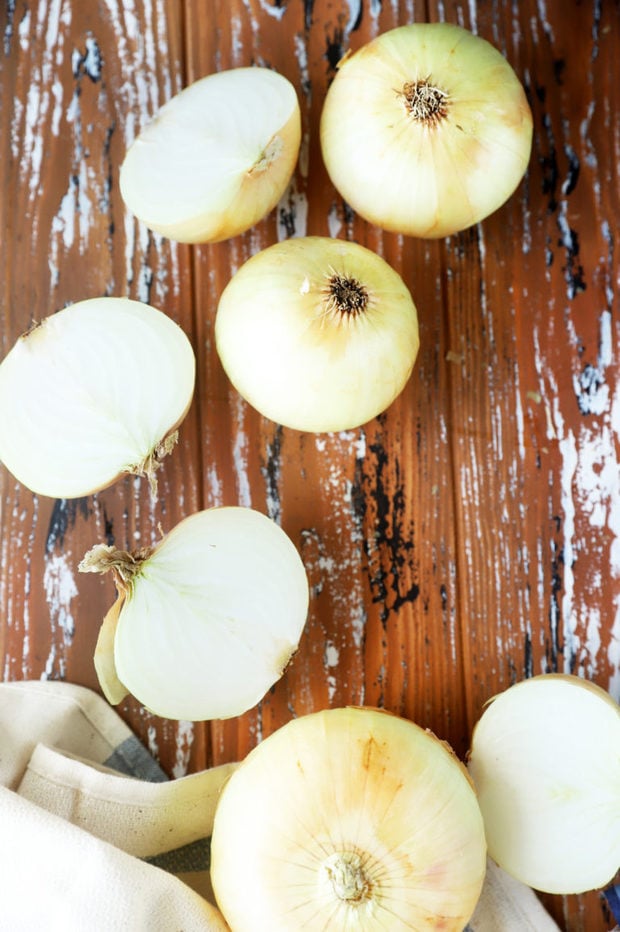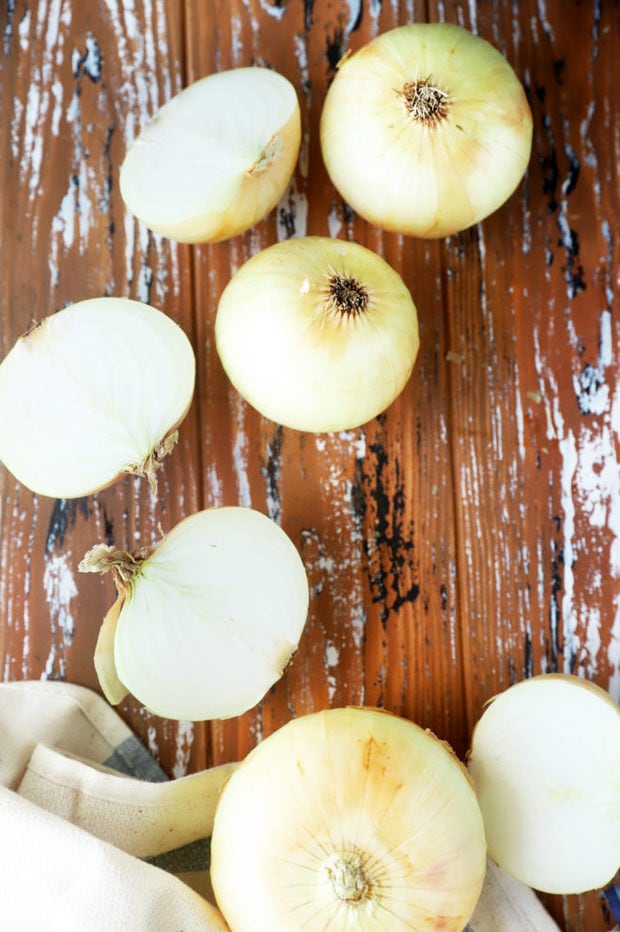 Sweet vidalia onions are less pungent with a lovely sweet, mild flavor. I love the aromatic notes that are intensified when you caramelize them slowly over low heat. They pack a big wallop of flavor on top of these burgers, which is why they don't need anything more on them than a fresh leaf of butter lettuce!
If you are looking for more ways to feature these tasty onions, you can feature them as a side dish by frying them up as onion rings! Not to mention they are killer for frying and throwing on top of sandwiches or mixing into salads. Just look for the bag with the blue label in the produce section of your local Sprouts Farmer's Market.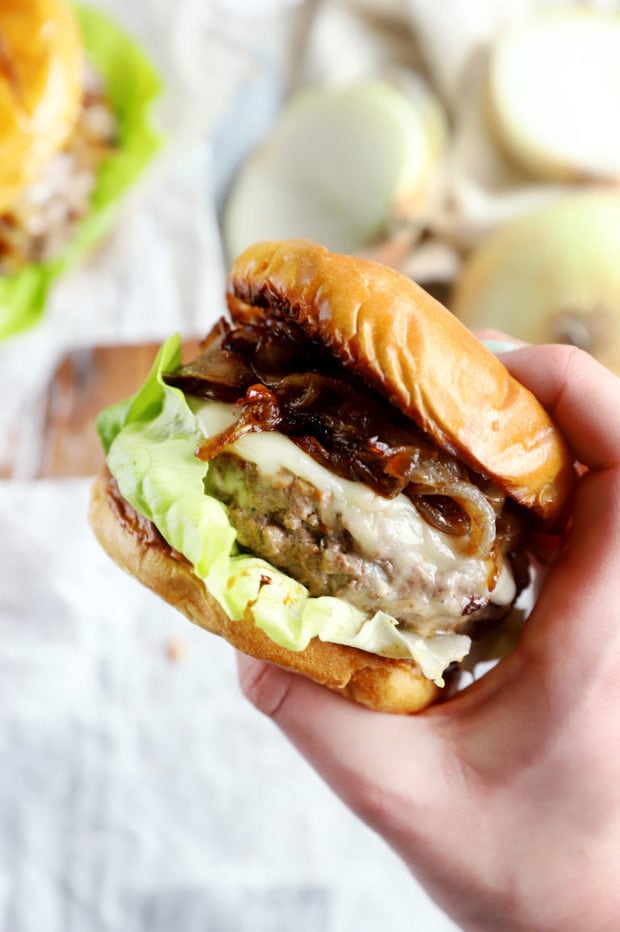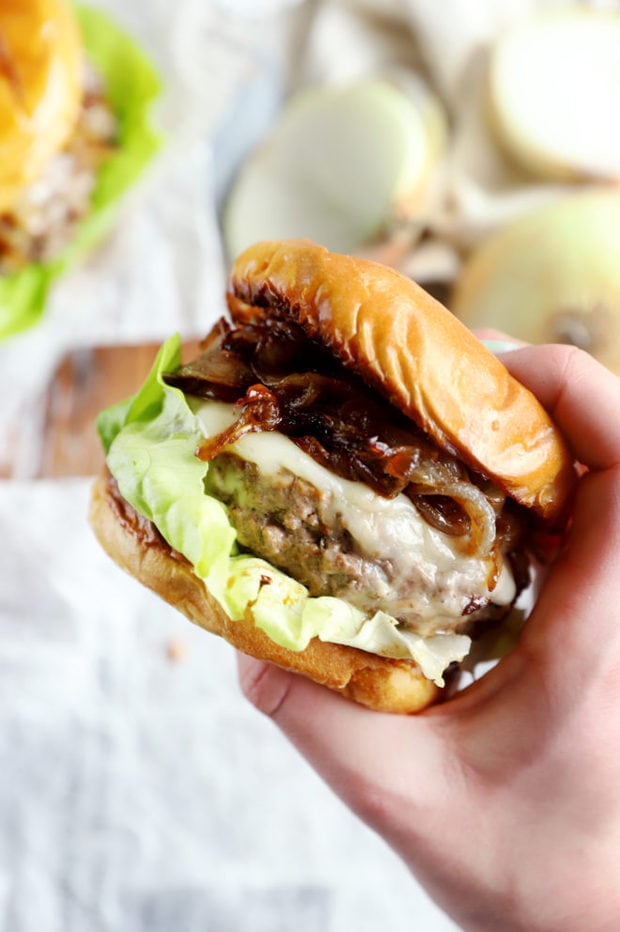 this recipe's must-haves
The simple recipe doesn't require a ton of ingredients, and I picked up all of them at Sprouts! I love shopping for produce at Sprouts because it's by far the freshest. No matter the season, I can always find the seasonal produce I am looking for at its peak freshness and oh-so flavorful. I particularly love the variety because I can always find something new to try, and for a food-obsessed gal like me, that's a must.
To make the recipe itself, you'll need a mixing bowl to make the burger patty mixture.
In addition, you will need a grill to cook the burgers, or your favorite cast iron skillet if you are cooking inside.
You will also need a skillet (I prefer this Lodge cast iron skillet) to slowly cook down the onions until they are rich and caramelized.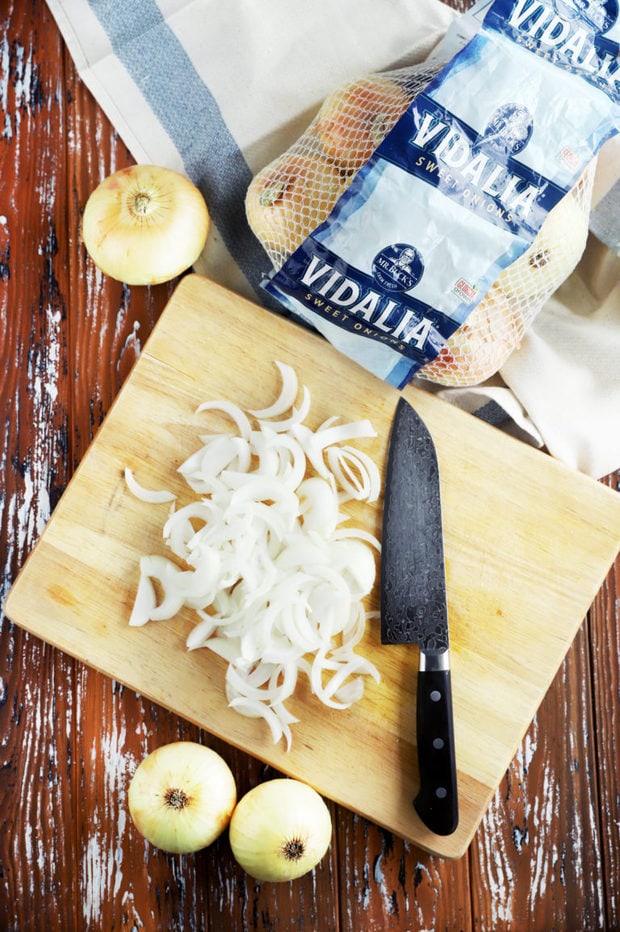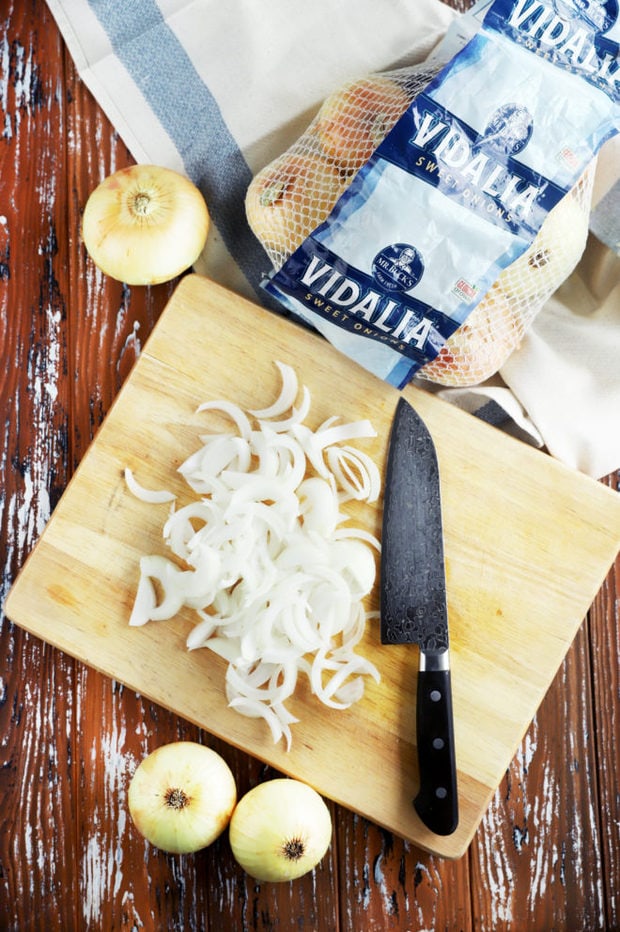 we're making a tasty French onion burger!
Caramelize Onions
In a large skillet over medium-high heat, add the onion and salt after the butter has melted. Reduce heat and cook them until they are a deep brown. This will take about 45 minutes to 1 hour.
Be sure to stir them occasionally so they brown evenly!
In the last 10 minutes of cooking, add in the balsamic vinegar and stir to combine. Remove from heat and set aside.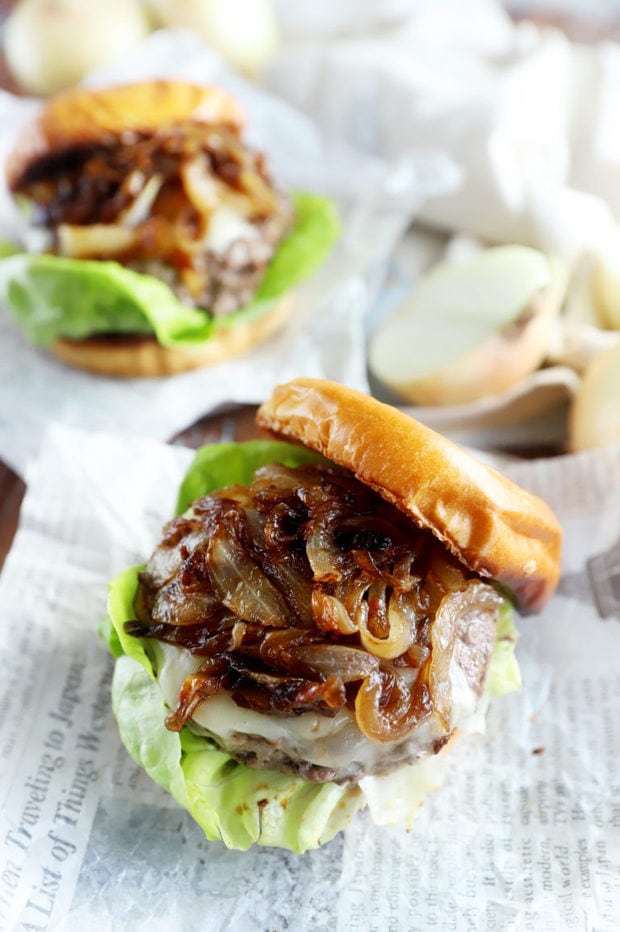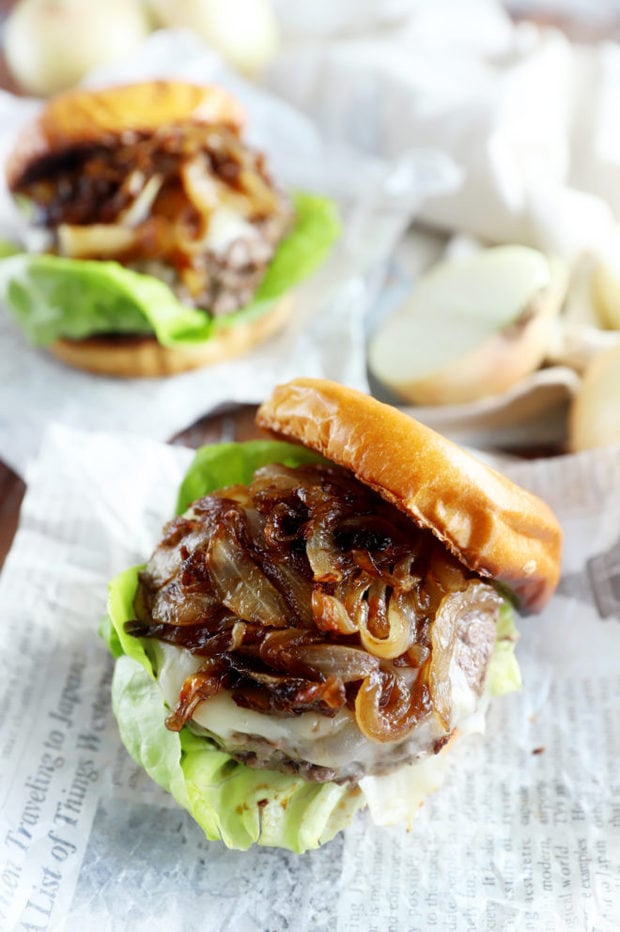 Make Burgers
Add all the ingredients for the burgers to a mixing bowl and use your hands to bring together the mixture. Divide into four equal patties.
Cook the patties over medium-high heat on a grill or in a cast iron pan to desired doneness. I cooked mine for about 2 to 3 minutes on each side to get them medium-rare.
In the last minute of cooking, top the patties with even amounts of cheese and cover until melted.
Assemble
To assemble, top the bottom halves of the buns with a leaf of butter lettuce. Add the burger patty, then caramelized onions and finish with the top halves of the bun.
Need some more inspiration for grilling this summer? Check out my grilling recipe page!
If you are looking for another burger to chow down on, this pulled pork burger is a must-make.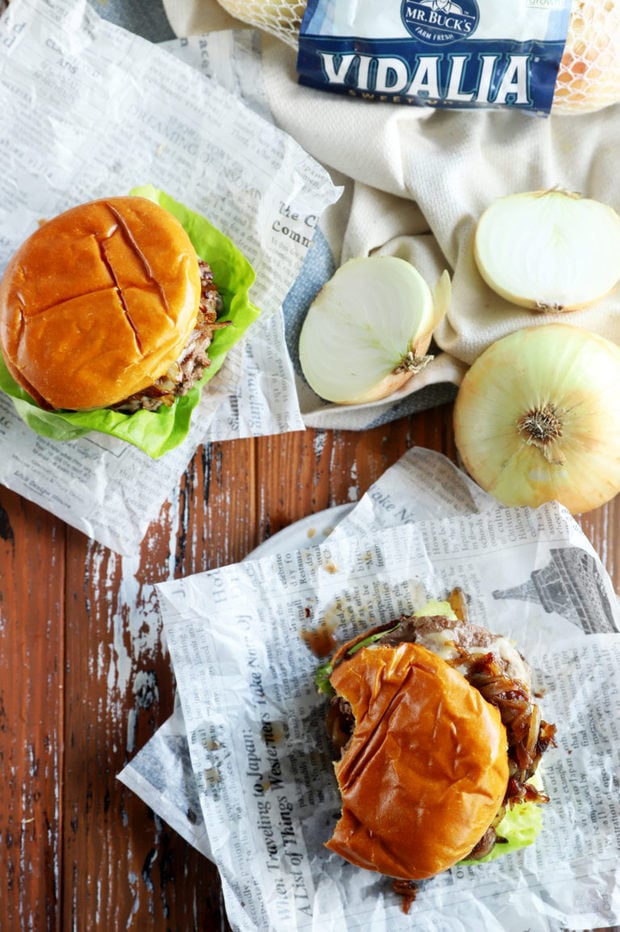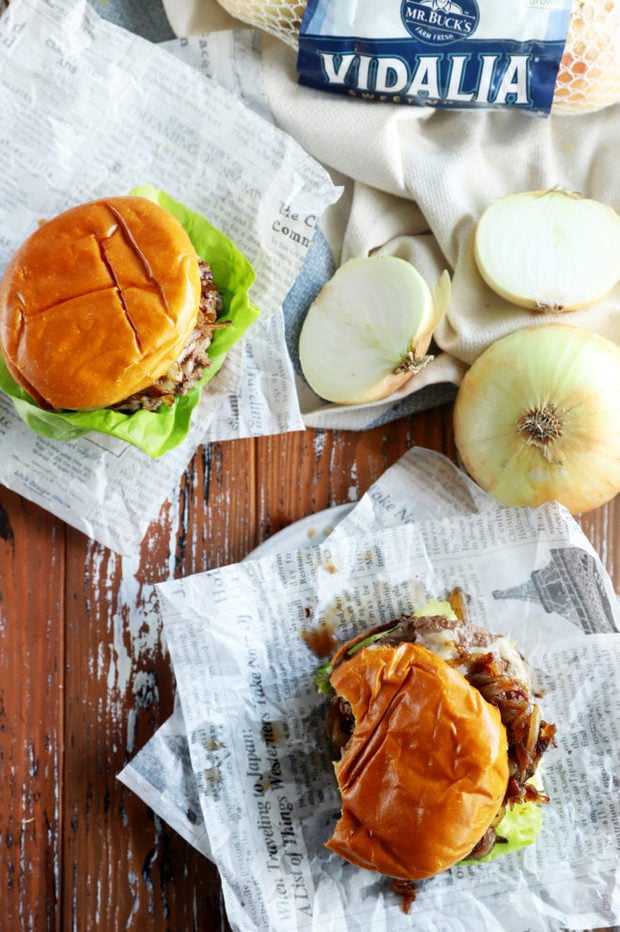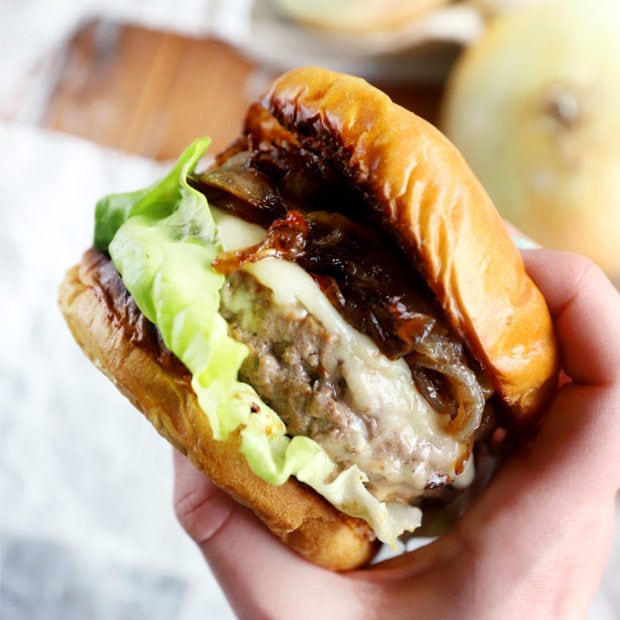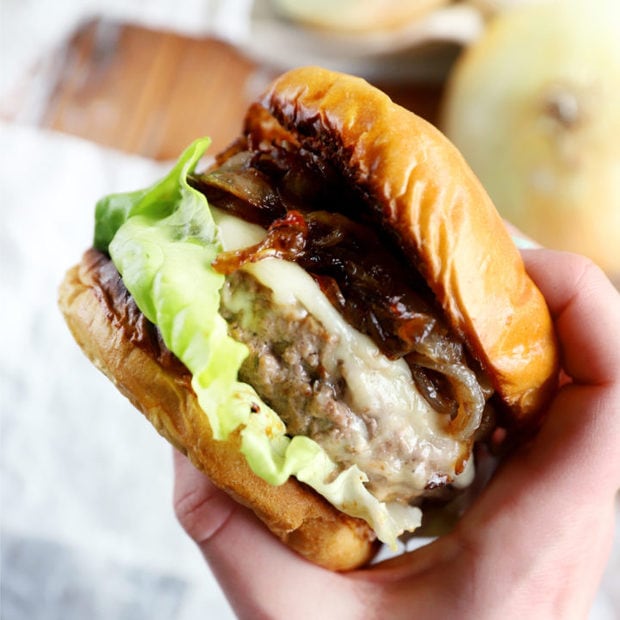 French Onion Burger
Cook Time:
1 hour
10 minutes
Total Time:
1 hour
20 minutes
All the flavors of your favorite soup, but in a burger! Juicy, flavorful burgers are topped with gruyere and caramelized onions for a killer summer burger.
Ingredients
Burger
1 1/3 lbs 85% lean ground beef
1/2 tsp garlic powder
1/4 tsp onion powder
1/4 tsp dried thyme
1/2 tsp salt
1/4 tsp black pepper
1 Tbsp Worcestershire sauce
4 brioche buns
8 oz sliced gruyere cheese
For serving: butter lettuce
Caramelized Onions
2 large sweet Vidalia onions, thinly sliced
1 Tbsp olive oil
1 Tbsp unsalted butter
1/2 tsp salt
1 tsp balsamic vinegar
Instructions
To make the onions, melt butter with oil in a large pan over medium high heat. Add sliced onion and season with salt.
Reduce heat to medium-low and cook for 45 to 60 minutes, stirring occasionally, until the onions are a deep brown. In the last 10 minutes of cooking, deglaze the pan with balsamic vinegar, stirring to combine. Remove from heat and set aside.
In a medium bowl, combine ground beef, garlic powder, onion powder, thyme, salt, pepper, and Worcestershire sauce. Mix together with your hands until well combined. For four equal sized patties.
Cook patties for 2 to 3 minutes per side on a medium-high grill or in a cast iron skillet over medium-high heat, or until your desired doneness. In the last minute of cooking, top with equal amounts of shredded cheese and cover until cheese is melted.
To assemble, add a piece of butter lettuce to the bottom halves of the buns. Top with burgers, then caramelized onions. Place the top halves of the buns on top and serve.

Recommended Products
As an Amazon Associate and member of other affiliate programs, I earn from qualifying purchases.