A Bourbon Cherry Crisp is how to get a summer pie fix without going through all the effort of making an entire pie. The combination of bourbon and tart cherry flavors is the dessert of the summer! Serve it up for Mother's Day or for your Memorial Day picnic with a giant scoop of vanilla bean ice cream. Trust me when I say everyone will be demanding a second helping.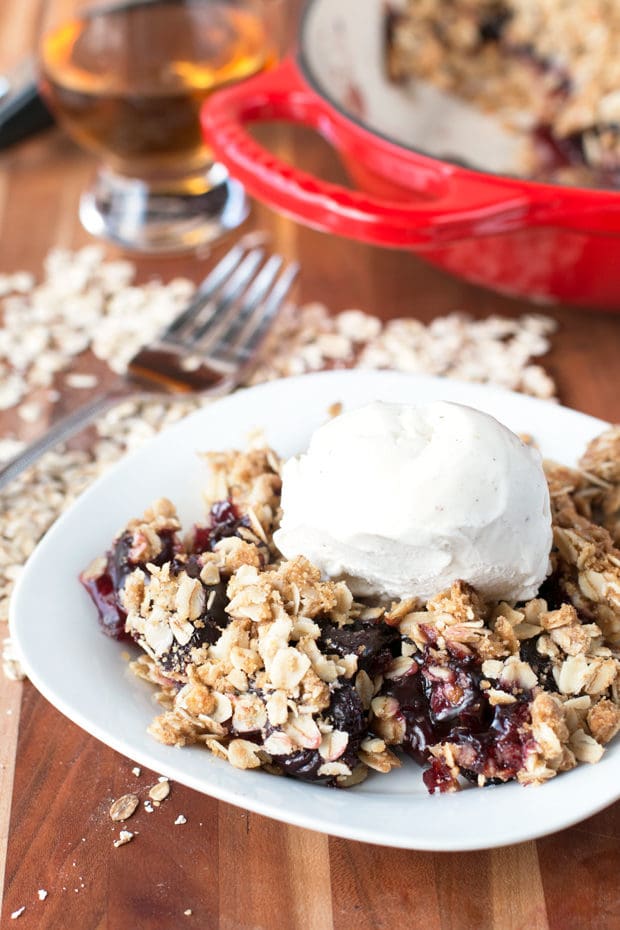 Mother's Day is coming up this weekend and if you are anything like me, you are trying to put together the ultimate menu of foods and drinks that will show my mom just how much I love her.
Of course, I am a terrible child who is running around Europe at the moment instead of being at home for Mother's Day sooooooooooo I'll have to help you all be better children than I am today. HA.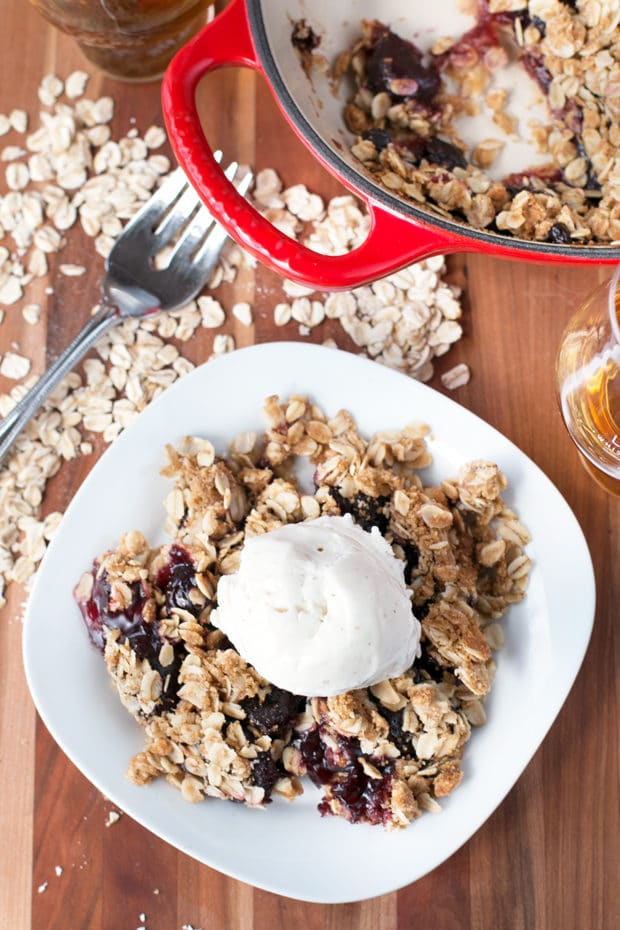 I swear, I already have plans to make it up to her once I am back in town.
Lord knows I am probably the reason she drinks, so need to give her some special recognition, don't I?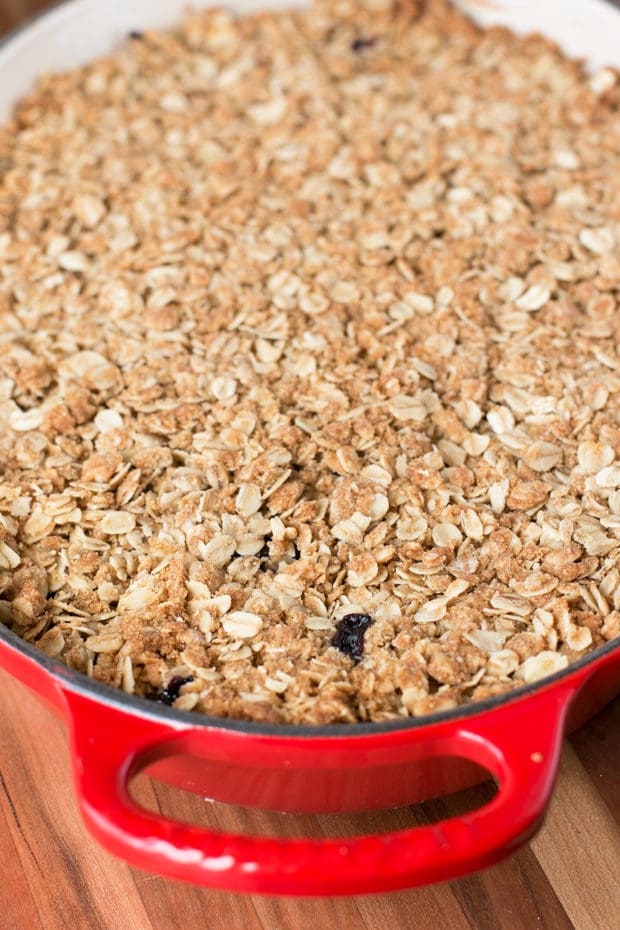 Please note that some of the links below are affiliate links. If you make a purchase through one of these links, I will receive a small commission. Thank you for supporting Cake 'n Knife!
It's funny because that's the whole idea behind this dessert. I was scrolling through my Facebook feed and saw a Mother's Day meme about how you should buy your mom margaritas, because you're the reason she drinks.
Forget the margarita!
A dessert filled with cherries and bourbon is such a better idea.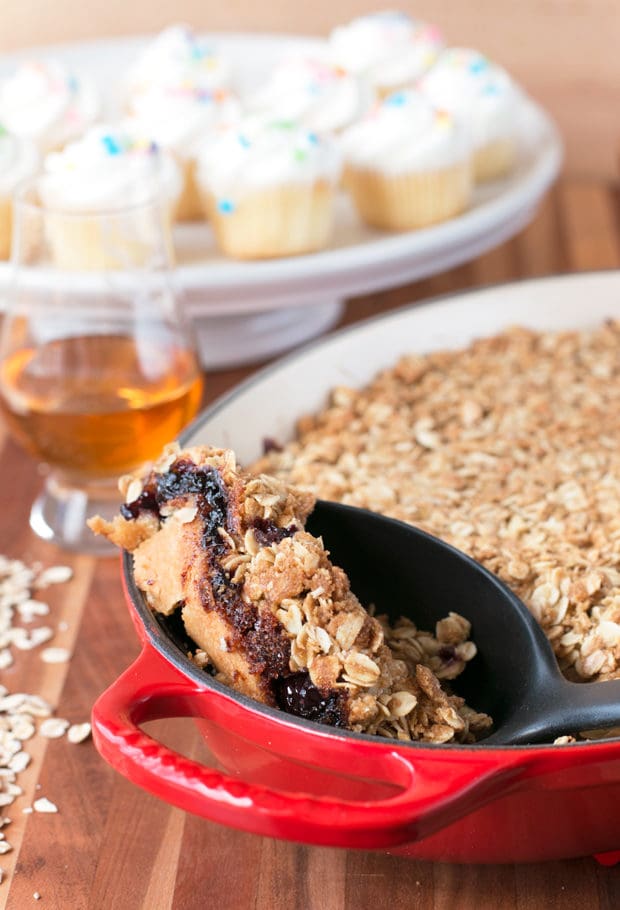 A simple crisp is how I get my pie fix on when I don't feel like making a perfectly gorgeous pie. As much as I love baking, I love baking that requires little effort to look and taste amazing. This bourbon cherry crisp does that!
Especially when served up in a Le Creuset signature oval baker. Such a beautiful baking dish that can be used as a serving dish makes it pretty dang easy to make a dessert that will show mom just how much you love her.
The dessert is a little boozy, a little tart and just the right amount of sweetness. When you serve it up with a big scoop of vanilla ice cream, it's the best of summer in every single bite.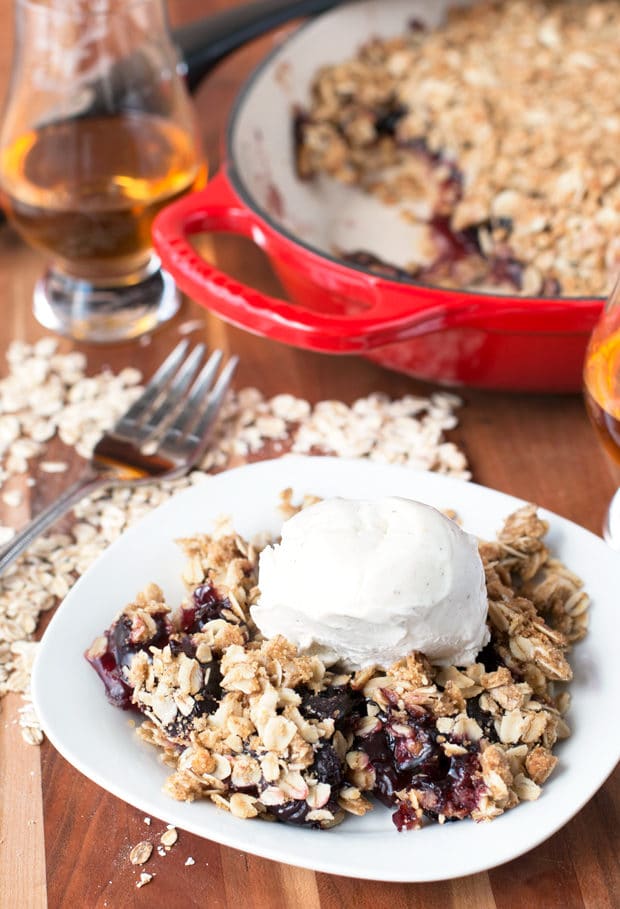 Oh and if you are looking for a great gift for your mama, aside from the oval baker, give her a simple and classy Le Creuset cake stand! Just don't forget to give it to her with a cake or a dozen cupcakes on it…
She is your mother after all. She deserves it!
This Recipe's Must-Haves
Disclosure: This post is sponsored by Le Creuset! As always, all opinions and recipe are my own. Thanks for supporting the brands that support Cake 'n Knife!
Pin this Bourbon Cherry Crisp recipe for later!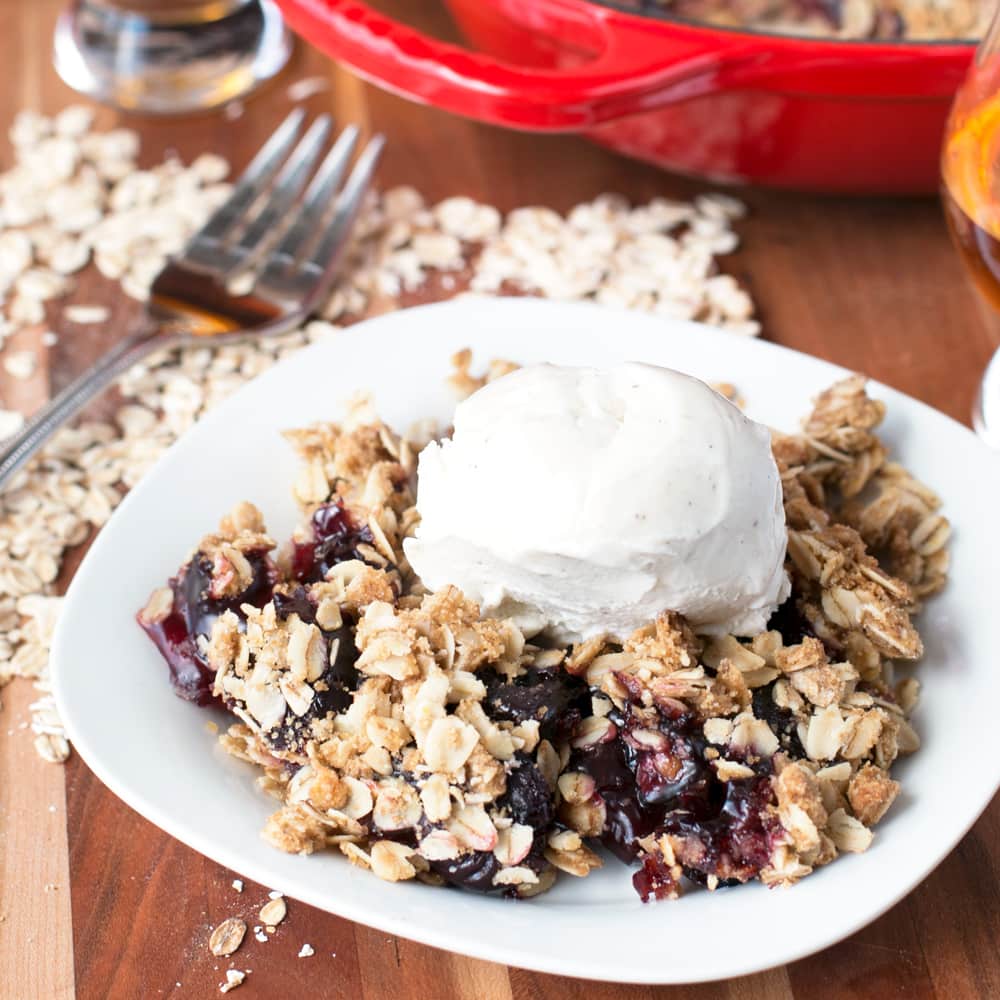 Bourbon Cherry Crisp
Bourbon and cherries pair together to make a tart and sweet crisp that everyone will want a second helping of!
Ingredients
Pastry Crust
1/4 tsp salt
1/2 cup light brown sugar
1 cup all-purpose flour
1/2 cup cold butter, cubed
Bourbon Cherry Filling
3/4 cup light brown sugar
1/4 cup cornstarch
1/2 cup tart cherry juice
1/2 cup bourbon
4 cups pitted cherries
Oat Topping
1 1/2 cups rolled oats
1/2 cup light brown sugar
1/4 cup flour
5 Tbsp melted butter
Instructions
Preheat oven to 350 degrees.
Add salt, sugar, and flour for the pastry crust to a medium bowl. Cut in butter using two knives.
Press crust into the bottom of the baking dish.
Bake crust for 15 minutes until it is barely turning golden brown. Remove from oven and set aside.
While the crust is baking, add sugar, cornstarch, cherry juice and bourbon to a medium saucepan. Stir the mixture together until combined. Heat the bourbon mixture over medium-high heat until bubbling and thickened. Fold in cherries.
Pour cherry mixture over the baked crust.
In a small bowl, stir together ingredients for the topping, Sprinkle the mixture over the top.
Bake for 20 to 25 minutes.
Serve with vanilla ice cream.