Please note this post contains affiliate links.
A Lemon Mojito is a refreshing pairing of tangy lemon and crisp sweet mint. This is an easy drink that is perfect for sunny days and casual gatherings. Plus, it's simple to scale up to a pitcher cocktail to serve to a crowd!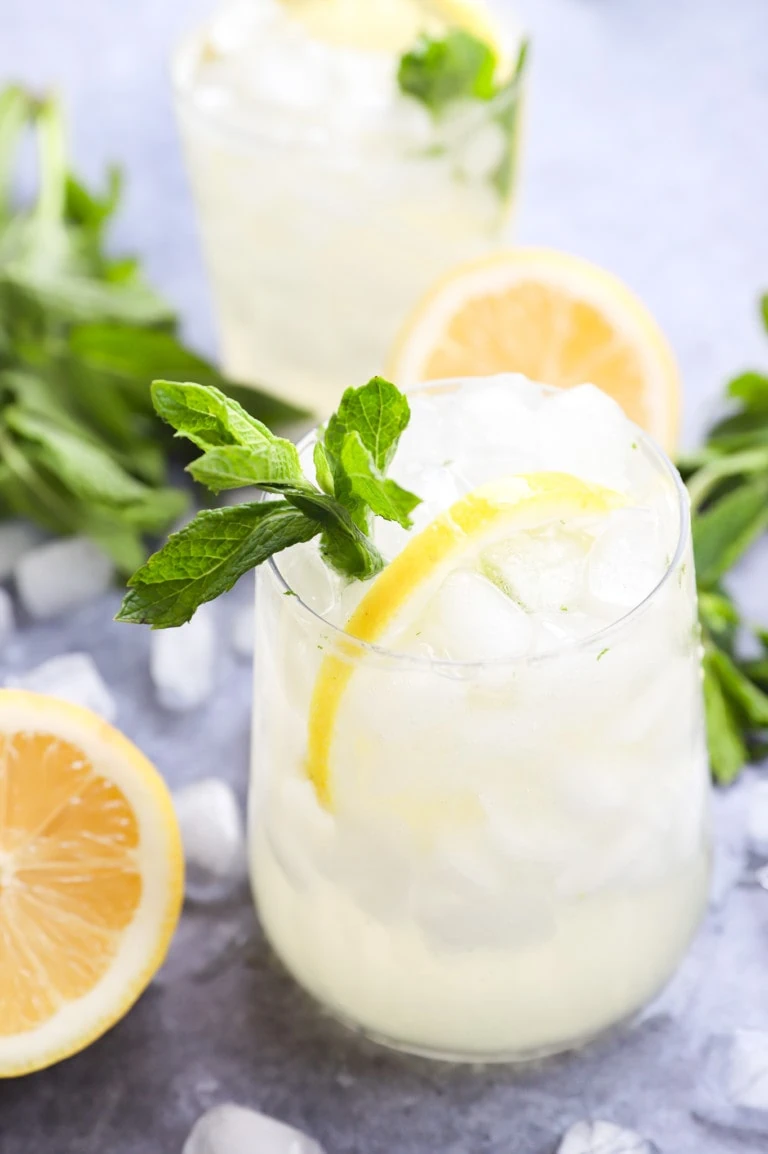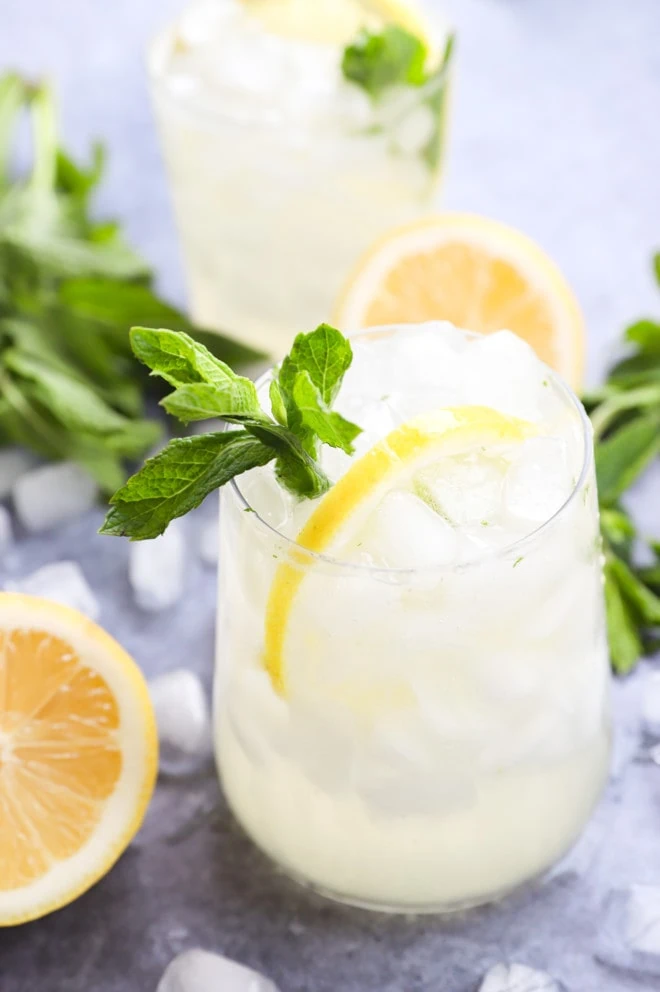 about this lemon mojito
When you run out of limes, what do you do? These days, I just use lemons. Honestly, any cocktail made with limes can easily be made by using lemons. Lime juice and lemon juice are easily interchangeable!
If you are here, you might be looking for a refreshing lemon cocktail. Perhaps you ran out of limes and are really craving a mint mojito. Regardless, you have come to the right place for a drink that'll quench your thirst on a hot summer day.
The best part is, this cocktail is incredibly simple to make! You only need a handful of ingredients and a couple minutes of time to prep the drink. There's no need to be a pro bartender, these mojitos can be made by anyone!
what is a classic mojito made of?
A classic mojito is made with rum, lime, mint, and sugar. The history of the cocktail is not 100% certain, but it's thought to have originated in Havana, Cuba. There are a few stories, including that it was invented by pirates that invaded Cuba. Regardless, the authentic recipe is one that is simple, refreshing, and flavorful.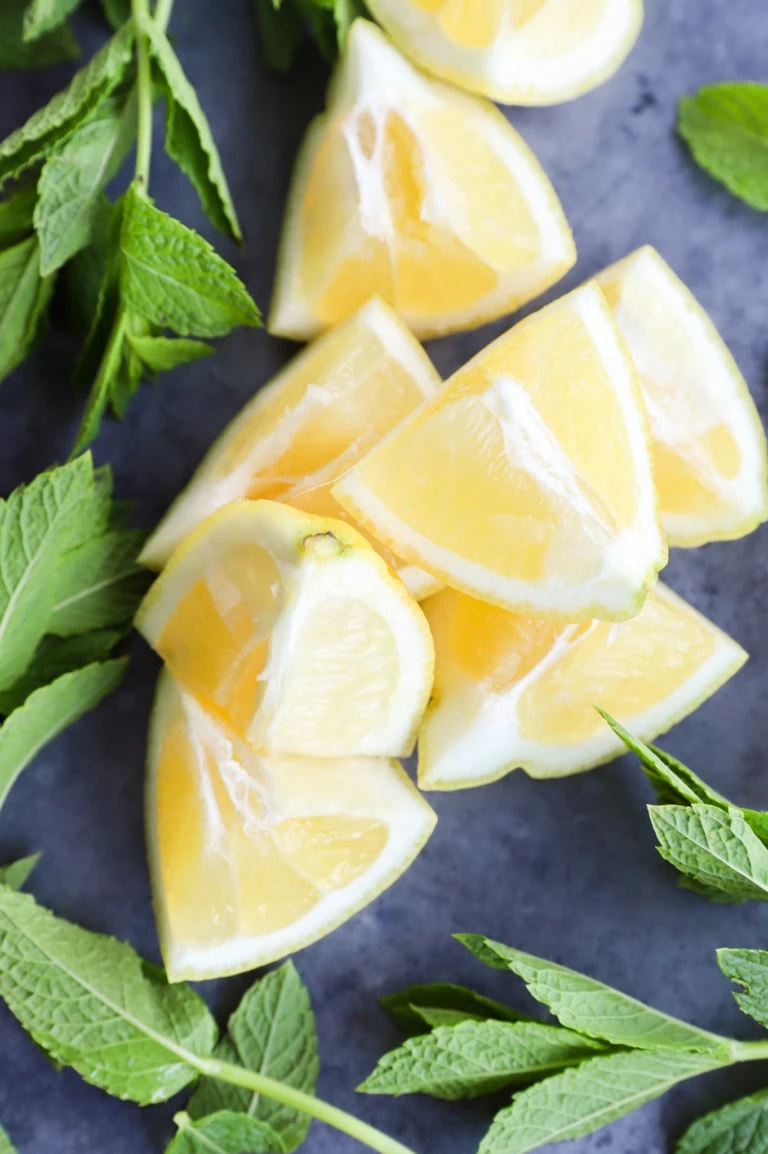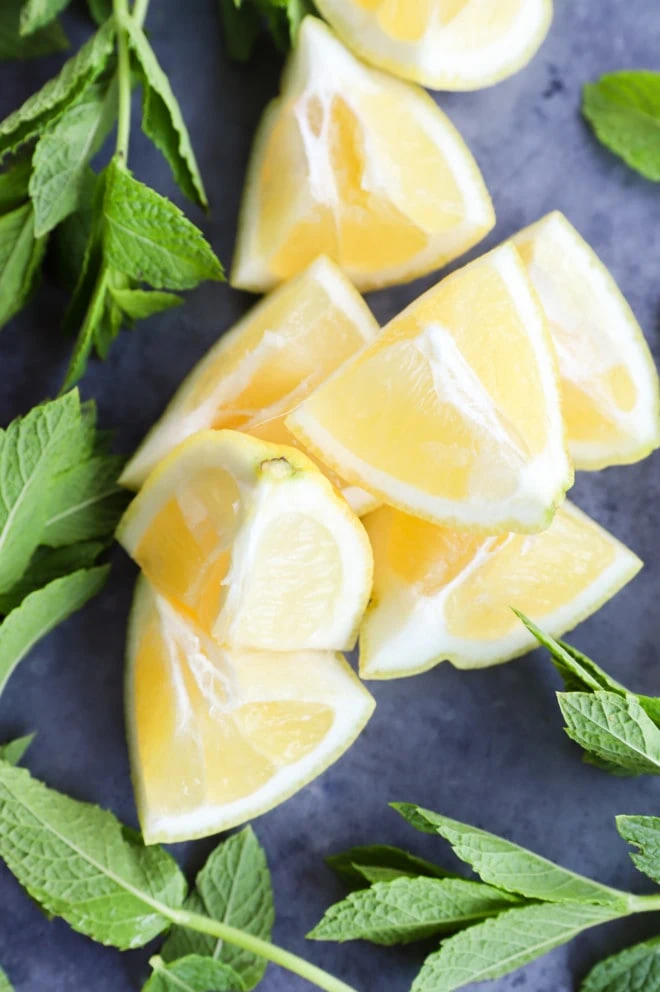 ingredients
lemon. Use a ripe lemon for this cocktail! Make sure to remove the seeds when you cut it into quarters so none get into the drink.
mint. Fresh mint leaves are key to the success of this cocktail!
rum. I prefer to use white rum for mojitos since that's what's used in the classic recipe. When it comes to selecting the best rum, I recommend purchasing whatever works for your budget. I usually target a mid-tier option like Ten to One White Rum, Havana Club Añejo Blanco, or Plantation 3 Stars Silver Rum.
sugar. You only need granulated sugar for this recipe. Simple syrup is another option, but you will only need about 1/4 oz simple syrup.
water. Use soda water or sparkling water for the recipe.
ice. You could use cubed ice or crushed ice for this mojito!
this recipe's must haves
You need standard barware for this recipe. For the cocktail, you can use any of your favorite large cocktail glasses.
Make sure you have a muddler and jigger handy as well.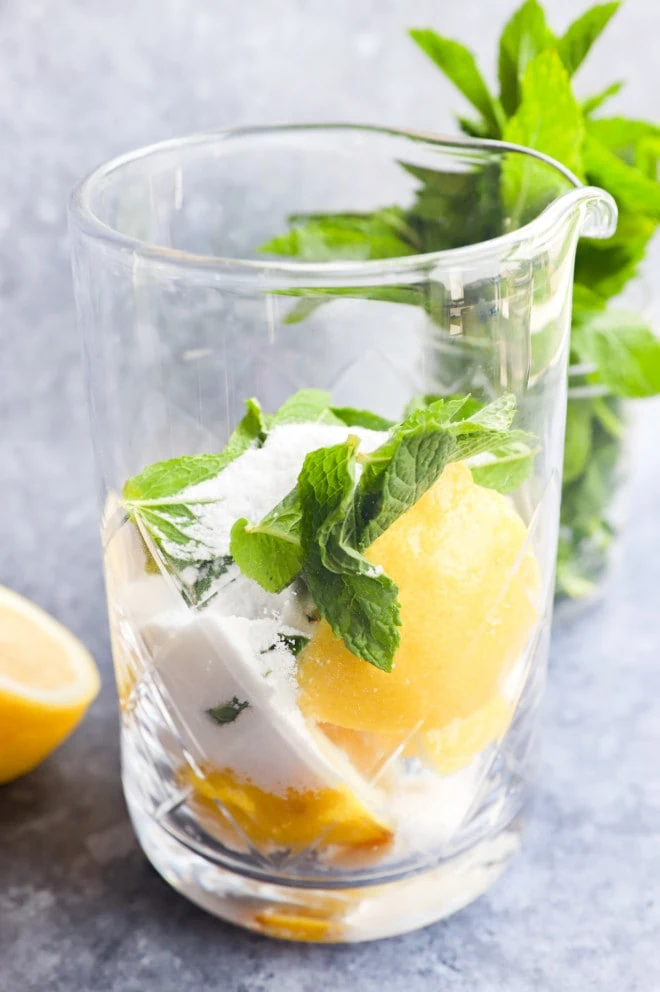 here's how to make a lemon mojito
muddle
In a large cocktail glass, add quartered lemon, fresh mint, and sugar. Muddle together, pressing down firmly and twisting a few times until the lemon juice releases. Make sure not to muddle too much.
add rum and ice
Add rum and fill with ice. Stir to combine.
top off
Top off with club soda. Garnish with lemon slices and mint sprigs, as desired.
tips and ideas
use fresh lemons. Fresh, ripe lemons are key! I highly recommend rolling them on the countertop using your palm to help release as much of the juice as possible.
don't muddle too much. If you muddle the mint and lemons too much, you will bring out the bitter notes of the lemon and the mint leaves.
don't strain. You want to leave all the fruit and fresh mint in the glass for the best flavor! Don't strain out the lemon or mint leaves before serving. It just keeps getting better with every sip.
More tasty mojito recipes to sip on: Blackberry Mojito | Dirty Mojito | Grilled Lemon Lime Mojito | Apple Mojito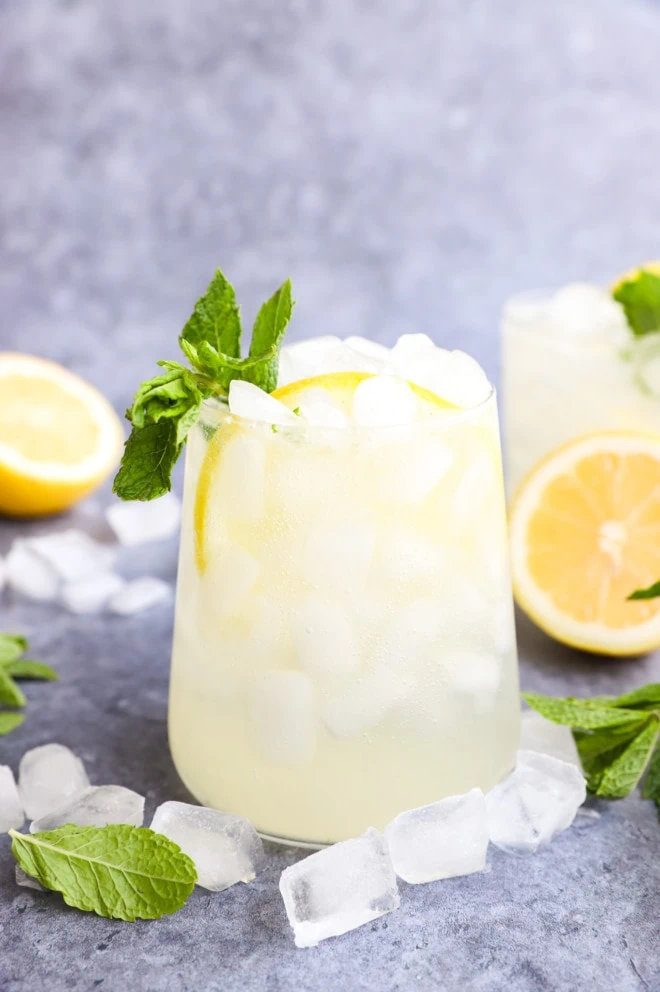 can I make a lemon mojito without soda?
Yes you can! It won't be as bubbly, but you can use plain filtered water to top off the mojitos if you don't have soda water or sparkling water available.
how can I make this cocktail in a big batch?
This cocktail is ideal for turning into a pitcher cocktail! To serve 8, you will need 8 lemons (seeds removed and quartered), 2 1/2 cups mint leaves, 1/3 cup granulated sugar, 2 cups white rum, 4 cups soda water. Muddle together lemon quarters, mint leaves, and sugar together in the bottom of a pitcher.
Add rum and fill with ice. Stir to combine. Top with soda water and serve.
can I make this lemon mojito without alcohol?
This cocktail is easy to make without alcohol! All you have to do is omit the rum from the recipe. You can add in more soda water or sparkling water if you want to, but I think simply omitting the rum is all you need to do.
I don't have a cocktail muddler. What can I use instead?
If you don't have a cocktail muddler, you can use the handle of a whisk or spatula. You can also use the handle of a large wooden spoon.
what kind of lemons should I use?
You can use whatever lemon you like for this cocktail! I think a classic lemon is perfect for this drink. I do like to look for the seedless lemons, personally, because it's a lot less hassle to not have to remove any seeds.
If Meyer lemons are in season (between December and May), I strongly recommend using those! Their flavor is so bright and flavorful, they are perfect for using with fresh mint.
Need more inspiration for cocktail hour? Check out my cocktail recipes page!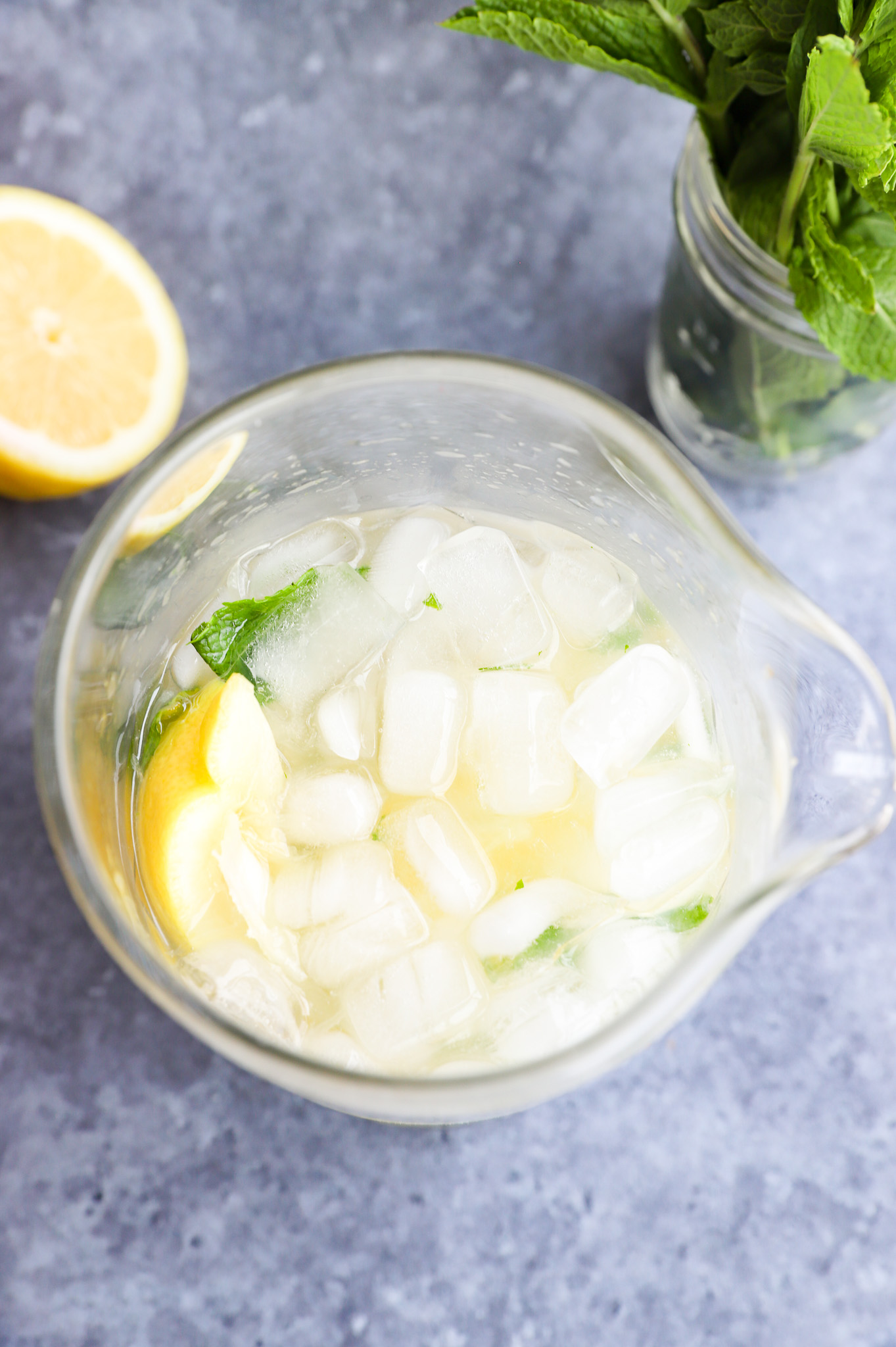 what to serve with a lemon mojito
Mojitos are summery fresh and ideal to pair with lighter dishes, particularly seafood and poultry. In addition, you can go more traditional with Cuban dishes!
Here are some of my favorite recipes to serve with lemon mojitos for a party:
This tropical guacamole is a fun and fruity twist on the classic dip!
For a heartier appetizer, these baked mini chimichangas with spicy guacamole are savory and easy to serve for a gathering.
Who doesn't love salsa? This chunky salsa is easy to make and can be scaled up for any size gathering.
For dinner, these recipes are light and fresh, making them ideal for pairing with this citrusy cocktail:
These honey lime shrimp tostadas are crunchy, tangy, and layered with flavor.
Mango chicken salad is delicious on croissants, rolls, or even lettuce wraps.
Fresh off the grill, these mango garlic shrimp skewers have an irresistible marinade and are paired with a tangy cilantro dipping sauce.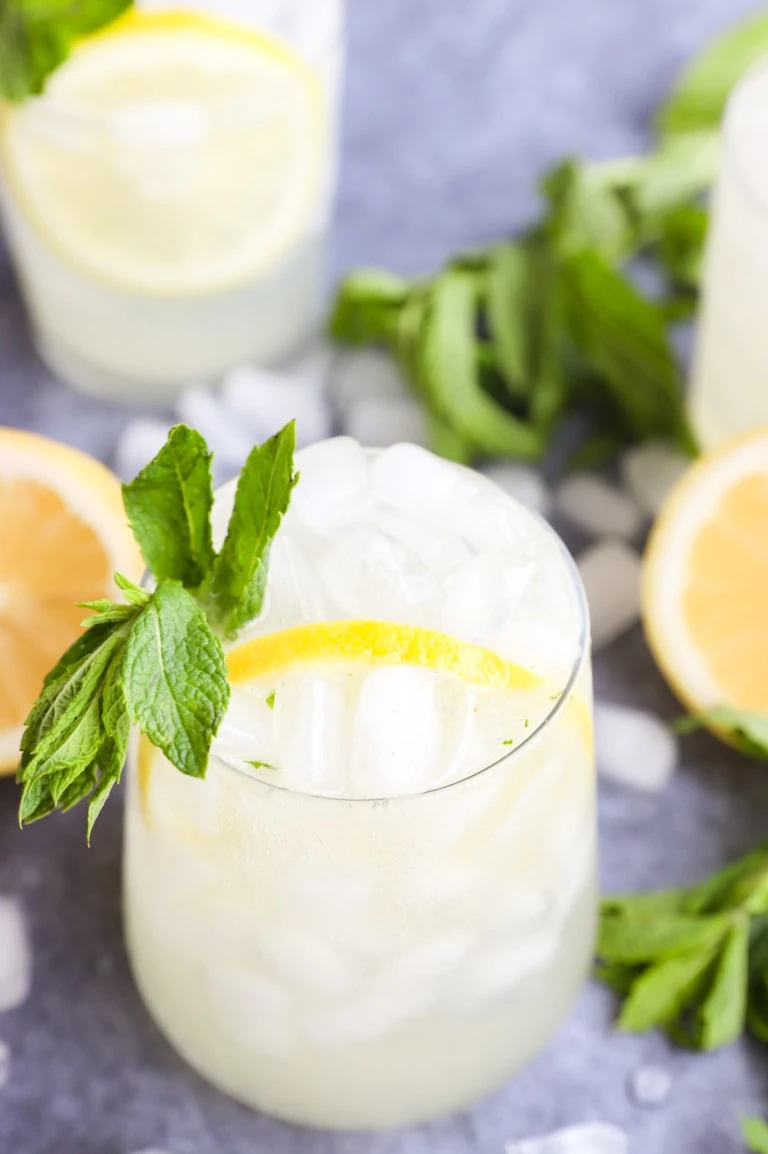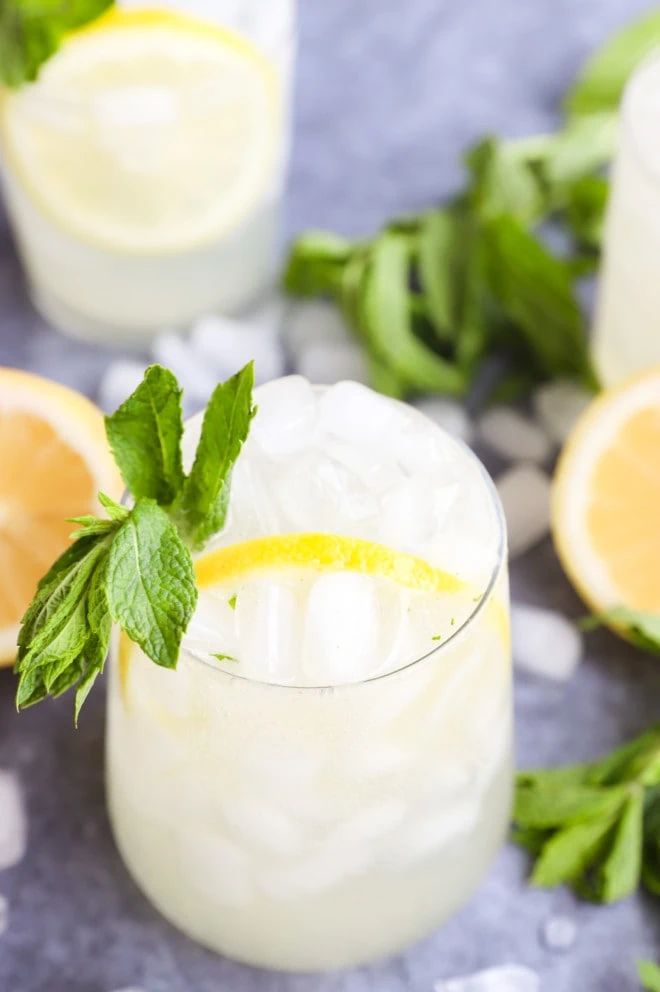 more delicious lemon cocktail recipes
Cool off with a lemon basil cooler! It's a simple cocktail made with basil syrup and fresh lemons.
If you run out of limes for margaritas, use lemons to make a lemon agave margarita.
Nothing beats a refreshing glass of homemade vodka lemonade.
Finally, if you make this lemon mojito recipe, please be sure to give this recipe a rating and/or leave a comment! I love to hear when you all make recipes, and I do take the time to respond to every single comment.
Feel free to drop questions below too, if you have them!
Oh and be sure to tag me on Instagram if you make the recipe! I love being able to see these recipes come to life in your homes – it's my favorite thing to look through those photos. It really means the world to me!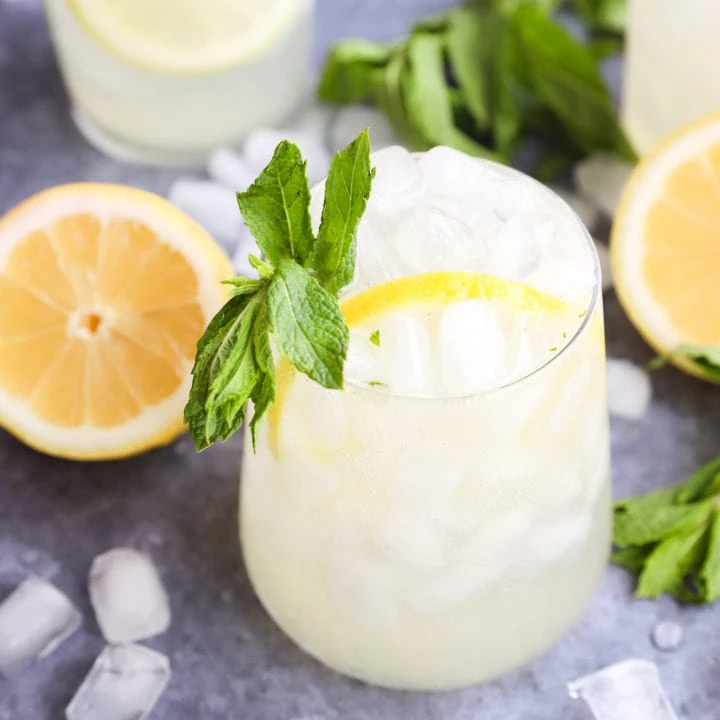 Lemon Mojito
A vibrant citrus cocktail with refreshing mint is perfect to cool off with!
Ingredients
1 large lemon, quartered and seeds removed
8 fresh mint leaves
2 oz white rum
2 tsp granulated sugar
4 oz soda water
Ice
Lemon wheels and mint leaves for garnish
Instructions
Add lemon quarters, mint leaves, and sugar to a large cocktail glass. Use a muddler to firmly press down and twist, releasing the lemon juice from the lemon pieces.
Pour in rum and fill the glass with ice. Stir to combine.
Top with soda water. Garnish and serve.
Notes
Big Batch Option: To serve 8, you will need 8 lemons (seeds removed and quartered), 2 1/2 cups mint leaves, 1/3 cup granulated sugar, 2 cups white rum, 4 cups soda water. Muddle together lemon quarters, mint leaves, and sugar together in the bottom of a pitcher. Add rum and fill with ice. Stir to combine. Top with soda water and serve.
Recommended Products
As an Amazon Associate and member of other affiliate programs, I earn from qualifying purchases.