Please note this post contains affiliate links.
A mouthwatering Watermelon Vodka Cocktail is the epitome of summer refreshment! This invigorating drink combines the natural sweetness and juiciness of fresh watermelon with the smooth, clean notes of vodka. It's a tasty fusion of flavors that will keep you cool and revitalized, making it the ideal choice for hot summer days.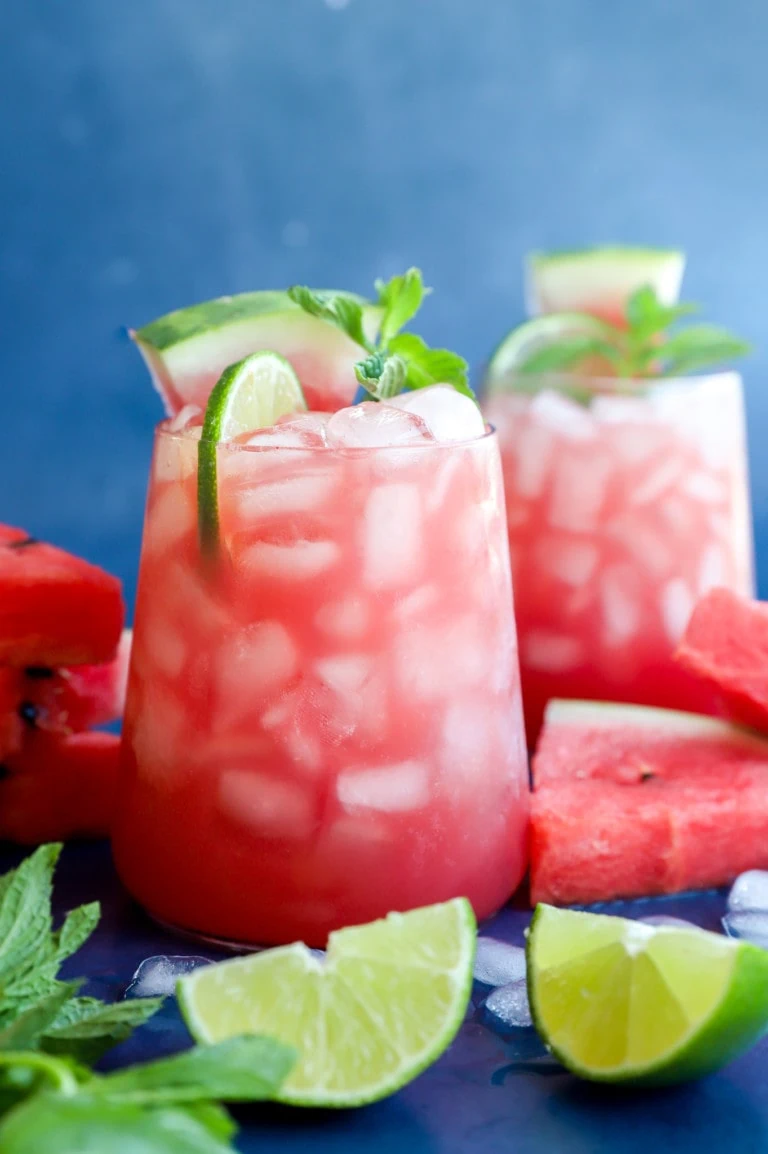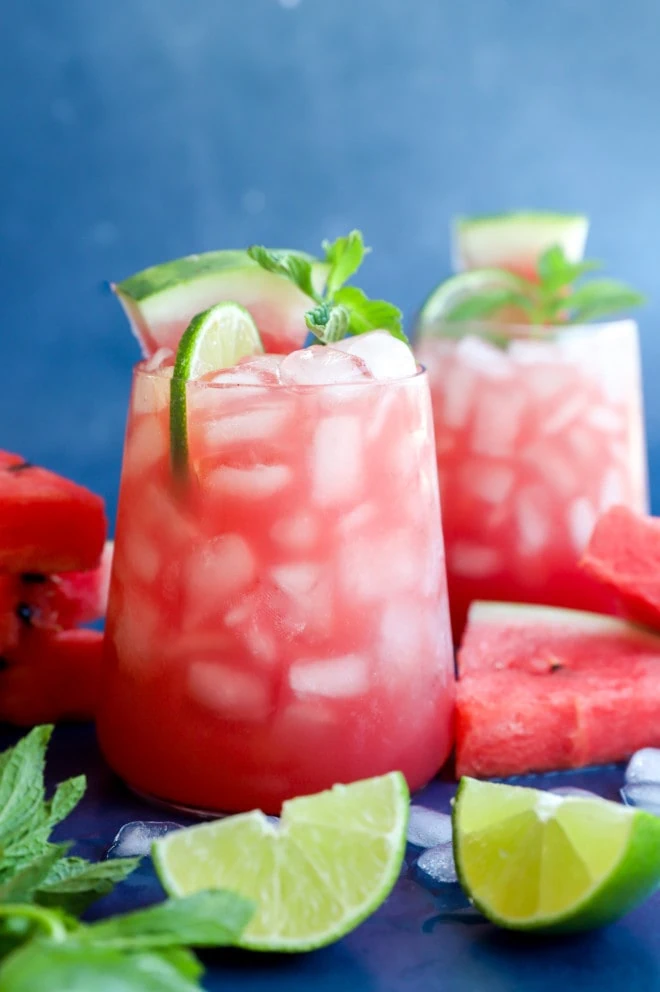 about this tasty vodka watermelon cocktail
Summer is getting hot, so I am devouring as much watermelon as possible right now. The hydrating and refreshing fruit is at its peak right now, so I'm also adding it to all my cocktails as well.
Did you know that watermelon is more than just a delicious summer treat? It's packed with nutrients and water content (about 92% to be exact!). It is a great source of vitamins A and C, boosting your immune system and promoting healthy skin as well. So that's all the more reason to not only enjoy it as a snack, but to incorporate it into your cocktails!
Let me spill the juicy secrets of why a watermelon vodka drink is so darn delicious. First off, you all know the sheer refreshment of biting into a slice of ripe, juicy watermelon on a scorching day, right?
Now, imagine that experience in a cocktail glass! The natural sweetness of the watermelon pairs like a charm with the smooth, clean taste of vodka and tartness of fresh lime juice, creating a cocktail that will have you coming back sip after sip.
Since this cocktail is so easy to make, it is fantastic to serve to friends and family at a gathering! You can even make it in a large batch in a pitcher so you aren't making the cocktails one by one.
So, gather your friends, stir up a batch of this delightful concoction, and get ready for a delicious journey to summer paradise. With its fruity goodness and fun presentation, this cocktail is sure to be a hit at your next gathering or just to treat yourself with after a long day.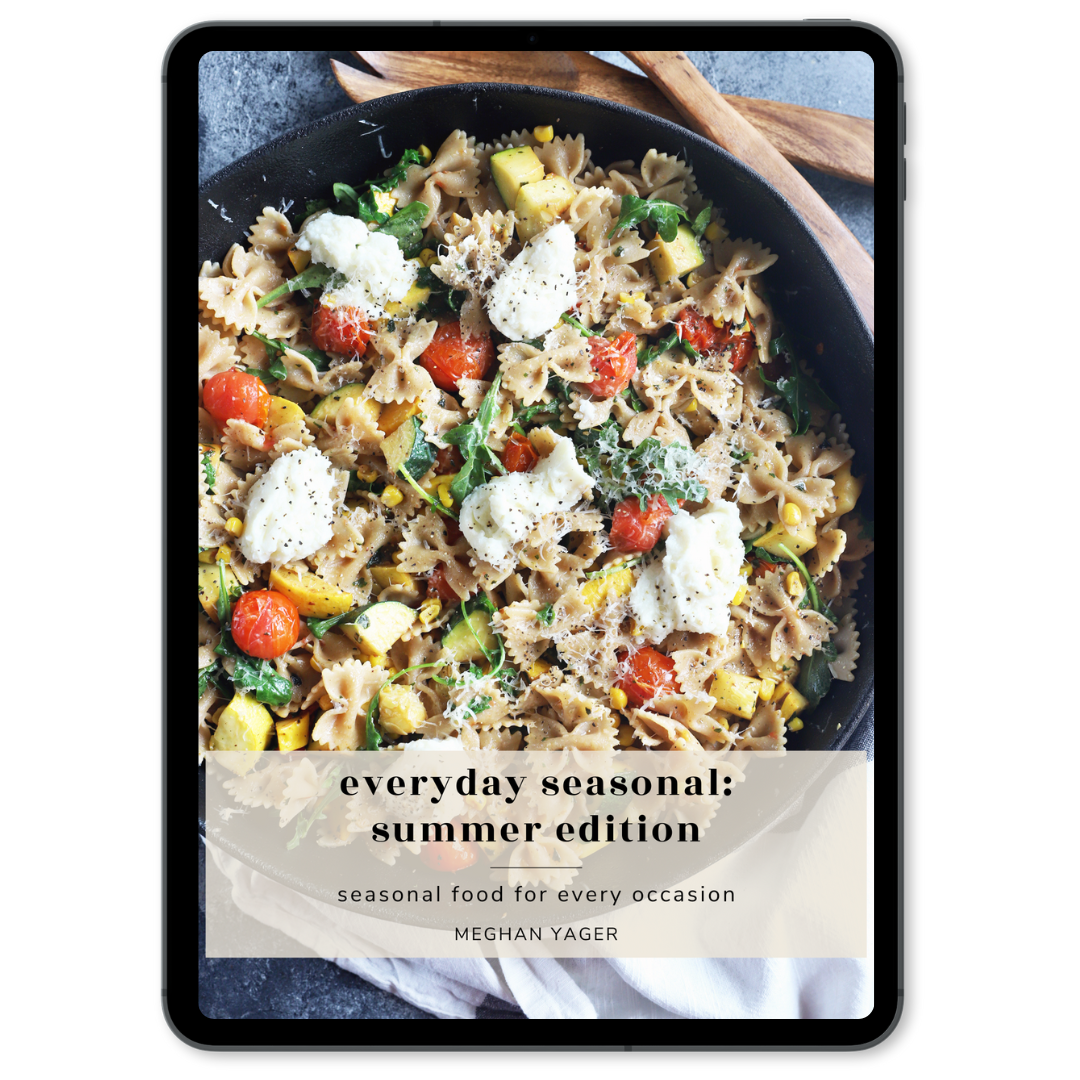 everyday seasonal: summer
With seasonal summer recipes, a comprehensive produce guide, and more, this is the cookbook to help you celebrate the season.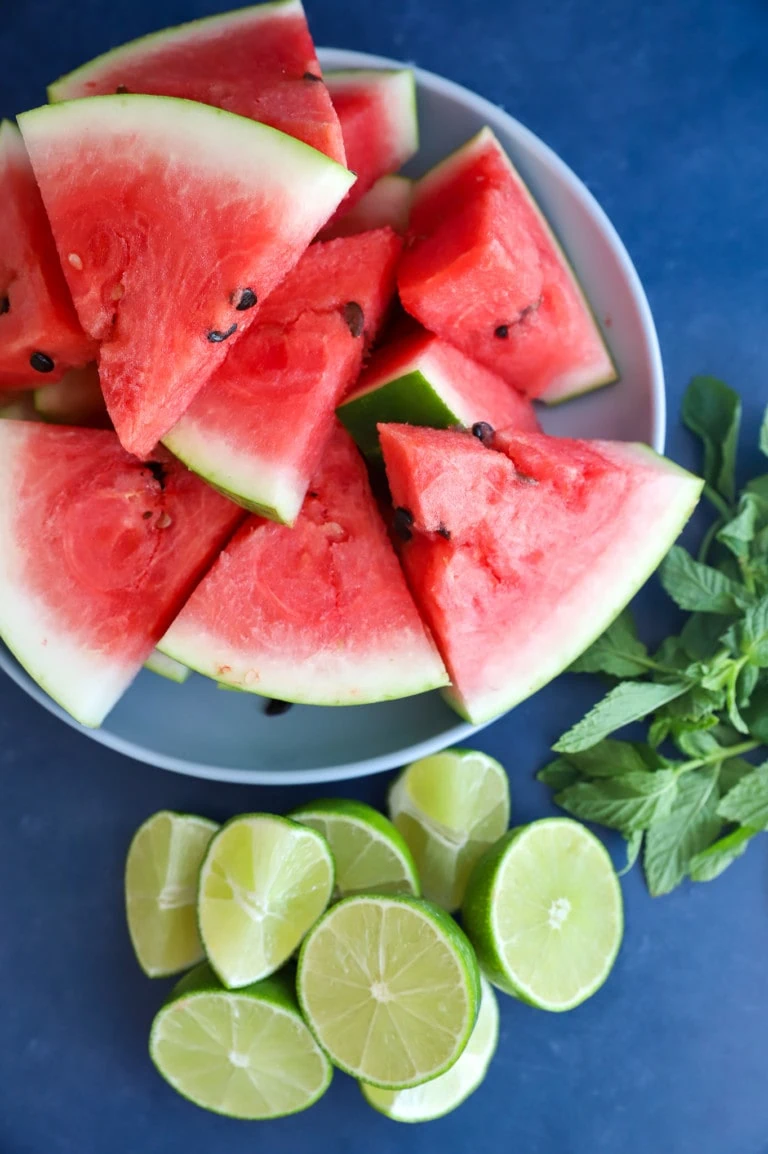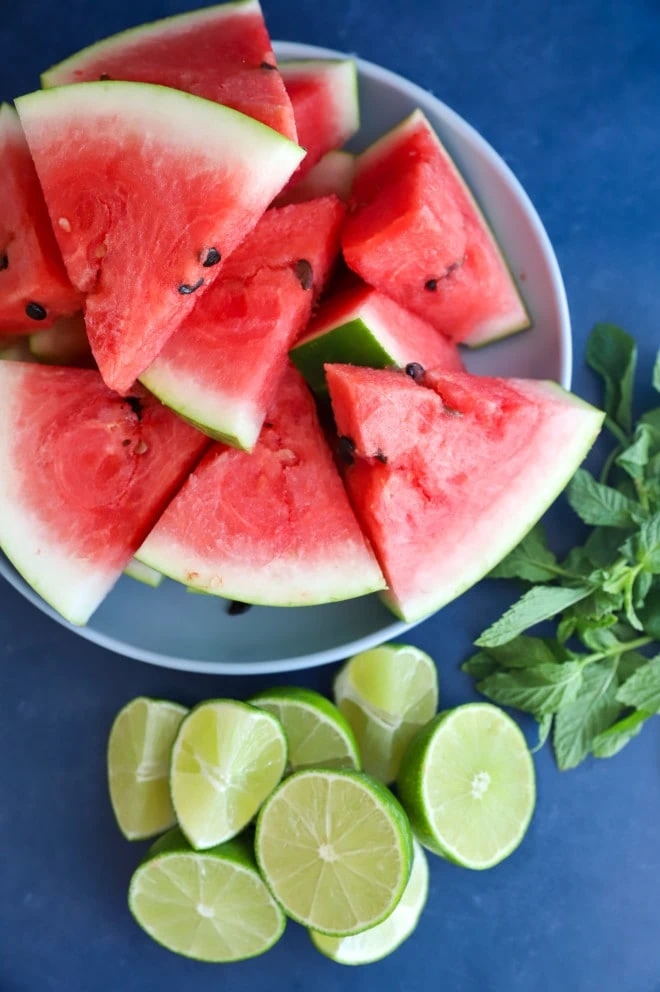 ingredients
watermelon. Be sure to use fresh watermelon to make your watermelon juice. At the end of this post, you'll find a seasonal tip section that describes how to select the ripest watermelon possible! The riper the better for the flavor of this cocktail.
vodka. my advice for selecting a vodka is to always say pick the best vodka in your price range. While it doesn't have to be top shelf, you should still use at least a mid-tier vodka since there are limited ingredients in the drink. I recommend Tito's or Absolut (splurge for Absolut Elyx if you want to!).
lime juice. fresh lime juice is best, if possible!
simple syrup. pick this up at your local store (liquor or grocery!), but I prefer to make it at home. All you need are equal parts water and sugar. Check out our full guide on how to make simple syrup on the site so you can get all your questions answered over there!
this recipe's must haves
To make watermelon juice, you'll either need a juicer or a blender (like a Vitamix) or food processor. To strain, use a fine mesh strainer.
This cocktail can be assembled in any cocktail glass, served over ice! To make the cocktail, you will need a jigger and cocktail stirring spoon.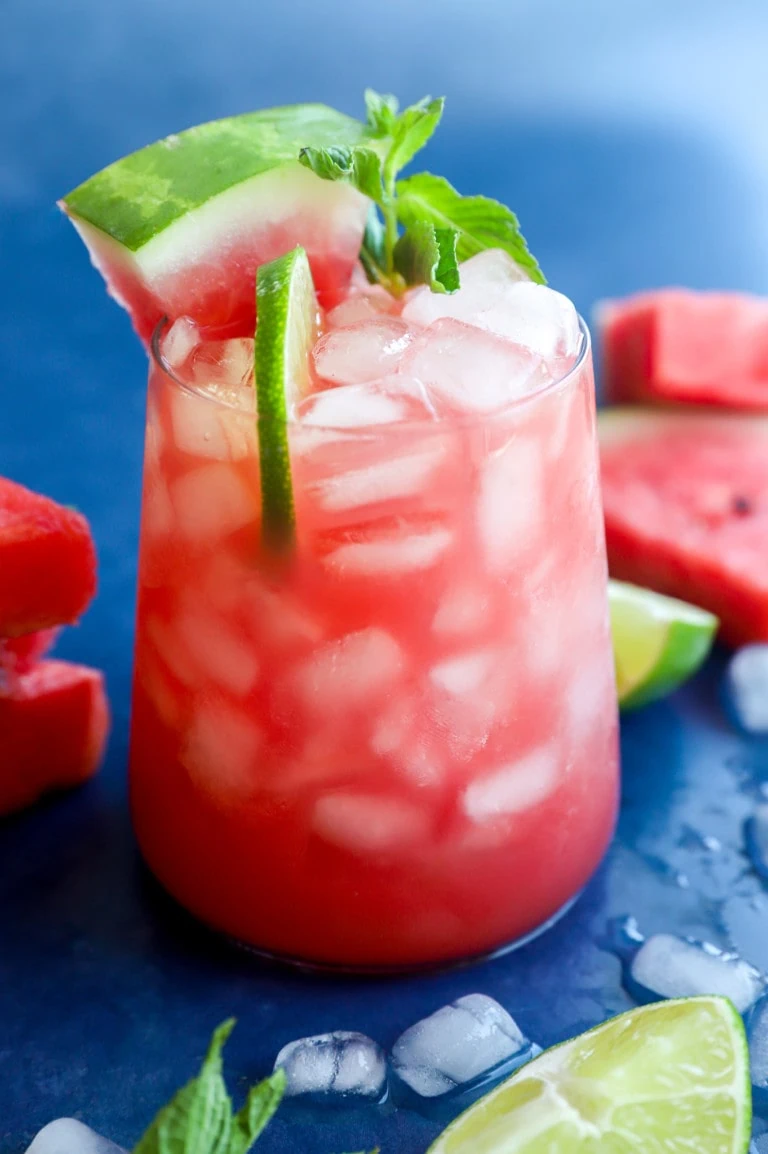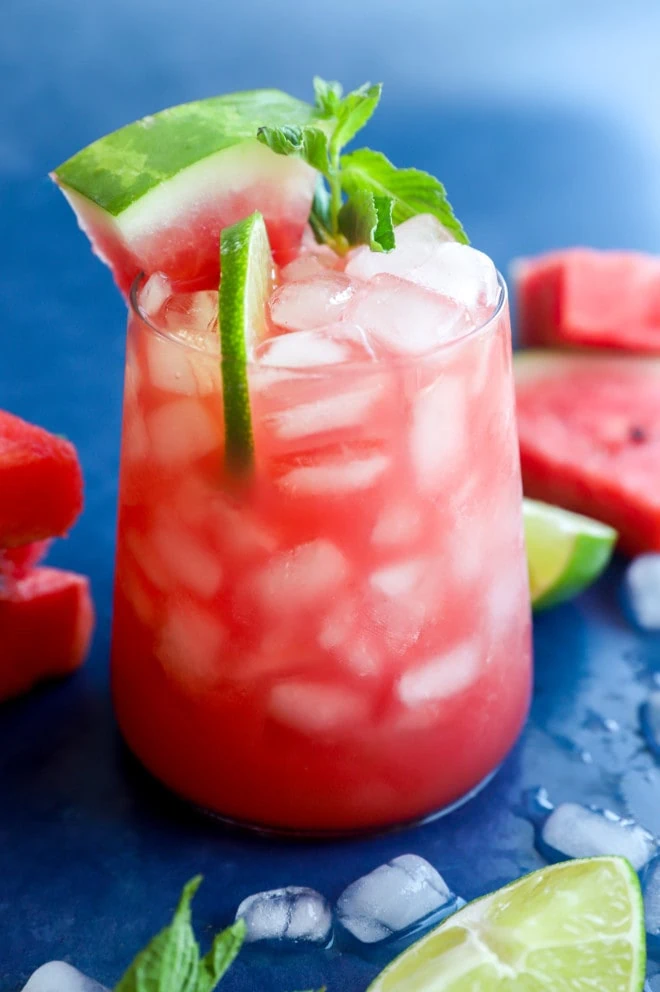 here's how to make a watermelon vodka cocktail
make watermelon juice
Add watermelon chunks to a juicer and collect the juice. If you don't have a juicer (like me), use a blender or food processor. Puree until smooth. Strain through a fine mesh strainer. You should end up with about 1 cup of watermelon juice.
pour
To make a single cocktail, fill a cocktail glass with ice. Pour in watermelon juice, vodka, lime juice, and simple syrup.
stir
Stir to combine. Garnish with a watermelon wedge, lime wheel, and mint sprig. Serve.
tips and ideas
use fresh ingredients. To get the best flavor possible, use fresh ingredients! I prefer to make the watermelon juice myself and use freshly squeezed lime juice. However, you can use store-bought watermelon juice and/or lime juice as needed.
use good vodka. Since this cocktail only has four ingredients, the vodka stands out. Make sure that you are using a vodka that you love! I have listed my personal favorites in the above Ingredients section.
make ahead of time. If you are making it ahead of time, make a large batch (see FAQs below or at the bottom of the recipe) and chill it in the refrigerator beforehand. I recommend leaving out the ice when you make it so it doesn't get watered down. Add ice just before serving to keep it cold.
More flavorful watermelon drinks to sip on: Spicy Watermelon Margarita | Salted Watermelon Paloma | Watermelon Lime Agua Fresca | Watermelon Gin Cocktail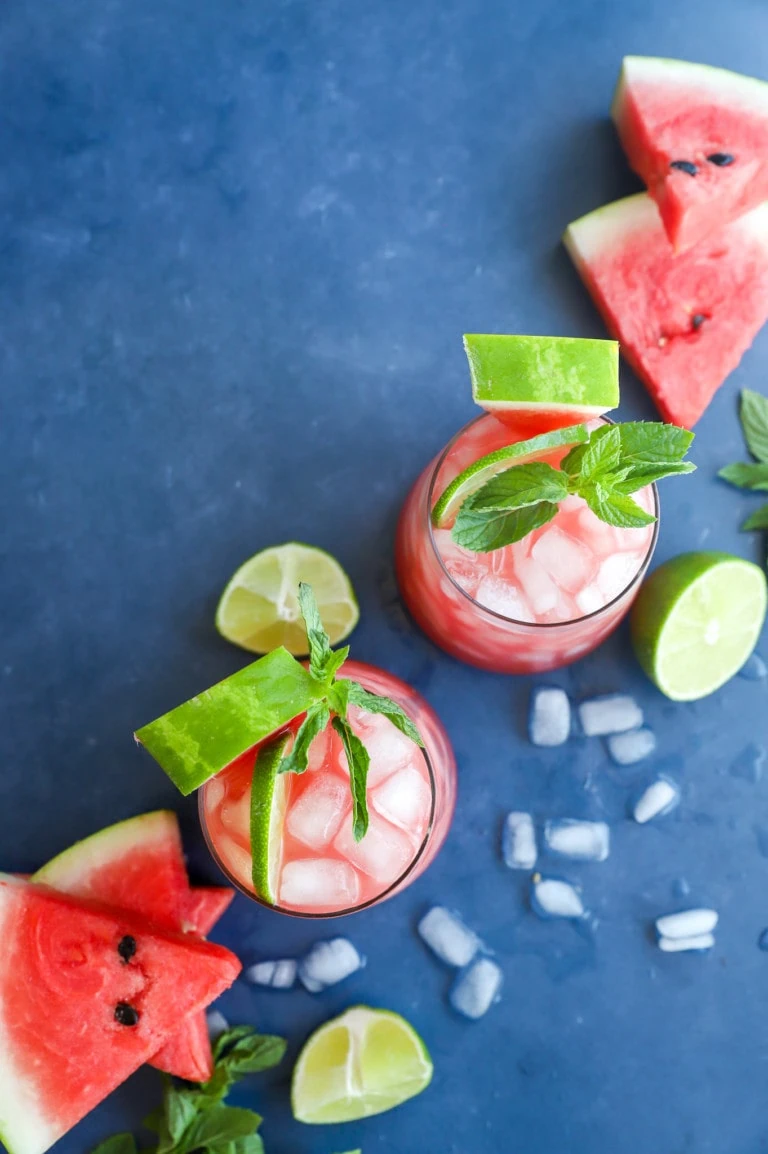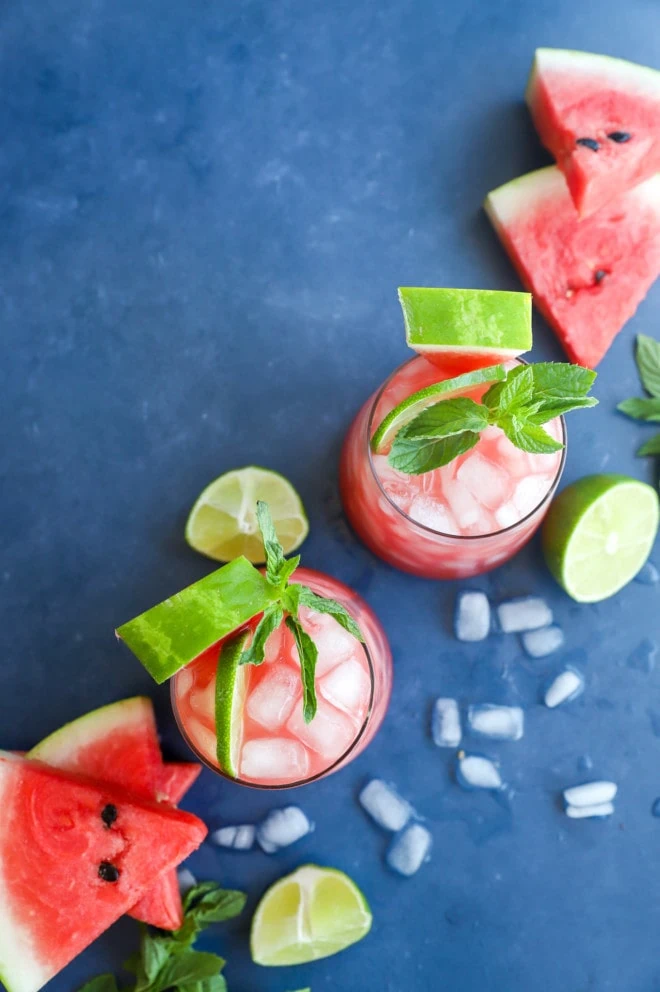 can I use watermelon vodka in this cocktail?
You certainly can! Watermelon vodka will definitely amp up the flavor of watermelon in the cocktail, so it will taste a little more intensely of fruit. If it ends up a little too sweet for your taste buds, I recommend adding in more lime juice to balance out the sweetness with tartness.
how do I make a big batch of this drink?
This watermelon cocktail can easily be made into a big batch drink! To serve 6, you will need 4 cups chopped watermelon to make enough watermelon juice for the recipe. Add the watermelon juice to a pitcher filled halfway with ice, along with 1 1/2 cups vodka, 1/3 cup fresh lime juice, and 1/3 cup simple syrup. Stir to combine. Pour into glasses filled with ice and garnish with watermelon wedges, lime wheels, and mint sprigs if desired.
You can also garnish the pitcher with watermelon chunks and lime wheels!
can I use a different liquor?
For this cocktail I use vodka, but you could also use another liquor. I recommend either gin (the floral notes are the ideal pairing with watermelon) or tequila.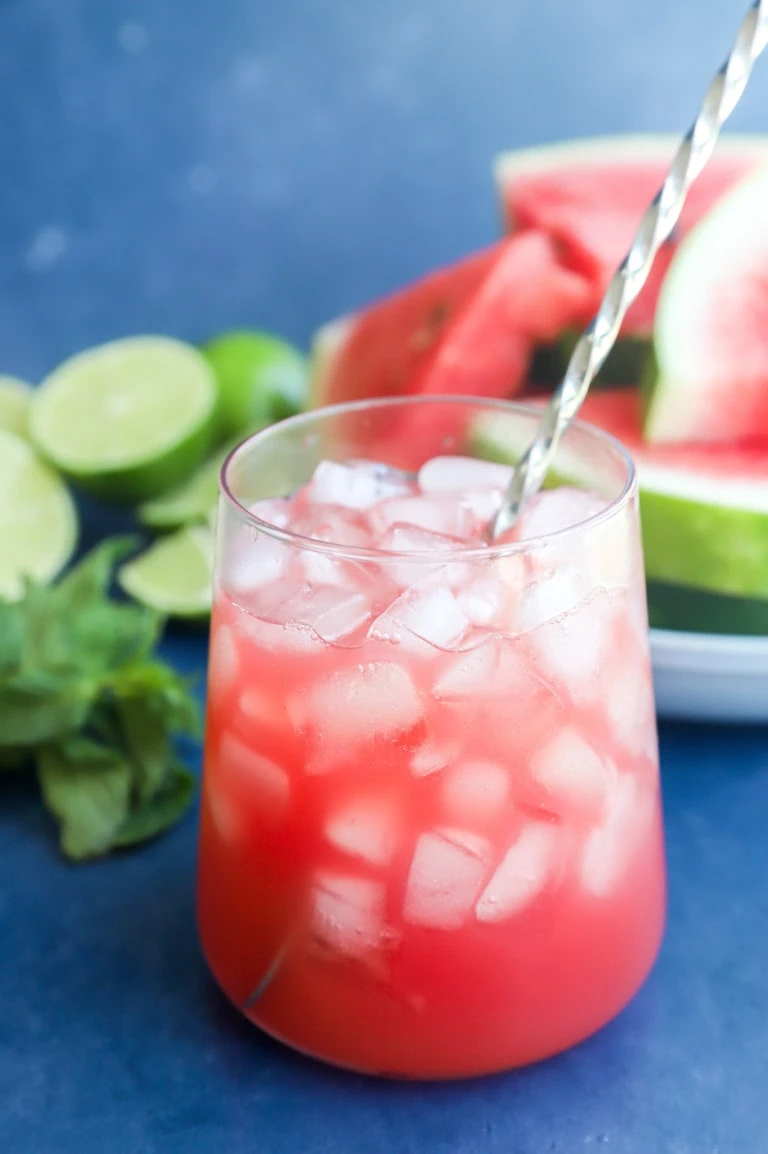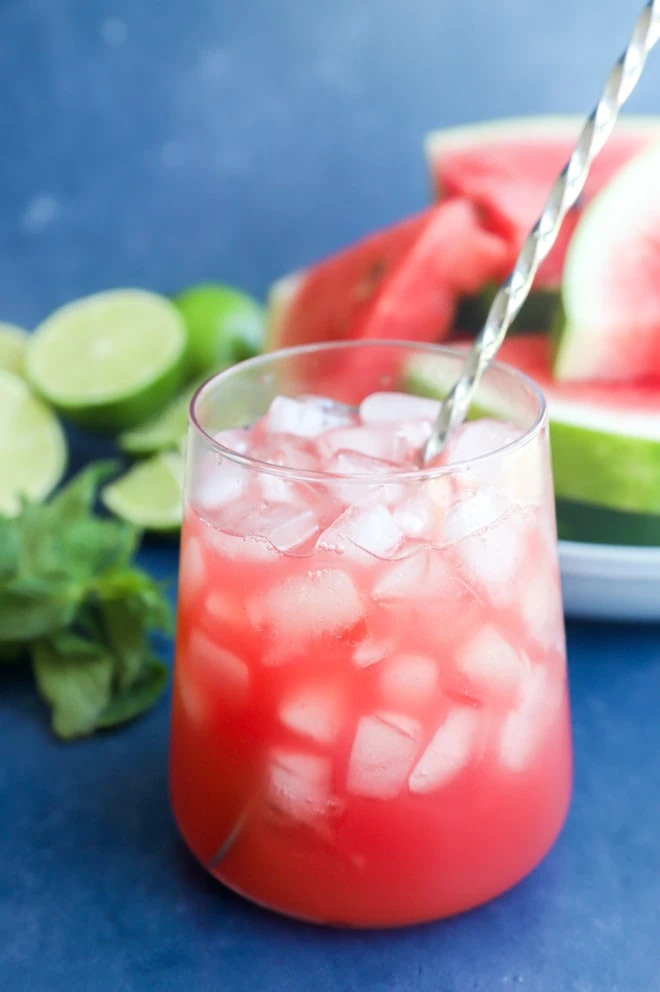 what should I do with any leftover watermelon juice?
If you have leftover watermelon juice, simply store it in an airtight jar in the fridge and use within the next couple of days. Enjoy this cocktail again, or try something new! If you want another cocktail, try this spicy watermelon margarita. For a non-alcoholic option, make some watermelon lime agua fresca!
You can also add it to a glass of lemonade, use it to flavor club soda, or mix it into your morning smoothie.
where do I get watermelon juice?
In this recipe, I describe exactly how to make your own watermelon juice using fresh watermelon and your blender/food processor (or juicer, if you have one). However, you can also find watermelon juice at the local grocery store. I usually need to go to Sprouts or Whole Foods, as other supermarket chains don't always carry it.
can I make this non-alcoholic?
You certainly can! Instead of using vodka, simply use water. I personally recommend using sparkling water to get some extra bubbles in there.
Need more inspiration for cocktail hour? Check out my cocktail recipes page!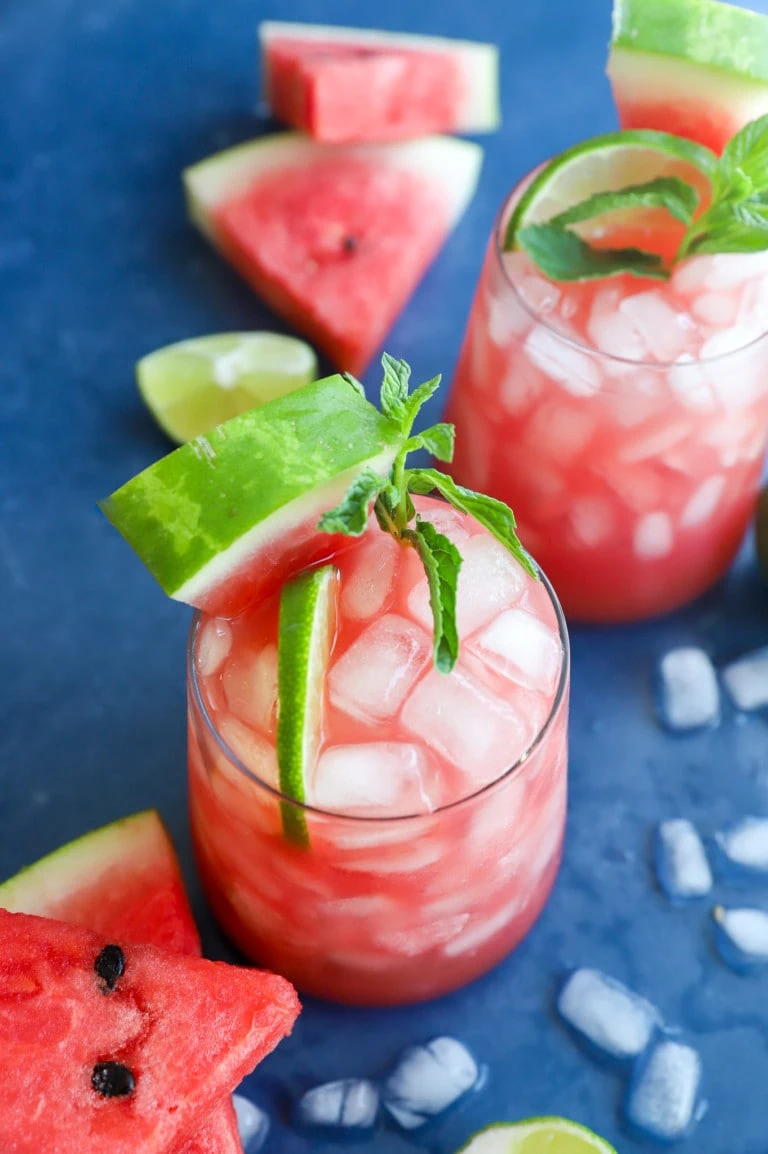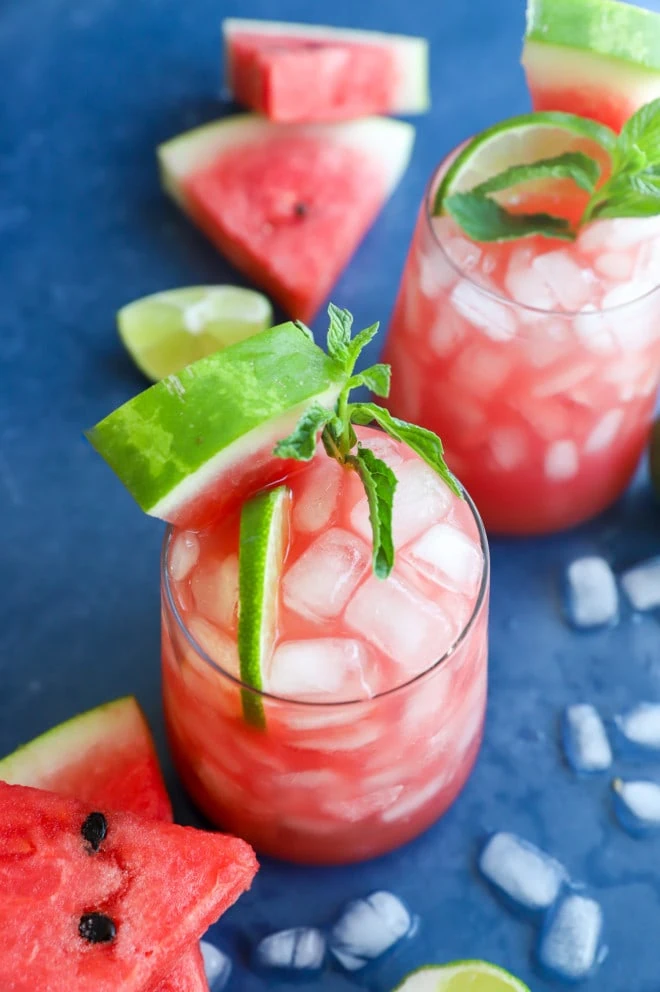 what to serve with a watermelon vodka drink
This refreshing, summery drink goes with practically any summertime savory or sweet recipe you could dream of. If you are serving this for cocktail hour, here are some appetizers that I would love to enjoy alongside this cocktail:
For dinner, I always turn to BBQ since it's the tastiest pairing with watermelon:
more delicious summer drinks
With a cherry vodka sour, you get the perfect balance of fruity, tang, and sweet.
A summery blackberry gin fizz is juicy, floral, and bubbly!
Sip on a strawberry gin smash for a fruity twist on a classic favorite cocktail.
seasonal tip
Make sure you select a ripe watermelon! The melon should feel heavy for its size. In addition, it should have a deep, uniform color. If there are dry spots and vein-like webbing lines on the exterior, this is an indicator that the melon is especially sweet. Always buy when watermelon is in peak season, between May and September.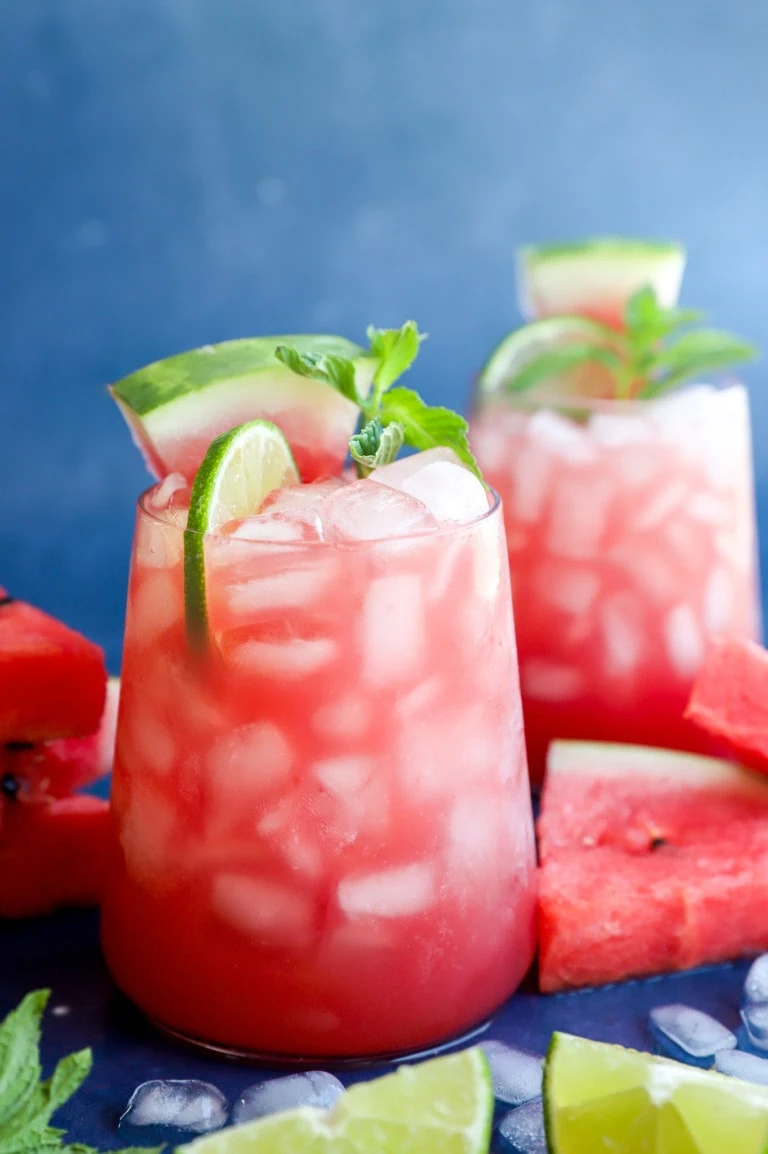 Finally, if you make this watermelon vodka cocktail recipe, please be sure to give this recipe a rating and/or leave a comment! I love to hear when you all make recipes, and I do take the time to respond to every single comment.
Feel free to drop questions below too, if you have them!
Oh and be sure to tag me on Instagram if you make the recipe! I love being able to see these recipes come to life in your homes – it's my favorite thing to look through those photos. It really means the world to me!
everyday seasonal cookbook
With seasonal produce guides, recipes, and more, this cookbook is filled with seasonal food for every occasion.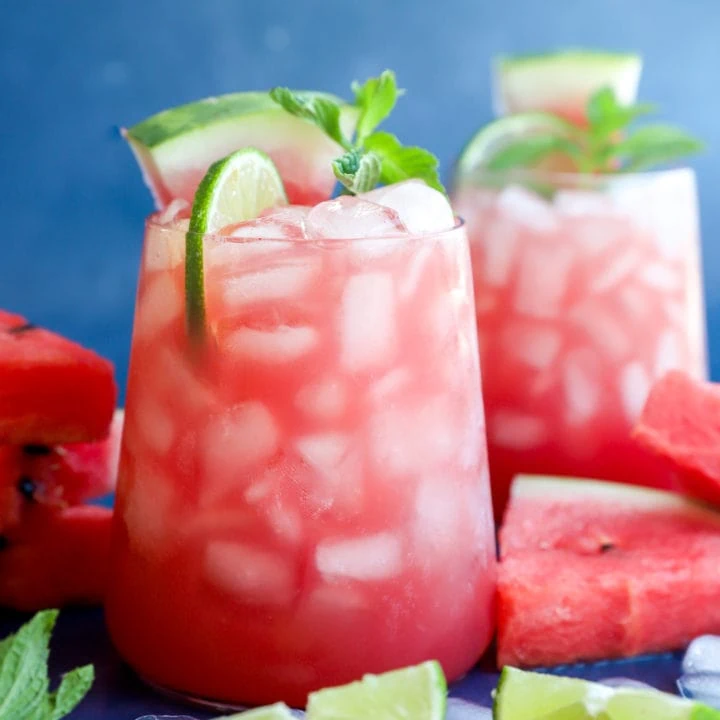 Watermelon Vodka Cocktail
Refreshing and fruity, this is the ultimate summery watermelon drink!
Ingredients
watermelon juice
2 cups chopped seedless watermelon
cocktail
2 1/2 oz chilled watermelon juice
2 oz vodka
1/2 oz fresh lime juice (about 1/2 lime)
1/2 tsp simple syrup
Garnish: watermelon wedge, lime wheel, mint sprig
Instructions
Add watermelon to a blender or food processor. Blend until smooth. Drain through a fine mesh sieve. Use watermelon juice as instructed to make the cocktail below! Watermelon juice can be stored in an airtight container in the refrigerator for up to 3-4 days.

Fill a cocktail glass with ice. Add watermelon juice, vodka, lime juice, and simple syrup.
Stir to combine.
Garnish with watermelon wedge, lime wheel, and mint sprig.
Notes
Big Batch: To serve 6, you will need 4 cups chopped watermelon to make enough watermelon juice for the recipe. Make watermelon juice as instructed, then add to a pitcher filled halfway with ice. Pour in 1 1/2 cups vodka, 1/3 cup fresh lime juice, and 1/3 cup simple syrup. Stir to combine and serve
Recommended Products
As an Amazon Associate and member of other affiliate programs, I earn from qualifying purchases.