Please note this post contains affiliate links.
Pan Seared Scallops with Bacon Cream Sauce are cooked perfectly, then served up on a bed of that dreamy bacon-packed sauce… If you are looking to impress anyone with your skills in the kitchen, this is the one dish that'll steal their hearts every single time.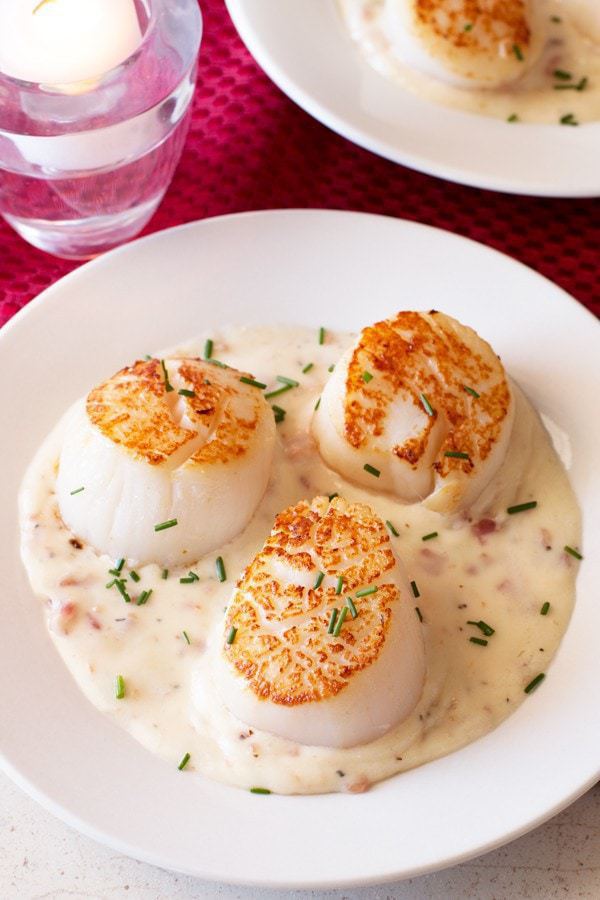 This is how you open a date-night dinner to remember.
For Valentine's Day this year, I wanted to give you all a recipe that will is the perfect way to show someone serious love. Also show yourself how much you love YOU.
Because there's no other way to say "I love you" than perfectly seared scallops nestled in bacon cream sauce.
I mean, seriously, is there anything that bacon cream sauce can't make magical?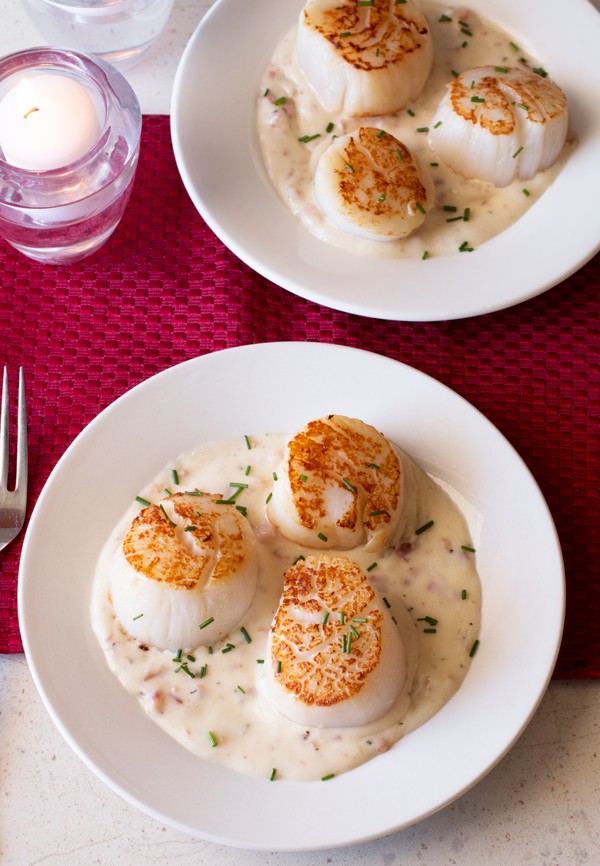 I think scallops terrify a lot of people because they can go from silky to rubber in about 10 seconds.
However, if you keep a close eye on them, even if you pull them a little early and let them rest, they come out perfect in just about 2 minutes or less.
Really the scallops are the easy part.
I can hear you rolling your eyes, but really, they are easy!
The difficult part is keeping yourself from sticking your face in this bacon cream sauce and inhaling it all.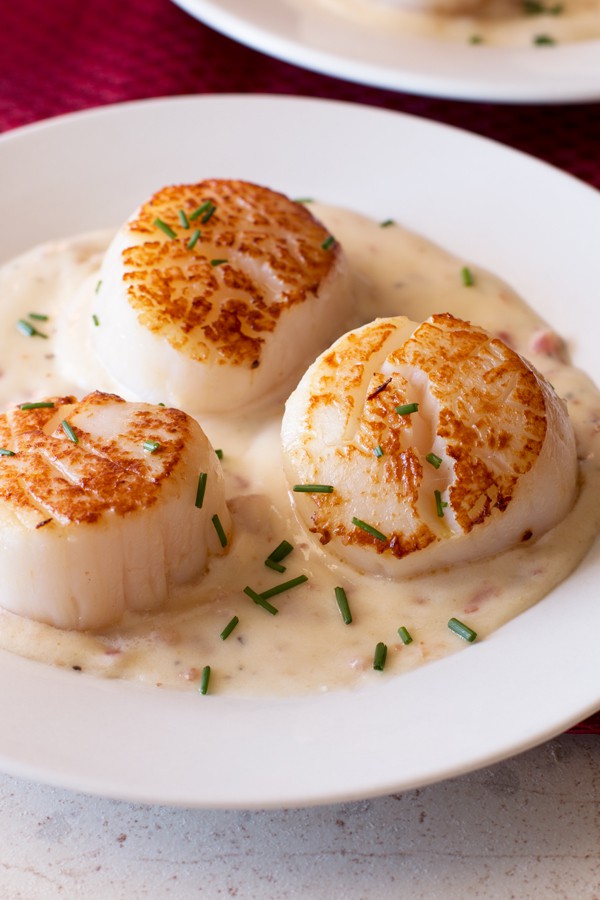 The even more difficult part will be trying to find recipes for the subsequent courses that will live up to this opening dish.
Your date actually might still be licking the plate to get every little drop of this sauce before you take it away.
If you are making this for your Valentine's Day date, I'm telling you know, you've got the night made; she/he will be swooning for you after the first bite.
This dish is honestly the one meal I will bust out when I am trying to impress.
Easy to make and gorgeous. It doesn't get much better than that. Especially when you are trying to sweep someone off their feet with the meal of a lifetime.
BTW, you can totally turn this into a full meal alongside some couscous and asparagus! YUM.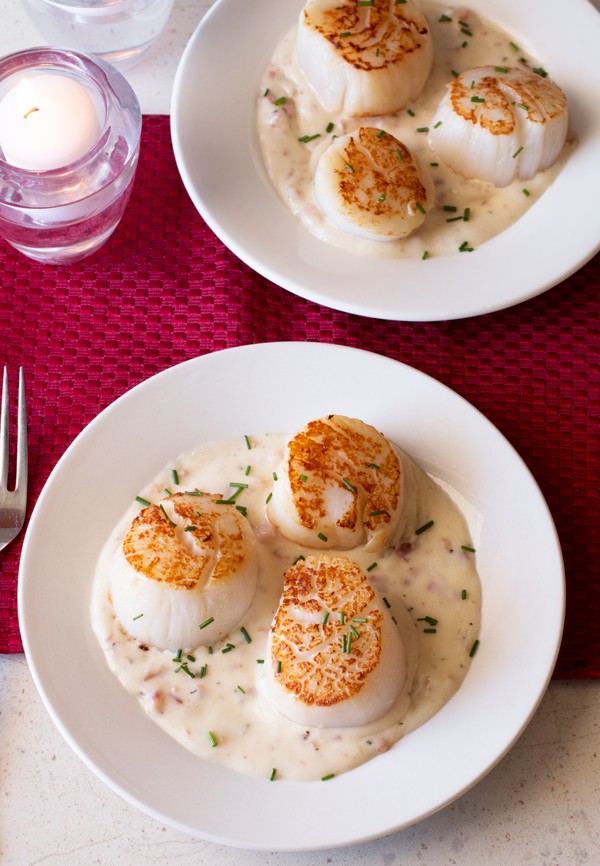 This Recipe's Must Haves
The one knife I rely on day in and day out in the kitchen is this stunning chef's knife. Seriously, having a good quality knife is the best investment you can make for your skillet!
You will need a nonstick skillet and a saucepan because both are a must for this recipe, and so many others, of course!
Valentine's Day gold, I'm just saying'…
The one thing I do have to say is that you HAVE to follow the instructions to the letter for cooking these pan seared scallops.
It's such a solid technique so you honestly will not go wrong with it. Plus you'll never believe just how simple it is to cook these!
All I can say is that Gordon Ramsey really knows what he is talking about.
No matter how many times I make these scallops, they always turn out perfectly cooked and golden. It's a technique that is really hard to screw up, so cooks of any skill level can master it easily!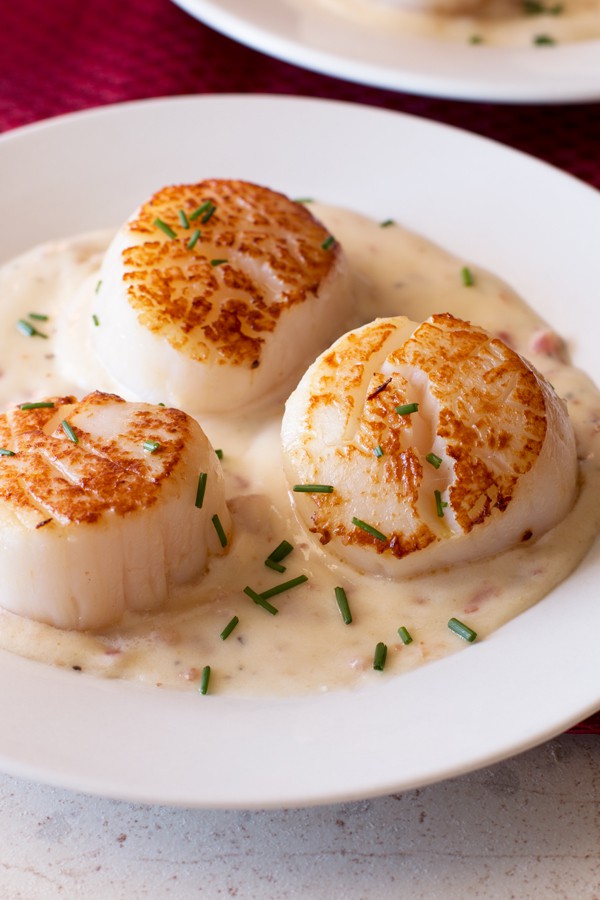 It's such an incredible recipe, AND it just so happens to be keto-friendly! It wasn't my initial intention with the recipe, but I found out after posting that it is a great go-to.
If you happen to have leftover bacon cream sauce, there are some awesome ways to use it up:
Mix it into your mashed potatoes or cauliflower puree.
Top your grilled steak or chicken with it.
Use it on top of roasted or steamed asparagus (a personal favorite of mine!)
Mix it into the filling for deviled eggs.
Need a stellar cocktail to pair with this dish? Try this Wild Berry Vesper!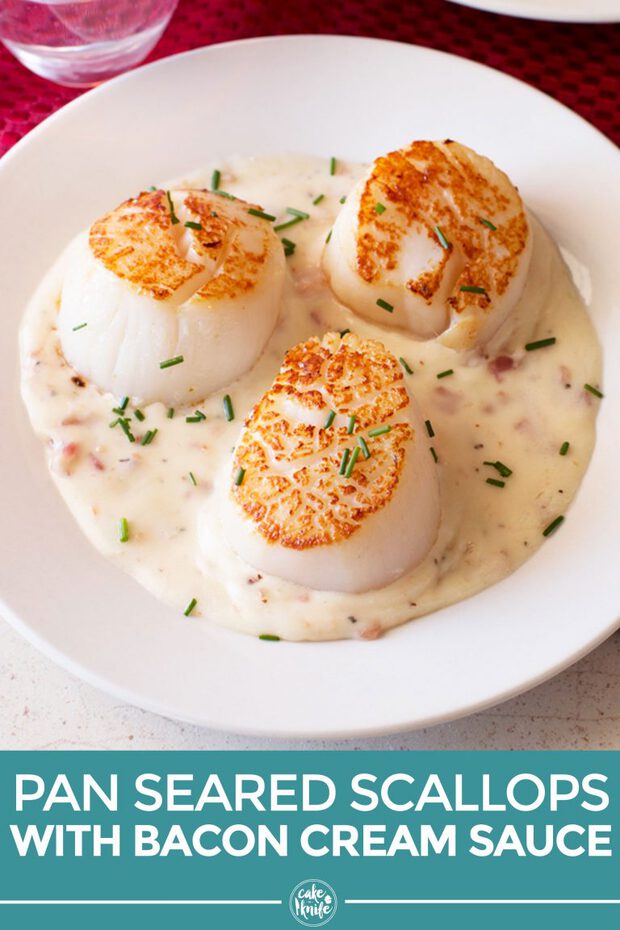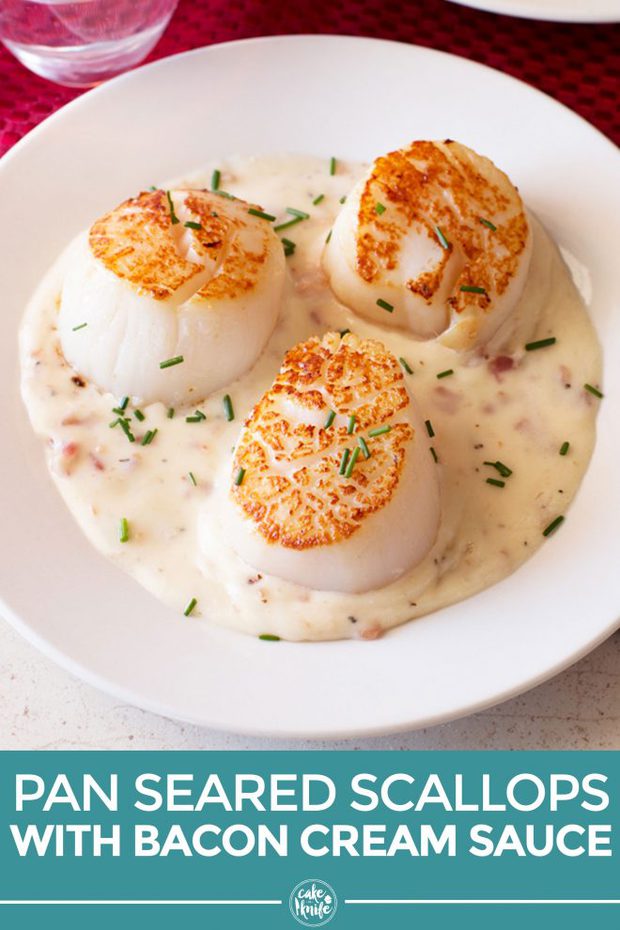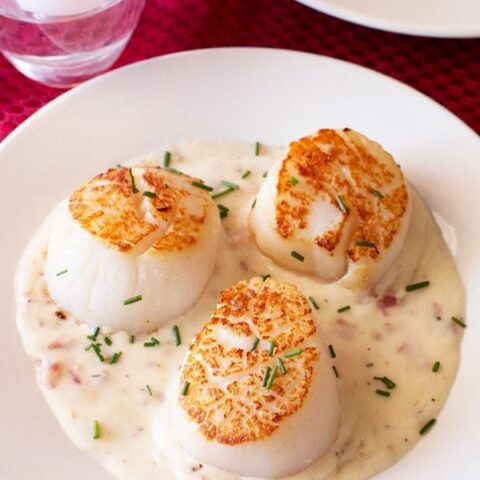 Pan Seared Scallops with Bacon Cream Sauce
If ever there was a recipe to seal the deal on date night, this one is it.
Ingredients
6 slices bacon, chopped
1/2 Tbsp butter
1 cup heavy cream
1/2 cup Parmesan, freshly grated
1/2 tsp olive oil
6 large scallops
Salt & pepper
Chopped chives for garnish
Instructions
In a medium skillet, cook chopped bacon over medium-high heat until crisp. Remove the bacon with a slotted spoon to a paper towel-lined plate to drain.
Add butter, cream, and Parmesan to the skillet with the bacon grease. Reduce the sauce over medium heat by half. Stir in the cooked bacon. Season with salt and pepper to taste. Keep warm over low heat.
In a separate skillet, heat 1/2 tsp olive oil over medium-high heat. Season scallops with salt and pepper. Once the pan is hot (make sure it's really hot!), add the scallops to the pan. Sear until golden brown on one side, approximately 1 minute, and turn over. Sear on the other side for 1 minute until golden brown. Remove to a paper towel-lined plate to drain.
Serve the scallops over a layer of bacon cream sauce. Garnish with chives.
Recommended Products
As an Amazon Associate and member of other affiliate programs, I earn from qualifying purchases.
Nutrition Information:
Yield:

2
Serving Size:

3 scallops with sauce
Amount Per Serving:
Calories:

751
Total Fat:

66g
Saturated Fat:

37g
Trans Fat:

2g
Unsaturated Fat:

24g
Cholesterol:

214mg
Sodium:

1495mg
Carbohydrates:

10g
Fiber:

0g
Sugar:

4g
Protein:

30g