Please note this post contains affiliate links.
Pan Seared Scallops with Bacon Cream Sauce are cooked perfectly, then served up on a bed of that dreamy bacon-packed sauce… If you are looking to impress anyone with your skills in the kitchen, this is the one dish that'll steal their hearts every single time.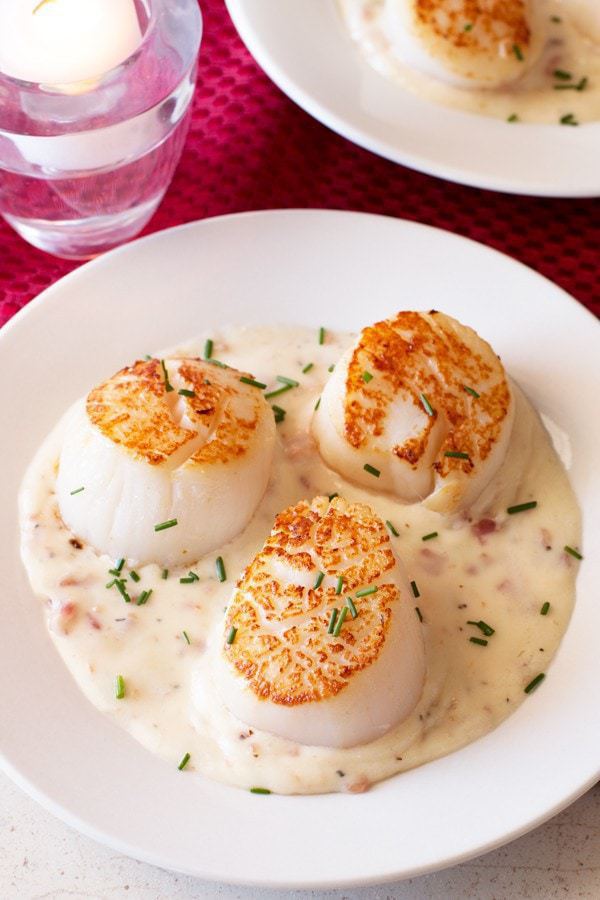 about these pan seared scallops with bacon cream sauce
This is how you open a date-night dinner to remember. For Valentine's Day this year, I wanted to give you all a recipe that will is the perfect way to show someone serious love. Also show yourself how much you love YOU.
Because there's no other way to say "I love you" than perfectly seared scallops nestled in bacon cream sauce.
I mean, seriously, is there anything that bacon cream sauce can't make magical?
This dish is honestly the one meal I will bust out when I am trying to impress.
Easy to make and gorgeous. It doesn't get much better than that.
BTW, you can totally turn this into a full meal alongside some couscous and asparagus! YUM.
isn't it hard to cook the perfect pan seared scallops?
I think scallops terrify a lot of people because they can go from silky to rubber in about 10 seconds. However, if you keep a close eye on them, even if you pull them a little early and let them rest, they come out perfect in just about 2 minutes or less.
Really the scallops are the easy part. I can hear you rolling your eyes, but really, they are easy!
The one thing I do have to say is that you HAVE to follow the instructions to the letter for cooking these pan seared scallops.
All I can say is that Gordon Ramsey really knows what he is talking about.
No matter how many times I make these scallops, they always turn out perfectly cooked and golden. It's a technique that is really hard to screw up, so cooks of any skill level can master it easily!
The difficult part of this recipe is keeping yourself from sticking your face in this bacon cream sauce and inhaling it all. Your date actually might still be licking the plate to get every little drop of this sauce before you take it away.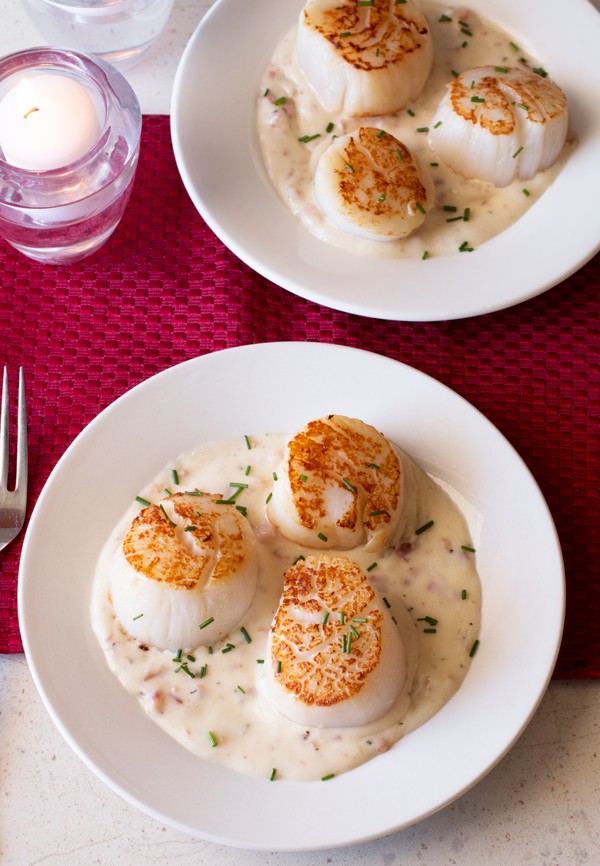 ingredients
bacon – I recommend using a thick-cut bacon (I like the Wright brand personally!) because the thicker pieces really stand out in each bite. However you can use whatever your favorite is – the flavor will come through in the sauce!
butter – unsalted butter is best here because the salt content in the bacon brings enough salt to the party!
heavy cream – use heavy whipping cream for this recipe. It adds the richness to the creamy sauce!
parmesan – I always recommend buying a block of parmesan and grating it yourself for the recipe. You can buy it pre-grated, but the flavor is just never as good.
oil – I used canola oil to sear the scallops, however you can also use grapeseed oil or vegetable oil. You want a light oil that has a high smoke point.
scallops – be sure to buy fresh, not frozen, diver scallops for this recipe! You want them to be fresh, because frozen scallops tend to retain water and don't sear off as well. This is the recipe to splurge on so opt for the freshest you can find!
this recipe's must-haves
The one knife I rely on day in and day out in the kitchen is this stunning chef's knife. Seriously, having a good quality knife is the best investment you can make for your skillet!
You will need a nonstick skillet and a saucepan because both are a must for this recipe, and so many others, of course!
More seafood appetizer recipes to explore: Crab Rangoon Dip | BBQ Bacon Wrapped Shrimp | Honey Lime Shrimp Tostadas | Spicy Tuna Poke Wonton Cups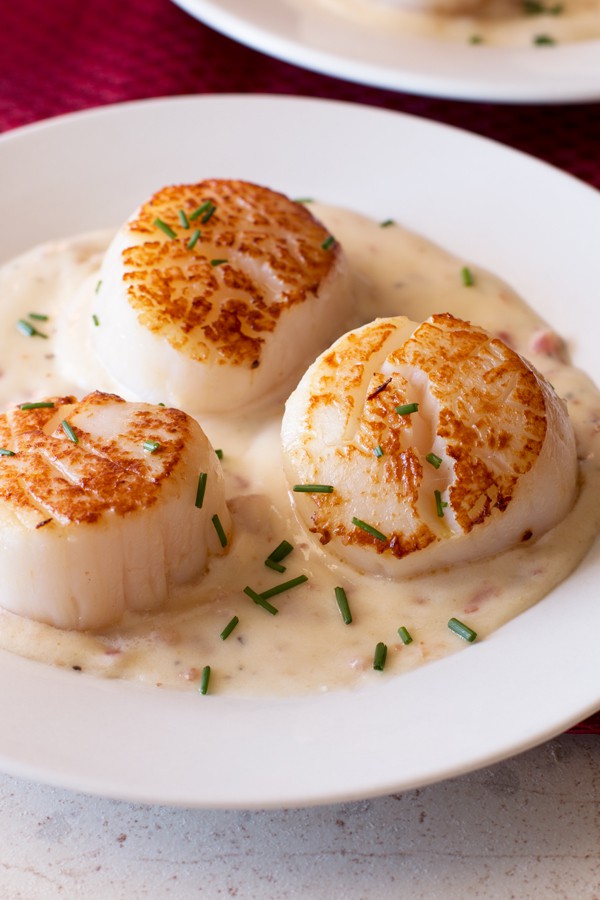 here's how to make pan seared scallops with bacon cream sauce
cook bacon
Heat a medium skillet over medium-high heat. Once hot, add bacon and cook until crisp, about 3 to 4 minutes. Remove the bacon with a slotted spoon to a plate lined with paper towel to drain.
make cream sauce
Keep the bacon grease in the skillet! Add in the butter, cream, and parmesan. Cook over medium heat, stirring constantly, until the sauce is reduced by about half.
Stir in the cooked bacon and season with salt and pepper to taste. Keep warm over low heat while you cook the scallops.
sear scallops
In a separate large skillet, add olive oil and cook over medium-high heat until it shimmers. While that's heating, pat the scallops dry and season with salt and pepper.
Make sure the pan is hot, then add the scallops to the pan working in a clockwise motion so the scallops are in a circle in the pan. By the time you add the last scallop, it'll have been just about a minute. Flip the scallops in the order you added them to the pan. They should be golden brown, so if they aren't, wait to flip them another 10 to 15 seconds.
Sear on the other side for 1 minute, then remove to a plate lined with paper towel to drain. Serve scallops over a layer of the cream sauce and garnish with freshly chopped chives.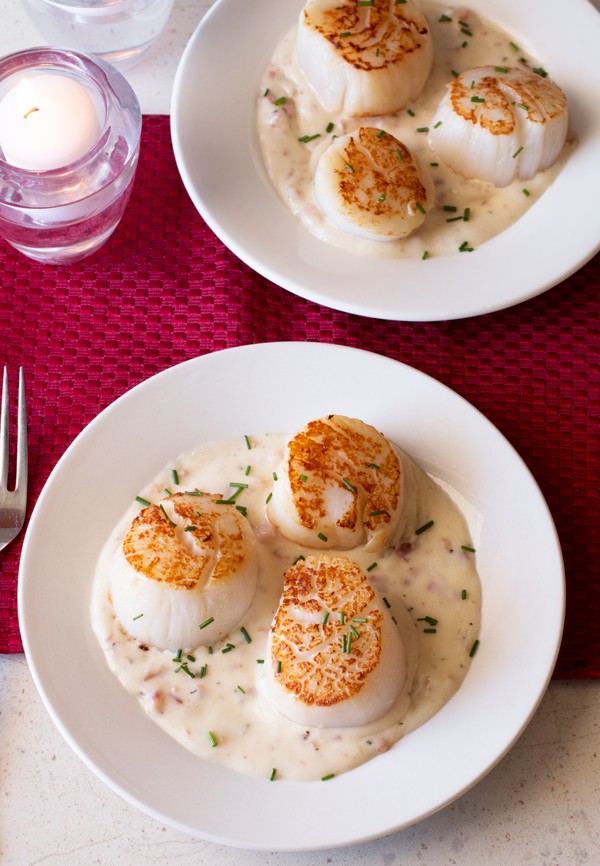 tips for success
using frozen. I highly recommend using fresh, but if you have frozen, be sure to thaw them in the refrigerator overnight before you plan to cook them. Be sure to pat them dry well. I recommend letting them sit of paper towels with a paper towel on top for 10 minutes to absorb excess moisture.
give them space. Make sure you are giving those scallops some space in the pan! If they get too close together, they will boil instead of sear which you don't want!
do not touch! While the scallops sear, do not touch them unless it is to flip them ONCE. The searing process shouldn't be interrupted!
is this recipe keto-friendly?
When I made this recipe, I didn't intend for it to be keto-friendly, but it turns out it is! It's a great fat bomb recipe (or so I've been told my keto friends!), so it works well for that diet.
Need more inspiration for Valentine's Day recipes? Check out my Valentine's Day recipe page!
how long does it take to pan sear scallops?
It takes just 2 minutes! These cook up fast, so be sure to have the sauce ready to go before you start cooking the scallops.
what can I do with any leftover bacon cream sauce?
If you happen to have leftover bacon cream sauce, there are some awesome ways to use it up:
Mix it into your mashed potatoes or cauliflower puree.
Top your grilled steak or chicken with it.
Use it on top of roasted or steamed asparagus (a personal favorite of mine!)
Mix it into the filling for deviled eggs.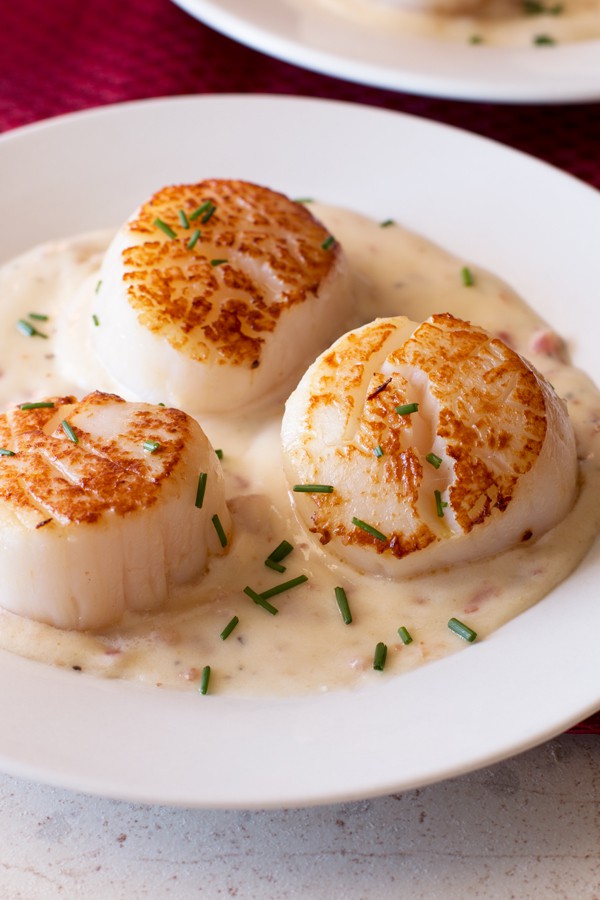 what to serve with pan seared scallops
If you are serving these for Valentine's Day or another romantic occasion, I have a list of Valentine's Day drinks to use for inspiration!
Finally, if you make these pan seared scallops with bacon cream sauce, please be sure to give this recipe a rating or leave a comment! I love to hear when you all make recipes, and I do take the time to respond to every single comment. Feel free to drop questions below too, if you have them!
Oh and be sure to tag me on Instagram if you make the recipe! Love being able to see these recipes come to life in your homes – it's my favorite thing to look through those photos. It really means the world to me!
everyday seasonal cookbook
With seasonal produce guides, recipes, and more, this cookbook is filled with seasonal food for every occasion.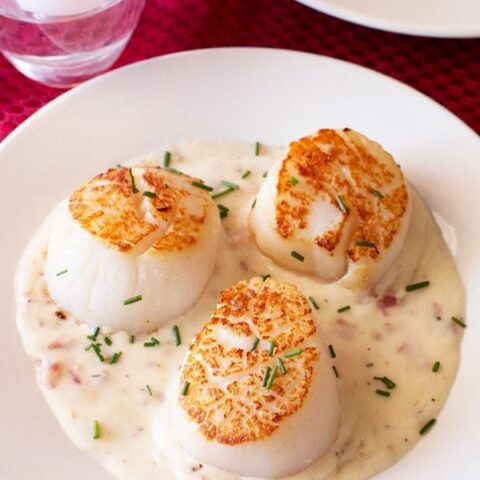 Pan Seared Scallops with Bacon Cream Sauce
If ever there was a recipe to seal the deal on date night, this one is it.
Ingredients
6 slices bacon, chopped
1/2 Tbsp unsalted butter
1 cup heavy whipping cream
1/2 cup Parmesan, freshly grated
1/2 tsp canola oil
6 large fresh diver scallops
Salt & pepper
Chopped chives for garnish
Instructions
In a medium skillet, cook chopped bacon over medium-high heat until crisp. Remove the bacon with a slotted spoon to a paper towel-lined plate to drain.
Add butter, cream, and Parmesan to the skillet with the bacon grease. Reduce the sauce over medium heat by half. Stir in the cooked bacon. Season with salt and pepper to taste. Keep warm over low heat.
In a separate skillet, heat 1/2 tsp olive oil over medium-high heat. Season scallops with salt and pepper. Once the pan is hot (make sure it's really hot!), add the scallops to the pan. Sear until golden brown on one side, approximately 1 minute, and turn over. Sear on the other side for 1 minute until golden brown. Remove to a paper towel-lined plate to drain.
Serve the scallops over a layer of bacon cream sauce. Garnish with chives.
Recommended Products
As an Amazon Associate and member of other affiliate programs, I earn from qualifying purchases.
Nutrition Information:
Yield:

2
Serving Size:

3 scallops with sauce
Amount Per Serving:
Calories:

751
Total Fat:

66g
Saturated Fat:

37g
Trans Fat:

2g
Unsaturated Fat:

24g
Cholesterol:

214mg
Sodium:

1495mg
Carbohydrates:

10g
Fiber:

0g
Sugar:

4g
Protein:

30g