Please note this post contains affiliate links.
Air fryer roasted garlic bread takes garlic bread to a whole new level of flavor. The nutty and rich flavors of the roasted garlic and herbaceous fresh herbs elevate humble garlic bread, without adding a ton of extra work. The air fryer makes this recipe a breeze!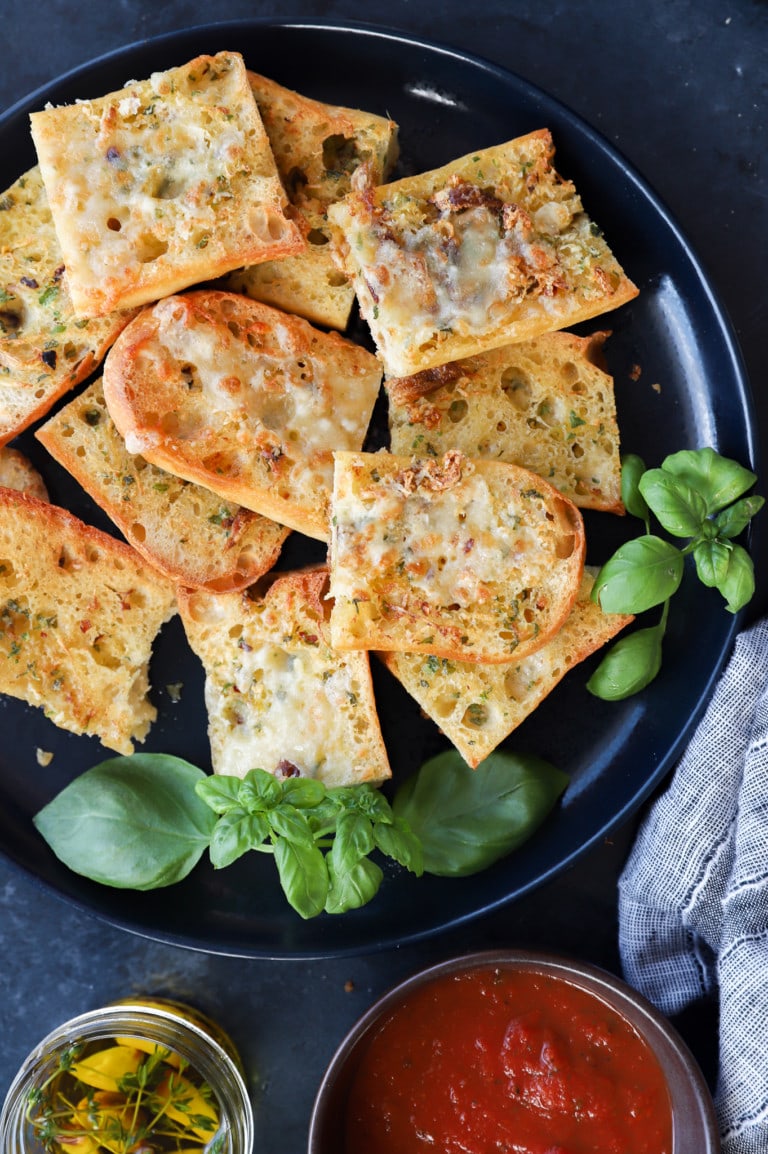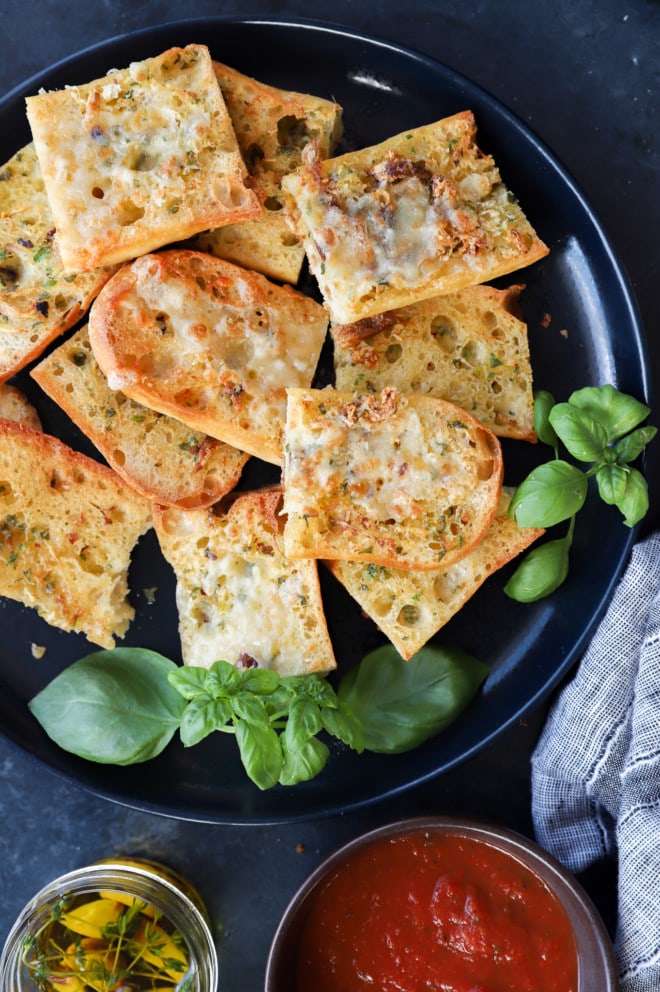 about this air fryer garlic bread
Who doesn't love a piece of garlic bread alongside their favorite plate of pasta?!
The smell of garlic bread cooking in the kitchen is an unmistakable scent that everyone knows and loves. Instead of using the oven, we are using the air fryer!
The Perfect Pair for Your Air Fryer:
The air fryer has taken the cooking world by storm, offering a healthier alternative to deep frying while maintaining that crispy texture we all crave. Yet, it's not just for fries or chicken; it can elevate your garlic bread game too.
Imagine garlic bread with a golden, crispy exterior and a warm, buttery, garlic-infused center, all ready in a fraction of the time it takes to bake in the oven. The air fryer's rapid hot air circulation ensures your garlic bread gets that irresistible crunch while locking in all the rich, savory flavors.
The extra addition to this recipe (and what makes it really stand out) is the incorporate of nutty roasted garlic cloves and fresh herbs. This is what really makes the flavor pop!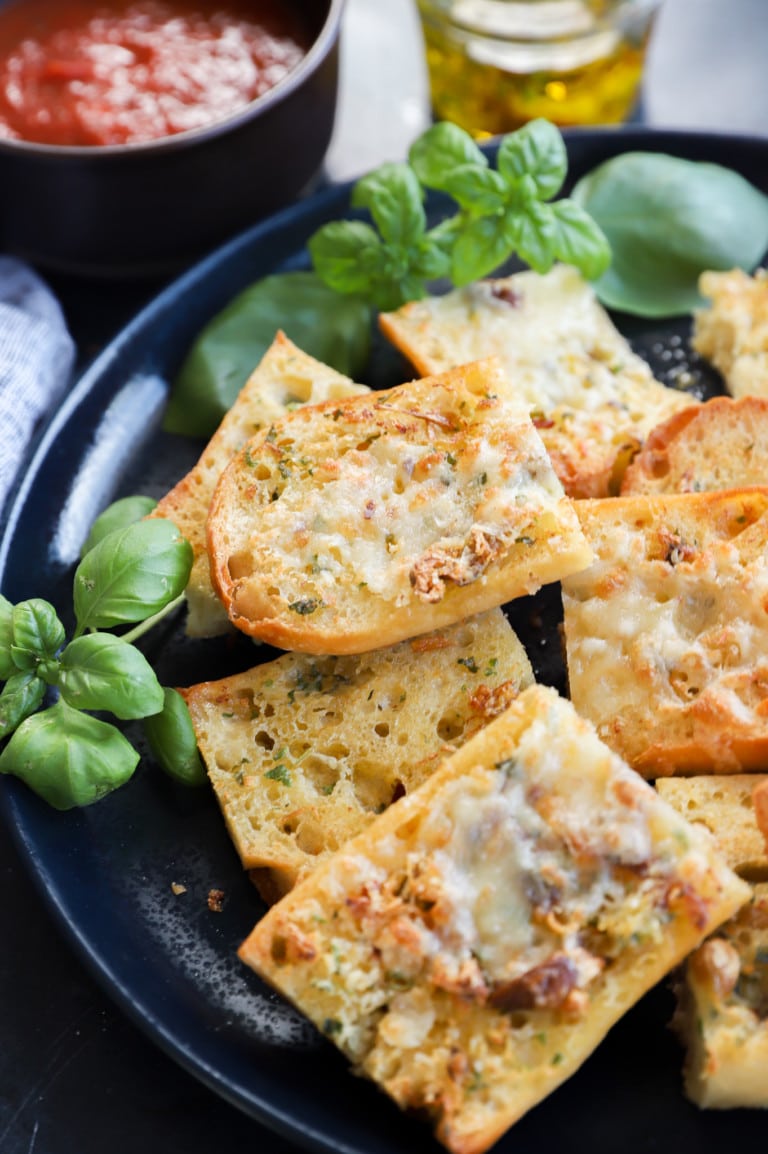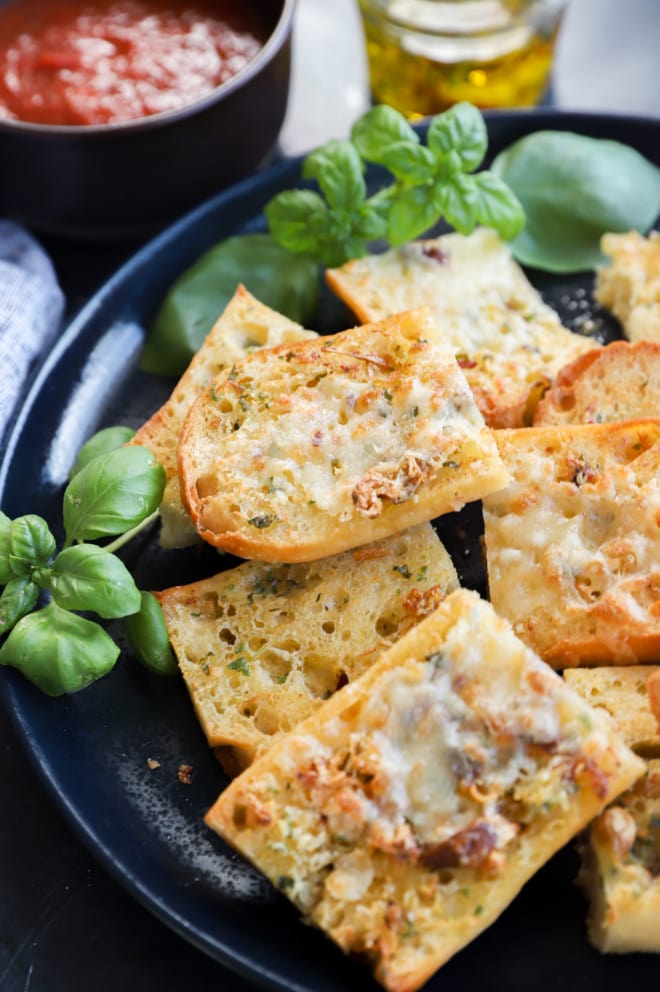 Why Air Fryer Garlic Bread?
If you haven't tried making garlic bread in your air fryer, you're in for a treat. The speed and efficiency are important, but there's an added layer of convenience. No need to preheat a large oven, and no sizzling hot kitchen to deal with on a scorching summer day.
In this blog post, we're diving deep into the world of Air Fryer Garlic Bread. You'll learn the recipe step-by-step, as well as tips and tricks for the perfect garlic spread.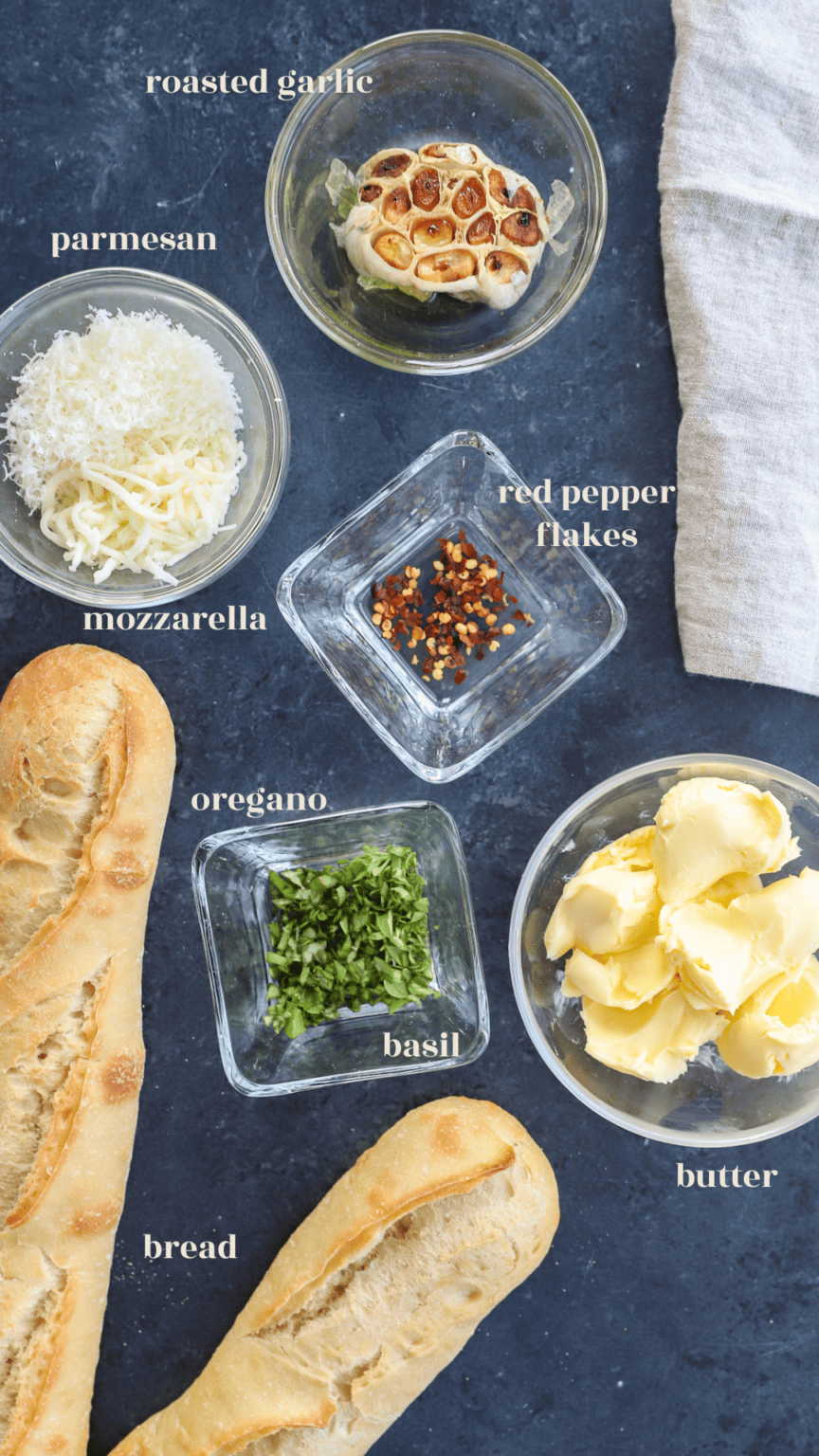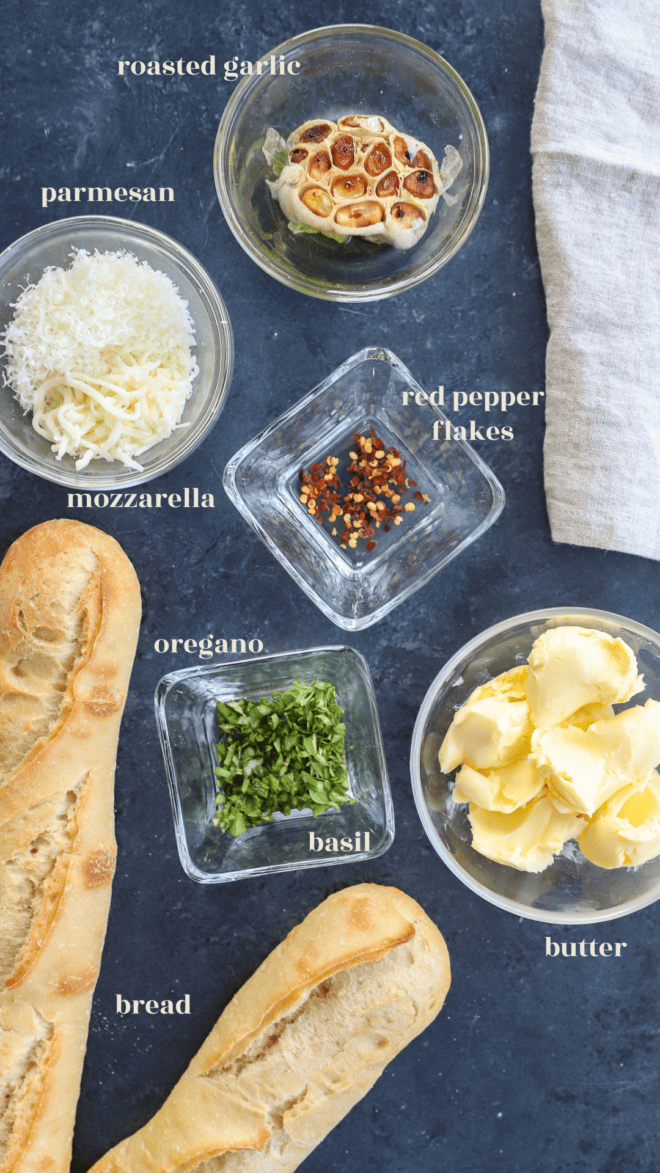 ingredients
bread. I like to use french baguette for garlic bread! I use the demi-baguettes because they are thinner and I can fit more pieces into the air fryer. You can also use a full-sized baguette, or even slices of bread if that's what you have on hand.
butter. Use unsalted butter for this recipe. I recommend using a high-quality butter like Kerrygold – the flavor makes a difference!
garlic. Roasted garlic is preferred for this recipe. I use this air fryer roasted garlic recipe to quickly whip up roasted garlic without having to use the oven.
herbs. Fresh basil and fresh oregano are the herbs used in this recipe! You could also use dried versions of the herbs (I've noted the change in amount in the FAQs below).
red pepper flakes. These are optional, but I like a pinch of them for a touch of heat.
cheese. The cheese is also optional for this recipe! You can make it cheesy garlic bread or just regular garlic bread, whatever your heart desires in the moment.
this recipe's must haves
All you need for this recipe is an air fryer! I use the Instant Vortex Plus Air Fryer, but you can also use Phillips Premium Air Fryer. In my experience, these are the most highly recommended models!
You will just need a small bowl and a spoon to stir together the butter, then spread it onto pieces of bread.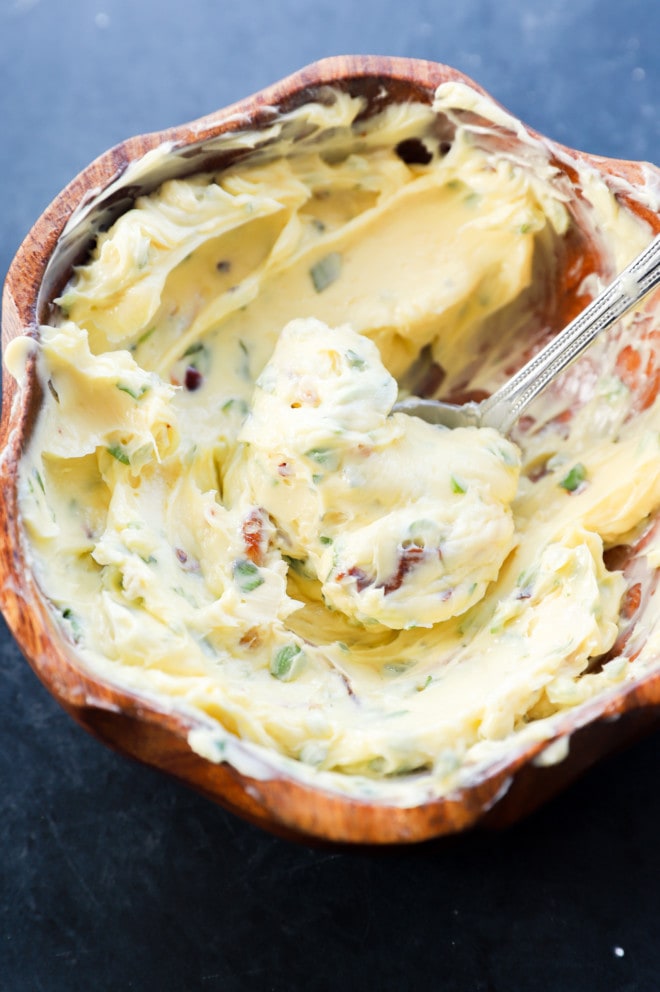 here's how to make air fryer roasted garlic bread
make butter
If you need to preheat your air fryer, preheat it to 350˚F.
In a small bowl, stir together softened butter, roasted garlic, fresh herbs, and red pepper flakes, if using, until combined.
Cut bread crosswise in half or sized to fit into your air fryer.
air fry
Slather the butter mixture on the cut sides of the pieces of breads evenly.
Place in the air fryer in a single layer. Do not layer the pieces on top of each other.
Air fryer for 6 to 7 minutes.
top with cheese
If using cheese, stir together the two types of cheese in a small bowl.
Top pieces of bread with cheese in the last 1 to 2 minutes of cooking.
Remove from air fryer, slice, and serve. Garnish with additional freshly chopped herbs, if desired!
tips and ideas
adjust the cooking time. If you like your bread extra crispy, add on a minute or two to the total cooking time. You can also reduce the cooking time by a few minutes if you don't like your bread to be so crispy.
preheat if required. Make sure that you preheat your air fryer if it's required for the model you are using!
single layer only. Do not stack the bread pieces on top of each other. Cook the pieces in a single layer so they all get evenly toasted. If you overcrowd the air fryer, you won't get toasty pieces of garlic bread!
serve immediately. When timing your meal, make sure these hit the table fresh out of the air fryer as that is when they taste the best!
More tasty bread recipes to check out: Turkish Bread | No Knead Overnight Bread | No Yeast White Bread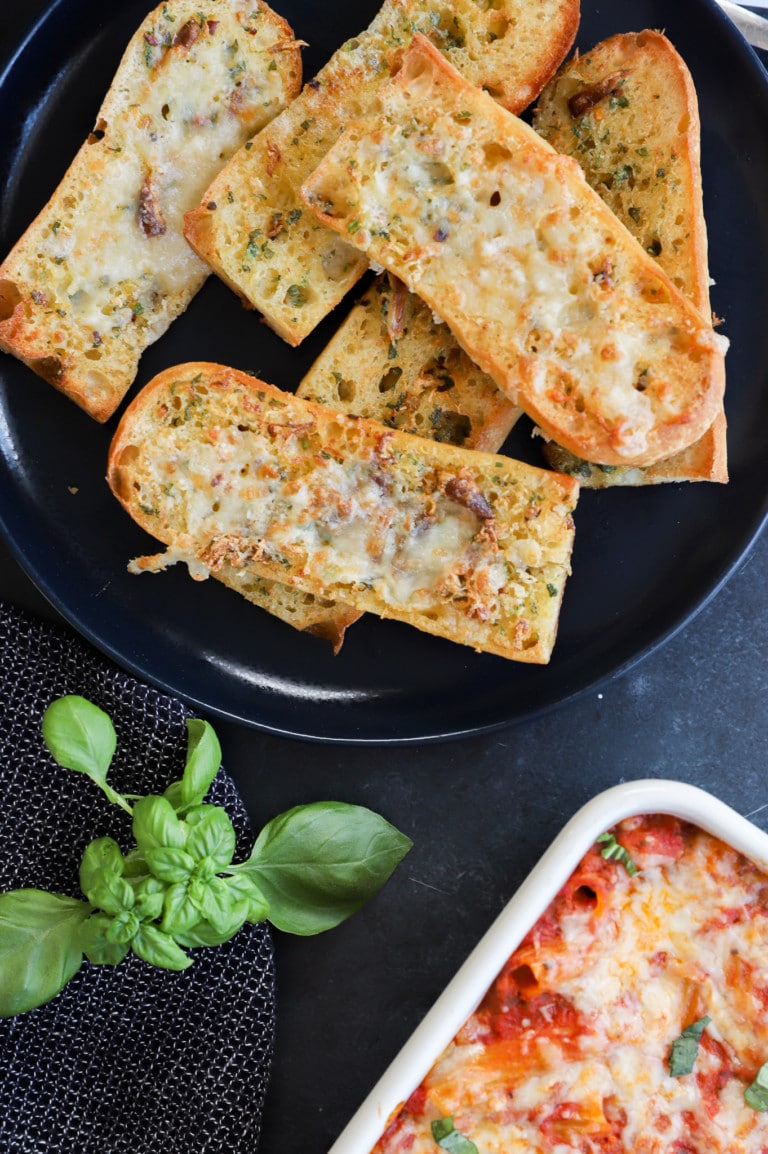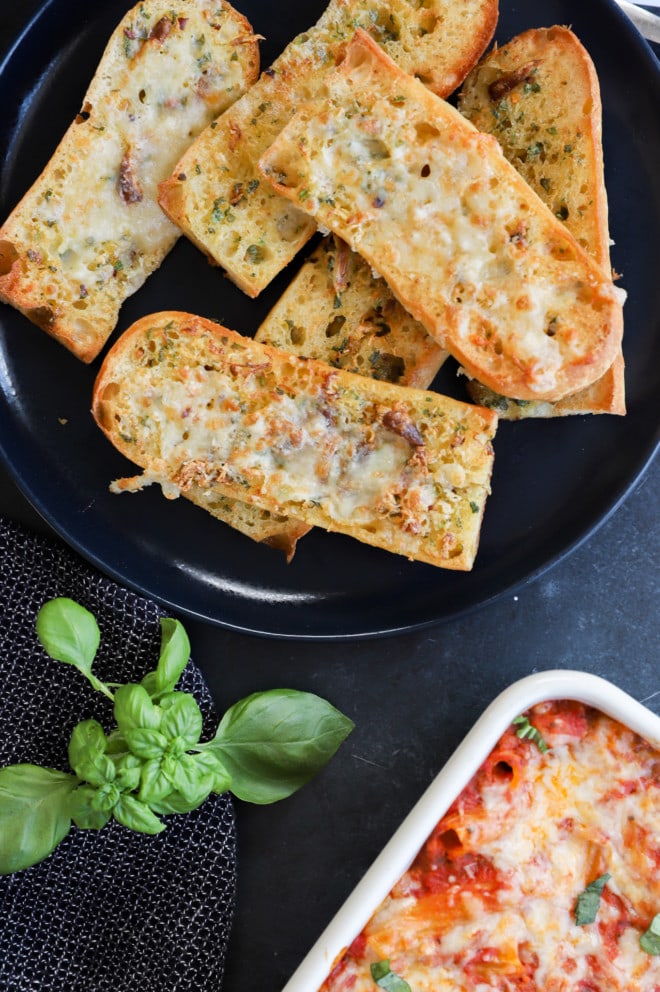 how long does garlic bread take in the air fryer?
Garlic bread only takes about 6 to 7 minutes total cooking time in the air fryer. Since the air fryer heats up so fast, you should be all wrapped up with cooking within 10 minutes. That makes this bread recipe ready in just 15 minutes from start to finish!
do I have to use roasted garlic for this recipe?
I highly recommend using roasted garlic, because it gives so much added depth of flavor to the garlic bread.
Of course, if you are short on time, you can simply use minced garlic instead. You will need 6 cloves of garlic in total.
can I use dried herbs instead of fresh?
Yes, you can use dried herbs if that's all you have on hand. I definitely recommend using fresh oregano and basil. If you have to use dried herbs, use 1 tsp dried basil and 1 tsp dried basil.
can I freeze this garlic bread?
Yes, freezing garlic bread is super easy! I recommend freezing the bread before you cook it in the air fryer. Once you spread the butter onto the bread pieces, place them on a plate or baking sheet (buttered side up). Freeze until frozen solid, about 3 to 4 hours. Place in an airtight container in a single layer. If you can't fit the pieces in a single layer, add pieces of parchment paper between the layers.
Air fry the pieces from being frozen for about 7 to 8 minutes total. Be sure to add cheese in the last 1 to 2 minutes of cooking if you are using it.
what temperature do you reheat garlic bread in the air fryer?
If you are reheating garlic bread from being stored in the refrigerator, reheat the bread in the air fryer for 2 to 3 minutes at 350˚F.
From frozen (already cooked), reheat the garlic bread at 350˚F for about 5 to 6 minutes.
If you are freezing this recipe uncooked as I've instructed above, you will need to cook it for 5 to 6 minutes at 350˚F. Add the cheese on top, if desired, and cook another 1 to 2 minutes.
Need more inspiration for side dishes? Check out my side dish recipes page!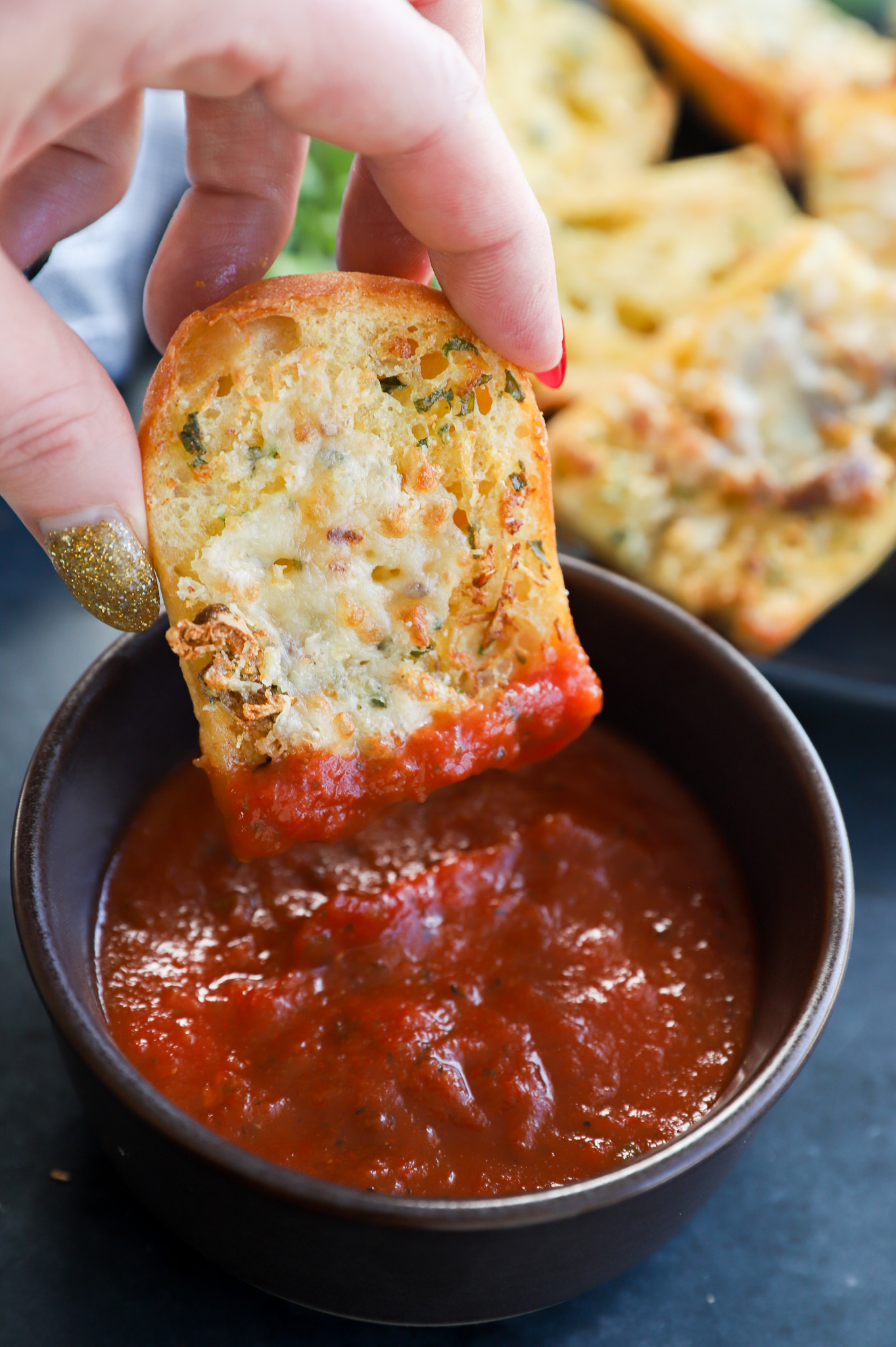 what to serve with air fryer garlic bread
Garlic bread can be paired up with any meal! It's an easy side dish, whenever you are craving something garlicky and carb-loaded (which is all the time for us, let's face it!).
Whenever I serve garlic bread, it is always with a saucy pasta dish. I just LOVE dipping that bread in the sauce to soak up every last morsel of flavor. Here are some of our top recipes to try with this air fryer garlic bread:
Gnocchi bolognese bake is the ultimate comfort food, bringing together all the Italian flavors you love in one skillet.
For a creamy pasta, sausage kale rigatoni is an easy meal that has a little spicy kick to it.
In the fall, enjoy a cheesy pumpkin gnocchi bake. The pumpkin and sage elevate the humble recipe to be the ideal autumn dinner.
Simple and quick pasta napolitana comes together in just 20 minutes with simple ingredients.
how to store
Store. Leftover garlic bread can be stored in an airight container for up to 3 days in the refrigerator.
Reheat. I recommend reheating in the oven at 350˚F until warmed through or in the air fryer! You can microwave it for about 10 seconds as well, but it won't retain the crunchiness.
Freeze. Freeze the bread before you air fry it if you are prepping this ahead of time. Spread the butter mixture on the bread pieces, then place on a baking sheet and freeze until frozen solid (a few hours or so). Place in an airtight container in a single layer, or stack between pieces of parchment paper. You can air fry them straight from being frozen, for about 7 to 8 minutes. Follow the instructions to add cheese, if desired.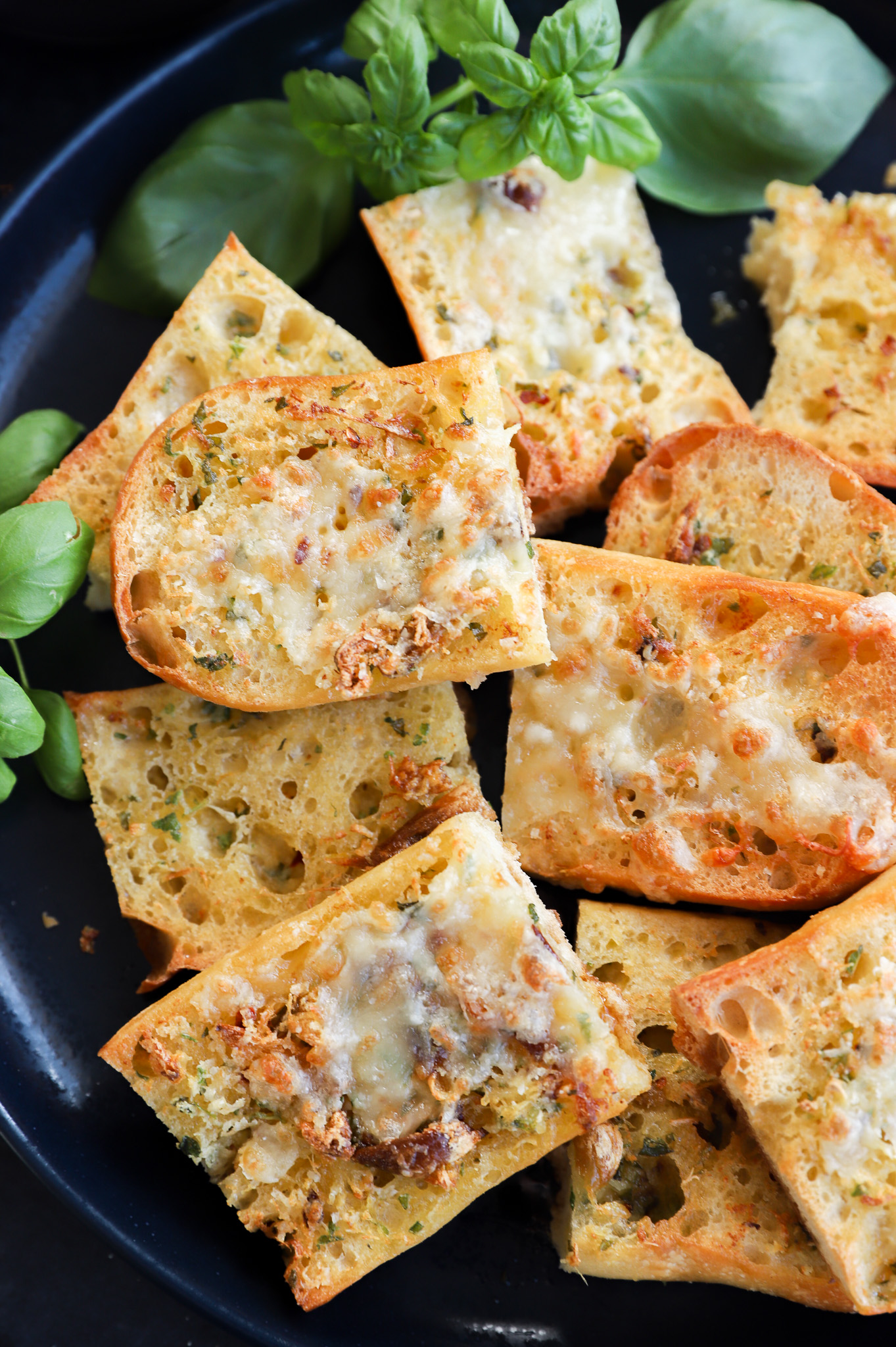 more garlicky recipes
If you need a 20 minute meal, this roasted garlic lemon shrimp pasta is an easy one to whip up!
Never run out of roasted garlic by making air fryer roasted garlic easily and quickly.
Garlic butter oven roasted carrots and potatoes are my favorite side dish – they go with everything.
Finally, if you make this air fryer roasted garlic bread recipe, please be sure to give this recipe a rating and/or leave a comment! I love to hear when you all make recipes, and I do take the time to respond to every single comment.
Feel free to drop questions below too, if you have them!
Oh and be sure to tag me on Instagram if you make the recipe! I love being able to see these recipes come to life in your homes – it's my favorite thing to look through those photos. It really means the world to me!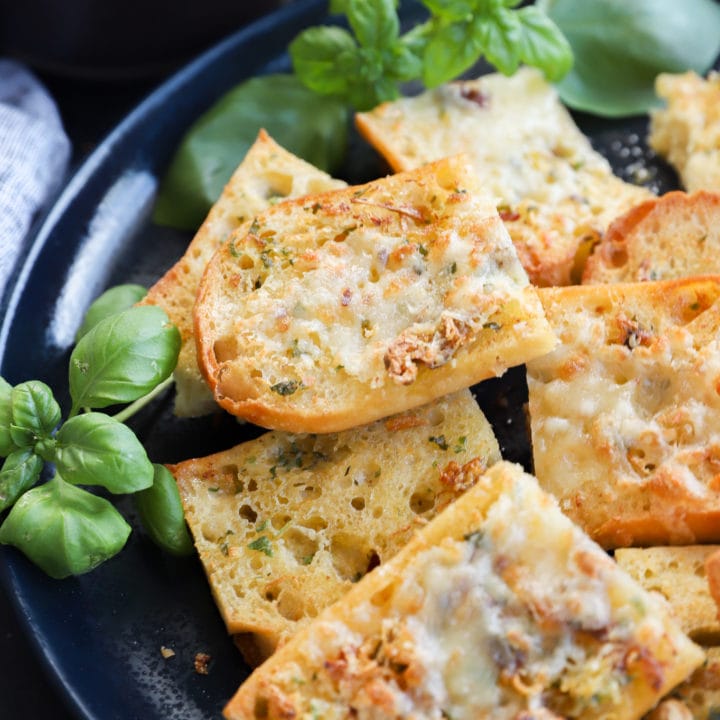 Air Fryer Roasted Garlic Bread
Easy roasted garlic bread is incredibly flavorful and easy to make!
Ingredients
bread
1 half loaf of bread, cut in half horizontally
6 tablespoons butter, softened
6 roasted garlic cloves
1 TBsp freshly chopped oregano + more for garnish
1 TBsp freshly chopped basil + more for garnish
pinch of red pepper flakes, optional
optional
1/8 cup shredded mozzarella cheese
1/8 cup freshly grated Parmesan cheese
Garnish: more freshly chopped herbs
Instructions
If your air fryer needs to be preheated, preheat it to 350˚F.
Cut the bread into pieces that are sized to fit in your air fryer.
In a small bowl, mix together softened butter, roasted garlic, fresh herbs, and red pepper flakes until combined.
Slather the pieces of bread with the butter mixture evenly.
Place bread pieces in the air fryer in a single layer (you may need to work in batches to avoid over-crowding). Cook for 6 to 7 minutes.
If you are using cheese, stir together the cheeses in a small bowl. In the last 1 to 2 minutes of cooking, open the air fryer and sprinkle with cheese evenly. Cook the rest of the way.
Remove bread from air fryer, slice and serve.
Recommended Products
As an Amazon Associate and member of other affiliate programs, I earn from qualifying purchases.