A Summer Garden Vegetable Hummus Board is the best way to highlight those summer garden vegetables before the fall sets in! The combination of raw and roasted vegetables provide a fun variation so you can experiment with different flavors and textures. It's the best healthy summer snack!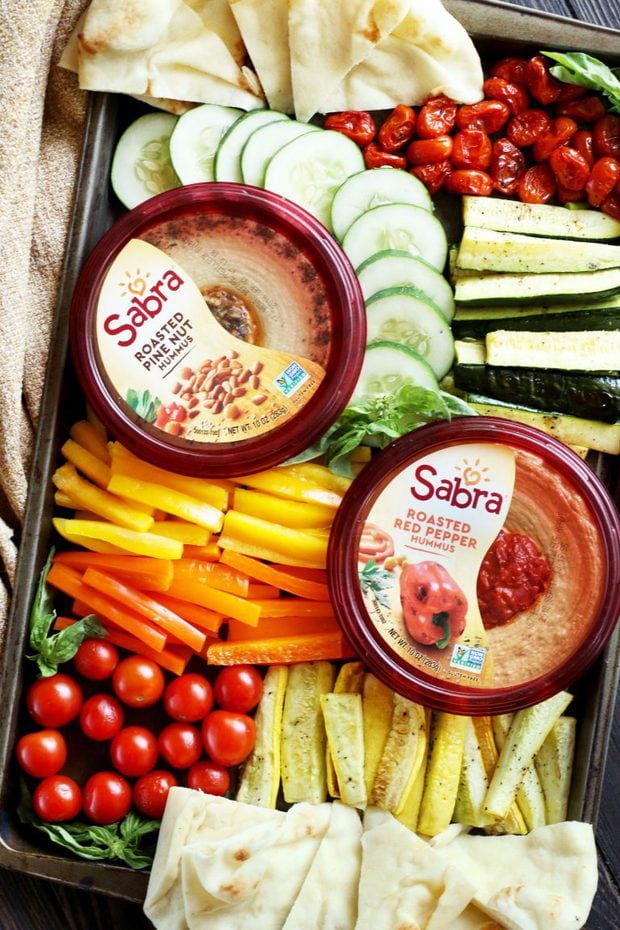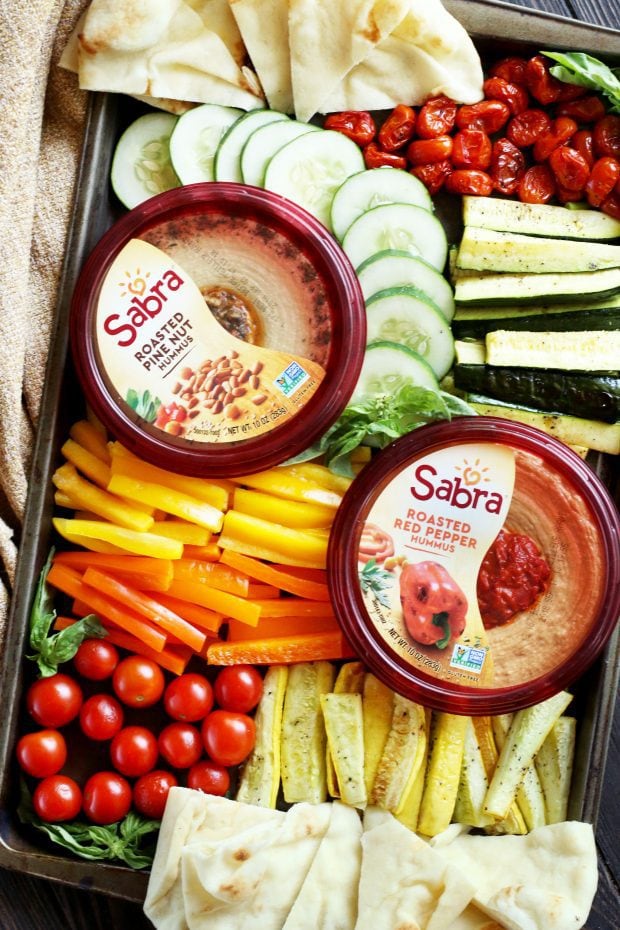 Disclosure: This post is sponsored by Sabra! As always, all opinions and the recipe are my own. Thanks for supporting the brands that support Cake 'n Knife!
September might be upon us this weekend, but that doesn't mean summer is running away just yet.
With sunny skies and warm weather, I am sure your garden is bursting with colorful vegetables this time of year.
I wish I could say my garden is thriving, but alas, our first attempt at a garden this year was a bit of a fail… Thank goodness for all those farmers markets boasting the summer bounty of deliciousness, am I right?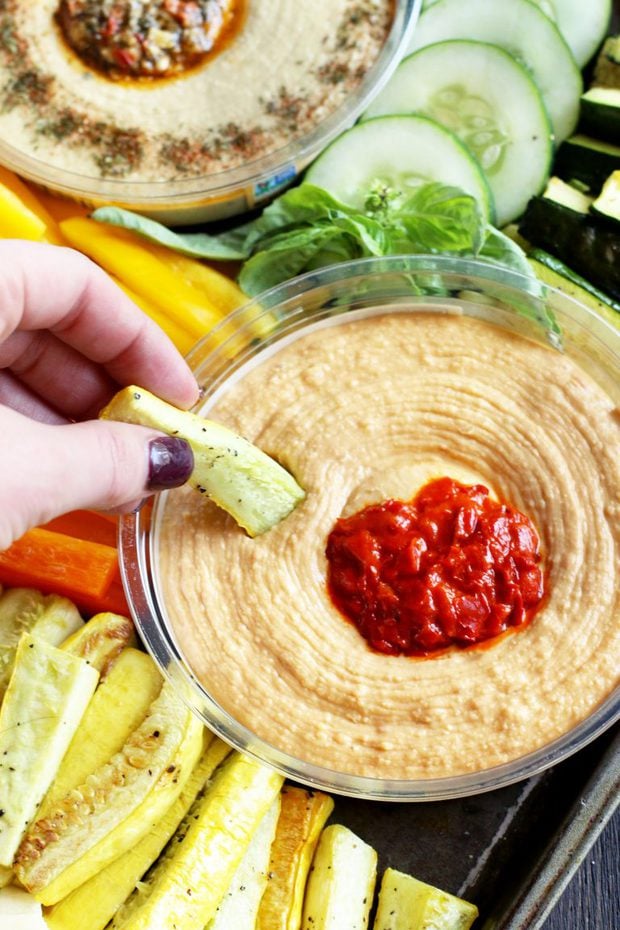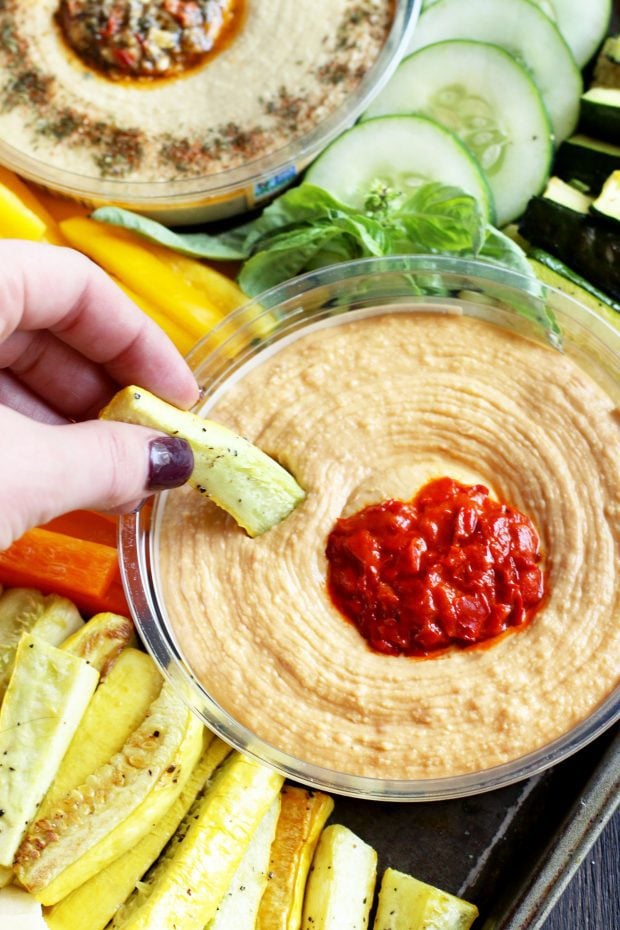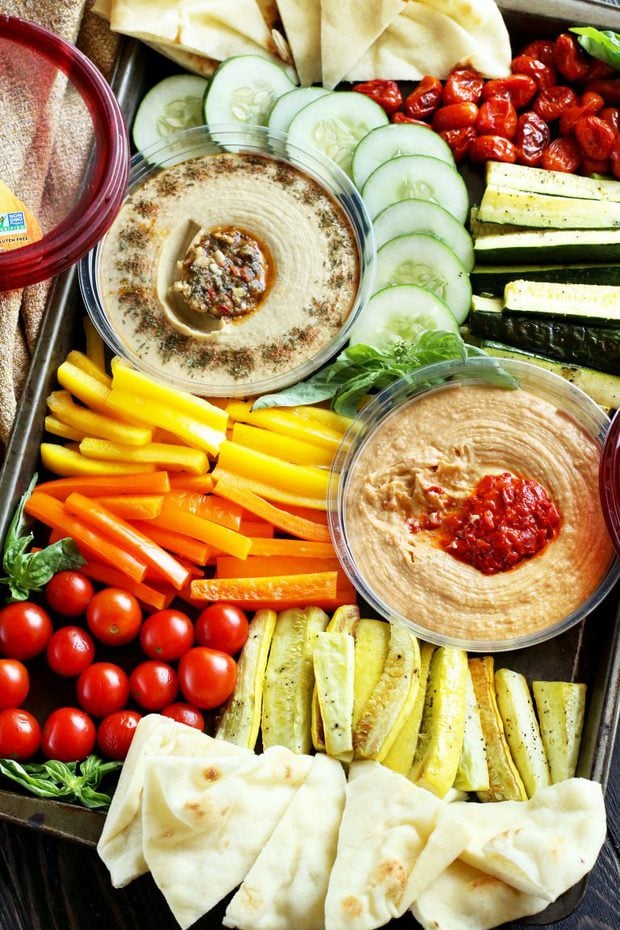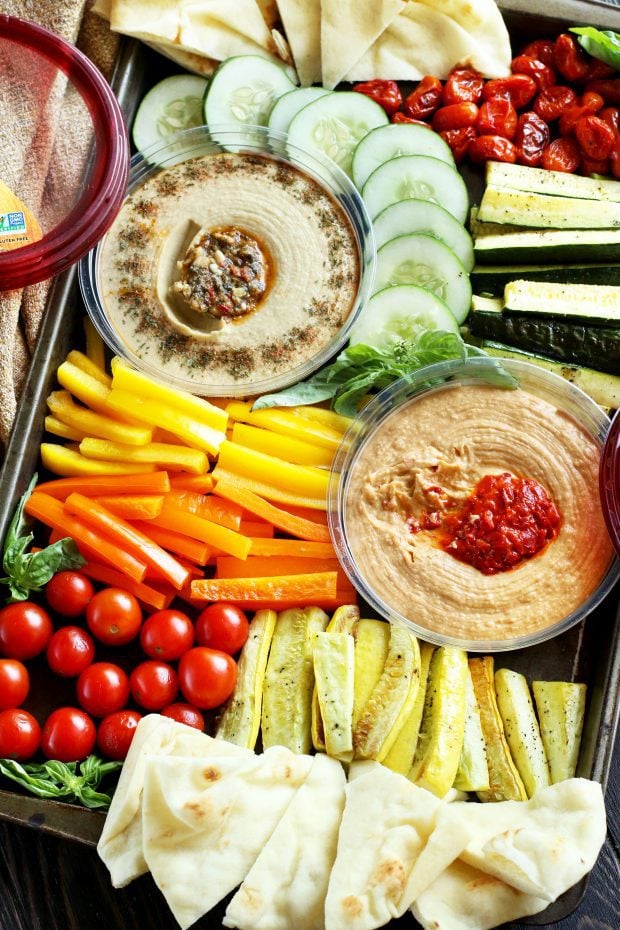 Please note that some of the links below are affiliate links. If you make a purchase through one of these links, I will receive a small commission.
No matter where you are getting your vegetables from, it's time to celebrate these final days of summer the right way.
With an homage to summer produce.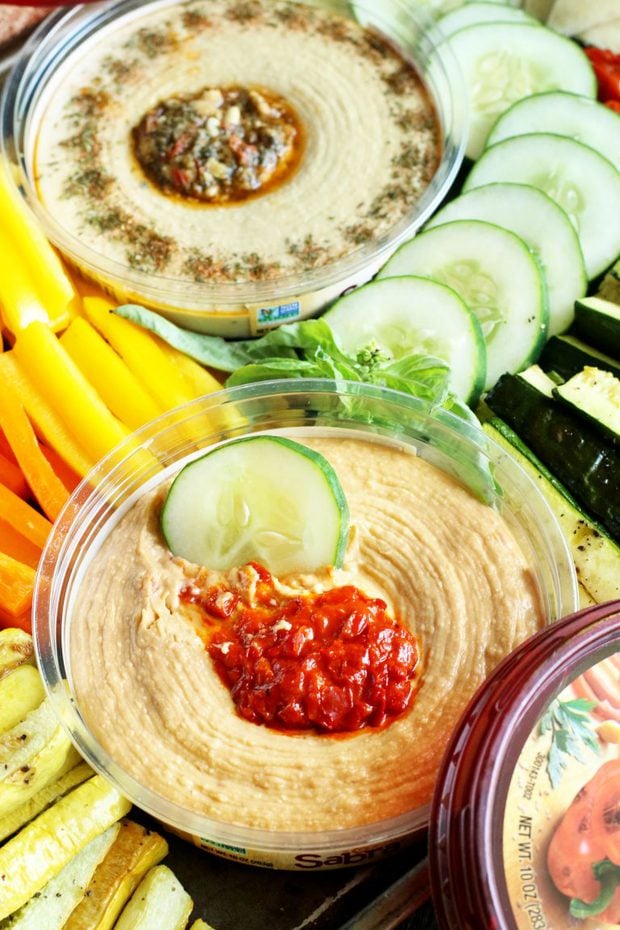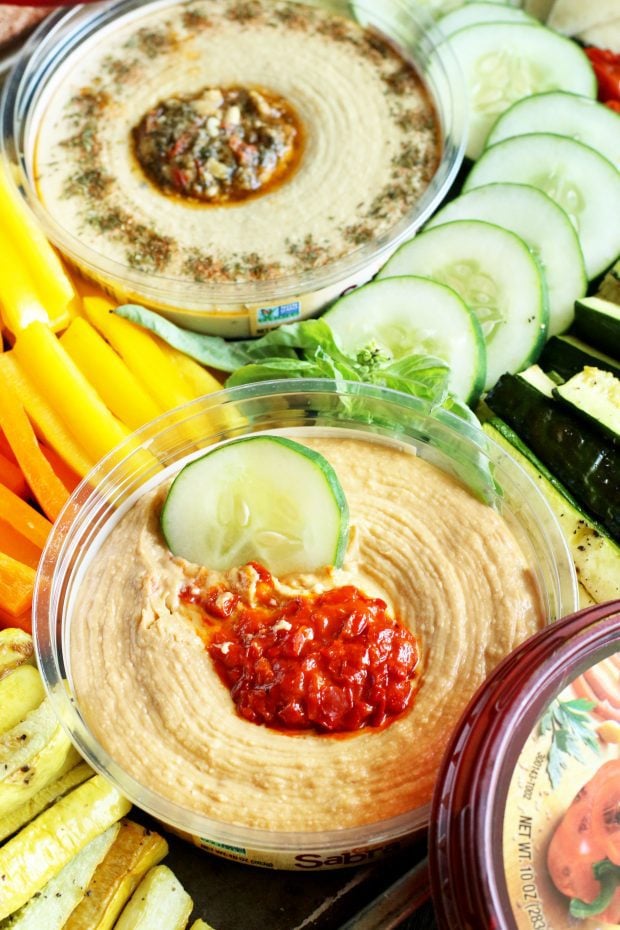 We've all had meat and cheese boards, or cheese and fruit boards, but a vegetable hummus board is really where it's at when it comes to grazing in a healthy and summery way.
I mean just take a look at all that gorgeous color right there… GAH.
If you have been looking for a healthy way to snack, this is the set-it-and-forget-it recipe to keep in your back pocket.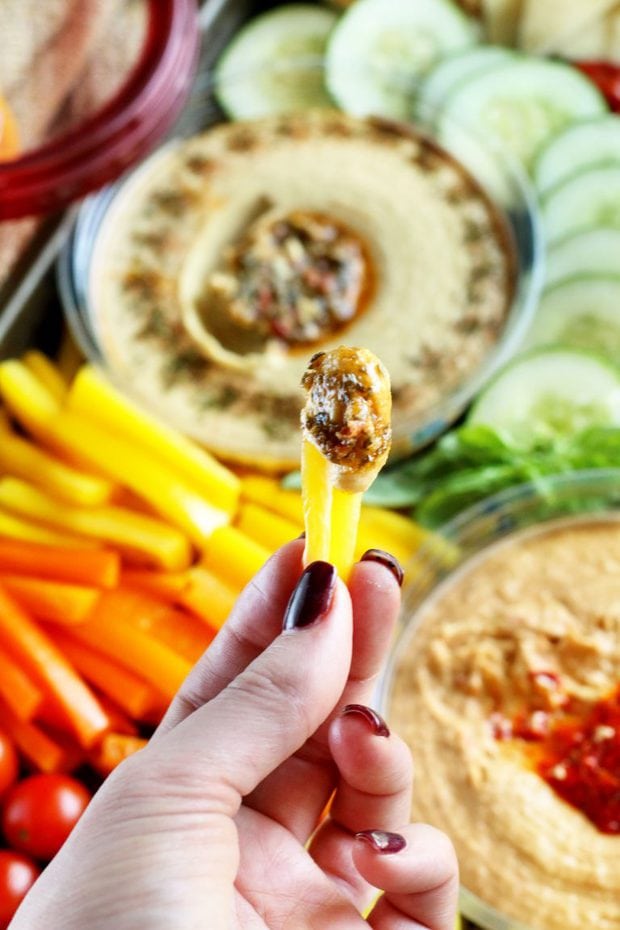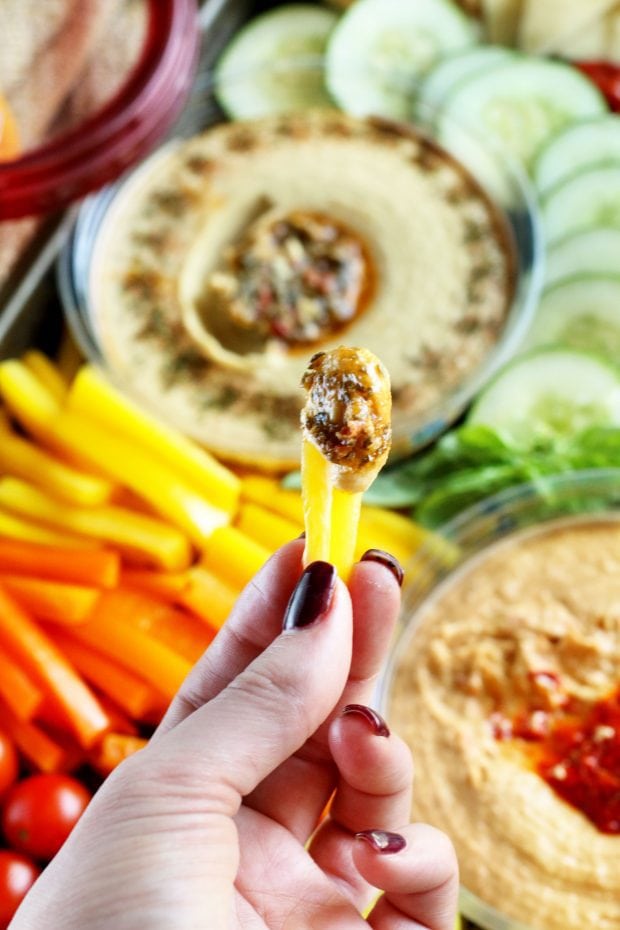 Instead of simply picking up a veggie tray at your local grocery store, explore your garden or the farmers market. Pick up the freshest summer vegetables, and maximize their flavors by serving some of them raw, while serving others roasted.
For this board, I roasted up zucchini, squash, and grape tomatoes to reap the tasty benefits of those particular vegetables, while still making them easy enough to dip into hummus as needed.
I served up bell peppers, cucumbers, and cherry tomatoes raw to give not only a flavor contrast, but a textural one as well!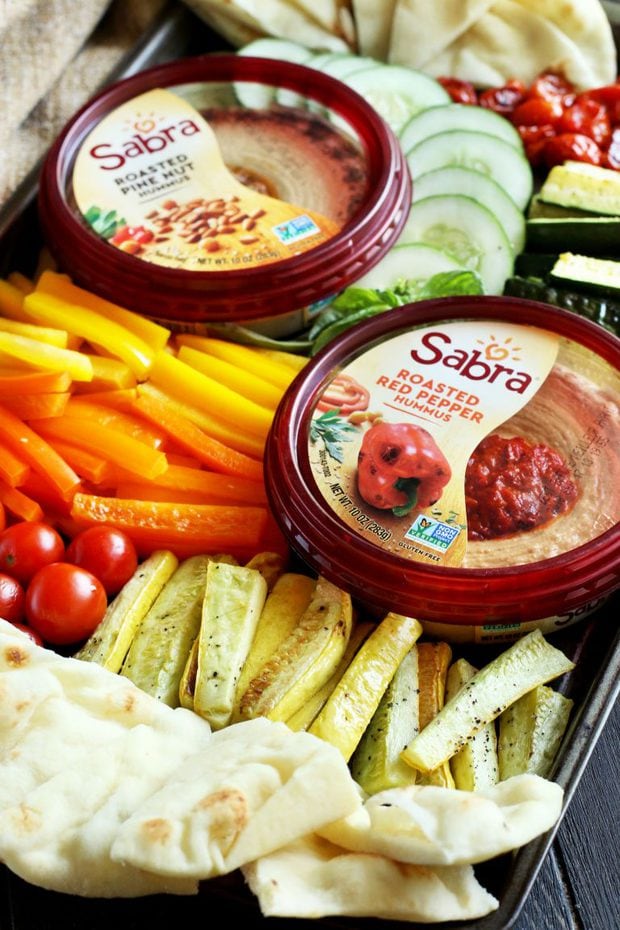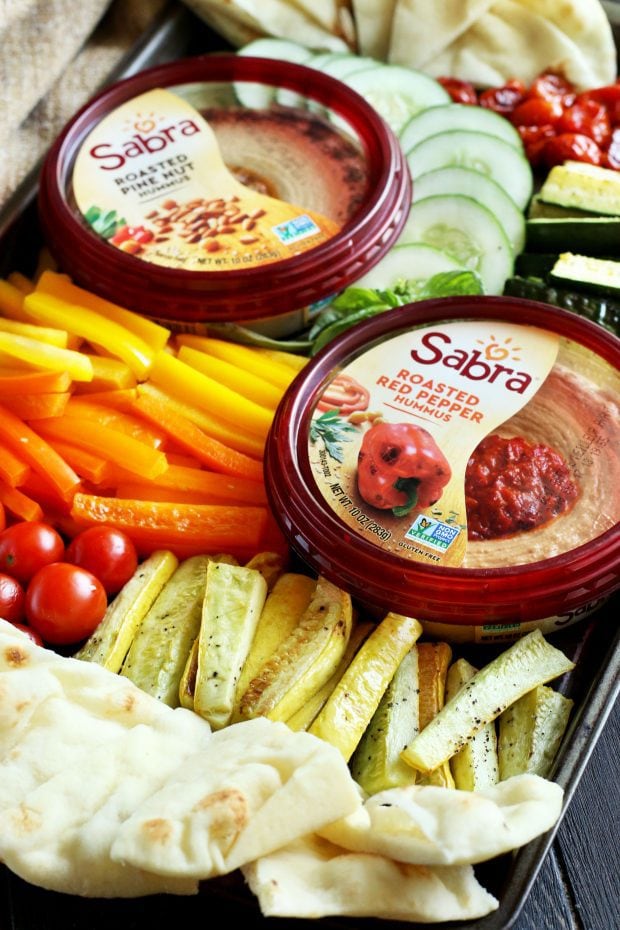 To top off this summer bounty of vegetables, I used two of my favorite Sabra hummus flavors. The Roasted Pine Nut Hummus gives a nutty and herbaceous flavor that pairs perfectly with the bell peppers and cucumber. The Roasted Red Pepper Hummus is the one that I feel goes with every single item on this giant summer board.
So go ahead and gather up as much of those summer vegetables as you can get your hands on. Before you know it the weather is going to be cooling off and you'll have to say "so long, farewell" to all your summer favorites…
If you need another board for summer gatherings, check out this summer charcuterie board!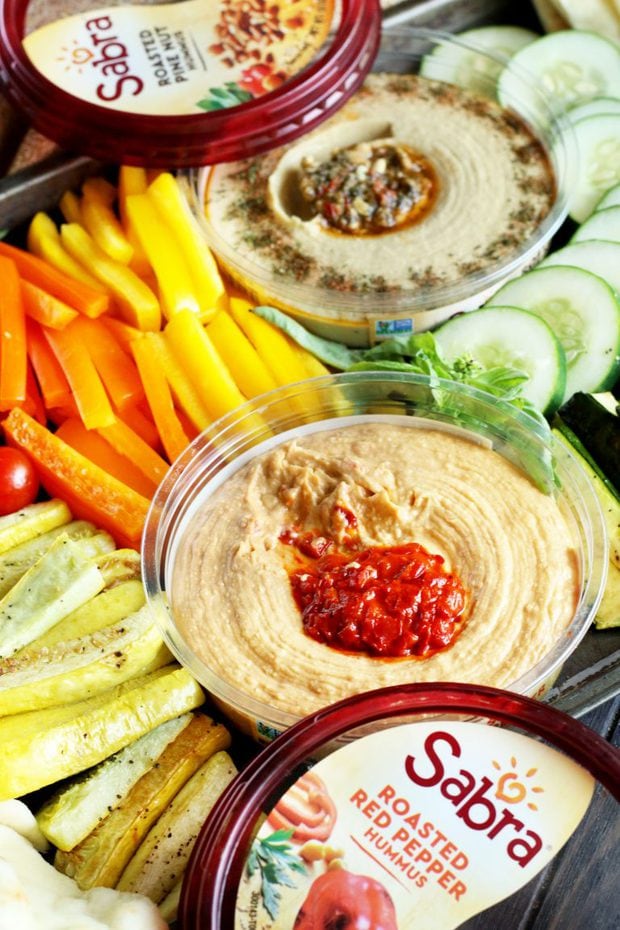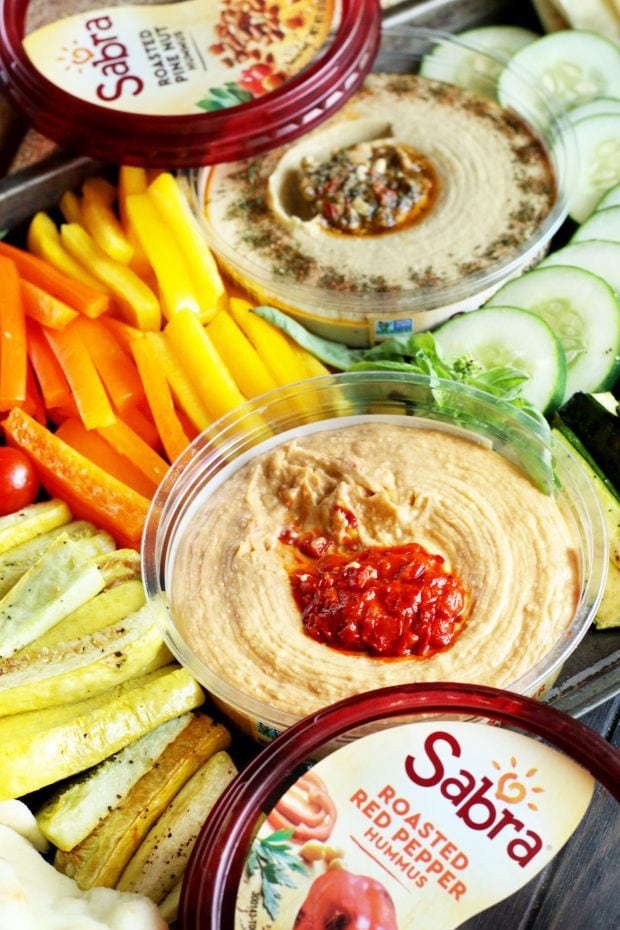 This Recipe's Must Haves
A simple Large Canadian Maple Cutting Board
and one of my favorite knives – the Shun Kanso 7-Inch Hollow-Ground Santoku Knife
– will make all the chopping and slicing required for this board so much easier.
Nordic Ware Natural Aluminum Commercial Baker's Half Sheet Set to roast the tomatoes, zucchini, and squash for this recipe!
Speaking of roasting, I always, ALWAYS use my Silpat Premium Silicone Baking Mats
– even for savory roasting! They work beautifully, last forever, and save paper/aluminum foil so you can protect your baking sheets without throwing anything away.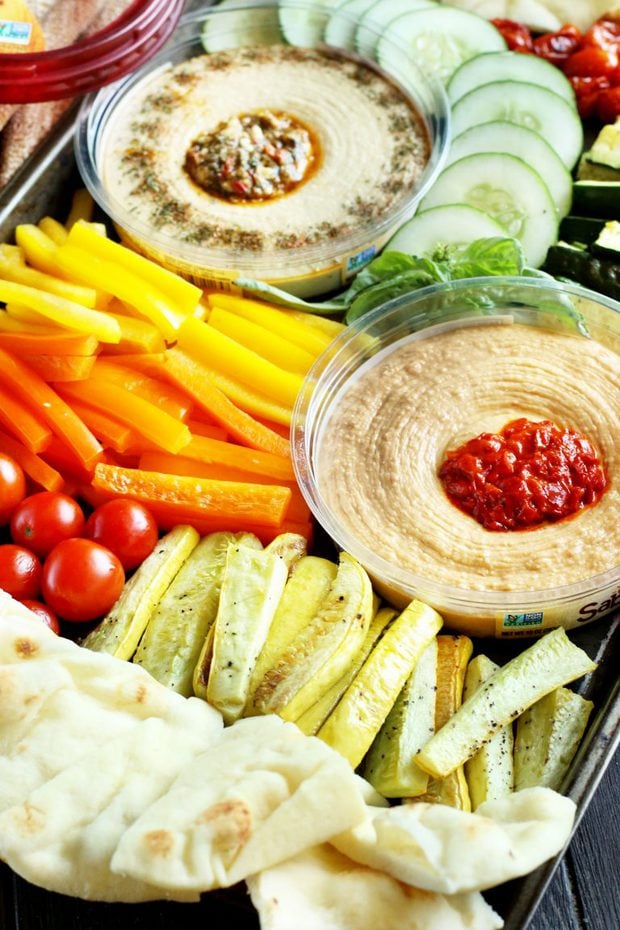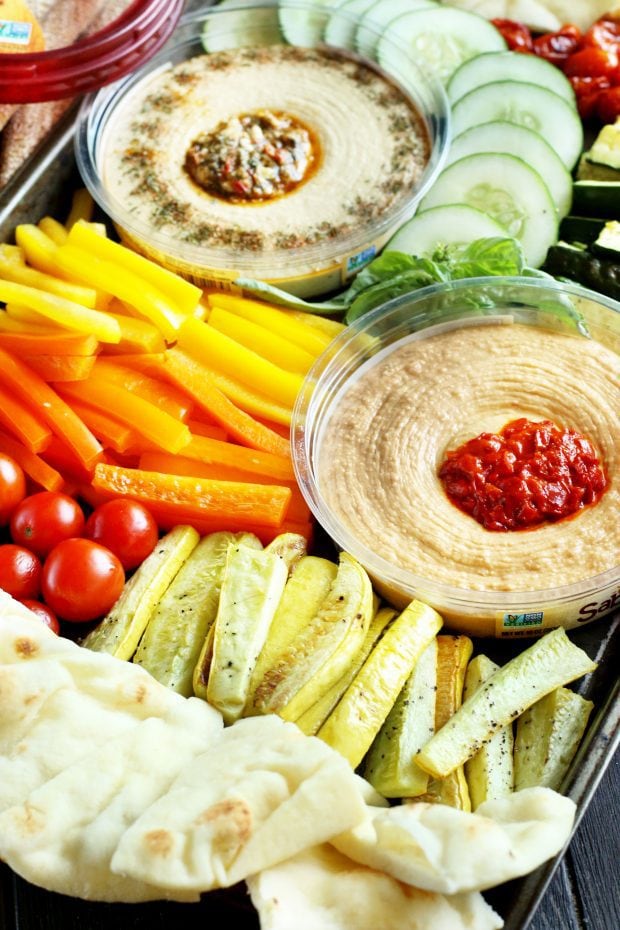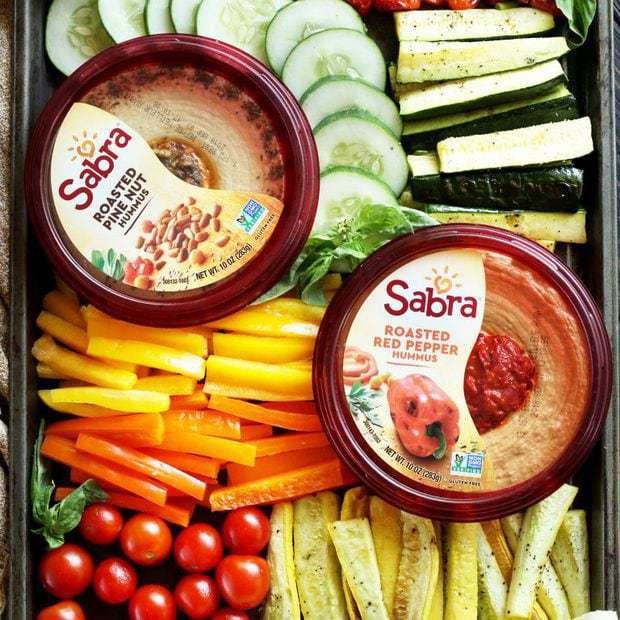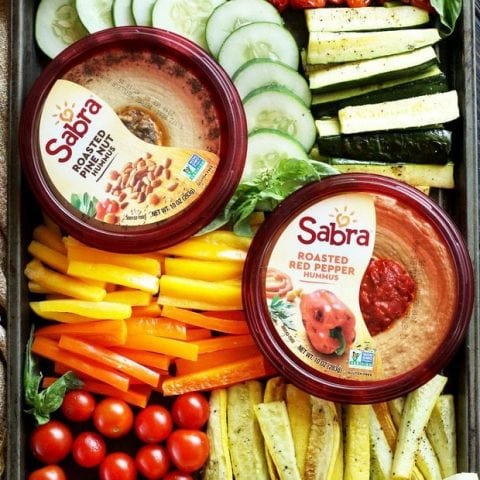 Summer Garden Vegetable Hummus Board
A combination of raw and roasted summer vegetables paired with Sabra hummus makes this board truly unique!
Ingredients
Roasted Vegetables
1 cup grape tomatoes
1 tsp olive oil
1 zucchini, cut into sticks (approx. 1/2-inch wide x 2 to 3 inches long)
1 yellow squash, cut into sticks (approx. 1/2-inch wide x 2 to 3 inches long)
Salt and pepper
Raw Vegetables
1 green bell pepper, sliced
1 orange bell pepper, sliced
1/2 cup raw cherry tomatoes
1 cucumber, cut into 1/4-inch rounds
Hummus
Sabra Roasted Pine Nut Hummus
Sabra Roasted Red Pepper Hummus
Your favorite pita, cut into wedges
Instructions
Preheat oven to 400 degrees F.
Add grape tomatoes, zucchini, and yellow squash to a large bowl. Add olive oil and toss to coat vegetables evenly.
Spread the vegetables on a rimming baking sheet lined with a silicone mat or aluminum foil. Season with salt and pepper.
Bake for 20 minutes, until the squash and zucchini are fork tender. The grape tomatoes should be wrinkled but not burst.
Assemble a platter with the roasted vegetables, raw vegetables, pita wedges, and two hummus flavors.
Notes
Experiment with different Sabra hummus flavors as you like!