Lavender Lemon Curd Filled Doughnuts are the most refreshing, citrusy treat to wake up to in the morning. Perfectly fried fluffy doughnuts are filled with a slightly floral and bright lemon curd that is absolutely lovely! Serve them up for breakfast or brunch and watch as jaws drop all around the table.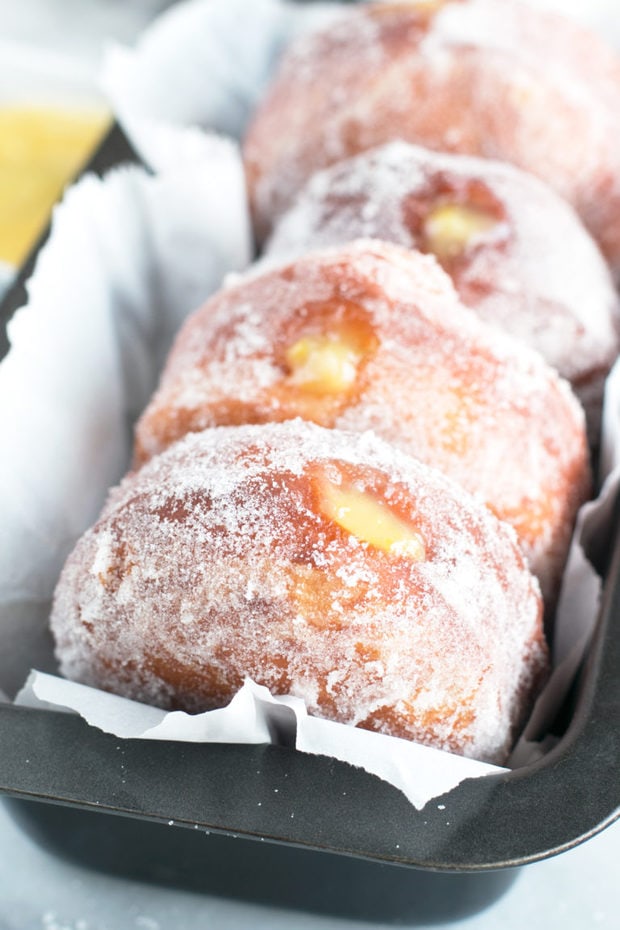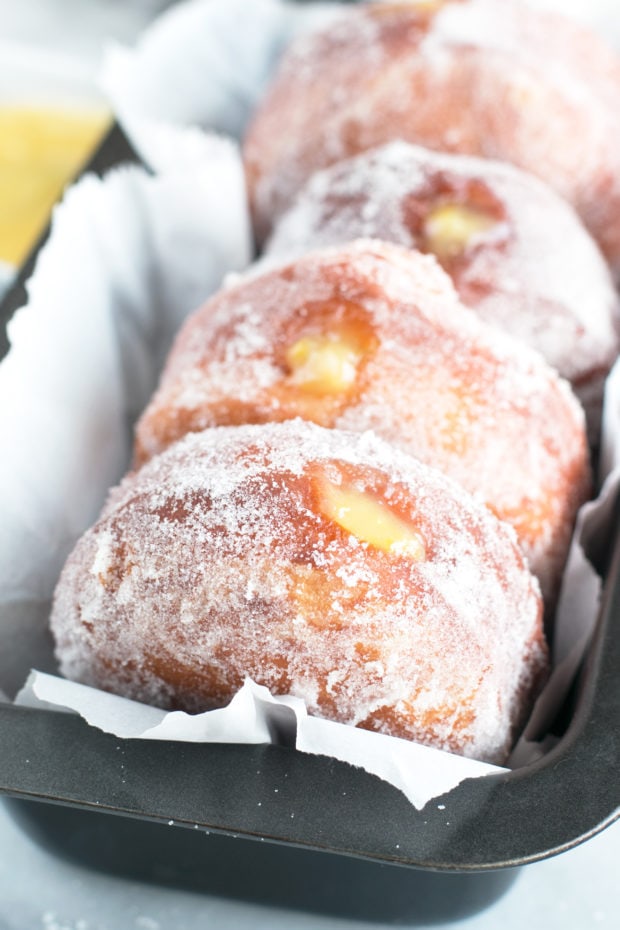 Please note that some of the links below are affiliate links. If you make a purchase through one of these links, I will receive a small commission.
You know when you make something and after the first bite, you are all like, HOLY CRAP THIS IS SO FREAKING AMAZING!!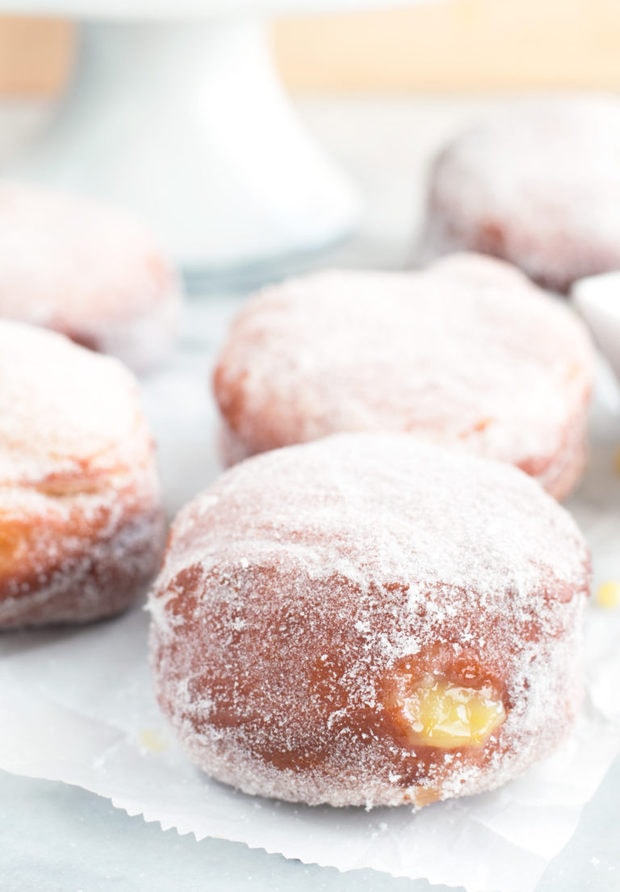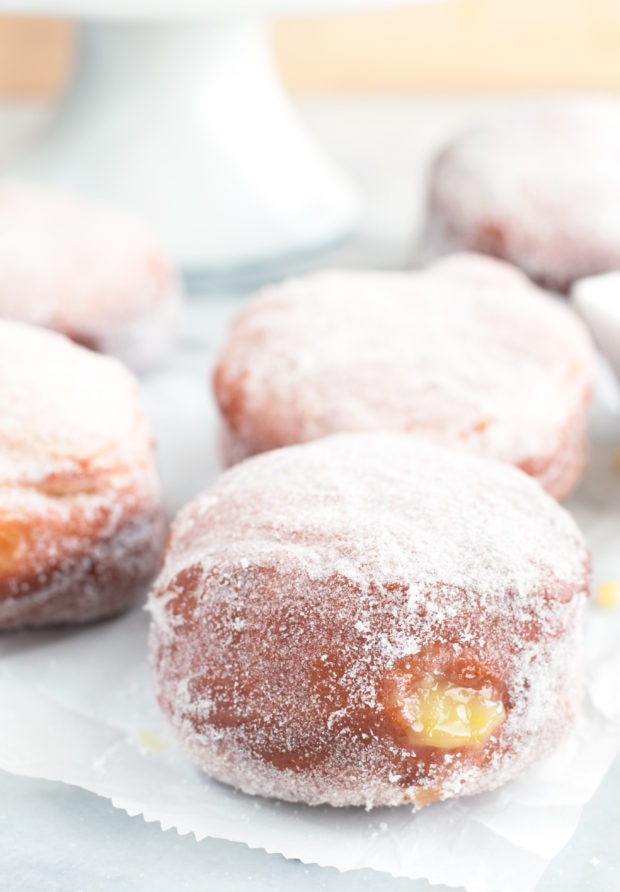 That's how I feel about these doughnuts.
Now I love all the recipes I post here (obvi, or else I wouldn't bother putting them up here), but this is one of the recent recipes I've made that I honestly cannot WAIT to make again.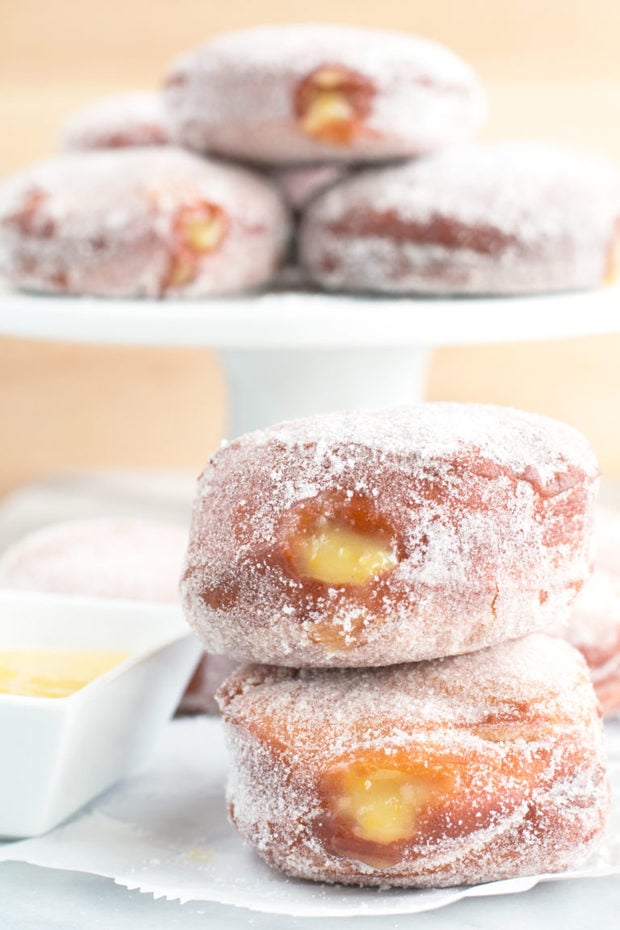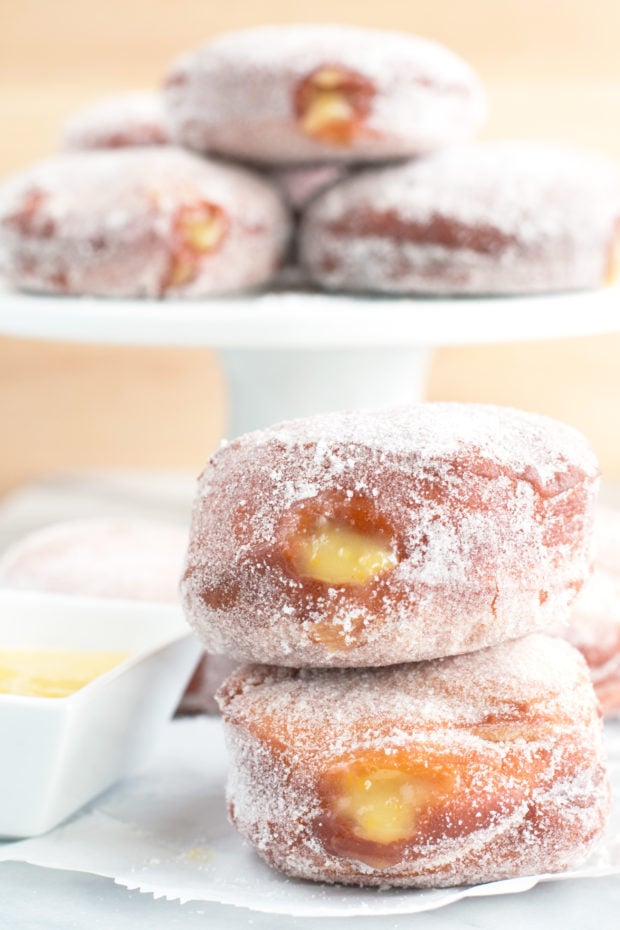 Right now, my mouth is literally watering uncontrollably and I can't wait to get back home from this conference I am at to make another batch.
Oh lavender lemon curd filled doughnuts, how can I accurately describe just how lovely you are?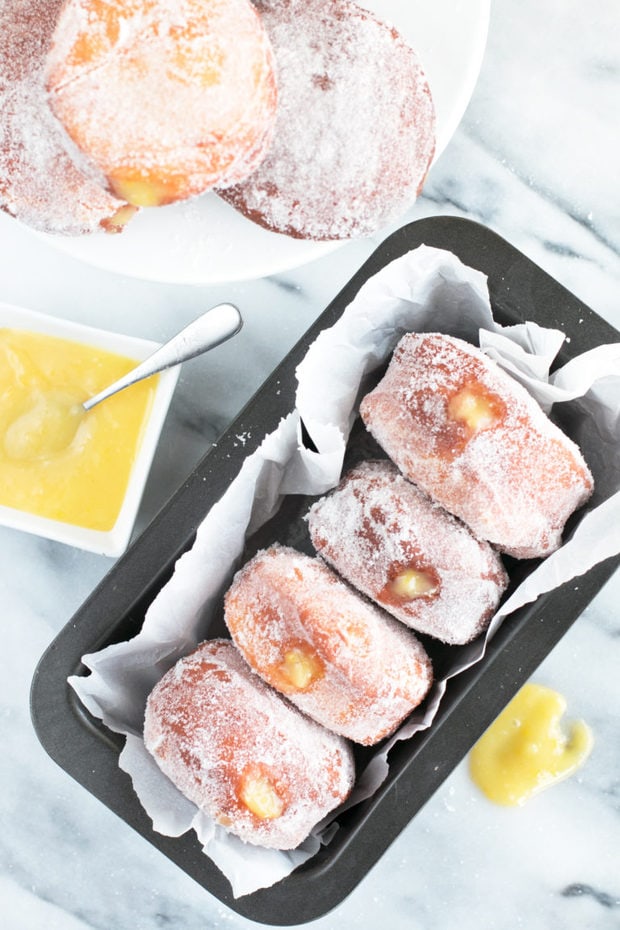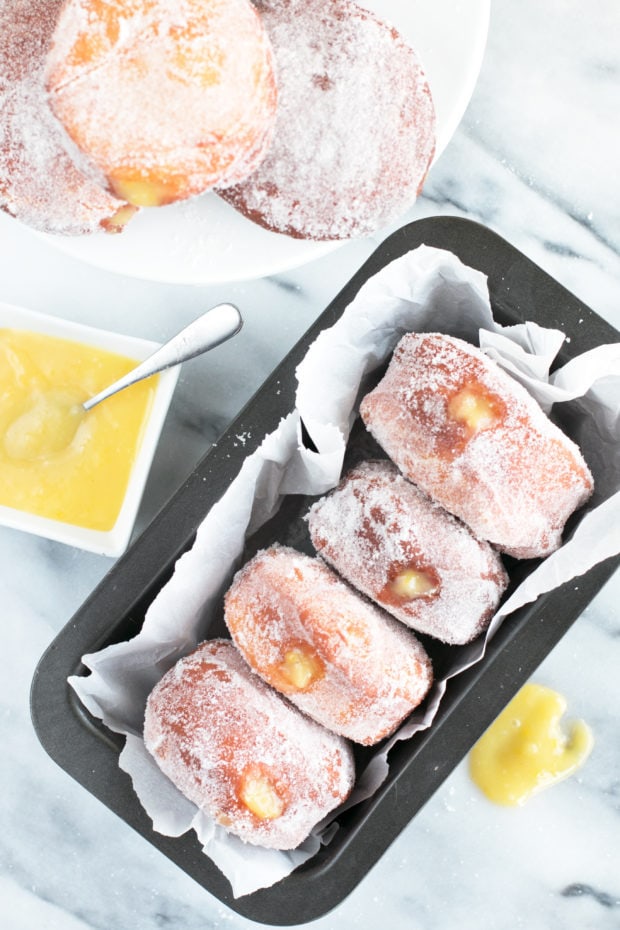 Let's start with that gorgeous lavender lemon curd, shall we?
Making lemon curd may seem intimidating, but quite honestly, it's very simple. As simple as putting together ingredients over the stove, stirring and letting it thicken, then cool.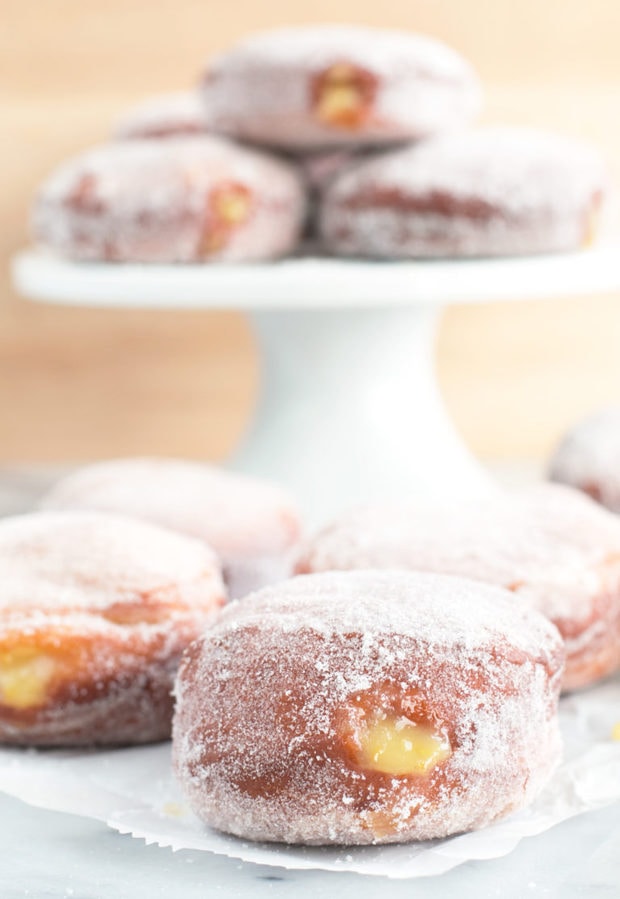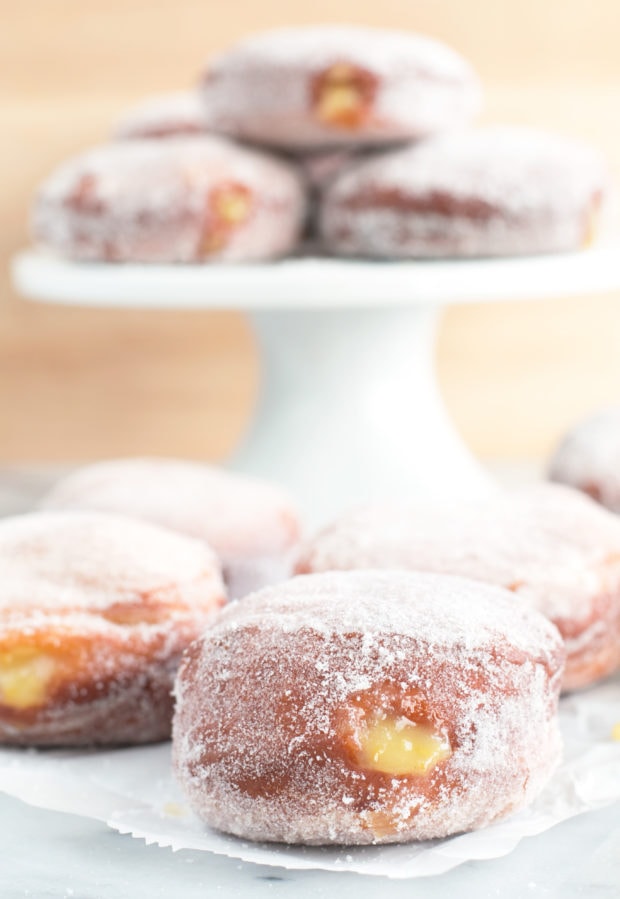 This lemon curd is taken to the next level because it is not only bright and citrusy, but it's also enhanced with a touch of floral richness from the lavender extract.
The flavor simply explodes in your mouth with this "hey it's time to wake up!" deliciousness that will perk you right up, no matter how little sleep you got the night before.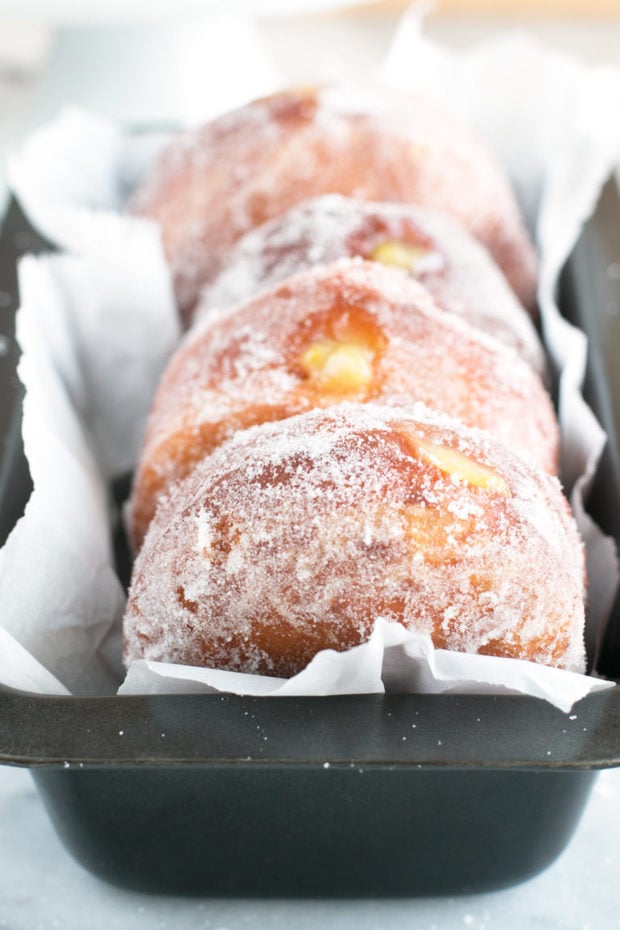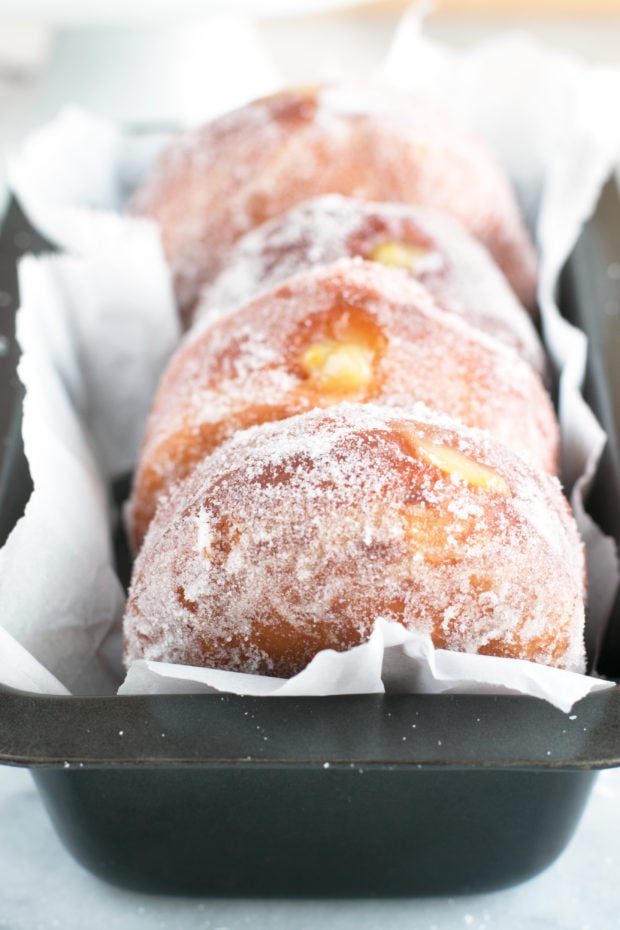 Then all of this gorgeous brightness is wrapped in a fluffy fried doughnut that is surprisingly light!
Now, all of this deliciousness is enhanced by one major thing… My friend Madison is having a baby soon!! I only wish I could be in the same city as this amazing lady so I could serve her up a tray of these doughnuts in person…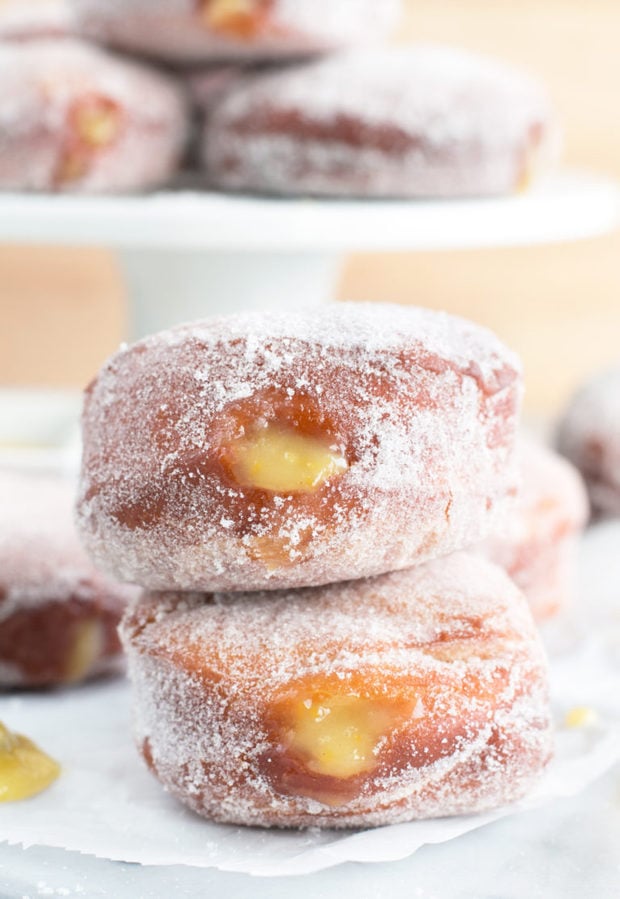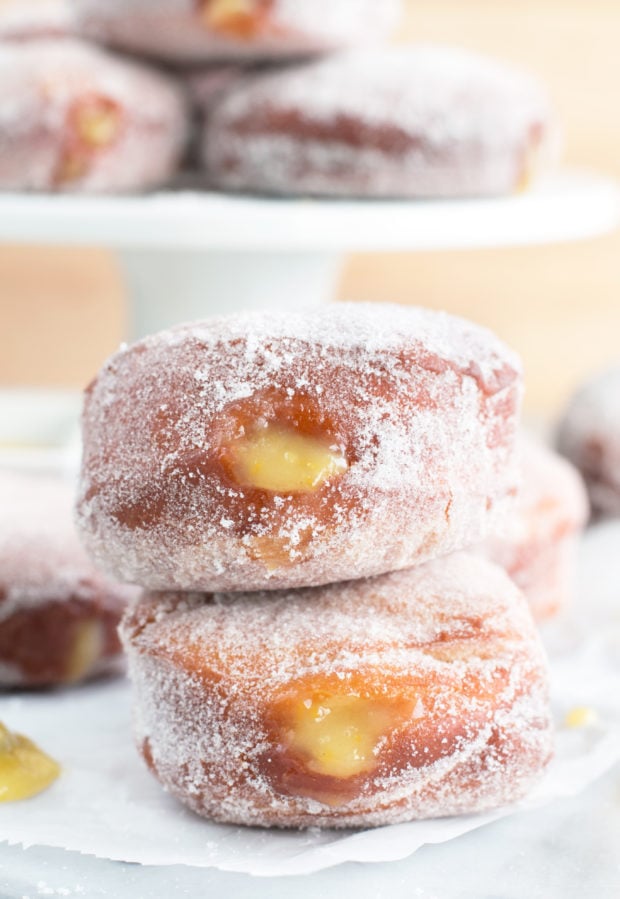 Instead, I am helping to throw a virtual baby shower! I honestly couldn't be more thrilled to see her bring another little life into the world!
Until that moment comes, it's time to stuff our faces with ALL the food in celebration of Madison! So don't forget to check out the full round of recipes to celebrate Madison's virtual baby shower below. There are so many delicious recipes here, you simply have to check them out 😉 Personally I can't WAIT to try Erin's Raspberry Shortcake Biscuits with a side of Chrissie's Strawberry Bellinis!
Raspberry Shortcake Biscuits from Erin @ The Speckled Palate
Chocolate Chip Snack Cake from Jenna @ A Savory Feast
Strawberry Bellinis from Chrissie @ Off the Eaten Path
Baked Lemon Hand Pies from Abby @ Winstead Wandering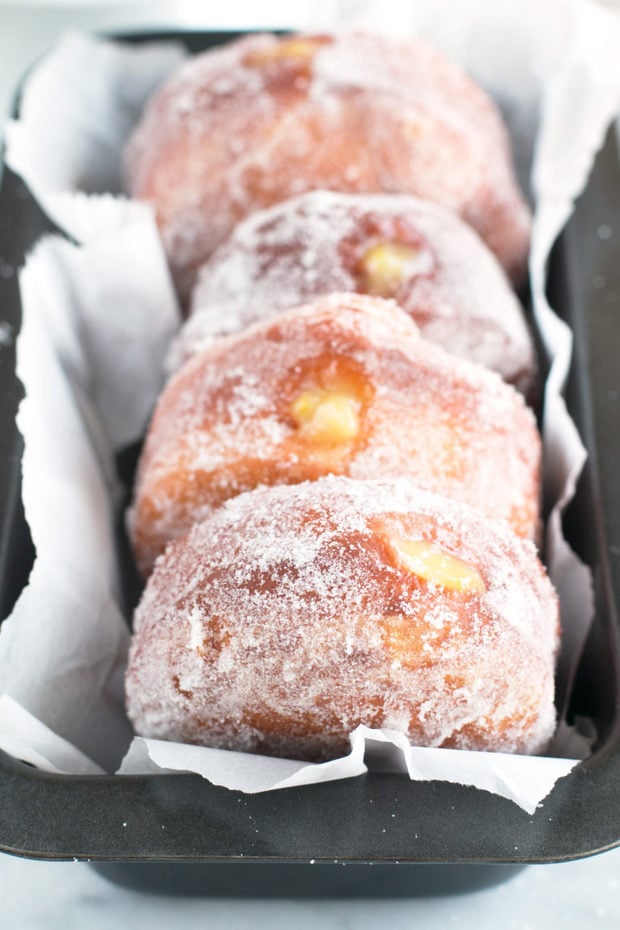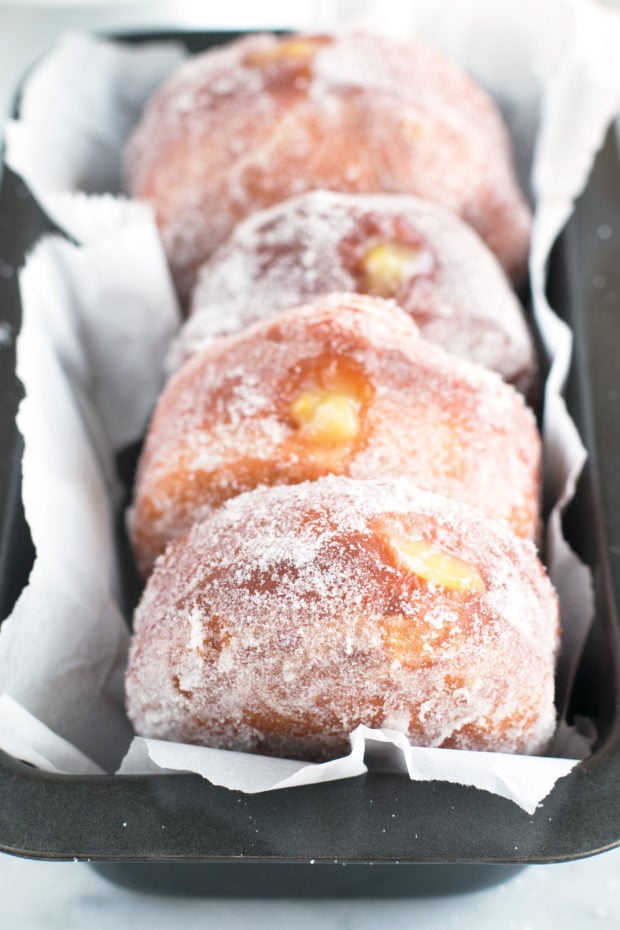 This Recipe's Must Haves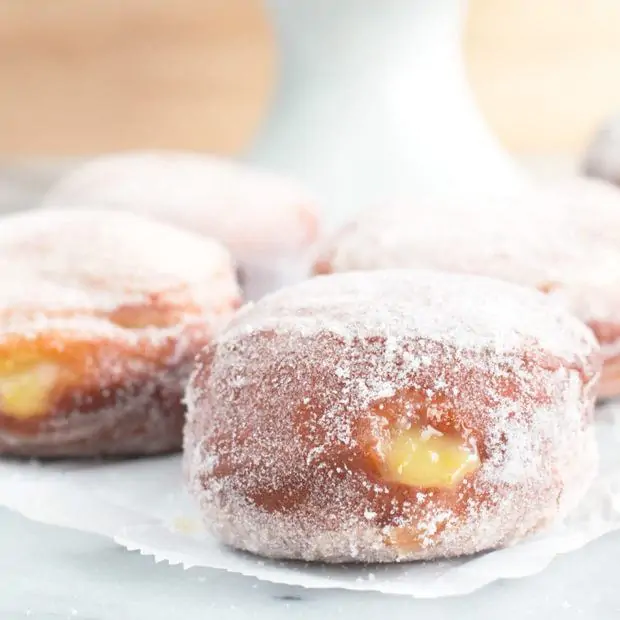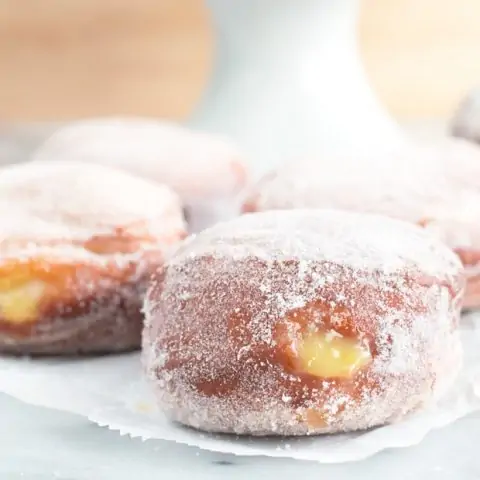 Lavender Lemon Curd Filled Doughnuts
Yield:
Makes 1 to 1 1/2 dozen doughnuts
Subtle floral lavender enhances the depth of the bright lemon curd to make the most lovely filled doughnuts you'll ever taste!
Ingredients
Dough
2 1/2 tsp dry active yeast
2/3 cup warm milk
1/4 cup granulated sugar + more for coating
3 large eggs, room temperature
3 1/2 cups all-purpose flour
1 1/2 tsp fine sea salt
8 Tbsp unsalted butter, softened
Canola oil for frying
Lavender Lemon Curd
3 large eggs
1 cup sugar
1/2 cup lemon juice
1/2 tsp lavender extract
1/4 cup butter, cubed
1 Tbsp grated lemon peel
Instructions
To make the doughnuts, add yeast, 2 tsp sugar and warm milk in the bowl of a stand mixer. Let stand for 5 to 8 minutes, until the mixture is foamy. Whisk in remaining sugar and eggs.
Add half of the flour and all of the salt to the bowl. Using a dough hook, mix on low until the dough starts to come together. Add the rest of the flour and mix until the dough looks a bit shaggy. Slowly add the butter and beat at medium speed. Knead for about 3 minutes until the mixture is a smooth dough.
Add dough to a bowl that's been greased lightly with oil. Cover with plastic wrap. Place in the refrigerator and let chill overnight.
You can make the lemon curd the night before or 1 to 2 hours before cooking the doughnuts. To make the curd, heat a small saucepan over medium heat. Add eggs, sugar, lemon juice, and lavender extract, whisking until combined. Add butter and lemon peel. Cook, whisking constantly, until the mixture is thickened and coats the back of a metal spoon. Place curd in a small bowl and cool 10 minutes before placing it in the refrigerator to chill for at least 1 hour.
When you are ready to make the doughnuts, flour a flat work surface and roll out the dough to approximately 1/2 inch thick. Using a 4 inch round cutter, cut out the doughnuts, placing them on a parchment lined baking sheet. Cover the rounds with plastic wrap and let rest for 45 minutes. They should be puffy!
Add oil to a large, heavy bottomed pot (I used a Dutch oven) and heat over medium heat until oil is 350 degrees F.
Fry the doughnuts in batches of approximately 2 to 3 rounds. Cook for approximately 2 minutes per side until golden brown. Remove when cooked through to a paper towel lined baking sheet.
When the doughnuts are cooled, use a straw or chopstick to poke holes on either side of the doughnut.
Fill a pastry bag, fitted with a small piping tip, with the chilled curd. Pipe in the curd on both sides of each doughnut, approximately 1/4 cup of curd on each side. Serve immediately.