Please note this post contains affiliate links.
Lavender Honey Ice Cream is a smooth, rich and creamy dessert that will have your taste buds doing the happy dance all night long. The subtle hint of lavender paired with the sweet honey is a match made in flavor heaven!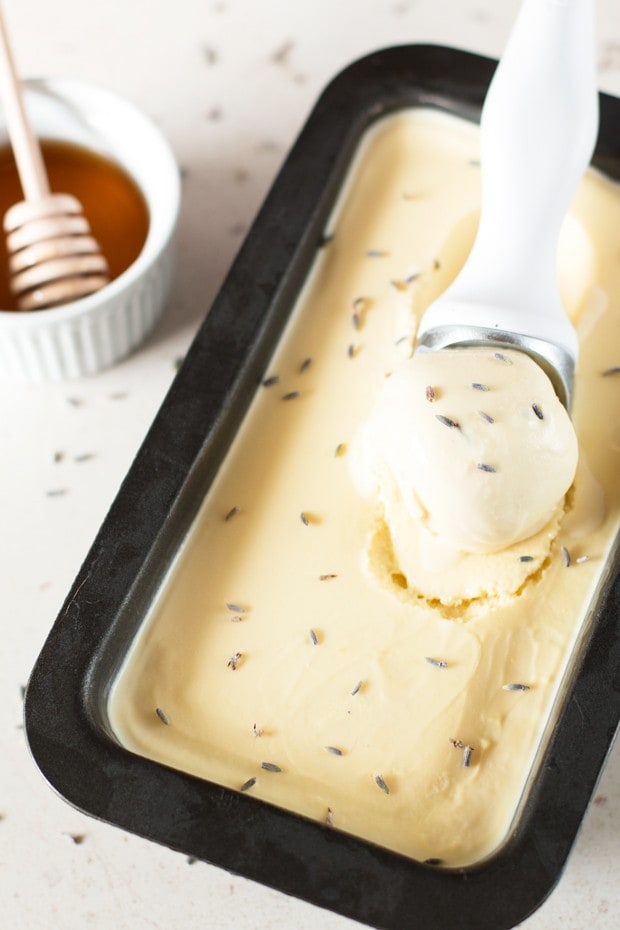 So do you remember popcorn week??
Well, we're back with something even better!
ICE CREAM WEEK! This is the week I've been looking forward to for so long…
Because ice cream. ALL the ice cream.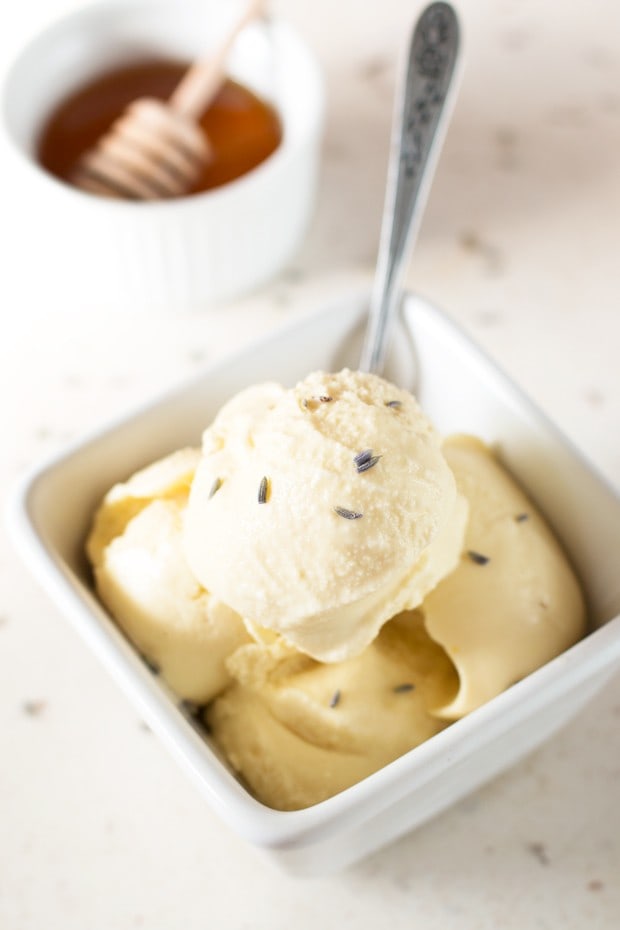 I might have stolen the lavender honey ice cream flavor idea from It's Complicated…
I wish I could say I am just like Meryl Streep in the movie and make ice cream when I can't sleep (talk about being productive!). Alas I am not that cool…
Instead I lay in bed, staring at the ceiling, wondering why the heck I can't just drift off to sleep like a normal person.
Or I think about food.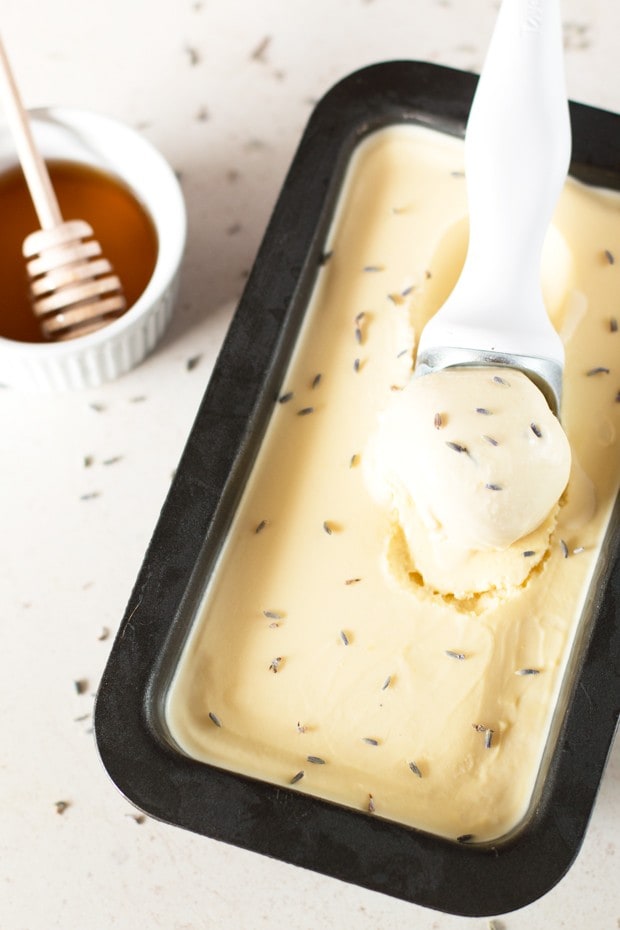 Let's be real, this is me we're talking about.
However my staring at the ceiling thinking about food does result in some good ideas… Enter lavender honey ice cream!
Whenever I watch It's Complicated (which, yes, is a lot), the idea of lavender honey ice cream sounded so delicate and decadent all at once.
The honey flavor is the star of this ice cream, followed by a very subtle lavender scent and flavor that lingers ever-so slightly on your tongue between bites.
I like to call this my "fancy schmancy" ice cream – it's just begging to be the final course for a dinner party, isn't it?
You're going to be swooning over this lavender honey ice cream, not only because of the flavor, but also the texture…
There's nothing like devouring a bowl full of creamy, dreamy ice cream.
After the first bite, you'll want to lap up every. single. drop. Trust me.
Especially while watching It's Complicated and wishing you lived in that house… I mean seriously, THAT HOUSE. It's already pure perfection but then you add in the fact that she is making it better with an addition for an even BIGGER kitchen?! Good lord, give me that life. Like, now.
Let's circle back to the topic, shall we?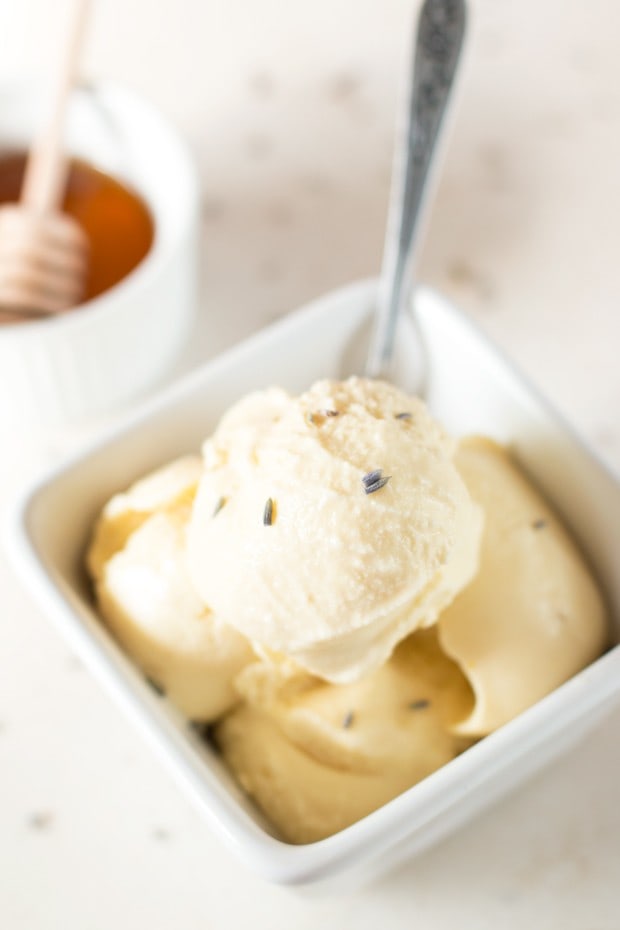 Ice. Cream. Week.
This Recipe's Must Haves
Pure Lavender Extract
and Organic Lavender Flowers
to make the ice cream and use the pretty flowers as a garnish!
I love my Cuisinart Pure Indulgence 2-Quart Automatic Frozen Yogurt, Sorbet, and Ice Cream Maker
. It's so easy to use and it's easy to clean too. You can also use the KitchenAid ice cream maker attachment if you have a stand mixer!
This ice cream scoop
is my new favorite thing. The scoop has little legs on the bottom so you can set it on the counter without worrying about it getting the counter dirty.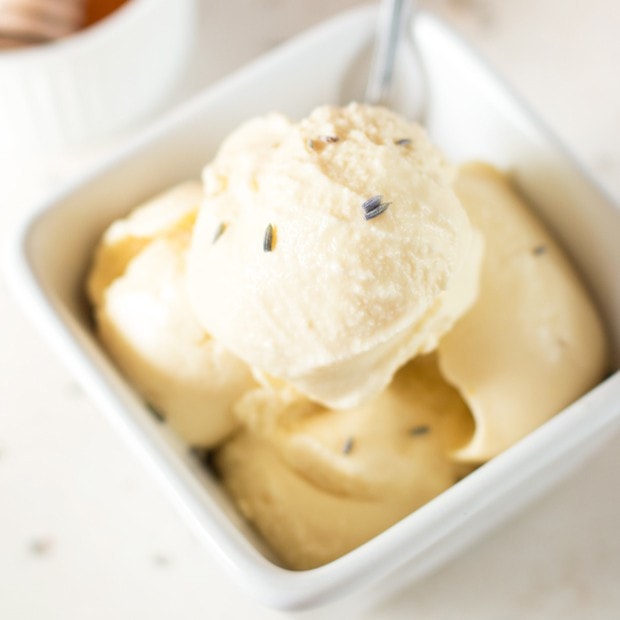 Lavender Honey Ice Cream
Inspired by It's Complicated, this ice cream is sweetened with honey and has just a touch of lavender.
Ingredients
2 cups heavy cream
2 cups whole milk
1/4 cup sugar
1 1/2 tsp lavender extract
1/2 cup honey
6 egg yolks
Instructions
In a medium saucepan, stir together heavy cream, whole milk, 1/8 cup sugar, lavender extract and honey over medium-high heat. Bring the mixture to a low boil.
In a small bowl, combine egg yolks and remaining 1/8 cup sugar. Whisk together until smooth. Slowly add 1/4 cup of the heavy cream mixture to the egg mixture, whisking quickly to incorporate. Once well combined, add the egg mixture to the heavy cream mixture. Cook over medium heat until the mixture is thick and coats the back of a metal spoon.
Remove from heat. Strain into a medium bowl and cover with plastic wrap, making sure the plastic wrap touches the surface of the custard to prevent a film from forming. Chill completely.
Add the custard mixture to your ice cream machine. Churn the ice cream according to the manufacturer's instructions. Chill overnight or for a minimum of 7-8 hours before serving.