Please note this post contains affiliate links.
Raspberry Vodka Lemonade is the fruity cocktail you need to quench that thirst this summer. With fresh raspberry juice and lemon juice, this 5-ingredient lemonade is what you'll want to cool off every single day! There's also an option to make this drink non-alcoholic.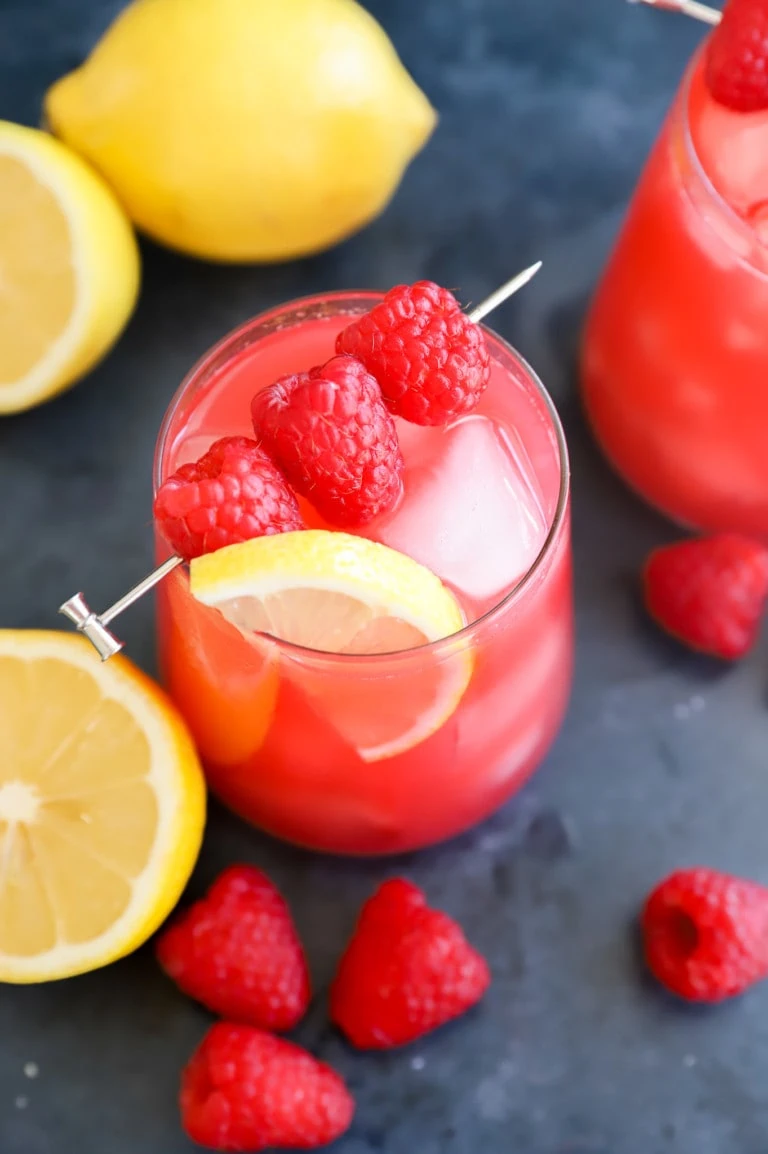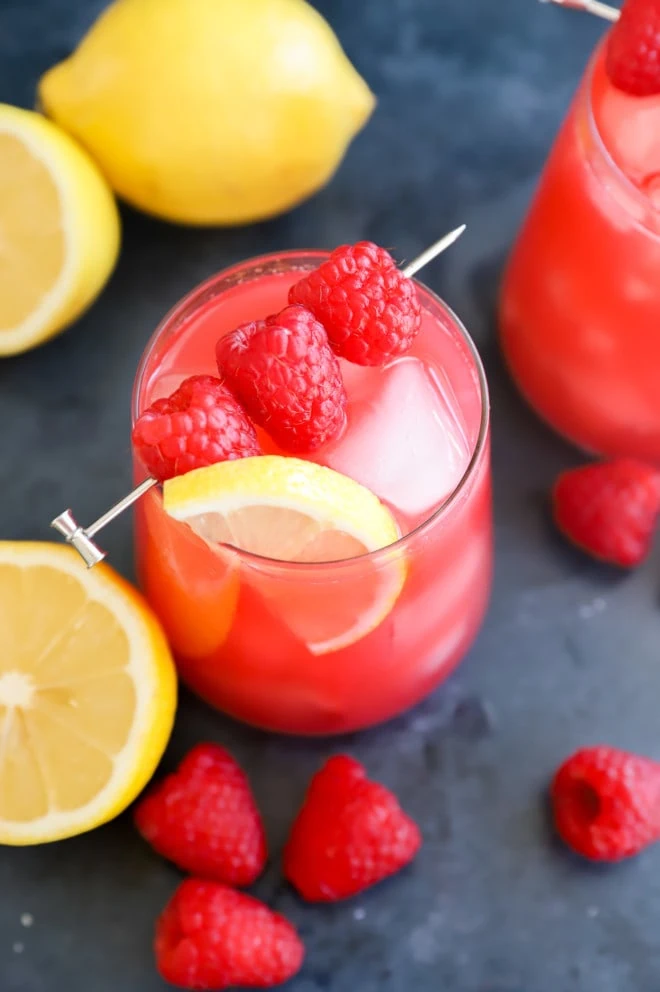 about this raspberry vodka lemonade
When it comes to summer refreshment, my mind tends to always drift towards the simplicity of homemade lemonade.
The tart sweetness is the perfect thirst quencher when the weather gets warm outside, and boy is it getting warm out there…
There were a few weeks here when Denver couldn't really make up its mind as to whether it was summer or not. There was rain and hail, snow and chilly winds.
However, now there is HEAT. So. Much. HEAT.
That's where this lovely raspberry lemonade recipe comes into play. When it's hot as hell outside and all I want to do is grill, I grab a jar full of vodka lemonade and kick back as the meat sizzles away.
I personally love to make this recipe and leave a pitcher of it in the refrigerator (without the ice, mind you – no diluted cocktails in our house!). You can sip on it all day, not to mention it does keep to for the next day or two. It's so nice to just have there waiting for you at the end of a long day.
If you are looking for a cocktail to make for a large gathering, then you are definitely in the right place. This recipe is easier than most because there's no homemade simple syrup required.
I believe big batch cocktails are the best thing to make for parties, because it's easy to make and easy to drink. Not to mention you can make a double batch to last all night long or just have the ingredients on hand to whip up another batch if you happen to run out.
Much safer to just make the double batch though… Having leftovers is never a bad thing after all 😉
Note: This is an update to the original posted on June 5, 2018.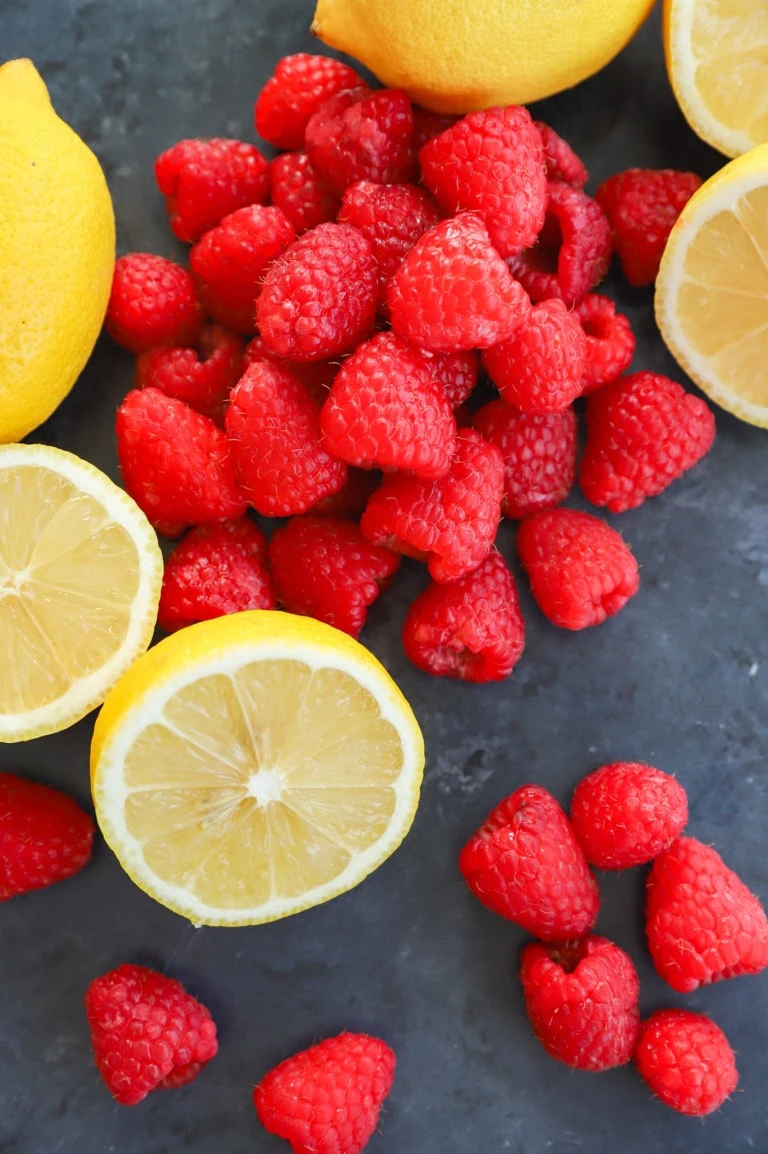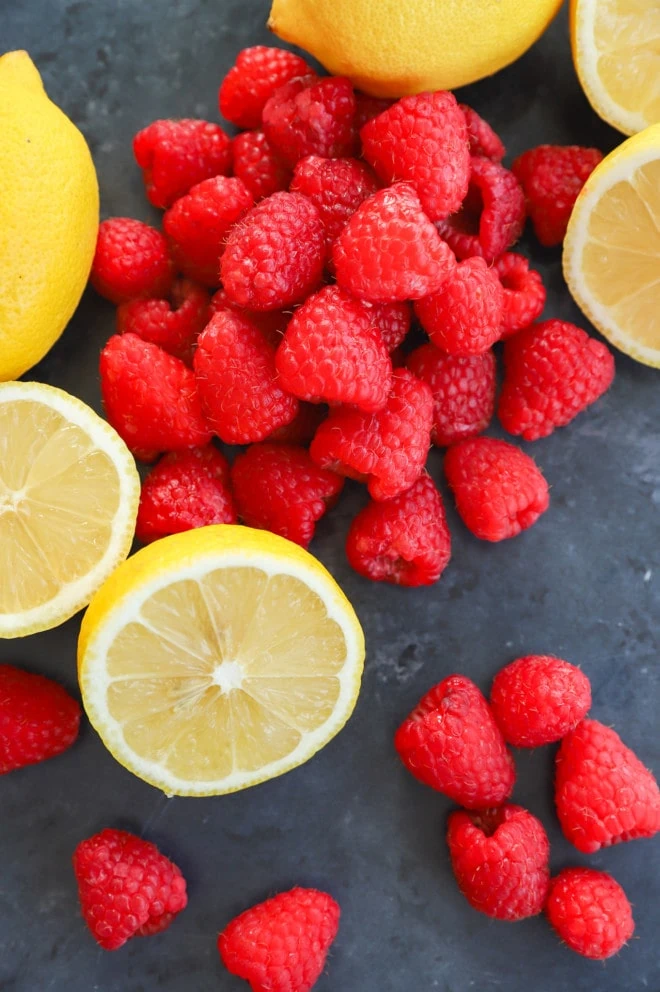 ingredients
raspberries. Fresh raspberries are best to use for this recipe! Make sure they are ripe and that none of them show any signs of mold. I recommend washing them well before using them in this recipe, as raspberries tend to be pretty dirty.
lemon juice. Using fresh lemon juice is key to the success of this drink! You will need a handful of lemons to get enough fresh squeezed lemon juice for the recipe. Store bought lemon juice can also be used, if desired.
sugar. All you need is granulated sugar. No need to make a homemade raspberry syrup for this recipe!
vodka. Select a vodka that fits into your budget, first and foremost. This doesn't need to be top tier vodka since you are mixing it into a lemonade. I recommend using a mid-tier option like Tito's or Absolut. You can splurge on something fancy if you want to, but I don't find that to be necessary.
water. Whatever cold water you drink is the best water to use here! I use filtered water, but tap water is always ok (as long as it doesn't have a weird taste, of course.
this recipe's must haves
You will need a blender (like this Vitamix) to blend up the raspberries. A food processor can also be used here. However, if you happen to have a juicer, that's probably the easiest way to go. I just can't buy yet another appliance… I'm all out of room already!
To strain out the raspberry seeds, use a fine mesh strainer.
Finally, you'll need a pitcher to make the cocktail. I also recommend using a wooden spoon or spatula to stir it all up.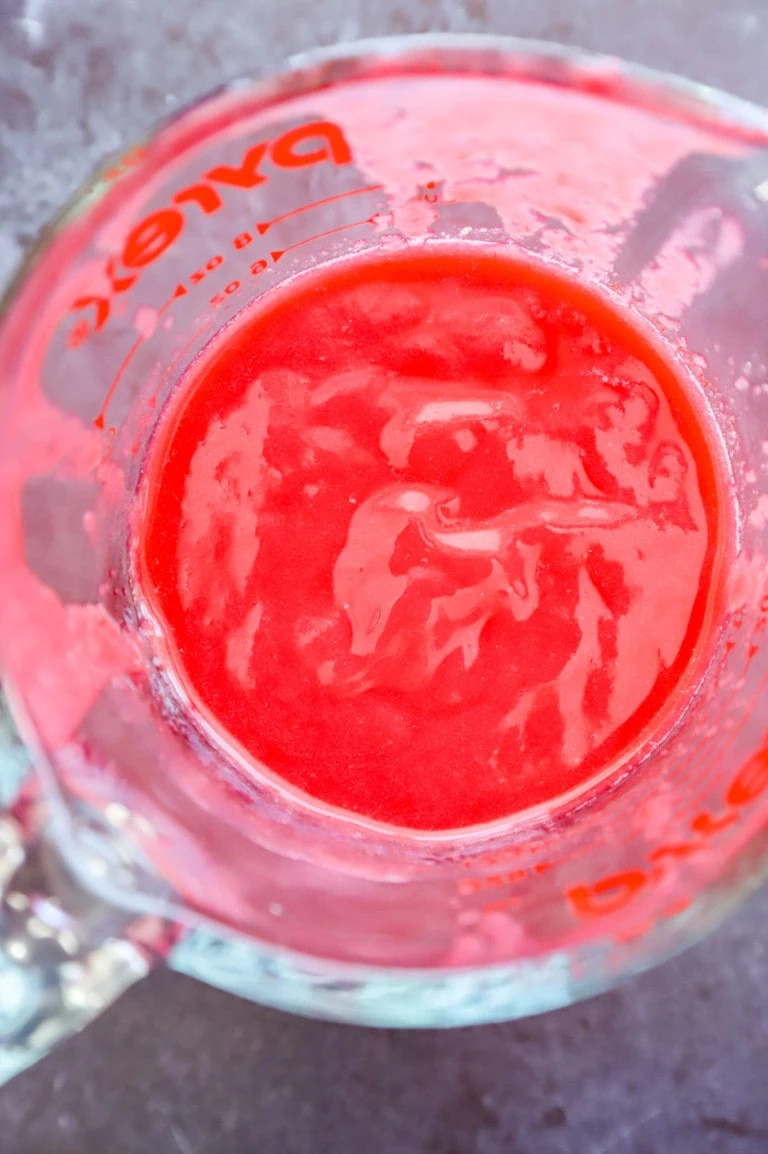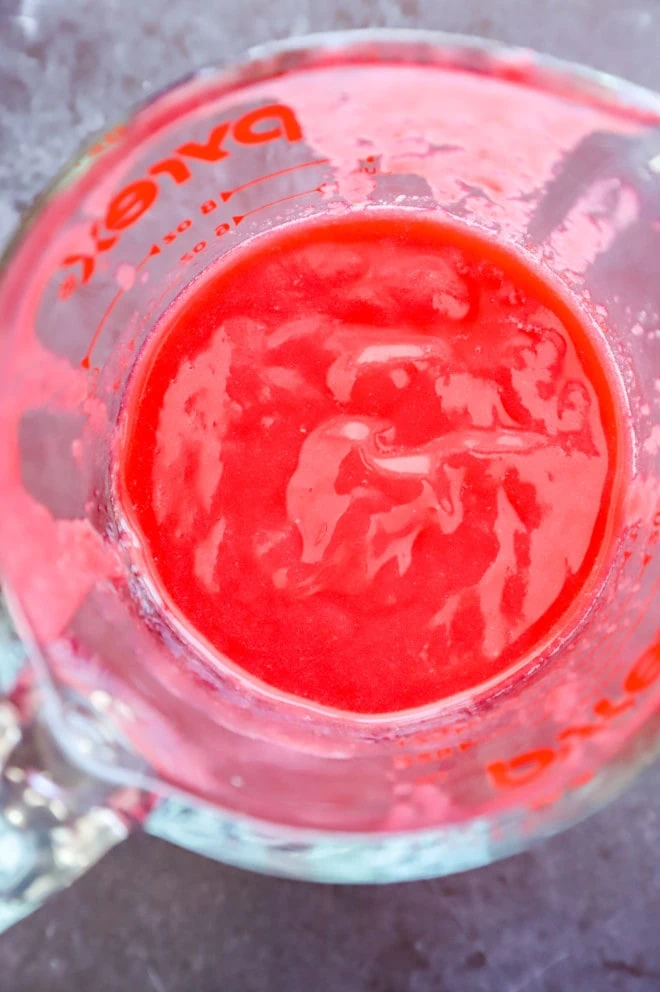 here's how to make easy raspberry lemonade
blend and strain
Add raspberries to a blender and puree until smooth. Strain through a fine mesh sieve to get rid of all the seeds. Add puree to a large pitcher.
You can also use a juicer to juice the raspberries.
make lemonade
Add lemon juice, sugar, vodka, and water to the pitcher with the raspberry puree. Stir until the sugar has dissolved. Chill in the refrigerator for 1 to 2 hours before serving.
If serving immediately, fill with ice and serve.
Garnish glasses with lemon slices and fresh raspberries, if desired!
Pro Tip: Make sure the vodka lemonade is chilled for at least 1 to 2 hours before serving. Chill the mixture without ice, then add ice just before serving.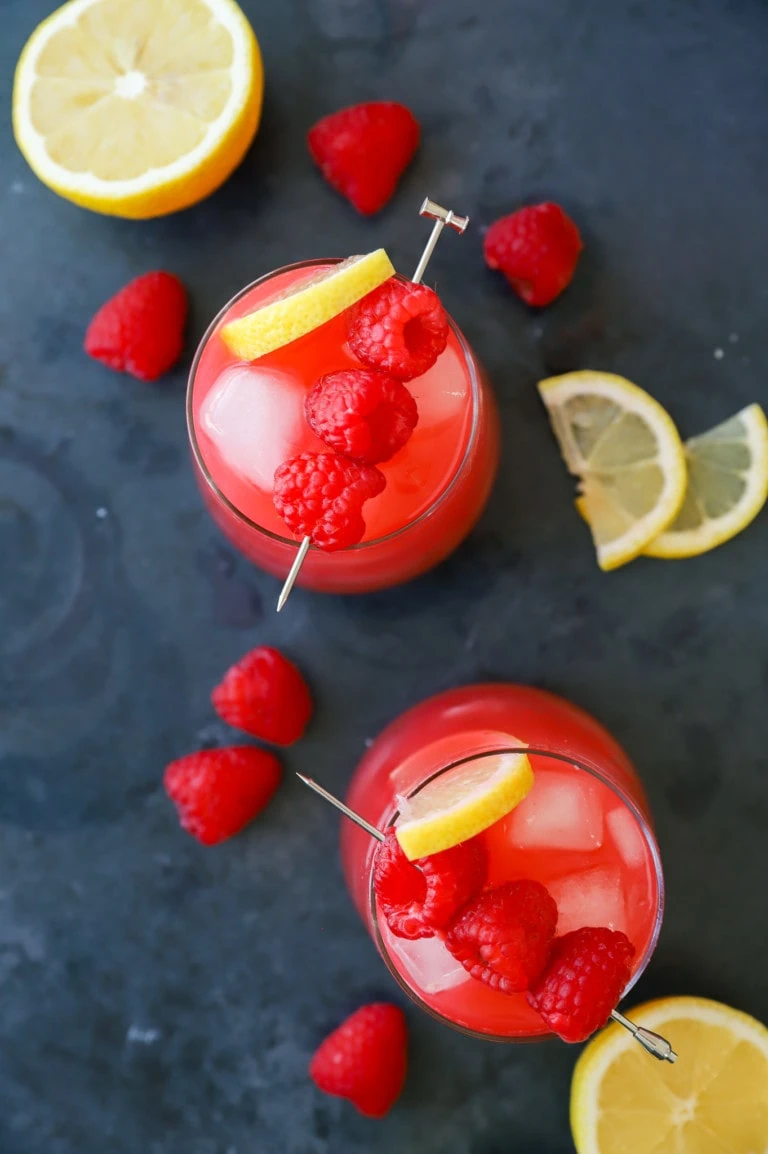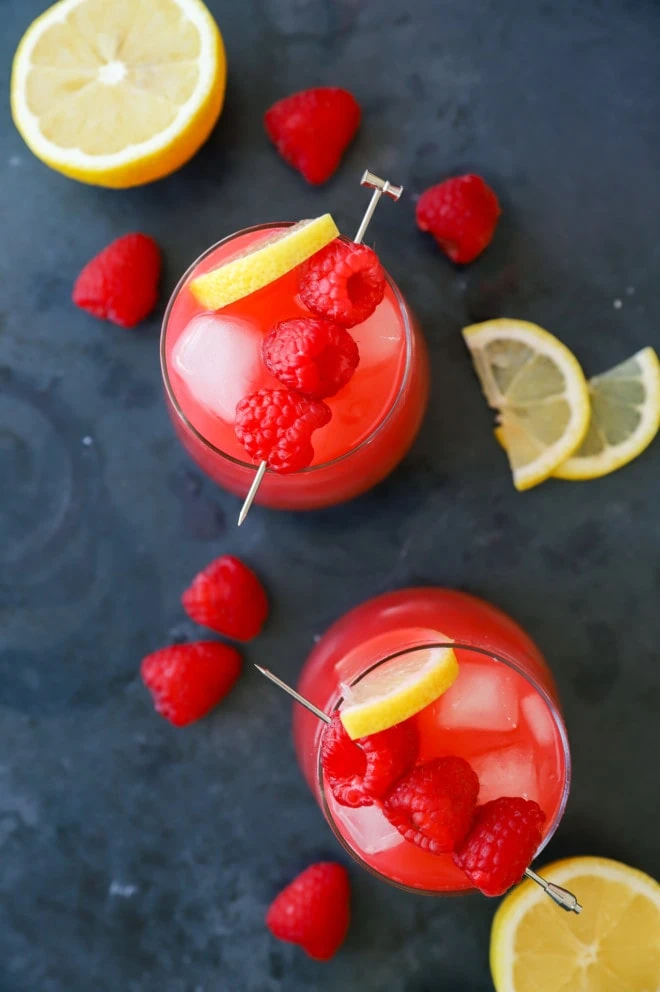 tips for success
make it stronger (or weaker). The amount of vodka used in this raspberry lemonade is just enough to taste, but not enough to overpower the flavor of the lemonade. After making the recipe for the first time, you can adjust it to your boozy tastes. Add more vodka if you want it stronger, or scale back if you find it to be too strong.
use fresh raspberries. Technically you can use frozen raspberries, but fresh raspberries always give you the best flavor!
add bubbles. If you like bubbly cocktails, I recommend using sparkling water or club soda instead of water in this recipe! The result is a bubbly boozy lemonade!
More tasty berry cocktail recipes: Raspberry Margarita | Raspberry Mimosa | Blackberry Gin Fizz | Strawberry Gin Smash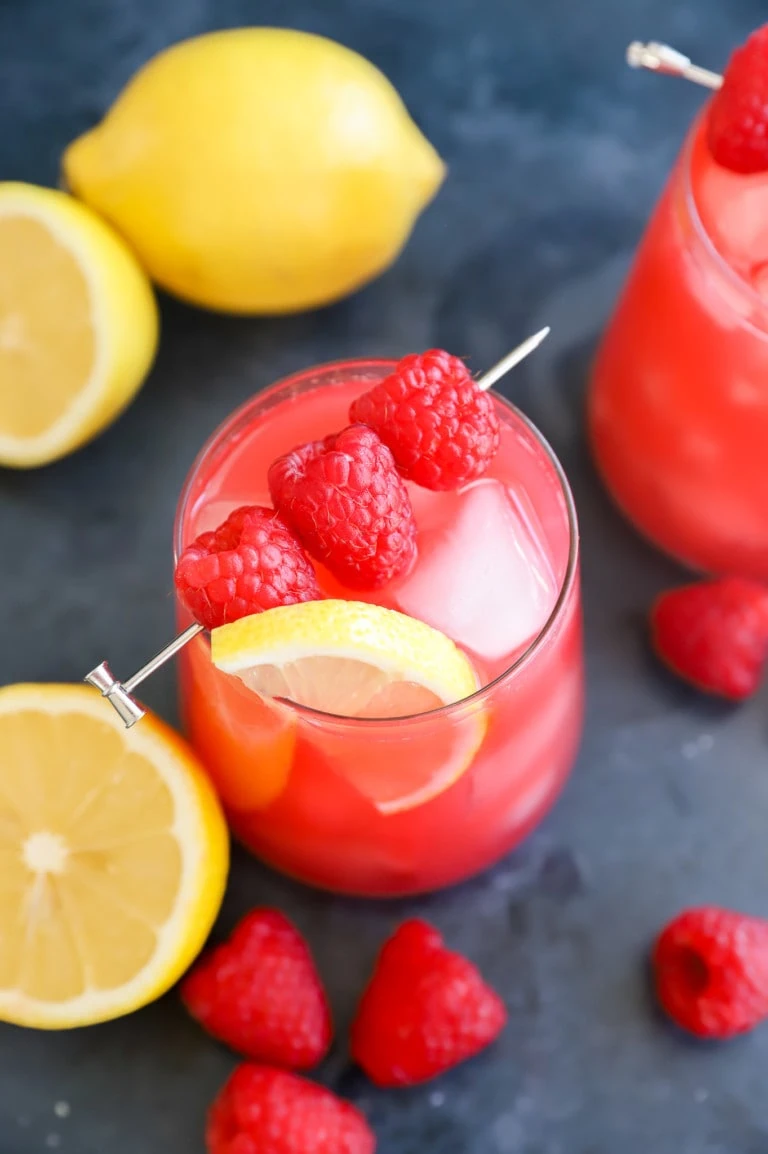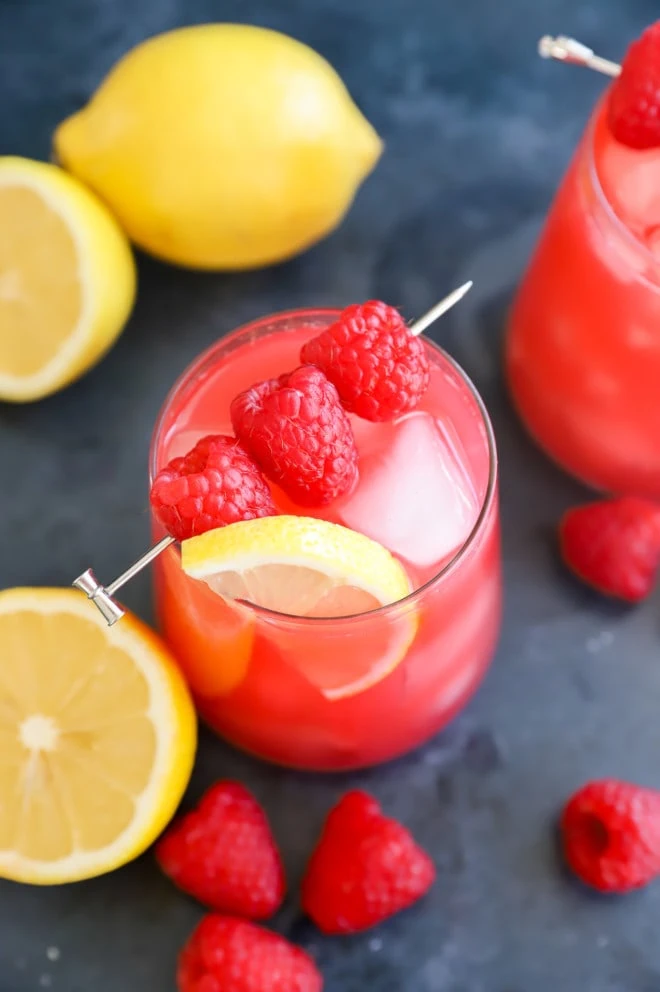 can I use frozen raspberries?
Yes you can! I recommend thawing them completely before using in this recipe.
is there a way to make this nonalcoholic?
To make this raspberry lemonade nonalcoholic, all you have to do is swap the vodka for water! Then you will have a refreshing lemonade, ready for everyone to enjoy, no matter their age.
can I make this raspberry lemonade ahead of time?
This cocktail is super easy to make ahead of time and actually tastes better if you let it sit in the refrigerator for a couple of hours before serving. I recommend making the mixture in a pitcher and chilling it in the fridge without ice. Add ice just before serving!
Need more inspiration for cocktail hour? Check out my cocktail recipes page!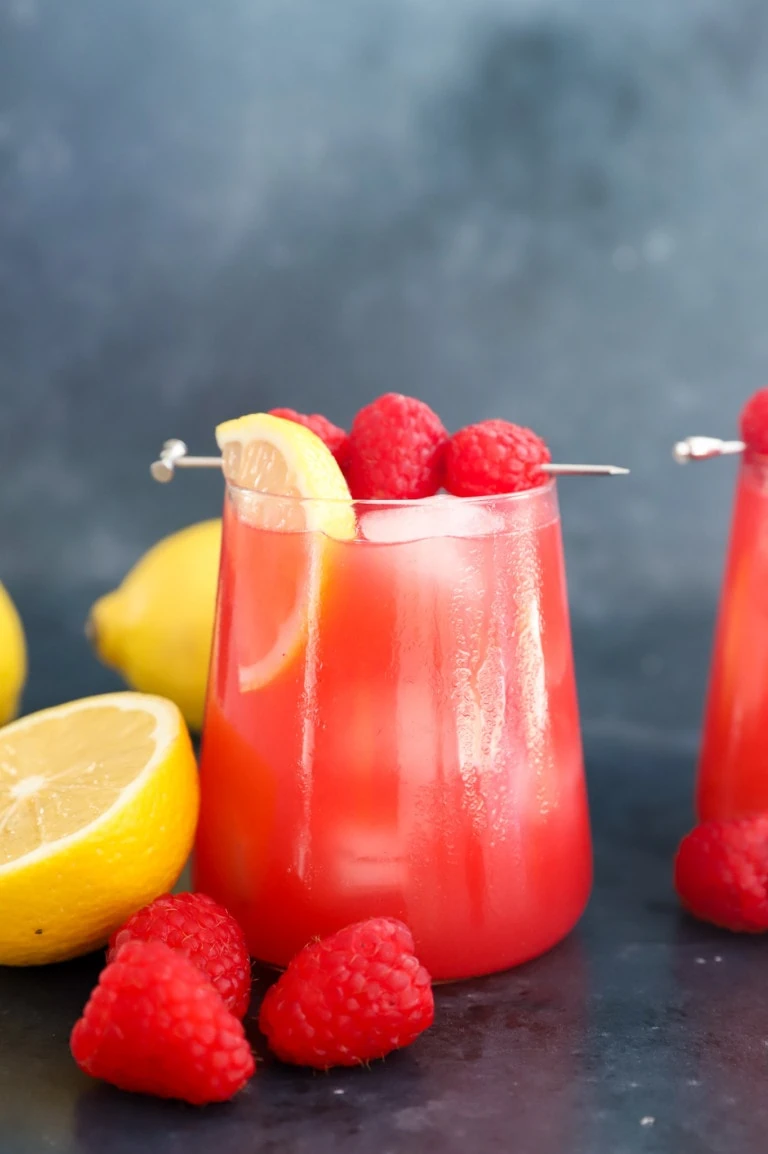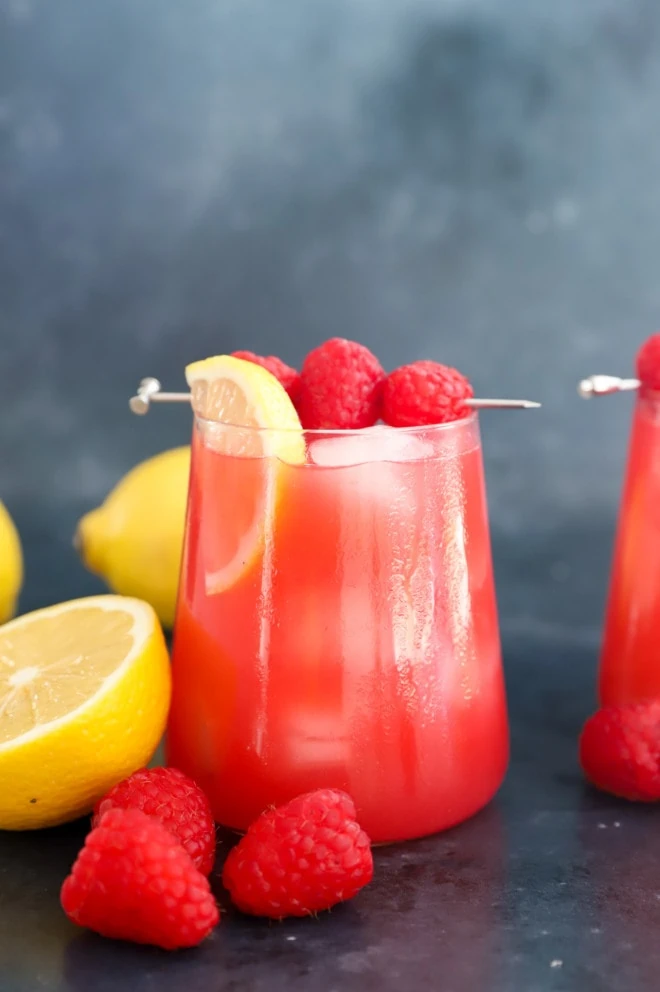 what to eat with raspberry vodka lemonade
Since this raspberry vodka lemonade is the epitome of summer refreshment, it goes with all of your favorite summer recipes.
If you need some inspiration, head to my summer recipes page! Here are some of my personal favorites for summer:
For those of you who love to grill, make sure you have this easy all purpose marinade handy! It works with all proteins including beef, chicken and pork.
These bbq glazed grilled bratwurst or drunken philly cheesesteak brats are unique twists on the classic grilled brats.
Make hosting easier with an epic build your own gourmet bbq burger bar!
For need more ideas, check out all of my backyard bbq recipes!
how to store and reheat
Store. Store in the refrigerator, covered, without ice, for up to 2 to 3 days. Be sure to give everything a good stir if you are enjoying it after it has been sitting for awhile.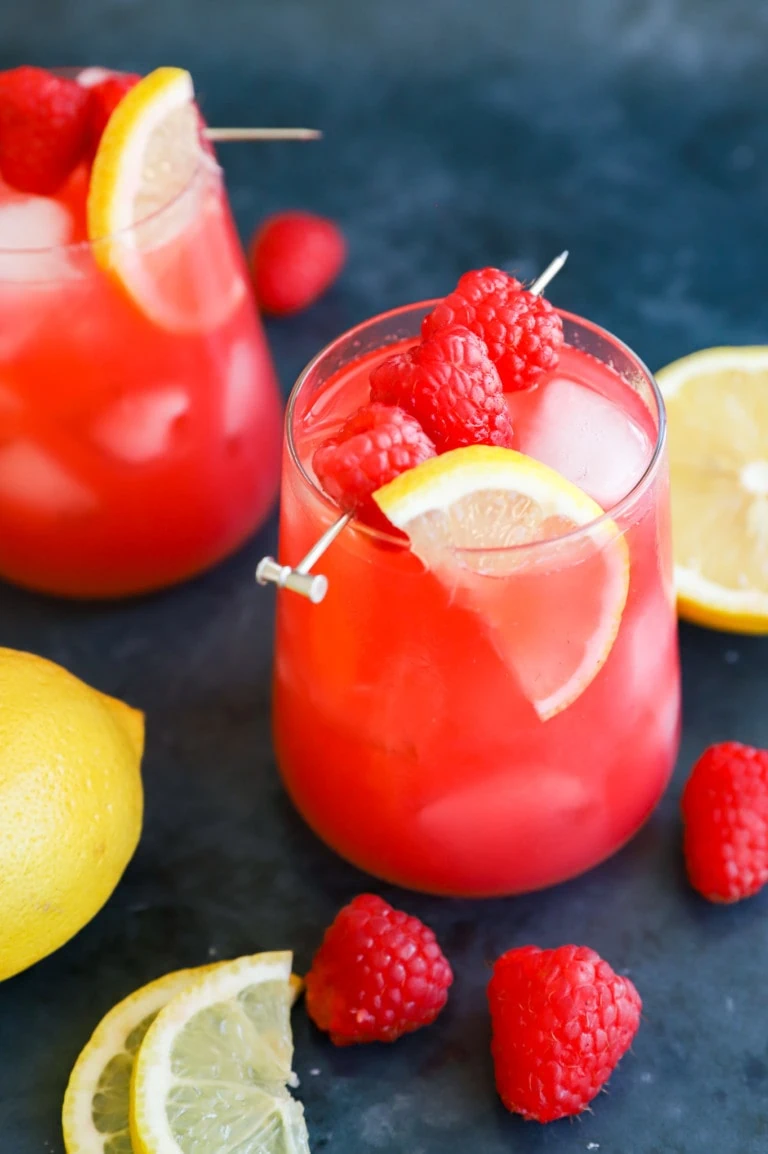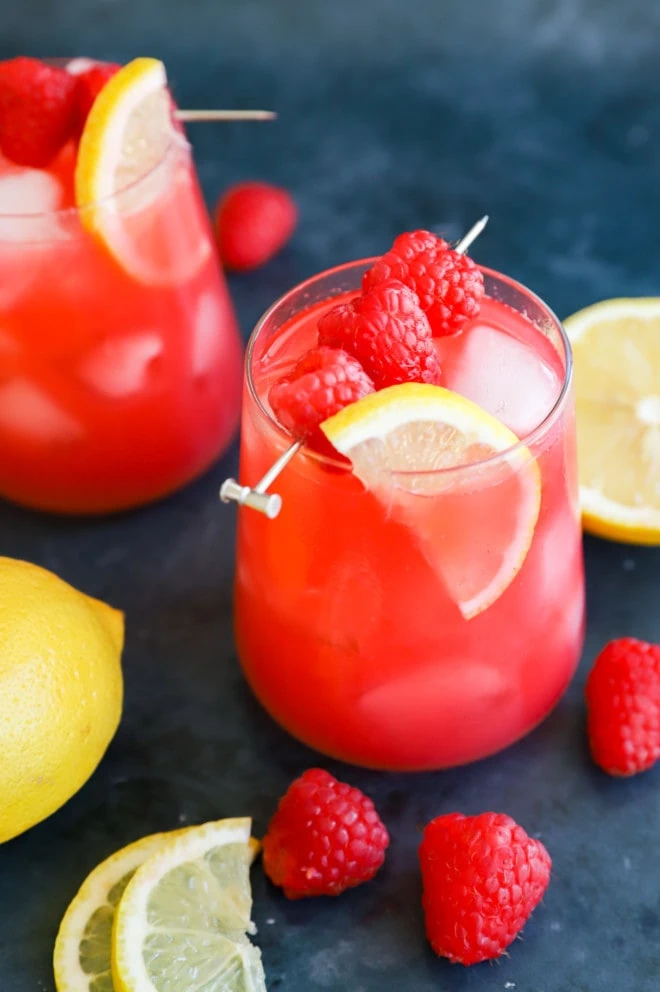 more tasty lemonade recipes
I feel like I am a bit of a boozy lemonade queen over here. There's fruity Vodka Strawberry Lemonade or a bubbly Sparkling Blueberry Thyme Lemonade!
Finally, if you make this raspberry vodka lemonade recipe, please be sure to give this recipe a rating or leave a comment! I love to hear when you all make recipes, and I do take the time to respond to every single comment. Feel free to drop questions below too, if you have them!
Oh and be sure to tag me on Instagram if you make the recipe! I love being able to see these recipes come to life in your homes – it's my favorite thing to look through those photos. It really means the world to me!
everyday seasonal cookbook
With seasonal produce guides, recipes, and more, this cookbook is filled with seasonal food for every occasion.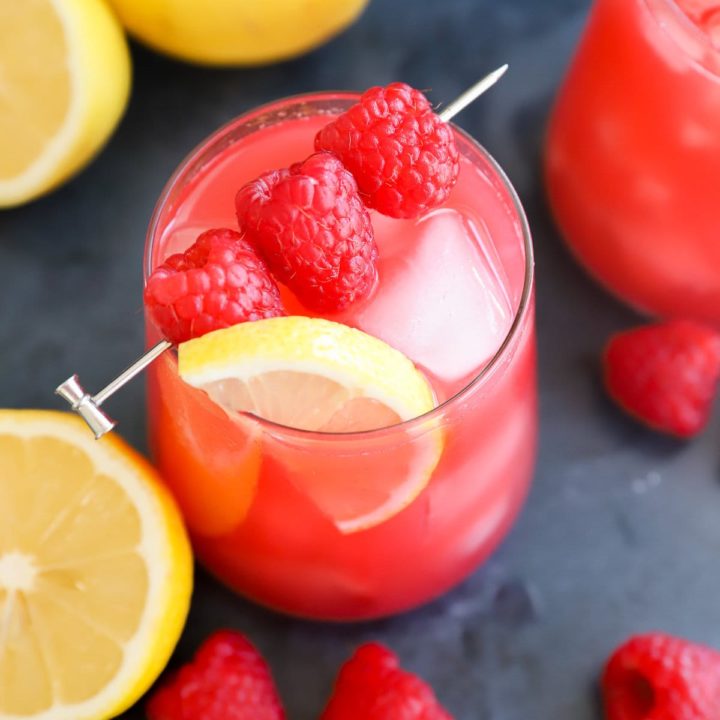 Raspberry Vodka Lemonade
When it comes to summer, nothing is better than cooling off with a homemade lemonade, particularly when it's made boozy!
Ingredients
12 oz raspberries
1/2 cup fresh lemon juice
1/2 cup sugar
3/4 cup vodka
3 cups water
Instructions
Run raspberries through a juicer and pour the fresh raspberry juice into a large pitcher filled halfway with ice. If you do not have a juicer, puree the raspberries in a blender or food processor. Then strain into a large pitcher filled halfway with ice.
Add lemon juice, sugar, vodka and water to the large pitcher with raspberry juice.
Stir to combine until the sugar has dissolved.
Serve cold.
Notes
Want to make this sparkling lemonade? Use chilled club soda instead of water!
Recommended Products
As an Amazon Associate and member of other affiliate programs, I earn from qualifying purchases.