Please note this post contains affiliate links.
This Savory Dutch Baby is the perfect puffy pancake. The eggy dish is buttery, filled with fresh herbs, and topped with roasted tomatoes, avocado, red onion, and tangy goat cheese. Bright and full of flavor, fantastic for breakfast, brunch, or lunch! Serves 6.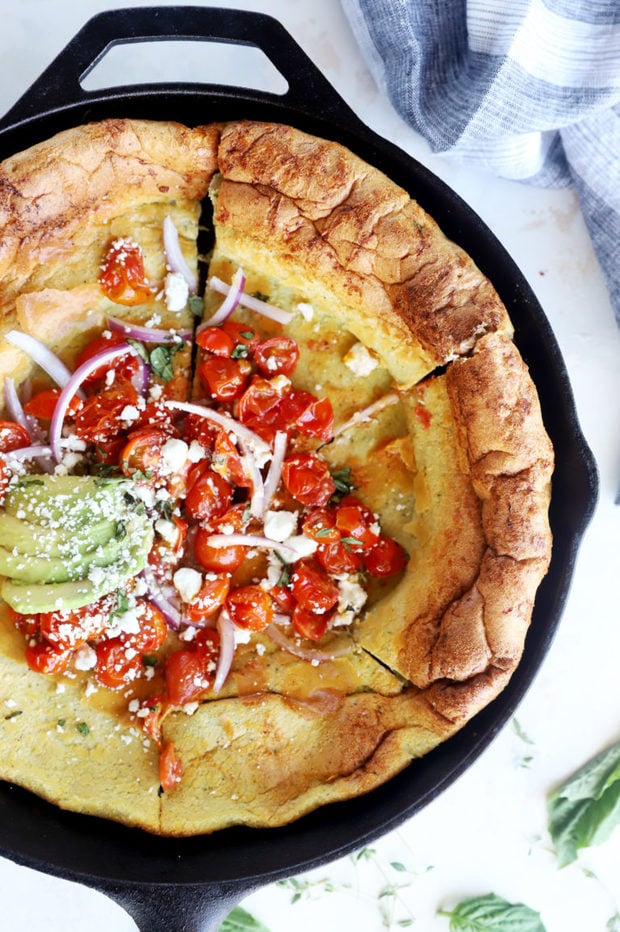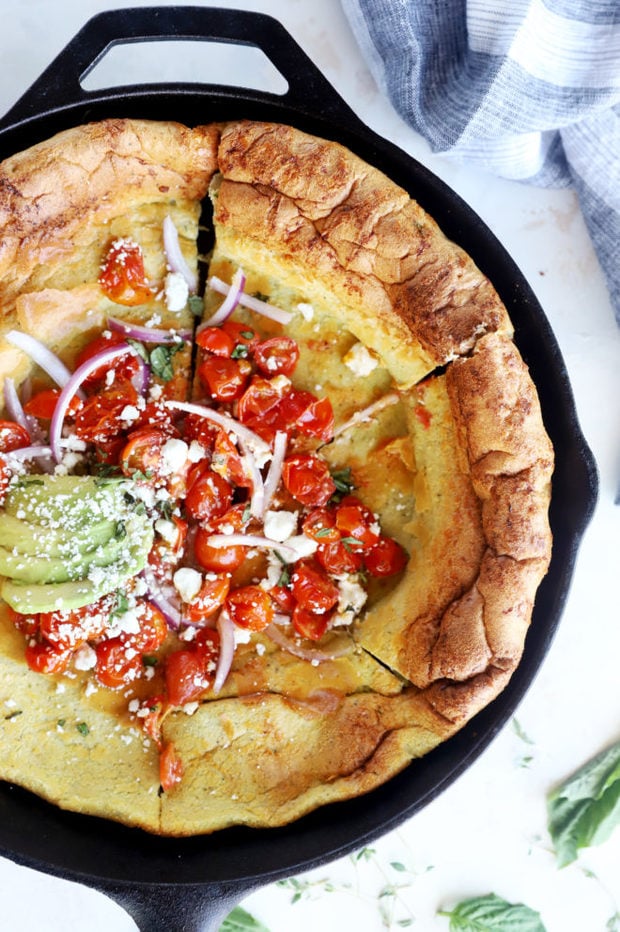 A big puffy Dutch Baby is one of my favorite dishes to order for brunch.
Usually I get mine topped with a sweet mixture, whether it's fresh fruit or Nutella (because Nutella is always a winner in my book, DUH).
But then I got to thinking… what if I made this magical sweet concoction SAVORY?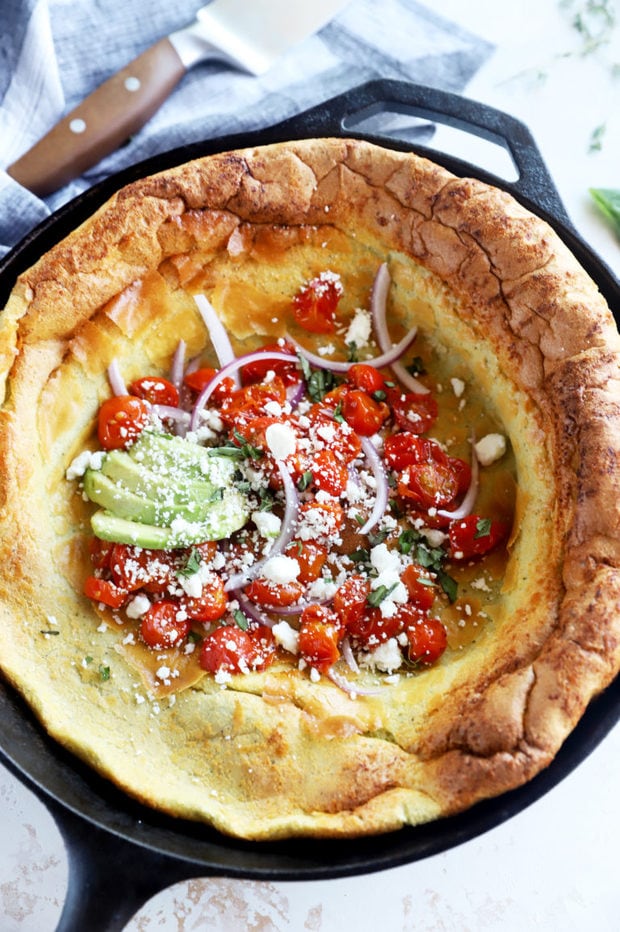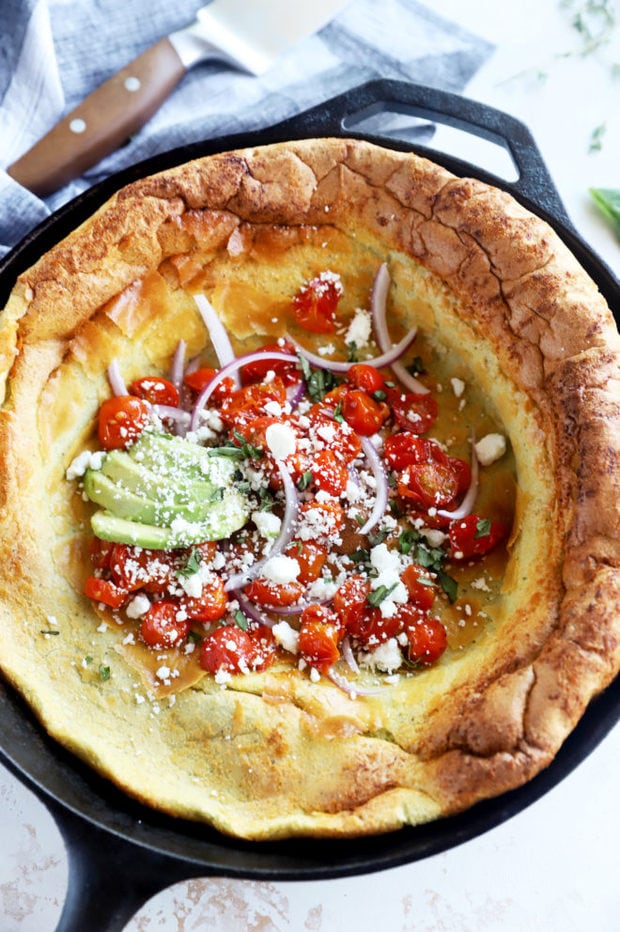 It seems fairly obvious considering how eggy the base of the Dutch Baby is, doesn't it?
Since we are still not going to brunch and staying home with Babycakes, I knew one of my first recipes back in the kitchen had to be a savory dutch baby.
What makes it savory?
Well, I cut the sugar and then added in a ton of fresh herbs. This makes the mixture smell absolutely divine as it bakes up. Then it all gets topped with some of my savory flavors like roasted cherry tomatoes (I'm super obsessed with these, even post pregnancy!), avocado, red onion, and some tangy goat cheese.
The whole mixture is ideal for brunch anytime of the year, but the brightness of the fresh herbs really gets me in the mood for spring and summer…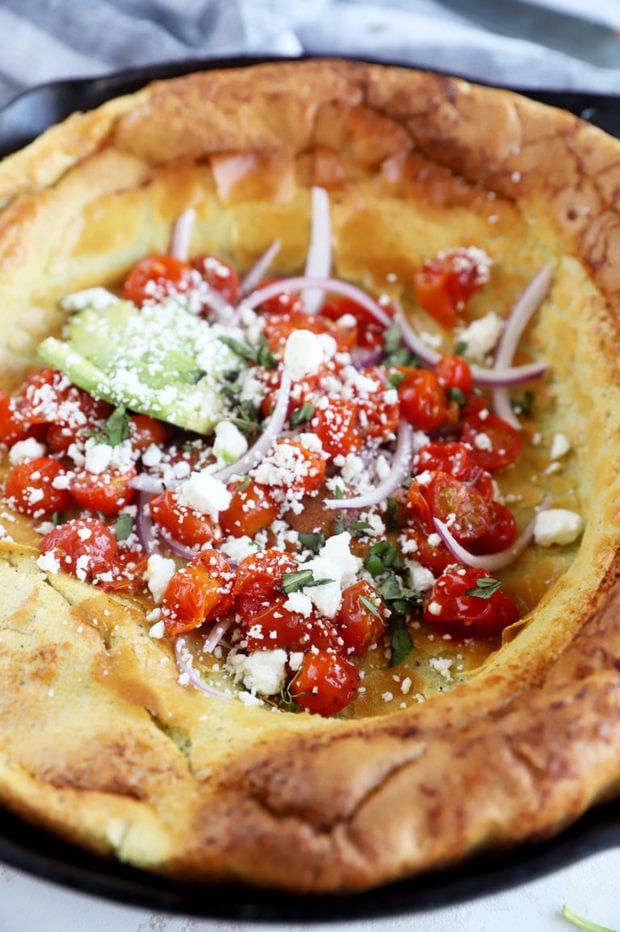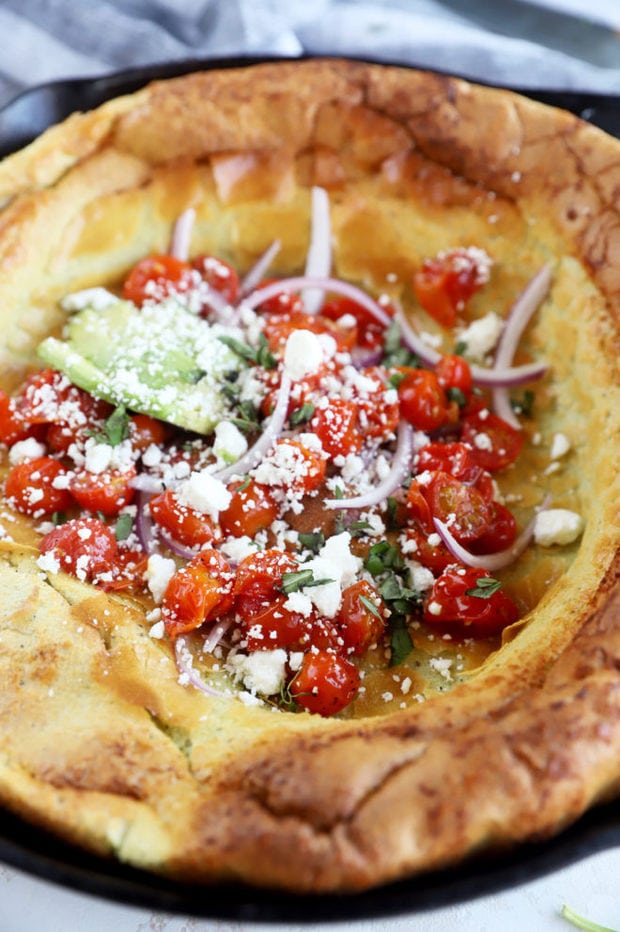 That could also be because of the weather we've been having. It snowed yesterday. AGAIN.
Anyway, you need to make this savory dutch baby this weekend for brunch and pair it with your favorite brunch cocktail (which for me would be either a strawberry mimosa or a peach breakfast martini). It's SO SIMPLE to put together. The batter comes together in your blender, then you just pour it into a buttered skillet and let it bake!

this recipe's must-haves
I cook this savory dutch baby in a cast iron skillet. If you want a more affordable option, try this Lodge cast iron skillet!
The batter comes together in the blender so of course I love using this Vitamix for it.
I use a half sheet baking pan or a large baking sheet to roast the tomatoes. Be sure to use a silicone mat as well – makes cleanup a breeze and you aren't wasting foil or paper!
Finally you'll need a chef's knife and cutting board to prepare all the toppings.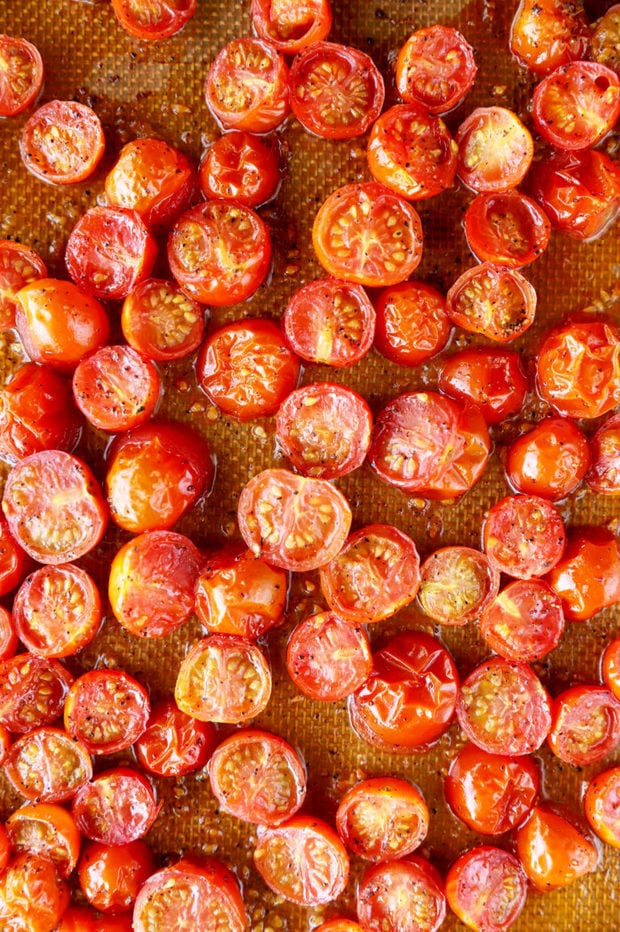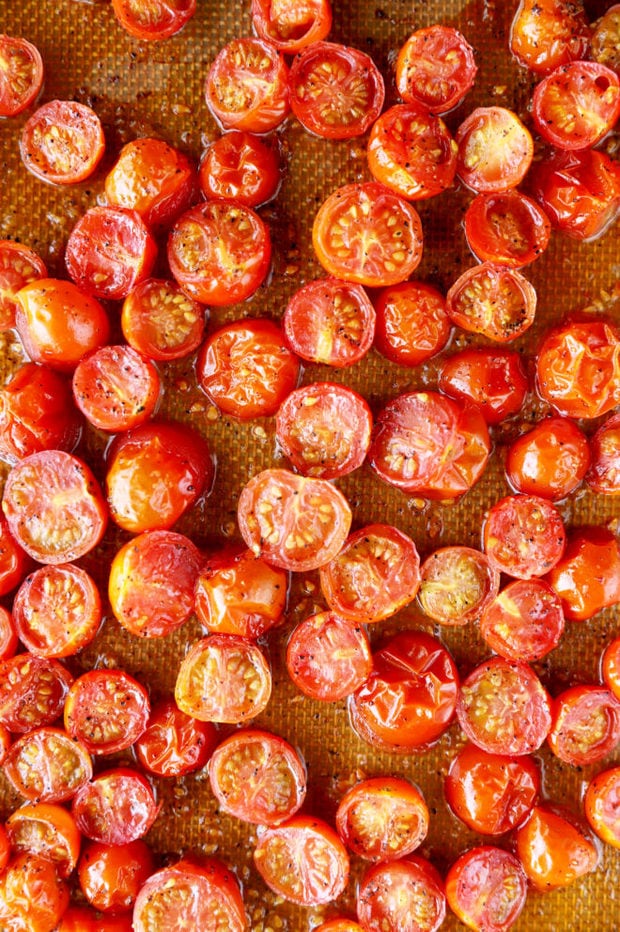 we're making a Savory Dutch Baby!
Roast Tomatoes
Toss the halved tomatoes with olive oil, then season lightly with salt and pepper. Spread the tomatoes on a lined baking sheet and roast at 450˚F for 10 minutes. The tomatoes should be softened but still holding their shape.
Make Batter
To make the batter, simply combine all the ingredients in a blend and blend until smooth. Coat a preheated skillet with melted butter, then pour in the batter.
Bake
The Dutch Baby bakes for 20 to 25 minutes at 450˚F. The key here is to NOT OPEN THE OVEN. If you open the oven too soon, the entire pancake will deflate. So, wait until it hits 20 minutes to crack the oven. If you need to look before then, just turn on the oven light!
Serve the pancake fresh from the oven and load it up with all of your favorite toppings.
Need some more inspiration for breakfast? Check out my breakfast recipe page!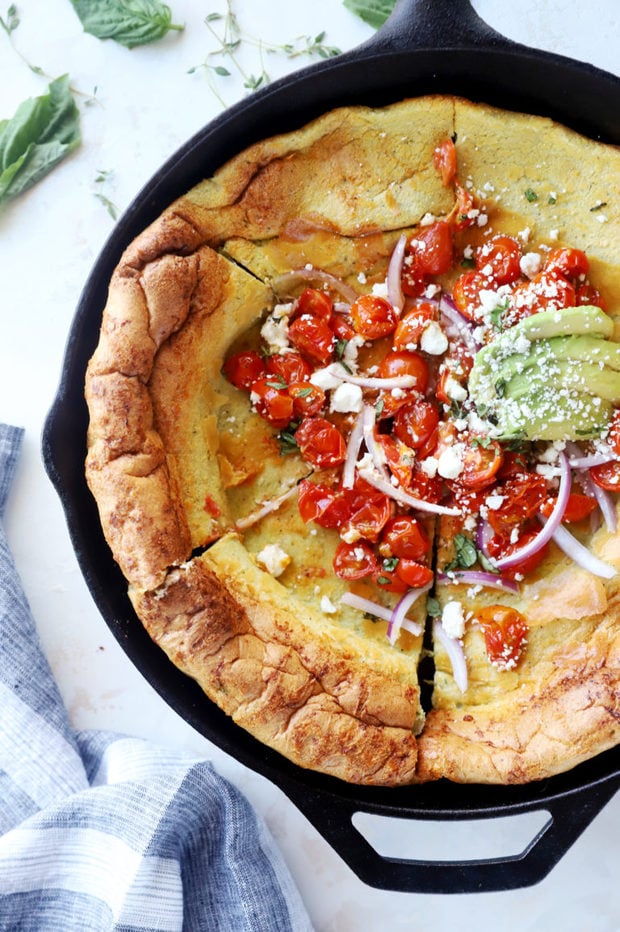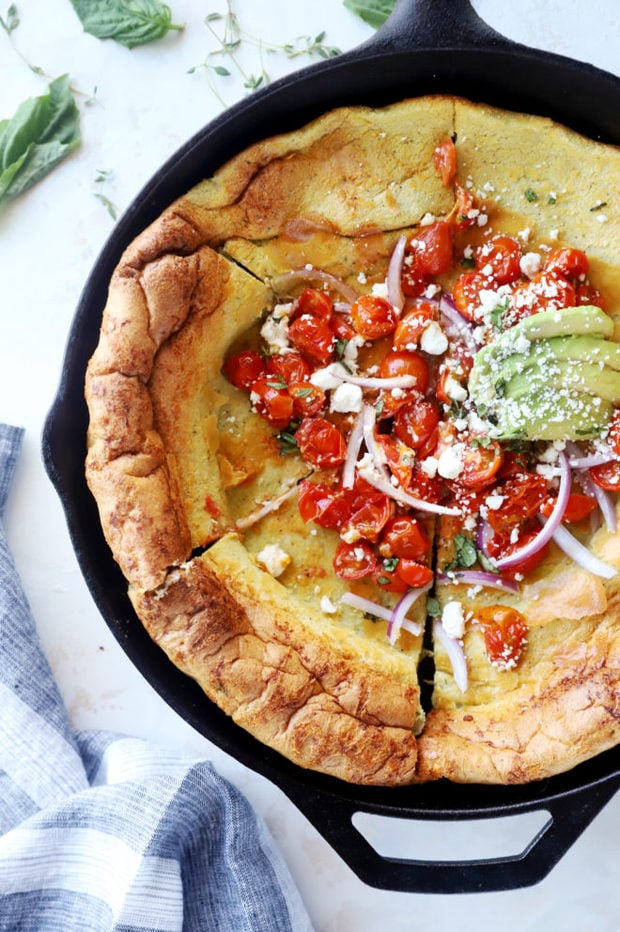 can I reheat the Dutch Baby?
The best way to serve a Dutch baby is fresh out of the oven. Since it's so simple to make, I do not recommend making it ahead of time. If you have to make it in advance, you can reheat it in a 350˚F until warmed through.
what if I have leftovers?
If you have leftovers, just pop a slice in the microwave until it's warmed through – about 15 to 20 seconds.
Pair this with peach pancakes for a sweet alternate to the savory for your next brunch spread.
Want more breakfast ideas for springtime? Check out my easter breakfast ideas for a full round up of sweet and savory meals!
For a sweet treat on Easter, think about making a batch of these simple and fluffy mini eggs cookies! They use my favorite candy and they are insanely good.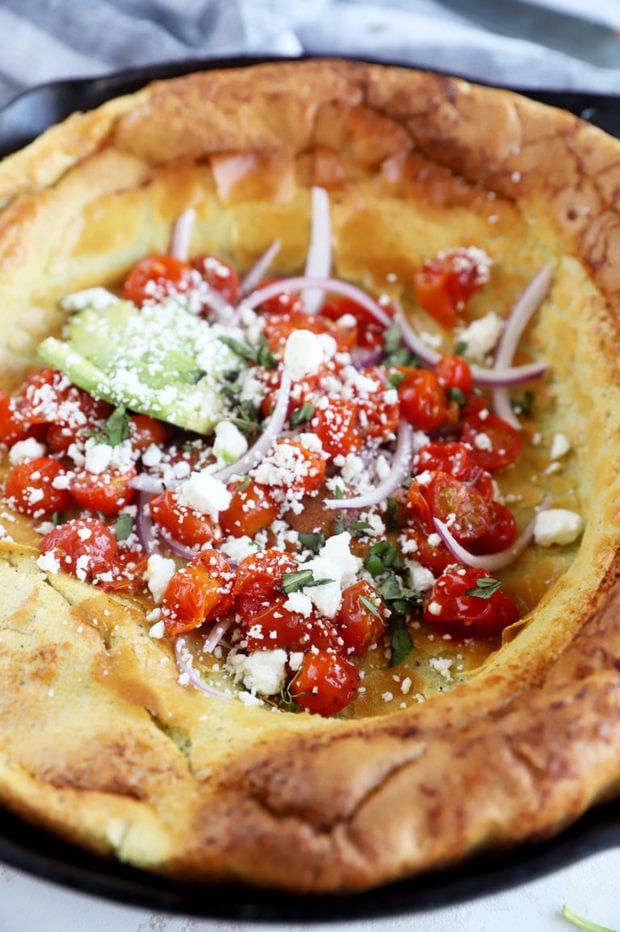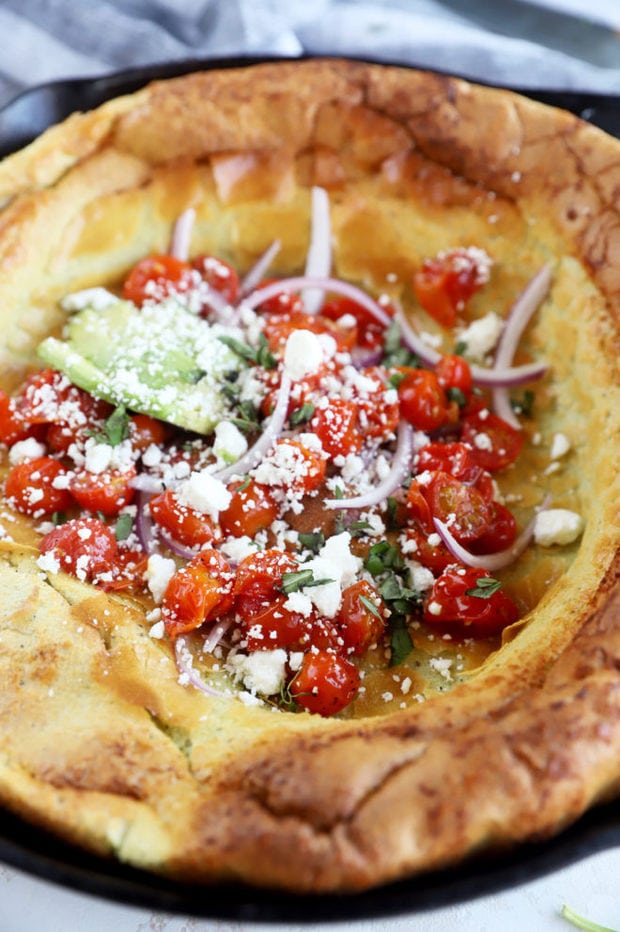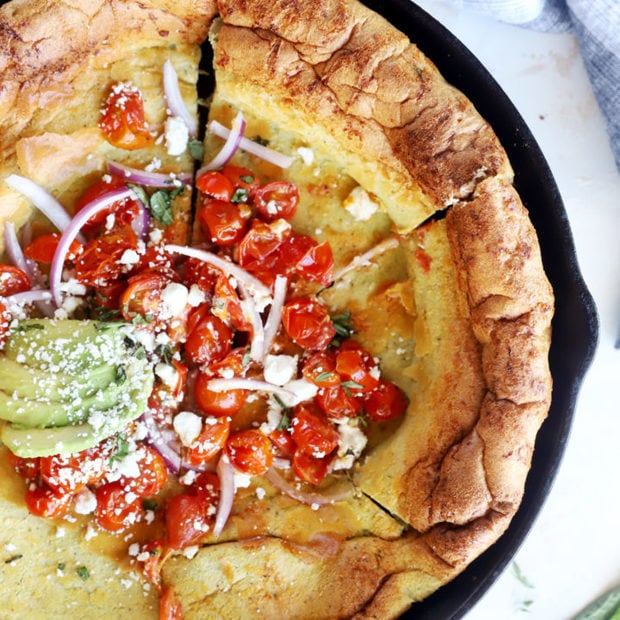 Savory Dutch Baby
An airy, light, and savory breakfast dish that is incredibly easy to make. The batter comes together in the blender!
Ingredients
Roasted Cherry Tomatoes
1 1/2 cups cherry tomatoes, halved
2 tsp olive oil
Salt and pepper
Dutch Baby
4 Tbsp unsalted butter, melted
4 large eggs, room temp
2/3 cups whole milk, room temp
2/3 cup all-purpose flour
1/2 tsp salt
1/2 tsp black pepper
1 1/2 Tbsp chopped fresh basil + more for topping
1 Tbsp chopped fresh thyme leaves
Toppings
2 oz goat cheese crumbles
1 avocado, sliced
1/2 cup thinly sliced red onion
Instructions
Preheat oven to 450°.
While the oven is preheating, prepare the tomatoes. Add cherry tomatoes to a medium bowl with olive oil. Season with salt and pepper lightly, tossing to coat. Spread the tomatoes in an even layer on a baking sheet lined with a silicone mat or parchment paper. Bake for 10 minutes until tomatoes are softened. Remove from oven and set aside.
Place a 10-inch cast iron skillet in the oven for at least 10 minutes to heat. While the skillet is preheating, prepare the batter.
Blend 2 Tbsp melted butter, eggs, milk, flour, salt, and fresh herbs on high for 30 seconds to 1 minute until the batter is smooth and no clumps of flour remain.
Carefully remove skillet from oven and add 2 Tbsp melted butter to the pan, swirling to coat the pan evenly. Immediately pour the batter into the skillet and place in the center of the oven. Bake for 20 to 25 minutes, until puffed and golden brown on top.
Prepare your remaining toppings while you wait. Remove skillet from the oven when done and top with goat cheese, roasted tomatoes, avocado, red onion, and freshly chopped basil. Serve immediately.
Recommended Products
As an Amazon Associate and member of other affiliate programs, I earn from qualifying purchases.