Please note this post contains affiliate links.
Sparkling Peach Vodka Lemonade makes the most of the peach season we are about to be deep in the heart of in the next month or so. Freshly squeezed peach juice with lemon juice, vodka and prosecco makes a big batch cocktail that packs a serious punch. Just the right balance of sweet and tart to make every cocktail hour more memorable!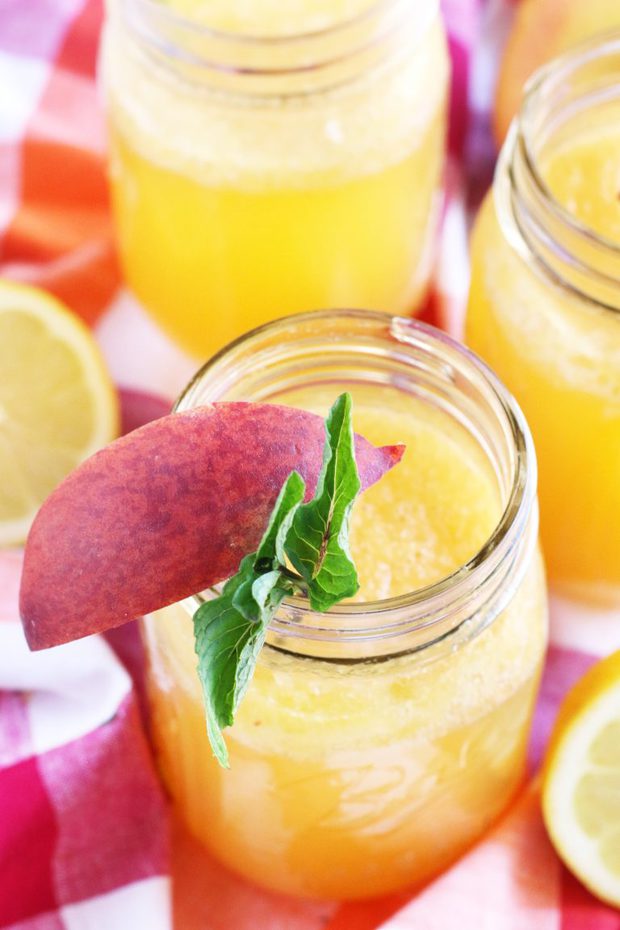 I just love getting the reader comments I get on my site.
They actually are the inspiration for a lot of the notes I add to my recipe cards, but also the inspiration for actually recipes that I put out.
That's exactly where this one came from!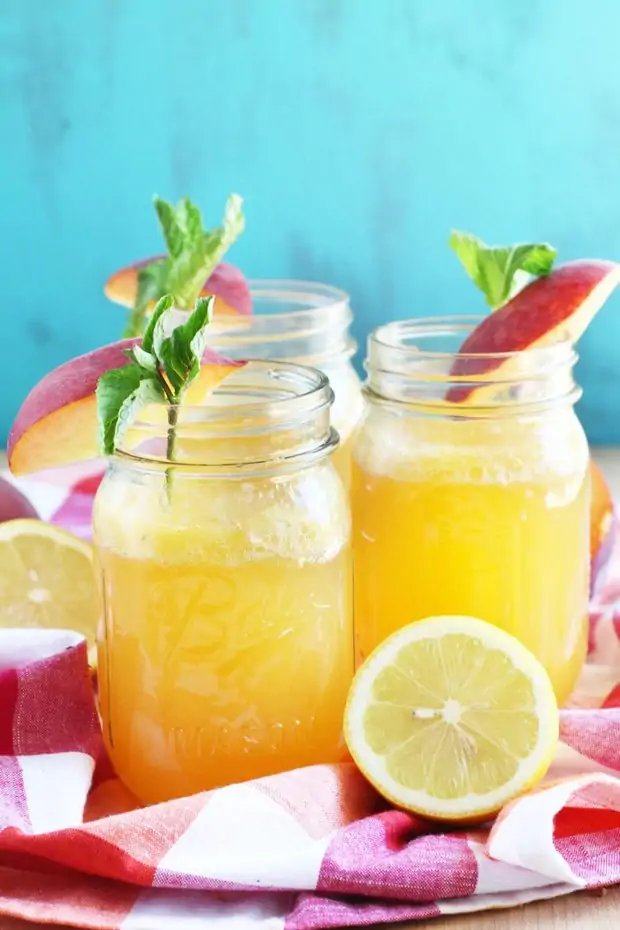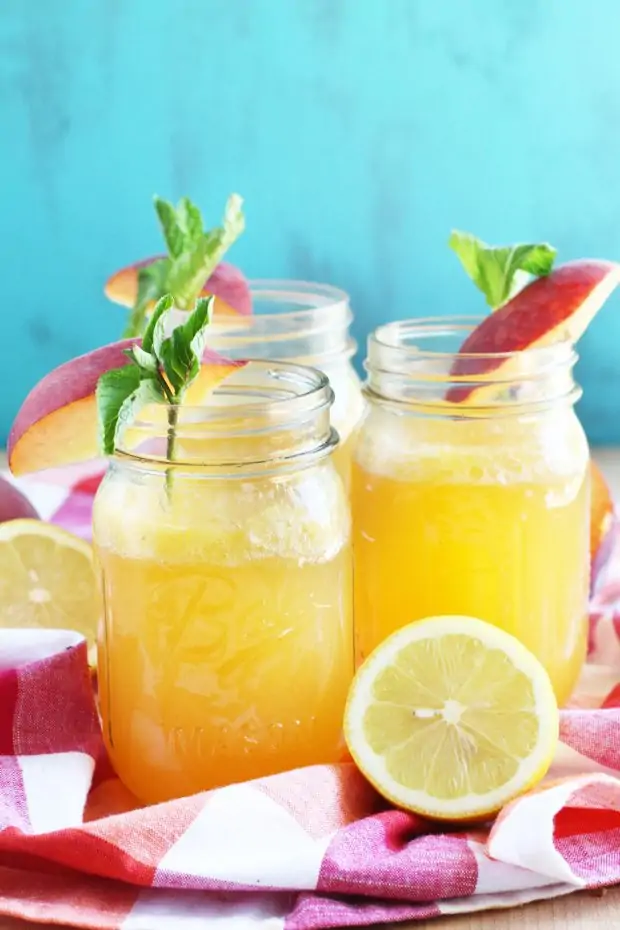 Because peach season is basically here and I am SO READY.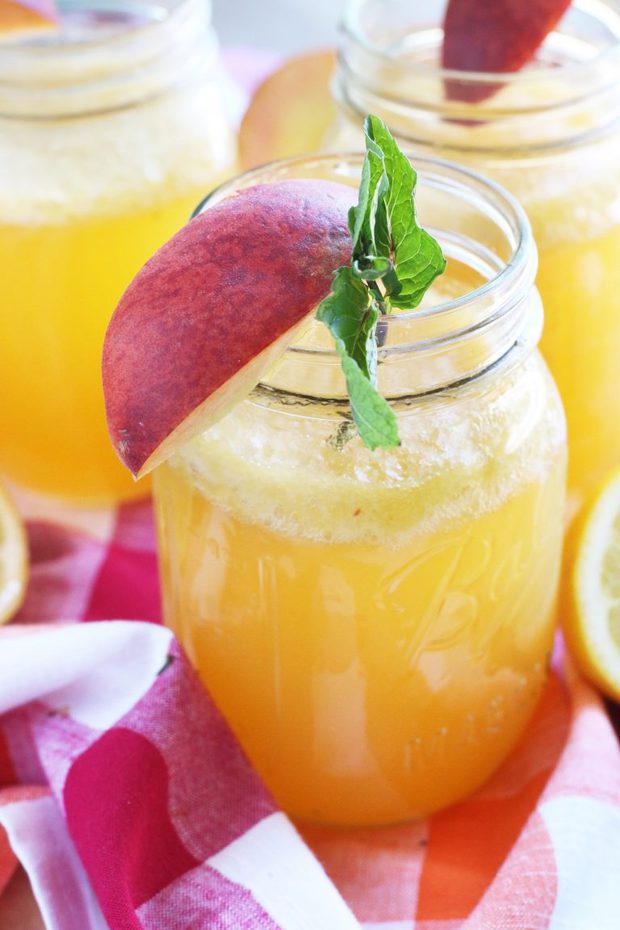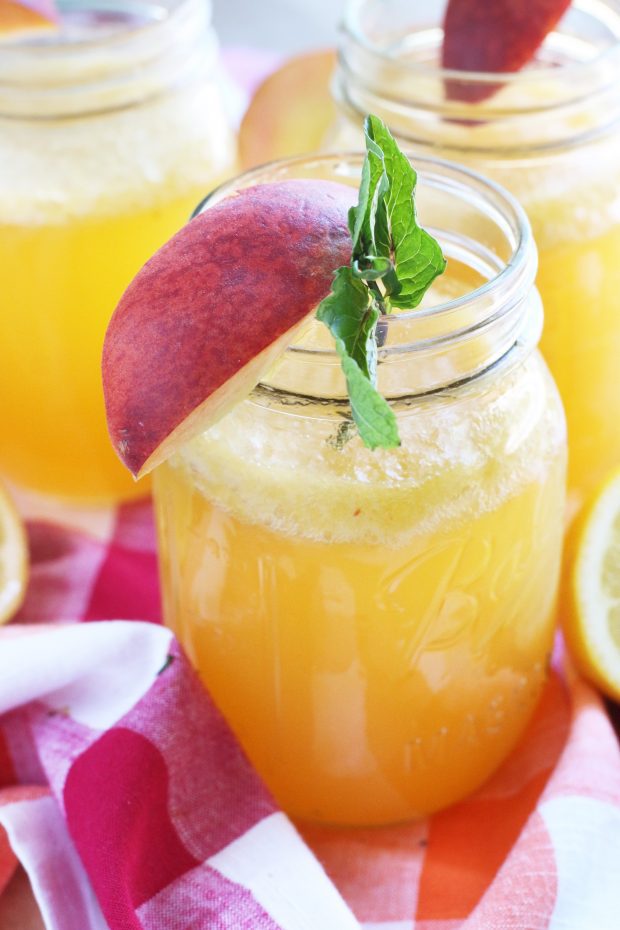 One of you very special readers left a comment over on my raspberry vodka lemonade about replacing water in the recipe with prosecco and I was like "OMG THAT IS PURE GENIUS".
I mean, who doesn't need a little more booze to add to the party, am I right??
This vodka lemonade is bursting with peach flavor, and it's just the right time to be bringing this to summer parties, isn't it?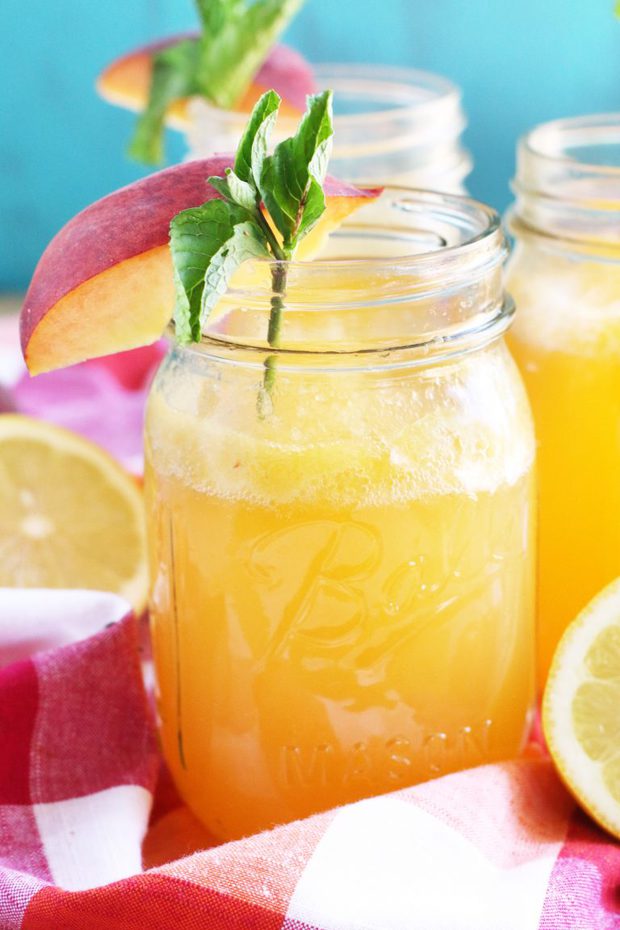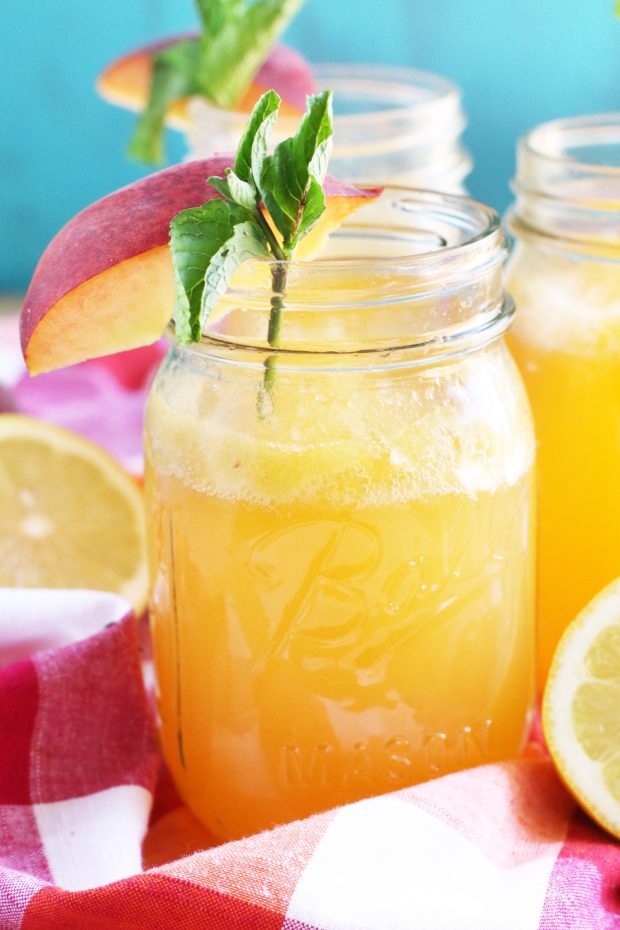 It's about to be the middle of hardcore peach season here in Colorado, and this week I am up where all the action is.
Palisade, Colorado.
There are peaches EVERYWHERE and they are all juicy, supple, and bursting with so much FLAVOR.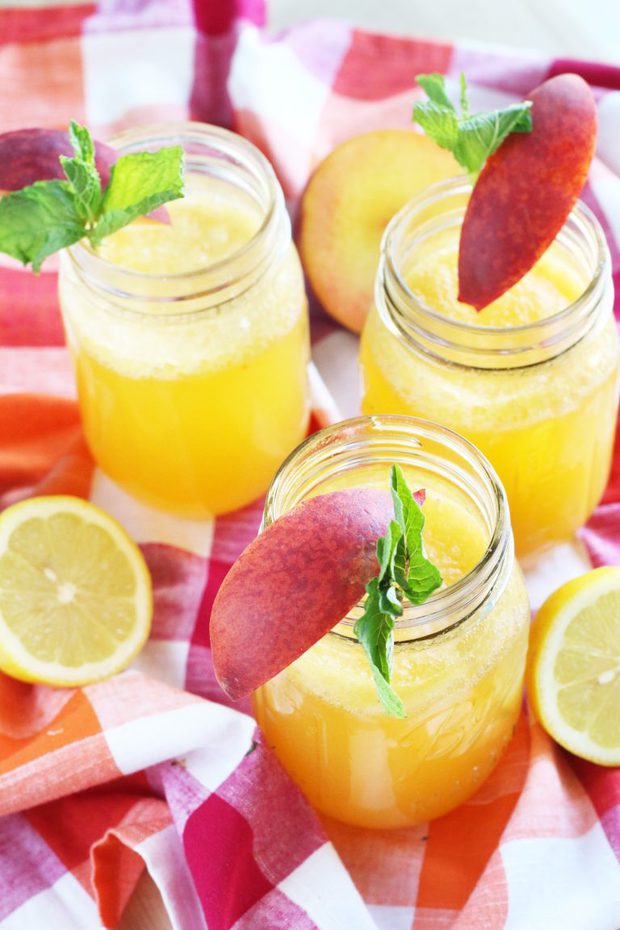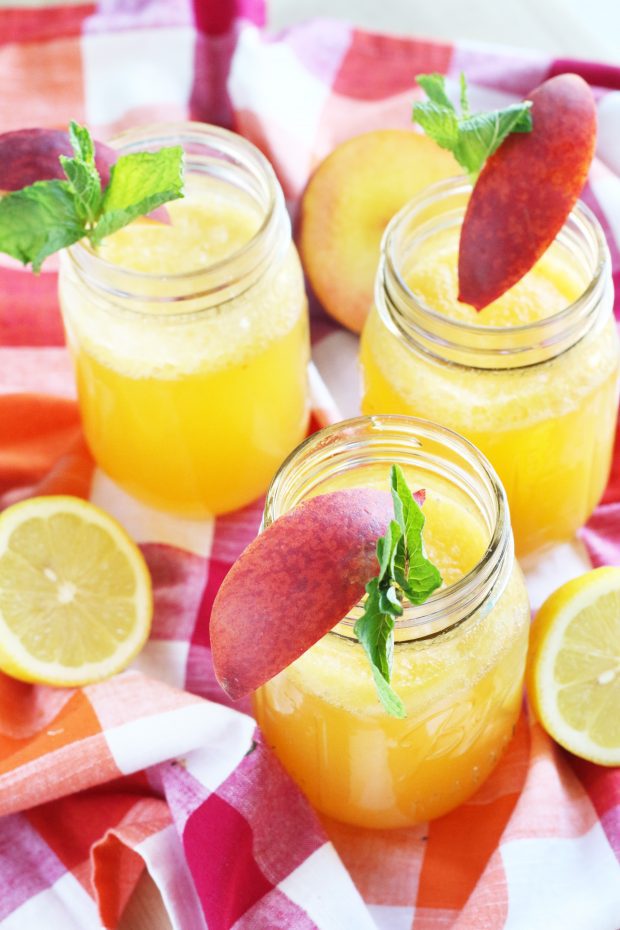 The juices literally run down your chin when you bite into one, and it throws me right back to those childhood days when I would be out of school, eating tons of peaches and not having a care in the world about anything but my curfew. LOL
You will get that amazing flavor bursting through every single sip of this big batch cocktail. It's so juicy and boozy and refreshing. I am so into the flavor of this punch… I just wish I could drink it every day, all day. Though I am pretty sure I would run into way too many hangovers in that situation… LOL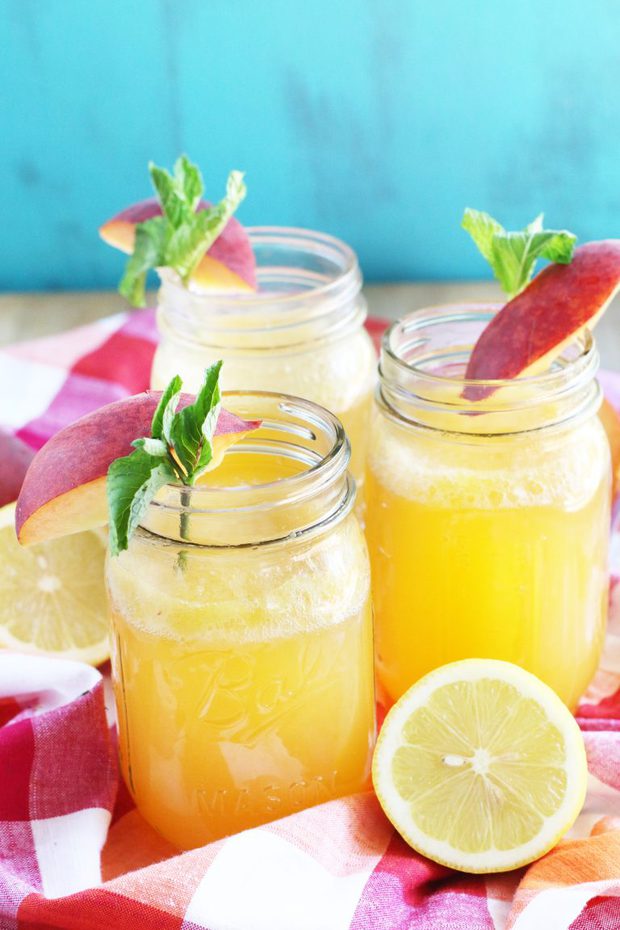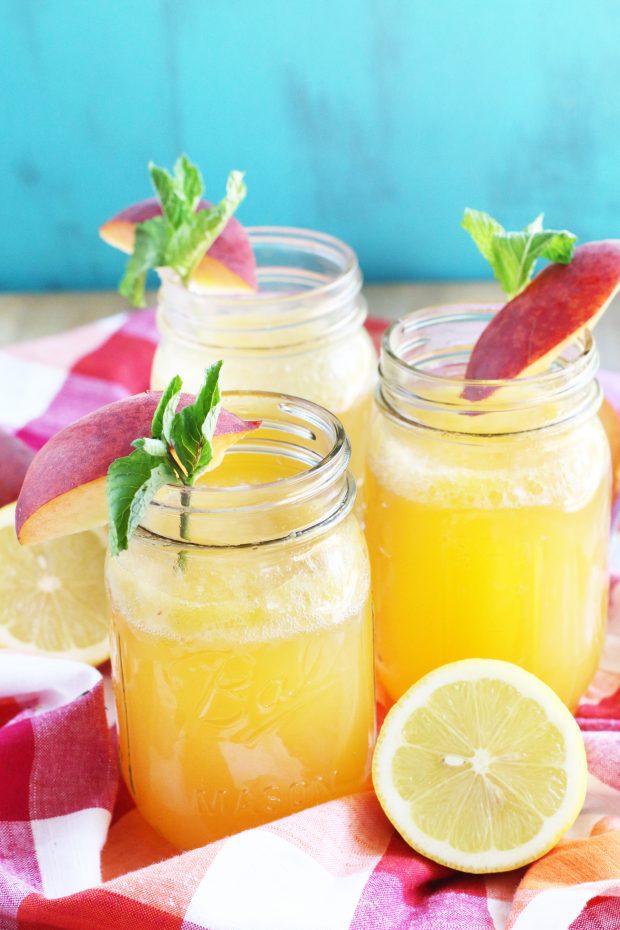 The peach flavor comes through in such a rich way, while the brightness of the lemon juice elevates the peach to a whole new level. When paired with the lighter flavors of the prosecco and the vodka, that fresh fruit juice still comes through each delightfully bubbly sip that you take.
It's just the right pairing for all those rich meats you'll be grilling up this season!
Want another summery vodka lemonade? This lavender lemonade cocktail is perfect for a crowd!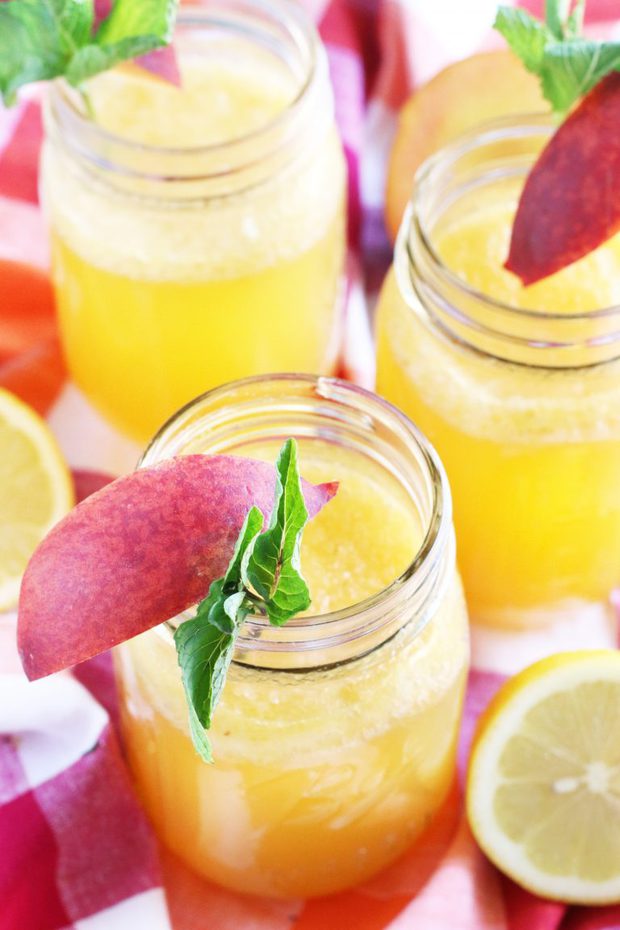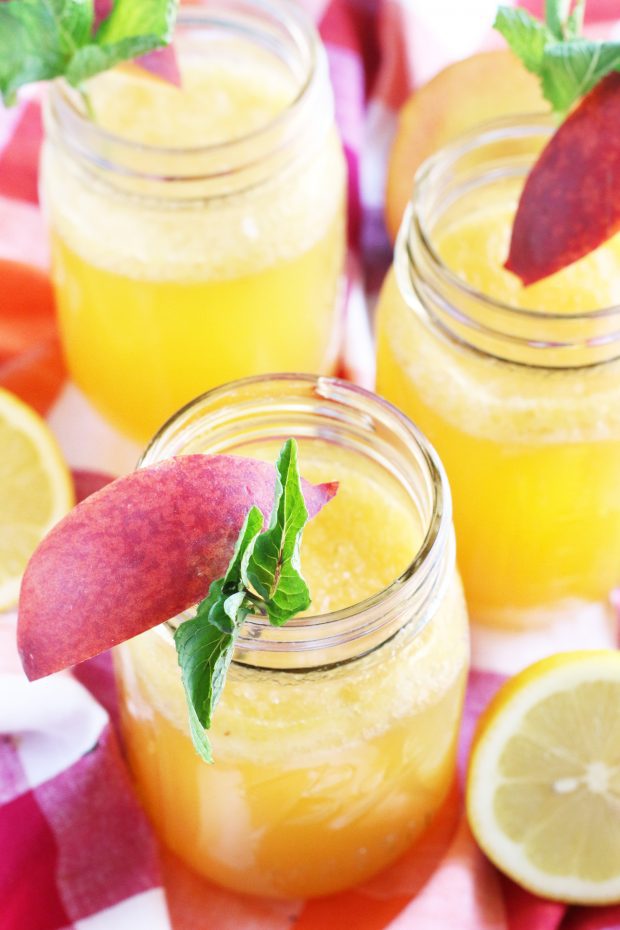 This Recipe's Must Haves
Regular mason jars are my favorite jars to turn into glasses for parties! They are adorable and so easy to garnish with fruit and/or adorable straws.
If you want to serve this fun lemonade in a pitcher, I highly recommend the one linked here. It's so festive and fun!
I love this all-purpose wooden spoon I use almost every day in my kitchen.
KitchenAid Maximum Extraction Juicer to get that fresh peach juice, the easy way.
If you don't have use for a juicer, a food processor
comes in handy to puree the peaches and strain out the juice out.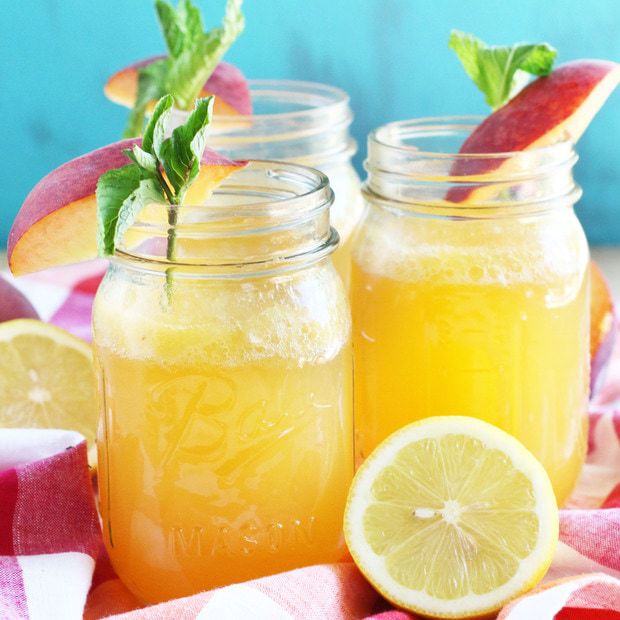 Sparkling Peach Vodka Lemonade
Freshly squeezed peach juice with vodka and prosecco makes for a refreshing, chilled drink that every summer happy hour needs!
Ingredients
1 lb peaches, peeled, pitted, and quartered
2/3 cup lemon juice
1 cup sugar
1 cup chilled vodka
3 cups chilled prosecco
Instructions
Run the peach quarters through a juicer and pour the fresh peach juice into a large pitcher filled halfway with ice.
If you do not have a juicer, puree the peaches in a blender or food processor. Then strain through a fine mesh sieve into a large pitcher filled halfway with ice.
Add lemon juice, sugar, vodka and water to the large pitcher with peach juice.
Stir to combine until the sugar has dissolved.
Serve cold.
Recommended Products
As an Amazon Associate and member of other affiliate programs, I earn from qualifying purchases.