Please note this post contains affiliate links.
Lavender Simple Syrup is the easy way to create a unique, sweet, and floral drink right at home! It is the perfect addition to your favorite drinks, but also your favorite sweet treats. Make your own and enjoy the aroma of freshly blooming lavender flowers in just minutes.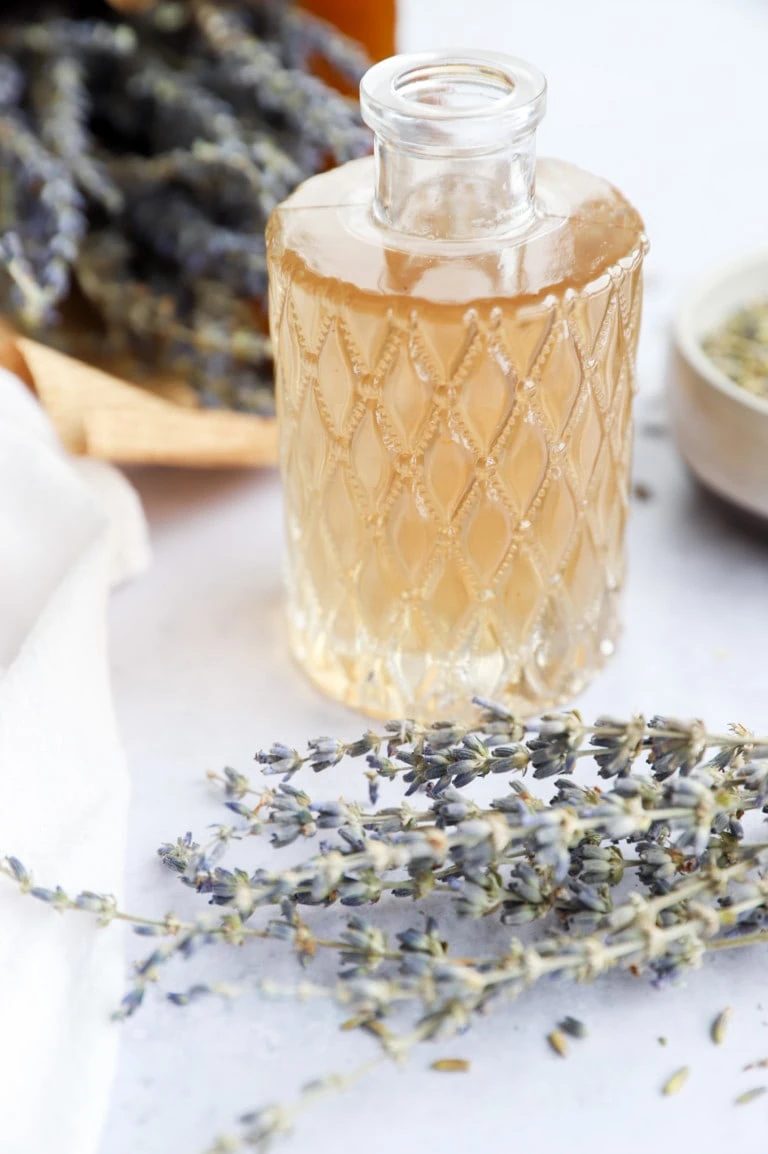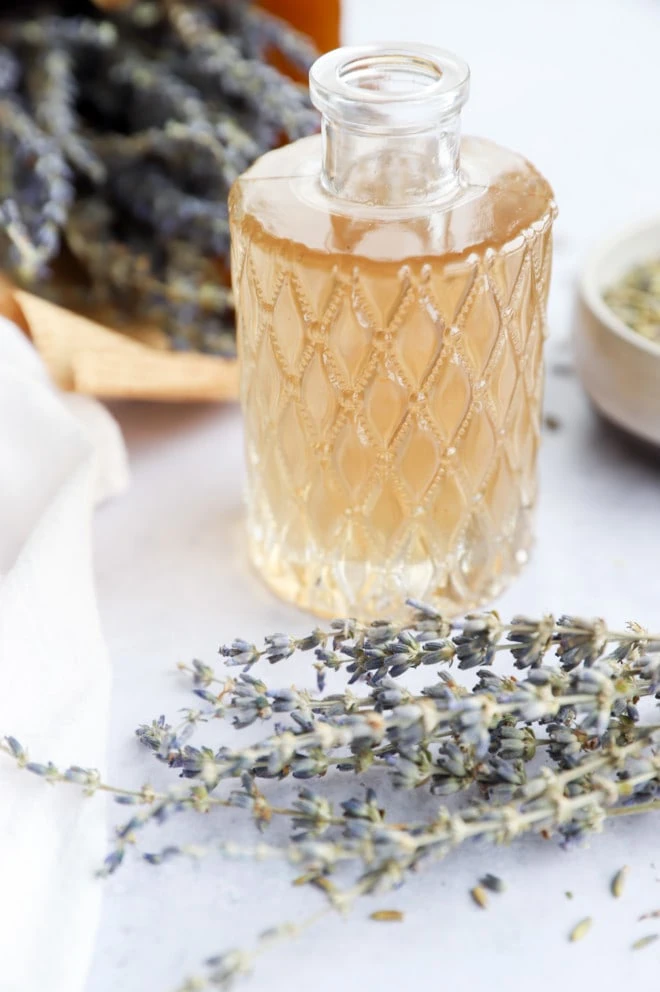 about this lavender simple syrup
Lavender simple syrup is an easy way to add that delightful floral flavor to your everyday cooking, baking, and even drinks!
I had a lavender latte for the first time many years ago. The light floral flavor made me downright weak at the knees. I'm a sucker for the flavor, so I love to add that lavender flavor wherever I can.
With spring just around the corner, I'm ready to lean into those flavors, and so this lavender simple syrup had to happen asap.
Using lavender simple syrup is so simple, you don't even need to be a master mixologist or baker to make delicious creations. In fact, making the syrup is just a matter of combining lavender and sugar with a bit of boiling water. Then, you just let it cool and your perfect syrup is ready to use.
With its subtle sweetness, fragrant aroma, and versatile uses, this syrup is the perfect addition to any meal or beverage. So, don't be afraid to try it out and bring new life to your drinks and desserts.
ingredients
lavender buds. for this recipe I use dried lavender flowers or dried lavender buds. These dried flowers have a sweet floral aroma and I find that the dried buds are much easier to find than fresh lavender. Lavender is strong, so be sure to use a light hand when using it in other dishes!
sugar. all you need is granulated sugar for this recipe! You can also use coconut sugar.
water. I use filtered water for this recipe, but you can definitely use tap water as well! If your tap water tastes metallic or a little "off", try to use filtered to yield a better result.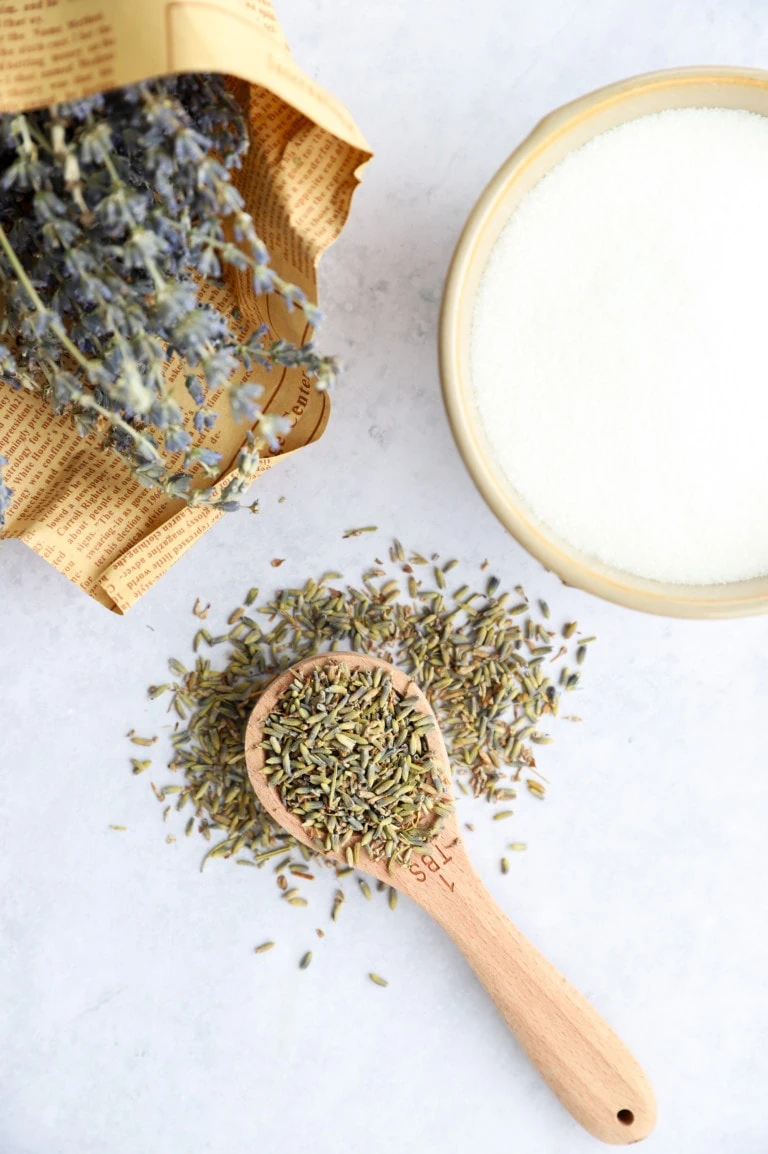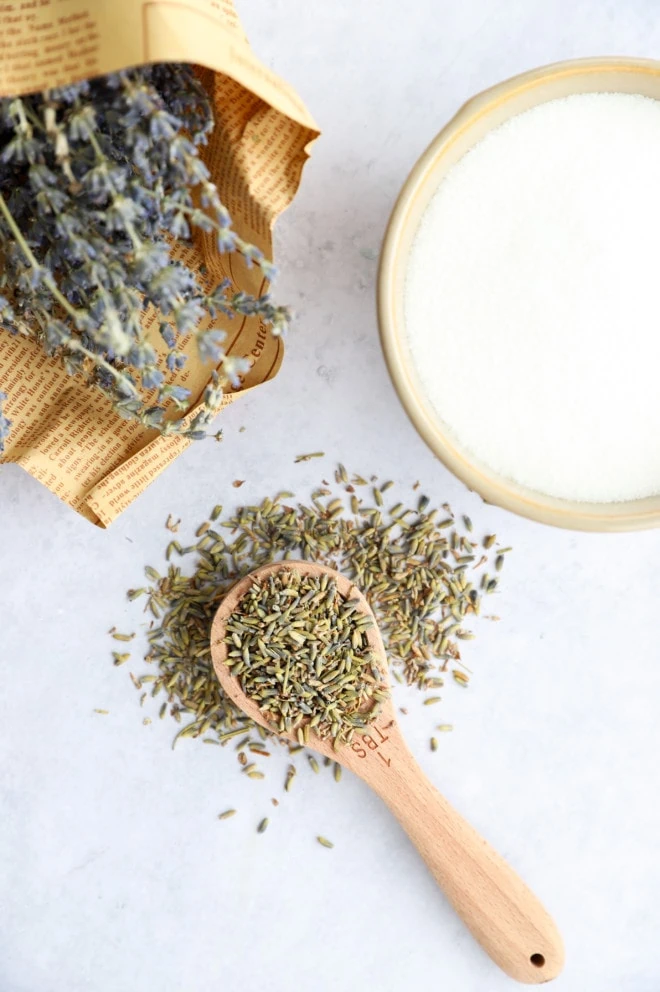 this recipe's must haves
To get the simple syrup cooking, you will need a set of measuring cups, a saucepan, and a wooden spoon.
You will also need a fine mesh sieve to strain out the lavender buds.
Finally, I like to store my simple syrups in mason jars so make sure you have some on hand! You can also use your favorite airtight container (glass or plastic).
here's how to make lavender simple syrup
bring to boil
Combine lavender buds, sugar, and water in a medium saucepan over medium-high heat. Bring to a boil, then immediately reduce heat to a simmer.
simmer
Continue to cook and stir until the sugar has dissolved. This should take about 5 minutes. Remove from heat.
steep
Let the lavender buds steep as the syrup cools off. Taste the syrup after 15 minutes. If it has enough flavor, strain out the lavender buds. If you want it stronger, let it steep for an additional 5 to 15 minutes. I personally think it tastes best after 15 minutes.
Cool completely before using.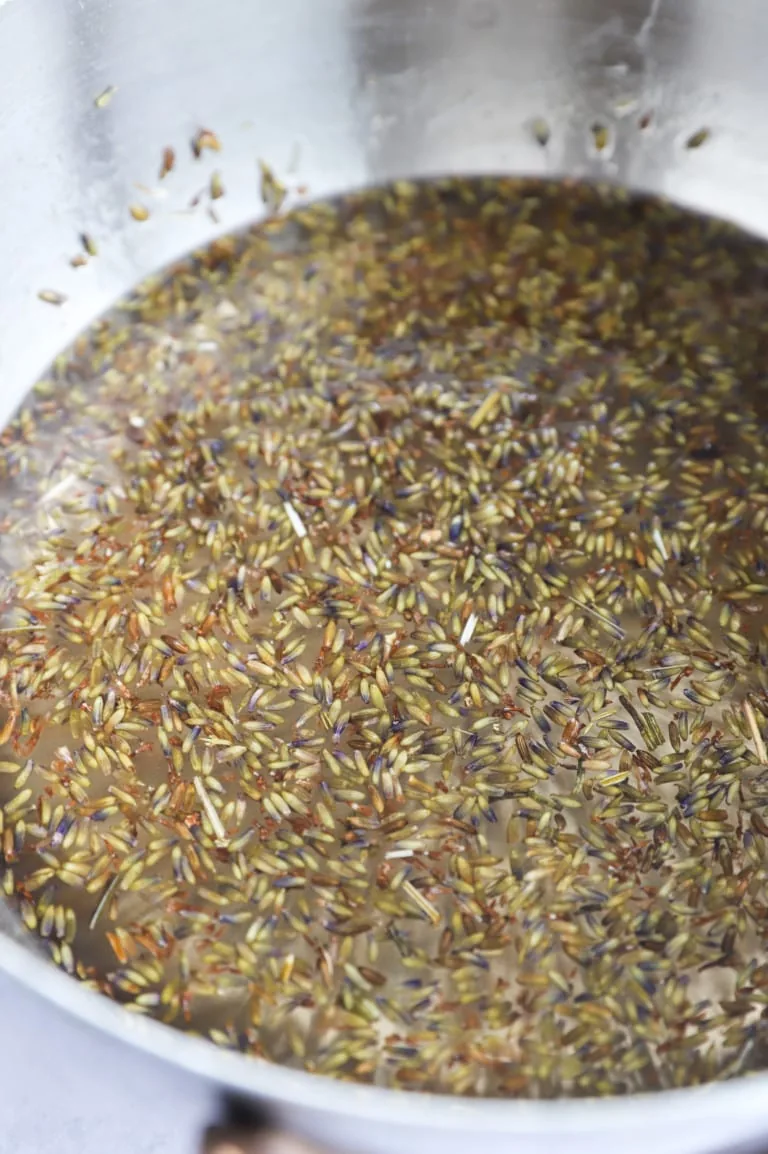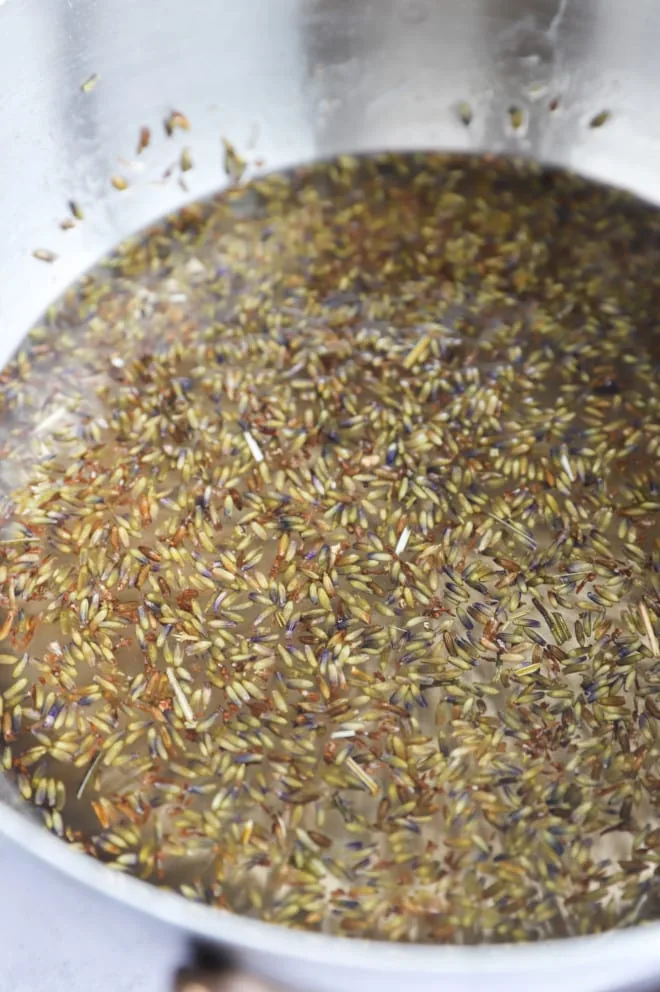 tips for success
make more. If you want more than 1 cup (which is what this recipe yields), you can easily double or triple the recipe!
get the right lavender. When you are shopping for lavender, fresh or dried, be sure to look for culinary lavender. If it isn't labeled "food grade" then it could be sprayed with pesticides or other harmful chemicals.
let it steep. The most important part of this process is to let the syrup sit! You get so much more flavor out of the lavender buds by letting them steep for about 15 to 20 minutes. I also love that you can adjust the flavor whether you want a milder or stronger lavender flavor. Simply check it every 5 minutes until the taste is how you like it (for me it's 15 minutes).
More flavored simple syrup recipes to explore: Cinnamon Simple Syrup | Cherry Simple Syrup | Pumpkin Spice Simple Syrup | Strawberry Rhubarb Simple Syrup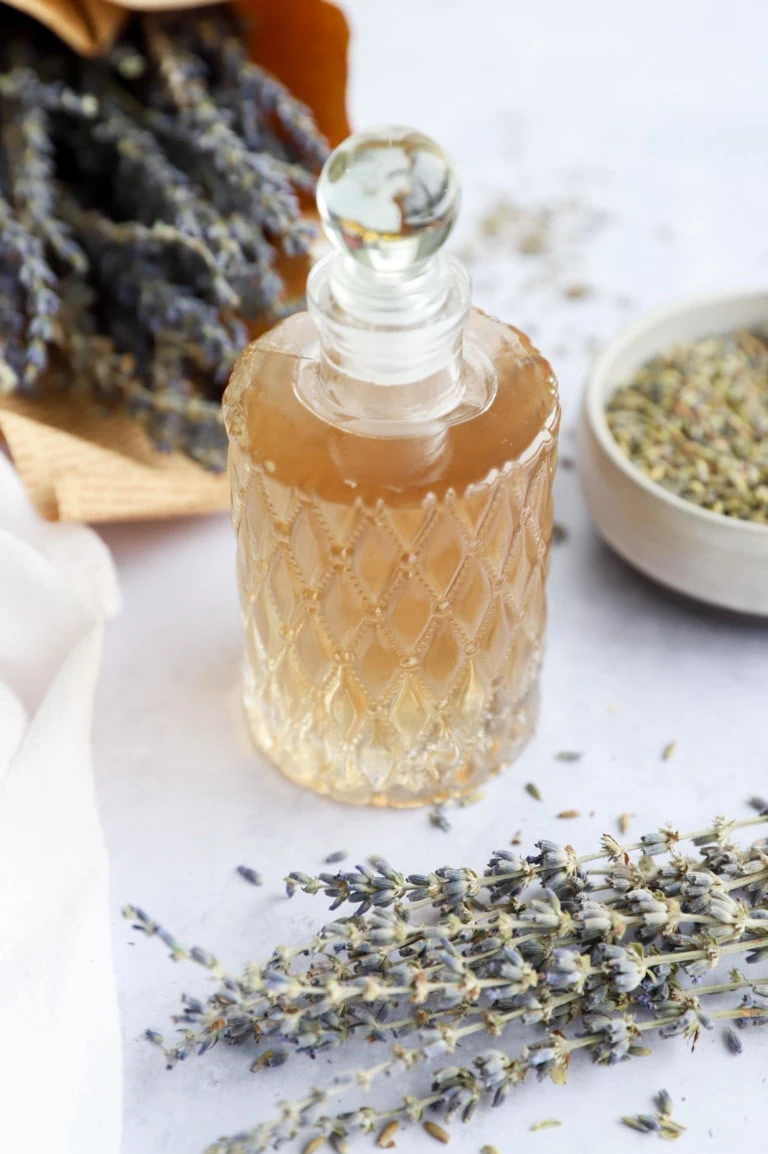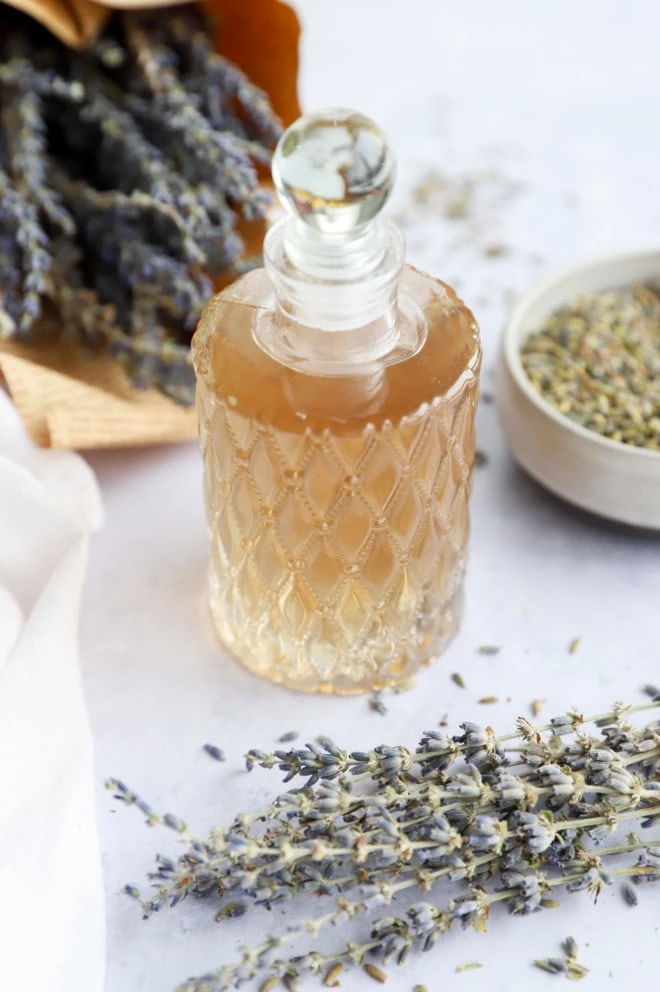 can I use fresh lavender?
You can use fresh lavender for this simple syrup recipe instead of dried lavender. If you are using fresh lavender, make sure that the buds have not opened. The buds should be purple and tightly wrapped to get the best flavor out of them.
how long does lavender simple syrup last?
Simple syrup will last in the refrigerator for up to 1 month. If you decide to freeze it, it will last for several months. See below for additional details on refrigeration and freezing.
do you refrigerate lavender syrup?
Yes, all simple syrup should be refrigerated. If stored properly in an airtight container or jar, any simple syrup will last for up to 1 month.
Be sure to label your containers! I just write the expiration date on a piece of tape and stick it to the top or side of the jar for easy reference.
can you freeze lavender simple syrup?
Yes, you can! If you want to store it longer than a month in the refrigerator, you can freeze the syrup. Place in an airtight container (I recommend using plastic, not glass) and freeze for several months.
You could also freeze the syrup in ice cubes for small portions! Once frozen, add the cubes to a freezer-safe resealable bag and freeze.
is there a way to make this syrup purple?
Most of the time, lavender simple syrup does not come out purple. Instead, it will be a shade or brown or amber. The final color is actually the result of whether you are using dried or fresh buds. I don't particularly worry about the purple color, but if you are dead set on getting it, use red and blue liquid food coloring to create purple (a couple drops of each should do it!).
Need more inspiration for cocktails? Check out my cocktails recipe page!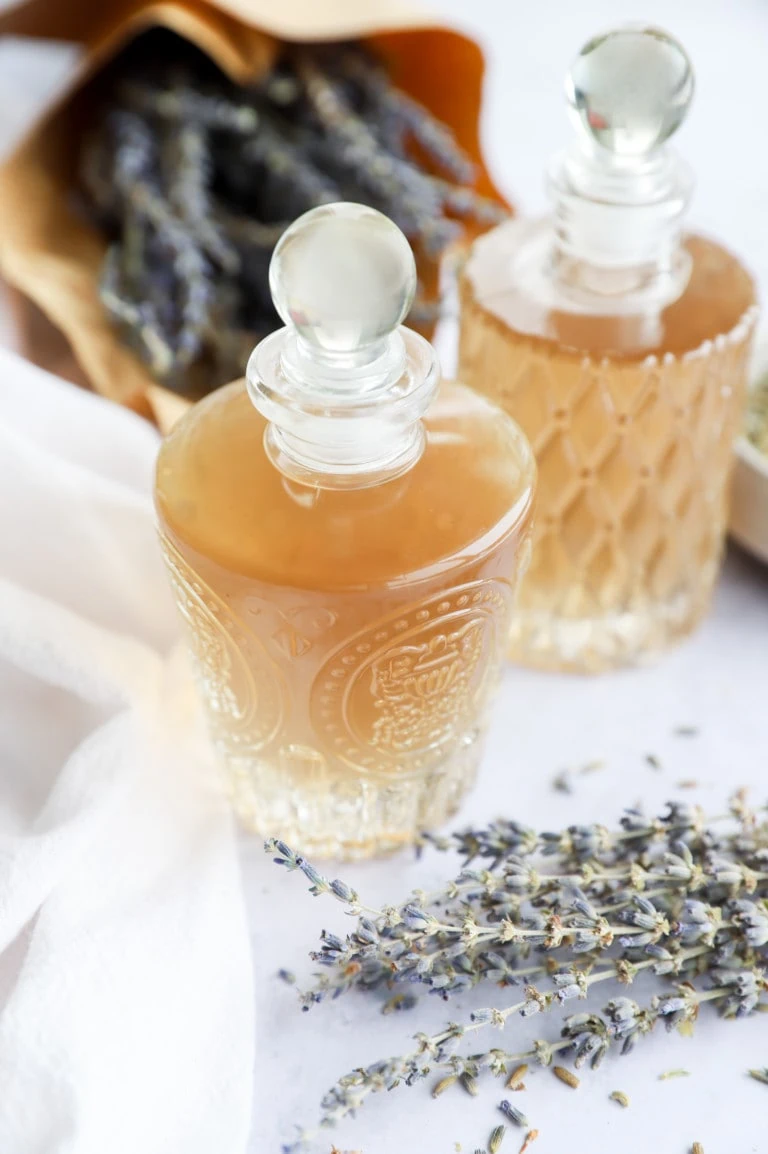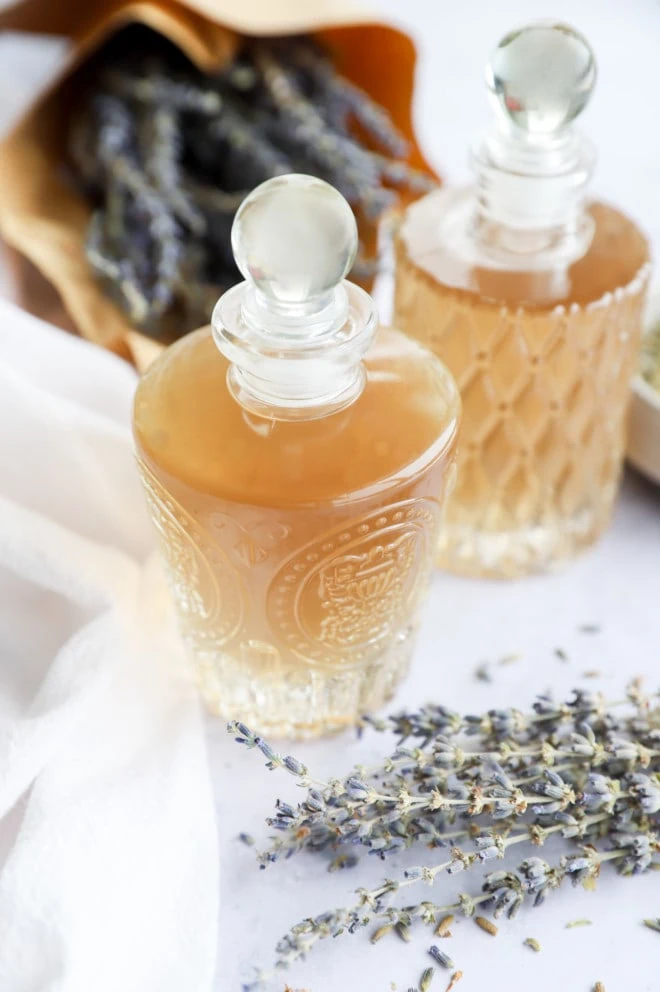 how to use this lavender syrup recipe
This syrup is fantastic to use in so many different ways. The most obvious for me is to use it in cocktails, from classics to more unique combinations such as this lavender rosé royale cocktail.
Other options include:
Stir into your favorite coffee for a floral twist. A lavender latte is so delish!
Add to hot tea like earl grey or use it to make a London Fog. You can also add it to iced tea!
Use it to sweeten homemade lemonade instead of using sugar. So perfect for parties or spring/summer gatherings.
Brush the exterior of a vanilla or lemon cake to add moisture and sweetness with a floral touch.
Use as a topping for pancakes, waffles, and even ice cream.
how to store and reheat
Store. Cool the syrup completely before pouring into an airtight container or jar. Store in the refrigerator for up to 1 month.
Freeze. Once cooled, add to an airtight container (I recommend using plastic, as glass can possibly shatter if you don't leave enough space at the top for it to expand. It will last for several months!
Thaw. If you have frozen the syrup, thaw it in the refrigerator overnight and keep stored in the refrigerator.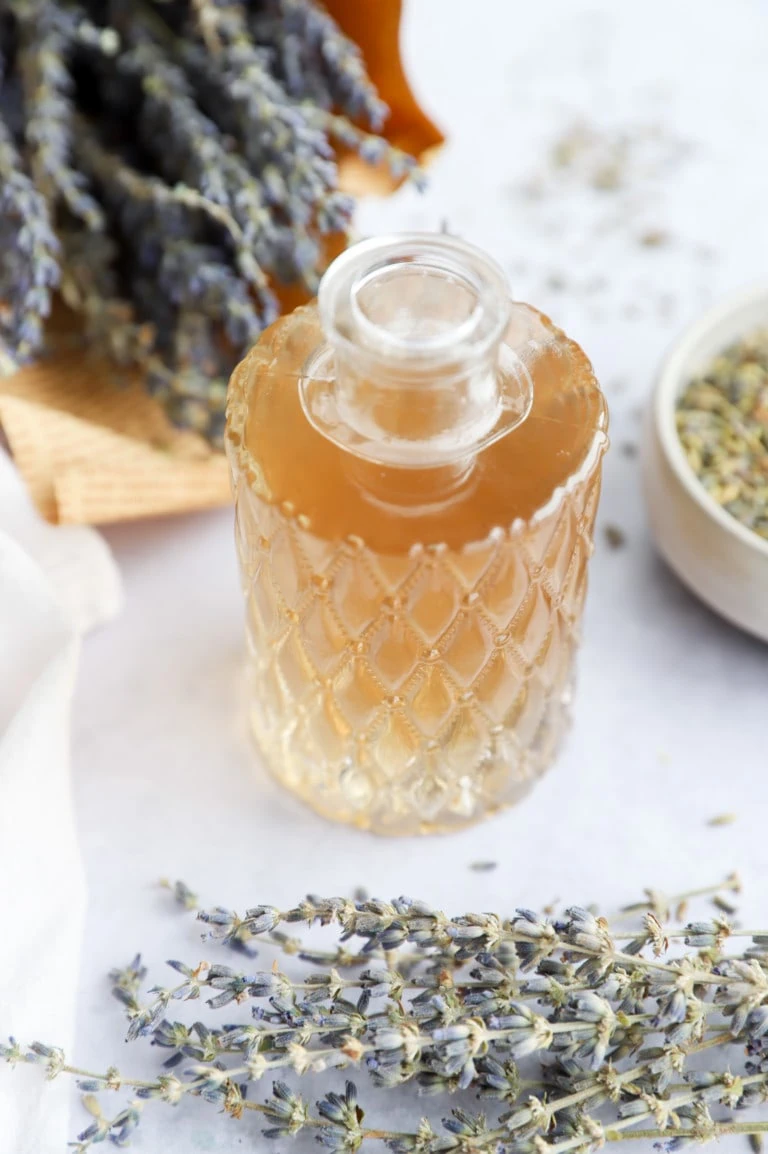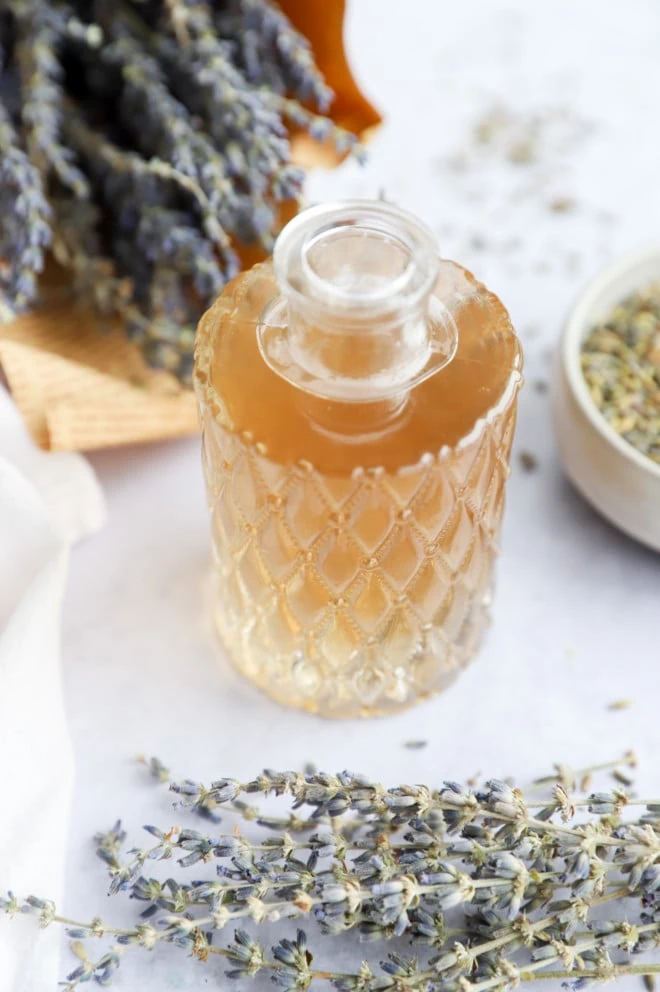 Finally, if you make this lavender simple syrup recipe, please be sure to give this recipe a rating or leave a comment! I love to hear when you all make recipes, and I do take the time to respond to every single comment. Feel free to drop questions below too, if you have them!
Oh and be sure to tag me on Instagram if you make the recipe! I love being able to see these recipes come to life in your homes – it's my favorite thing to look through those photos. It really means the world to me!
Lavender Simple Syrup
Additional Time:
15 minutes
The subtle floral notes makes this simple syrup a fantastic addition for cocktails, drinks, and desserts.
Ingredients
3 Tbsp dried or fresh lavender buds
1 cup granulated sugar
1 cup water
Instructions
Combine lavender buds, sugar, and water in a saucepan over medium-high heat. Bring to a boil, then lower the heat to a simmer.
Simmer for 5 minutes, stirring constantly, until the sugar is dissolved.
Remove from heat and allow lavender to steep. Taste the syrup after 15 minutes. If it has the flavor you like, strain and store. If it needs more lavender flavor, continue to steep for about 5 to 15 additional minutes. I recommend checking it every 5 minutes after 15 minutes!
Cool completely before storing in an airtight container in the refrigerator. It will last for up to 1 month.
Recommended Products
As an Amazon Associate and member of other affiliate programs, I earn from qualifying purchases.