Please note this post contains affiliate links.
A Blackberry Vodka Limeade is tangy and fruity, with a hint of mint. The summer cooler is rich in flavor and goes down super easy. It's the ultimate refreshment for any day of the week!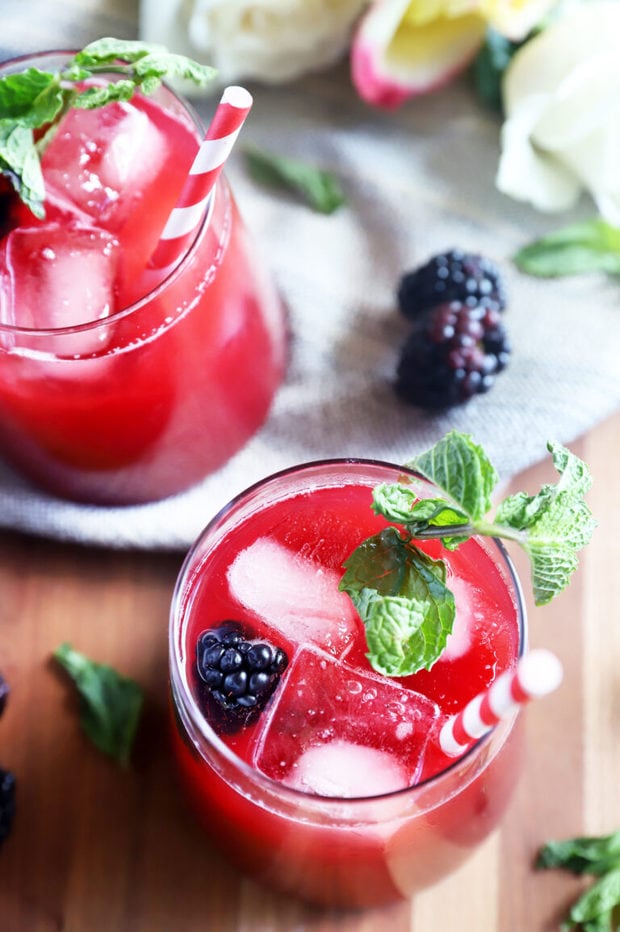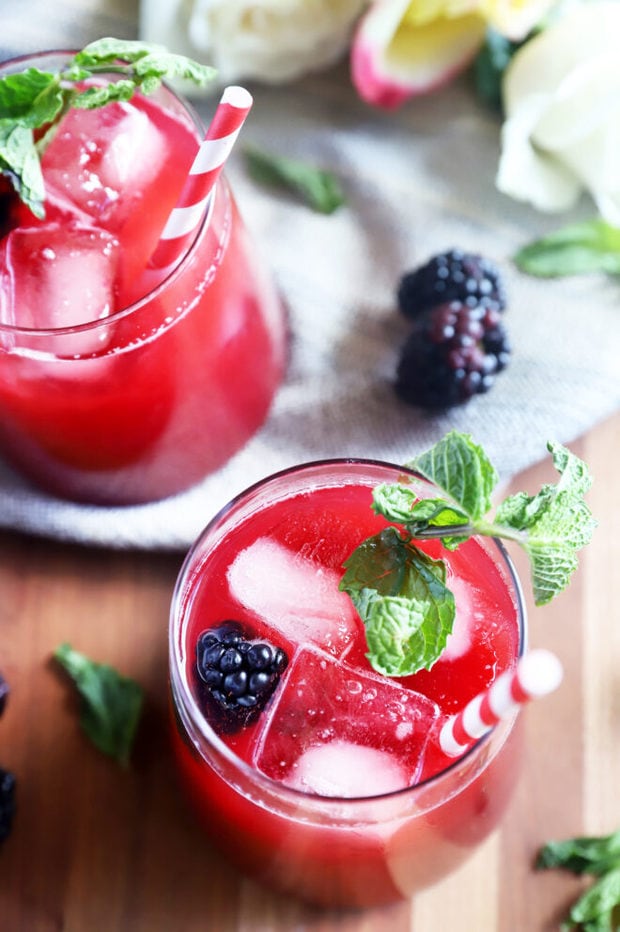 Before everyone FREAKS OUT that I'm pregnant and posting a cocktail, let's all just calm down, mmkay?
I made a mocktail version for myself and drank every sip of it, lol.
There's just no way that I can stop posting delicious drinks for you all, especially when there's still a pandemic and it is beyond hot outside!

a Cake 'n Knife favorite:
You all need something to relieve the pressure and stress, am I right?
This blackberry vodka limeade is the most refreshing, fruity, and tart cocktail there is. I absolutely love all the berries during the summer, but blackberries are my JAM right now.
Speaking of jam, now I am craving blackberry jam…. That might have to be my next project, what do you think?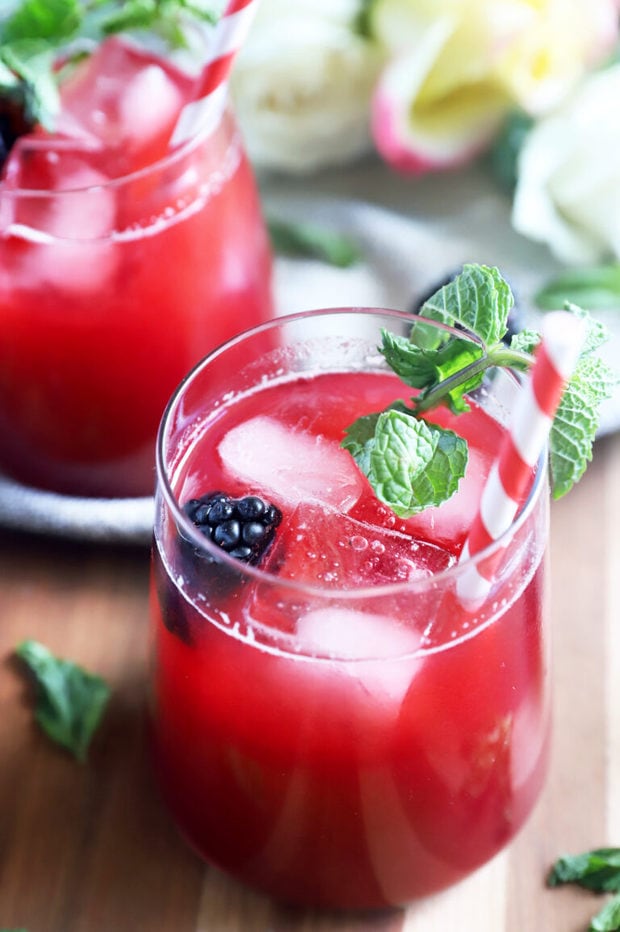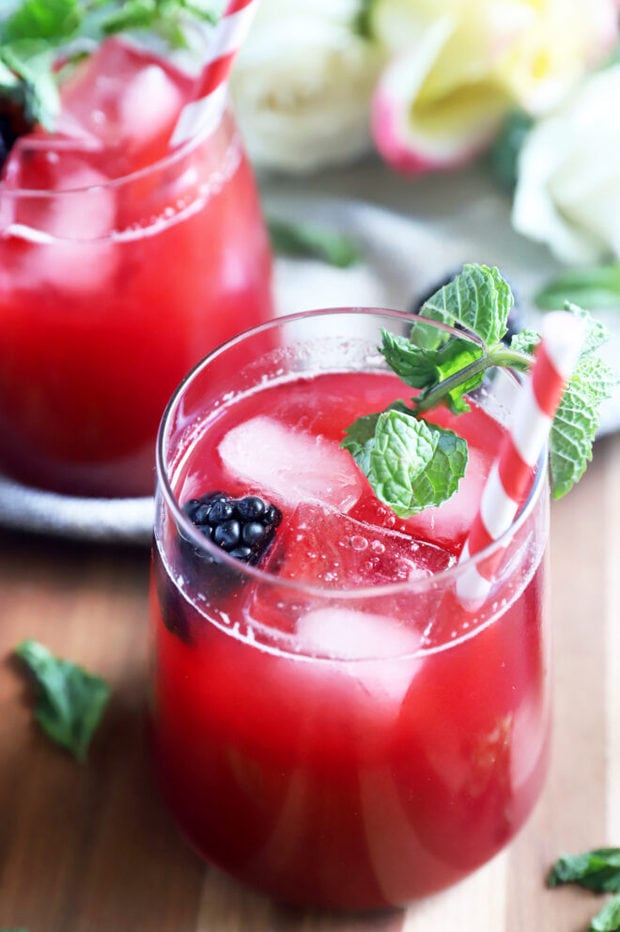 The combination of blackberry, lime, and mint in this cocktail is pure magic. Honestly, these flavors are made for each other. The blackberries are tangy and sweet. Lime juice brings a tangy element to the whole thing. Finally the mint is the refreshing, lip-smacking "ahhhhhh" moment you get in every single sip.
Personally, I like to make this cocktail with vodka (obviously) because of the flavor, but you can also use gin if you like the floral notes there.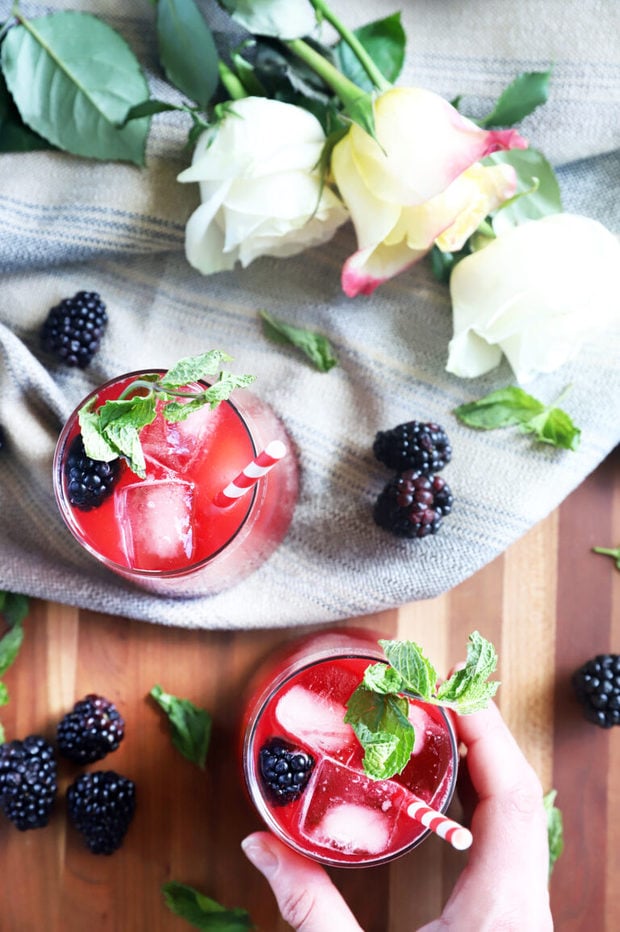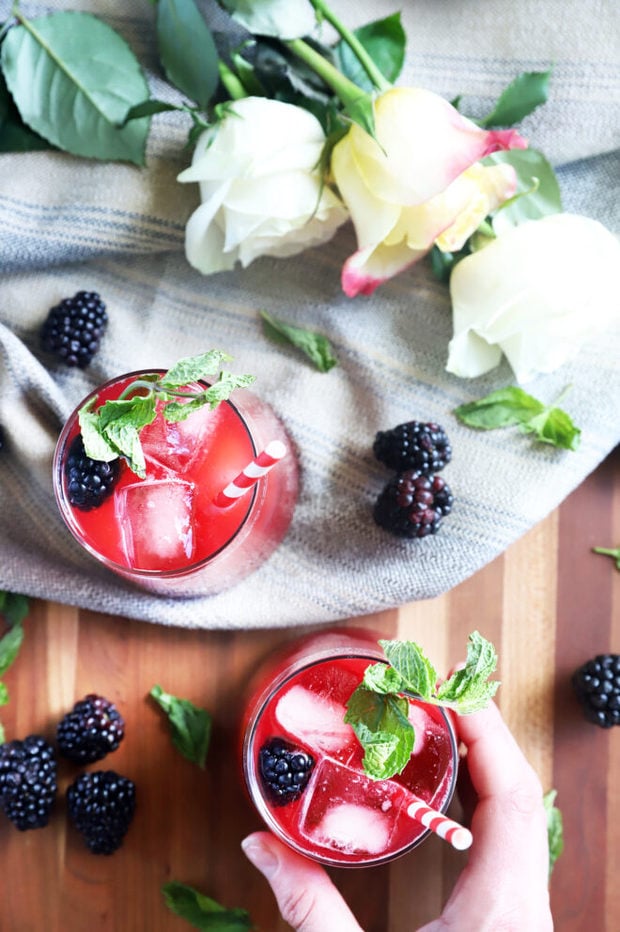 this recipe's must-haves
The star of this recipe is the blackberry, lime, and mint syrup that you make on the stove in a saucepan.
You will also need a blender, like a Vitamix, to mix up the syrup before you strain out all the solids with a fine mesh strainer.
The cocktail itself comes together in a pitcher, so grab your bar spoon and you will be ready to go!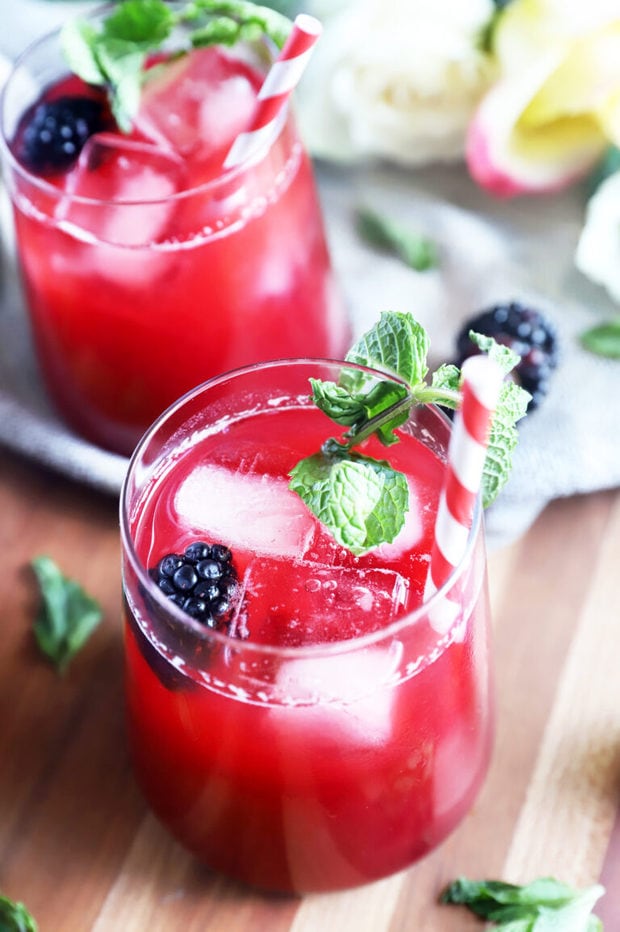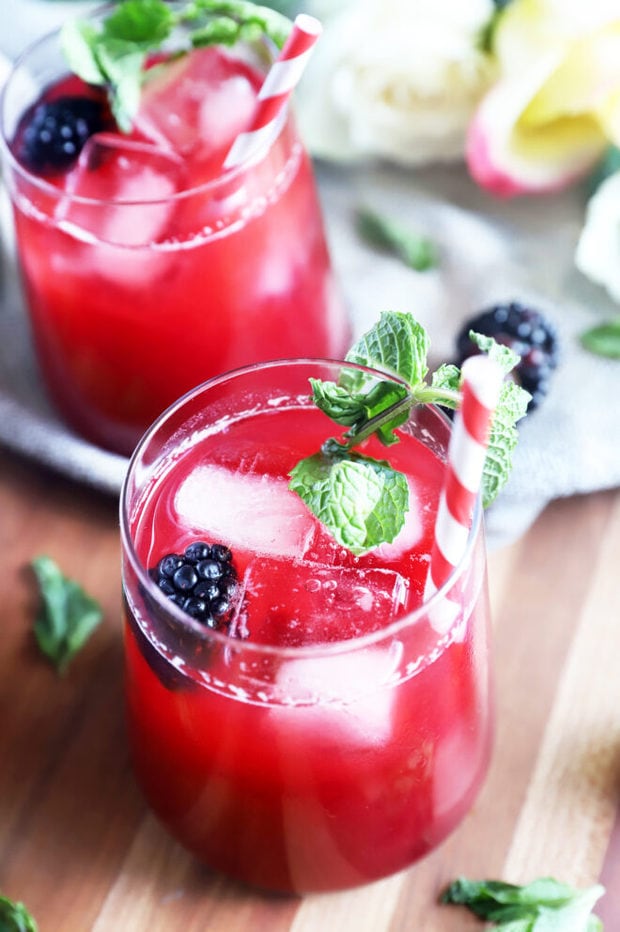 here's how to make a blackberry vodka limeade!
Make Syrup
Simmer the blackberries, sugar, lime juice, mint leaves, and some water together over high heat for about 5 minutes until the berries are softened. Once those are cooked down, remove the mixture from heat and blend it all together in a blender.
Strain out all the solids and then add the syrup to a pitcher.
Make Cocktail
Stir in more water and vodka, until well-combined. Serve in glasses with fresh blackberries and mint leaves for garnish!
If you want to make this a mocktail, all you have to do is replace the 4 oz vodka with 4 oz water.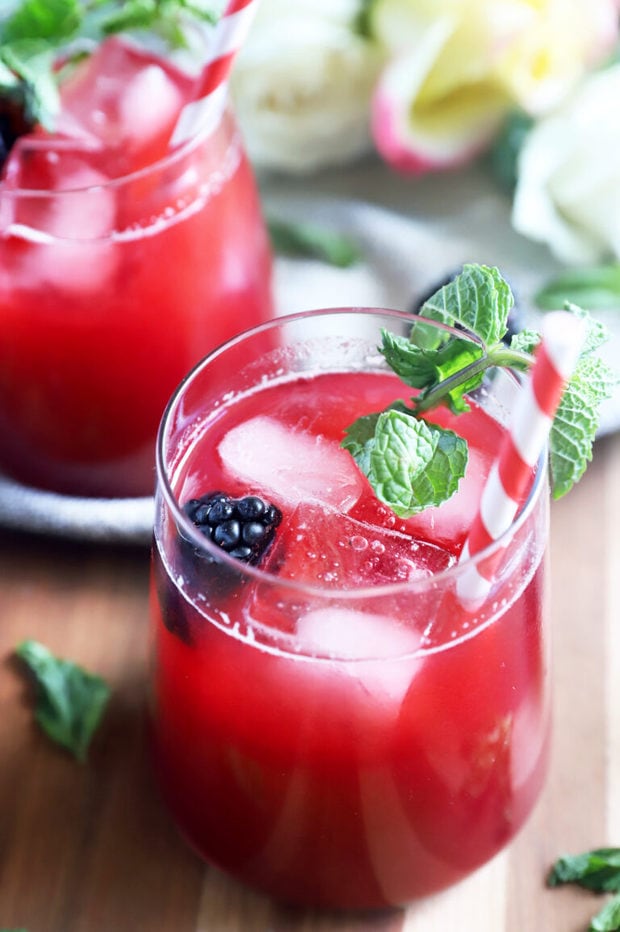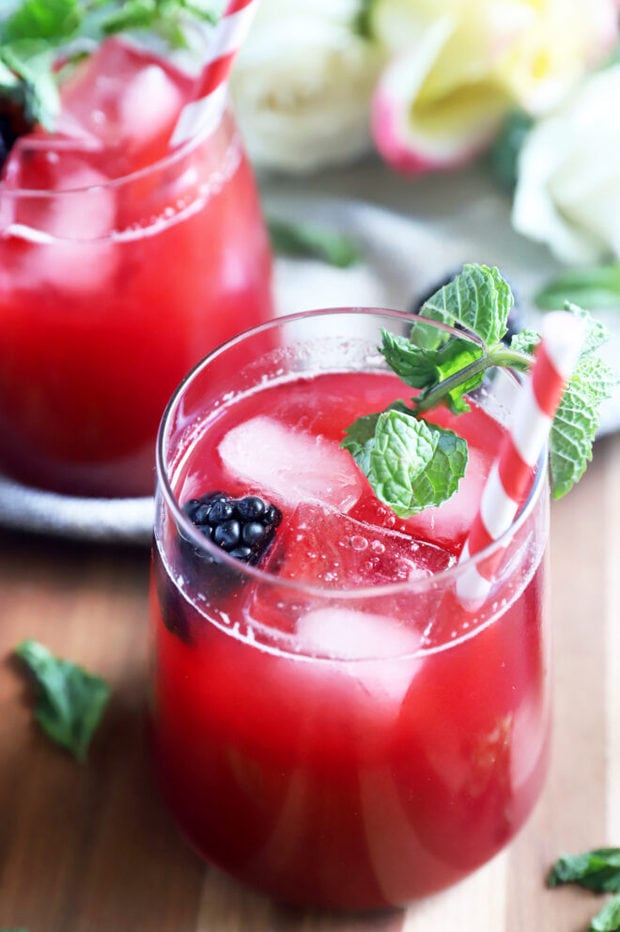 Is there a specific brand of vodka I should use?
Any brand works! I like to use Absolut Elyx because it's super smooth, but your favorite brand works great in the drink.
Can I make the blackberry syrup ahead of time?
If you are prepping this drink for later, you can easily make the syrup ahead of time. All you have to do is strain the liquid into an airtight container, then store in the refrigerator for up to 5 days.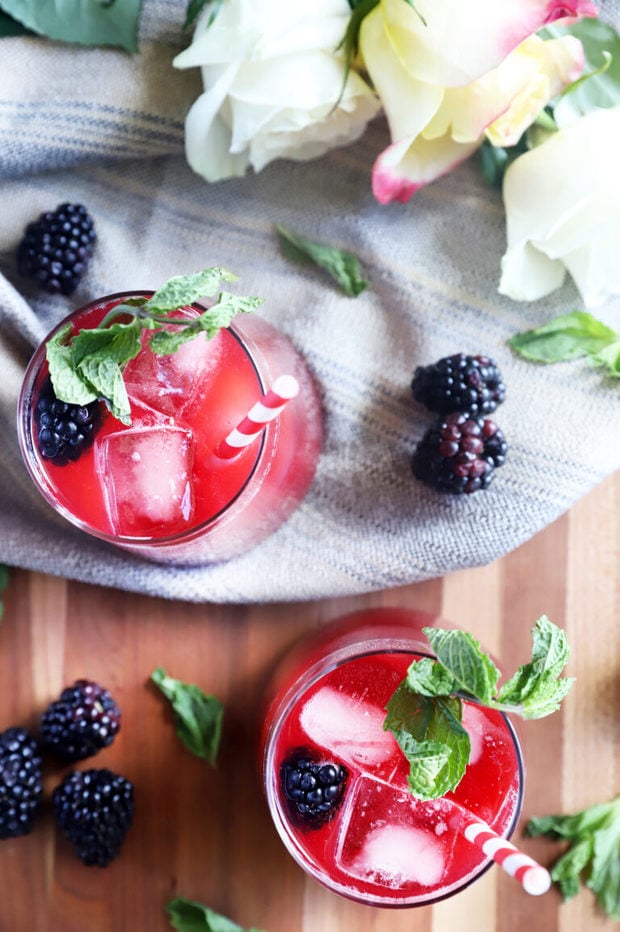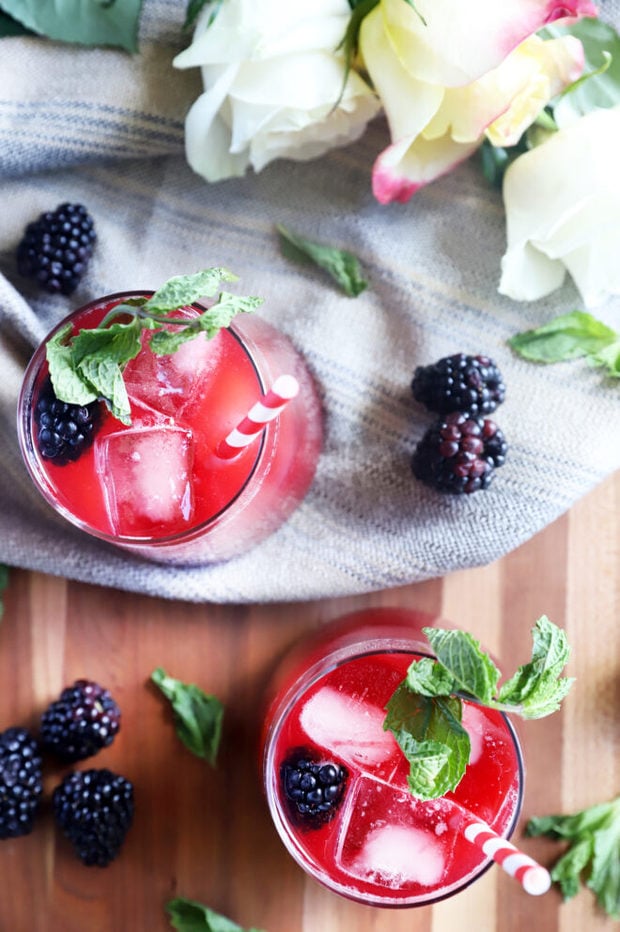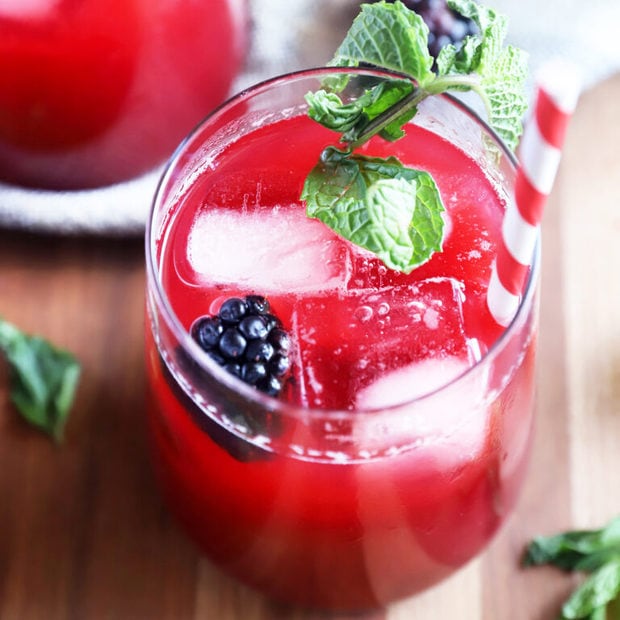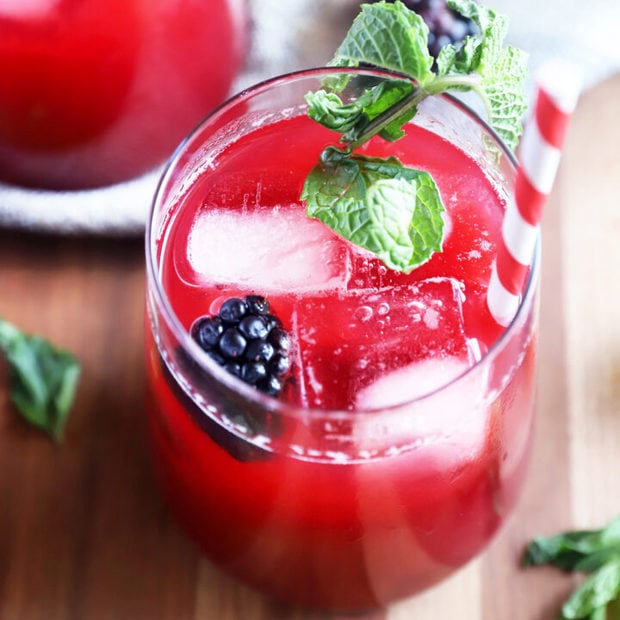 Blackberry Vodka Limeade
Refreshing, tart, and tangy, this cocktail is a simple sipper to enjoy any day of the week.
Ingredients
1 cup blackberries
3 Tbsp sugar
Juice of two large limes
5 mint leaves
2 cups cold water
4 oz vodka
Garnish: fresh blackberries, mint leaves
Instructions
Add blackberries, sugar, lime juice, mint leaves, and 1/2 cup water in a saucepan over high heat. Use a wooden spoon to smash the blackberries, stirring to combine.
Once boiling, reduce heat to medium and cook for about 5 minutes. Remove from heat and pour into a blender. Blend until well combined. Strain over a pitcher to remove seeds and solids.
Stir remaining water into the pitcher and fill with ice. Stir in vodka and serve immediately. Garnish glasses with fresh blackberries and mint leaves.
Notes
To make this a mocktail, simply replace the vodka with water!
Recommended Products
As an Amazon Associate and member of other affiliate programs, I earn from qualifying purchases.