Please note this post contains affiliate links.
Grilled Burrata Pizza is a fresh take on grilled pizza for your summer evening! Pizza dough is topped with tomato sauce, mozzarella, crispy fried prosciutto, tangy sun-dried tomatoes, fresh basil, and of course soft and creamy burrata. Time to fire up that grill!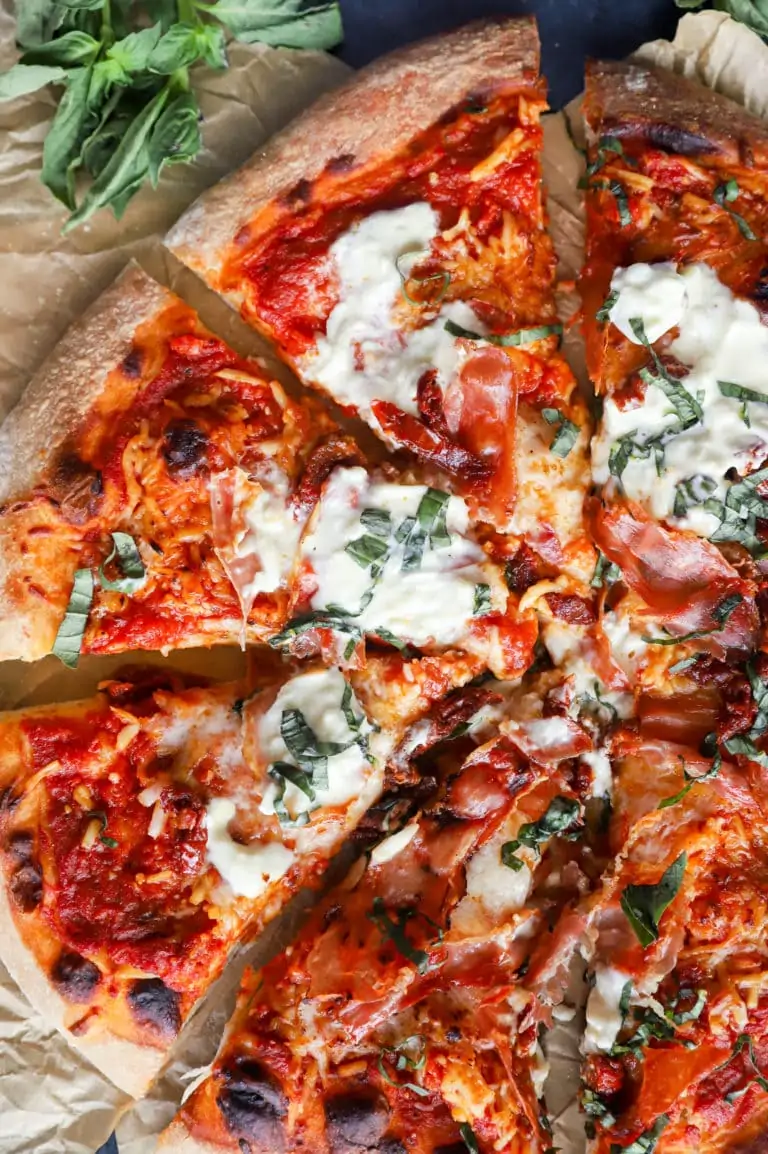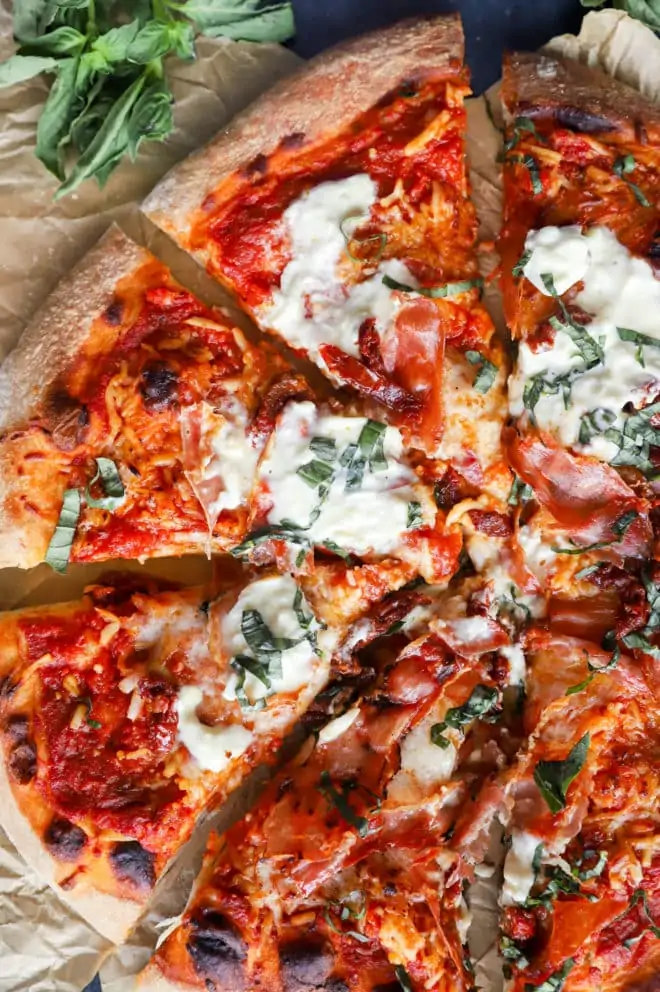 about this grilled burrata pizza
This is my new favorite pizza. Period.
Burrata is one of my favorite things to eat, but I have to say, when it's put on top of pizza fresh off the grill… It goes to a whole new level of deliciousness!
This pizza is actually a take on a prosciutto pizza the Man and I ate while we were on Burano island in Italy.
Please please please go there if you ever find yourself in Venice because it is AMAZING. Colorful buildings lining the canal, amazing pizza, and an easy boat ride (plus you can visit all the other islands in the area!).
The pizza had plenty of prosciutto on it and I thought, what if this prosciutto was crispy? Wouldn't that be a killer texture to add?!
Thus the evolution of this pizza recipe began and it all ended with the topping of creamy burrata. There's just nothing better.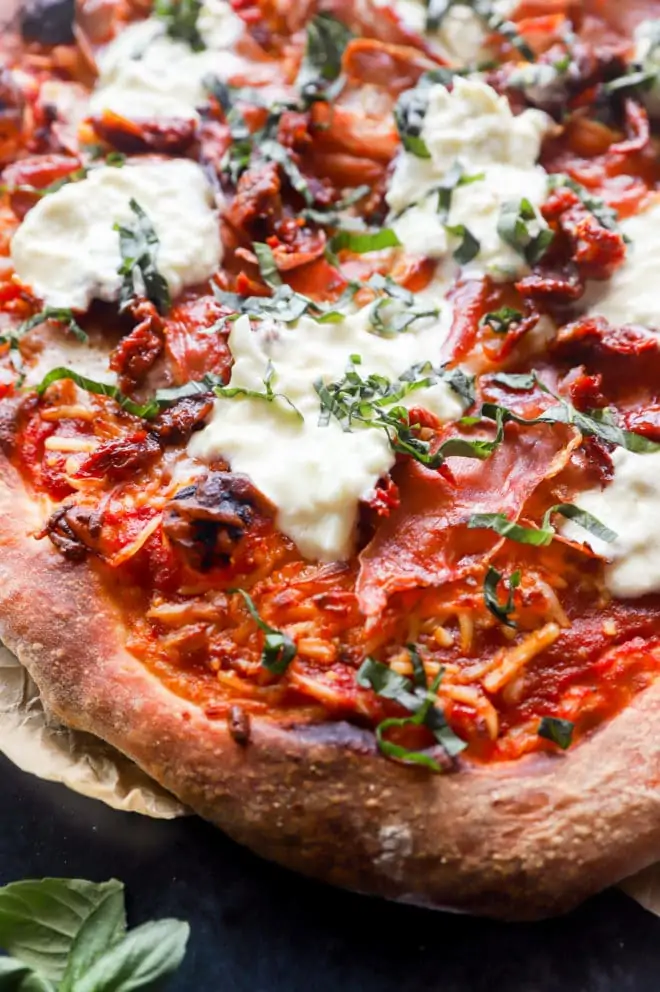 so, what is burrata?
Burrata is a soft white Italian cheese made from mozzarella and cream. The outer casing is solid cheese while the inside contains stracciatella and cream giving it a soft texture. It has more flavor than regular mozzarella and the texture is seriously life-changing.
You may have seen it used with salads or served as an appetizer, but it's also fantastic for adding to pizza, stirring into pasta, and more.
ingredients
pizza dough – you can make your own (my garlic agave pizza crust is always a favorite!) or you can buy it at the store! I prefer to avoid the pizza dough you find by the canned biscuits and cinnamon rolls because it's not very flavorful and doesn't have the best texture. I recommend finding the fresh pizza dough, usually in the deli area, at Kroger, Whole Foods, Trader Joe's and more.
sauce – I love using Rao's marinara sauce if I can! I know it's a higher price point but the flavor is well worth it. You can also use your favorite brand's tomato sauce. Another option is to make your own!
cheese – I use a thin layer of shredded mozzarella cheese as the base for the pizza, then top it off with burrata. The pizza is such a delicious combination of cheeses, especially with the additional toppings I like to add.
sun-dried tomatoes – buy the ones that are pre-sliced or buy them whole and slice them up yourself! I love the tang that it adds to the savory pizza.
basil – use fresh basil leaves here! You can chop it or just tear the leaves up with your hands if you choose.
prosciutto – tender prosciutto brings the salt element to the party!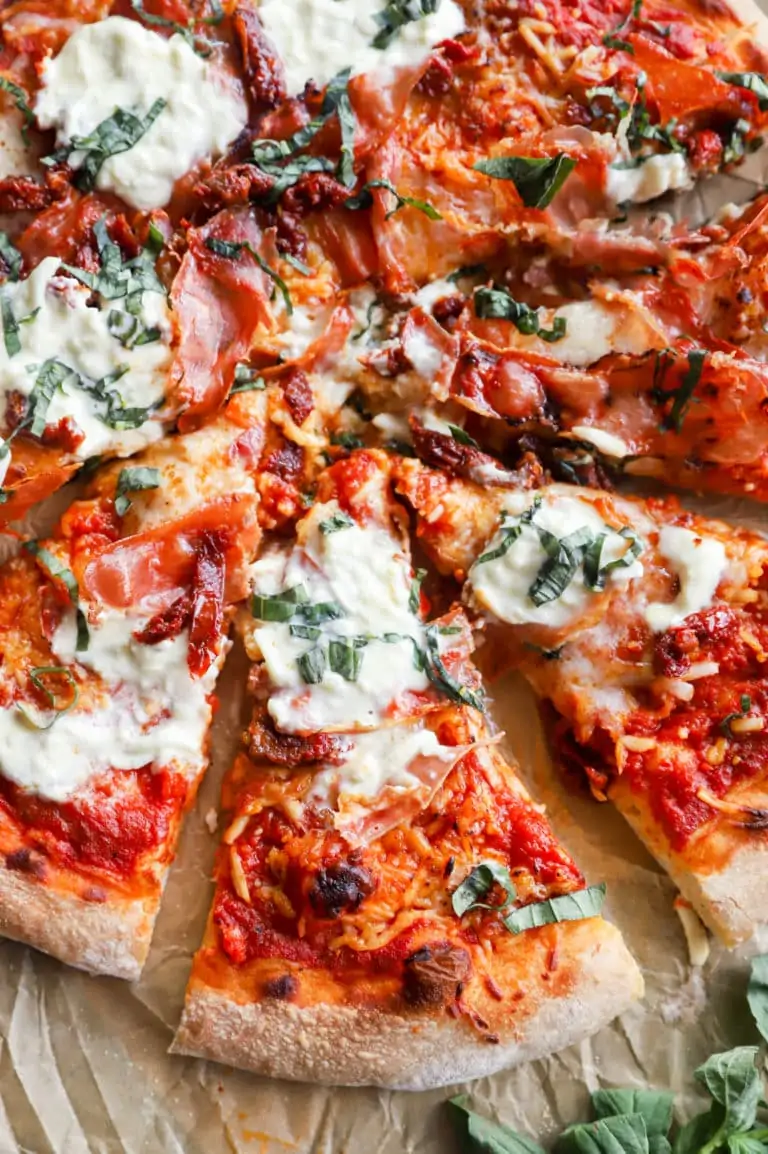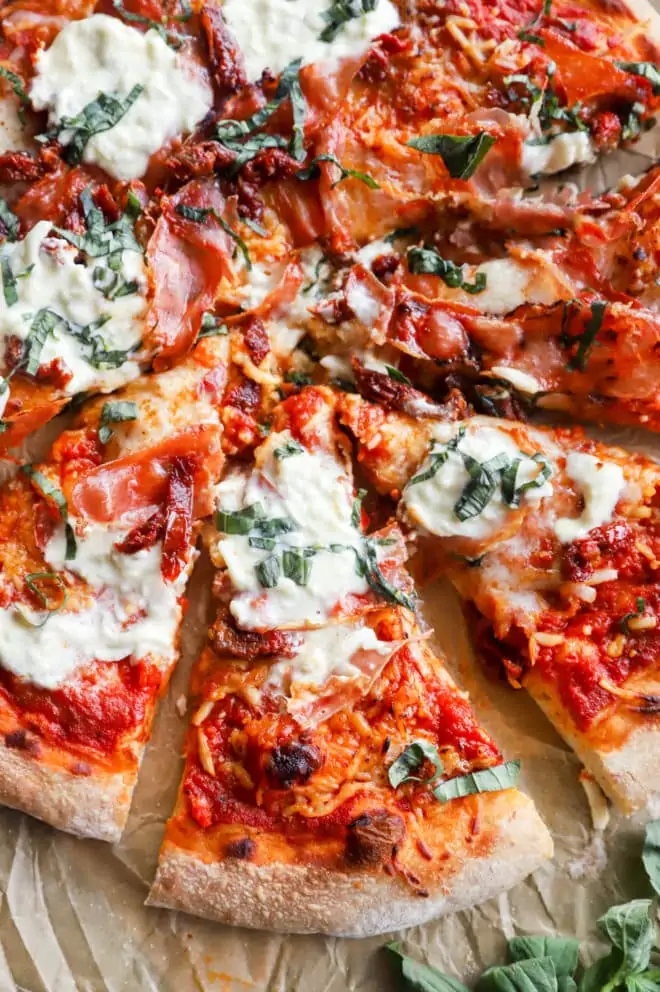 this recipe's must haves
For this recipe, the tools required are pretty darn simple! First, you will obviously need a grill (I am personally a big fan of my Traeger grill!). If you are using Traeger, I just use Traeger grill signature pellets!
You will also need a pizza stone and a pizza cutter for the pizza itself.
Finally, to fry up the prosciutto, I use my favorite nonstick skillet!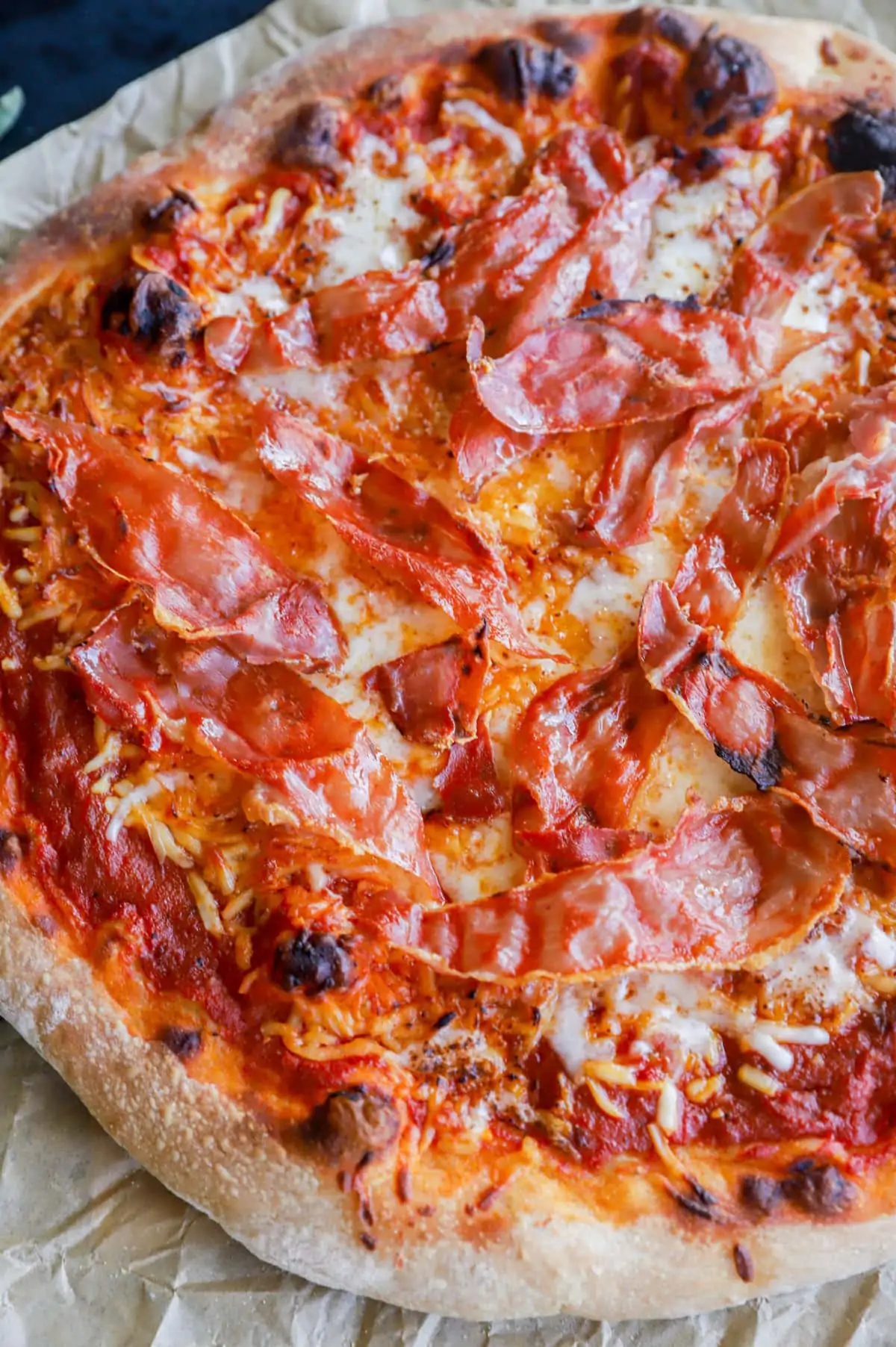 here's how to make grilled burrata pizza
assemble pizza
Start by preheating the grill to high heat. You want to get it really hot – we're talking 450˚F to 550˚F, as high as your grill will go! Before you preheat the oven, be sure to add a pizza stone to it so it can preheat at well, if you are using one.
Stretch the dough into the desired shape. Dust the bottom lightly with flour.
Top the dough with a thin layer of tomato sauce and mozzarella cheese, leaving about an inch around the edge for the crust.
grill
Add the pizza dough using a pizza peel or a parchment paper lined baking sheet to transfer to the grill. Grill for about 5 to 10 minutes, until the crust is browned and cheese is melted. Be sure to monitor the pizza so the bottom doesn't burn.
fry prosciutto
While the pizza is cooking, add prosciutto in strips to a skillet over medium-high heat. Flip after about 1 minute or so, and continue to cook until crispy, about another minute or so. Remove and set aside.
finish
Once pizza is done, remove from grill to serving plate or cutting board. Top with fried prosciutto pieces, sun-dried tomatoes, dollops of soft burrata, and basil. Slice and serve warm.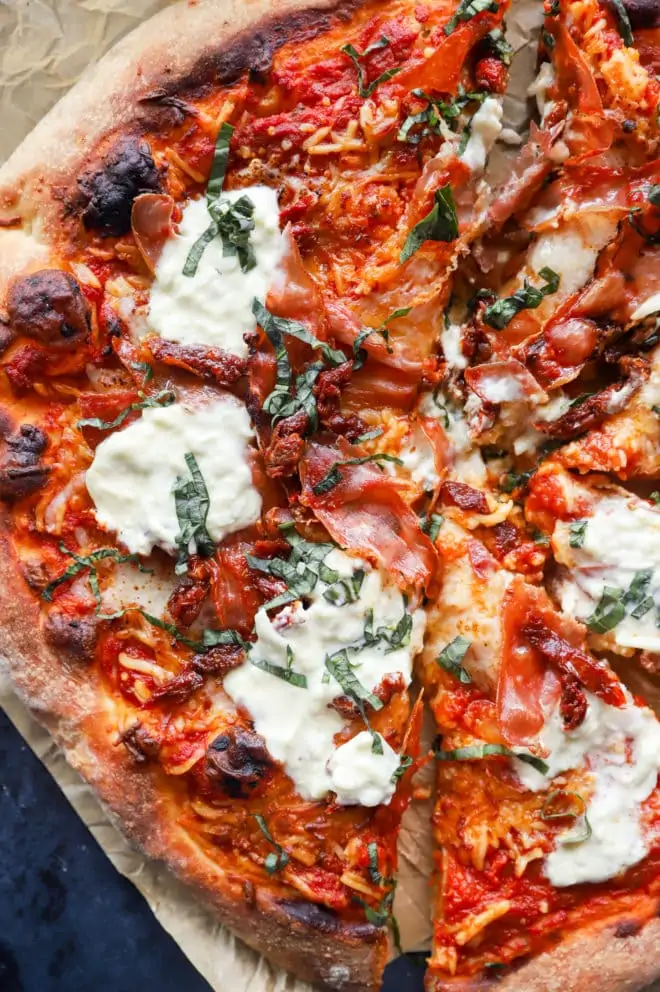 tips for success
preheat the grill. Don't just get the grill hot, let it stay at that temp for 10 to 15 minutes to get it super hot. You can grill the dough directly on the grates or you can use a pizza stone if you have one (which is my personal preference!).
use pre-made dough. I love a shortcut and pre-made pizza dough is my favorite way to make things easy! My tip is to not buy the packaged stuff made by big brands, grab the fresh stuff made by the store (easily found at Kroger shops, Whole Foods, Sprouts Farmers Market, and more).
More tasty pizza recipes to try: Salsa Verde Chorizo Pizza | Pesto Greens Pizza | Last Minute Grilled Pizza Bar Party | Buffalo Chicken Pizza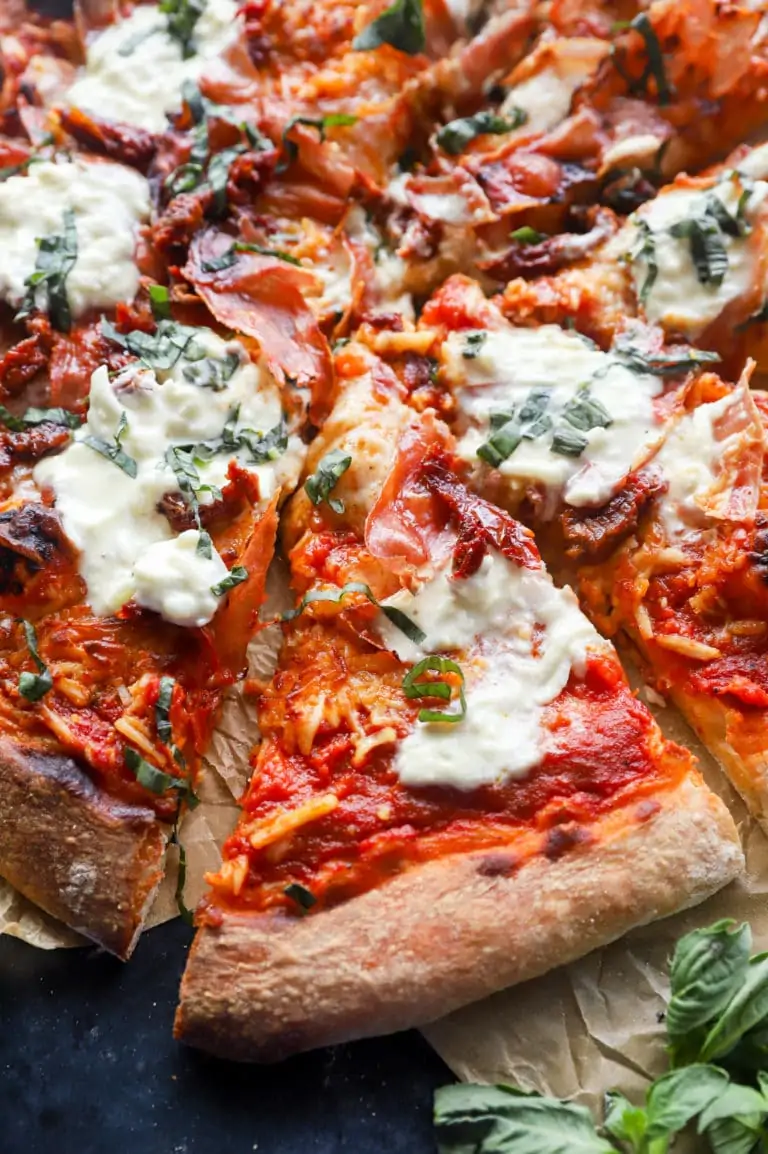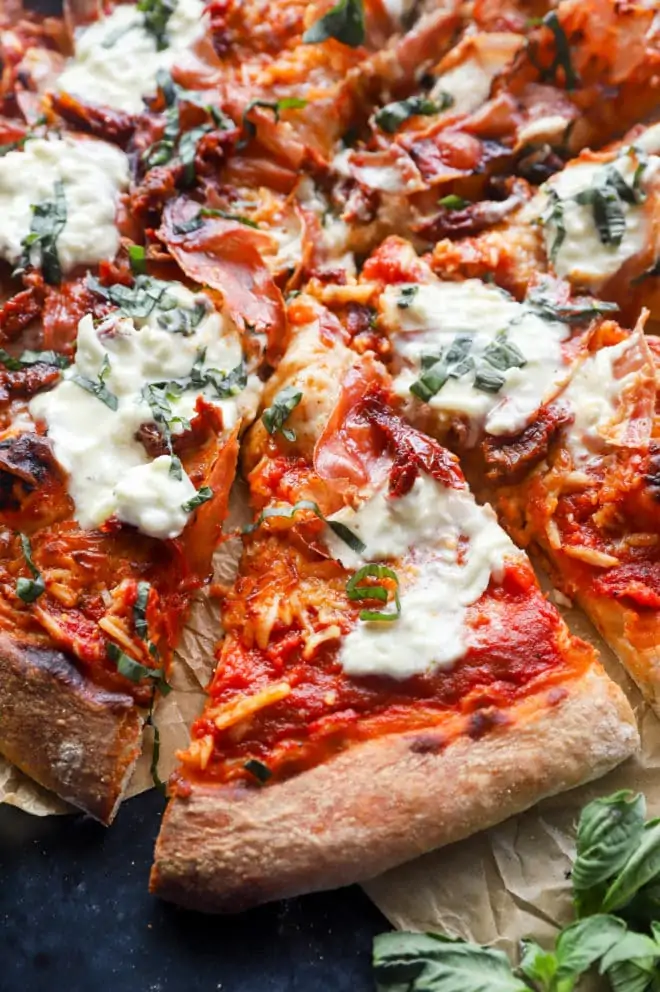 can I use the oven?
Of course! If you don't have a grill, you can crank your oven to 500˚F and bake the pizza in there! Be sure to use a pizza stone if you use the oven and preheat it as the instructions read below for the grill. You do not want to place the dough straight on the oven rack like you would with the grill.
can I make it vegetarian?
Yes, skip the prosciutto if you want! If you do this, I recommend a light sprinkle of flaky salt on top for the addition of salt that you'll miss from the meat.
Need some more inspiration for grilling? Check out my grilling recipes page!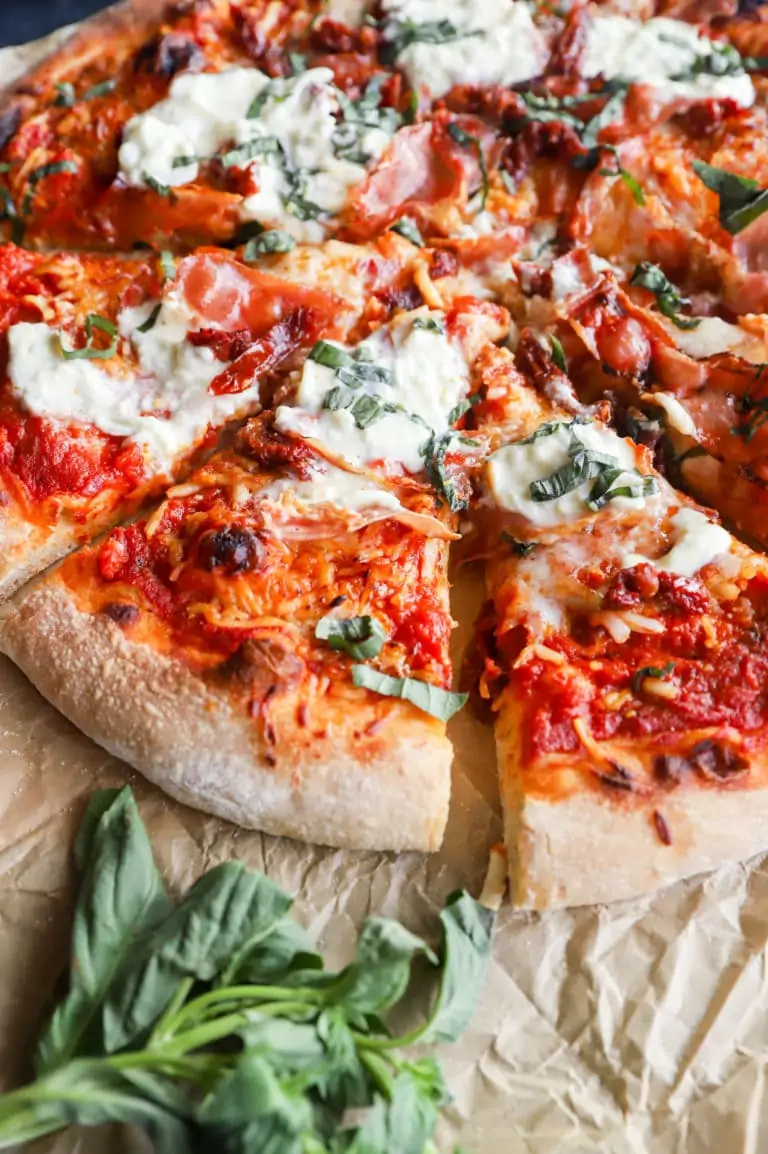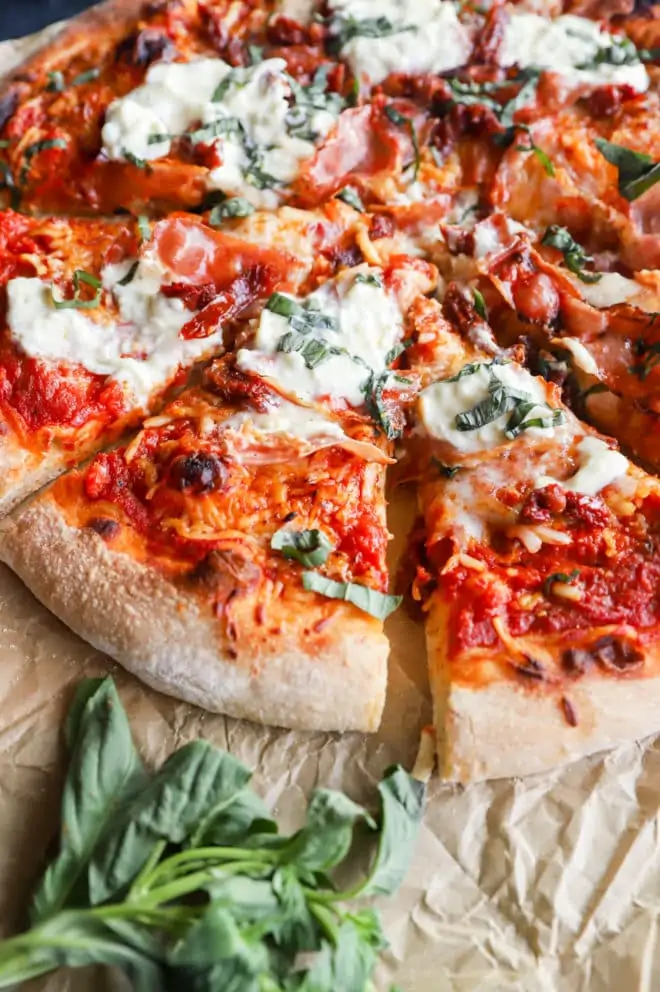 what to serve with grilled burrata pizza
This pizza is so savory and rich, it screams for pairings that are lighter and brighter so you aren't getting weighed down by everything on your plate.
how to store
Let cooked pizza to cool completely. Place in an airtight container in the refrigerator for up to 3 days.
To reheat, simply place leftover slices on a microwave-safe plate and reheat in the microwave until warmed through.
Finally, if you make this grilled burrata pizza, please be sure to give this recipe a rating or leave a comment! I love to hear when you all make recipes, and I do take the time to respond to every single comment. Feel free to drop questions below too, if you have them!
Oh and be sure to tag me on Instagram if you make the recipe! Love being able to see these recipes come to live in your homes – it's my favorite thing to look through those photos. It really means the world to me!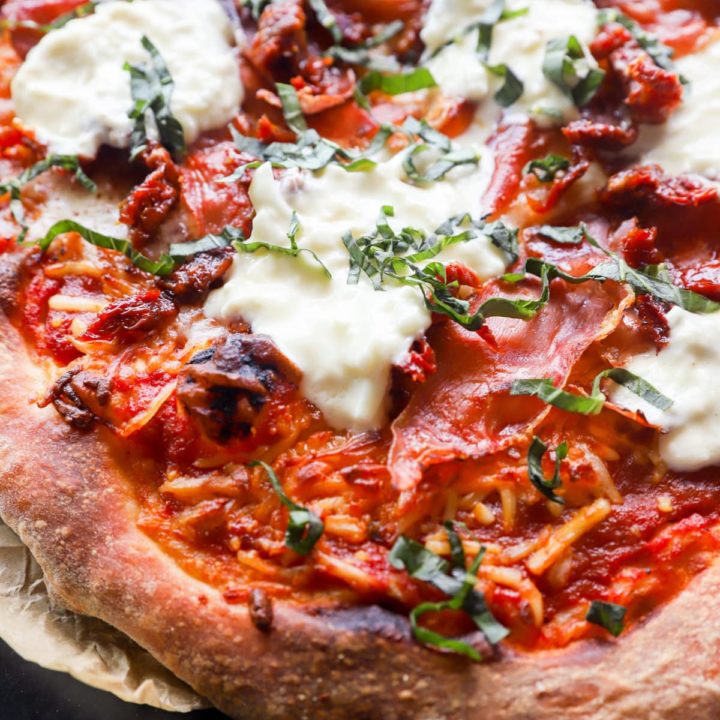 Grilled Burrata Pizza
Crispy dough is topped with sauce, crispy prosciutto, creamy burrata, sun-dried tomatoes, and fresh basil!
Ingredients
1 lb pizza dough, homemade or store-bought
1 cup marinara sauce
1 cup shredded mozzarella
1/3 cup sliced sun-dried tomatoes, drained
5 to 8 fresh basil leaves
6 slices prosciutto, torn into strips
1-2 balls of burrata
Instructions
Place a pizza stone on the grill and preheat over medium-high heat (about 550˚F).
Stretch dough into desired shape. Place it on a pizza peel dusted with cornmeal if you have one for easy transfer.
Place a thin layer of tomato sauce and mozzarella onto the top of the pizza.
Grill for about 5 to 7 minutes, or until the crust is browned and cheese is melted (be sure to monitor the bottom of the pizza, it can burn quickly)
While the pizza is cooking, heat a medium nonstick skillet over medium-high heat. Add prosciutto strips to the pan and cook for about 2 to 3 minutes flipping halfway through, until crispy.
Top with fried prosciutto, basil sun-dried tomatoes and burrata. Serve immediately.
Recommended Products
As an Amazon Associate and member of other affiliate programs, I earn from qualifying purchases.