Please note this post contains affiliate links.
A peach blueberry galette is a rustic fruit dessert that's much easier to make than pie! The buttery free form crust gets folded over the juicy filling and then baked. Serve with vanilla ice cream for a real treat. Serves 6.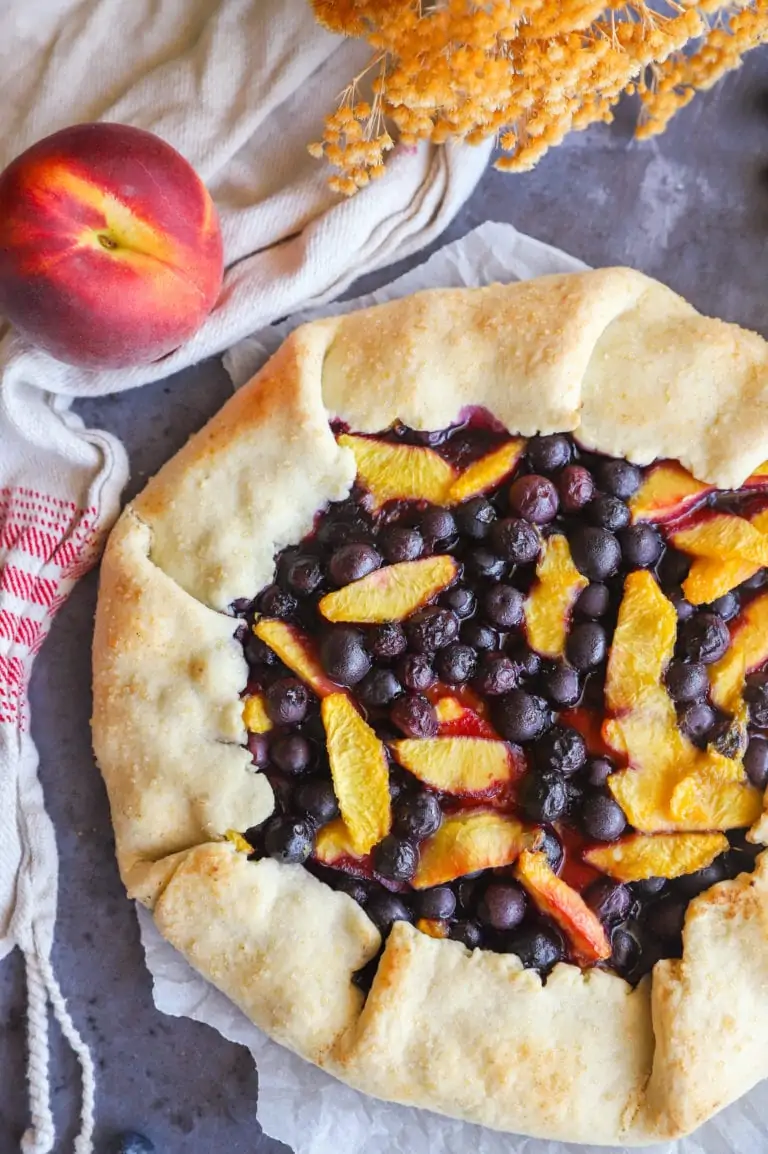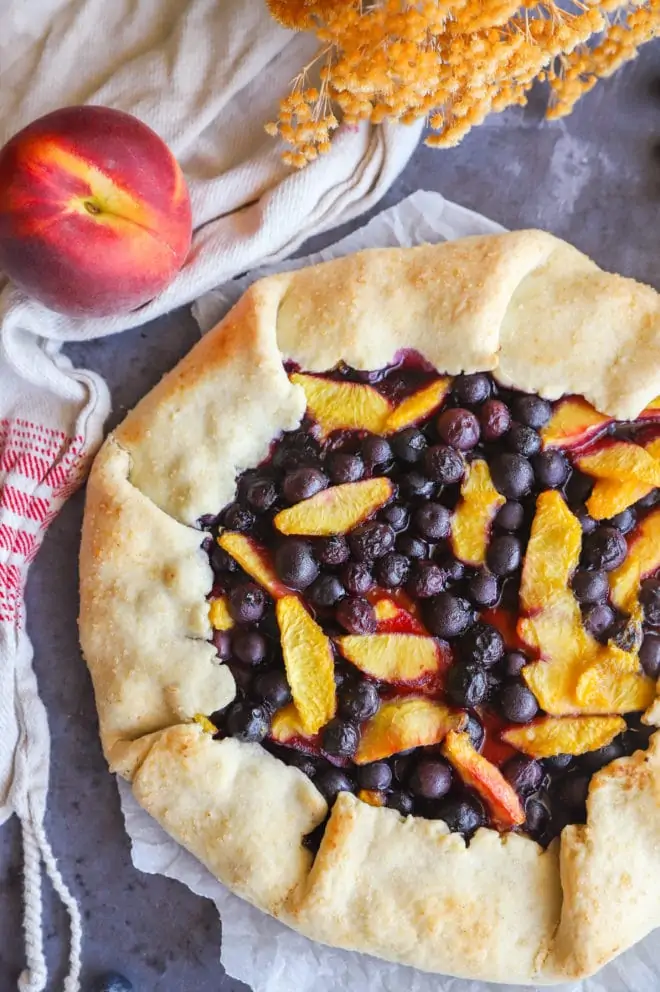 about this peach and blueberry galette
Peach season is officially here and it's going to be gone just as fast as it came. Therefore I am devouring all the peaches I possibly can until they are out of season.
I love making galettes because they require minimal effort and also, minimal talents for making things look gorgeous. When it comes to sweets, I am definitely not the best at making them look gorgeous (for example, lattice tops for pies, frosting cakes, etc). But with a galette, all you have to do is make sure you press down those folds and don't rip the dough.
Now that's something I can do.
There's nothing more amazing than a plateful of warm fruity peach and blueberry galette topped with a heaping scoop of vanilla bean gelato (Talenti is my fav – it's too good, standing over the freezer at 1am shoveling spoonfuls in my mouth good). It's my favorite way to end a really big meal! The peaches and blueberries pair so well and the crunch from the turbinado sugar on the crust gives you just the right amount of texture.
Of course, you can also eat this for breakfast… And lunch… and a mid-afternoon snack. All of which I may or may not have done over the past two days. Don't judge, it's seriously that good.
Note: this is an updated version of the original post published on August 14, 2015. The recipe remains the same but there is a lot more helpful information in the post now!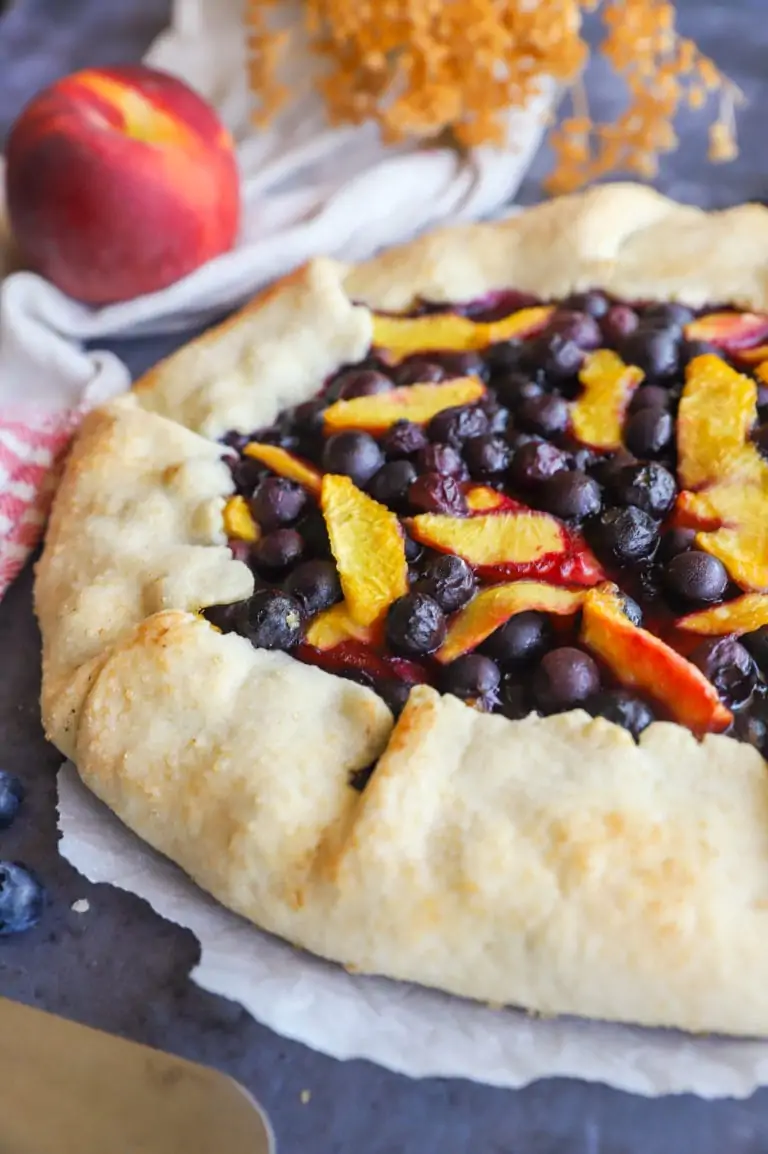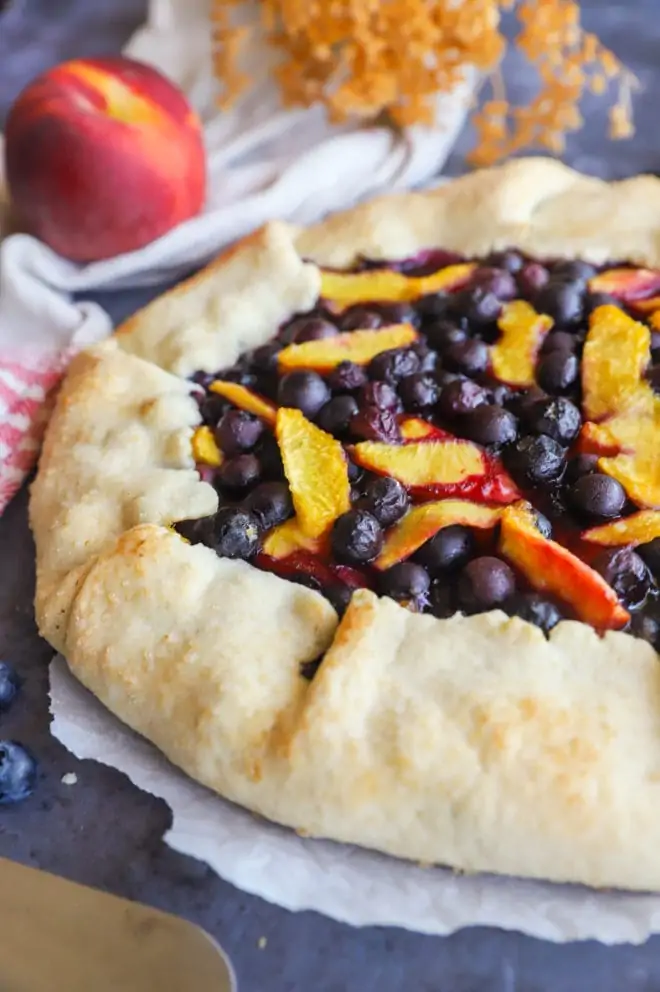 ingredients
flour – you will need all-purpose flour for this recipe, for the crust and also for the filling!
sugar – for this recipe, you will need granulated sugar, brown sugar (I use light, but you can use dark if that's all you have on hand), and raw sugar (also called turbinado sugar).
salt – a pinch of salt in baking is a must to bring out all the flavors in the crust and the filling!
butter – I like to use unsalted butter for this recipe, but you can use salted butter if you desire. If you do use salted butter, be sure to omit the salt listed in the recipe.
ice water – when I start this recipe, I like to fill a bowl with water and ice to get the water extra cold. You can measure it out as you get into the recipe (just avoid adding ice cubes!).
peaches – get the ripest peaches you can for this recipe! I personally leave the peels on because I don't mind them – plus peeling really ripe peaches is a major pain and time suck. Feel free to peel them before slicing if you prefer that!
blueberries – again, the ripest blueberries are the best. I do not recommend using frozen fruit for this recipe.
lemon – fresh lemon juice gives a nice hit of acid to balance out the sweetness of the dessert. Per usual, I'm going to recommend fresh, but you can also use bottled if it's what you have on hand.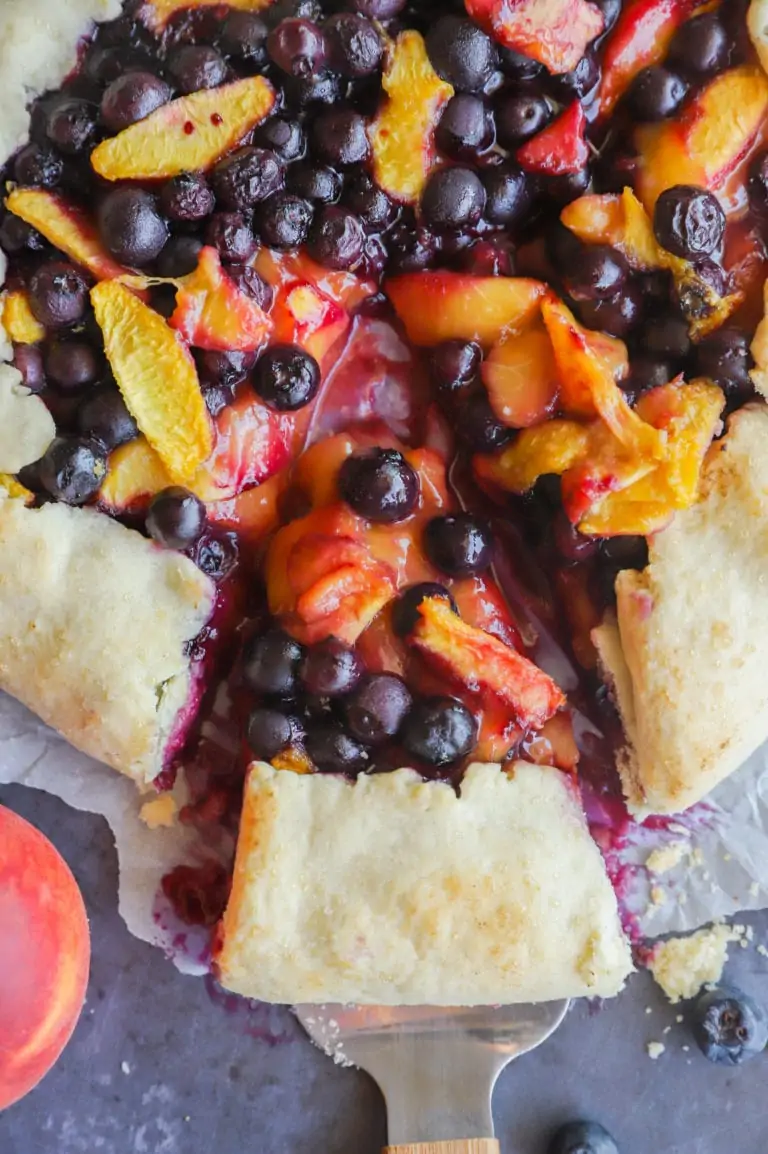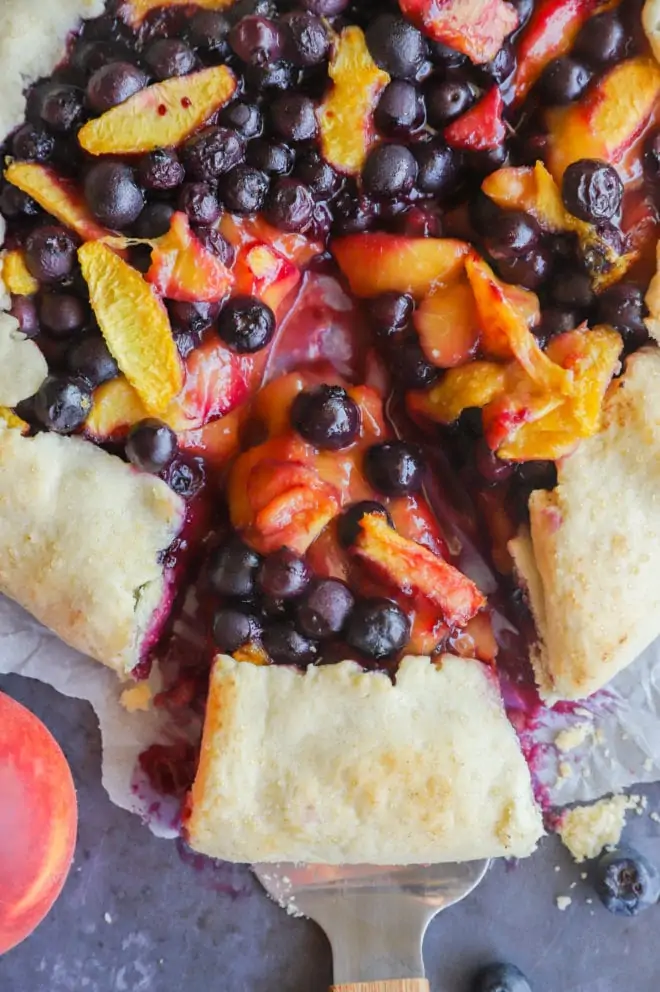 this recipe's must haves
To make the dough for this recipe, you can either make the dough in a food processor or in a large bowl from your set of mixing bowls.
For rolling out the dough, I like to use a marble rolling pin because it's heavier and it also is cool so it doesn't heat up the chilled dough before baking.
Use your chef's knife and a cutting board to prep the peaches!
You will need a half sheet baking pan (make sure it's rimmed!) and parchment paper for baking.
here's how to make a peach blueberry galette
make dough
To make the dough, I prefer to use a food processor because it's easier and less messy. Pulse the flour, salt and sugar together to mix. Add in chilled butter and pulse 8 to 10 times, until the mixture resembles coarse crumbs.
Turn the appliance on and add water one tablespoon at a time. The dough will come together and form a ball.
chill dough
Turn the dough out onto a clean surface and form into a disk. Wrap in plastic wrap tightly, then chill for 30 minutes.
make filling
While dough is chilling, toss peaches, blueberries, lemon juice, sugars, flour and salt until everything is evenly coated.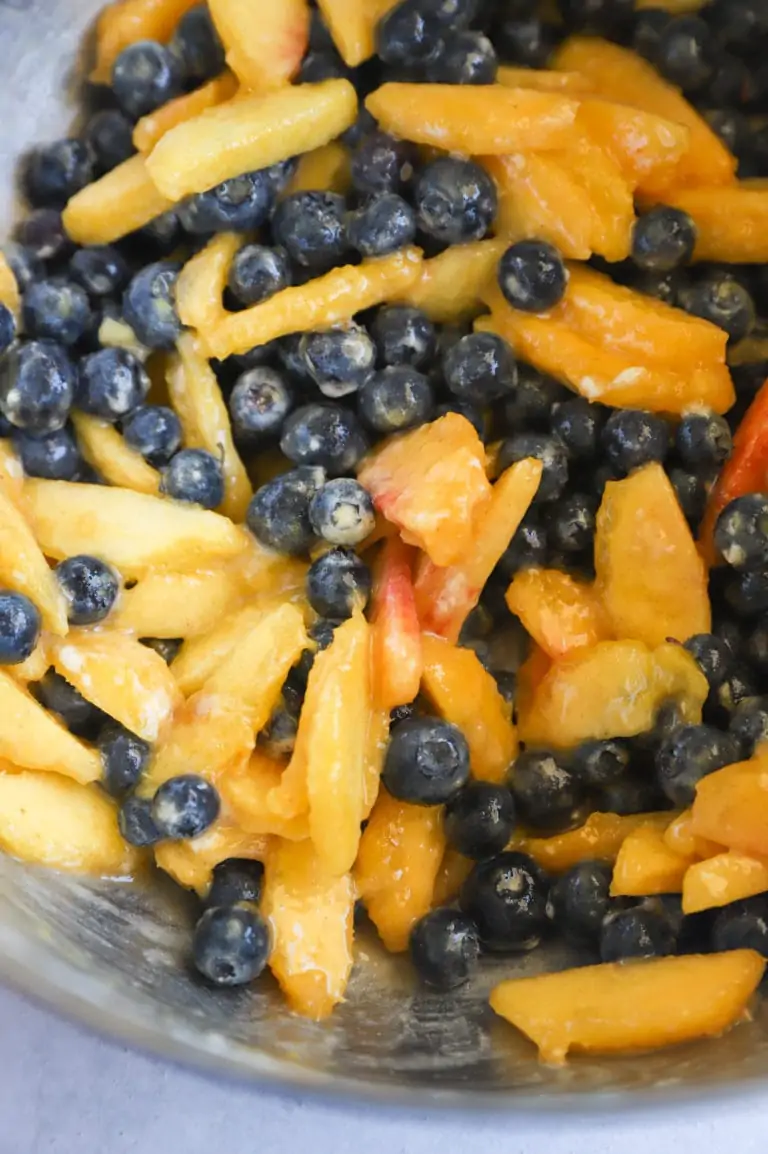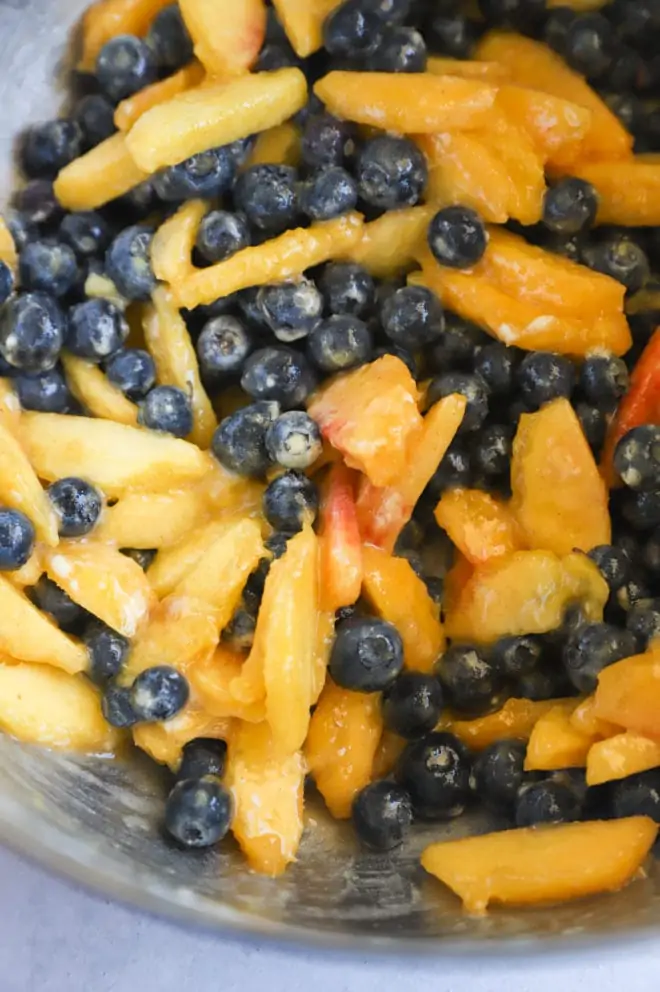 assemble
Roll out the dough to 14-inch round and arrange the fruit in the center. Leave a border of about 1 1/2 to 2 inches.
Fold up the pastry over the filling, pleating the dough as you go and pressing to seal. Brush the edges with melted butter and sprinkle with turbinado (raw) sugar.
bake
Bake at 375˚F for 35 to 45 minutes until the dough is cooked through and a light golden brown. Cool for 15 minutes before serving.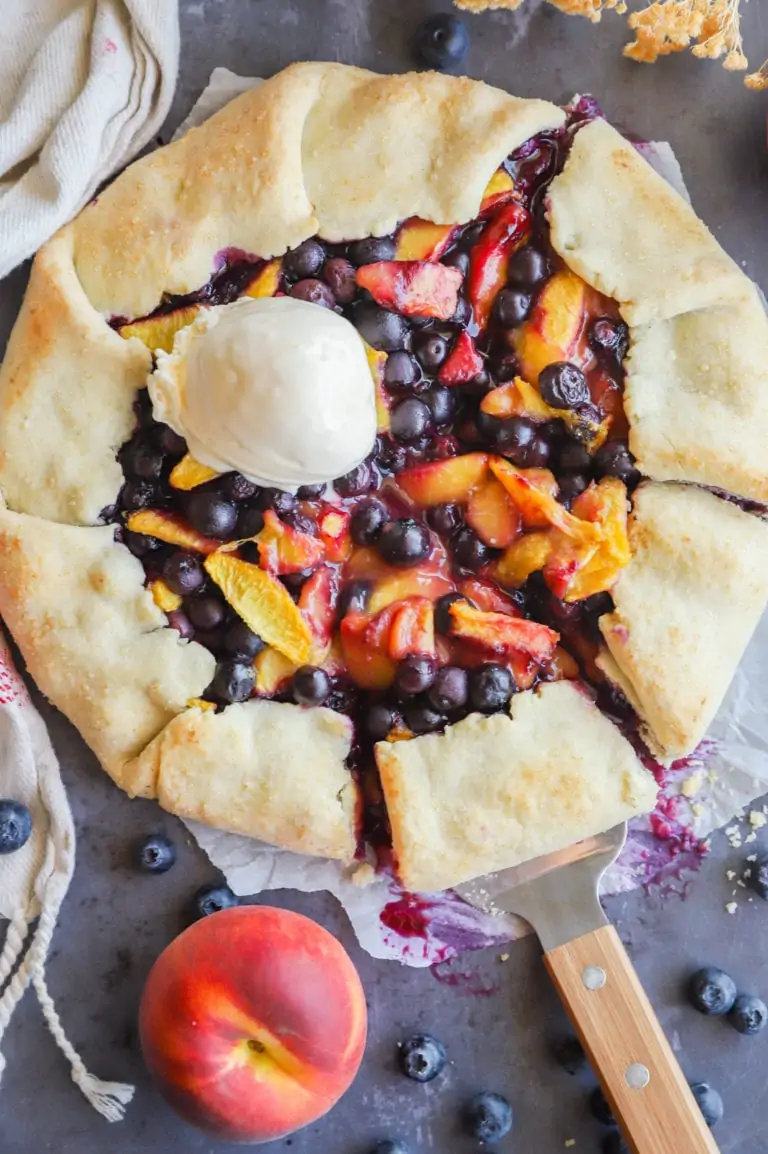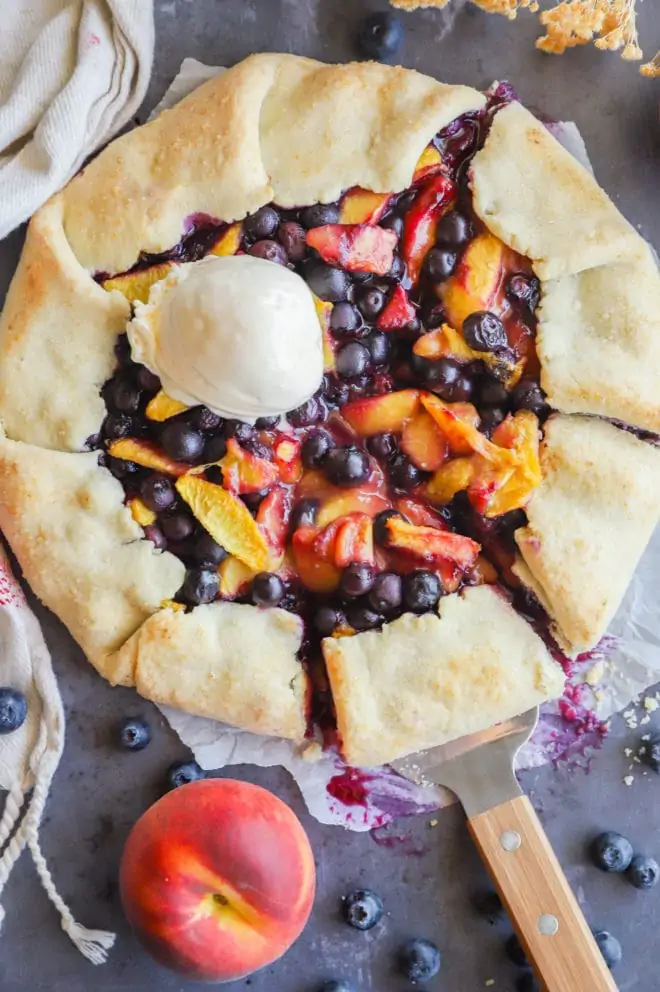 tips for success
know the tips for a perfect dough. This dough recipe is as foolproof as it gets, but if you want more tips and tricks to the perfect dough, check out my how to make the perfect galette dough post.
pick the ripest fruit. Be sure to pick the ripest fruit to get the best flavor out of this summery dessert! I've got tips below on how to select the best peaches!
let rest before slicing. Let the galette rest when you remove it from the oven for about 15 minutes before slicing. This will allow the fruit juices to settle so everything doesn't ooze out when you slice into it.
More tasty galette recipes: Blueberry Galette with Thyme Honey | Raspberry Blueberry and Strawberry Galette | Bourbon Caramel Apple Galette | Brandy Cherry Galette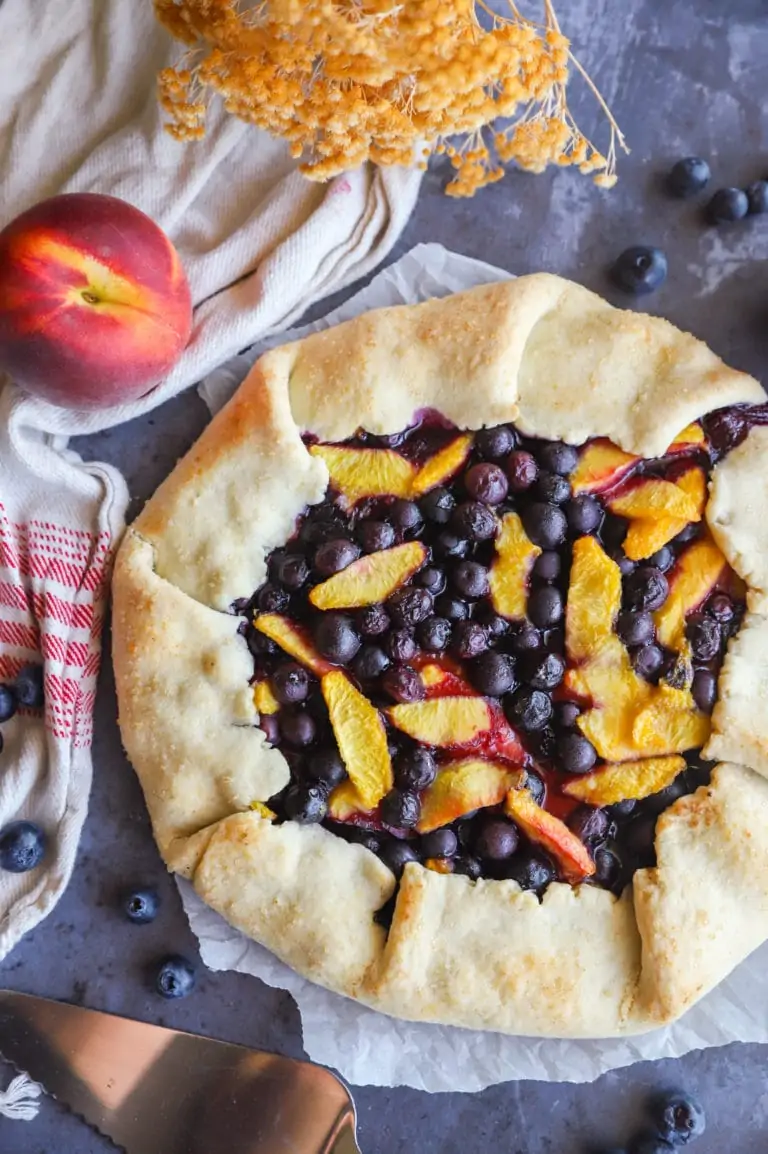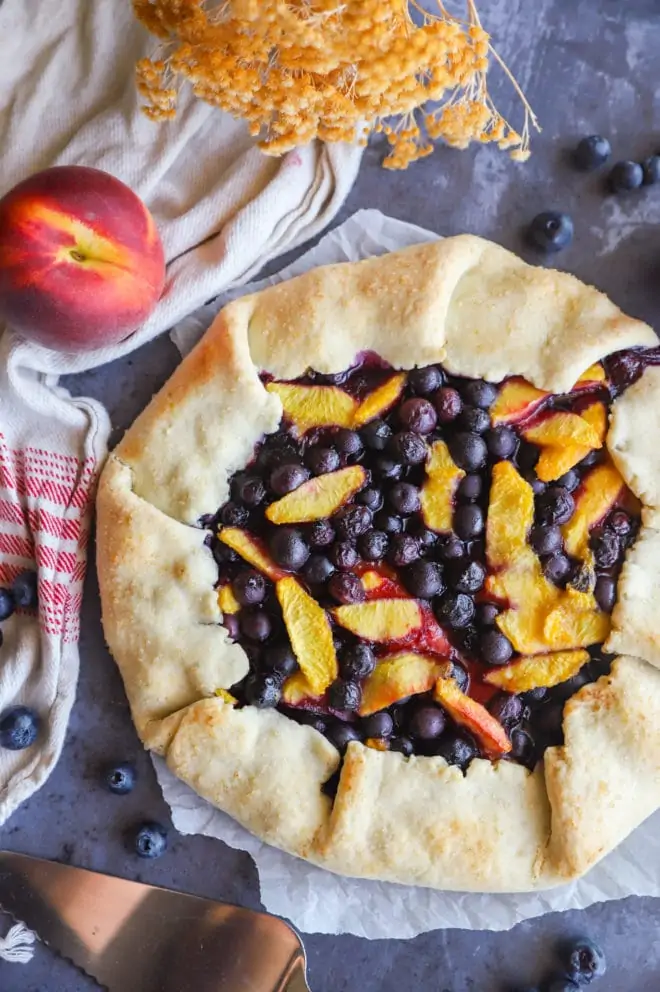 what makes a galette a galette?
A galette is a French dessert! What makes this dessert a galette is the pastry base that is topped with either sweet or savory filling. The signature folded edges give it a rustic look that is just gorgeous!
do I have to use raw sugar on the crust?
Nope! Personally I like the added touch of sweetness and shimmer that it gives the crust, but you can skip it if you don't have it readily available.
can I use frozen fruit?
Technically, yes. While you can use frozen fruit for this recipe, I recommend fresh because it's going to taste so much better.
If you do use frozen fruit, be sure to thaw it completely and drain it before making the filling. I would even go so far as to pat the thawed fruit dry with paper towels to avoid the filling becoming too soggy.
Need some more inspiration for dessert? Check out my desserts recipe page!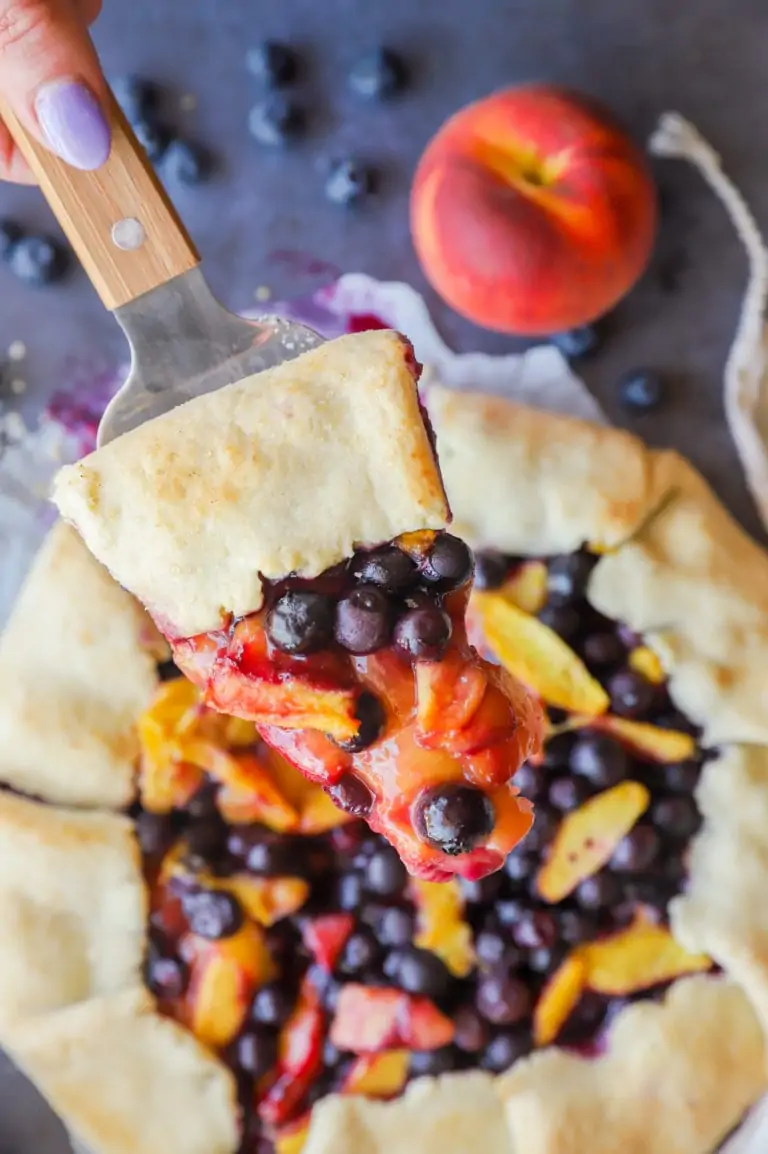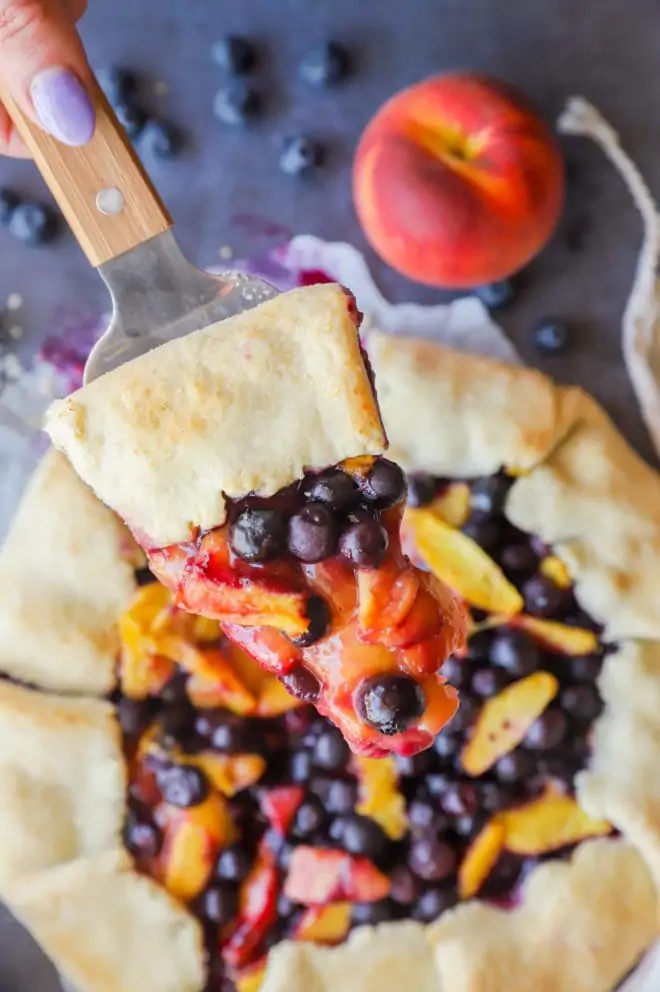 what to serve with a peach blueberry galette
All this galette needs is a topping of delicious vanilla ice cream or gelato, but you can even serve this without it. The summery fruit is just the right amount of sweetness and tartness to satisfy any sweetness!
how to store
This galette can be wrapped in aluminum foil and stored at room temperature for up to 2 days!
You can also freeze the galette by wrapping it in plastic wrap and placing in a freezer bag. Freeze for up to 2 months.
When ready to serve, let the galette come to room temperature first. Personally, I like to warm each slice in the microwave for about 15 seconds and topping it with ice cream! YUM.
seasonal tip
To pick the ripest peaches, look for deep golden yellow peaches and avoid any that look too pale in color. They should be soft to the touch and should easily give when you squeeze them!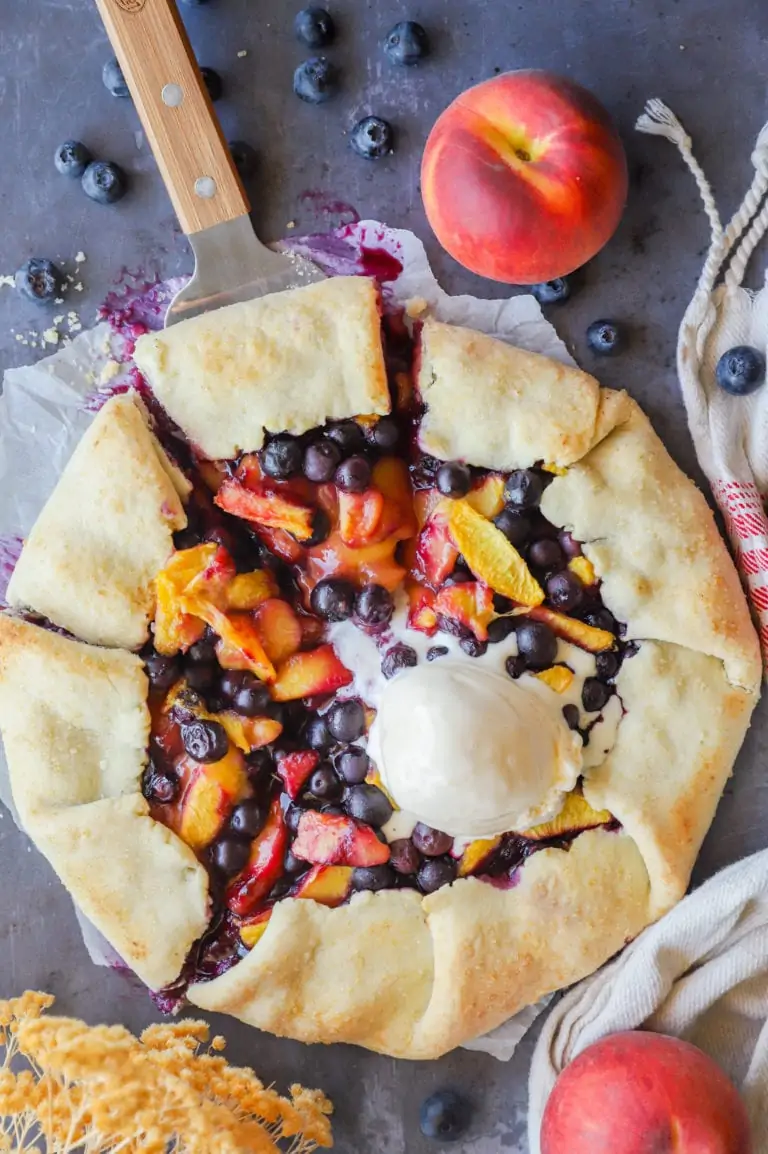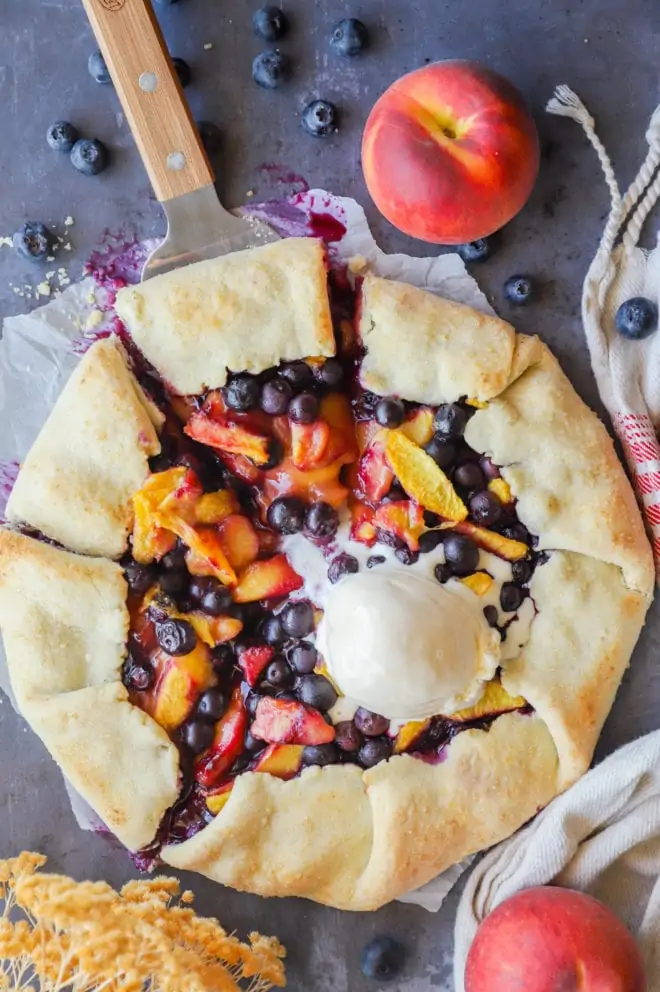 Finally, if you make this peach blueberry galette, please be sure to give this recipe a rating or leave a comment! I love to hear when you all make recipes, and I do take the time to respond to every single comment. Feel free to drop questions below too, if you have them!
Oh and be sure to tag me on Instagram if you make the recipe! Love being able to see these recipes come to live in your homes – it's my favorite thing to look through those photos. It really means the world to me!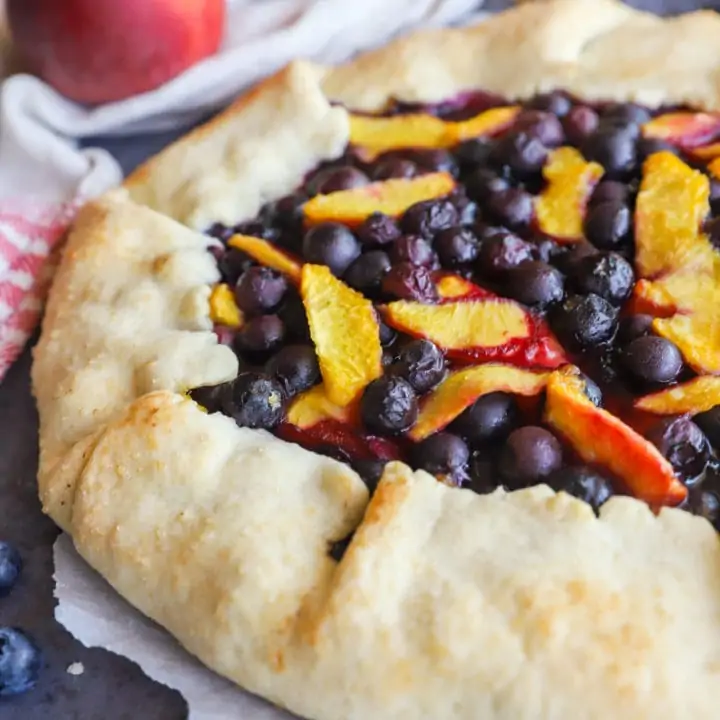 Peach Blueberry Galette
Additional Time:
30 minutes
Total Time:
1 hour
20 minutes
Packed with fresh peaches and blueberries, this galette is the ultimate summer dessert.
Ingredients
Crust
1 1/2 cups flour
1 1/2 tsp granulated sugar
1/4 tsp salt
8 Tbsp cold unsalted butter, cubed into 1/2" pieces
1/3 cup ice water*
Filling
4 large peaches, pitted, and thinly sliced
12 oz fresh blueberries
Juice of ½ a lemon
1 Tbsp granulated sugar
2 Tbsp brown sugar
1 1/2 Tbsp flour
Pinch of salt
2 Tbsp melted butter
Turbinado sugar
Instructions
Add flour, sugar, and salt to the bowl of a food processor.* Pulse a few times to mix. Add butter cubes and pulse about 8 to 10 times until the mixture resembles coarse crumbs. Turn the machine on and add in water, one tablespoon at a time. The dough should come together and form a ball. Dump out the dough onto a clean work surface and form into a 4-inch disk.
Cover with plastic wrap tightly and chill in the fridge for at least 30 minutes, up to overnight.
When ready to bake, preheat oven to 375˚F. Line a rimmed baking sheet with parchment paper.
In a large bowl, combine sliced peaches, blueberries, lemon juice, sugars, flour and salt. Gently toss to coat the fruit evenly.
Roll out the galette dough into a 14" round. Arrange the fruit in the center of the dough, leaving about a 1 to 2-inch edge of dough all the way around.
Fold the pastry edge up and over the filling, pleating the dough in evenly spaced folds, pressing to seal as you work your way around. Brush the pastry border and edges with the melted butter. Sprinkle the edges generously with turbinado sugar.
Bake for 35 to 45 minutes. Transfer the galette with the parchment paper onto a rack to cool for approximately 15 minutes before serving. Serve warm with vanilla gelato or ice cream.
Notes
*a note on the water, you may not need to use all of it if you live in a more humid area! Add the water 1 Tbsp at a time until the dough forms a ball. If you don't use all the water, that's ok!
Recommended Products
As an Amazon Associate and member of other affiliate programs, I earn from qualifying purchases.