Please note this post contains affiliate links.
A vibrant Aperol Soda will quench your thirst this season! This classic flavor combination is an effervescent delight, combining the zesty bitterness of Aperol with refreshing soda water and a touch of simple syrup. Every sip will transport you to a sunny Italian terrace!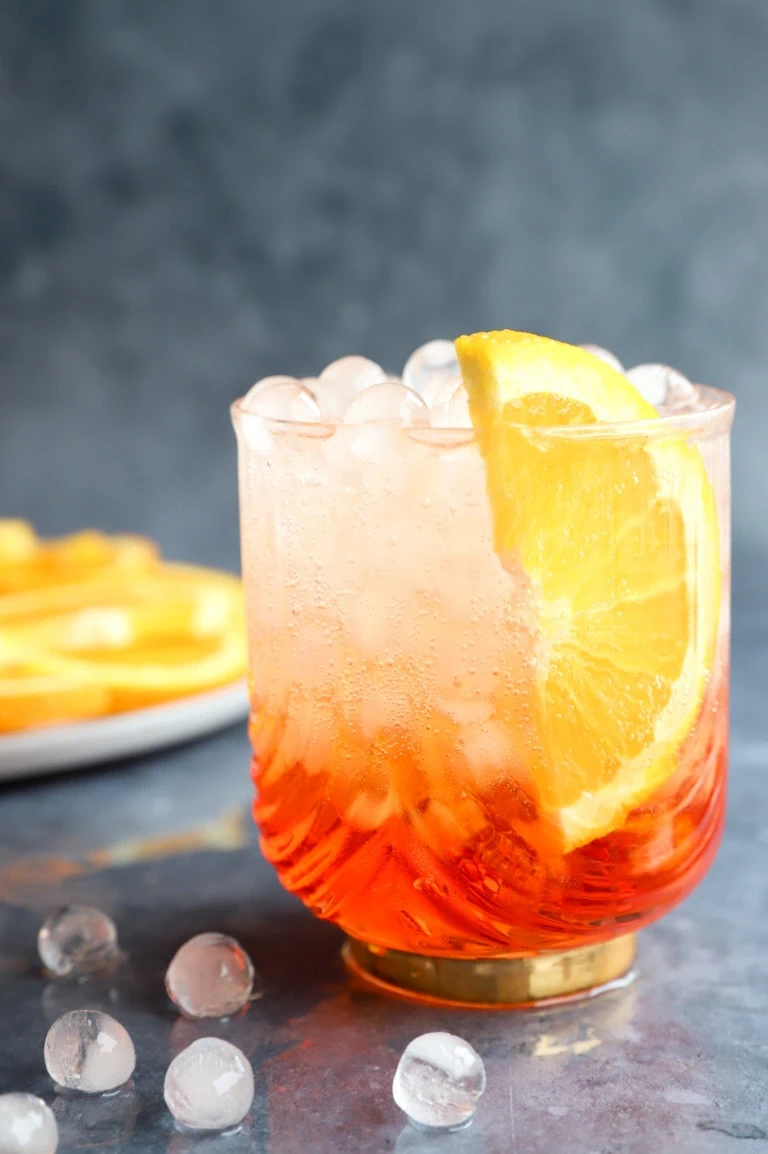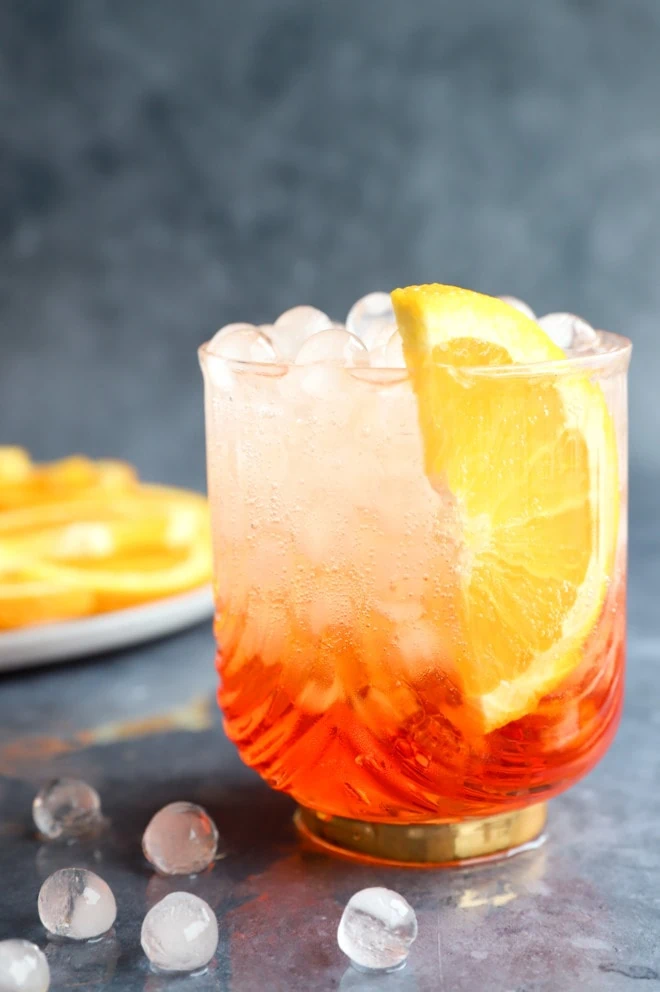 about this aperol soda cocktail
An Aperol soda is the simplest, most refreshing cocktail you can make this week.
Whenever I sip on this cocktail (or any cocktail with Aperol, really), I feel like I am immediately transported to Italy, basking in the warm sunshine with the scent of citrus dancing in the air as the bustling Italian piazza comes to life all around me.
If you aren't familiar with Aperol, let me give you a little more information…
what is aperol?
Aperol was first created in Italy in the 1900s. The Italian bitter apéritif has a low alcohol content of 11%. The recipe hasn't actually changed since it was first invented!
It is known for its flavor, made from both sweet and bitter oranges, rhubarb, gentian root, and cinchona bark. Of course, the secret recipe hasn't been totally revealed, but it's quite delicious and I love adding it cocktails.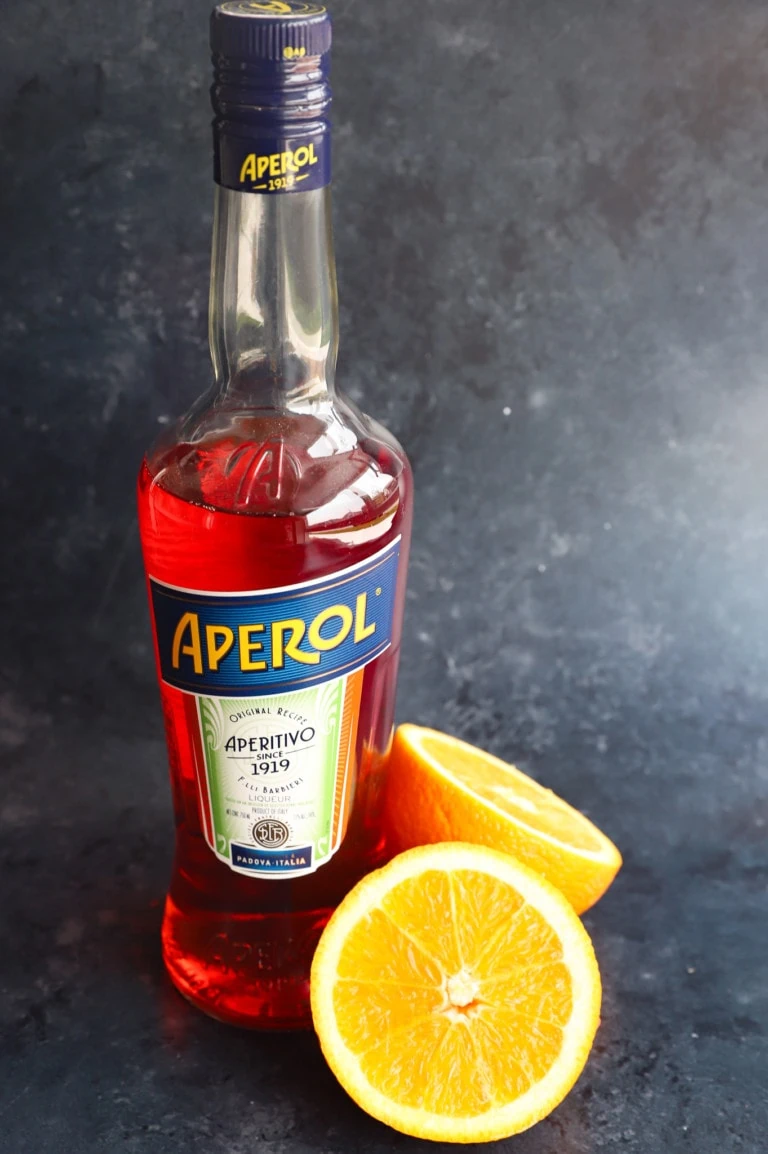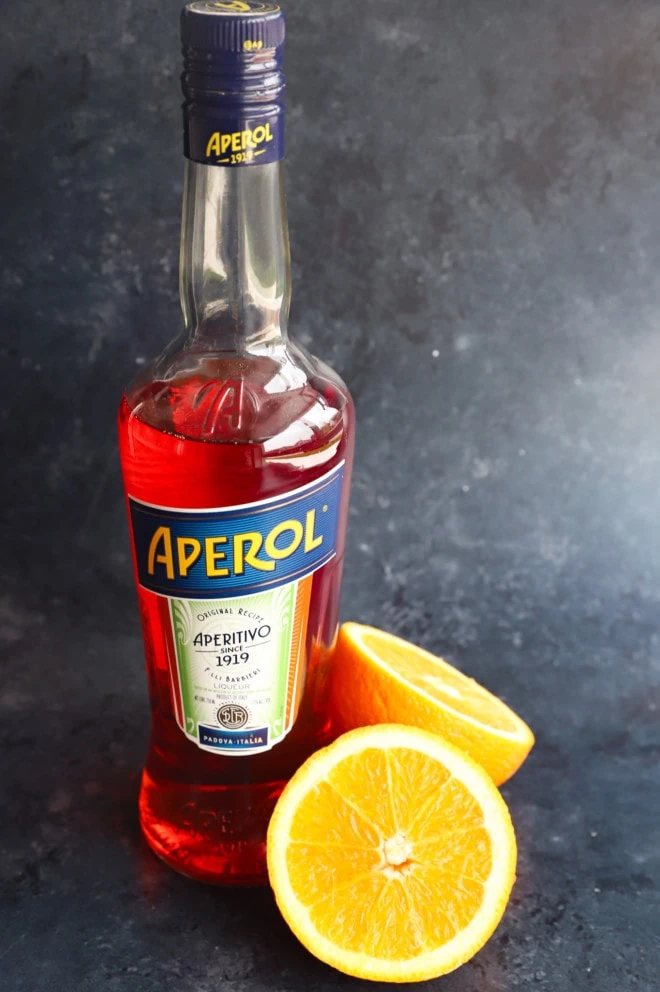 When you combine Aperol with sparkling soda water, the result is so refreshing! The bubbles tickle your tongue and awaken your senses, as if to say, "Buongiorno, welcome to the Italian way of enjoying life!" The zesty bitterness of Aperol plays a delightful dance with the effervescence of the soda water, creating a symphony of flavors that is oh-so-refreshing.
It's essentially a mini vacation with every sip. The vibrant orange hue of the Aperol cocktail is like a splash of Italian sunshine in your glass. And you don't even need a plane ticket to Italy to enjoy this refreshing experience. With just a few simple ingredients, you can bring a taste of Italy right to your own backyard or living room. Close your eyes, take a sip, and let the flavors transport you to the enchanting streets of Rome or the breathtaking Amalfi Coast.
So, whether you're celebrating a special occasion, hosting a gathering of friends, or simply in need of a little "dolce vita" moment, this cocktail recipe is the answer. Raise your glass and toast to the Italian spirit. Salute!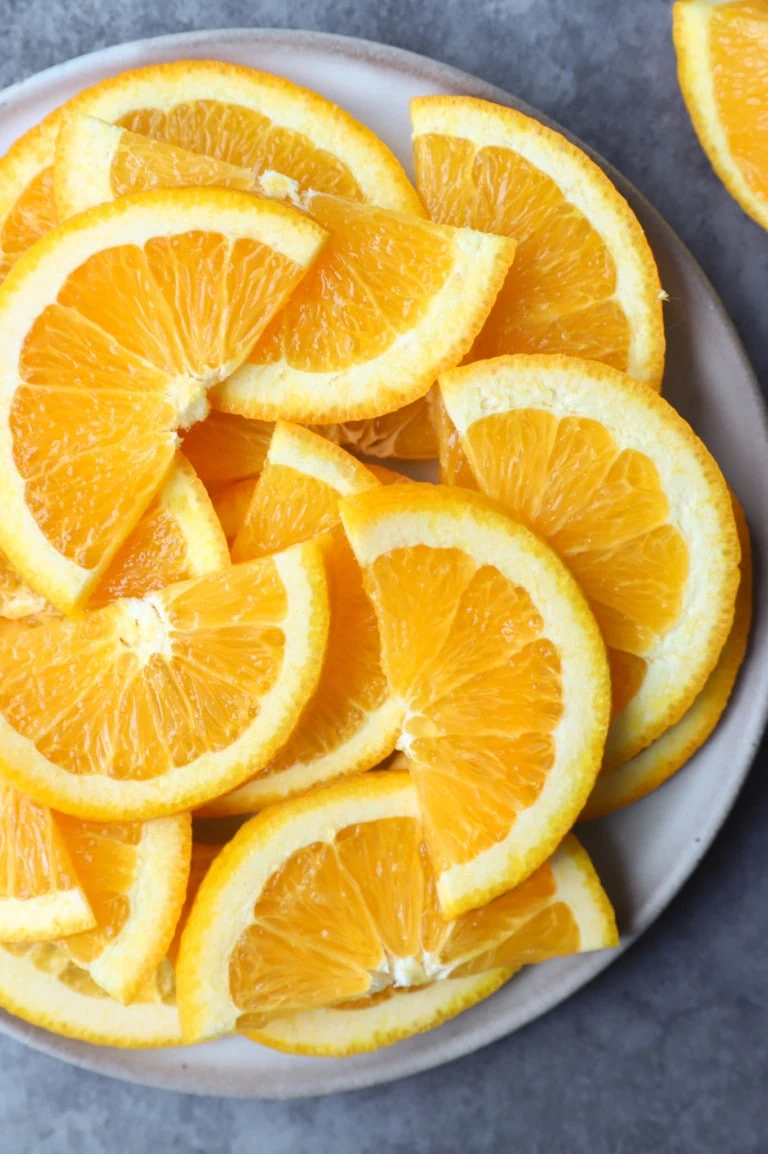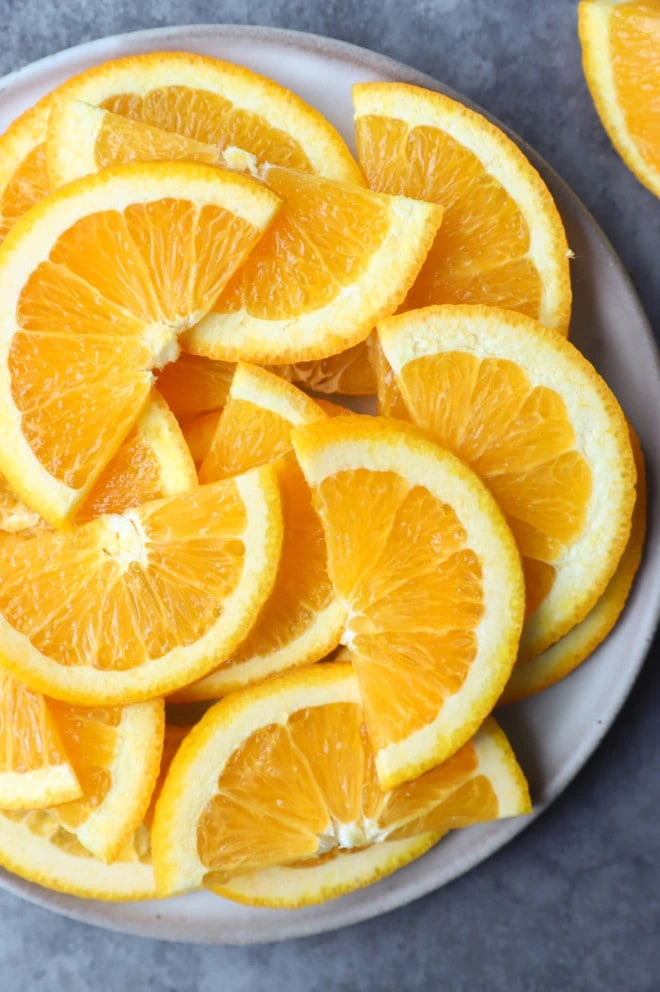 ingredients
aperol. The Italian apéritif is easily found at your local liquor store (or liquor section in the grocery store). The slightly bitter taste and vibrant orange color is what gives this cocktail it's color and signature flavor.
simple syrup. you can easily buy this at your local store (liquor or grocery!), but I prefer to make it at home. All you need are equal parts water and sugar. Got questions? I have a guide on how to make simple syrup with plenty of tips and tricks!
club soda. Club soda or sparkling water (they are both the same thing) is all you need in this cocktail. I do not recommend using tonic water as it will shift the flavor of the drink. Tonic water actually makes this a completely different drink!
orange. An orange wedge is squeezed over the top of the cocktail to finish it! This is an optional step, but I highly recommend it for the added flavor.
this recipe's must haves
To make this cocktail, you need only a few simple items. First is your favorite jigger to measure out the ingredients. I'm personally a fan of the double jigger.
You can serve this cocktail in your favorite cocktail glass! I love these Gatsby cocktail glasses that you see pictured here. They are so simple and elegant! Honestly any cocktail glass will work, though.
Finally, a cocktail spoon to stir everything together!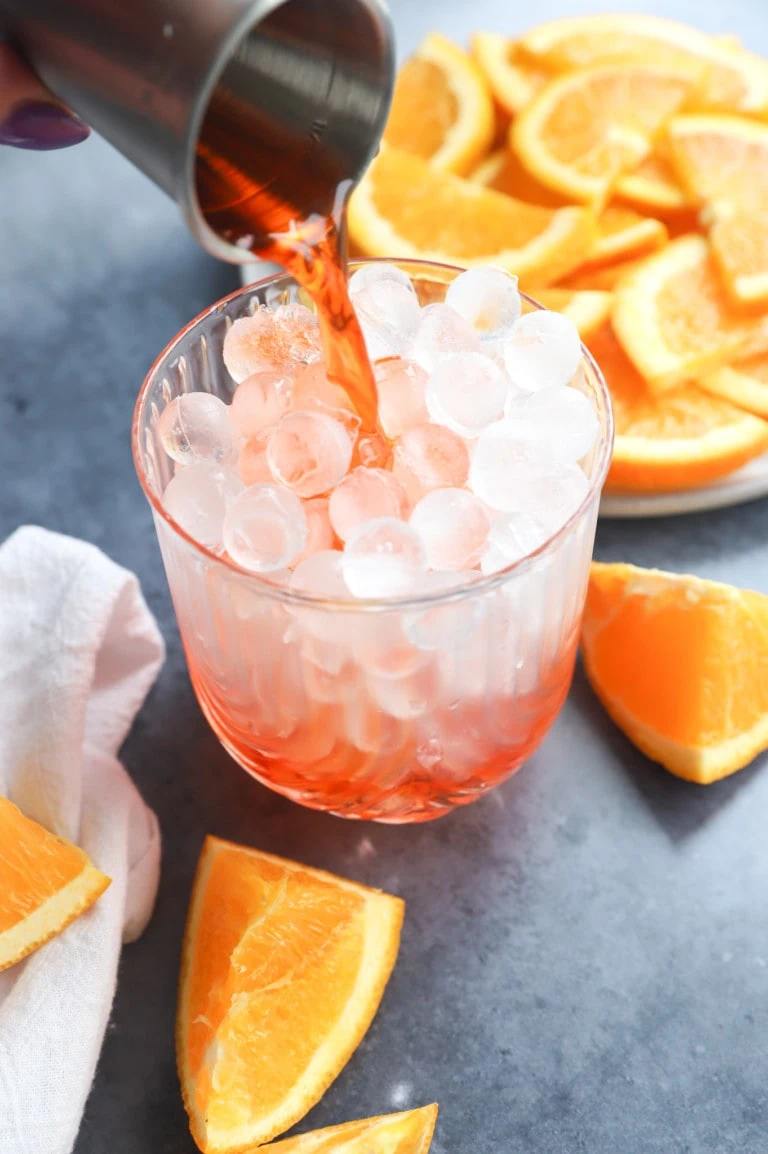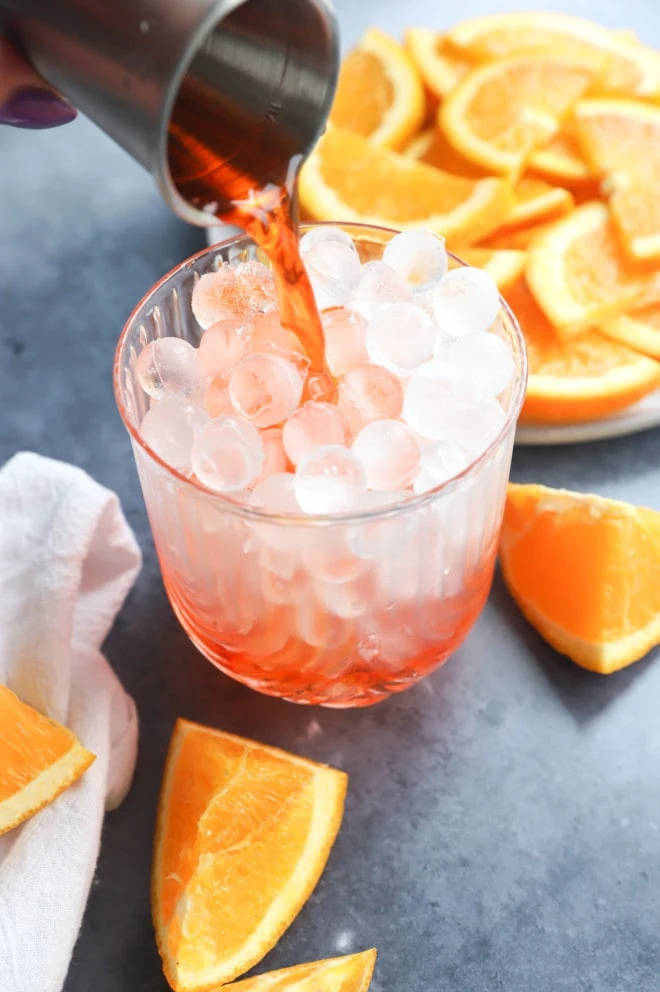 here's how to make an aperol soda
fill glass with ice
Fill cocktail glass with ice. Make sure that you fill the glass all the way to the top with ice! This will ensure that the drink stays nice and cold.
build cocktail
To build the cocktail, add simple syrup and Aperol to the glass. Top with club soda and give everything a gentle stir.
squeeze of orange
Finish by squeezing and orange wedge over the top of the cocktail. This is optional, but I love the added flavor it brings. Stir together briefly.
Garnish with half an orange slice and serve.
tips for success
use the orange wedge. You might be tempted to skip the orange wedge, but the little squeeze of juice really adds a lovely aromatic note to the whole drink.
fill your glass with ice. Be sure to fill your glass all the way to the top with ice! This will keep the drink nice and chilled, which is just how you want to enjoy it.
play with the ratio. The amounts for this cocktail are just my personal recommendations, but you can always adjust them as desired! Experiment with the proportions of Aperol, simple syrup, and club soda as desired. Adjust the amounts so it can be more or less Aperol forward, depending on how much you want to taste the bitter flavor.
More simple cocktail recipes: Limoncello Martini | Lemon Agave Margarita | Cherry Amaretto Sour | Lemon Basil Cocktail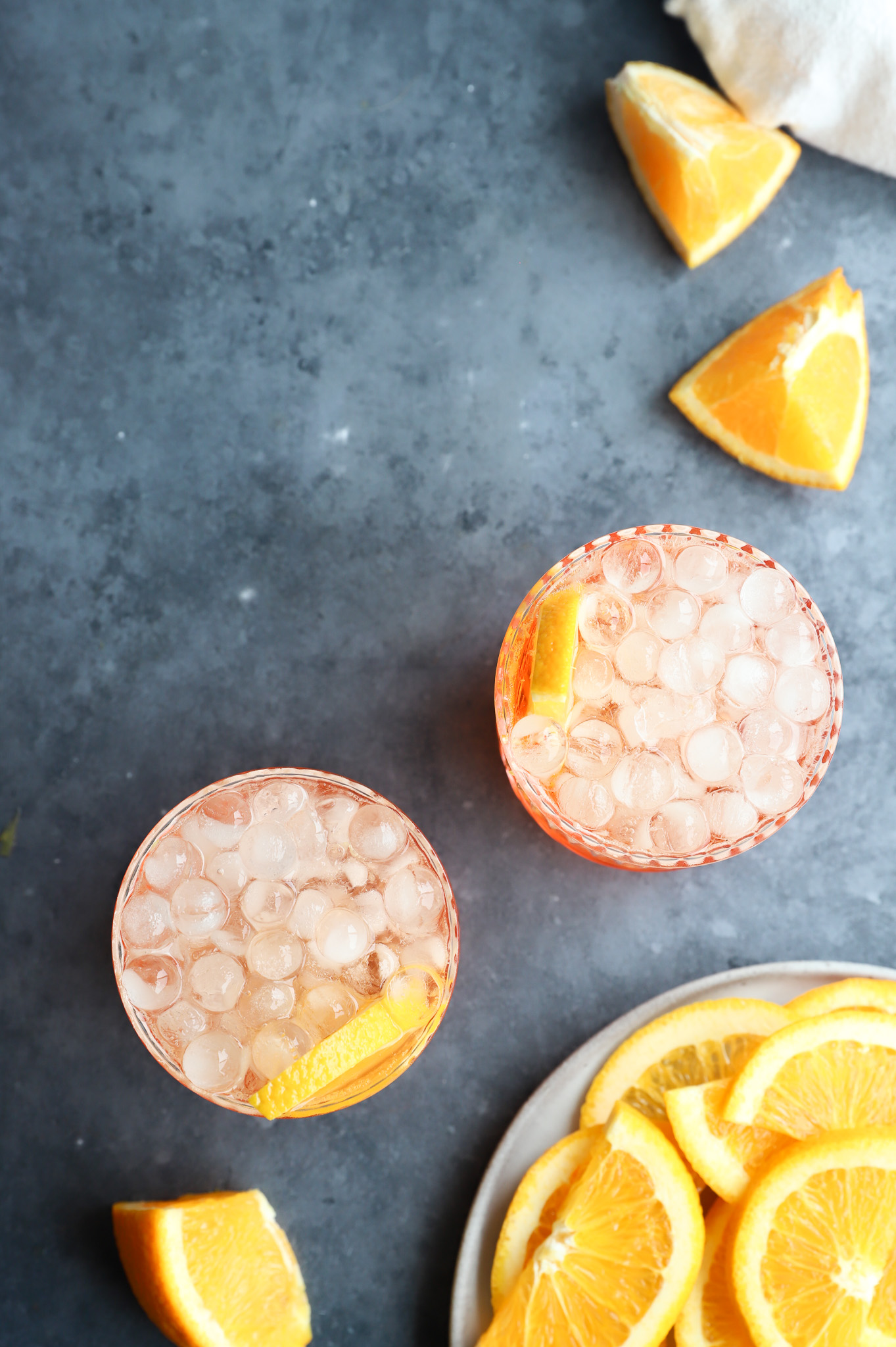 what's the difference between an aperol soda and an aperol spritz?
An aperol soda cocktail is essentially an aperol spritz, but without the prosecco! I particularly love this cocktail because it comes in handy when you don't want to open an entire bottle of sparkling wine.
Instead, you can just use Aperol, simple syrup, and club soda to get the same bubbly cocktail fix!
can I use tonic instead of soda water?
Since tonic water has a flavor to it, I do not recommend using it as a substitution for club soda. It will throw off the flavor of the cocktail, so you should use club soda or sparkling water (they are the same thing, by the way!) for this particular recipe. If you want to use tonic water, note that you are making aperol and tonic!
what other drinks use aperol?
The most classic drink that uses Aperol is an Aperol spritz! Aperol is also used in classic cocktails like a Paper Plane, Aperol Sour, El Chapo, and Division Bell.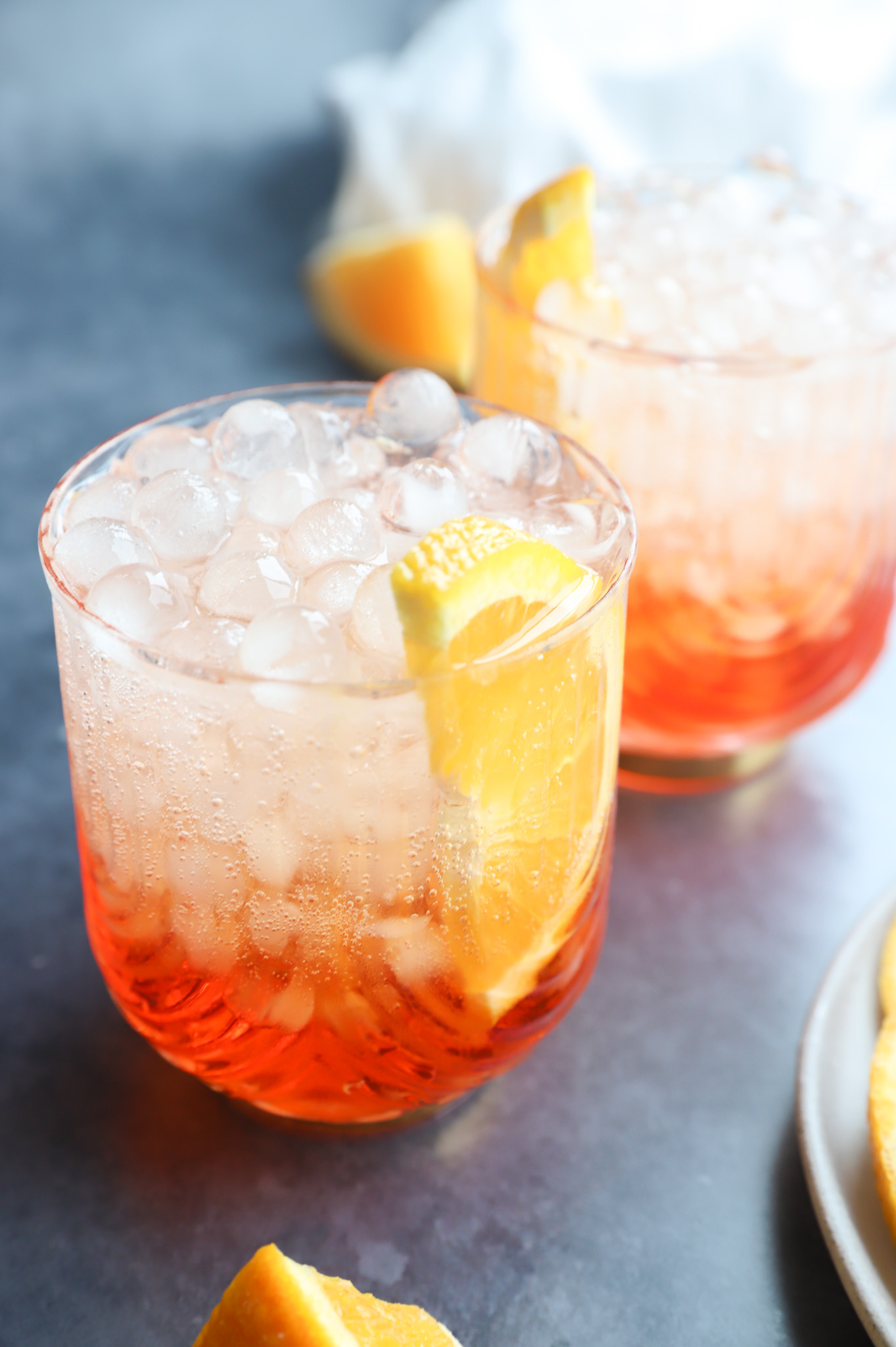 what does aperol taste like?
Aperol has a sweet flavor with a bitter finish! Notably you will taste notes of bitter orange, rhubarb, and aromatic herbs.
Many enjoy Aperol on its own, however I am not the biggest fan of it served straight over ice. I prefer to enjoy it in a cocktail like this Aperol soda!
do I have to use the orange wedge?
The orange wedge is optional, but I love squeezing it over the cocktail once it is made. The little zing of orange flavor sends this cocktail over the top. It's just the little extra that makes this cocktail even better.
Need more inspiration for cocktail hour? Check out my cocktail recipes page!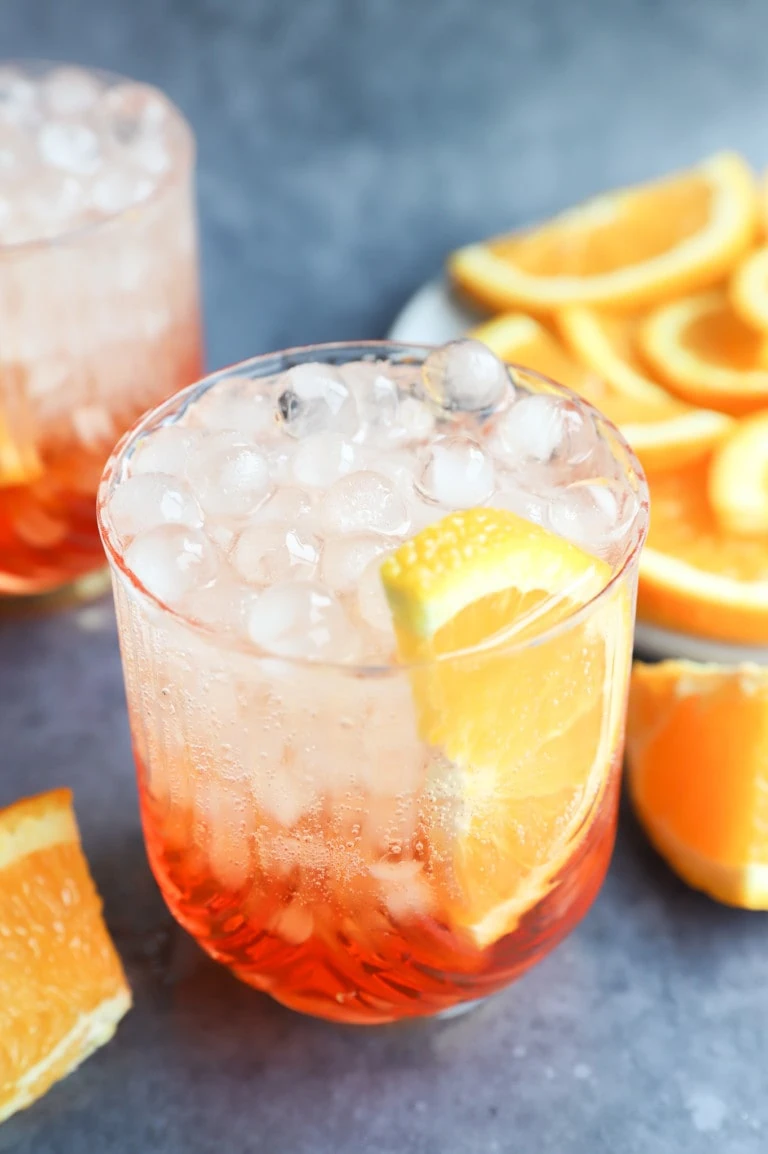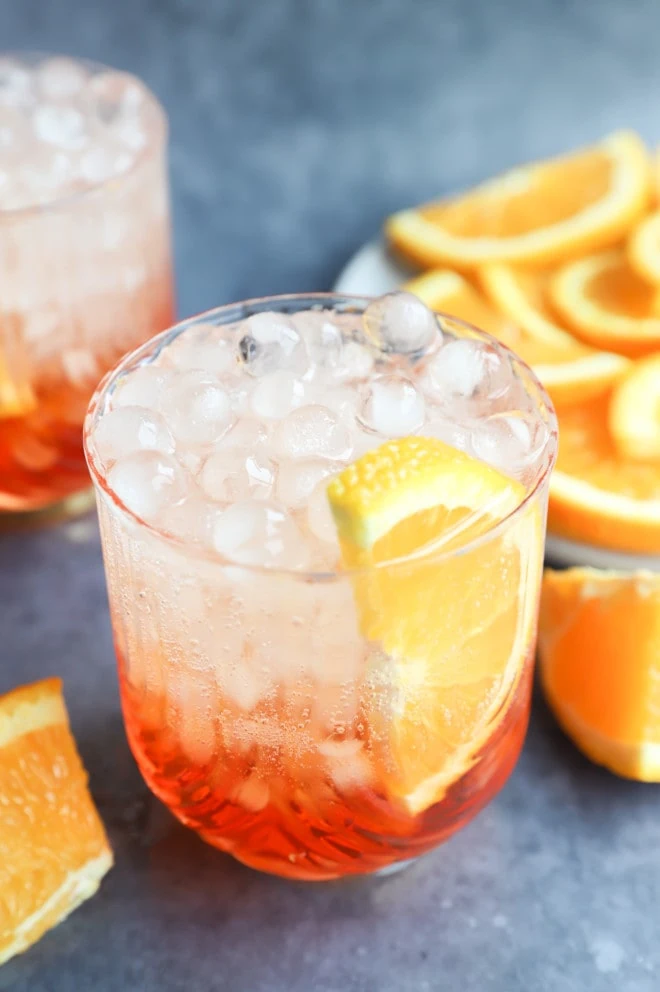 what to eat with an aperol soda
This aperol soda is ideal for serving during cocktail hour. Since it is typically served an an aperitif you will want to sip on this while enjoying some tasty appetizers, or enjoy it as you prepare your favorite Italian-themed meal.
My favorite appetizers to serve with an aperol soda are:
For dinner, consider making: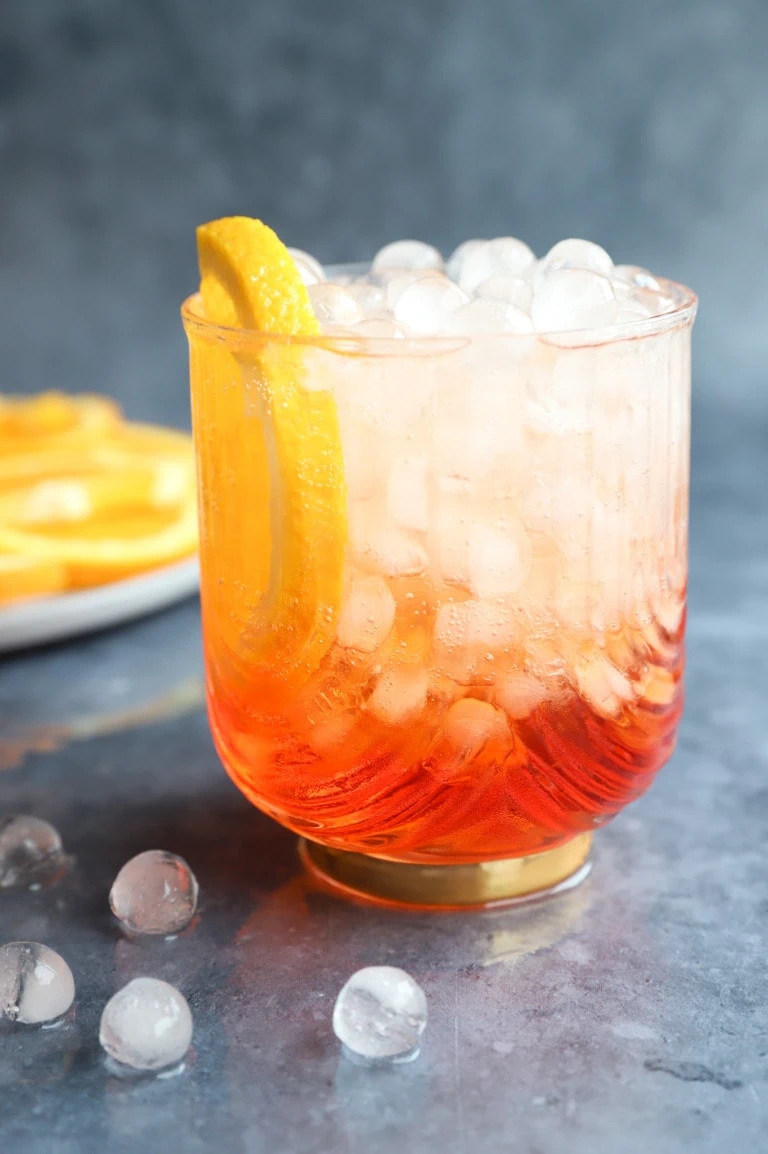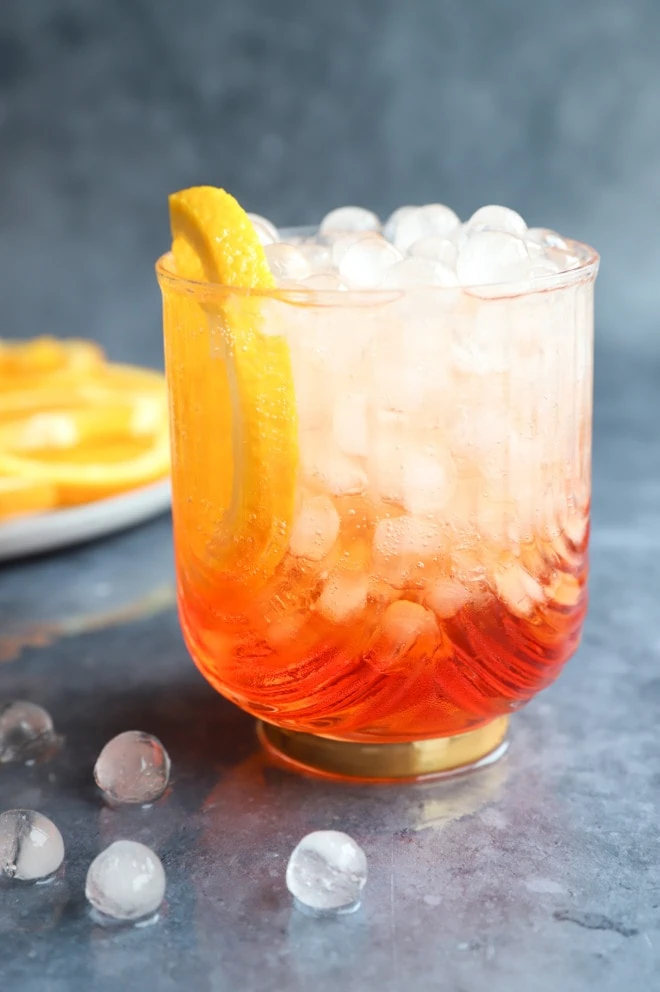 Finally, if you make this aperol soda cocktail recipe, please be sure to give this recipe a rating or leave a comment! I love to hear when you all make recipes, and I do take the time to respond to every single comment. Feel free to drop questions below too, if you have them!
Oh and be sure to tag me on Instagram if you make the recipe! I love being able to see these recipes come to life in your homes – it's my favorite thing to look through those photos. It really means the world to me!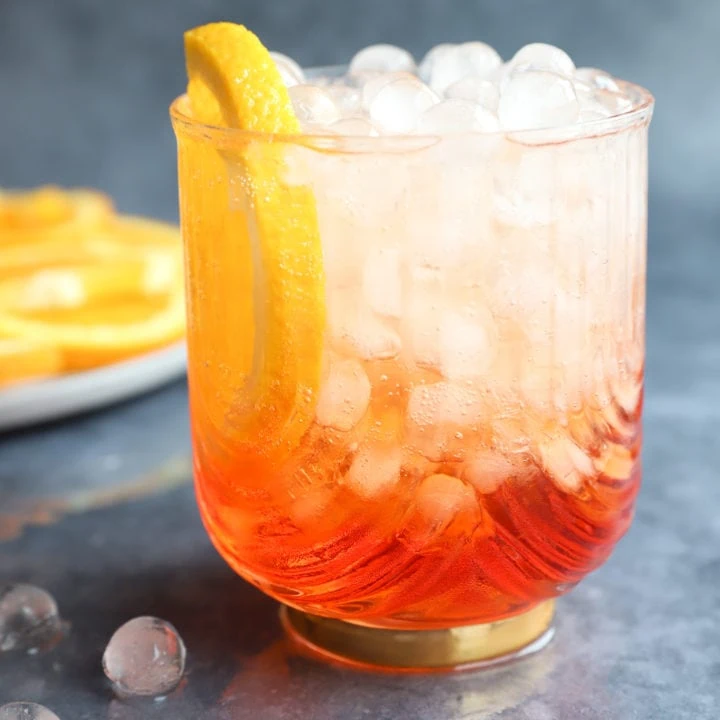 Aperol Soda
A vibrant cocktail to satisfy for any occasion!
Ingredients
2 oz Aperol
3 oz soda water
1/2 oz simple syrup
1 orange wedge (optional)
Ice
Garnish: orange slices, cut in half
Instructions
Fill a cocktail glass with ice. Add Aperol, simple syrup, and soda water.
Squeeze a wedge of orange over the top.
Stir lightly. Garnish with 1/2 an orange slice. Serve.
Recommended Products
As an Amazon Associate and member of other affiliate programs, I earn from qualifying purchases.