Please note this post contains affiliate links.
A Sparkling Grapefruit Rosé Cocktail will bring a burst of citrusy goodness into your next cocktail hour! The combination of fresh grapefruit juice, your favorite wine, and splash of bubbly club soda is light and refreshing. Perfect for sipping on the patio!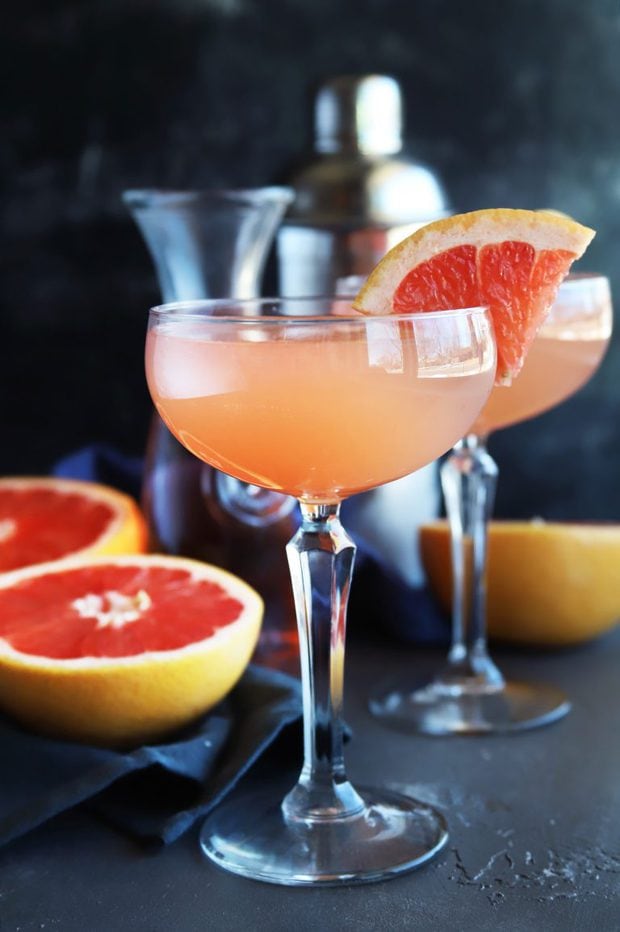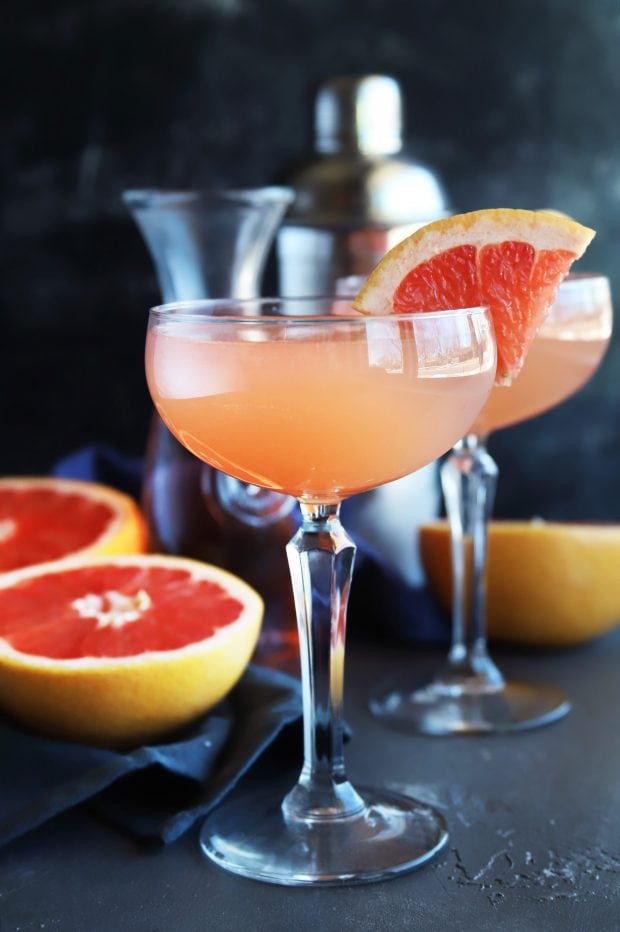 The weather is FINALLY coming around and I honestly couldn't be more excited about it!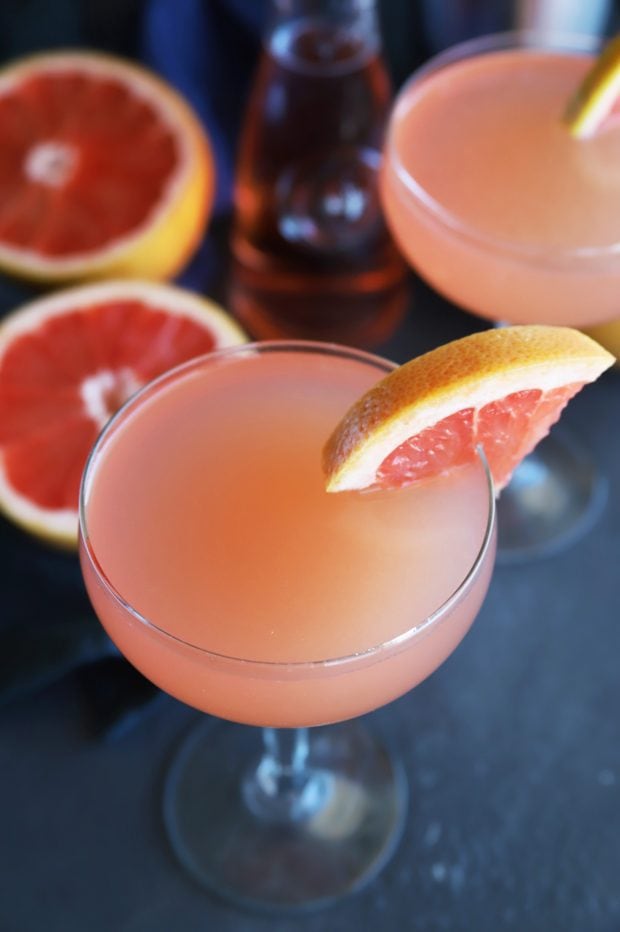 Just the other night, I was walking around comfortably without a coat, and it felt just like heaven.
I swear, I get so tired of the cold after a while. I just crave the sunshine and warm breezes that are so present in Colorado in the spring and summer months.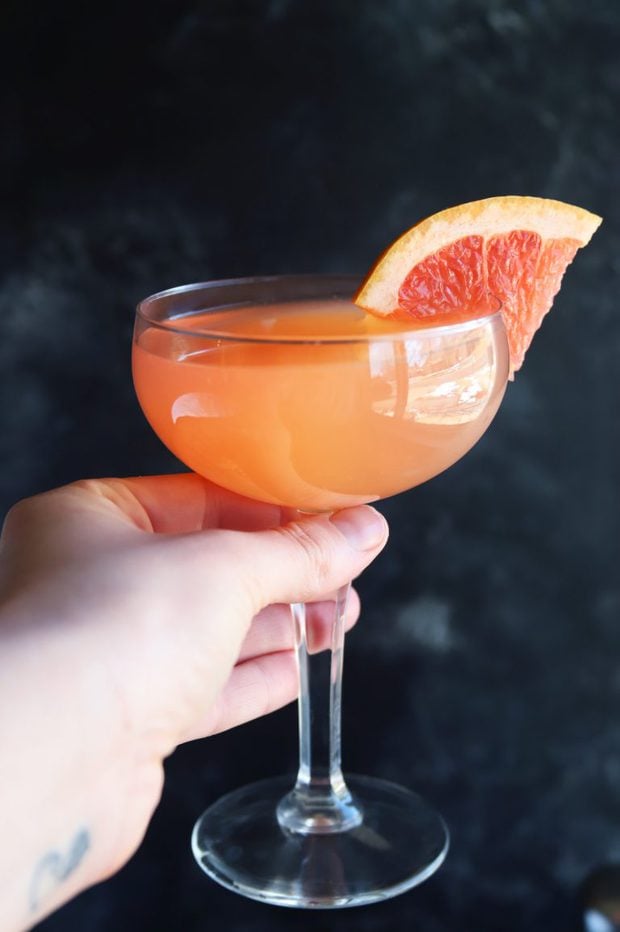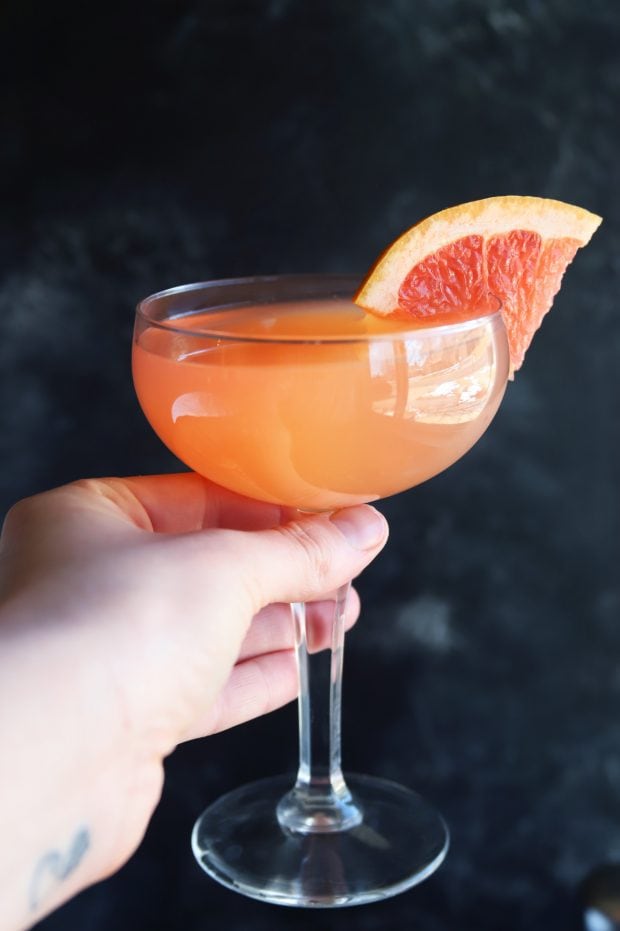 The fact that I can run around in my car with the sunroof wide open now gives me SO much joy. There's something about those early summer drives, when the weather isn't too hot. You can put all the windows down and blast your favorite songs. All while singing at the top of your lungs, if you are anything like me!
Do you ever feel like that around this time of year? Just the mere ability to step outside to take out the garbage without having to layer up in coats is so nice!
I know I will be hating summer heat soon enough, but for now, I can truly enough every single moment of it.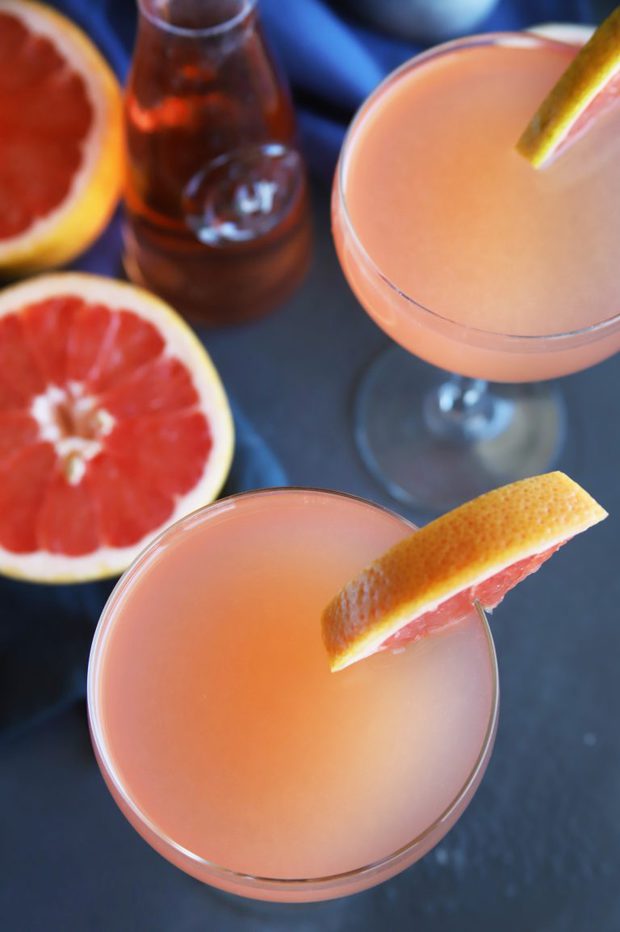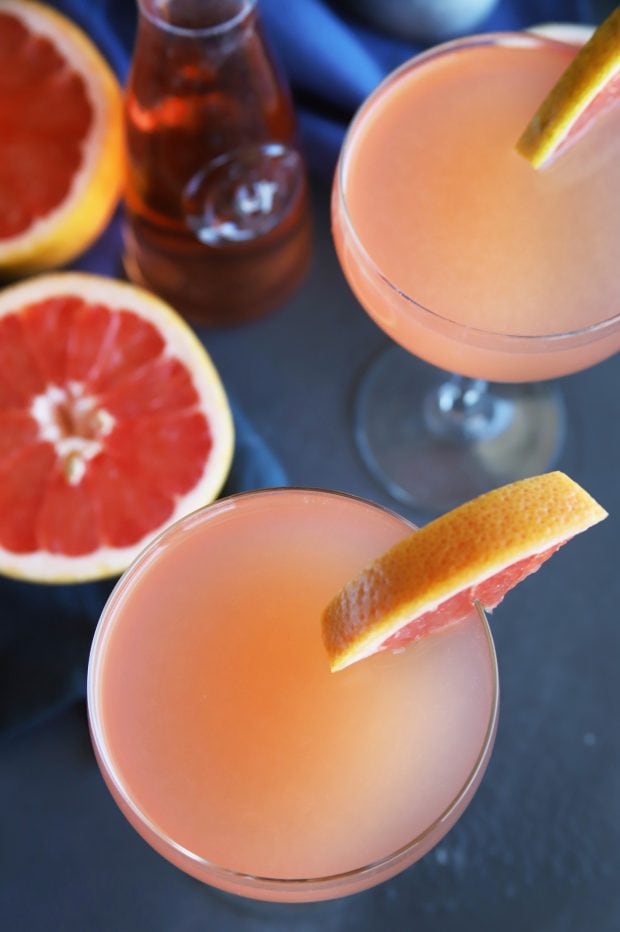 This year we had a LOT of snow and a LOT of cold. So I am ready for the burst of sunshine, and I'm also ready for the burst of sunshine that is this cocktail.
I have been really into rosé in the last week or so. The bright and lightness of the crisp wine is so refreshing. That's exactly what I wanted to bring to this cocktail.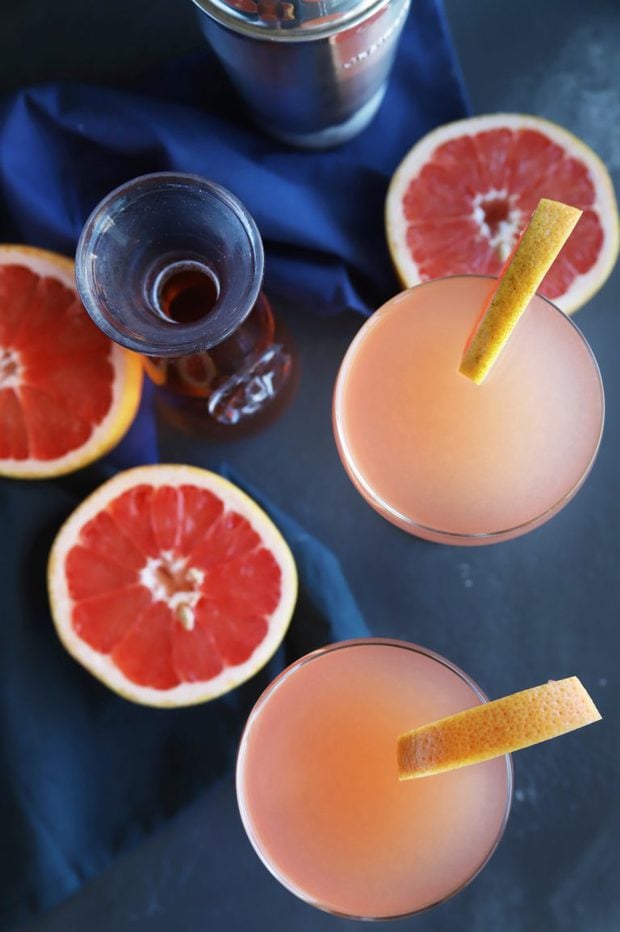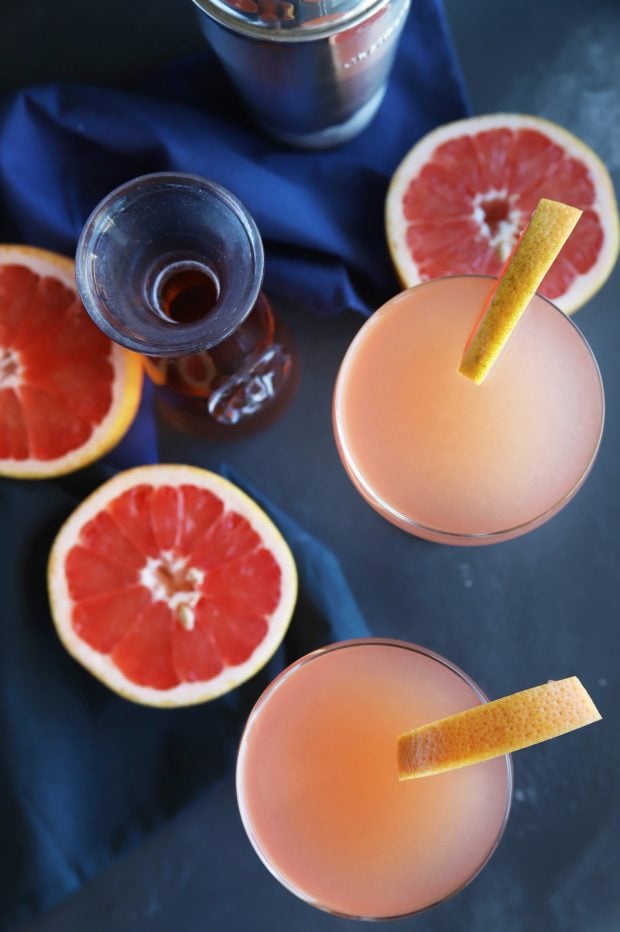 This grapefruit rosé cocktail is the ideal combination of bright, light, and sweet. The tart fresh grapefruit juice plays well with the citrusy wine, as well as the simple syrup.
Just be aware that despite the light flavor of the cocktail, it's a boozy one. So don't go chugging this 😉
The vodka will sneak up on ya! It's the easiest way to get that summer buzz without feeling like you are drinking straight booze.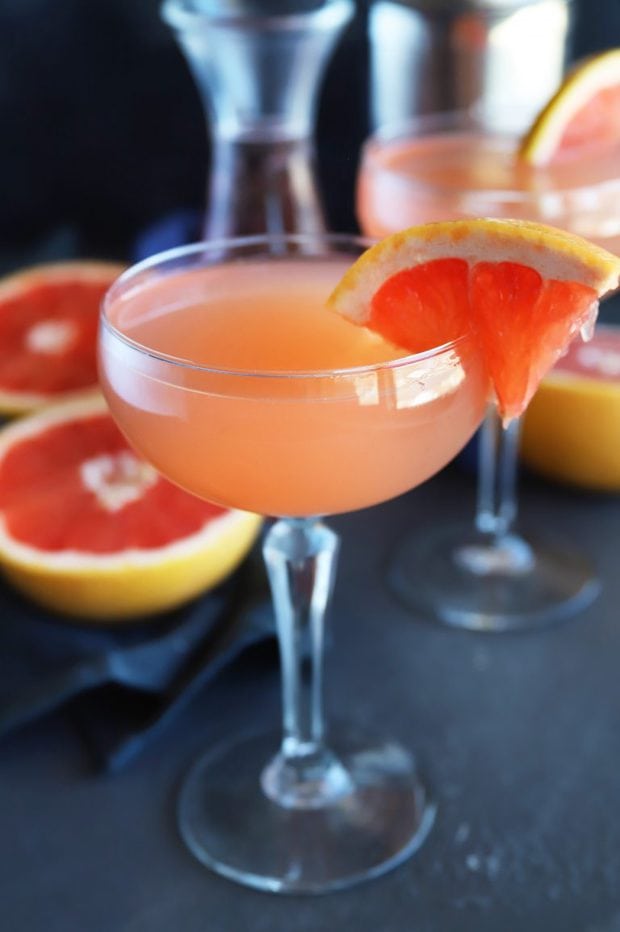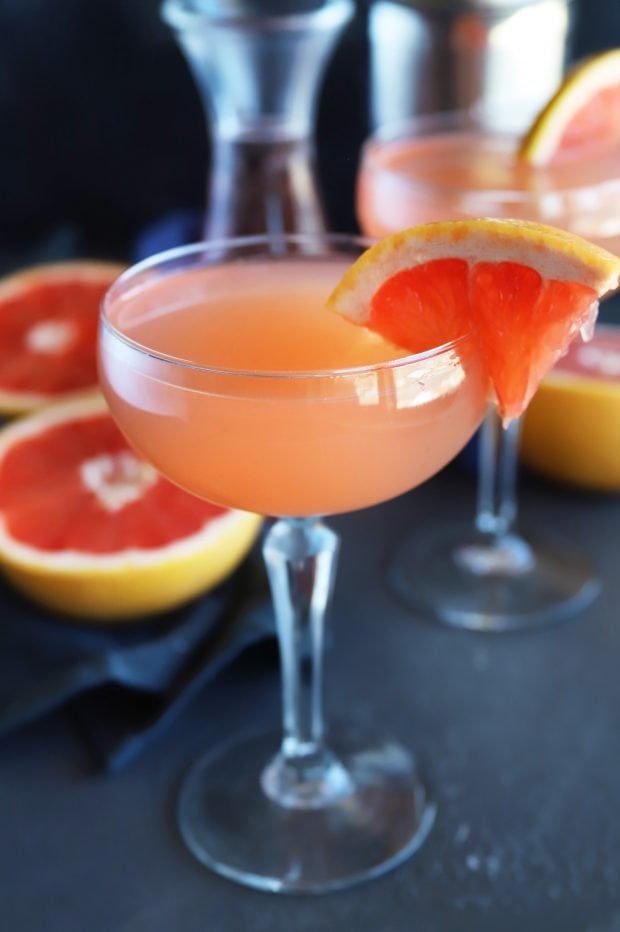 This Recipe's Must-Haves
To get the look you see here, grab these gorgeous and affordable coupe glasses. I love these for cocktails, punches, mimosas, and more!
This Boston cocktail shaker is the only shaker your home bar needs. I use it ALL the time.
To give your cocktail a final stir, reach for cocktail stirring spoons! I always have a few of these on my bar cart to change out as they get dirty.
Should I use a dry or sweet rosé?
This is up to your taste preferences! I personally like a drier cocktail but if you want a touch of extra sweetness, be sure to use a sweeter wine. Don't worry, if you use the sweeter rosé, it won't be too sweet.
If you love grapefruit cocktails, this pomelo grapefruit negroni is a refreshing twist of a classic recipe.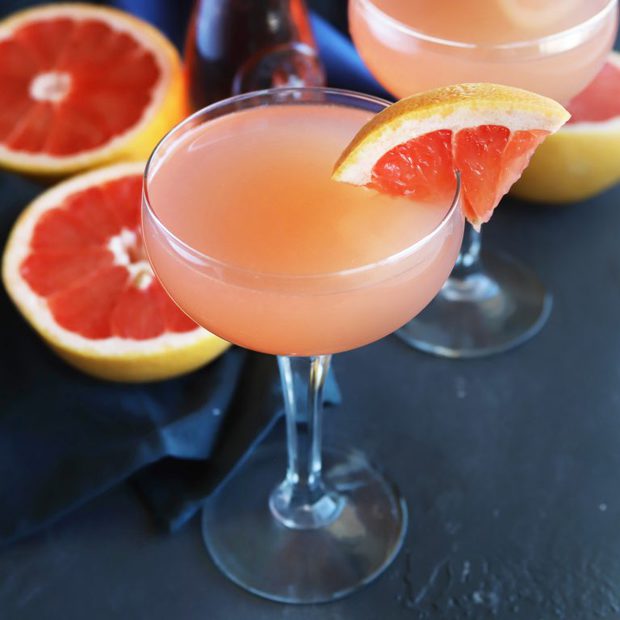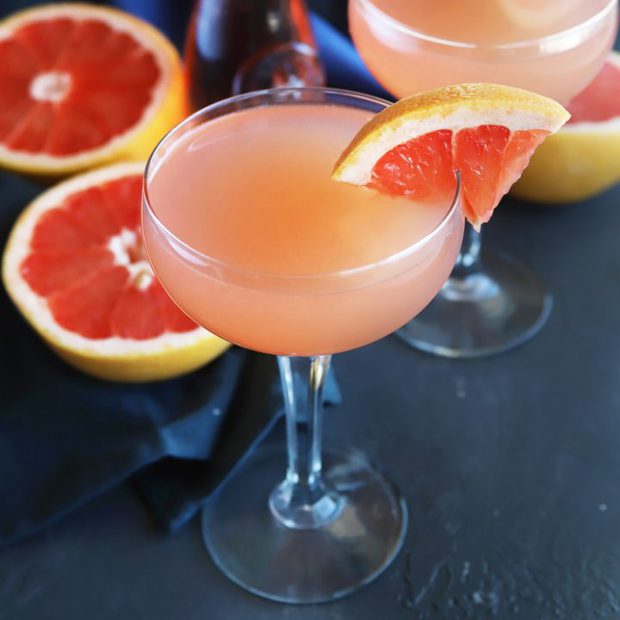 Sparkling Grapefruit Rosé Cocktail
The brightness of grapefruit pairs perfectly with your favorite wine, making it a bubbly and citrusy sipper that you'll fall in love with.
Ingredients
4 oz vodka
4 oz grapefruit juice, fresh squeezed is best
1 oz simple syrup
8 oz rosé wine, chilled
Club soda
Ice cubes
Garnish: grapefruit wedge
Instructions
In a shaker filled with ice, add vodka, grapefruit juice, and simple syrup. Shake well.
Strain into two chilled coupe glasses.
Top with rose.
Stir to combine and finish with a splash of club soda.
Garnish with grapefruit wedge and serve.
Notes
Want to make this for a group? To serve 8, use 2 cups vodka, 2 cups grapefruit juice, 1/2 cup simple syrup, 4 cups rosé (this is about 1 1/2 bottles - a little under), about 1 cup club soda. Stir together the vodka, grapefruit juice, simple syrup and rosé in a big pitcher and chill it well before serving. Pour into glasses and top with the club soda!
Recommended Products
As an Amazon Associate and member of other affiliate programs, I earn from qualifying purchases.