Please note this post contains affiliate links.
An Aperol Spritz a day keeps the blues away! The bubbly combination of prosecco and Aperol is one that is always a winner. It's a classic for a reason!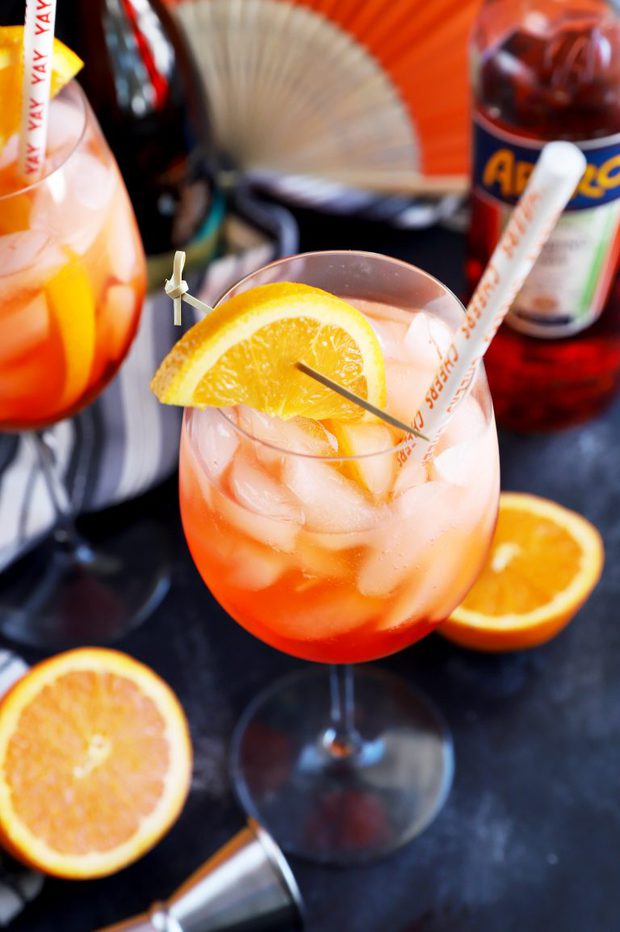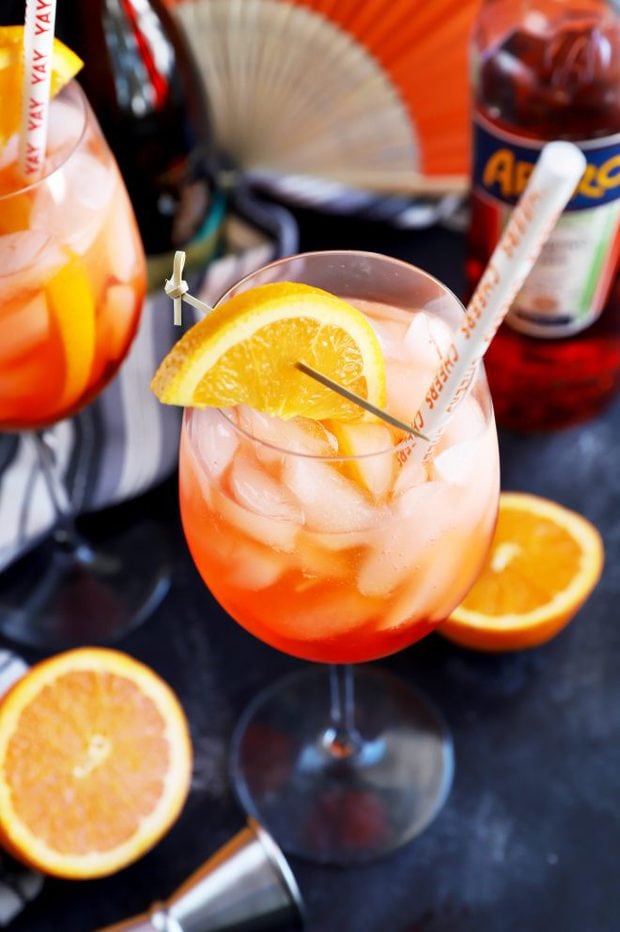 The one thing I miss about Europe? The Aperol spritz.
Specifically enjoying said spritz during aperitivo hour.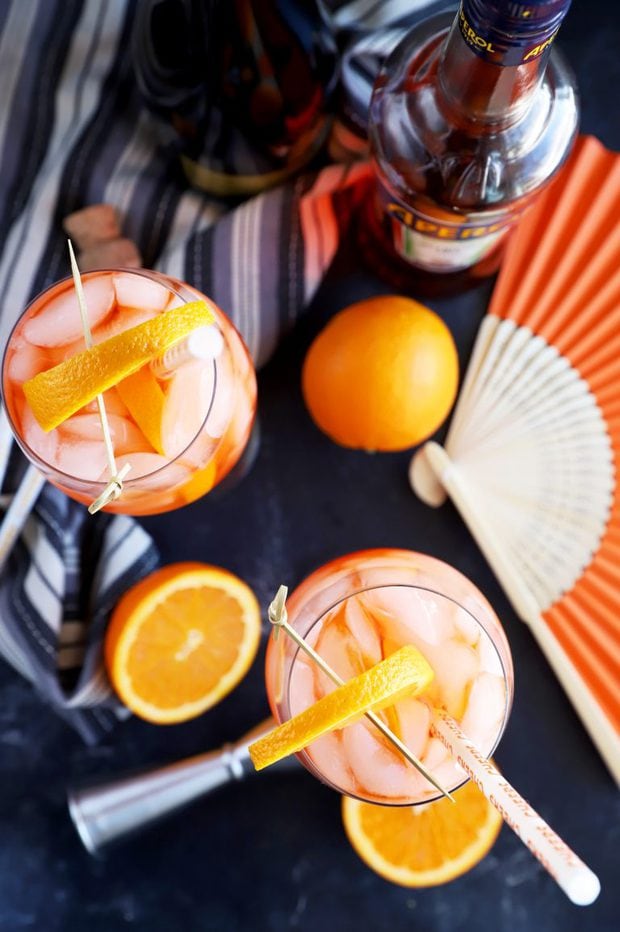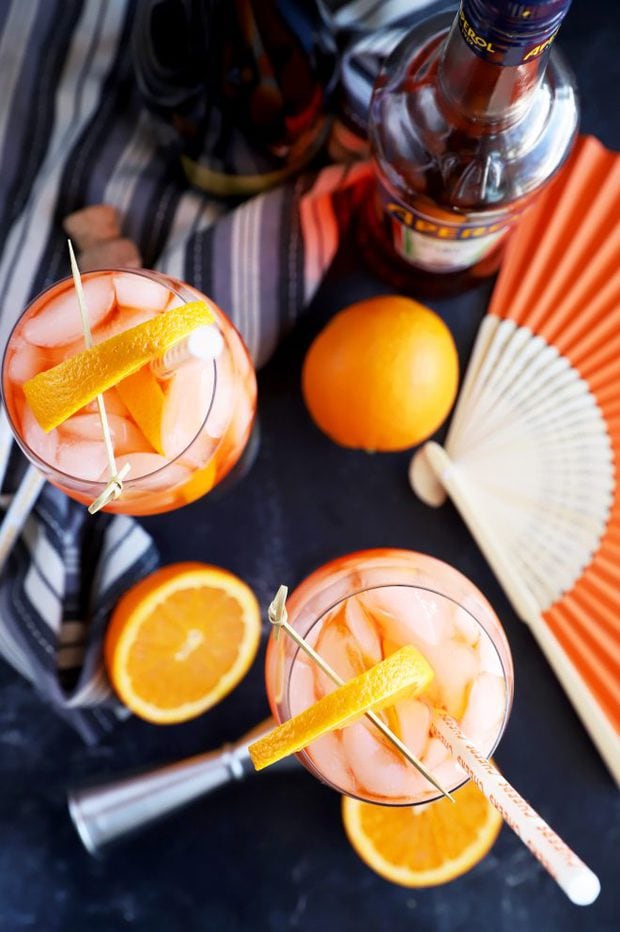 When we were in Venice, we had the BEST time. If you've never been, you may not now about how they rock aperitivo. Not only are there amazing drinks, there are delightful small plates (also called cicchetti) that you can buy for one or two Euro.
Just sitting outside, along the canals, with a refreshing spritz… Those hours were some of my favorite as the Man and I soaked in every gorgeous moment.
Now, every time I sip an Aperol spritz, I am instantly transported back to those leisurely moments.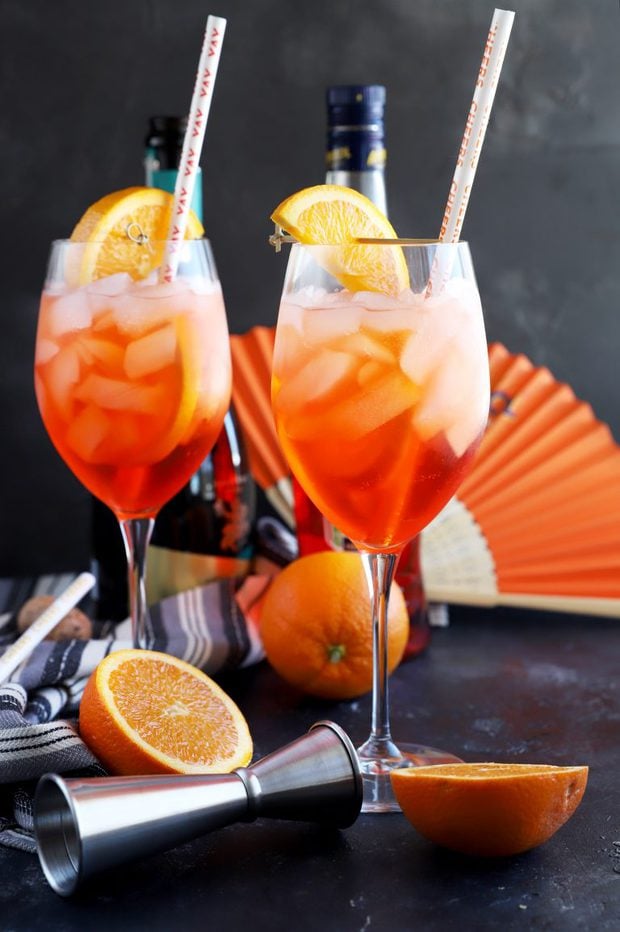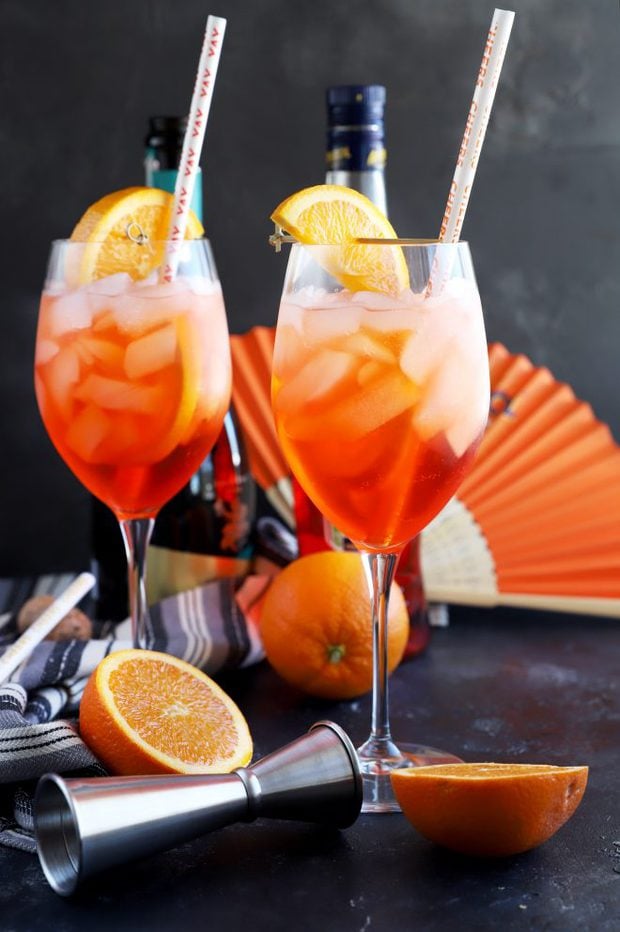 This Recipe's Must-Haves
Traditionally an Aperol spritz is served in a big wine glass, but I really love the look of this Aperol spritz glass. Of course, the Man and I are totally glassware hoarders, so I'll take any excuse to buy a new set of glasses 😉
After that you just need a jigger and , to stir together the cocktail, all you need is one of these cocktail spoons.
Also, if you want to learn more about the Spritz and get some more recipes to get creative with, I LOVE this book –> Spritz: Italy's Most Iconic Aperitivo Cocktail, with Recipes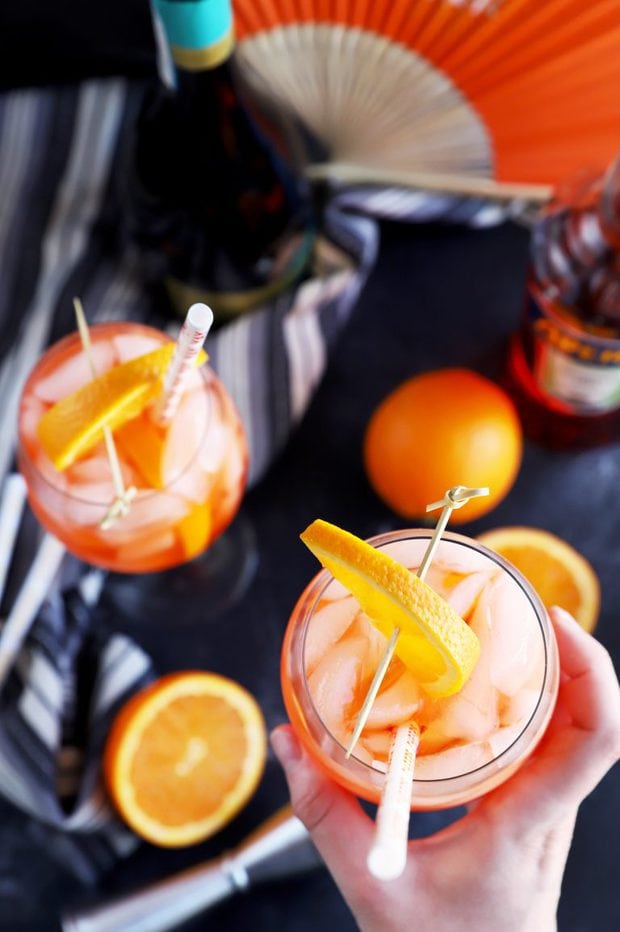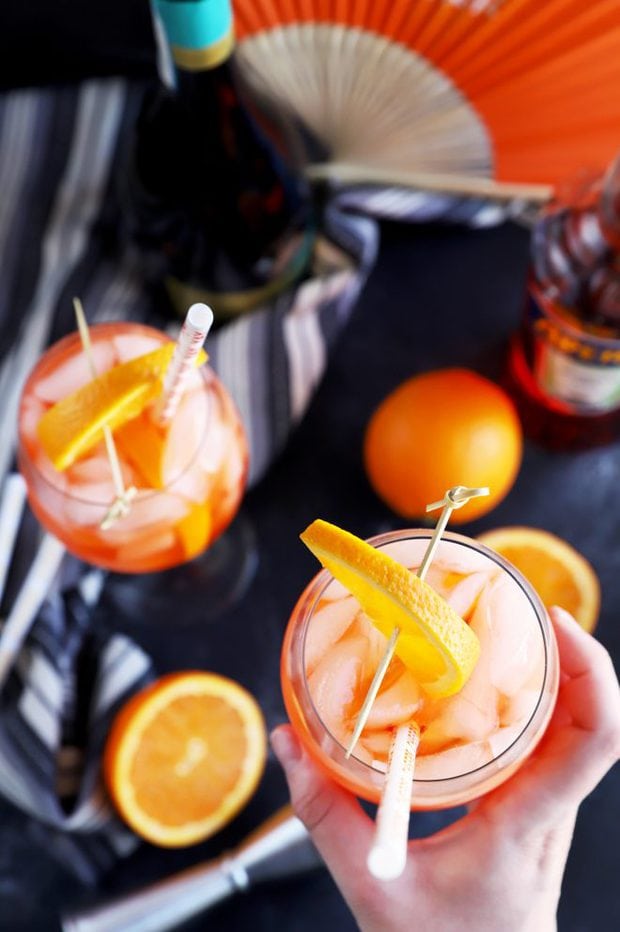 How To Make An Aperol Spritz
The best way to think about making an Aperol spritz is to use the 50:50 method. It's equal amounts of Aperol and prosecco, so it's pretty darn easy.
Then you can finish it off with a splash of soda water and garnish with half an orange slice.
What flavor is Aperol?
Aperol has notes of bitter orange and that's what really jumps out for me. Other people note flavors of gentian, rhubard, and cinchona – all things that I don't know so I really couldn't say if it tastes like them, haha!
To me, it tastes like a slightly bitter orange and it gets a nice hit of sweetness when combined with prosecco.
Don't forget to try an Aperol soda or Aperol sour for another take on an Aperol forward cocktail!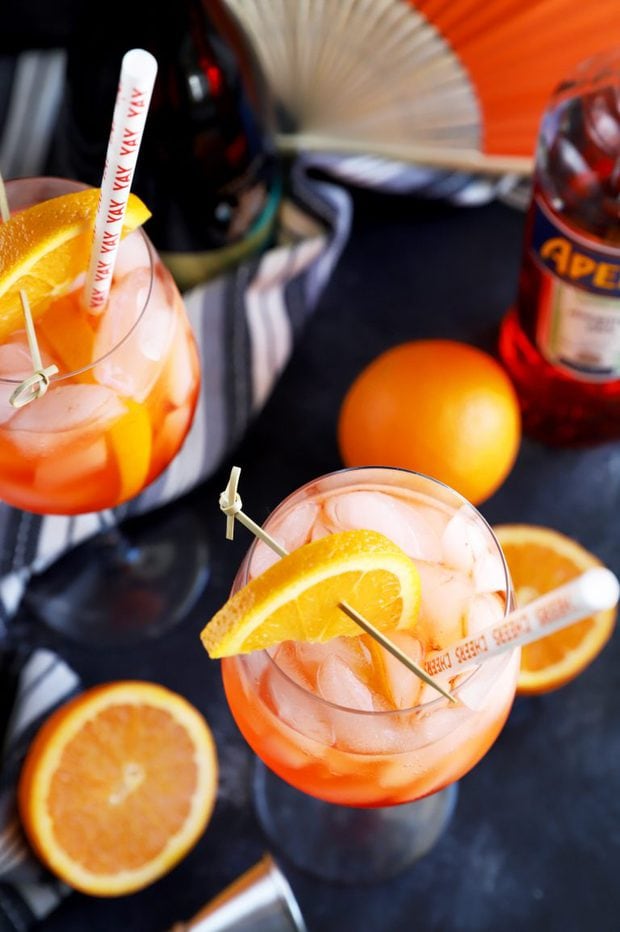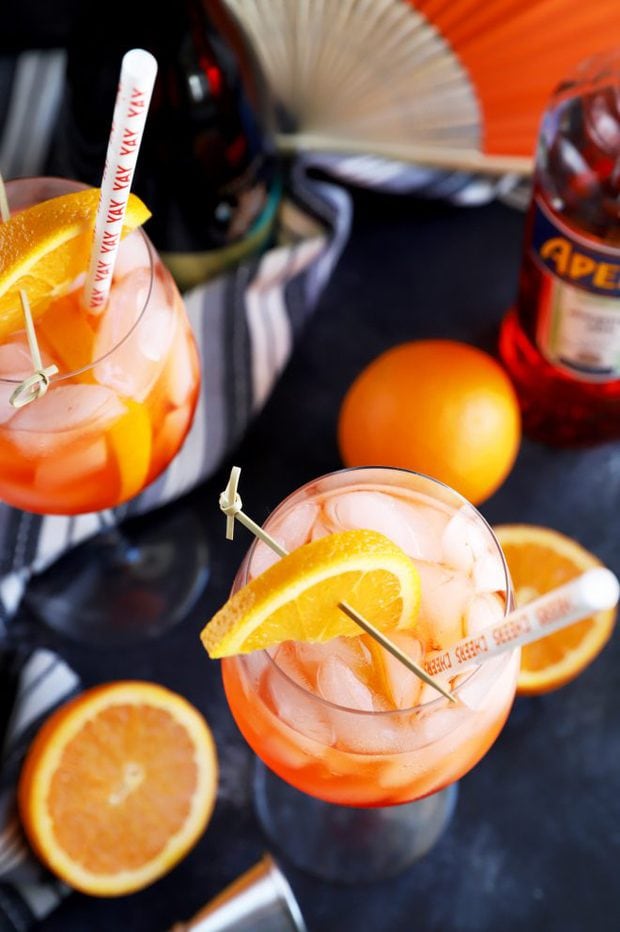 What if it tastes too bitter to me?
When you first taste an Aperol spritz, you might think it's a bit too bitter for your liking. This is exactly why I like to make them at home! If it tastes too bitter, you can simply add more prosecco to sweeten it up to your taste.
What snacks pair well with an Aperol spritz?
Honestly, I think anything goes with an Aperol spritz! If you want to serve the cocktail up at a party, I highly recommend the spread that I shared in my How To Host A Tapas Party (part one and part two). All of the flavors are bold and strong, making them a tasty pairing for the spritz.
If you'd rather keep things a little more low key, you can make any of these appetizer recipes:
Chorizo, Cheese, & Potato Croquettes
Roasted Grape & Balsamic Crostini
If you love all Italian cocktails, this limoncello martini only calls for four ingredients!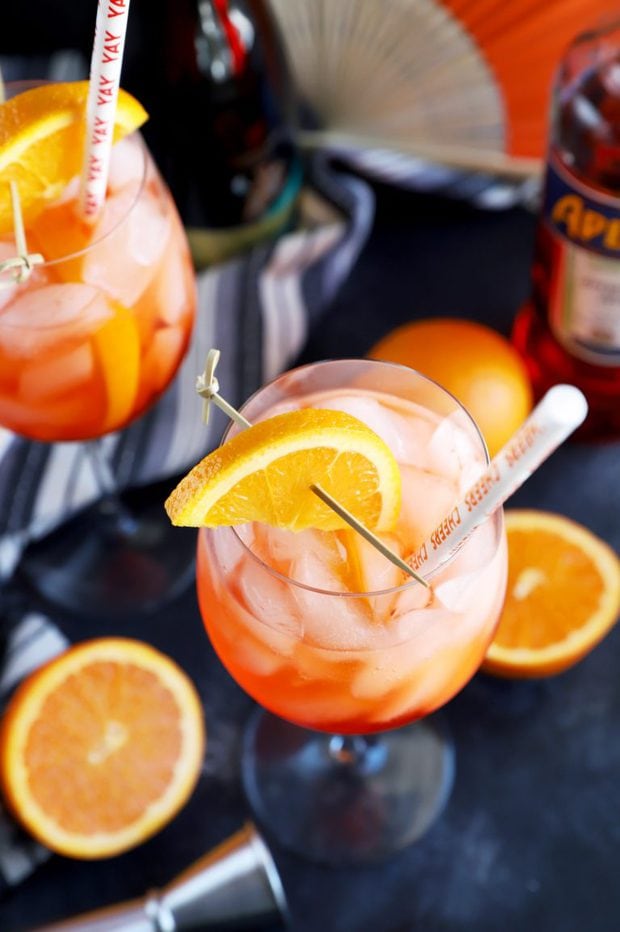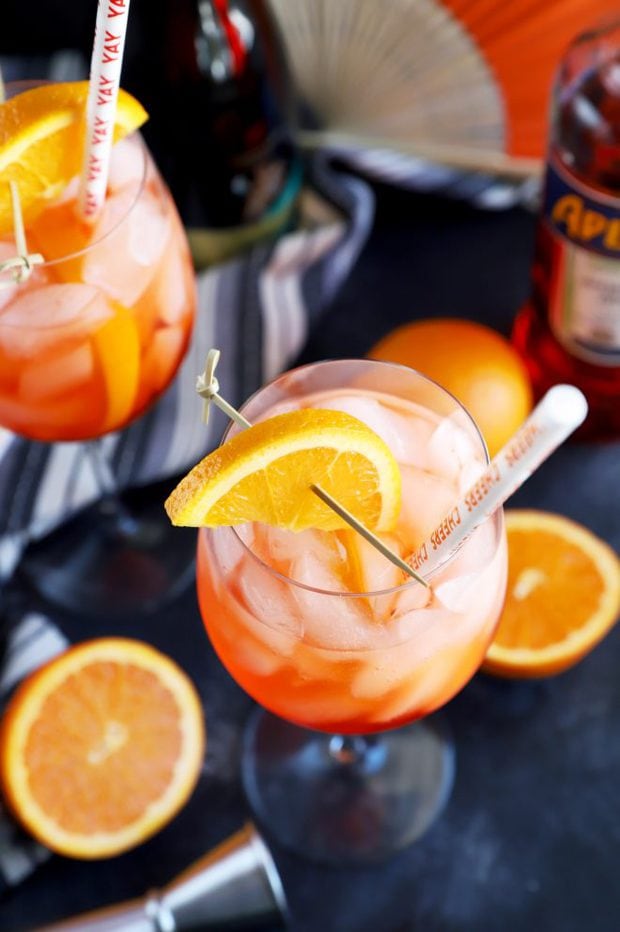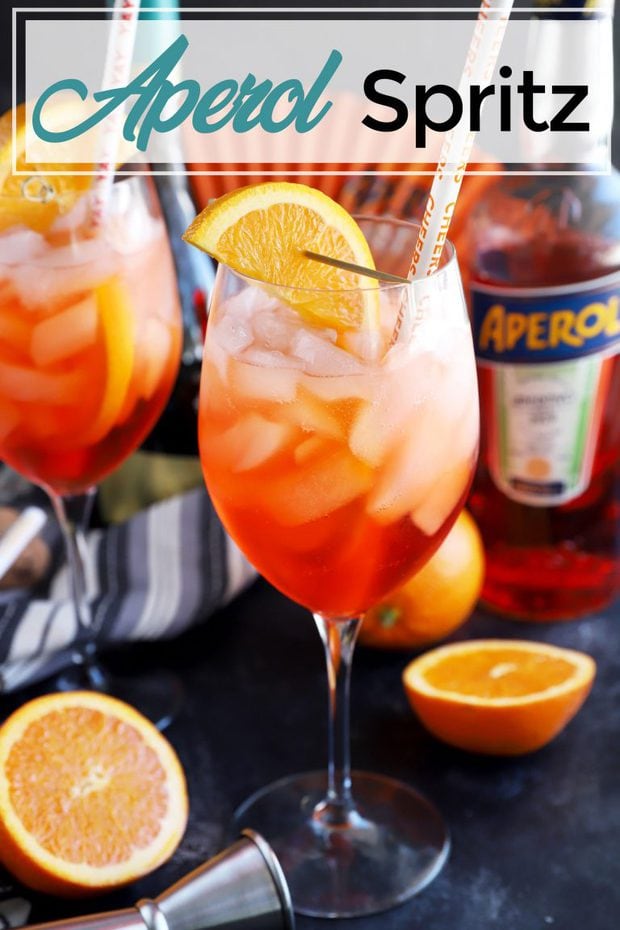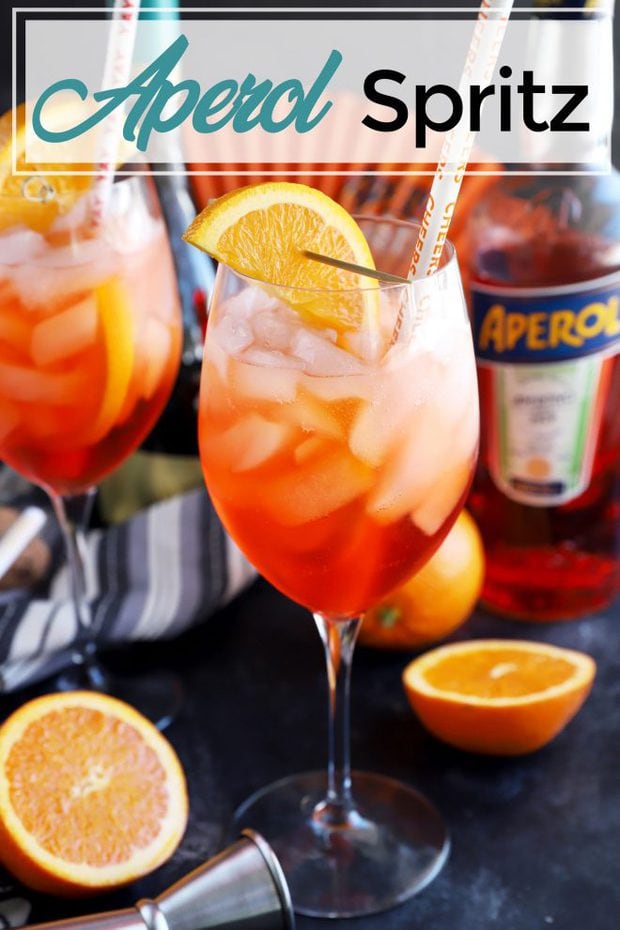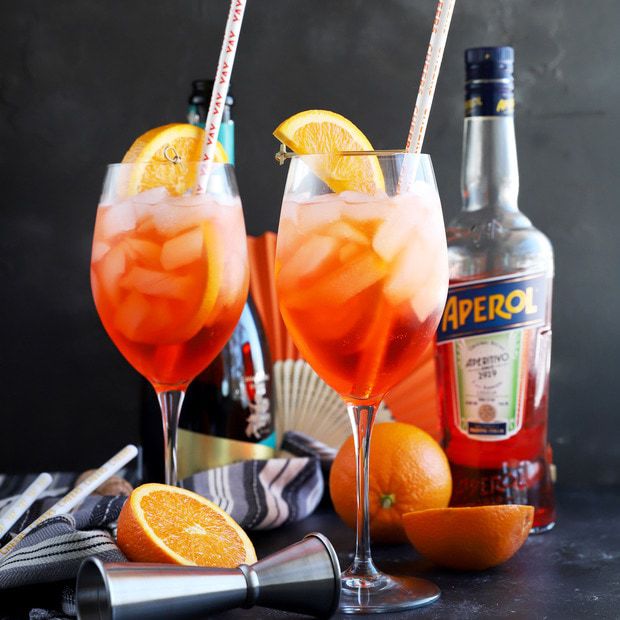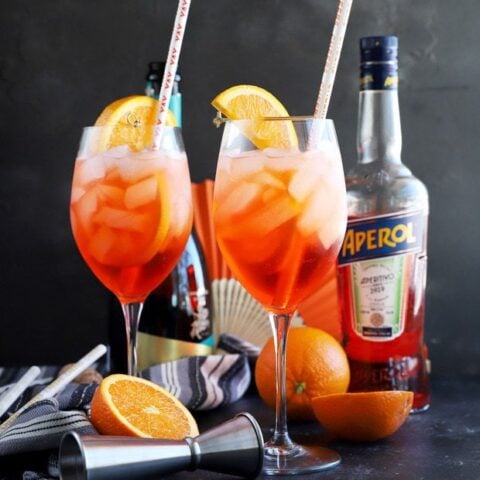 Aperol Spritz
The classic bitter, sweet, and bubbly cocktail to drink for happy hour!
Ingredients
Ice
3 ounces Aperol
3 ounces dry Prosecco
1 1/2 ounces club soda
Orange slice, for garnish
Instructions
Fill a wine glass 3/4 of the way full with ice.
Pour in Aperol, Prosecco, and club soda. Stir to combine and add a slice of orange.
Serve!
Recommended Products
As an Amazon Associate and member of other affiliate programs, I earn from qualifying purchases.