Please note this post contains affiliate links.
A Lemon Agave Margarita is a bright and citrusy take on the classic margarita, but without that pesky over-sweetened margarita mix. Made with fresh lemon juice and agave, this margarita is fresh and vibrant. Plus it can be rimmed with salt OR sugar, depending on your mood! Makes 2.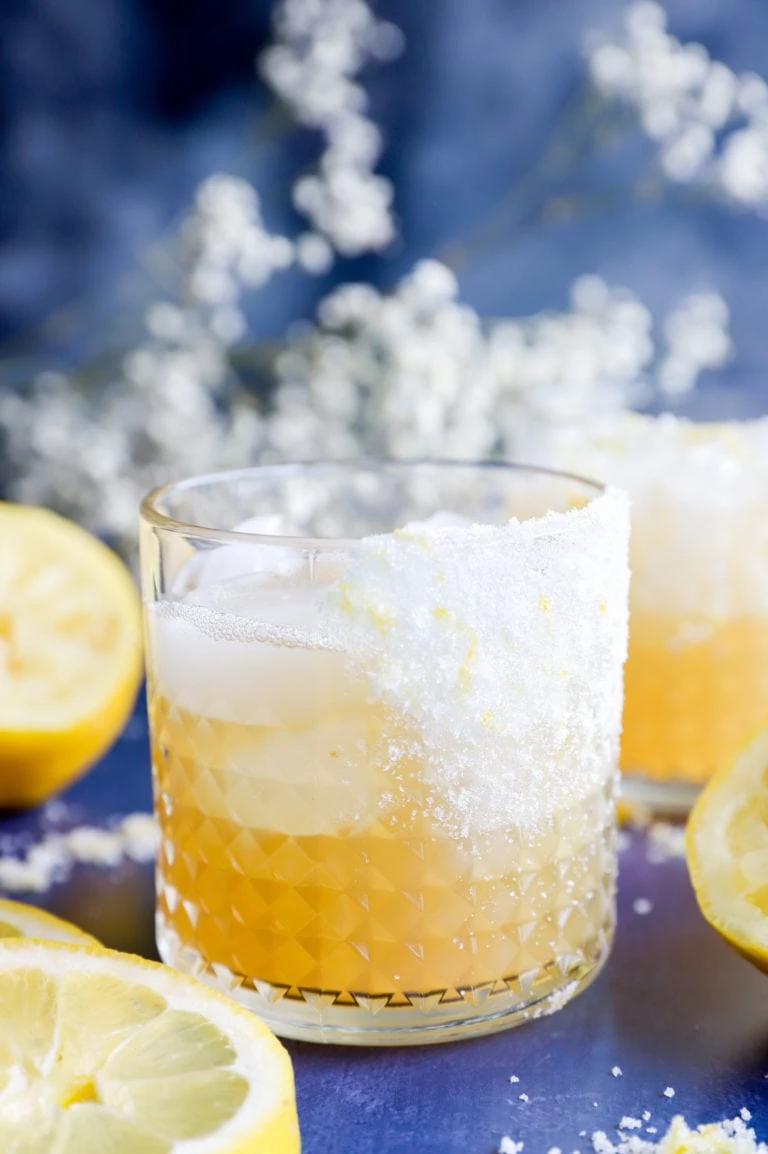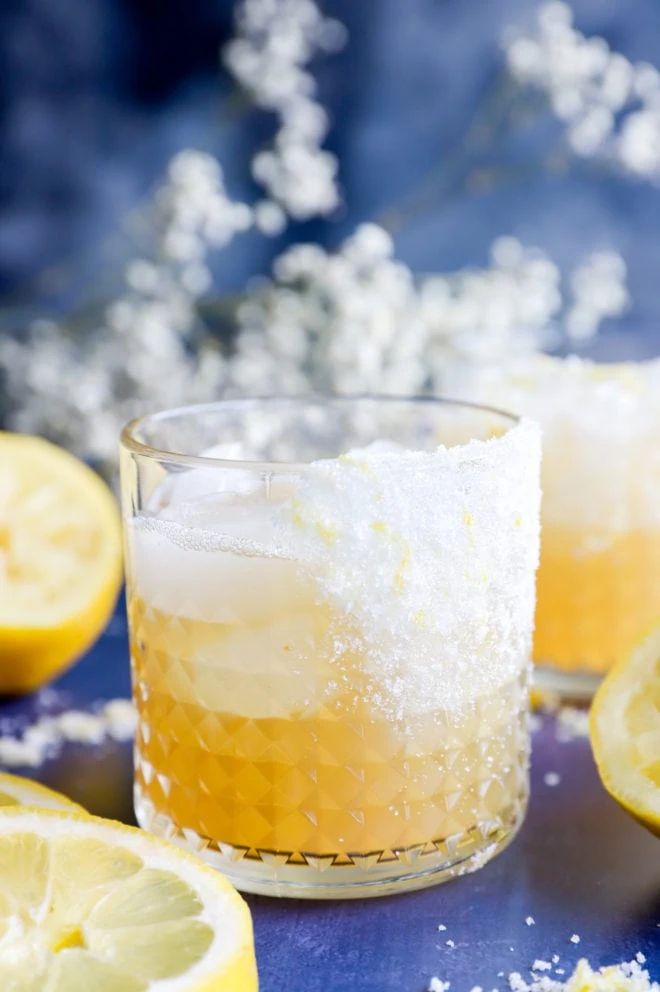 about this lemon agave margarita
I have to be honest with you… Margaritas used to be something that I totally hated…
I know, I knowwwwwwww, how could I possibly say a thing like that?!
Honestly, it was because of one thing. Margarita mix.
Little ol' me who didn't know any better, used to think all margaritas were made with margarita mix. You know that sour and sweet mix that tastes processed and doesn't really capture the flavor of what a margarita SHOULD be.
At the time, most of the margaritas you ordered out were, at least for the classic margaritas.
However, it took one bar up in chilly Breckenridge with my mom for me to take a gamble on what they called their "fresh" margarita.
The moment I tasted it, I realized what margaritas were really supposed to be about. It had fresh juice, a little raw sugar and tequila. That's. It.
Note: this is an updated version of the original published on February 15, 2018. It has been added to with tips, tricks, and FAQs that have come up over the years! The recipe remains unchanged.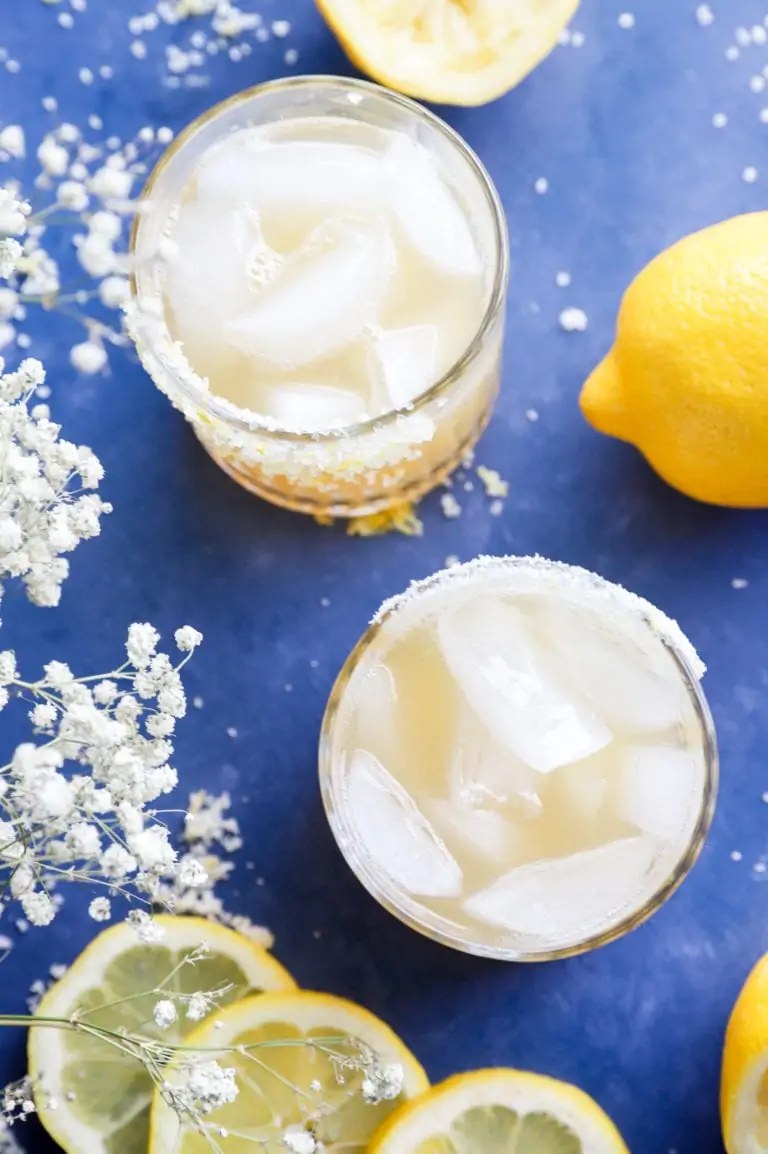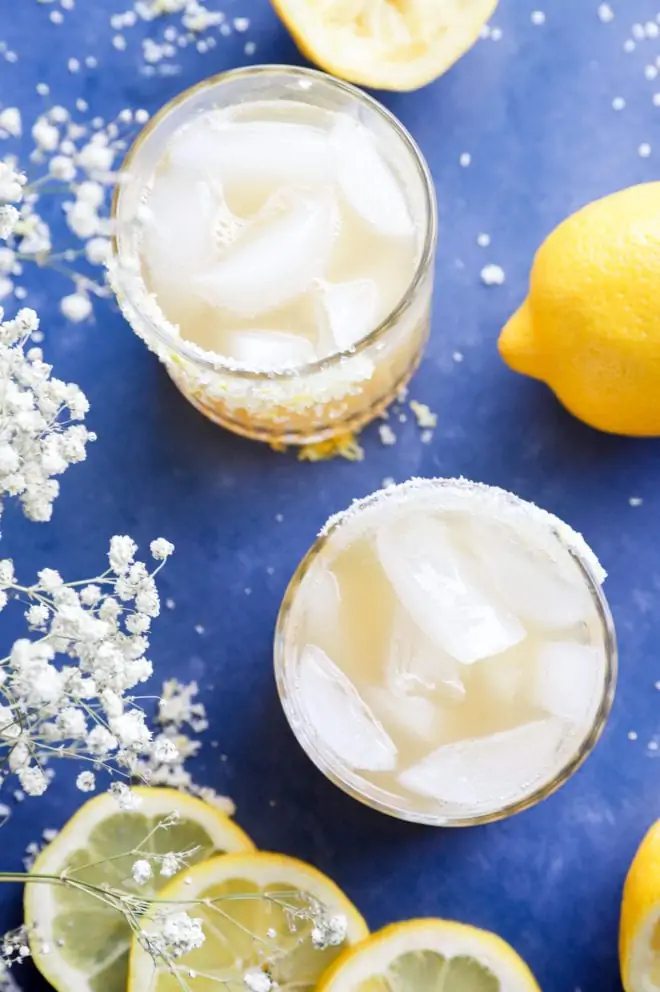 Ever since then, it's been all about the fresh margaritas for me. I've actually come to crave them, particularly on those taco nights that I inevitably demand each week…
This margarita falls rights into that "fresh" category, but with a lemony twist instead of using lime juice. I love the brightness that the lemon brings to the tequila, and how the agave smooths it all out at the end of every sip.
It makes it so this margarita pairs with a salt OR sugar rim – which is ideal for me since I switch back and forth between wanting some sweet or salty!
Such an easy cocktail makes for a great margarita to serve up and parties, and the two rimming mixtures I've included in the recipe below will appeal to everyone, no matter if they prefer sugar or salt!
So let's get this party started already, shall we?!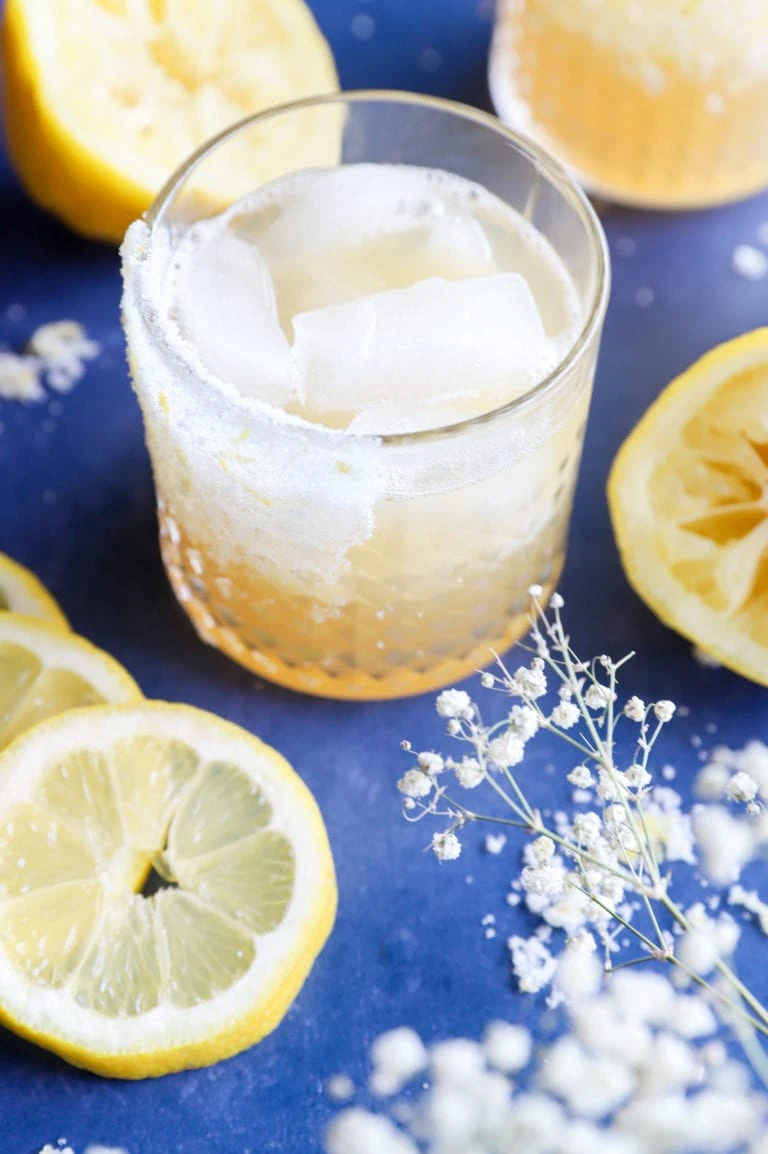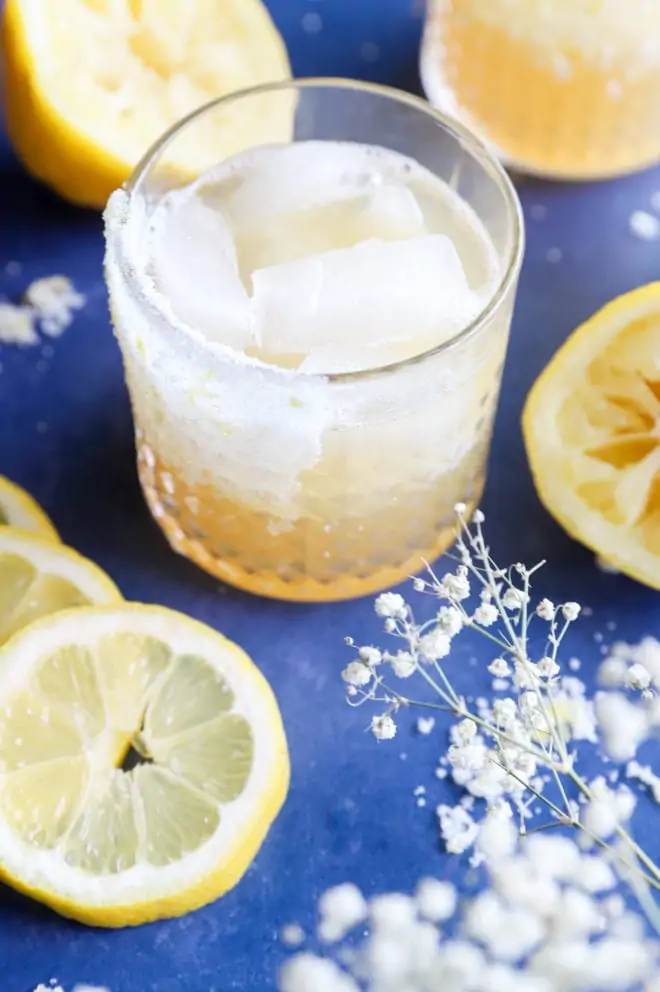 ingredients
lemons – you'll need to grab a bunch of lemons for this recipe! Two margaritas require the juice from about two medium lemons, so keep that in mind if you are making more than two. You'll also need the zest from the lemons, so be sure to remove that before juicing them.
tequila – I prefer using a blanco or silver tequila. My favorites are mid-range priced options like El Jimador or Dobel. You can use something more top shelf if you prefer like Patron.
agave – I like to use agave for the sweetener in this cocktail because it goes so well with the flavor of tequila. You can also use simple syrup if that's what you have on hand!
orange bitters – the dash of bitters is a nice little bite for the margarita, and since most margaritas have some orange element in them traditionally, I like to use orange. You can also skip the bitters if you prefer!
sugar – just granulated sugar is all you need if you opt for a sugar rim on your margarita!
salt – if you opt for a salty rim for this margarita, I recommend using a coarse salt for the rimming mixture.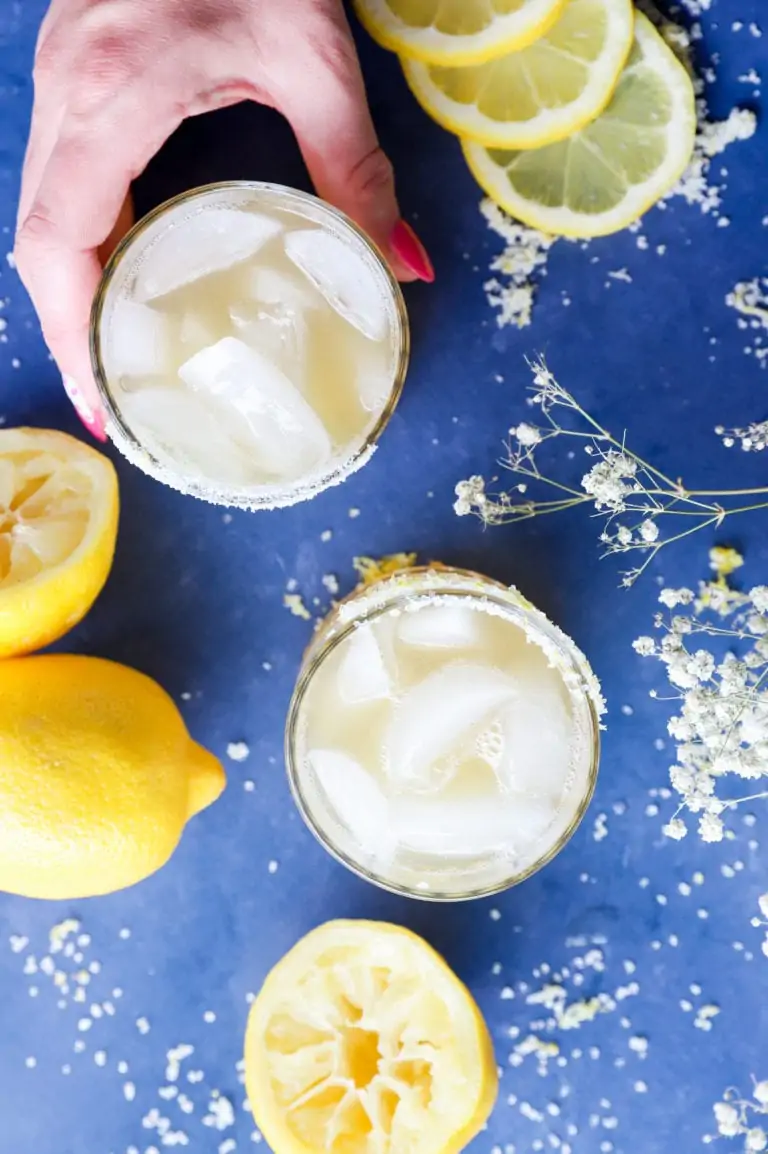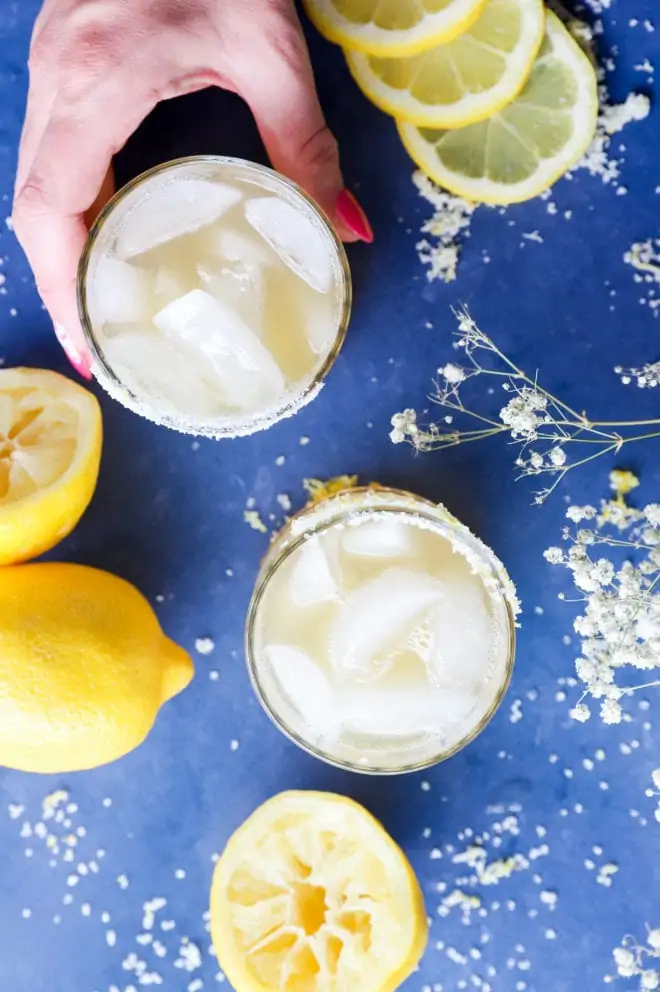 this recipe's must-haves
Since this cocktail is super simple to make, all you have to do is grab your cocktail shaker and jigger, you'll be all set!
For the rimming mixtures, I like to mix them up in mixing bowls. Then you can use a rimming set to rim your glasses, or simply use plates. I like the rimming set I linked here so you can rim your glasses in style. They also work great for a party so you can keep it all neat and tidy as you make more margaritas!
More tasty margarita recipes: Strawberry Margarita Mimosas | Limeade Margaritas | Strawberry Jalapeno Margarita | Smoky Jalapeno Margarita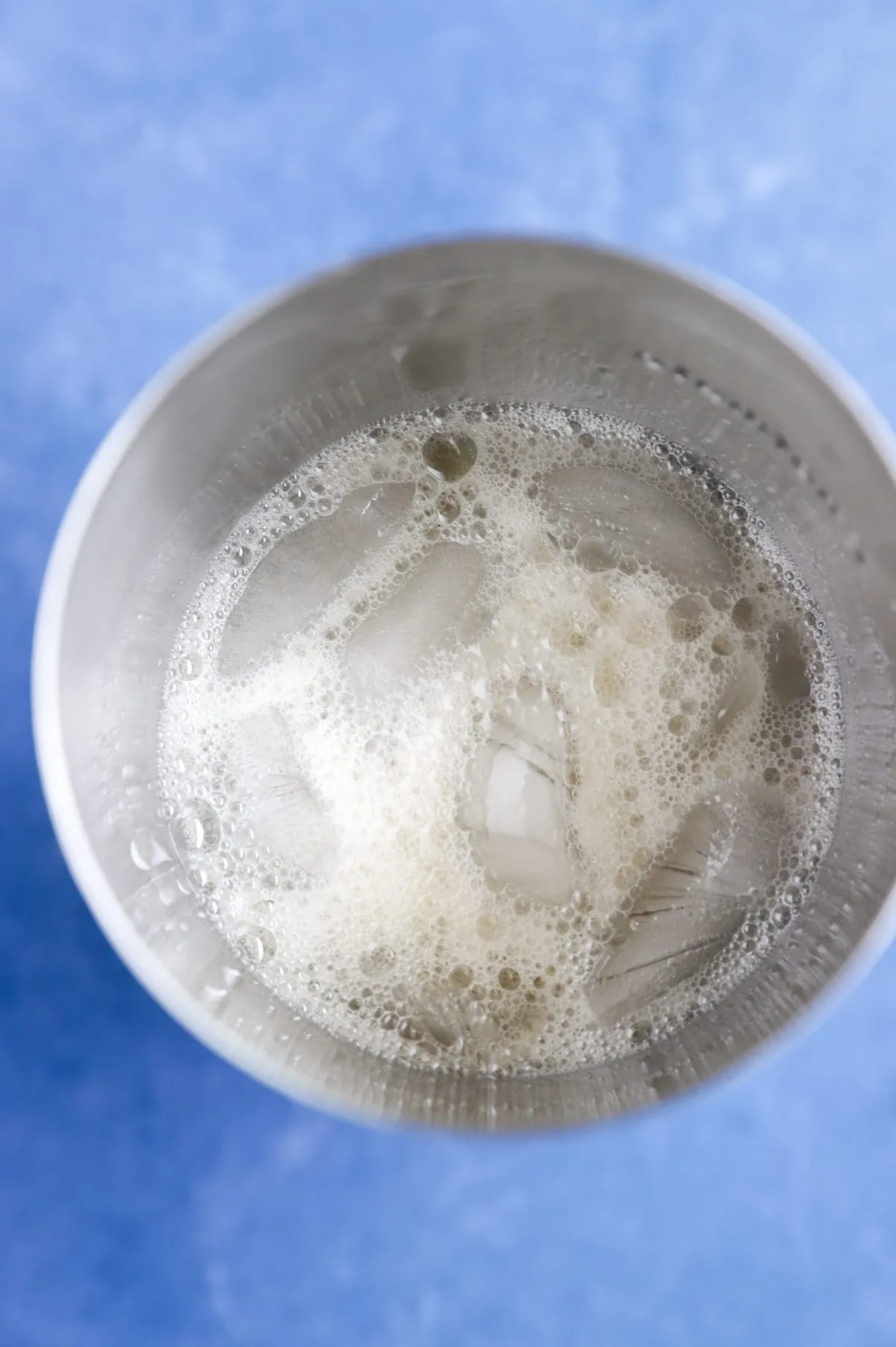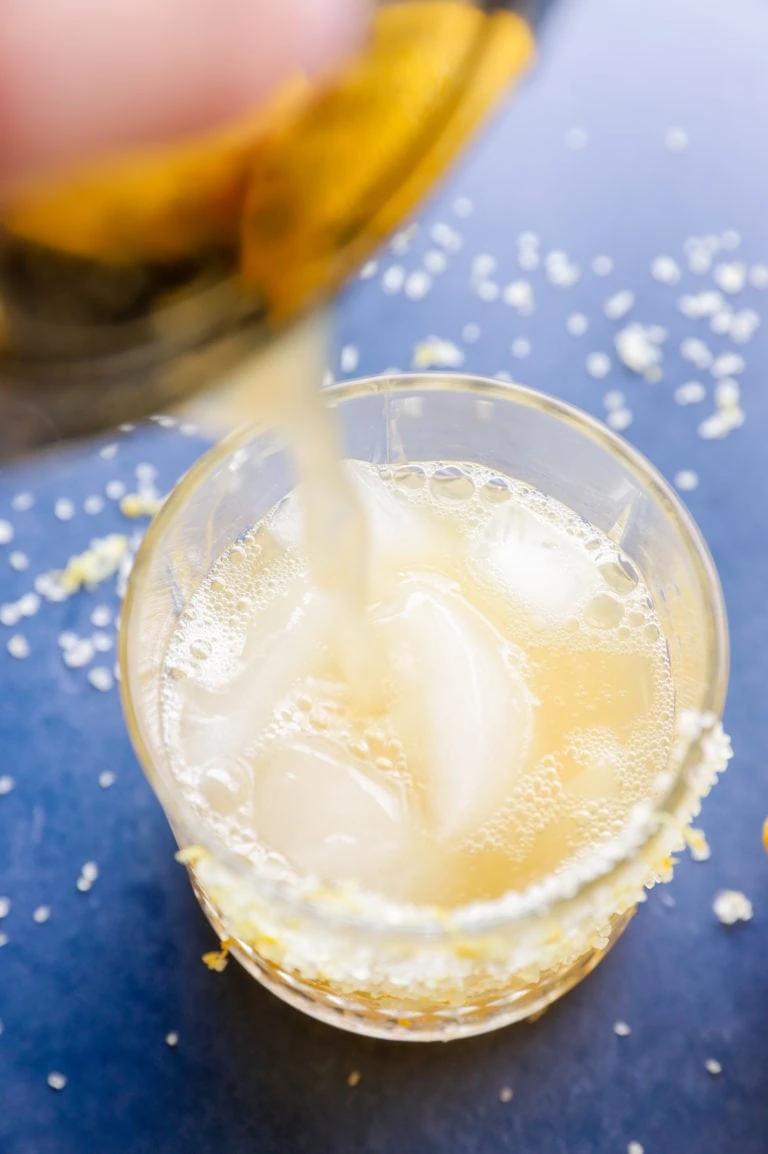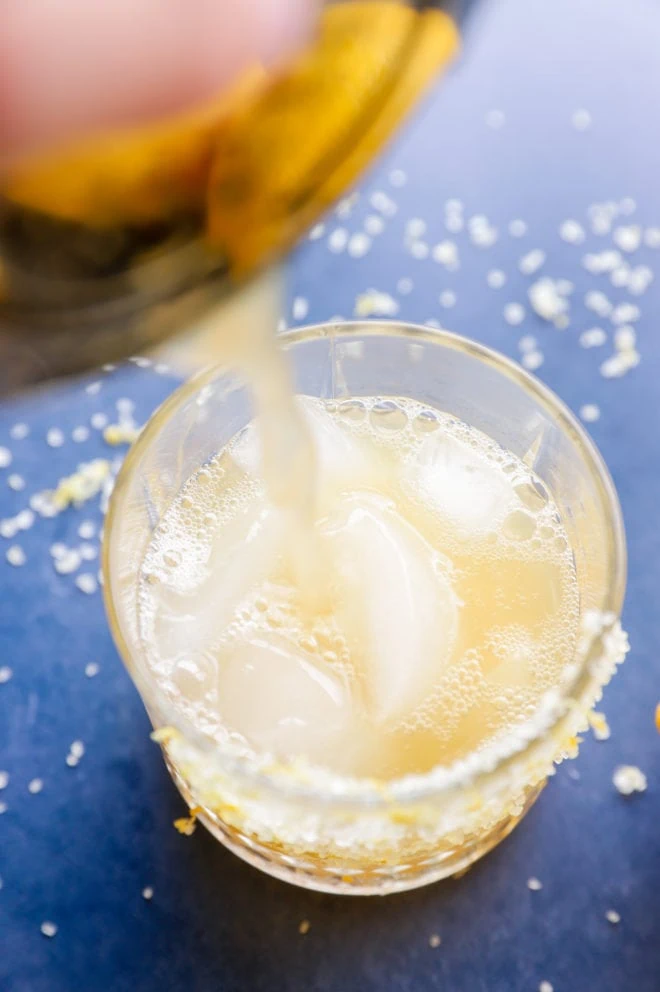 here's how to make a lemon agave margarita
make rimming mix (sweet or salty!)
If you want to make a sweet rim, combine sugar and lemon zest in a small bowl. Stir to combine and add to a shallow bowl or rimmed plate.
If you want to make a salty rim, combine salt and lemon zest in a small bowl. Stir to combine and add to a shallow bowl or rimmed plate.
rim glass
To rim the glasses, rub the rims with a wedge of lemon. Rub the rim of the cocktail glasses through the pile of lemon rimming sugar or salt.
shake and strain
Add lemon juice, tequila, agave, and bitters to a shaker filled with ice. Shake well for 15 seconds.
Strain into rimmed glasses that have been filled with ice, dividing the mixture evenly between the two. Serve immediately.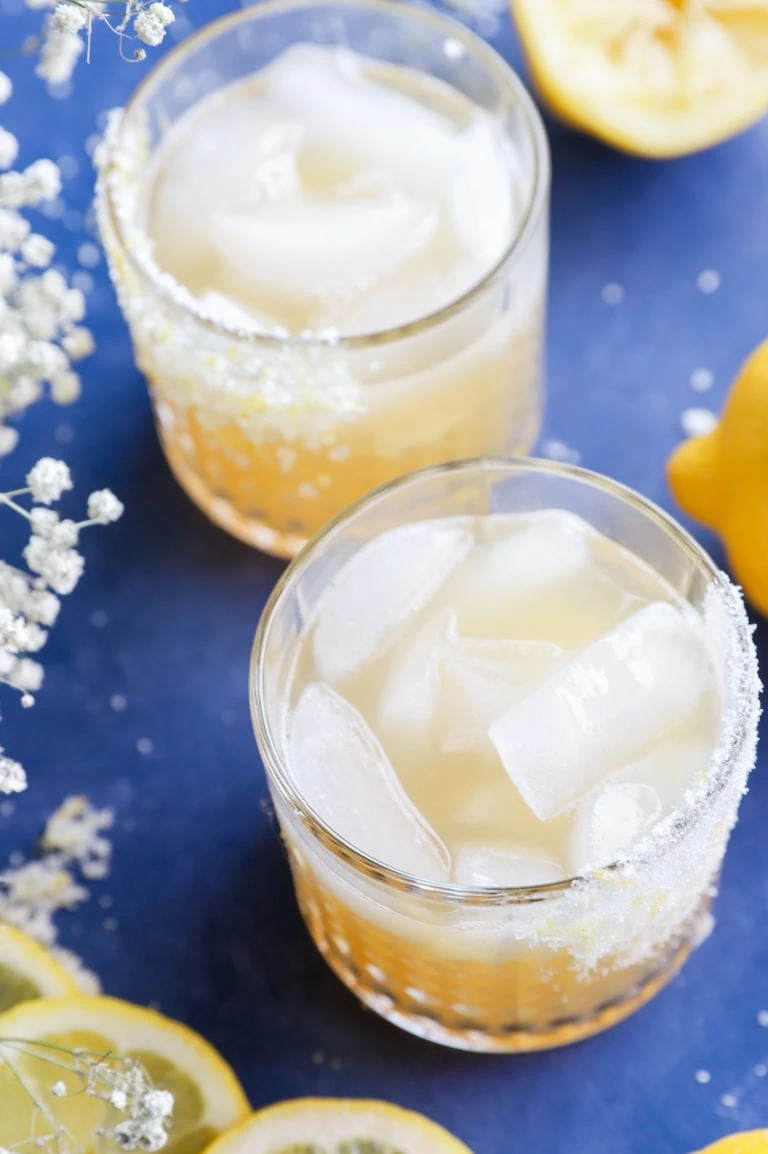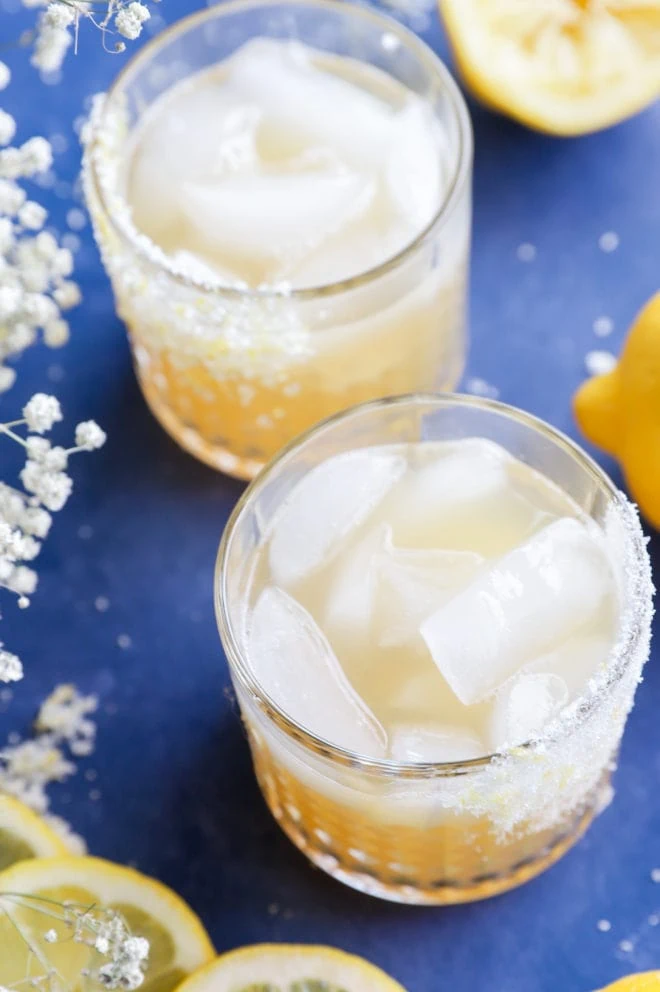 what to serve with lemon agave margaritas?
Wondering what to serve with these zesty and boozy margaritas? Well, there are many MANY options to satisfy your palette in fun and festive ways!
Finally, if you make this lemon agave margarita, please be sure to give this recipe a rating or leave a comment! I love to hear when you all make recipes, and I do take the time to respond to every single comment. Feel free to drop questions below too, if you have them!
Oh and be sure to tag me on Instagram if you make the recipe! Love being able to see these recipes come to live in your homes – it's my favorite thing to look through those photos. It really means the world to me!
Lemon Agave Margarita
Bright and citrusy, with a touch of agave sweetness, makes this margarita a fresh take on the classic. No need to use margarita mix ever again!
Ingredients
Margarita
3 oz fresh lemon juice
5 oz silver tequila
1 1/2 oz agave
dash orange bitters
Lemon Rimming Sugar
1/3 cup sugar
1 1/2 Tbsp fresh lemon zest
Lemon wedge
Lemon Rimming Salt
1/3 cup sea salt
1 1/2 Tbsp fresh lemon zest
Lemon wedges
Instructions
To make the rimming sugar, combine sugar and lemon zest in a small bowl. Stir to combine. Add to a shallow bowl or small plate.
To make the rimming salt, combine salt and lemon zest in a small bowl. Stir to combine. Add to a shallow bowl or small plate.
Rub the rim of a cocktail glass with a wedge of lemon to wet it. Swirl the rim through a pile of lemon rimming sugar or lemon rimming salt.
To make the cocktail, add lemon juice, tequila, agave and bitters to an ice-filled cocktail shaker. Shake well for 15 seconds.
Add ice to your rimmed glasses. Strain the margarita into the glasses, dividing the cocktail evenly. Serve.
Recommended Products
As an Amazon Associate and member of other affiliate programs, I earn from qualifying purchases.