Please note this post contains affiliate links.
Our 3-ingredient Nutella cake bites are pure decadence. These bite-sized delights are a chocoholic's dream, combining the creamy richness of Nutella with moist cakey goodness. With just three simple ingredients, you can whip up these irresistible treats in no time.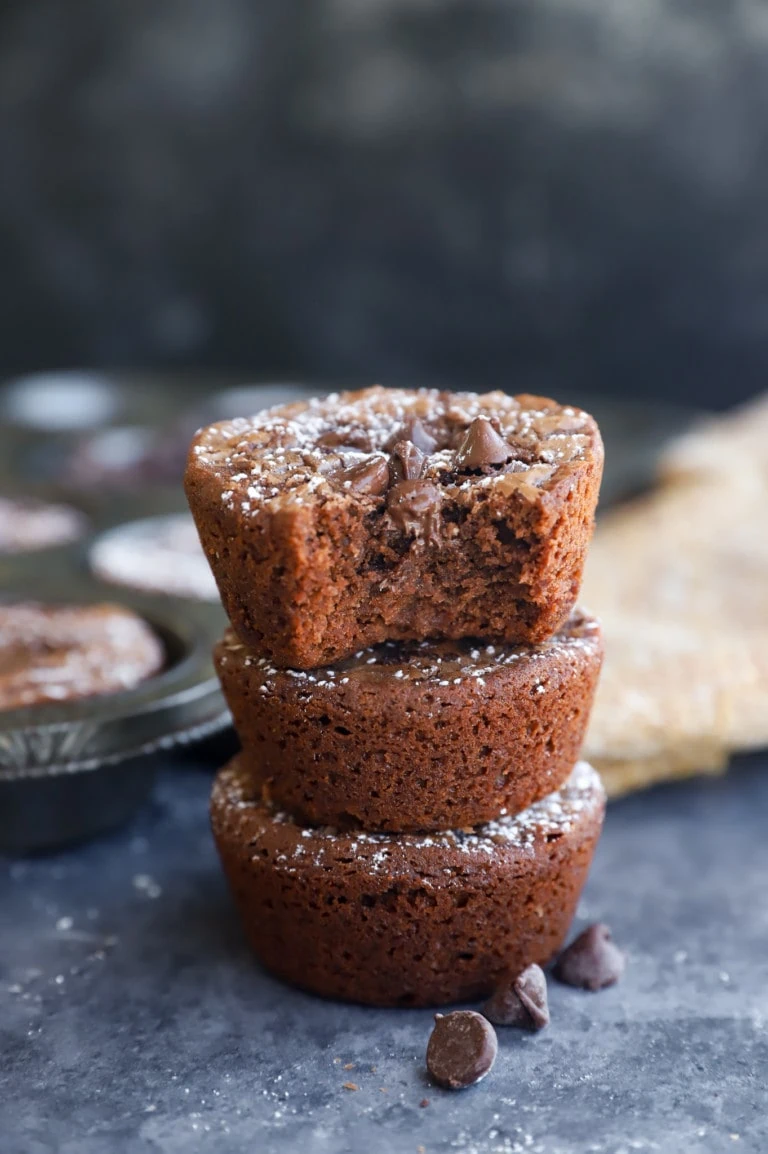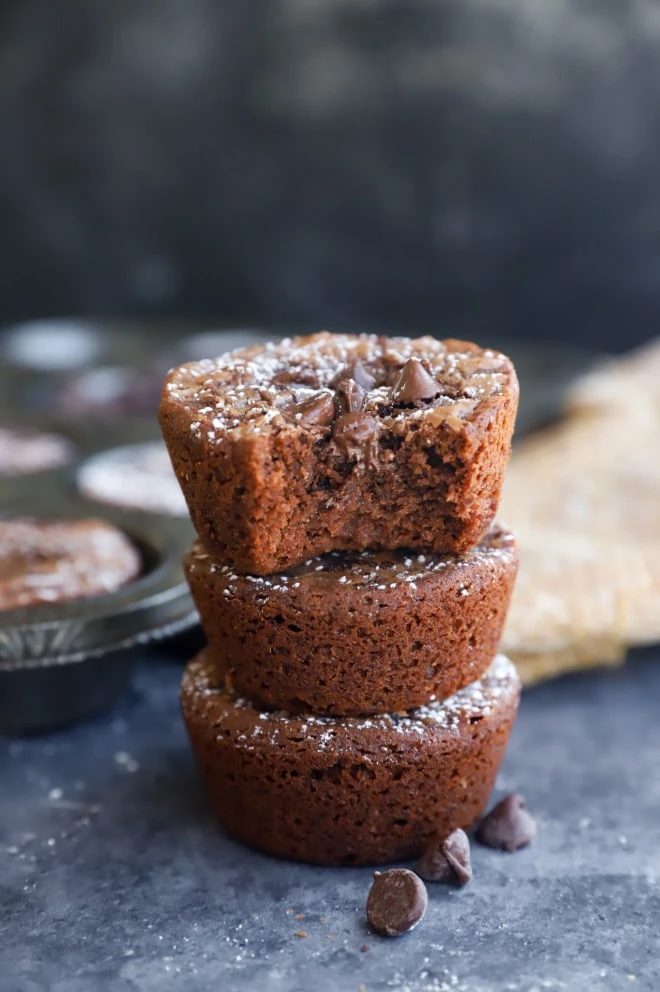 about these nutella cake bites
Let me tell you why Nutella cake bites are everything you could ever want! A velvety, smooth chocolate-hazelnut spread, combined with a moist and tender cakey texture. It's a match made in dessert heaven!
You see, Nutella is no ordinary spread—it's a delightful concoction that instantly takes any treat to the next level. It just so happens to be my favorite treat to indulge in… When I went to Italy for school was when I really got into it. I would eat it almost every day on toast. Its creamy richness is like a warm hug for your taste buds. And when you mix it into a fluffy cake batter, something magical happens. The Nutella infuses its irresistible flavor into every bite!
The outside has a slight crunch on the edges, revealing a soft and moist center that practically melts on your tongue. The chocolate-hazelnut flavor is balanced and it's impossible to resist another bite.
But here's the best part: they're so ridiculously easy to make! With just three ingredients, you can whip up these delightful treats in no time. It's like a magic trick, except the only thing disappearing will be these Nutella cake bites from the plate, haha. They're perfect for those moments when you need a quick sweet fix or when you want to impress your friends with your baking prowess without a whole lot of effort.
So, if you're a chocoholic or just someone with impeccable taste (pun intended), Nutella chocolate cake bites are here for you. Life is too short for boring desserts, and this Nutella cake recipe is here to make every bite a delicious adventure.
Remember, baking is a delightful adventure, so feel free to experiment and add your personal touch to the Nutella cake bites recipe. If you need a place to get start, take a peek at my tips for success or FAQs. Enjoy the process and savor the sweet rewards of your baking endeavors!
Note: This is an updated version of the original posted on October 4, 2012.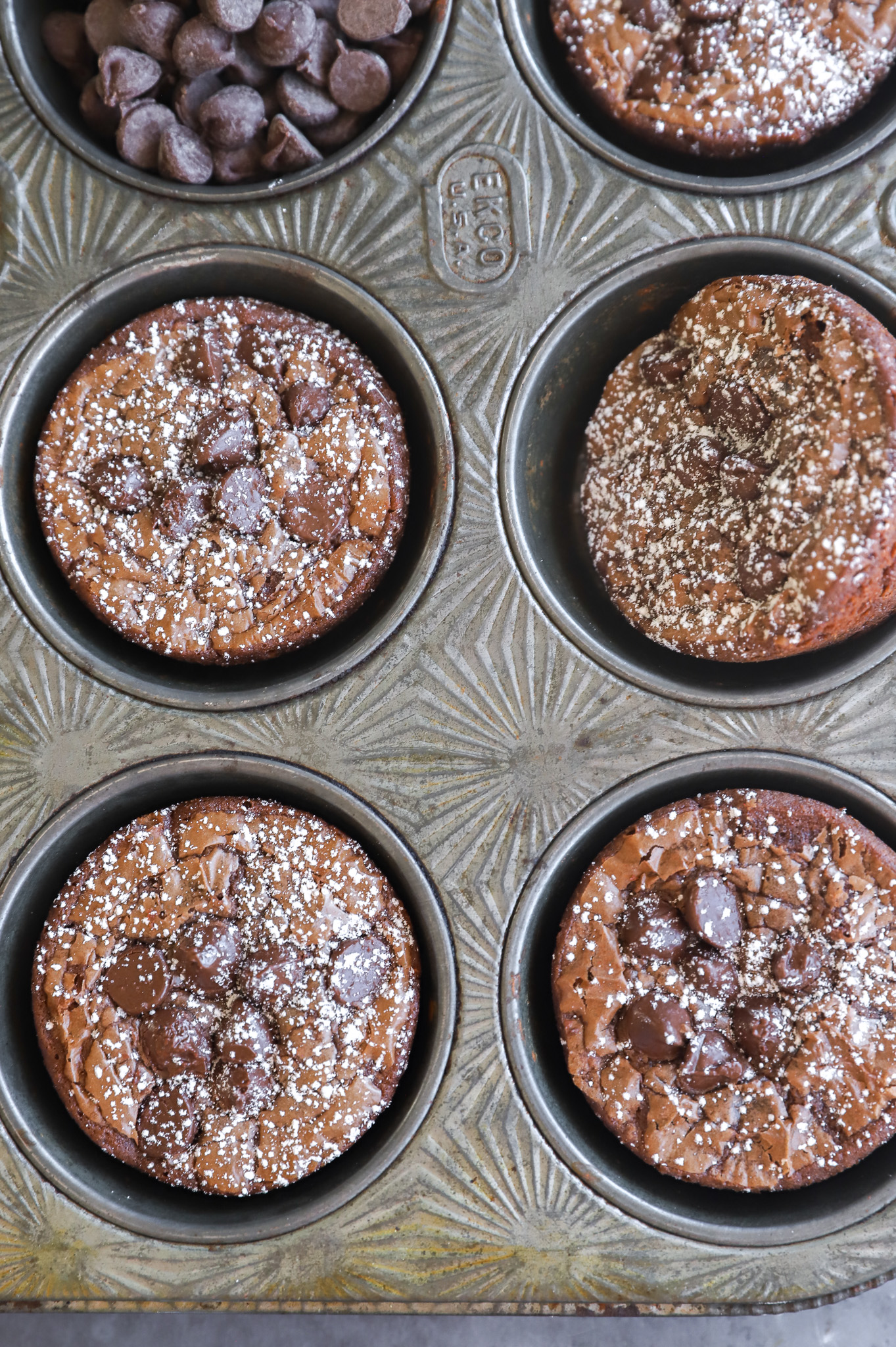 so, what is nutella made of?
Nutella is made of hazelnuts that have been transformed into a smooth and creamy paste. It's mixed together with cocoa, palm oil, sugar, milk, lecithin, and artificial vanilla to give it it's signature flavor and texture.
You get all the flavor of the roasted hazelnuts along with rich cocoa for a spread that is my ultimate favorite treat.
It is likely that many nights you'll find me with a spoonful of Nutella as my dessert for the evening…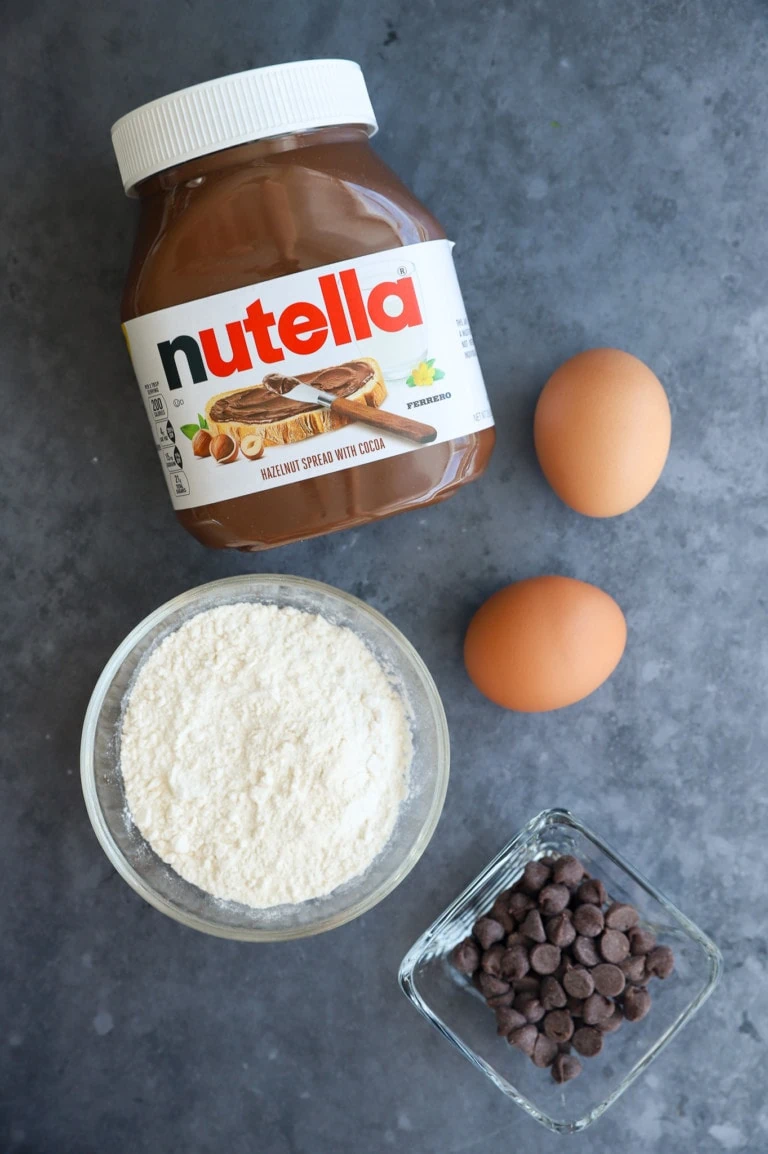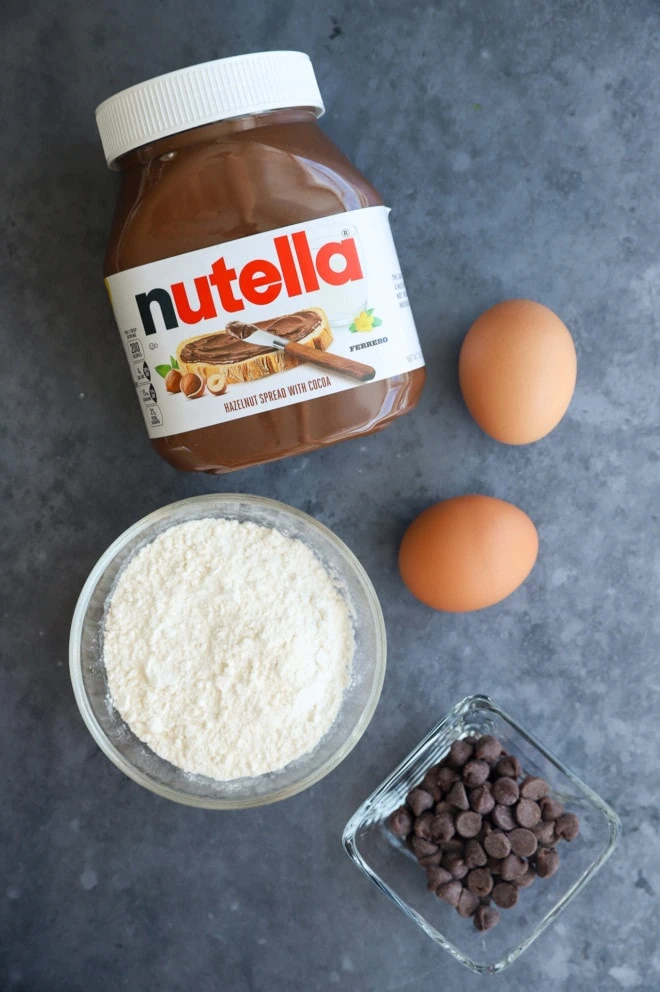 ingredients
nutella. Nutella is a creamy chocolate hazelnut spread that cannot be beat. The delicious texture and rich taste are the flavoring component of this recipe. You'll want to lick the measuring cup clean, that's all I'm saying.
eggs. I prefer to use large eggs. You can also use an egg-substitute to the equivalent of 2 eggs if you need to make it egg-free.
flour. You will need all purpose flour for this recipe. If you would like to make this recipe gluten-free, you can use a 1:1 gluten free flour!
chocolate chips. These are totally optional! I like to drop a few on top, but you can also skip this step. In addition, you could use other toppings like chopped hazelnuts or sprinkles.
this recipe's must haves
To make this recipe you will need a medium bowl from your set of mixing bowls, a whisk, and a wooden spoon.
You will need a muffin tin to bake the nutella cakes – I personally like to grease mine with nonstick cooking spray, but you could also use cupcake liners if you prefer.
If you want an easy way to serve them, bust out the cake stand! It's an elegant way to dress up these simple cakes.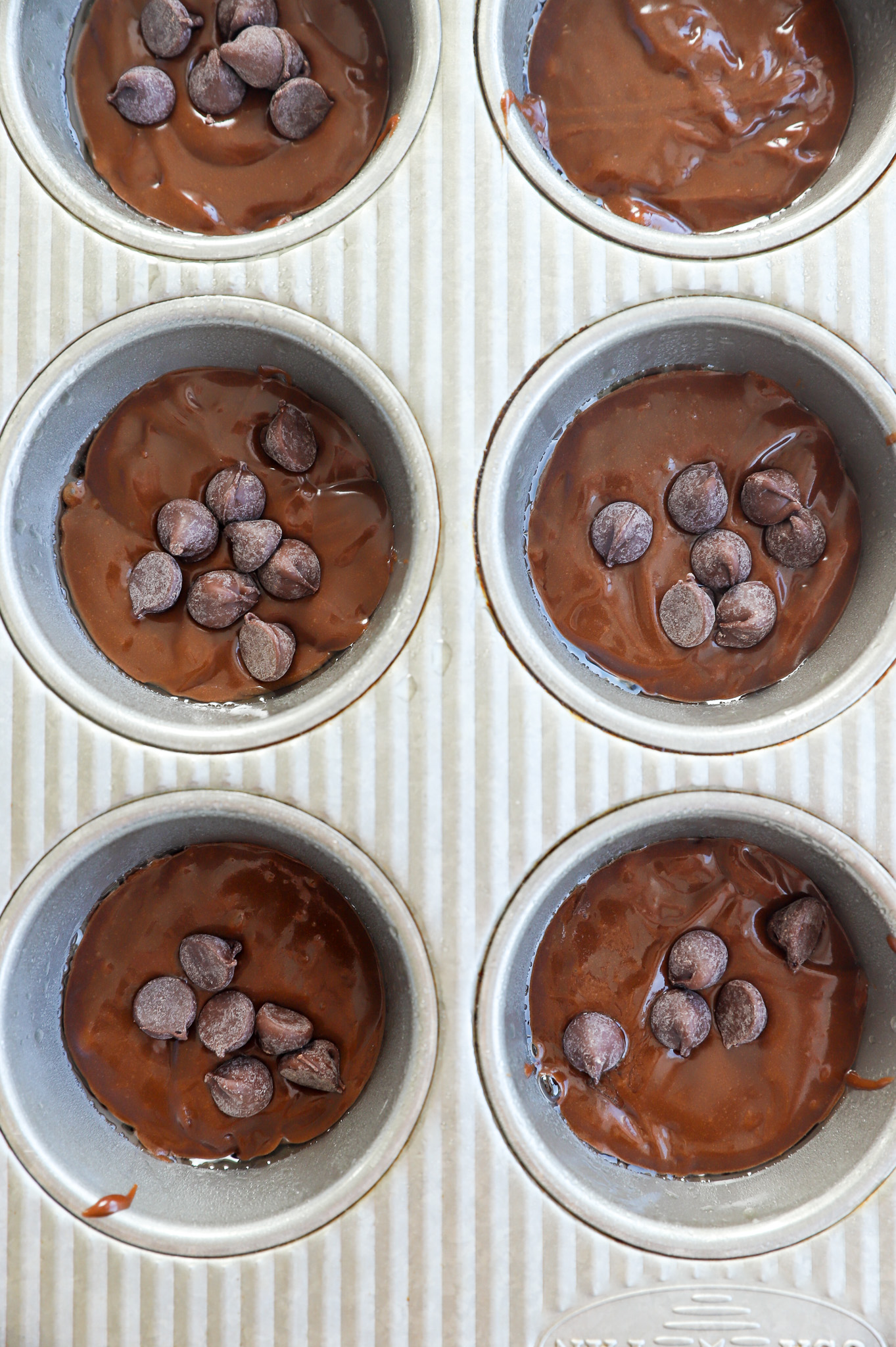 here's how to make nutella cake bites
whisk
In a medium bowl, whisk together Nutella and eggs until the mixture is smooth. Add flour and stir until the mixture is just combined.
Spray a muffin tin with nonstick cooking spray. You can also use cupcake liners if you prefer. Divide the batter evenly between the greased muffin cups. Sprinkle with a few chocolate chips each, if desired.
bake
Bake for 13 to 15 minutes at 350 degrees F, until the cakes are cooked through. Let rest in the muffin tin for 5 minutes before removing to a cooling rack to cool completely. Dust with powdered sugar before serving, if desired.
tips for success
use Nutella. Listen, I know there are a lot of chocolate hazelnut spreads out there. In terms of flavor and consistency, I haven't tasted one that comes close to the flavor and balance of Nutella. I might be biased because it is one of my favorite foods… However, if you can use Nutella, it will make this recipe the tastiest.
add toppings. I love to add some chocolate chips on top of these cakes before baking, but you can also use other toppings! Try adding chopped hazelnuts or colorful sprinkles before baking. After baking, you could also top these cake bites with buttercream frosting, a dollop of Nutella, or powdered sugar as you see pictured here.
don't over mix the batter. When making these cake bites, be sure not to over mix after you've added the flour. Mix the batter together until it is just combined.
fill cups evenly. Be sure to divide the batter as evenly as possible between the muffin cups. This will ensure consistent baking and uniform cake bites.
let them cool in the pan. If you try to remove the cakes from the muffin tin too quickly after baking, you risk them falling apart as you remove them while they are still hot. By letting them cool, you allow them to set and it will make them easier to remove without breaking any.
More delish Nutella recipes to try: One Bowl Banana Nutella Muffins | Pumpkin Nutella Banana Bread | Nutella Filled Donut Holes | Nutella Rhubarb Puff Pastry Croissants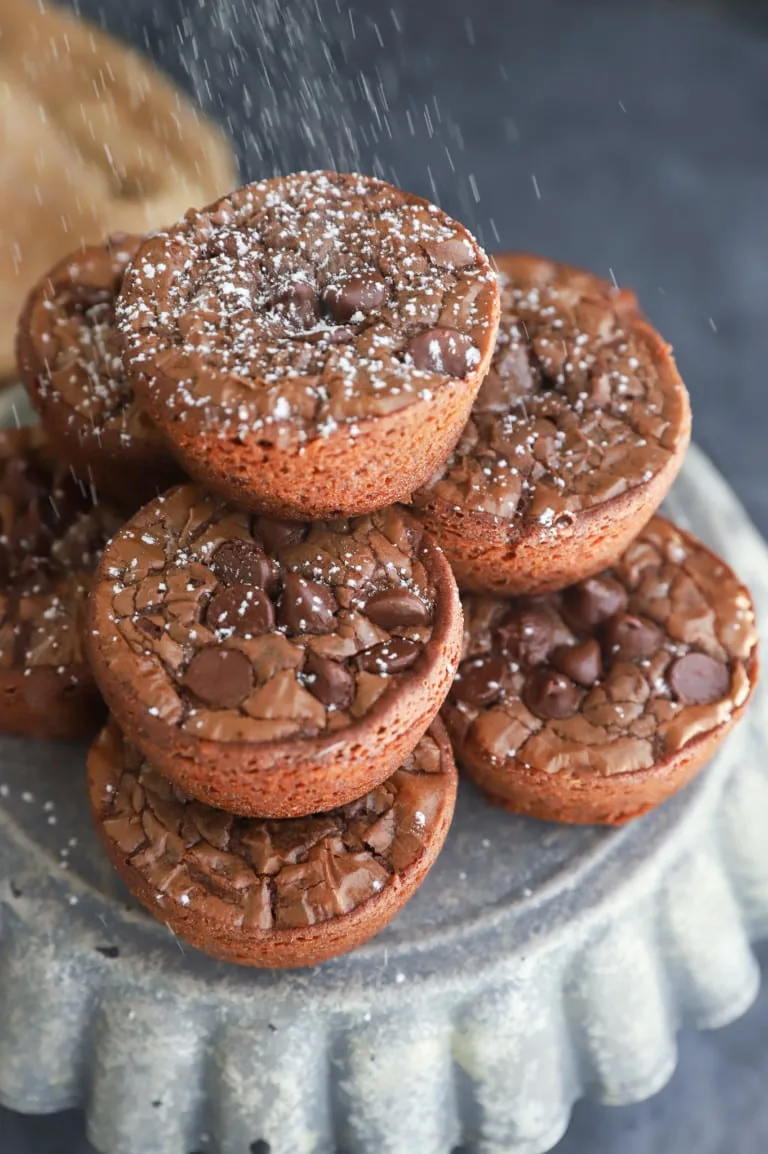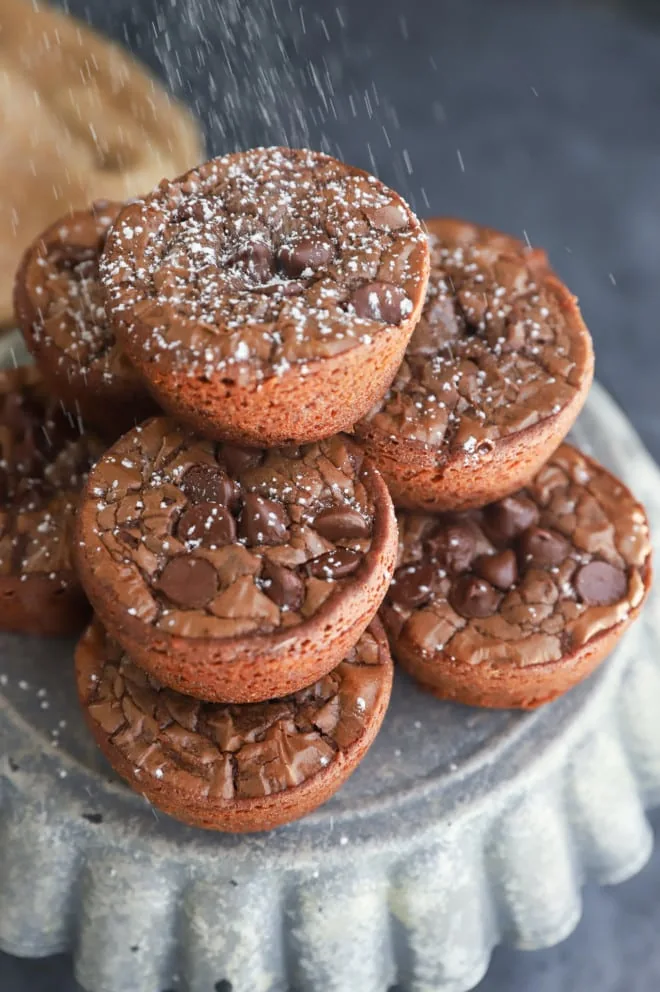 can I make these gluten-free?
Yes you can! The good news is Nutella is gluten-free! Therefore all you have to do to make these cakes gluten-free is to use a 1:1 gluten-free flour.
can I change the number of cakes made with this recipe?
You sure can! If you want to make 2 dozen cakes, simply double the recipe. If you want to make 6 cakes, you can halve the recipe. You get the idea, right?
can I make these with more of a gooey center?
If you like a molten lava cake, you can definitely mimic that gooey center with these simple nutella cakes. All you have to do is reduce the bake time to 11 to 12 minutes. The edges should be set and the top will look done, but the center will jiggle just a little bit.
Note that there are eggs in this recipe, so if you are worried about potentially consuming raw eggs, bake until they are cooked all the way through.
can I use any other spread instead of Nutella?
While I recommend using Nutella, you can use another chocolate hazelnut spread if you prefer. This could be personal taste preference, or if you need to use a vegan-friendly alternative.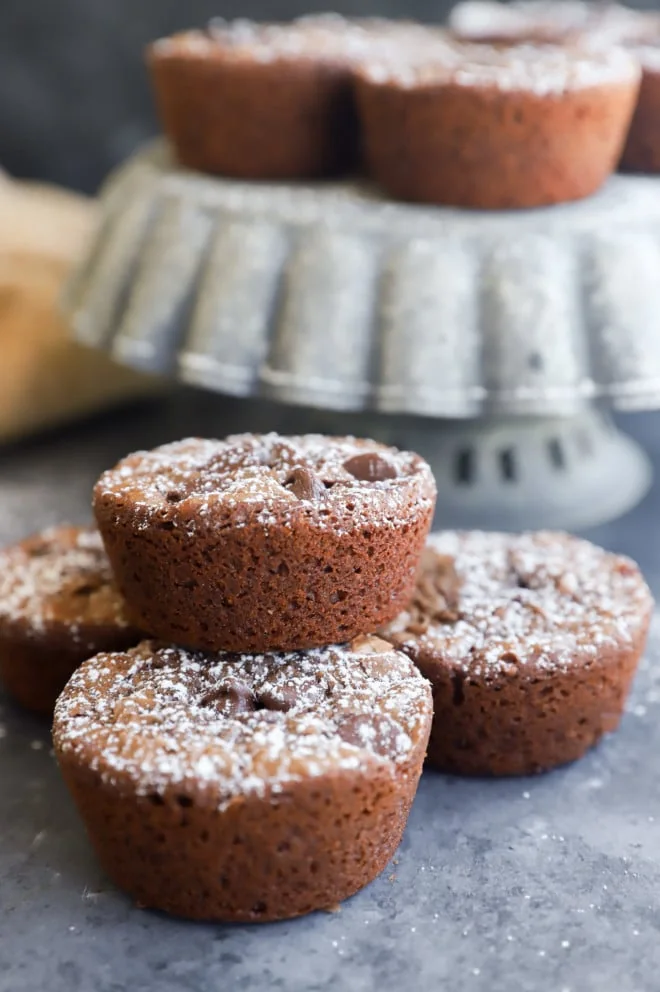 how can I prevent Nutella cake bites from sticking to the baking pan?
There are two ways to prevent the cake bites from sticking to the edges of the pan. I like to use a nonstick cooking spray to spray each individual cup well. This will keep the cups greased so the cakes don't stick!
You could also use cupcake liners if you prefer.
can I freeze nutella cake bites for later?
It's so easy to freeze these nutella cakes for later! All you have to do is cool them down to room temperature. Wrap each one individually with a layer of plastic wrap, then store in a freezer bag. Make sure they are in an even layer and not stacked on top of one another. Freeze for up to one month.
Need more inspiration for dessert? Check out my dessert recipes page!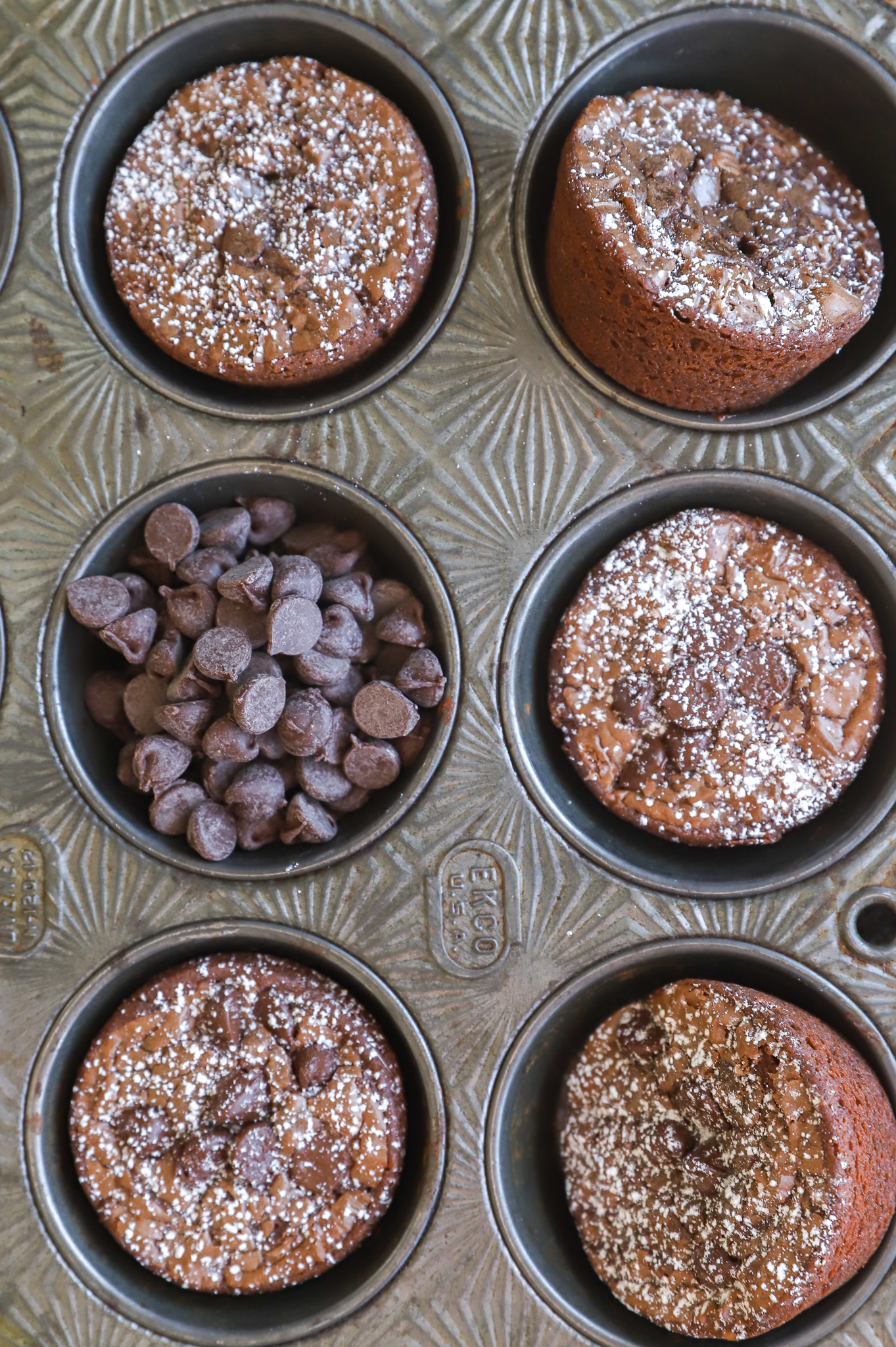 what to serve with easy nutella cake bites
I love to eat these cake bites on their own! You can top them with chocolate chips before baking or make them without chocolate chips.
A dusting of powdered sugar is a pretty finish for these little cakes!
You can serve these cakes on their own, with chocolate frosting on top, or with a scoop of ice cream in a bowl to make a sundae.
Any dessert is delicious with coffee, so of course I have to recommend some tasty coffee creations for dessert pairings!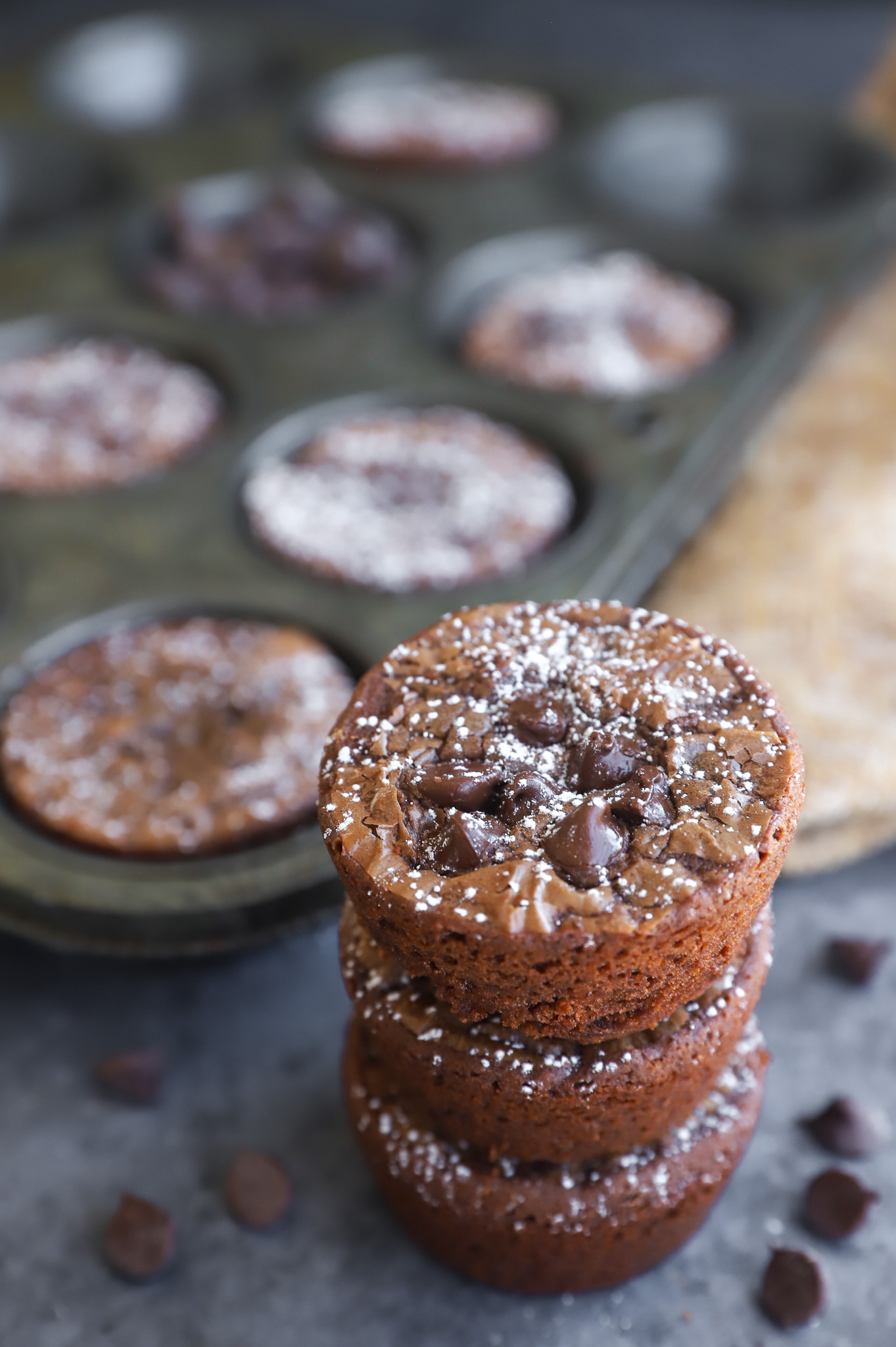 how to store
Store. Cool completely before storing in an airtight container. If you need to layer them, place pieces of parchment paper between layers. Store at room temperature for up to 2 to 3 days.
Reheat. To warm them up, place in the microwave for about 10 to 15 seconds, until warmed through. This is my favorite way to enjoy them!
Freeze. Cool cakes completely before freezing. I wrap mine individually in a layer of plastic wrap so that I can pull them out one at a time to thaw! Add them to a freezer bag, making sure to only add enough so that they all can lay flat in a single layer. Seal the bags and place in the freezer. Freeze for up to 1 month.
Thaw. Thaw as many as you would like to eat at room temperature for a couple of hours. Unwrap and enjoy! You can also heat them up a little in the microwave, about 10 to 15 seconds should do it.
more sweet treats
mini nutella cinnamon rolls are the perfect pairing for your morning cup of coffee.
tiramisu parfaits are individually portioned, making them ideal for a dinner party.
peanut butter cup cake is the ultimate combination of chocolate and peanut butter in a cake!
Finally, if you make this nutella cake bites recipe, please be sure to give this recipe a rating or leave a comment! I love to hear when you all make recipes, and I do take the time to respond to every single comment. Feel free to drop questions below too, if you have them!
Oh and be sure to tag me on Instagram if you make the recipe! I love being able to see these recipes come to life in your homes – it's my favorite thing to look through those photos. It really means the world to me!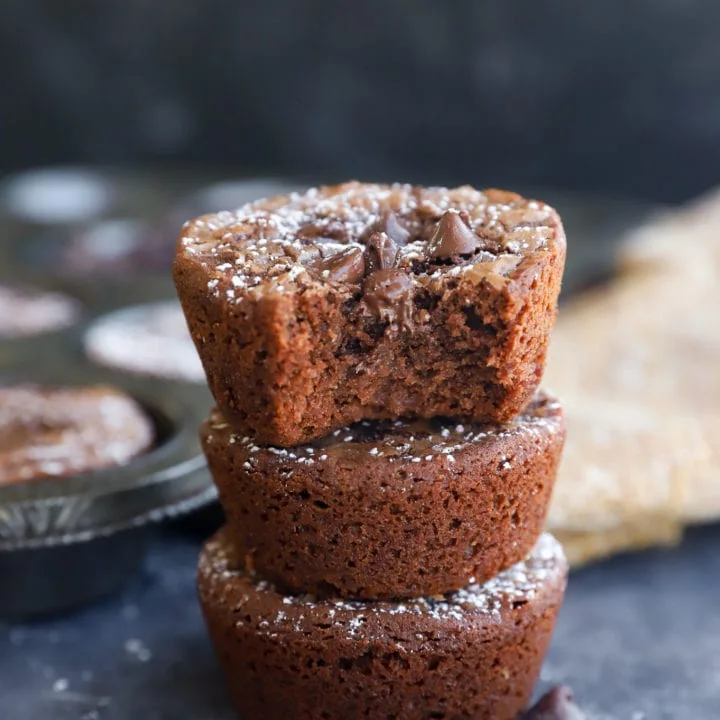 Nutella Cake Bites
Almost too simple to believe, these cake bites are great for Nutella lovers.
Ingredients
2 1/2 cups nutella
4 eggs
1 1/4 cup all-purpose flour
Optional: 1/4 cup chocolate chips
Instructions
Preheat oven to 350˚F. Spray a 12-cup muffin tin with nonstick cooking spray. You can also line the cups with cupcake liners.
In a medium bowl, whisk together eggs and Nutella in a medium bowl until smooth.
Add flour and stir together, until just combined.
Divide the batter evenly between prepared muffin cups.
Add a few chocolate chips on top of each, if desired.
Bake for 13 to 15 minutes, until the edges are set and the middle is no longer jiggly.
Let rest in the pan for 5 minutes before removing to a wire rack to cool completely.
Dust with powdered sugar before serving, if desired.
Recommended Products
As an Amazon Associate and member of other affiliate programs, I earn from qualifying purchases.