Blackberry Sage Gin Smash with Candied Sage Leaves is a deliciously fresh cocktail that really brings out the floral notes in the gin. If you are a gin girl (or boy!) like me, you can't skip this one.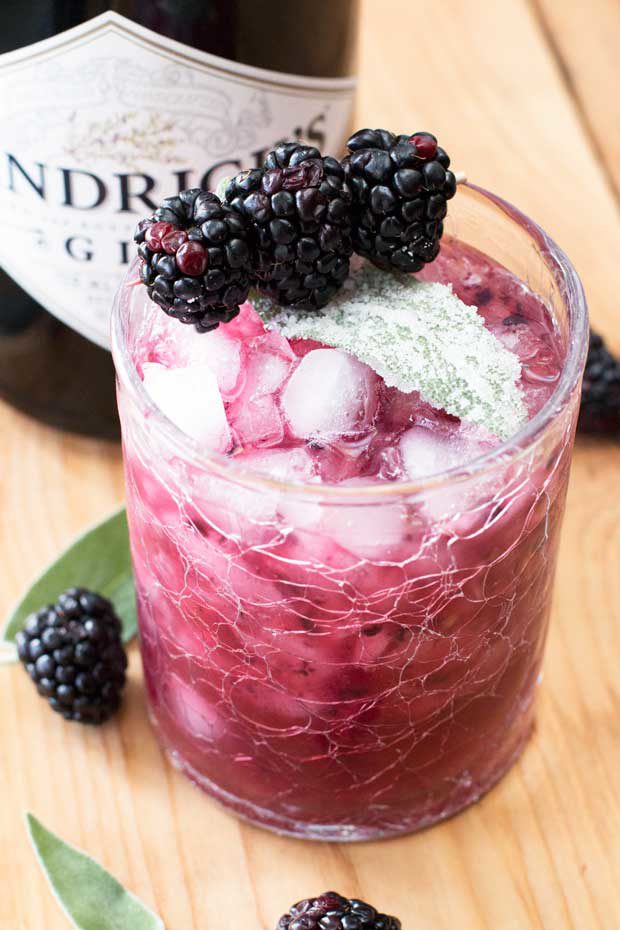 This drink has officially edged out my classic gin & tonic fix as my all-time favorite gin drink, and that's saying something.
The past few weeks have been a bit tough, I'm not going to lie. I have been feeling this restlessness, probably brought on my too much work and too many online dating fails. I literally had one guy call me "Aphrodite, my love goddess" in an opening message the other day. Seriously, dude? I mean, I'm flattered in a way but that can't possibly be how you really talk. If it is… Just. No.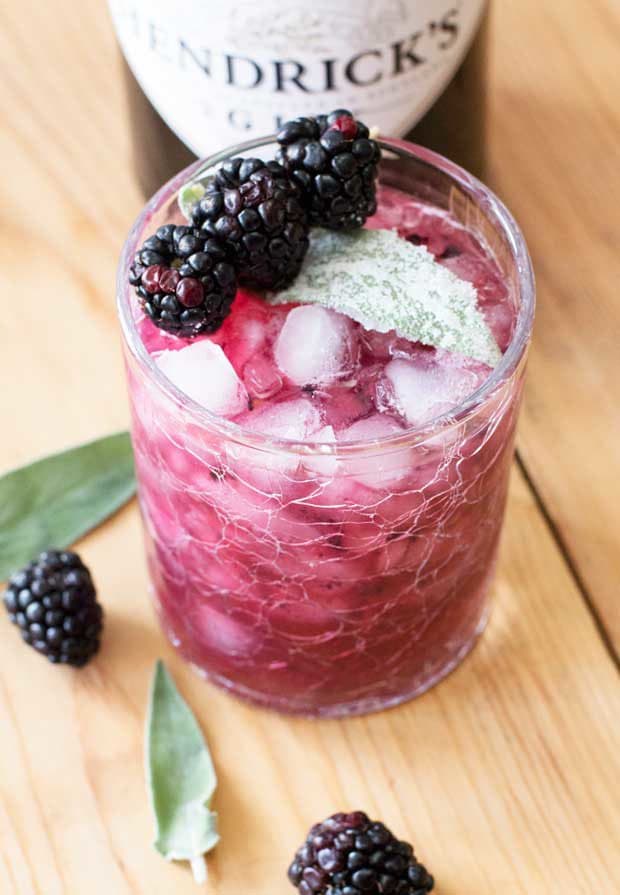 To any single guys out there reading this (hahahahaha! not likely, I know), please refrain from these mass messages and flowery text. It's going to either land you a high-maintenance crazy person or you're never going to get a date.
*rant over*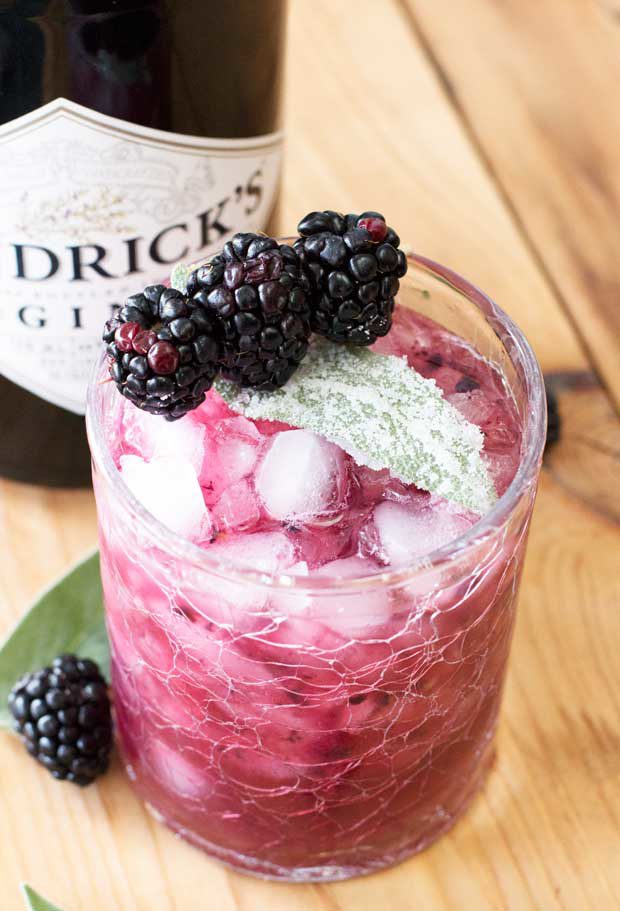 So with all this restlessness brewing inside me, and being practically chained to my desk and kitchen for a month meeting insane deadlines, I am SO ready for a break. That's where I am right now actually. VEGAS – the best place to blow off some steam and get my mind right. Ok more like mind lost so I can get it right when I return to reality.
As soon as I get back, it'll just take one of these blackberry sage gin smash cocktails and a helping of Chipotle to get right with the world. I love how this cocktail emphasizes the floral notes in the gin. I am a big gin fan, so getting that extra push of flavor out of it from the blackberry-sage combo makes me smile from ear to ear.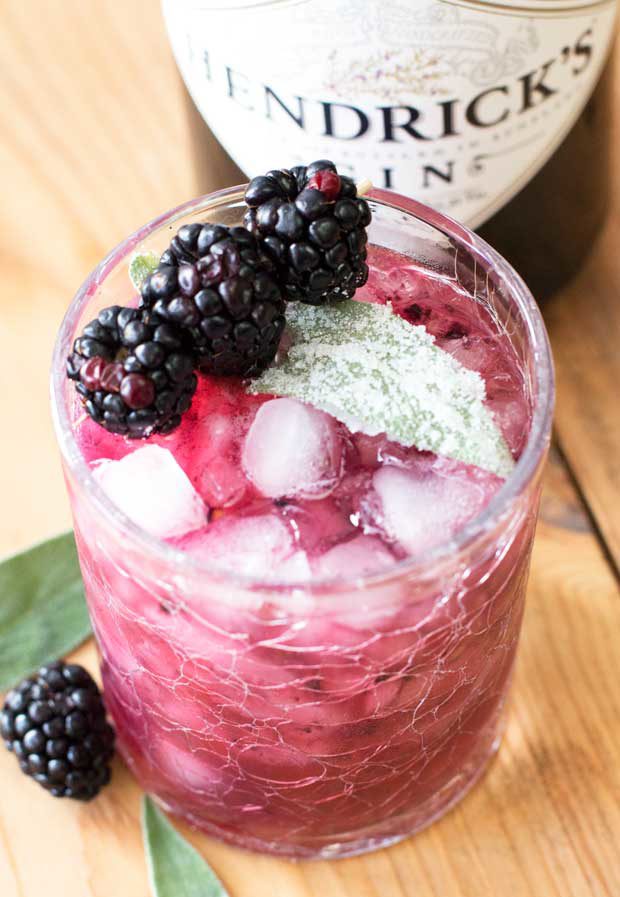 Don't forget to follow me (see those handy social media buttons at the top of my site!) to experience a foodie in Vegas… Oh and feel free to add me on Snapchat too (@megbassett23 – someone please make Snapchat allow us to change usernames already!) – it gets real on there, real fast.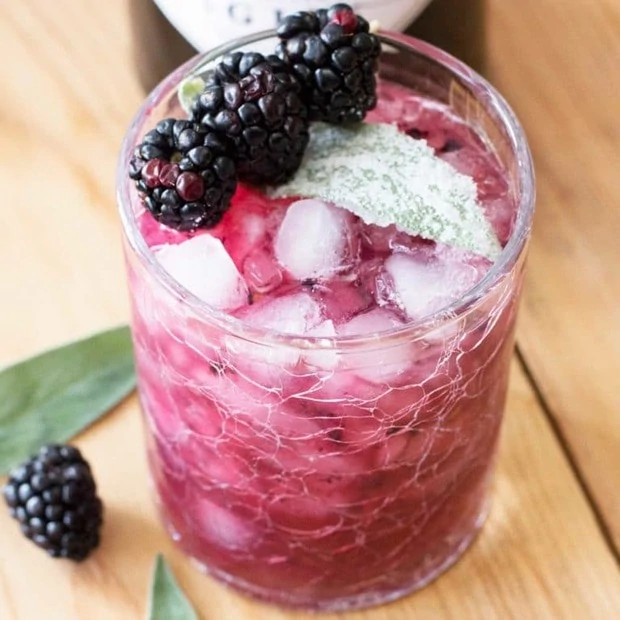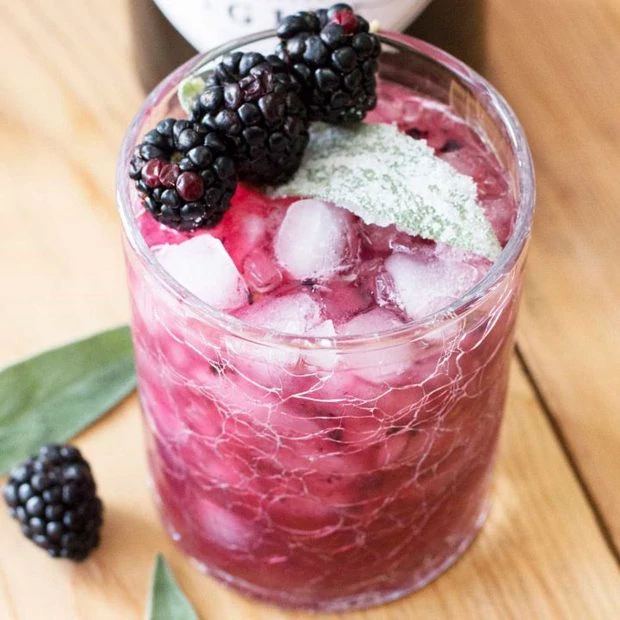 Blackberry Sage Gin Smash
The combo of sage and blackberry in this cocktail works brilliantly with the floral gin.
Ingredients
4 oz Hendrick's gin
1 oz lime juice
12 blackberries
10 sage leaves
1 oz simple syrup
1/3 cup water
1/3 cup sugar + more for dusting
Club soda
Instructions
Bring 1/3 cup water and 1/3 cup sugar to a boil over medium heat. Once the sugar is dissolved, dip 2 sage leaves carefully in the hot simple syrup, shaking off the excess. Roll the leaves in a light coat of sugar and lay flat on a plate to cool and harden in the refrigerator.
In a shaker, muddle together blackberries with 8 sage leaves. Pour in gin, lime juice and simple syrup and fill with ice.
Shake and strain evenly between into two glasses filled with ice.
Top with club soda and garnish with extra blackberries and candied sage leaves.