Pineapple Rosemary Smash takes happy hour to all new heights with the combination of fresh pineapple juice and rosemary simple syrup. Whether you're hosting a cocktail party or just treating yo'self, you'll never regret whipping this one up.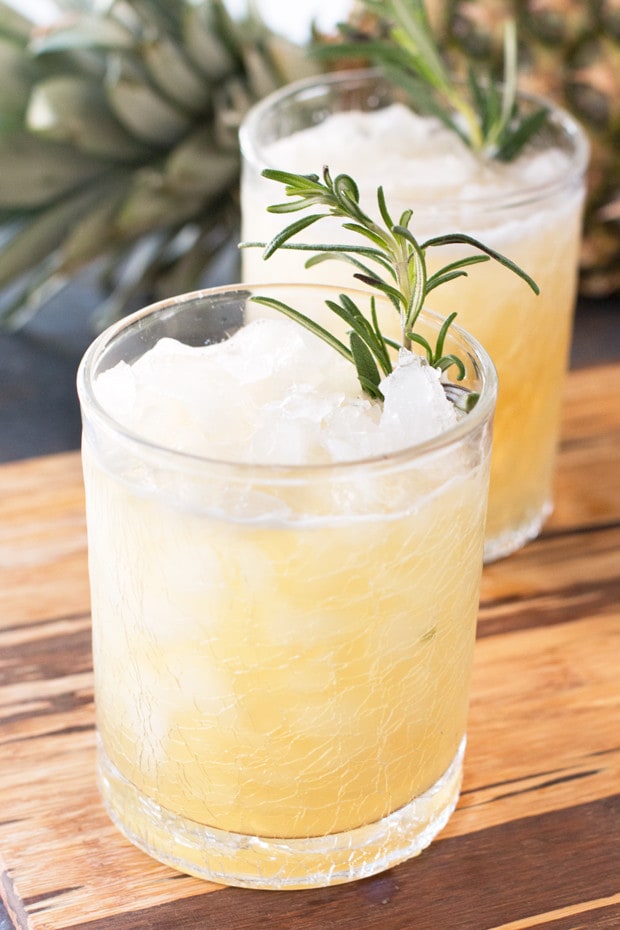 You guys, this cocktail is my new cocktail hour obsession. As you know, I am a firm believer of bringing cocktail hour back to life. To me, there's nothing like coming home and fixing myself a delicious, well-crafted cocktail to enjoy as I kick back and unwind. It's become a bit of a ritual for me, even though I work from home now and am only walking to my kitchen from my desk…
Regardless of the now shortened trip between work and home, I will make my cocktail, peruse a cookbook or magazine for a bit, and just breathe before I get started on dinner or whatever else I have going on that night.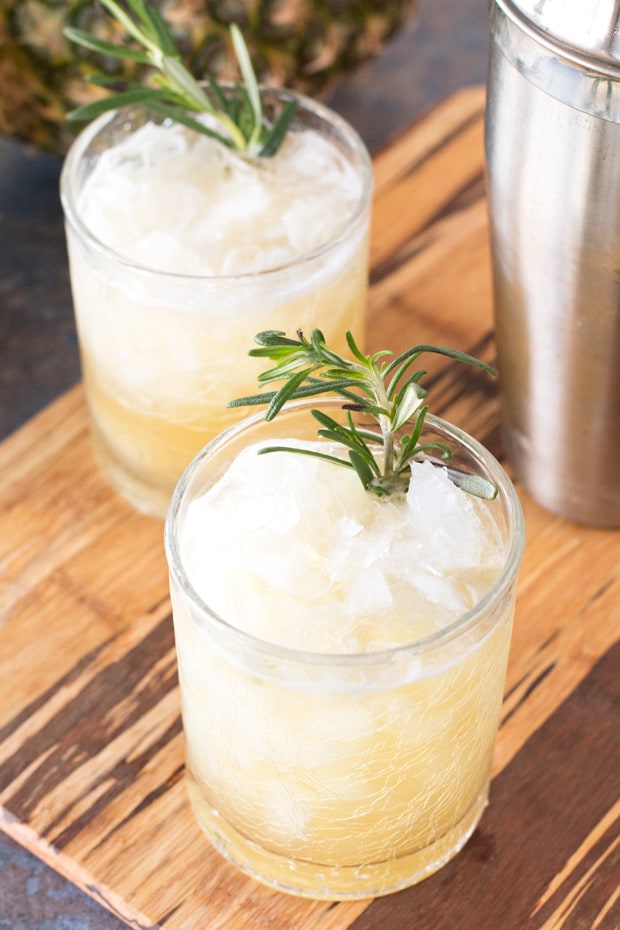 Let's face it, it's usually dishes, laundry or catching up on work nowadays… But a cocktail before all that makes those mundane activities SO much fun.
I was inspired to make this cocktail after reading The Dead Rabbit, which is one of the most magical cocktail books I've ever read. The cocktails in this book definitely are not for beginners, but as I continue my weekly cocktail experimentation, it gives me something to aspire to.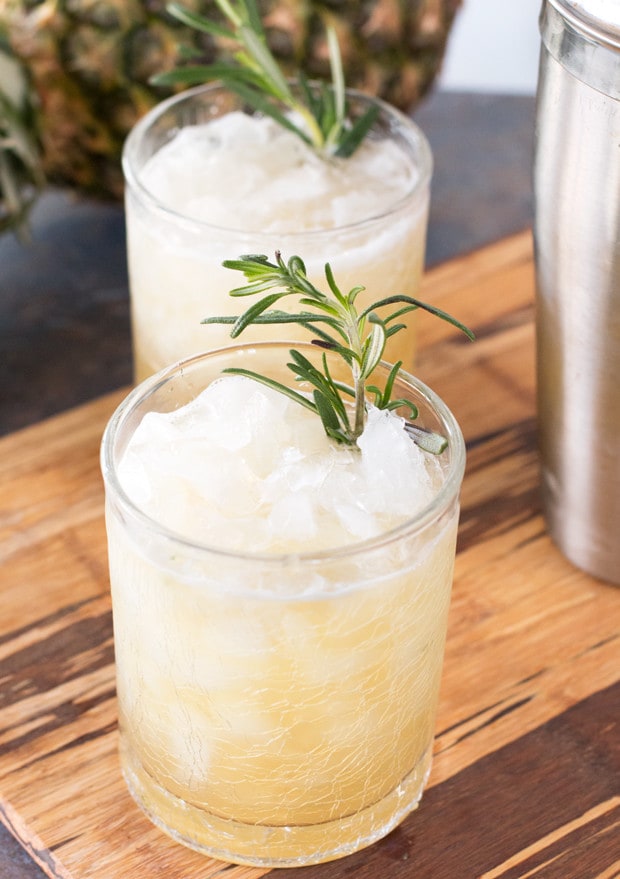 Goals keep me going, not gonna lie.
The pineapple rosemary combination caught my eye and then my mind went into overdrive to make a simple version that anyone could make. The rosemary simple syrup is the key to this recipe and it's herbaceous flavor. The pineapple is just the right bright note to really mellow out the rosemary flavor and sweetness with a little tartness.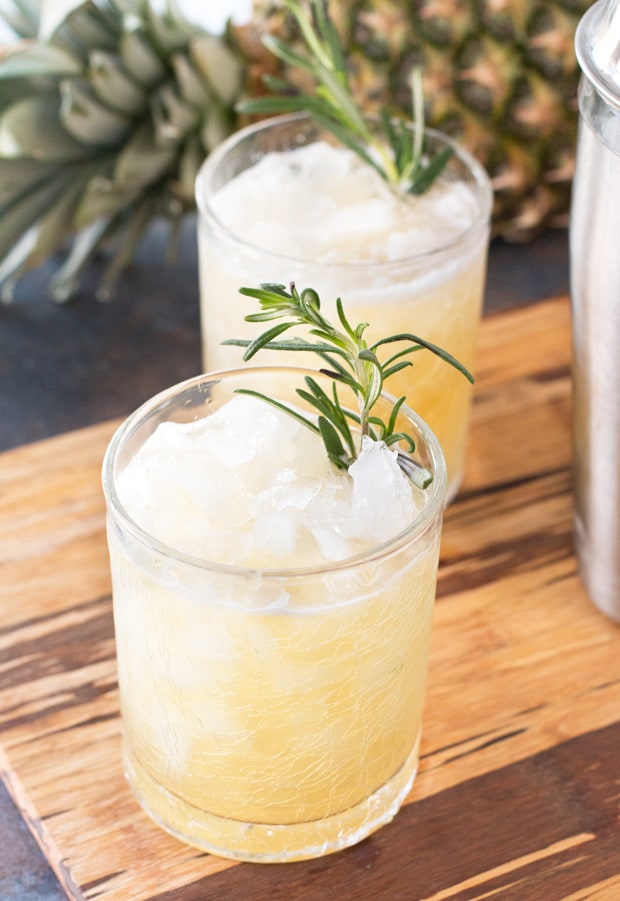 So I'll just be sitting on the porch on these token warm days that have been rolling through Denver, sipping on this pineapple rosemary smash and feeling pretty darn good about accomplishing the perfect cocktail hour. Who's joining me?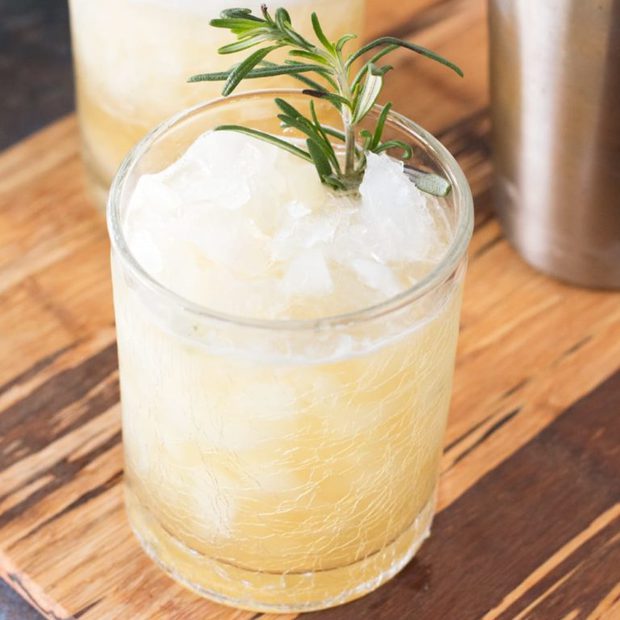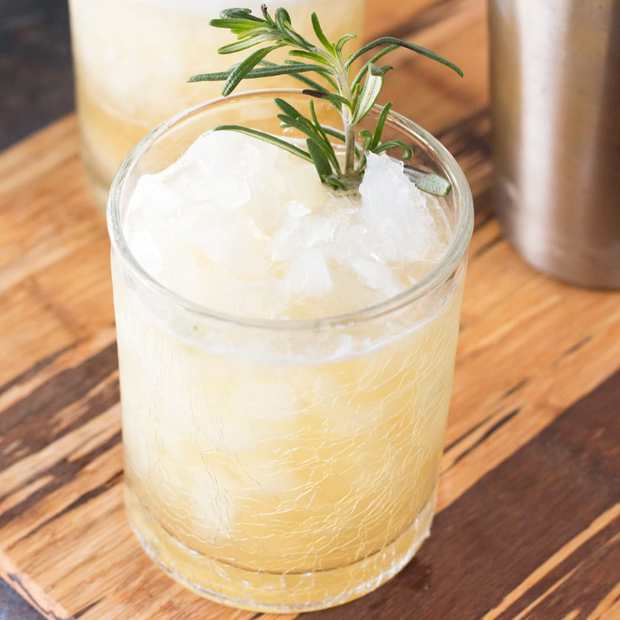 Pineapple Rosemary Smash
Pineapple Rosemary Smash takes happy hour to all new heights with the combination of fresh pineapple juice and rosemary simple syrup.
Ingredients
Rosemary Simple Syrup
2 to 3 sprigs fresh rosemary
1 cup sugar
1 cup water
Cocktail
1 oz Rosemary Simple Syrup
2 oz whiskey
3/4 oz lemon juice
3/4 oz pineapple juice
6 to 8 fresh mint leaves
Rosemary sprig for garnish
Instructions
Combine rosemary, sugar and water for the simple syrup in a small saucepan. Bring the mixture to a boil over medium-high heat and cook until the sugar is dissolved completely. Remove from heat and allow to steep for 30 minutes. Remove rosemary sprigs and store the simple syrup in an airtight container in the refrigerator.
To create the cocktail, add the syrup and mint leaves to a shaker. Muddle.
Fill the shaker with ice and add the whiskey, lemon juice, and pineapple juice. Shake for 10 to 15 seconds. Strain into a rocks glass filled with crushed ice. Garnish with a rosemary sprig and serve.