Shortbread Margarita Cookies have a surprise ingredient that you'll never guess… Stirrings Margarita Rimmer! These buttery cookies are perfect to pair with your margarita. PLUS, I'm including a bonus recipe for the best steak rub ever.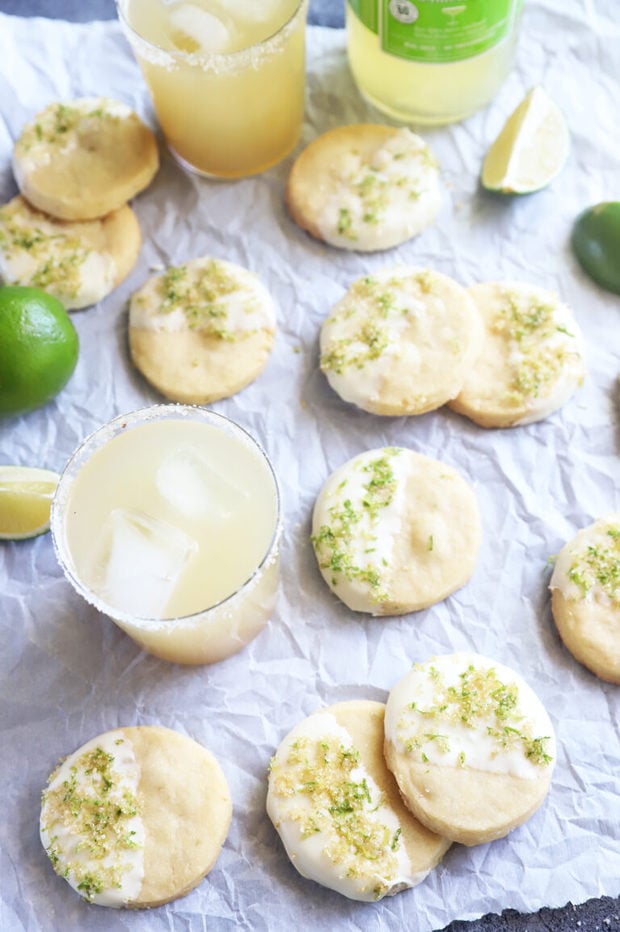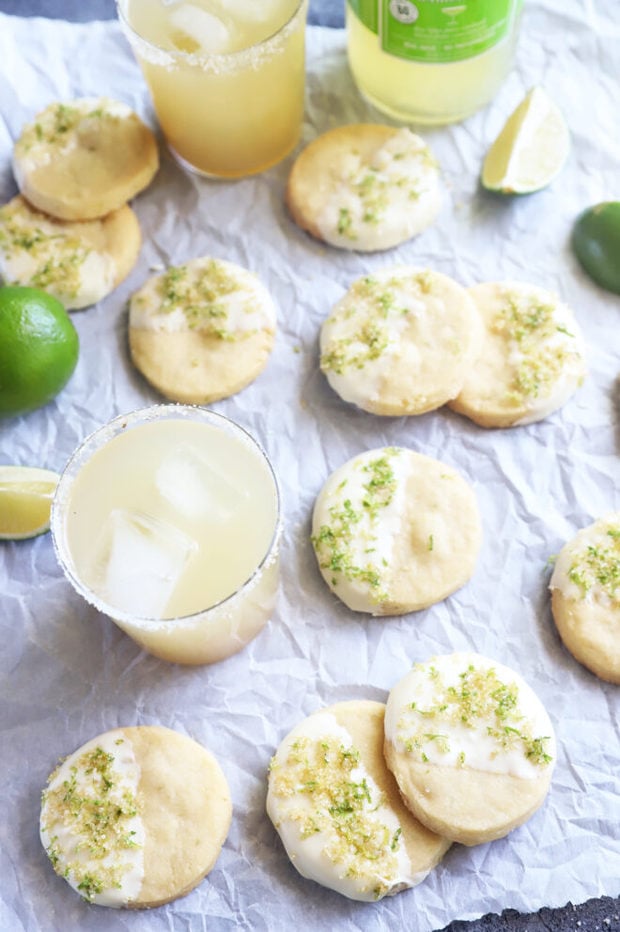 Disclosure: This post was sponsored by Stirrings. As always, all opinions are my own. Thank you for supporting the brands that support Cake 'n Knife!
I am really into white chocolate right now. And cookies. Oh, and citrus.
Really, I am even more obsessed with the things I already love now that I am in my second trimester…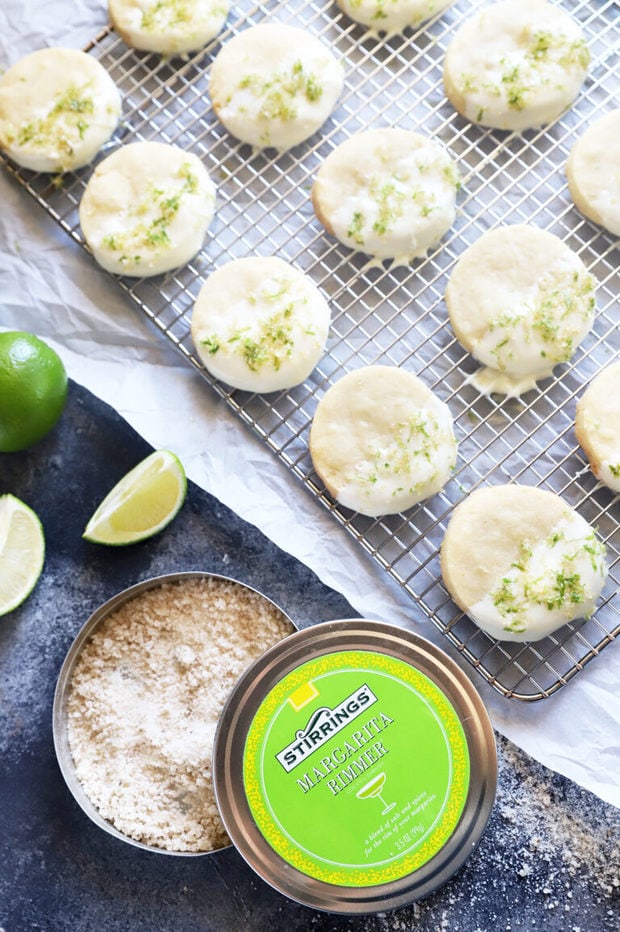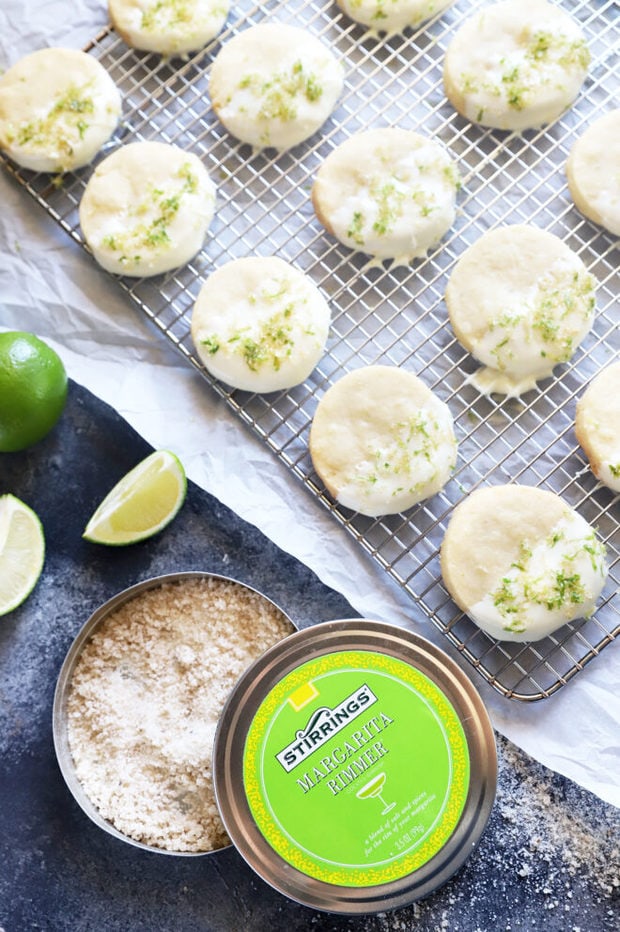 These cookies have all those things I love, with a little margarita twist! What makes these cookies margarita in flavor? Well there is lime, a little tequila, and a margarita rimmer mixture that adds in the touch of salty goodness!
You might be wondering what the heck I am doing, adding a margarita rimmer to a shortbread cookie.
Well let's talk about that, shall we?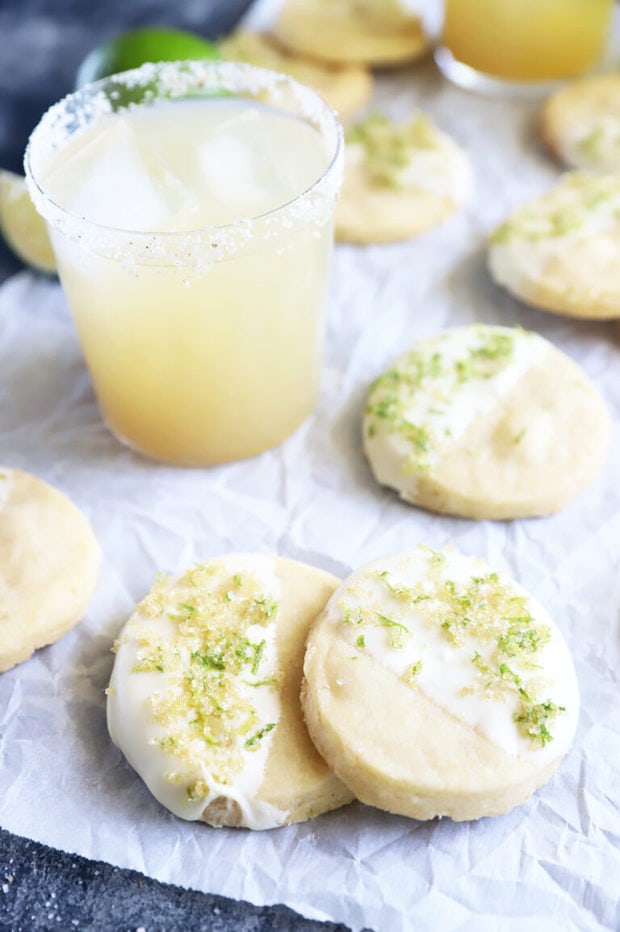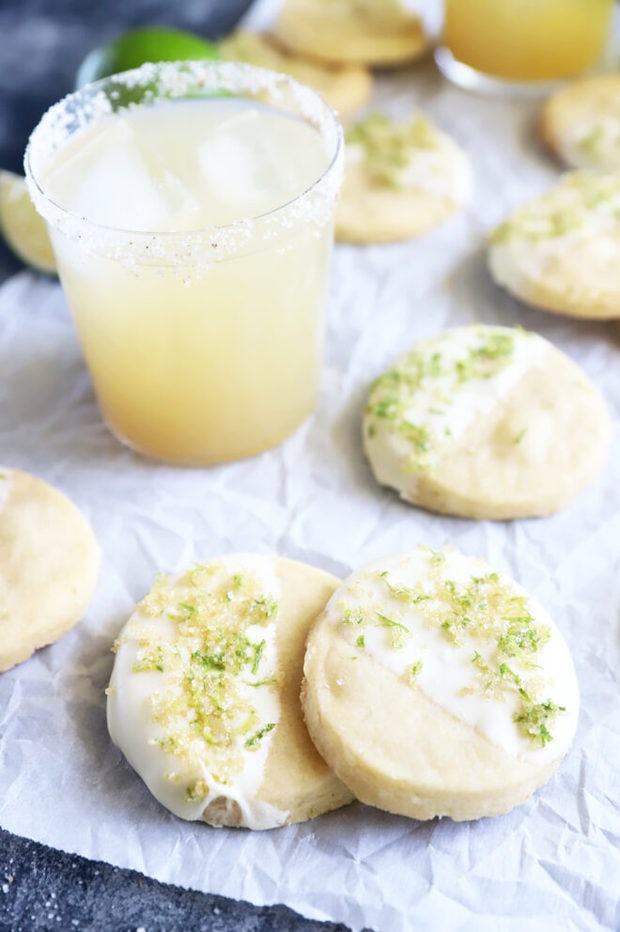 I am a long time fan of Stirrings and you have probably seen me work with them in the past right here on the blog (I've listed those recipes below btw!).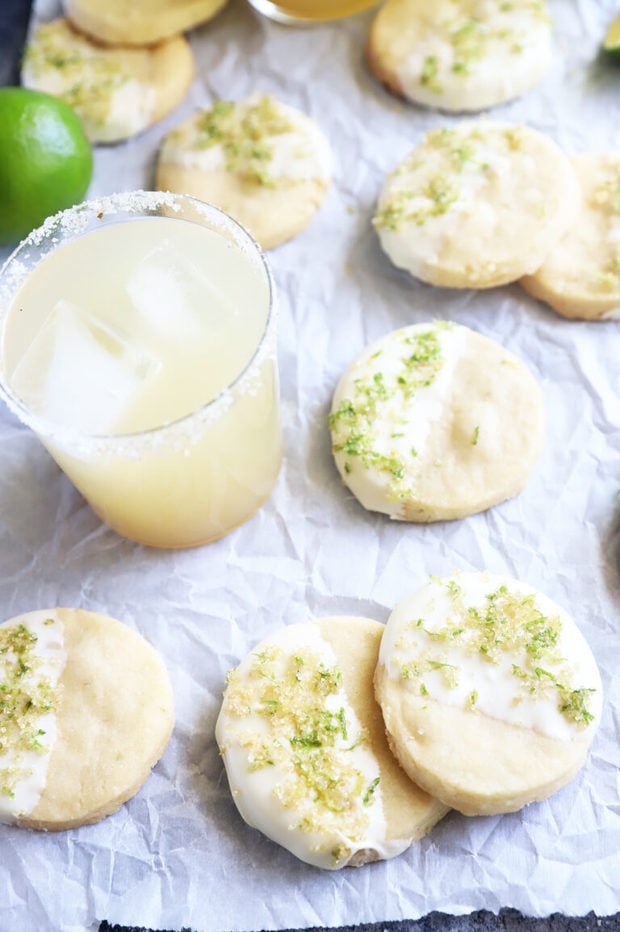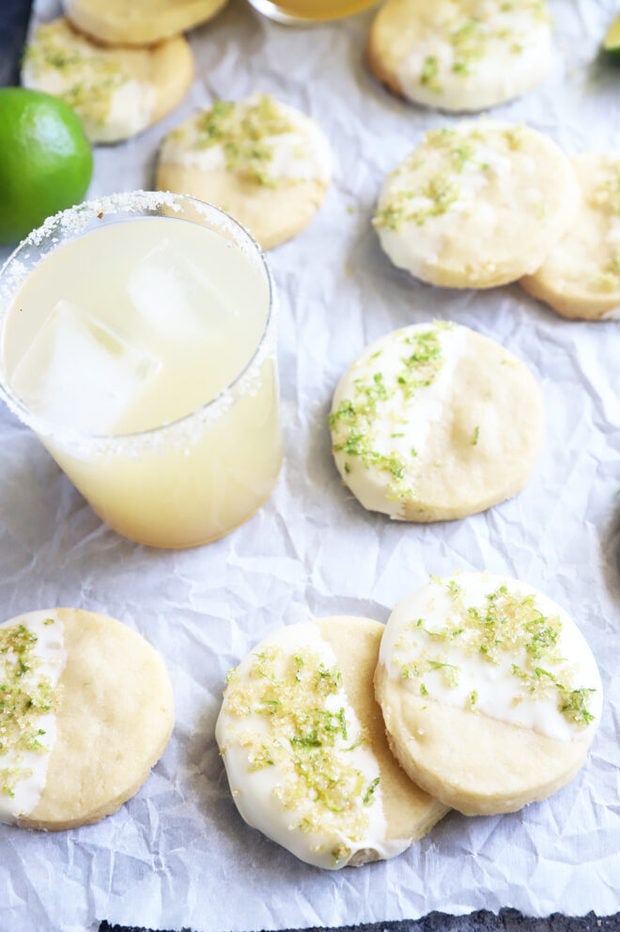 I love their rimmers because they have them for everything from a margarita (so much better than plain ol' salt!) to bloody mary to lemon drop and more. You can use them for the cocktails they go with, but they are also super fun to pair with other cocktails.
Personally, I'm a big fan right now because they really amp up the mocktails I've been making all summer long. The lemon drop martini rimmer with my sparkling arnold palmer is SO bomb.
However, there's even more you can use these rimmers for than simply rim the edge of a glass.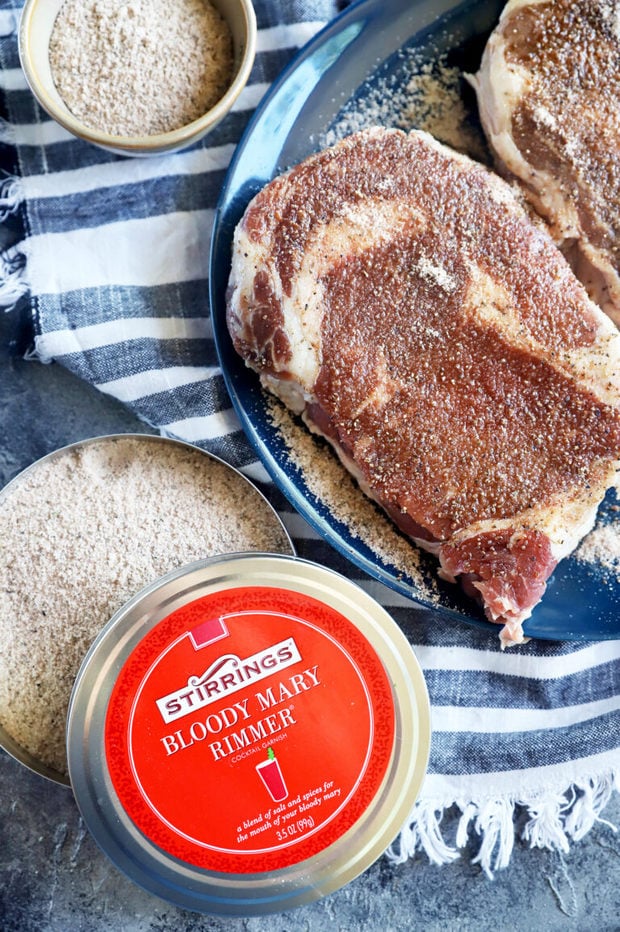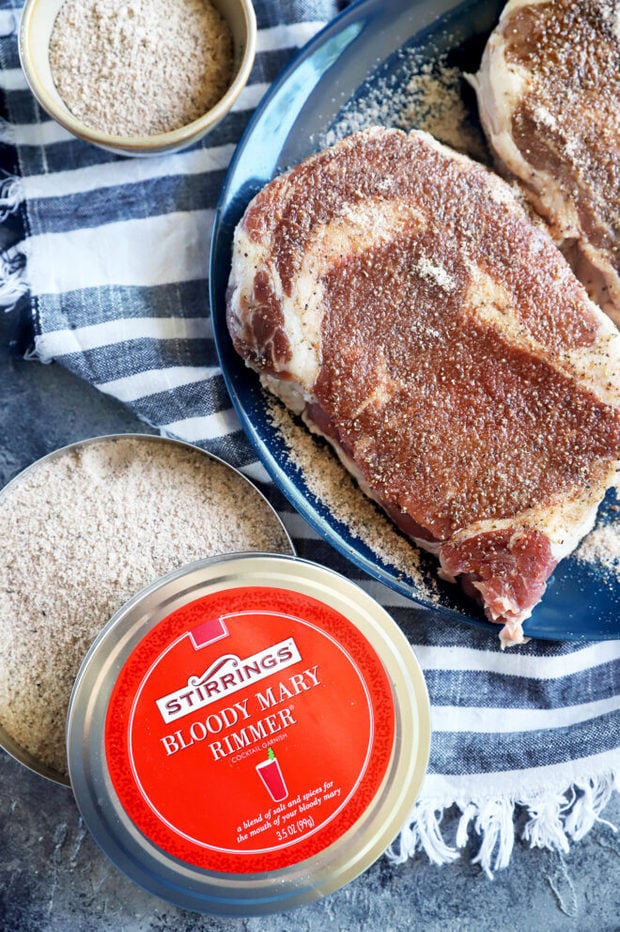 You can use them in recipes! Today I am bringing you my new favorite cookie – the shortbread margarita cookie. It's such a simple cookie to make, and the Stirrings Margarita Rimmer give it this citrusy and salty flavor that compliments the buttery sweetness of the cookie. The blend of spices and hint of mint in the rimmer really comes through in each bite!
It's one of those cookies that you can easily pair with a margarita. Which sounds like the best afternoon snack ever, am I right?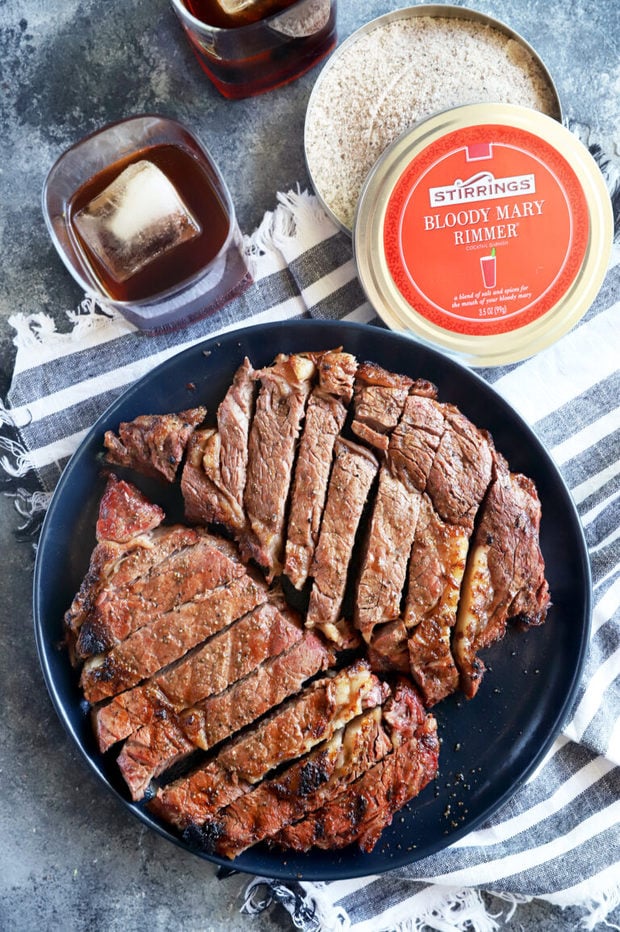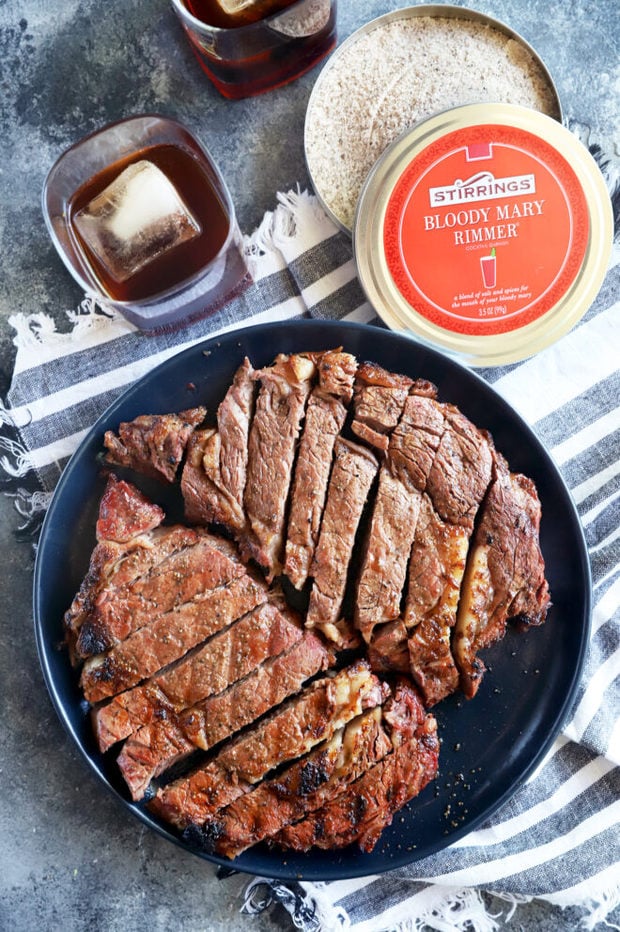 For another idea, let's chat about the Stirrings Bloody Mary Rimmer. This mixture has salt, a bit of sugar, and some tomato powder so it packs a punch of flavor. It also pairs fantastically with STEAK.
Say hellooooo to a new steak rub that can rim your bloody mary glasses AND flavor your steak. All you have to do is use the rub on your favorite cut of steak and grill it up. I have specific measurements in the recipe card below!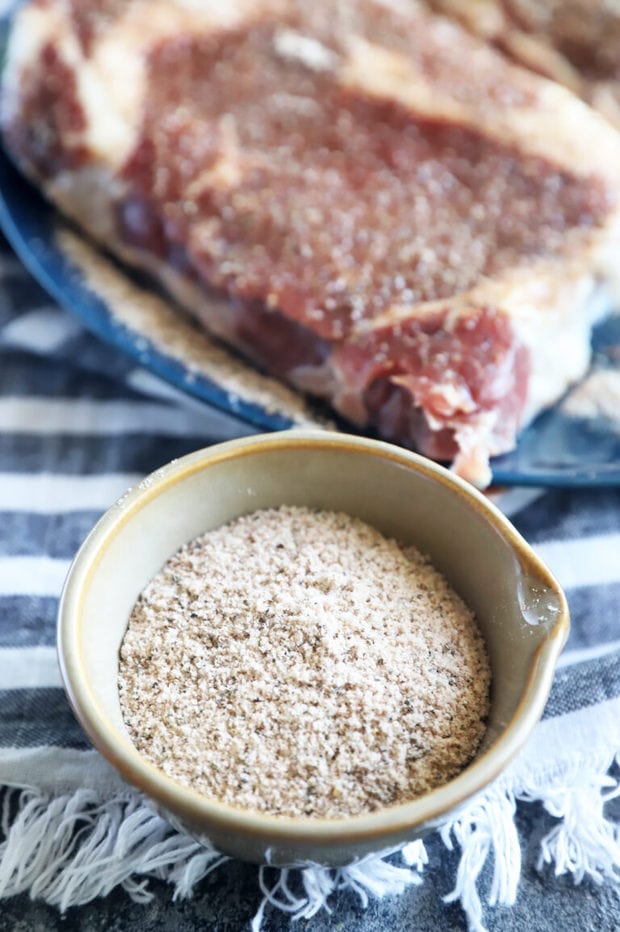 this recipe's must-haves
For the cookies, you will want to grab your stand mixer or mixing bowls with an electric hand mixer to make the cookie base.
You'll also want a silicone mat for your half sheet baking pan when you bake the cookies!
For the steak, all you need is your grill!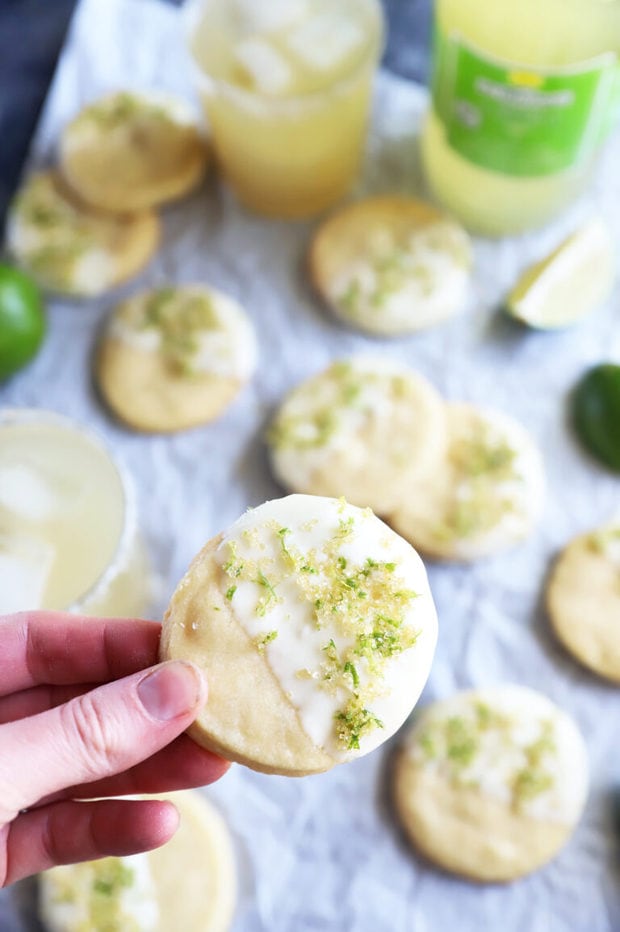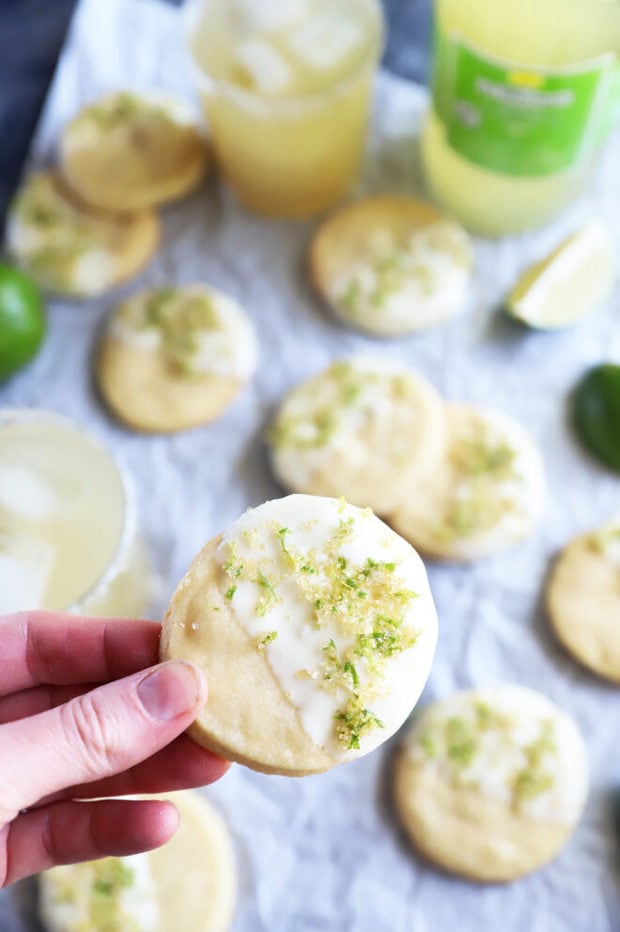 got questions?
Can I make the cookies ahead of time?
Shortbread cookies are fantastic for making ahead whether it's for a party, a gift for a friend, or you simply want to eat them throughout the week! Be sure to keep them stored in airtight containers so they don't dry out.
Does the steak rub work with any cut of meat? Can I use it with other types of meat?
The bloody mary rimmer serves as a rub that works with any cut of beef, whether it's ribeye like you see in the photos here, flank steak, etc. You can also use it for other types of meat!
Try mixing it into ground beef for tacos. Rub a chicken with it and roast in the oven. Try using it on pork tenderloin. It works for all types of meat!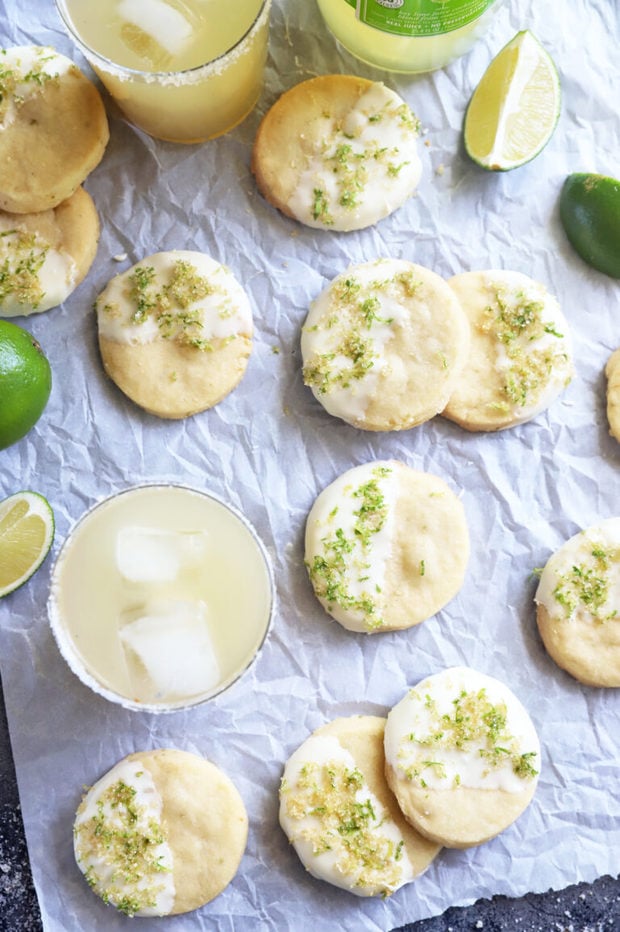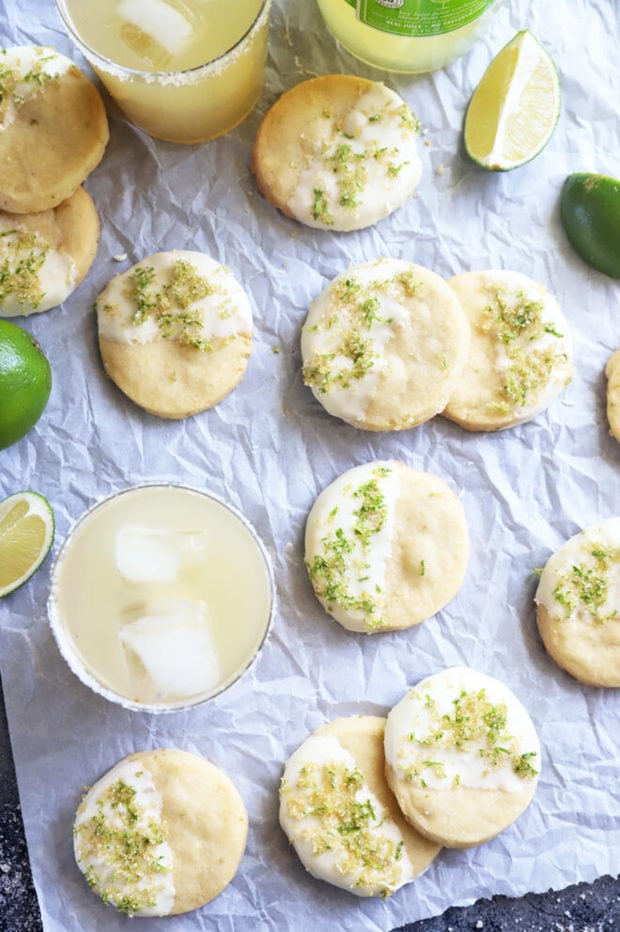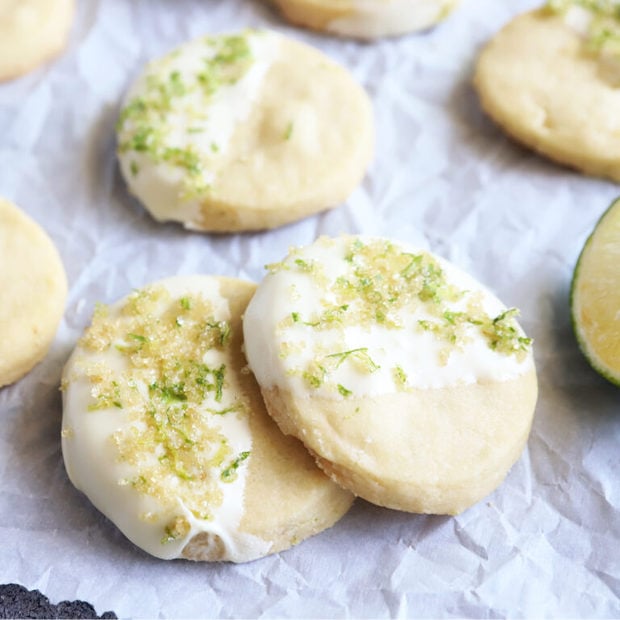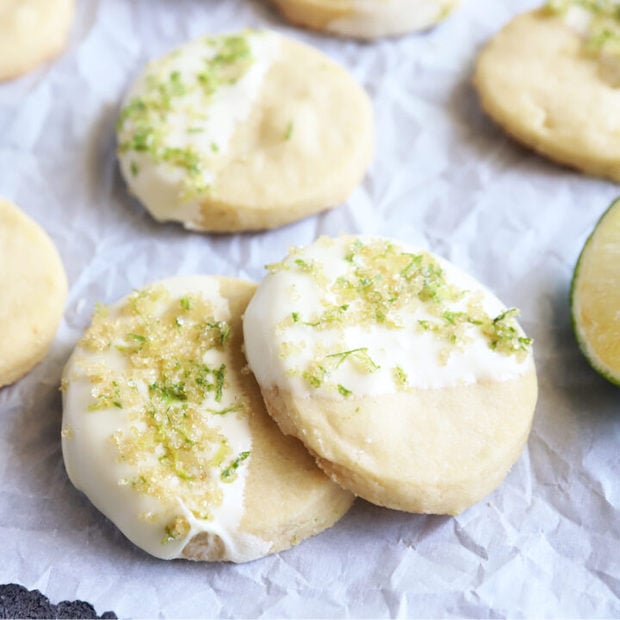 Shortbread Margarita Cookies
Yield:
Makes about 2 1/2 dozen
Additional Time:
30 minutes
Total Time:
1 hour
10 minutes
These buttery cookies are perfect to pair with your margarita!
Ingredients
Cookies
3/4 pound unsalted butter, room temp
1 cup sugar
1 tsp pure vanilla extract
2 tsp silver tequila
Grated zest of 1 lime
1 Tbsp Stirrings Margarita Rimmer
3 1/2 cups all-purpose flour
1/4 tsp salt
Topping
2 Tbsp lime zest
1/4 cup turbinado sugar
7 oz white chocolate, melted
Instructions
Preheat the oven to 350˚F. Line two baking sheets with silicone mats. Set aside.
In the bowl of a stand mixer fitted with the paddle attachment, beat together butter and sugar. Once just combined, beat in vanilla, tequila, lime zest, and margarita rimmer.
In a medium bowl, sift together the flour and salt. Add to the butter mixture and beat on low until dough starts to come together. Turn out dough onto a clean work surface lightly dusted with flour and shape into a flat disk. Wrap in plastic wrap and chill for 30 minutes in the refrigerator.
Roll out dough on a floured surface until it's about ½-inch thick. Cut into 1 ½ to 2 inch circles, rerolling and cutting as needed. Place cookies on prepared baking sheets.
Bake for 20 to 25 minutes, until the edges are just golden brown. Remove from the oven and cool completely on pans. Once cookies have cooled, stir together lime zest and turbinado sugar.
Dip the cookies in melted chocolate and place on parchment paper to set. Before the chocolate sets, sprinkle with lime zest mixture.

Recommended Products
As an Amazon Associate and member of other affiliate programs, I earn from qualifying purchases.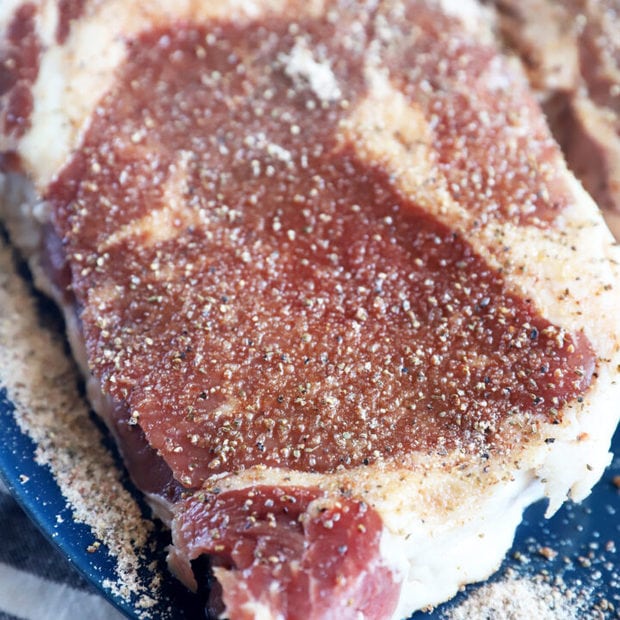 Bloody Mary Steak
The easiest way to elevate steak? With this Bloody Mary steak rub!
Ingredients
2 Tbsp Stirrings Bloody Mary Rimmer
2 ribeye steaks (mine were about 1lb each)
Instructions
Preheat your grill.
Rub the bloody mary rimmer all over the steaks. Place over medium-high heat and cook until desired doneness. For ribeyes, this is about 3 to 4 minutes per side for medium rare.
Remove from the grill and rest for 10 minutes before slicing and serving.
Recommended Products
As an Amazon Associate and member of other affiliate programs, I earn from qualifying purchases.