Please note this post contains affiliate links.
Guacamole Wontons are the handheld version of my favorite food, that's also been fried. The golden brown, crunchy exterior wraps the guacamole in a warm hug. Be sure to make them for the big game!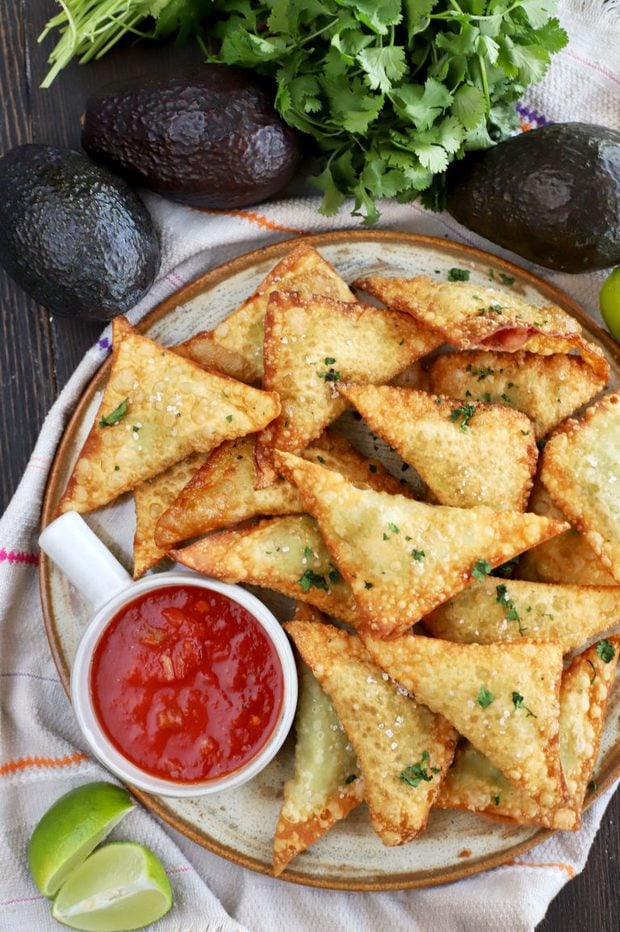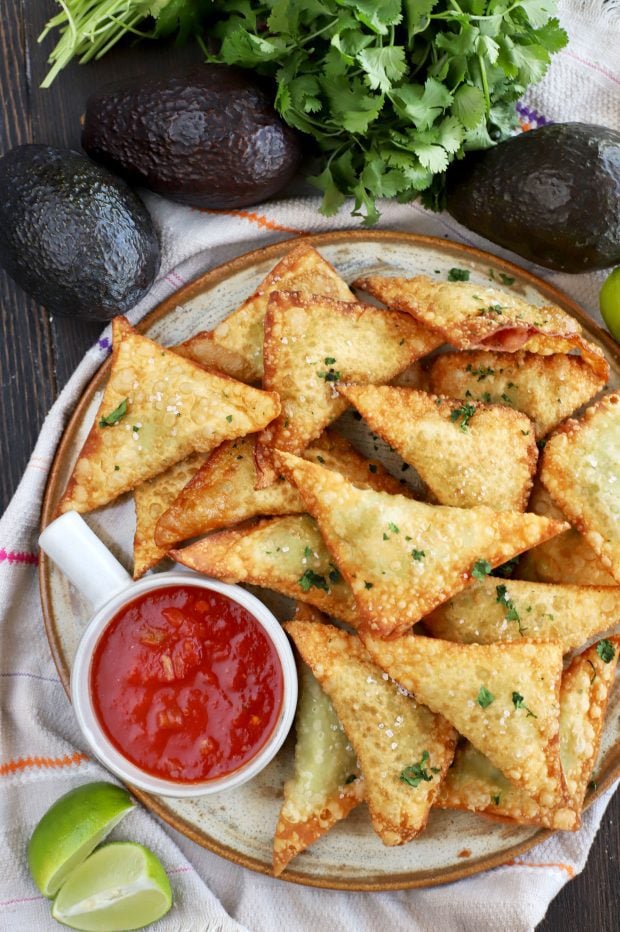 I'm back at it with the guacamole again, I know.
Don't hate me ok? It's an ADDICTION.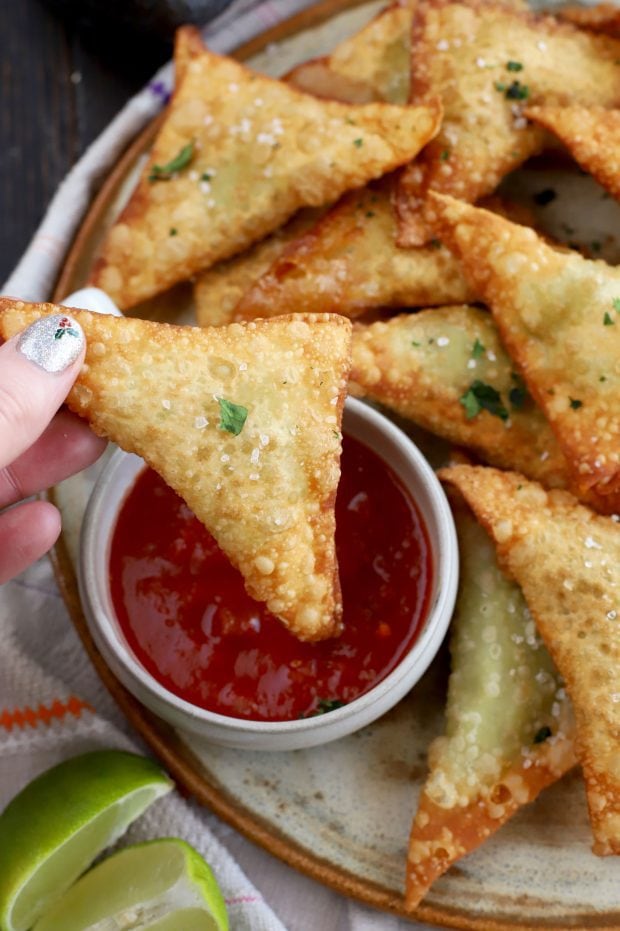 Honestly, can you blame me? Guacamole will always put a smile on my face and that is something I sorely need.
I don't know about you, but the start of a new year brings a lot of emotions up to the surface.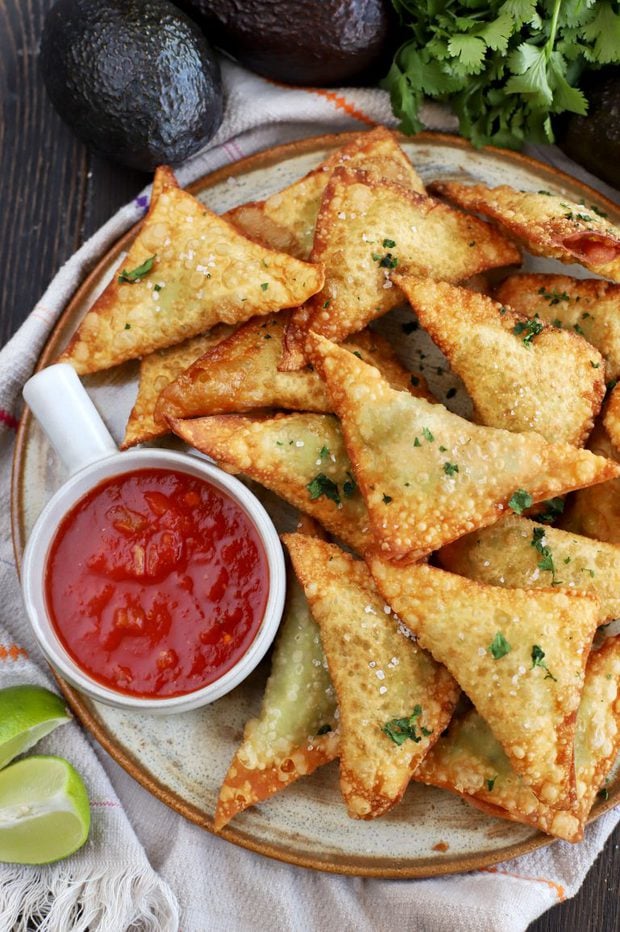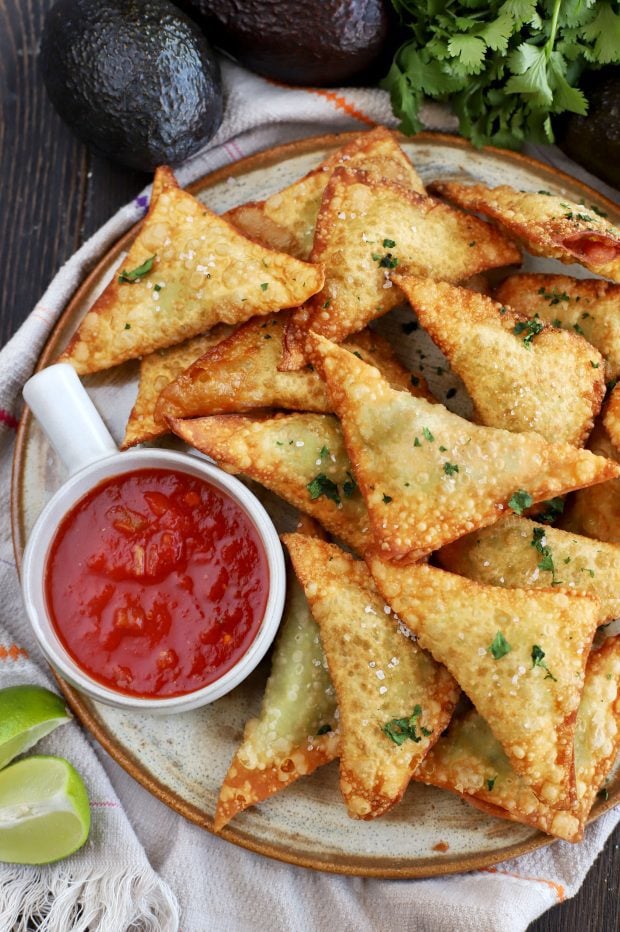 There is a little sadness of the last year coming to a close. There's some excitement for the new year and the possibilities it holds. Then there's the inevitable stress that tends to loom over my like a tiny cloud.
It's not like just a new week is starting. A whole new YEAR is starting and that has always felt monumentous to me. I find myself reevaluating my daily habits and trying to pay attention to the little things I want to change.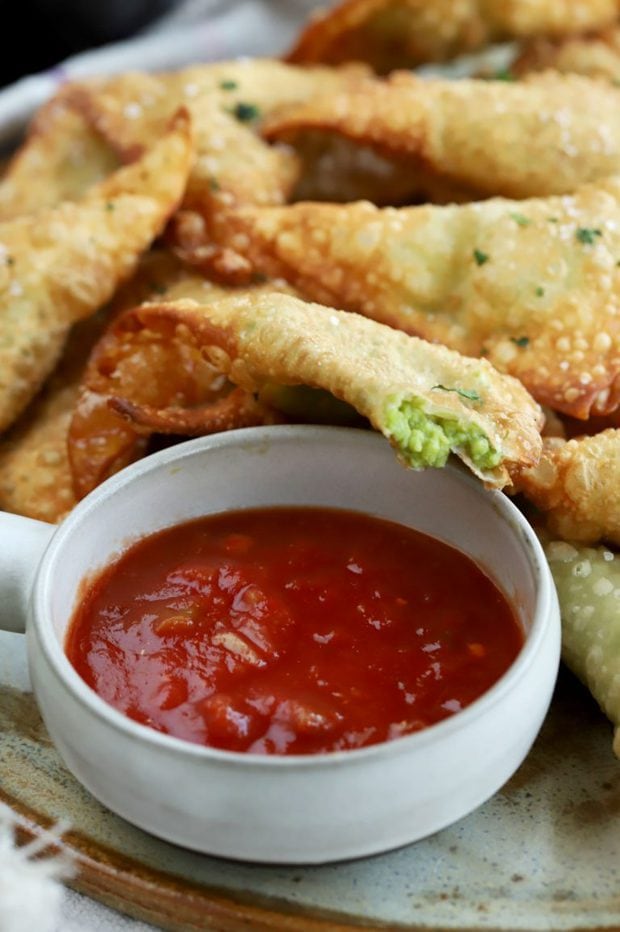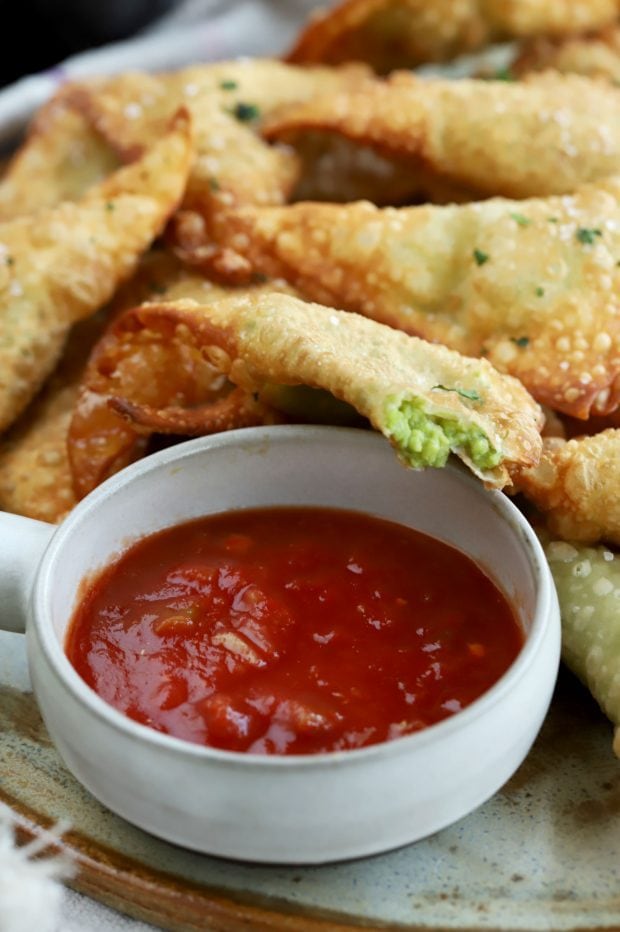 It really stresses me out and I know it shouldn't. But it SO DOES.
So I turn to my favorite foods once again, including guacamole. Thankfully it's perfect timing because the big game is slowly creeping this way.
These are the perfect little packets of love to pop in your mouth. The flavorful guacamole inside is my favorite one to make for any party, but instead of being served in a bowl with chips, I thought it would be fun to fry 'em up.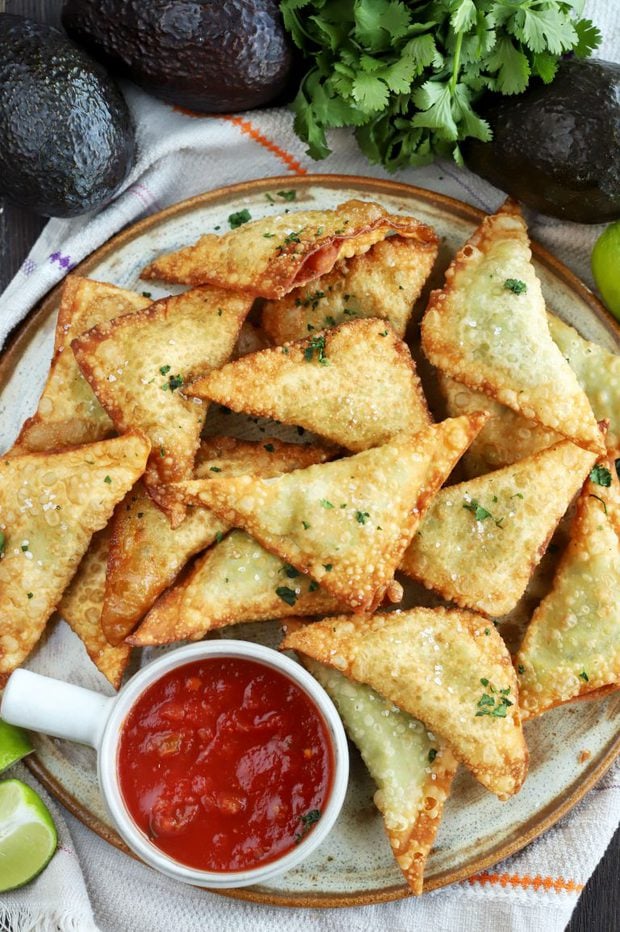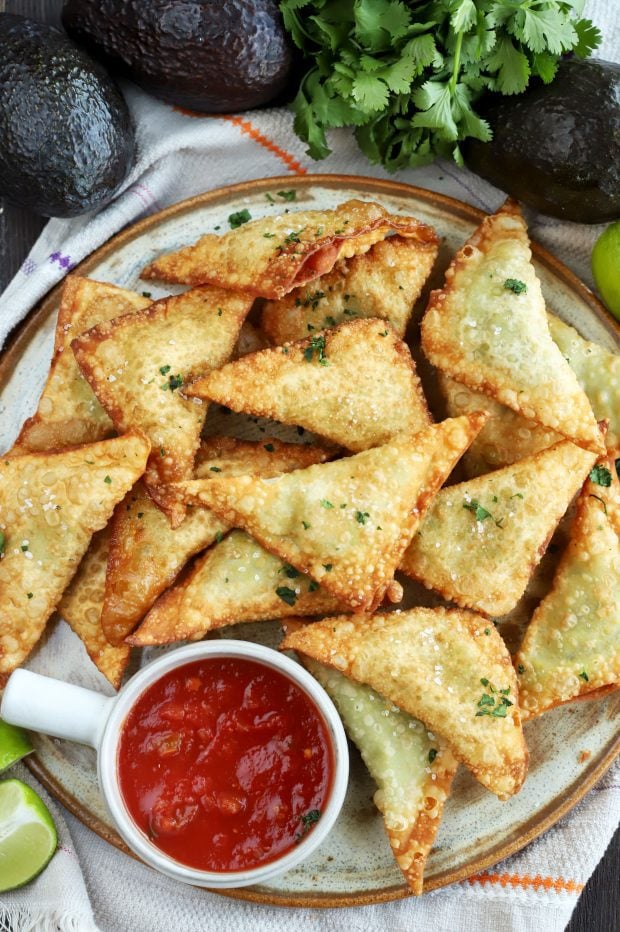 The result is a delightfully crunchy exterior and a creamy interior with a flavor explosion. They are honestly way too addictive, and I will freely admit that I ate every single one of them. I didn't even share with the Man.
I know, I AM A MONSTER.
It's handheld guacamole for gosh sake. GAH, see now even as I am writing this I am craving them yet again. Excuse me while I run to the kitchen to make more!
What can I dip these wontons in?
For this recipe, I love to pick my favorite salsa! Honestly you can pick any salsa for a dipping sauce, but the fresher the better. Feel free to experiment with different kinds!
I am a basic AF salsa lover so the medium spiced red salsa is my bestie in this case.
Again, don't judge me.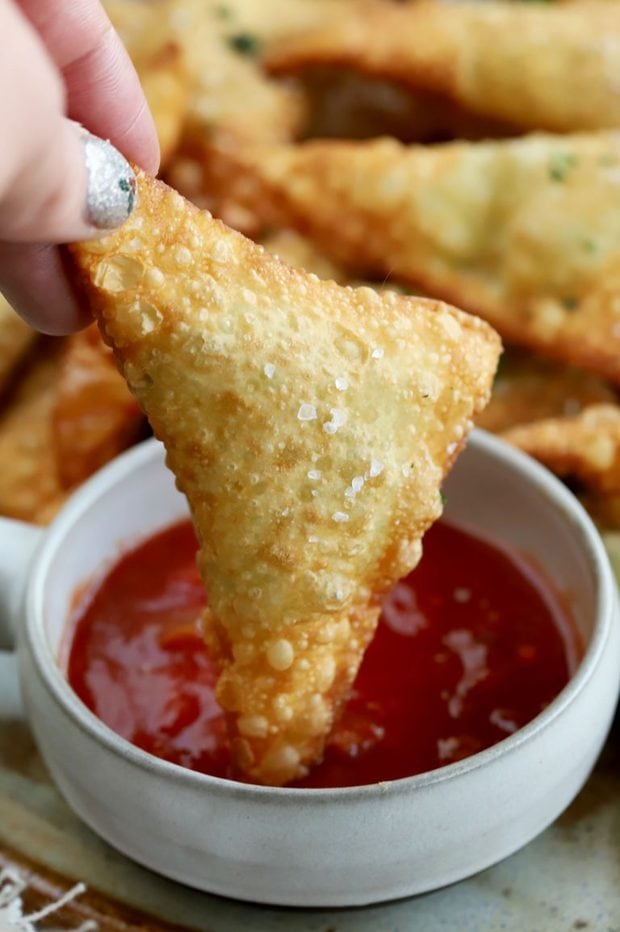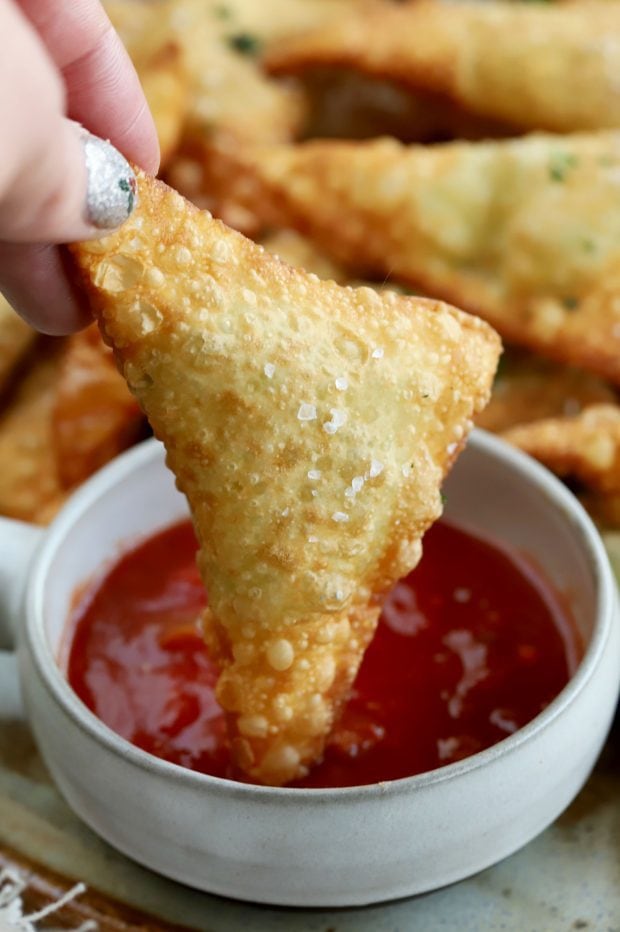 Now I am just hoping to see some black and gold on February 3rd (don't hate Broncos fans, I've been converted. Sorry. I had no choice). Who are you rooting for this year?
This Recipe's Must-Haves
To prep all the ingredients for this recipe, I turn to my trusty chef's knife! Stays sharp forever!
Whenever I fry anything, I like to use my Le Creuset Signature Enameled Cast-Iron 7-1/4-Quart Round French (Dutch) Oven
. Not only does it maintain heat well, but it also is oh-so easy to clean!
To get these little guys out of the oil, I always use this Helen Chen's Asian Kitchen Stainless Steel Spider Strainer
! It's a must in my kitchen for any kind of frying.