Please note this post contains affiliate links.
Hatch Green Chile Chicken Sliders are the spicy, juicy mini sandwiches of your dreams!. The tender pulled chicken cooked in hatch green chile salsa topped with pepper jack cheese, jalapeños and fried onions is a heat explosion that no one will be able to resist. With tailgating season just around the corner, game days at home never looked so darn good.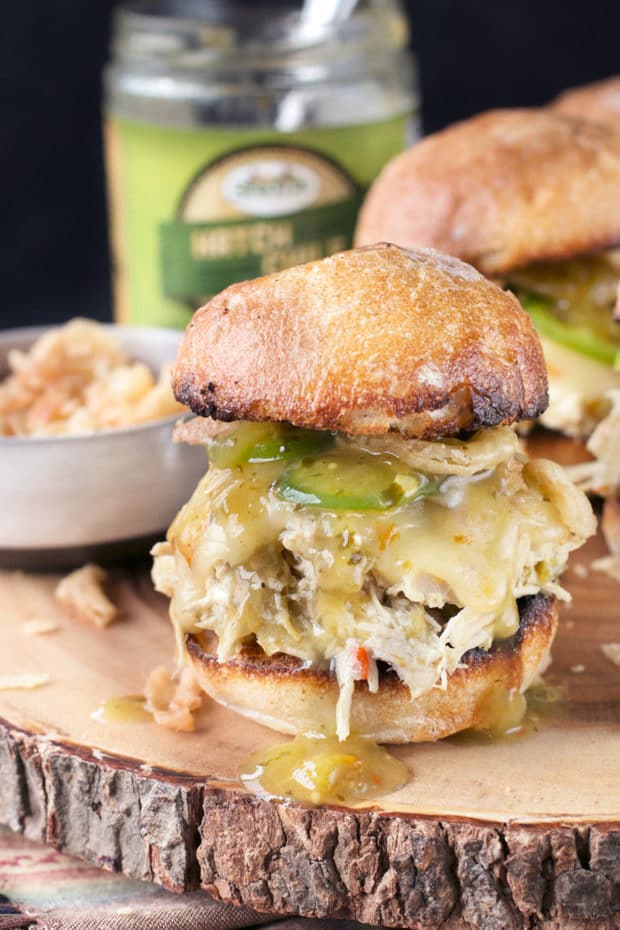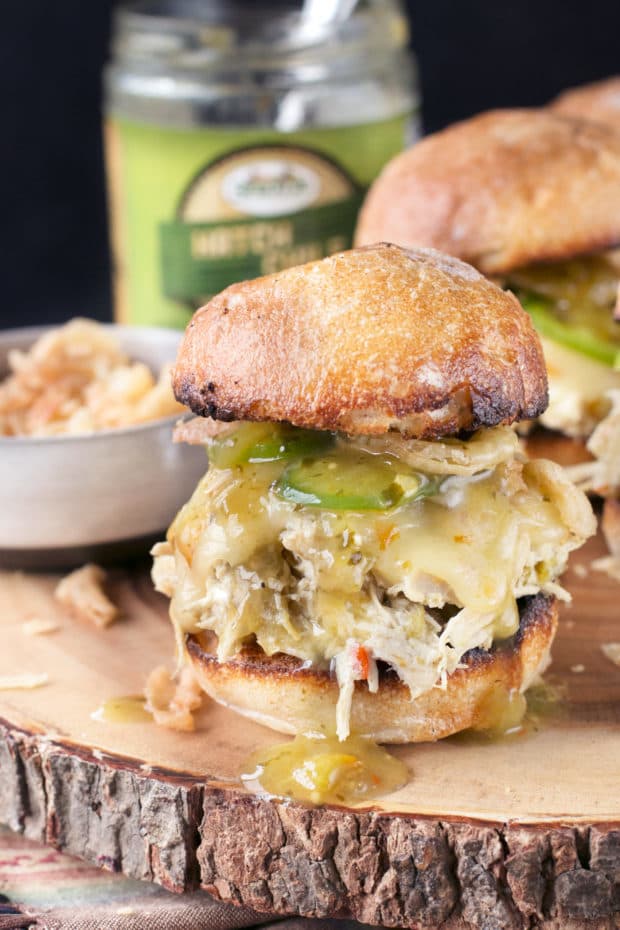 Disclosure: This post is sponsored by Sprouts! While I was compensated, as always, all opinions and the recipe are my own. Thanks for supporting the brands that support Cake 'n Knife!
Fall is coming and I couldn't be more excited.
As much as I love the last lazy crazy days of summer, fall is the season that speaks to my soul.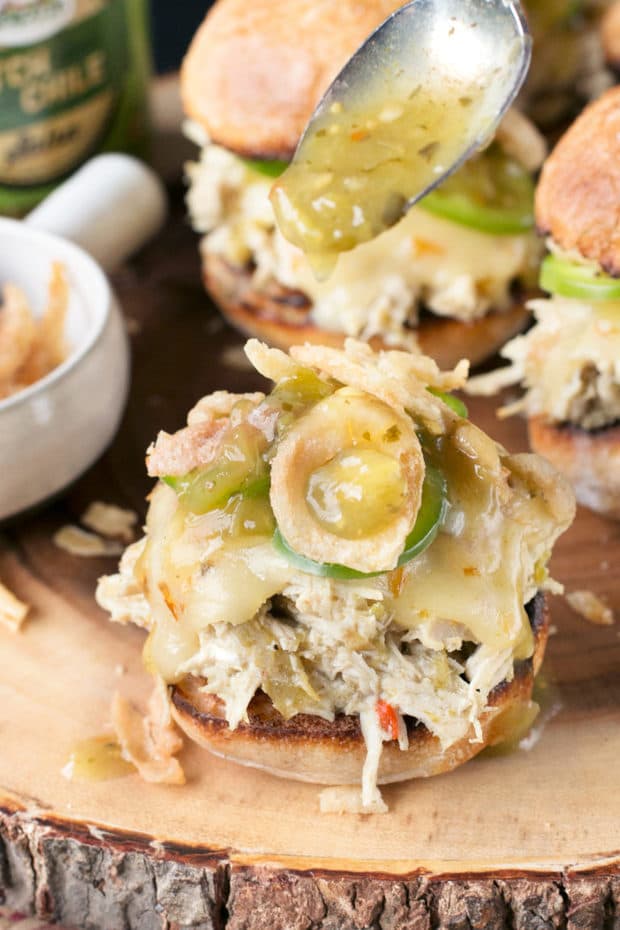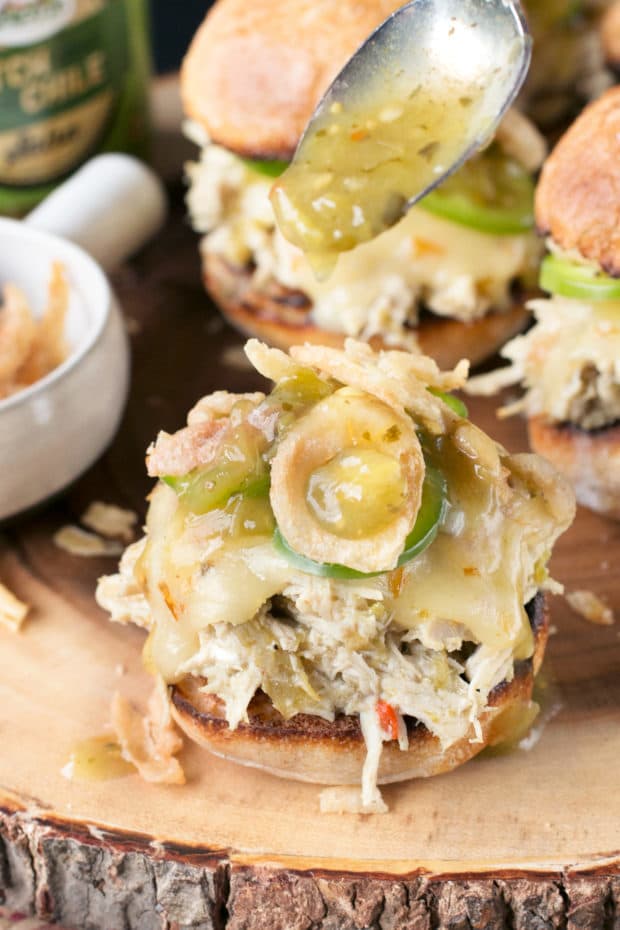 Part of it is my love for autumn leaves, part of it is my love for all squash things, and part of it is my love for TAILGATING SEASON.
Yes, all caps are necessary when talking about tailgating season in August. Because it's sooooo close. SO. close.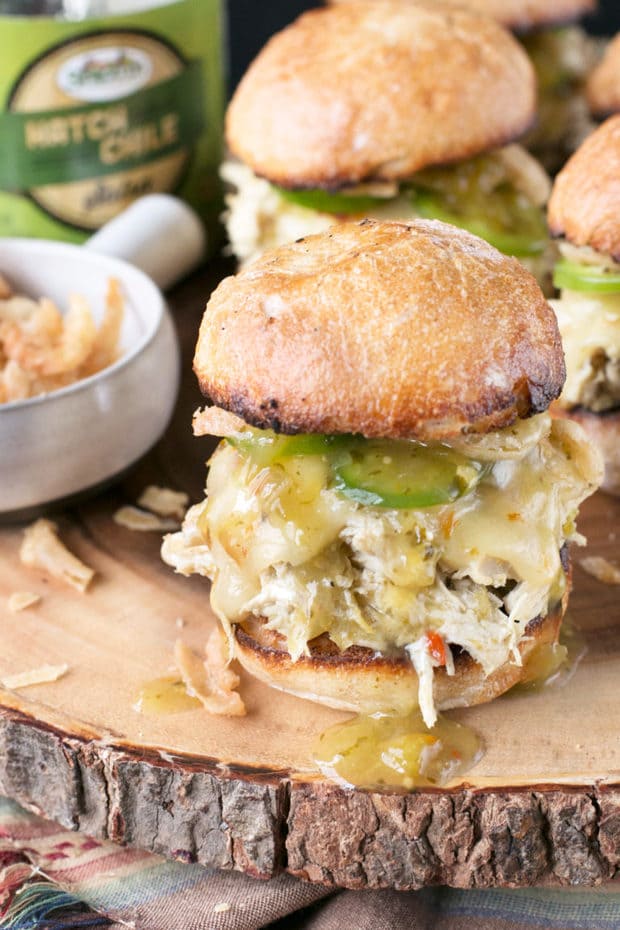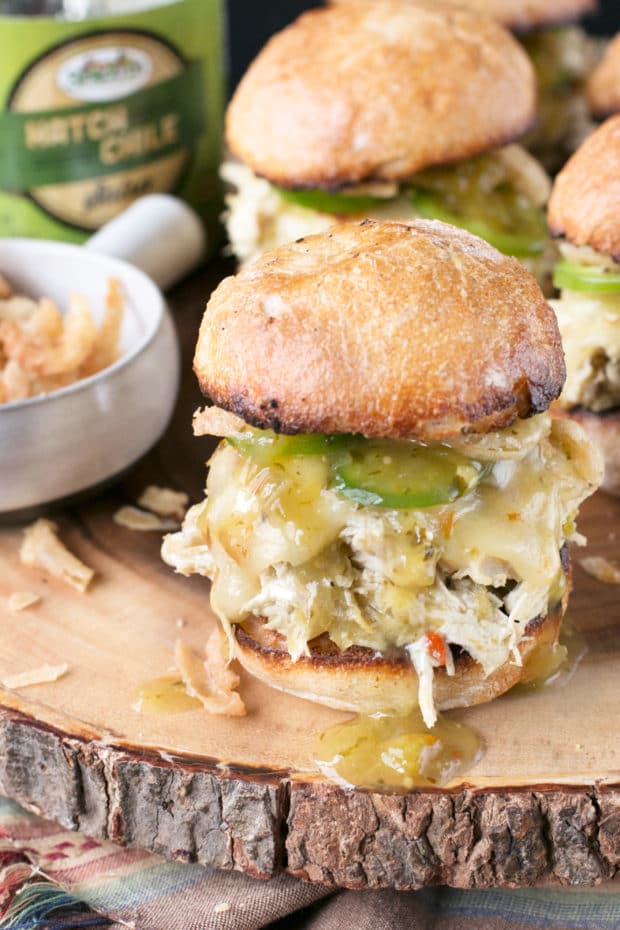 Please note that some of the links below are affiliate links. If you make a purchase through one of these links, I will receive a small commission. Thank you for supporting Cake 'n Knife!
After kicking butt during my first official season of playing fantasy football (yes, I will always be boasting about this because helloooooooo it's me), I have a whole new appreciation for football and even more so for tailgating after going to my first NFL game.
Now that we are moving into our house (!!!) at the beginning of football season, I foresee all the house-gating parties that will be happening and I am starting to pull together as many killer simple recipes as possible.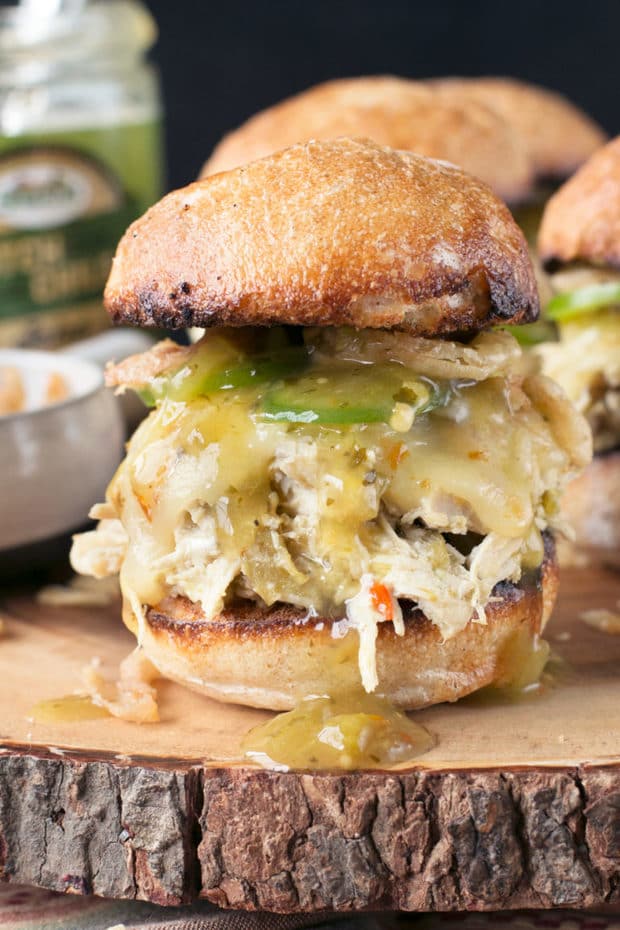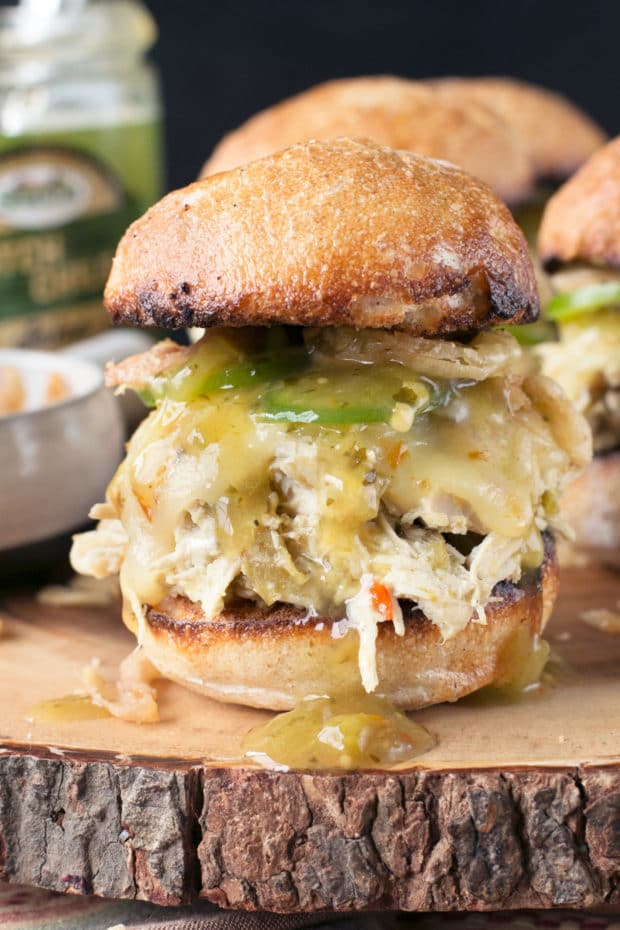 Case and point, we are starting with these epic stacked sliders featuring one of my favorite salsas EVER.
Hatch Green Chile Salsa.
Hatch green chiles are a big thing here in Colorado and when I found the hatch green chile salsa sitting on the shelves of my local Sprouts store, I almost lost my mind with glee. Sprouts captures the true spirit of some of the best green chiles I've had in Colorado, in salsa form.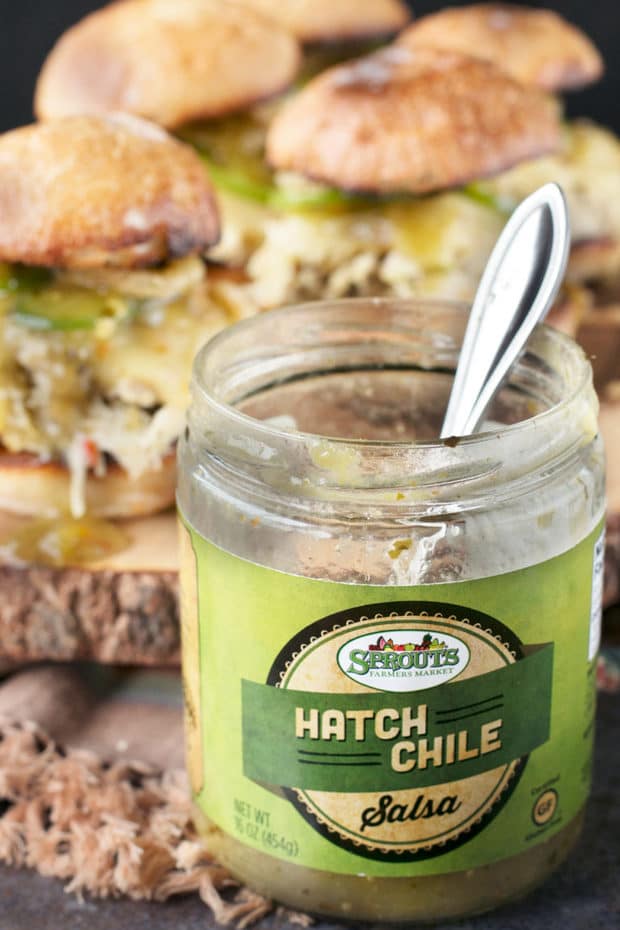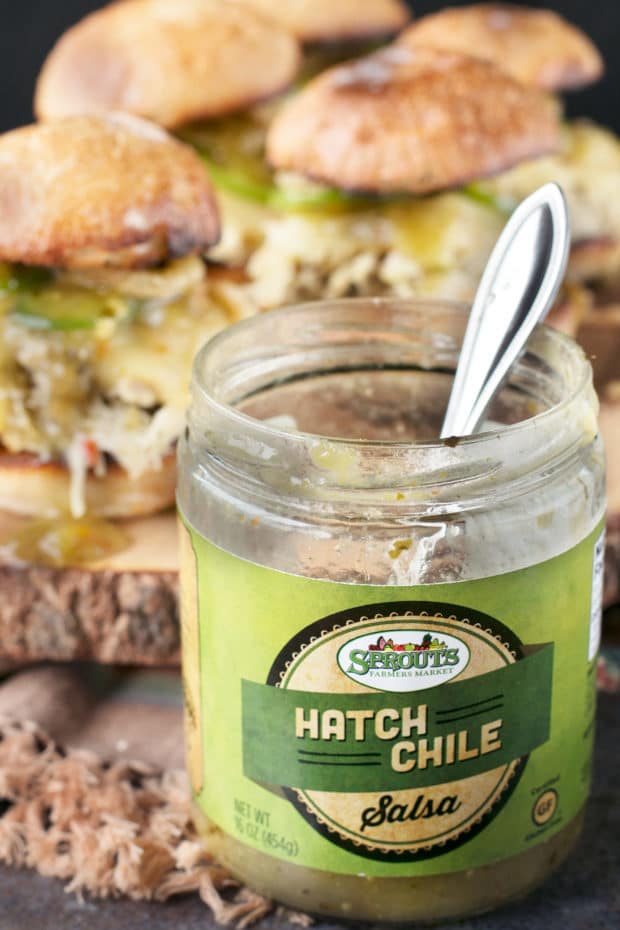 The spice level and the rich bold flavor is so on point, it makes it the perfect thing to slowly cook chicken in!
The chicken ends up being ridiculously flavorful after slowly cooking in the hatch green chile salsa with just the right amount of heat. Piling it up with spicy pepper jack, sliced jalapeños and crunchy fried onions just makes it that much more DELISH.
It's a ridiculously easy recipe to make so it won't keep you away from the tailgating fun and you won't miss a minute of the game!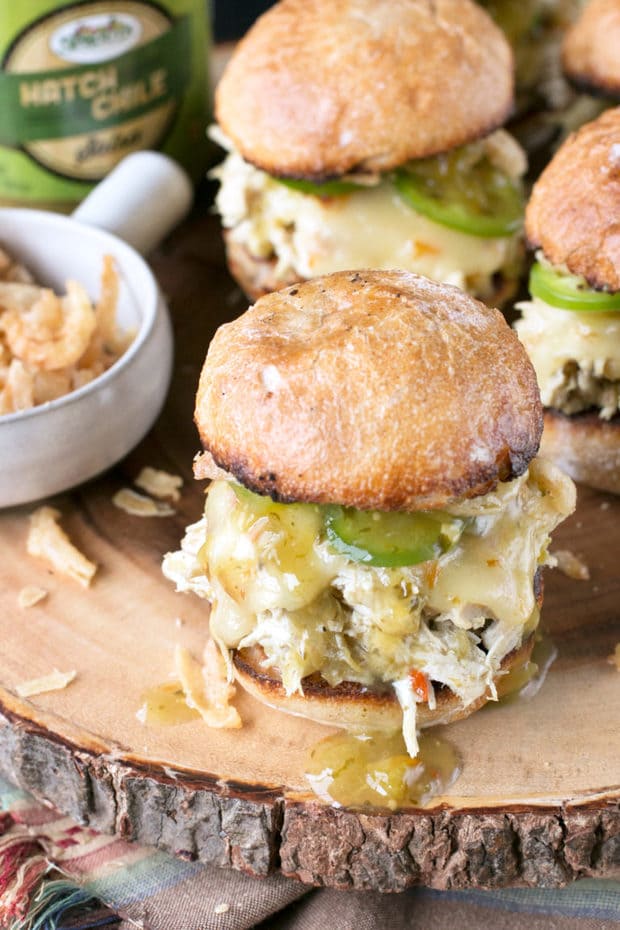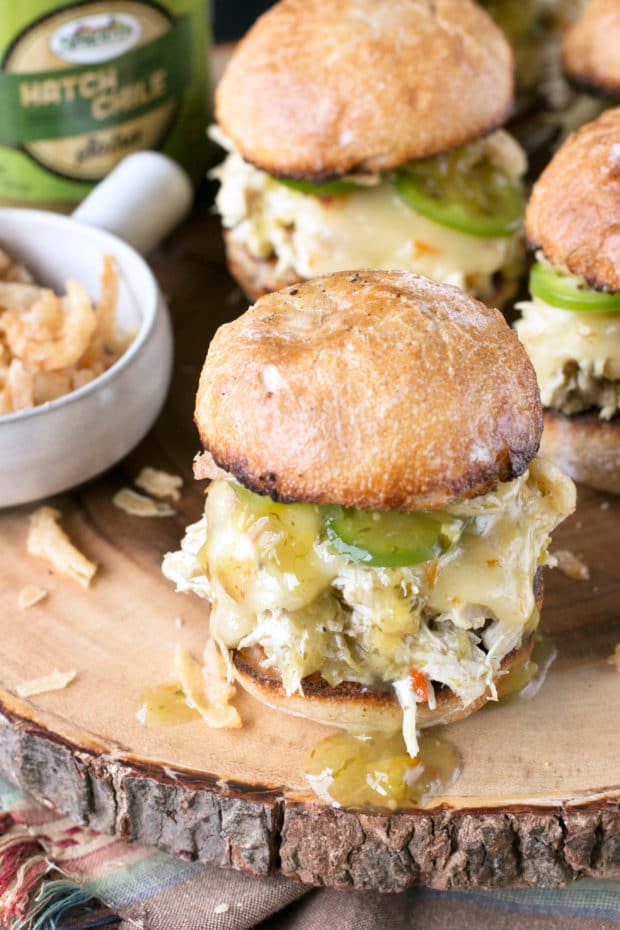 This Recipe's Must Haves
Pin this Hatch Green Chile Chicken Sliders recipe for later!


Hatch Green Chile Chicken Sliders
Total Time:
3 hours
10 minutes
Hatch green chile salsa brings a whole new level of tastiness to pulled chicken with these sliders! The spicy, bold flavors will make any get-together a memorable one.
Ingredients
3 lbs boneless, skinless chicken breasts
1 jalapeño, seeded and diced
2 1/2 cups Hatch Green Chile Salsa
1/4 cup chicken stock
1/2 tsp cayenne pepper
1/2 tsp salt
10 slider buns, halved and toasted
1/3 cup fried onions
3 oz pepper jack cheese, sliced
Sliced jalapeños
Instructions
Add chicken breasts, jalapeño, 2 cups Hatch Green Chile Salsa, chicken stock, cayenne pepper and salt to a slow cooker. Cook on high for 3 to 4 hours.
Remove chicken from the slow cooker to a large bowl. Using two forks, shred chicken. Stir in remaining Hatch Green Chile Salsa.
To assemble the sliders, add the bottom halves of the slider buns to a sheet pan. Top with 1/3 cup of the green chile chicken and a slice of pepper jack cheese.
Place sheet pan under broiler set to high until cheese is melted, approximately 1 to 2 minutes.
Top sliders with fried onions, sliced jalapeños and more Hatch Green Chile Salsa as desired. Finish with the top halves of the slider buns.
Serve immediately.