Please note this post contains affiliate links.
Slow Cooker Apple Cider Chicken Sliders are the ultimate fall tailgating slider to be adding to your menu for game day! The chicken gets all juicy and apple-infused while it's cooked in the slow cooker, making it the ideal pairing for a crunchy, zesty apple cabbage slaw. Game day eats during these first months of fall don't get much better than this.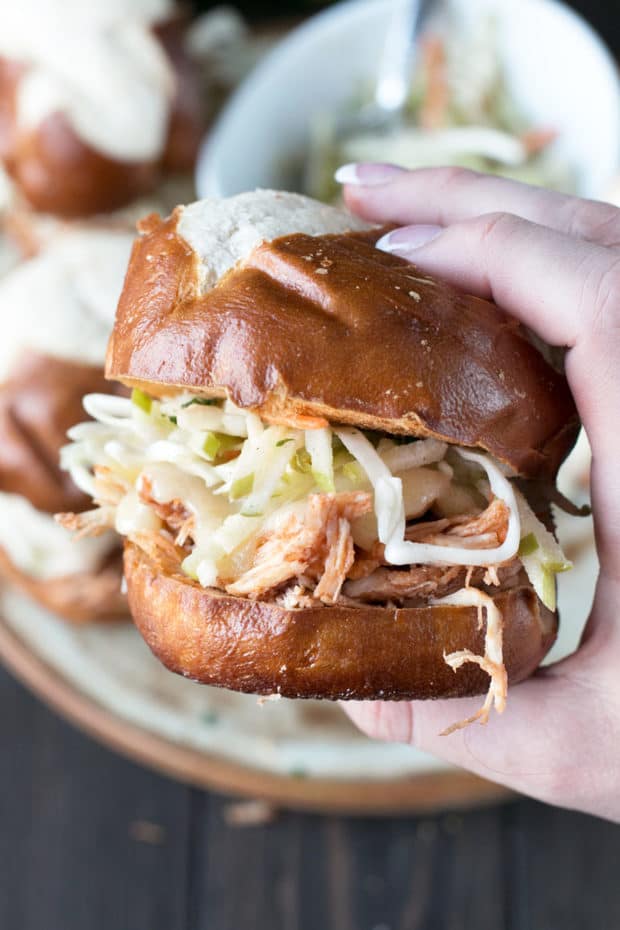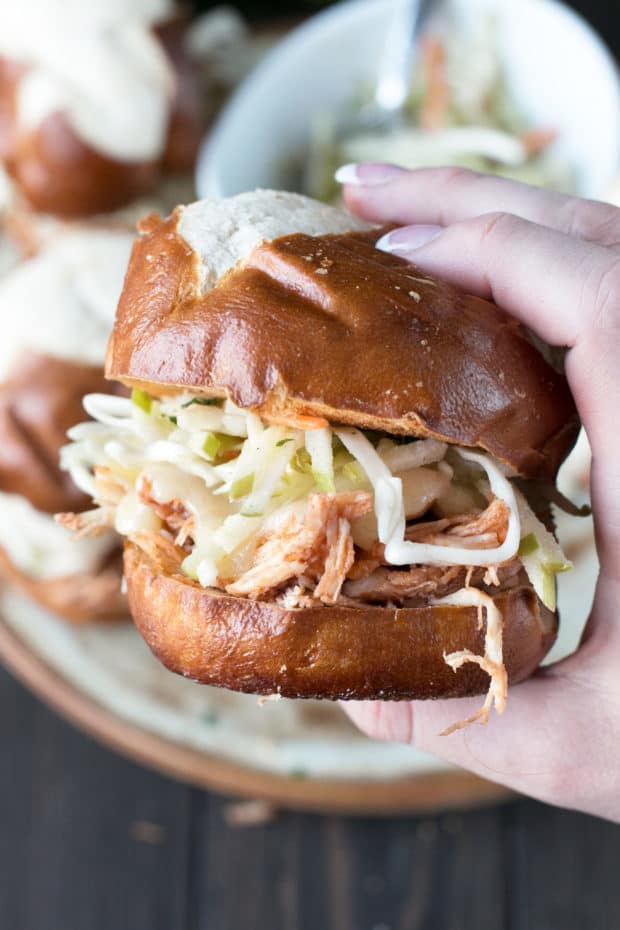 Please note that some of the links below are affiliate links. If you make a purchase through one of these links, I will receive a small commission.
Apples, apples everywhere and not a one to pick…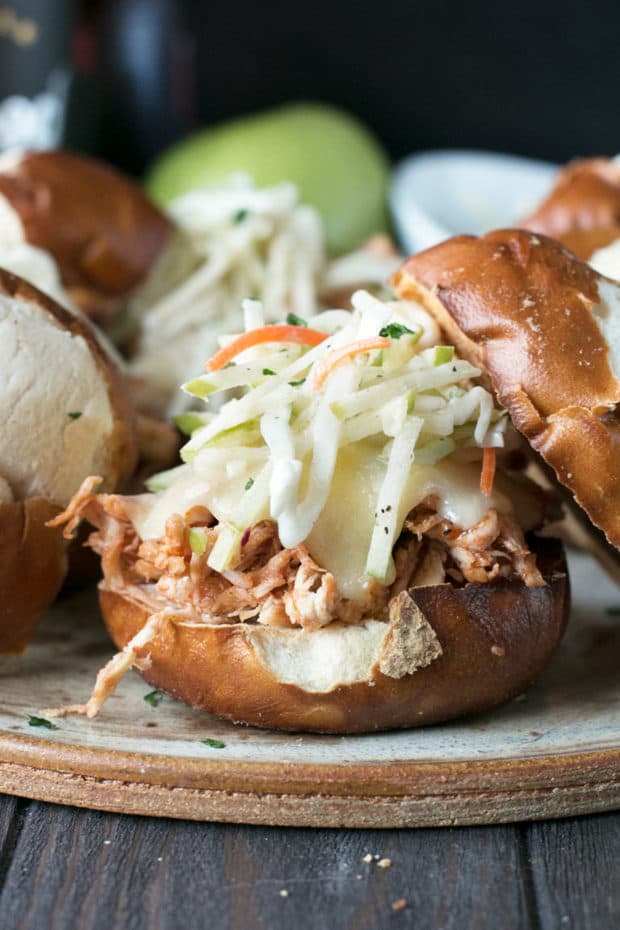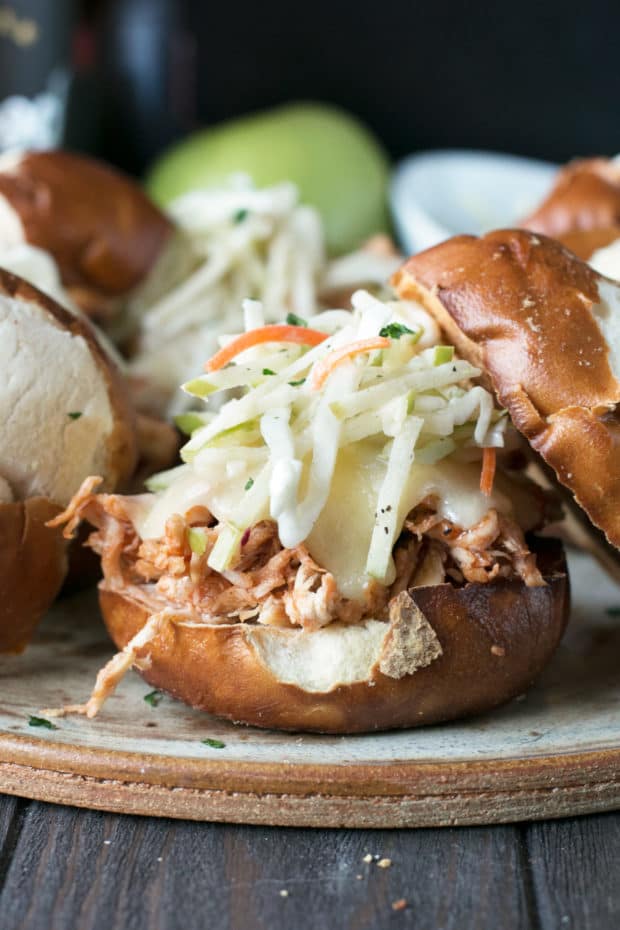 Apple anything is one of those fall time flavors that brings me back to years and years of memories about fall.
When I lived in Kansas City, my favorite part about fall was when my mom and I could go out to the apple orchards to pick apples. We would pick apples all day long, try different types of honeys, and always grab some cider for the long drive home.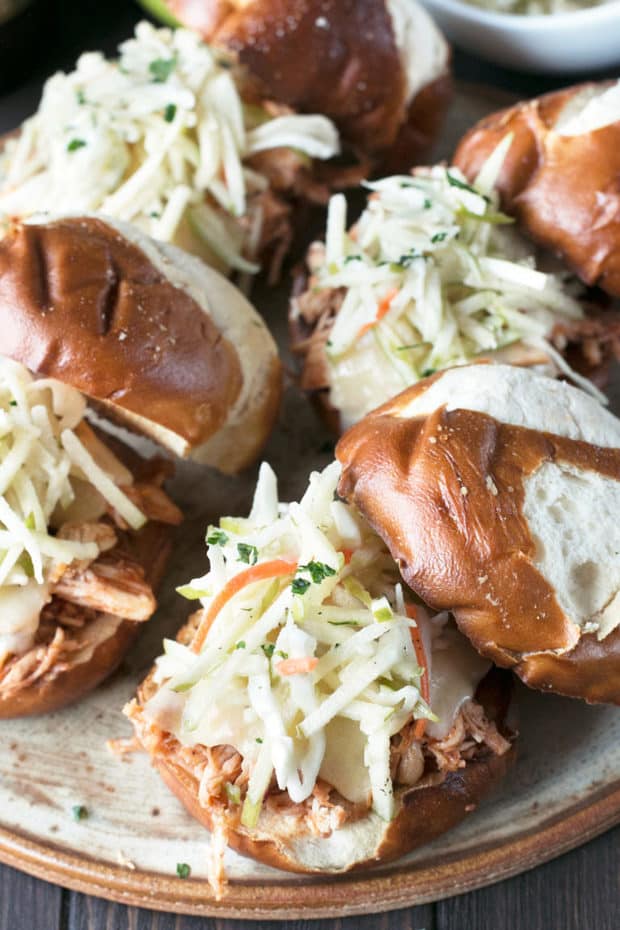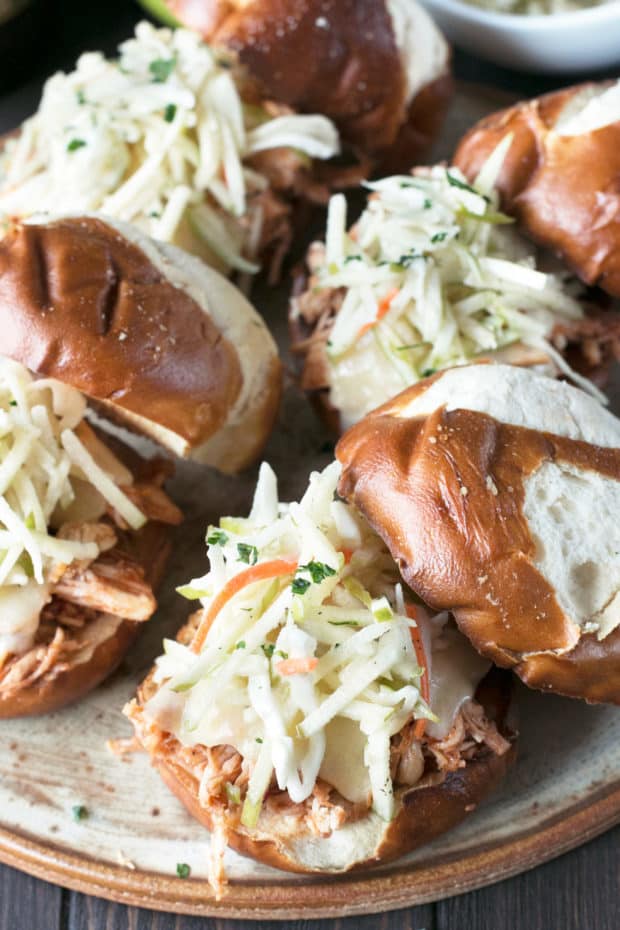 I would love to search for the prettiest apples – you know the ones that were perfectly red like the poisoned ones in Snow White?
Back then I had jet black hair cut short with bangs and oh-so white skin, so I pretty much WAS Snow White (at least that's what all the school photographers would call me when I went to sit for my yearbook picture…).
I used to hate it, but when I was in those apple orchards, I would play the game of finding the perfectly red apple with one part that was a little green.
I would pretend it was the part of the apple the witch forgot to poison so when I took a bite, I would be safe.
It's funny how these memories come rushing back when you think about certain foods, isn't it?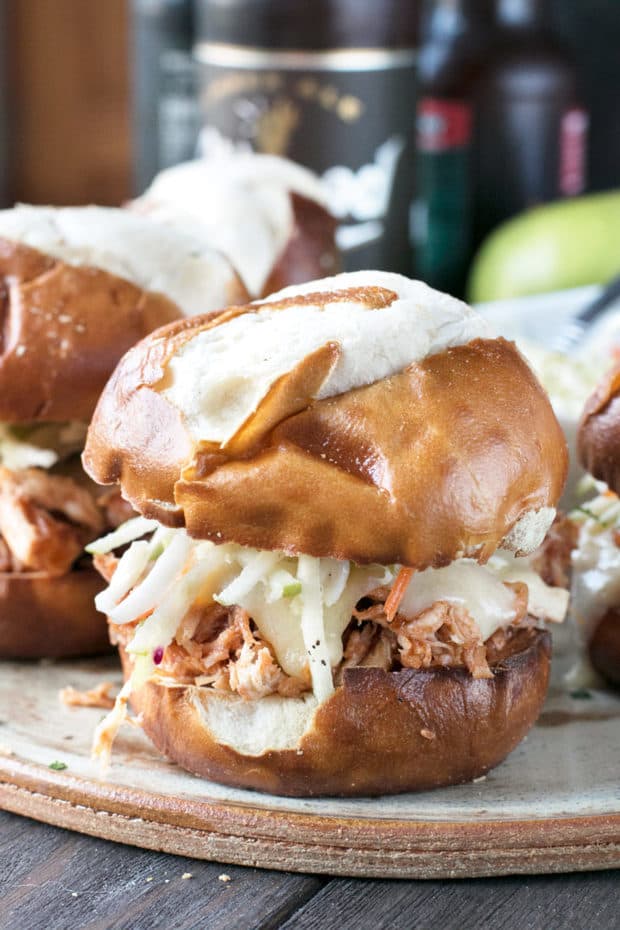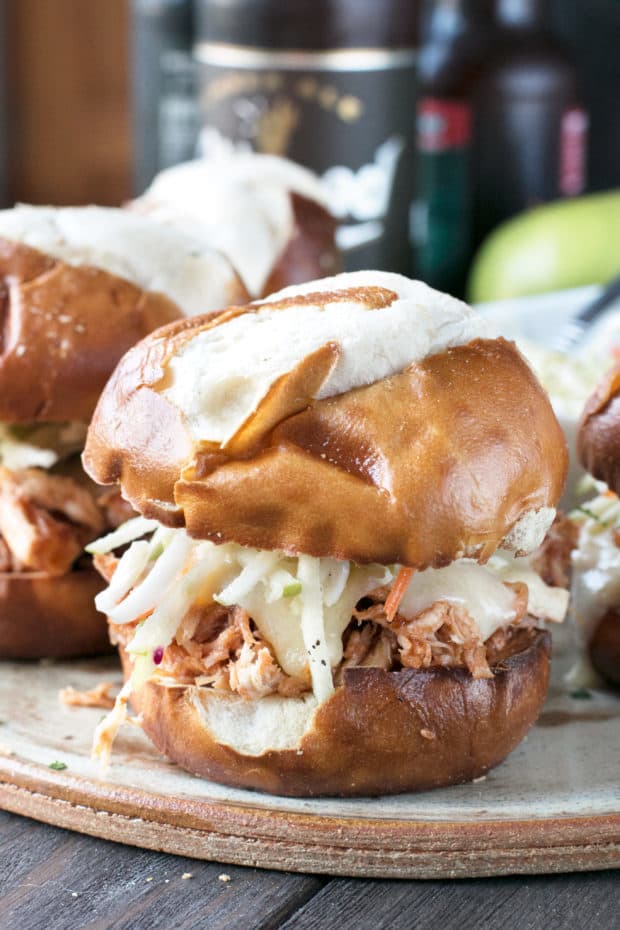 Anyway, apples are such a staple in my fall menu, but I have never really explored the savory part of the apple.
So I decided to take all those flavors from those orchard trips I used to take and infuse them into some juicy, oh-so tender sliders just for prime tailgating season!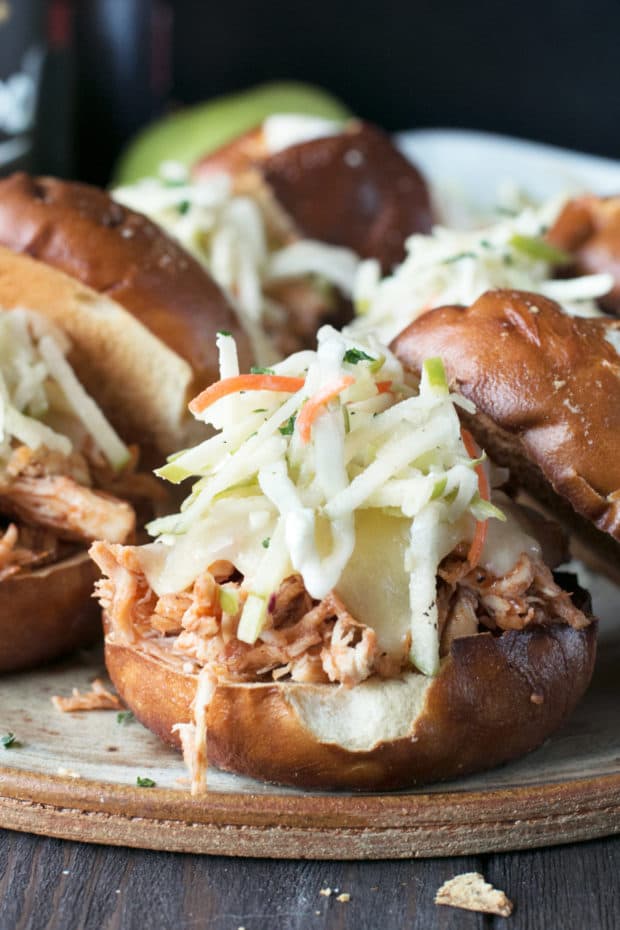 The chicken is slowly cooked with apple cider and apple cider vinegar to make it nice and juicy. It practically melts in your mouth, it's that tender.
You pair this apple cider chicken with a toasted pretzel roll and white cheddar cheese, and you have a pretty amazing handheld sandwich…
But wait, there's MORE!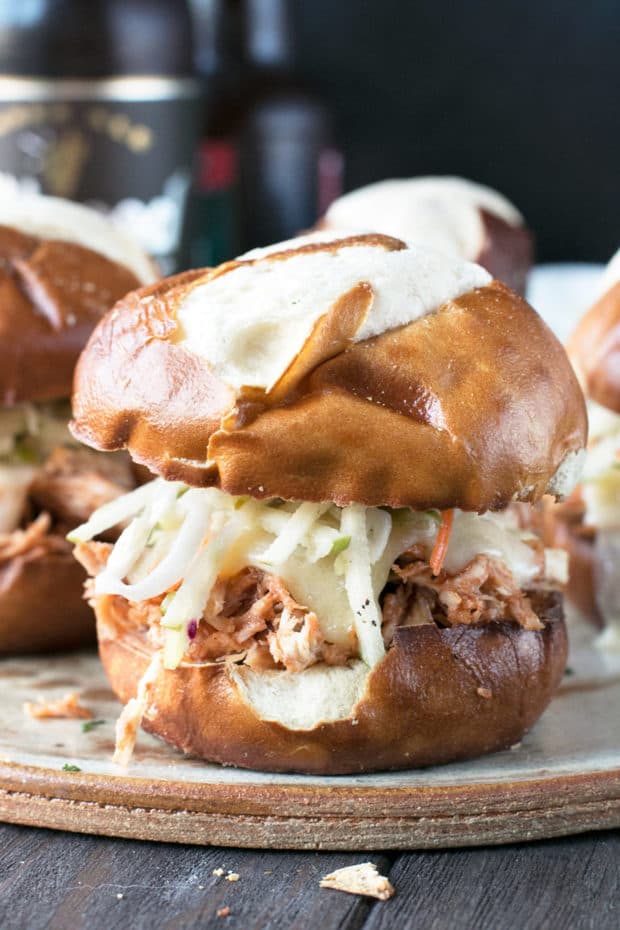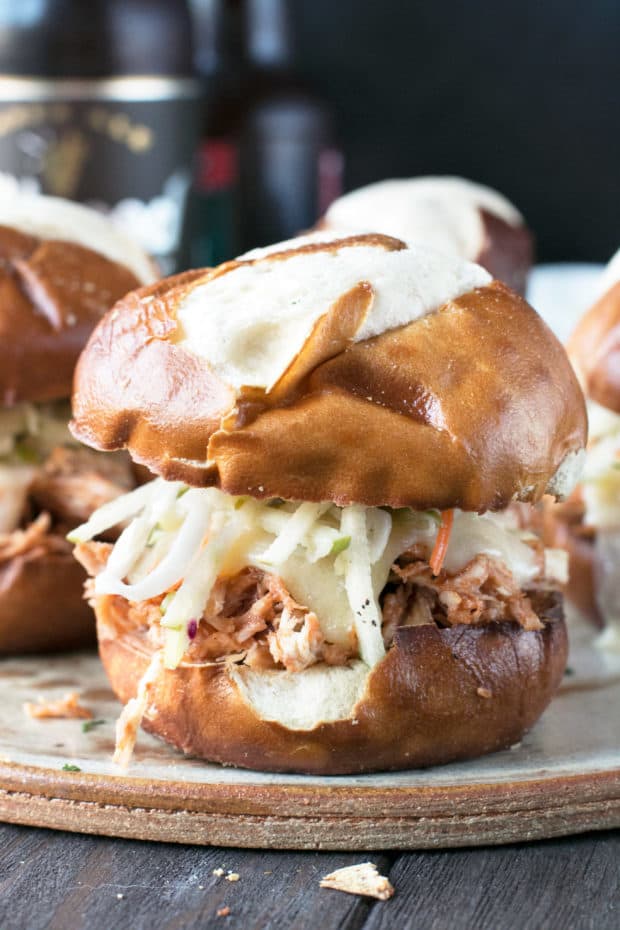 To top it allllll off, I pile on a crunchy, zesty apple cabbage slaw that gives you an extra tang from the Granny Smith apple. It's just the right combination of savory and sweet, tangy and crunchy… plus it's nice and filling so it's great for serving on game day!
Let's celebrate fall and tailgating season a little more, shall we?!
I am partnering up for another year of tailgating recipes with some of my fav food bloggers! From Pumpkin Pulled Pork Bowls to Chorizo Stuffed Bacon Wrapped Dates to Jalapeño Ranch Dip, you'll find everything you need to win at this whole tailgating thing below the recipe! CHECK. IT. OUT.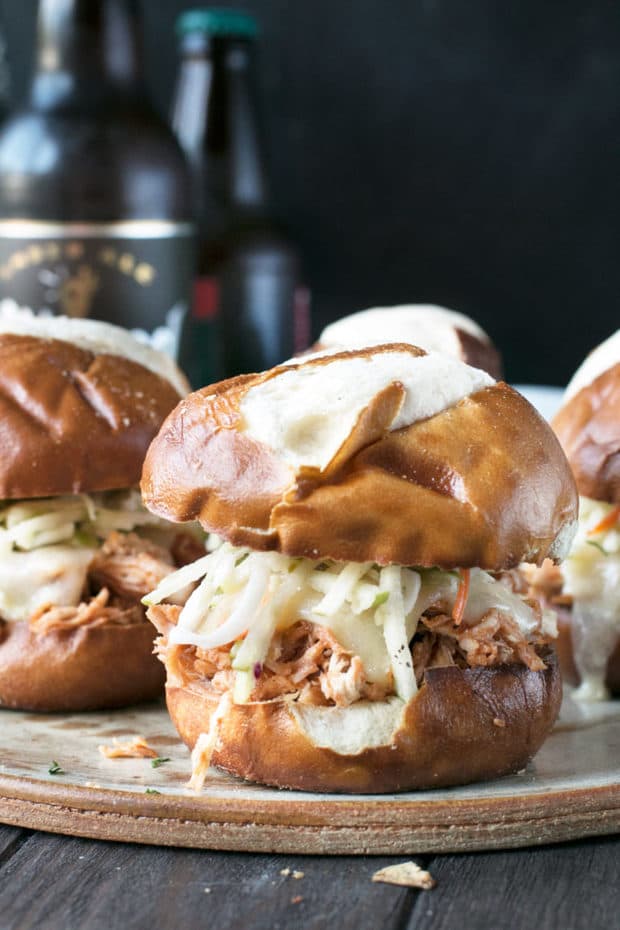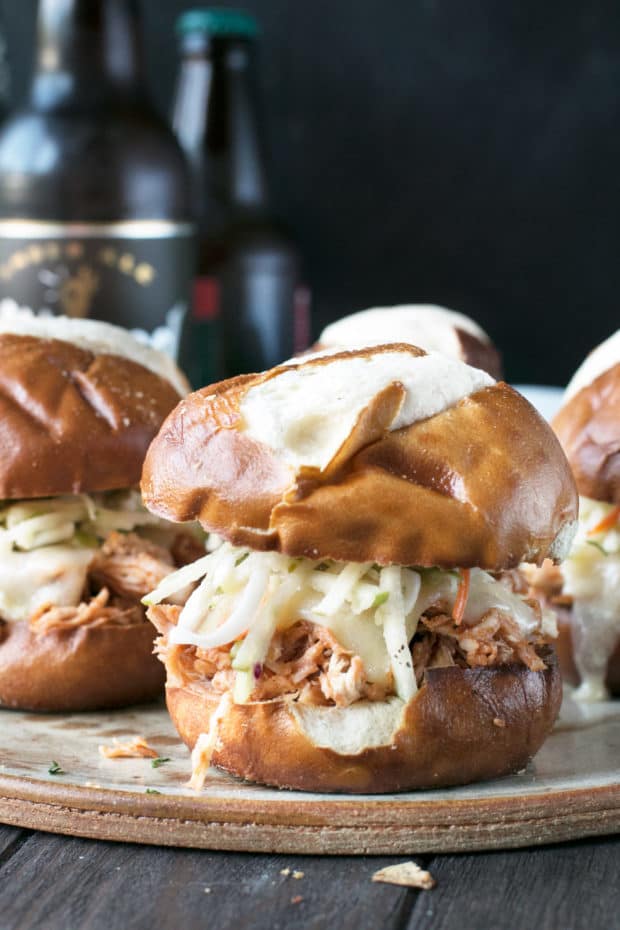 This Recipe's Must Haves
Instant Pot 6 Qt 7-in-1 Multi-Use Programmable Pressure Cooker
because you can cook quick when you're in a rush OR slow when you are running out for the day!
Shun Classic 8-Inch Chef's Knife = my go-to always reliable knife
Nordic Ware Natural Aluminum Commercial Baker's Half Sheet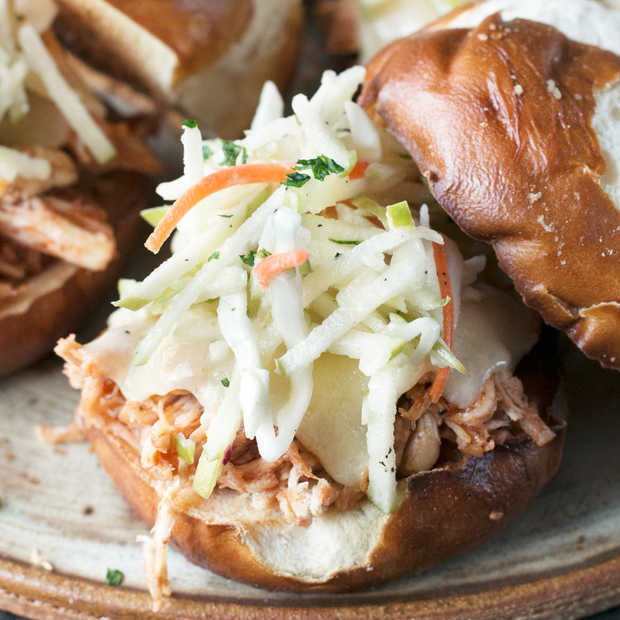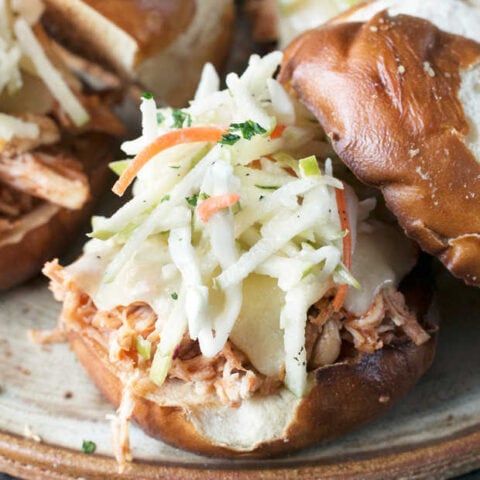 Slow Cooker Apple Cider Chicken Sliders
Cook Time:
8 hours
5 minutes
Total Time:
8 hours
15 minutes
Chicken is slow cooked in apple cider and other spices, making it juicy and tender. Pile that up on toasted pretzel buns with melted white cheddar and a crunchy apple cabbage slaw, and you have the fall slider that's perfect for any gathering!
Ingredients
Slow Cooker Apple Cider Chicken
1/2 yellow onion, thinly sliced
1 1/2 cup apple cider
1 1/2 Tbsp molasses
1 Tbsp apple cider vinegar
1 Tbsp smoked paprika
1/2 tsp garlic powder
1/4 tsp cumin
1/4 tsp salt
1/2 tsp black pepper
3 lbs boneless, skinless chicken breasts
Sliders
6 slider pretzel buns, halved and toasted
6 slices white cheddar
Optional: your favorite BBQ sauce
Apple Cabbage Slaw
1 green apple, cored and thinly sliced
1 scallion, thinly sliced
1 lb shredded cabbage or coleslaw mix
1/4 cup apple cider vinegar
1/3 cup mayonnaise
1/2 Tbsp sugar
1/4 tsp garlic powder
1 tsp freshly squeezed lemon juice
Pinch of salt
Instructions
In the bottom of a slow cooker, add sliced onion, apple cider, molasses, apple cider vinegar, smoked paprika, garlic powder, cumin, salt, and black pepper. Stir to combine.
Add chicken breasts to slow cooker. Cook on low for approximately 6 to 8 hours, until cooked through. You can also use a pressure cooker and cook for 15 to 20 minutes.
Remove chicken from the slow cooker or pressure cooker to a large bowl. Using two forks, shred chicken. Set aside.
In a medium bowl. toss together ingredients for the apple cabbage slaw until well combined.
To assemble the sliders. add a good helping of shredded chicken to the bottom halves of the toasted pretzel slider buns. Add a slice of white cheddar cheese on top of each.
Place bottom halves of the sliders on a sheet pan. Place under the broiler set to high and broil until the cheese is melted, approximately 2 minutes.
Remove from heat and top with your favorite BBQ sauce, if desired. Add a good pinch of the apple cabbage slaw on top. Finish with the top half of the slider bun. Repeat with remaining sliders and serve.
Recommended Products
As an Amazon Associate and member of other affiliate programs, I earn from qualifying purchases.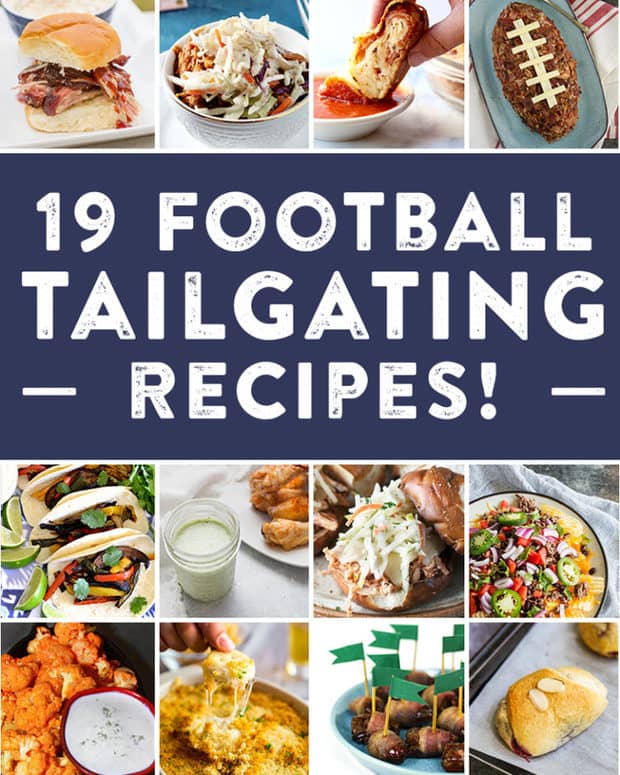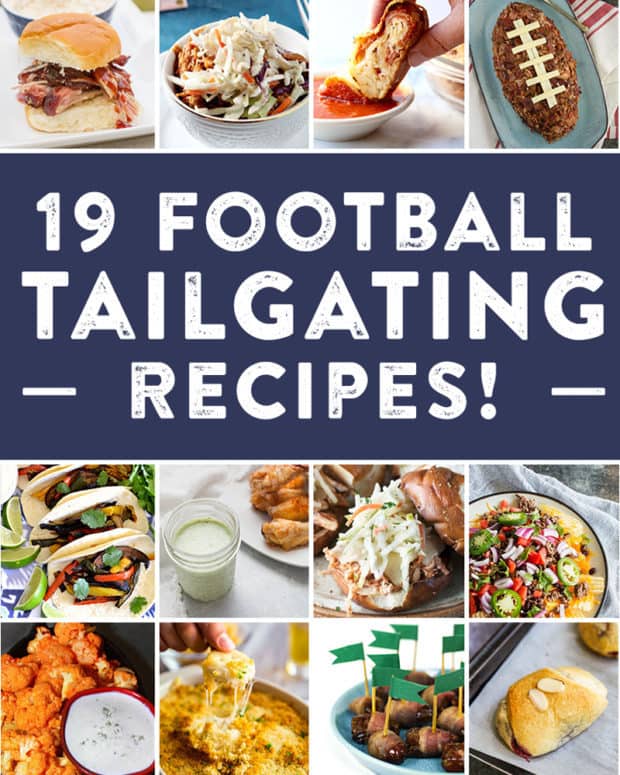 Chicken Swiss Dip by The Life Jolie
Creamy Pepita Dip by The Mexitalian
Traeger Pulled Pork by Or Whatever You Do
Slow Cooker Apple Cider Chicken Sliders by Cake 'n Knife
Baked Brie Crescent Bites by The Culinary Compass
Aunt Julie's Pepperoni Bread by Off the Eaten Path
Jalapeño Ranch Dip by A Joyfully Mad Kitchen
Corn Dip by Me and My Pink Mixer
Chorizo Stuffed Bacon Wrapped Dates by Feast + West
Easy Pepperoni Bread by Love Bakes Good Cakes
Bacon Wrapped Cheese Smokies by West Via Midwest
Easy Roasted Veggie Fajitas by Hello Little Home
Pumpkin Pulled Pork Bowls by The Speckled Palate
Caramelized Onion Dip by Culinary Adventures with Camilla
Easy Potato Chip Nachos by Honey and Birch
Apple Pie Twists by 2 Cookin Mamas
Buffalo Cauliflower + Blue Cheese Dressing by For the Love of Food
Pigskin Cheeseball by Love & Flour