Spiced Rum Punch is packed with winter spices, a homemade simple syrup and delicious spiced rum. Fair warning, this punch packs a punch, but you won't be able to tell when you taste it!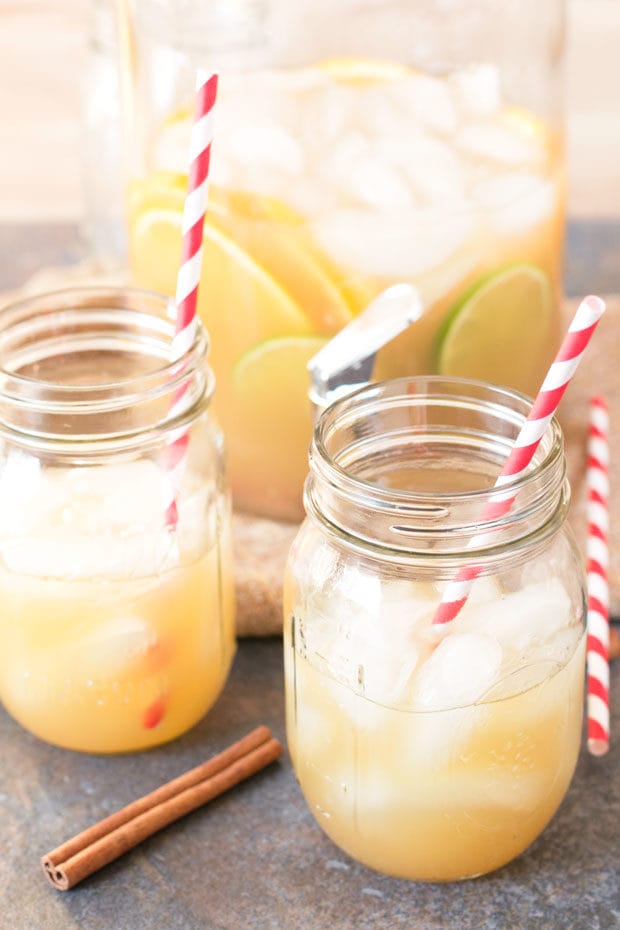 Any Gilmore Girls fans out there?
I don't know how you felt about the new season (there were some high's and some low's and the ending… I still don't know how I feel about it), but when I binge-watched the entire thing in a day with my bestie, I wanted to make it as authentic as possible.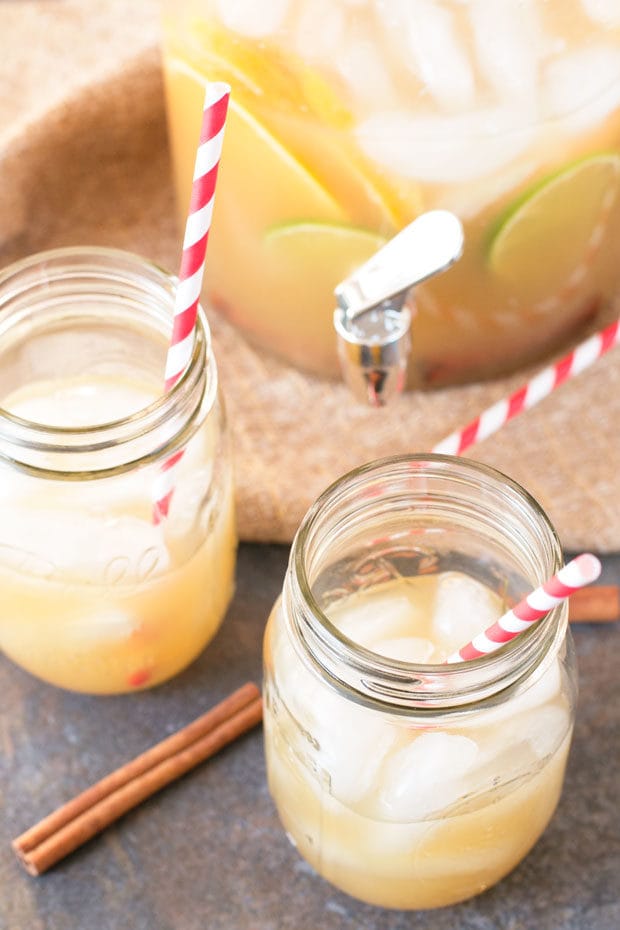 Do you remember that legendary Founder's Day Punch that was served throughout the seasons?
This is my very own version of that!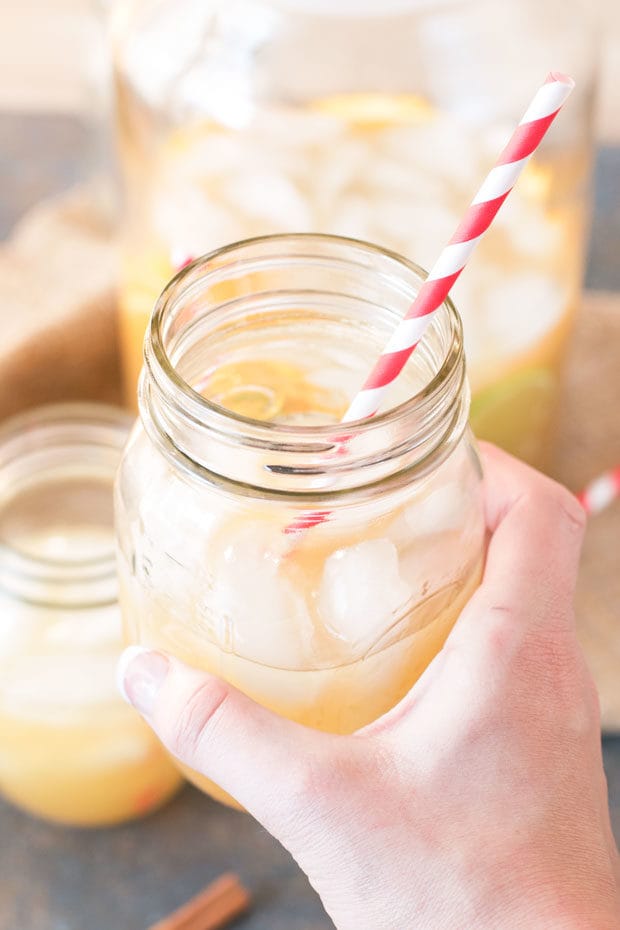 It's that punch that packs a serious wallop, but upon the first sips you would never actually realize how much booze is hidden in every cup. Instead you swoon over the winter spices, as well as the cinnamon and orange combination, hoping that you'll be able to indulge in glass after glass.
Then you hit the bottom of your second glass, the floor starts moving and you think to yourself "well, that happened a lot faster than I thought it did…"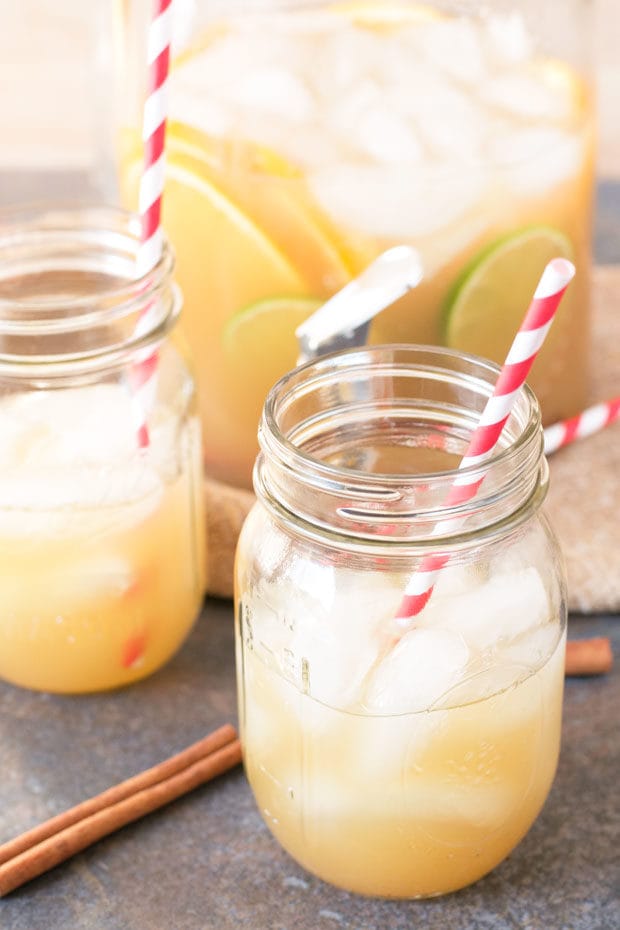 In other words, it's one of the ways to survive all of the holiday family drama that might be filling yourself. Or it can be the savior of that holiday party that seems to be a bit of a dud. Or it can be that glass of deliciousness that you look forward to all day long so you can get through the final days before your holiday break.
You'll saddle up to a big ol' glass of this spiced mixture of happiness and you'll instantly be reminded why all the flavors of the winter season totally ROCK.
Mix up a batch and spread that cheer from ear to ear!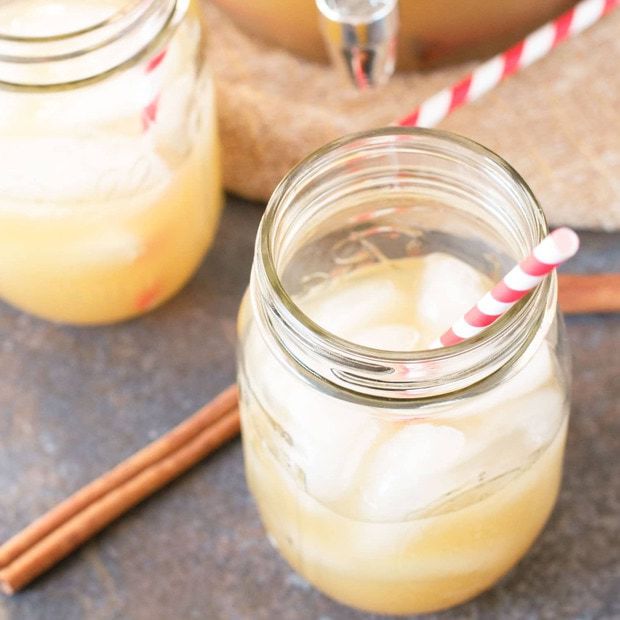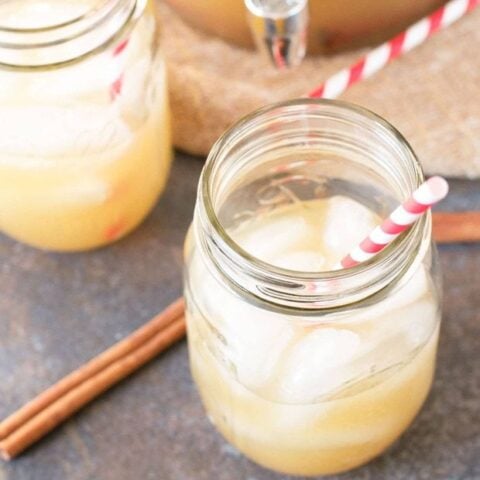 Spiced Rum Punch
All those warming spice you love, paired with spiced rum in a punch that'll knock ya on your butt!
Ingredients
4 cinnamon sticks
1/2 cup water
1/2 cup sugar
2 cups spiced rum
1 1/2 cups fresh orange juice
1/2 cup lemon juice
1 orange, sliced
1 lime, sliced
Ice
Instructions
In a small saucepan, combine cinnamon sticks, water and sugar. Stir and bring to a boil over medium-high heat.
Once boiling, remove from heat and let steep for 20 minutes.
Cool completely before making the punch.
In a large punch bowl or beverage dispenser, stir together spiced rum, spiced syrup, orange juice, lemon juice, sliced orange and sliced lime.
Fill with ice and serve chilled.
Recommended Products
As an Amazon Associate and member of other affiliate programs, I earn from qualifying purchases.