Please note this post contains affiliate links.
Spicy Heirloom Tomato Whipped Herb Goat Cheese Bites are my favorite way to make the most of Spring flavors, especially those gorgeous heirloom tomatoes that are finally popping up everywhere. This fresh and simple appetizer is ideal for any springtime gathering you have planned – and it also makes a killer midnight snack… Just sayin'.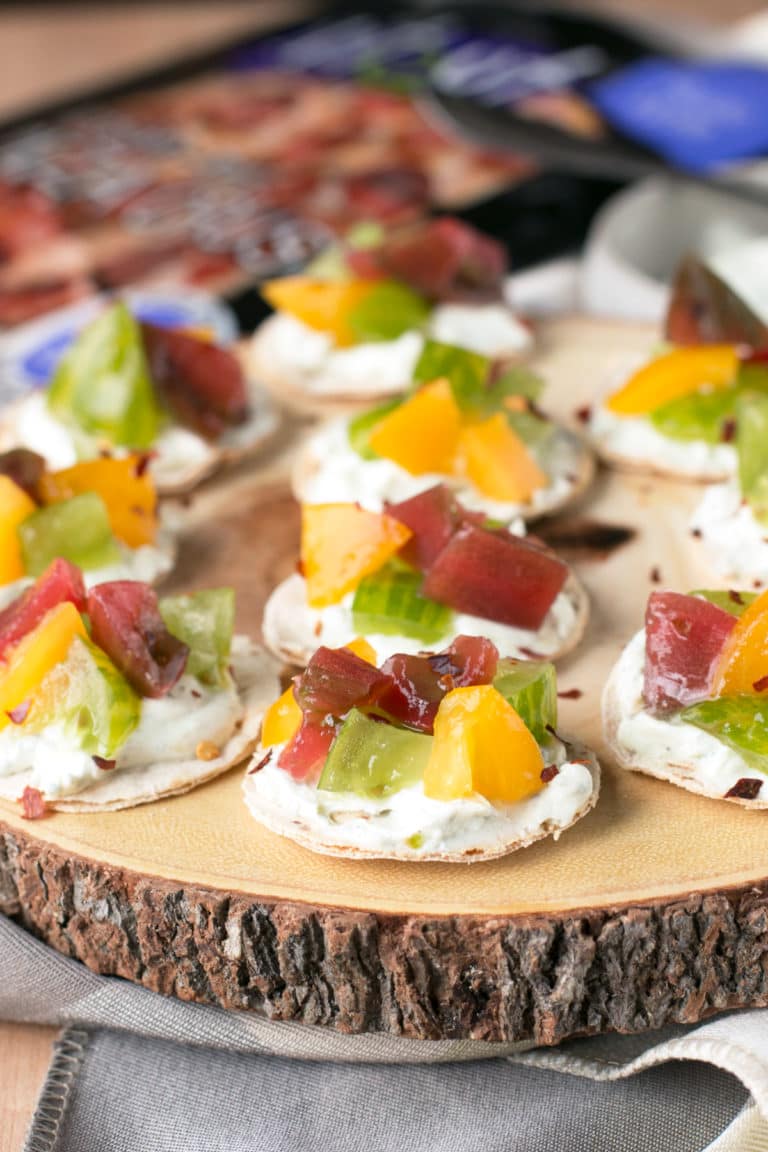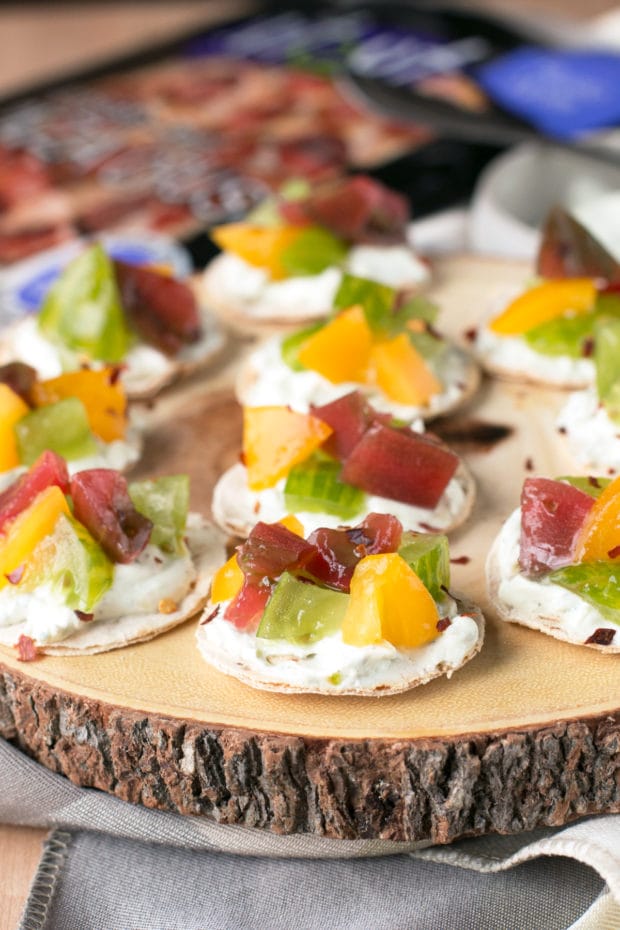 Do you ever find yourself getting distracted by life and having special occasions creep up on you wayyyyy too fast?
Anytime (well, outside of Thanksgiving and Christmas because we get bombarded with it for months leading up the the actual days) I have a party to host or a gathering to go to, I tend to kind of space the fact that I need to make something for said event.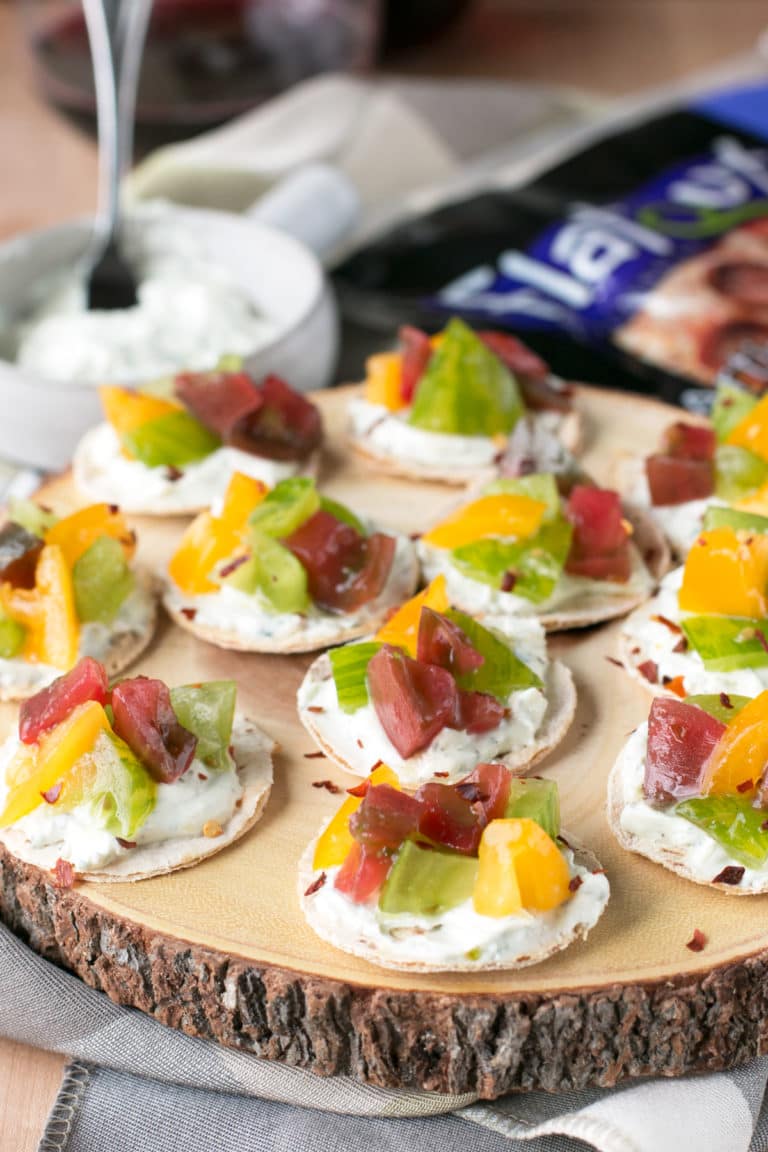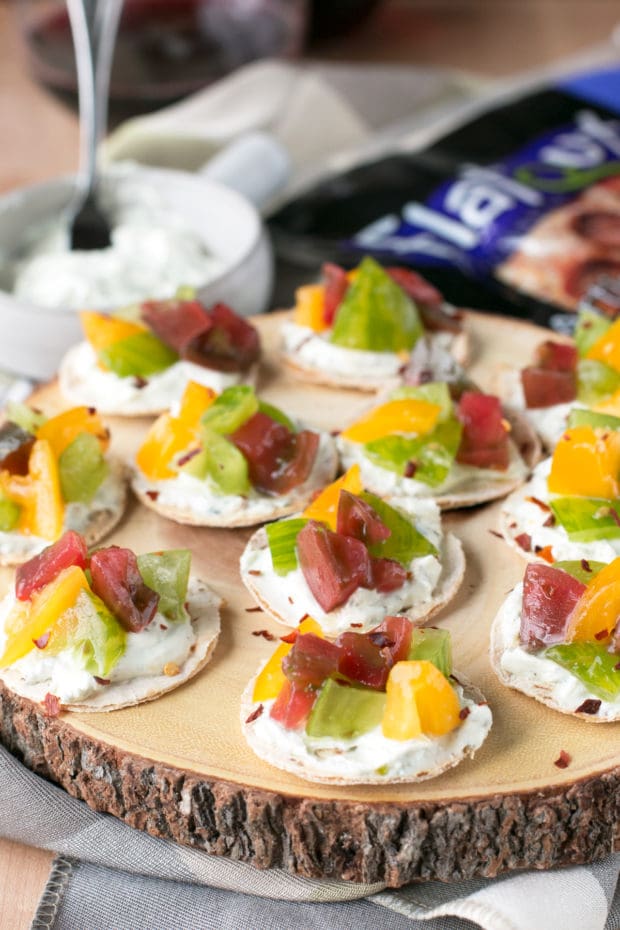 I know, I know… shame on you, ms. food blogger! You should be better than this!
What can I say? I'm merely human and when you are in between two giant trips, while trying to meet 20 deadlines, you tend to forget how to function like a normal human being.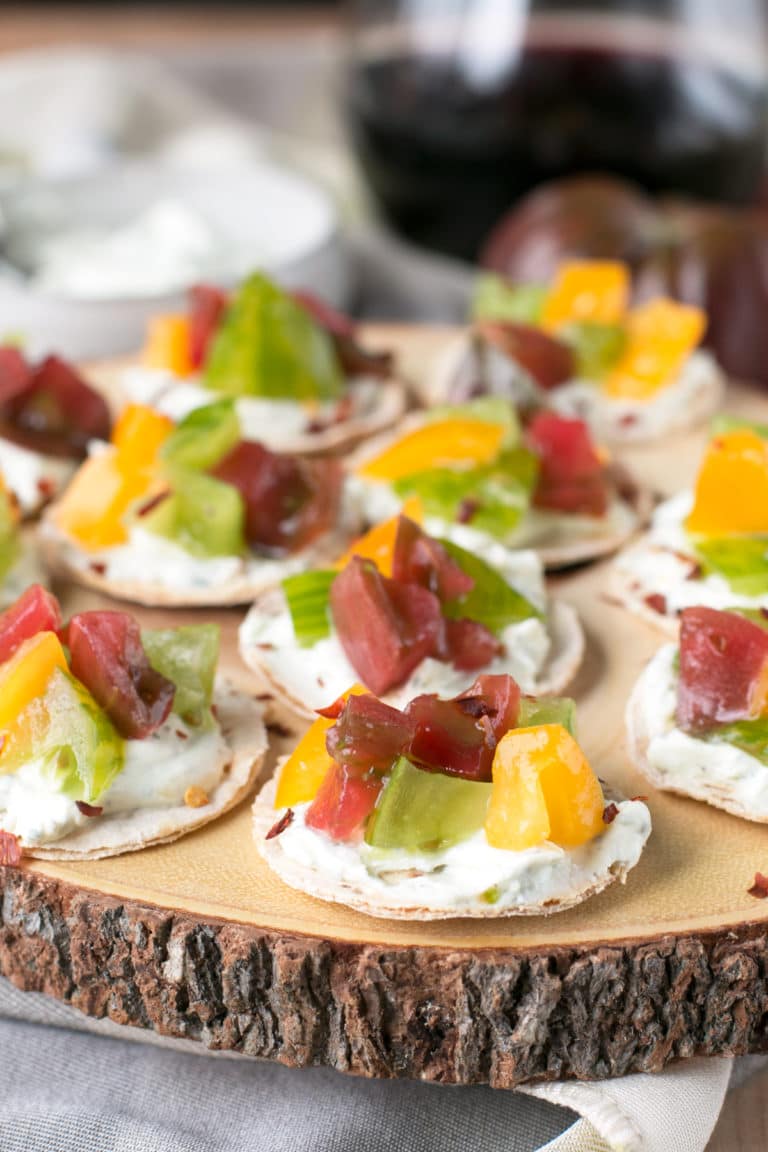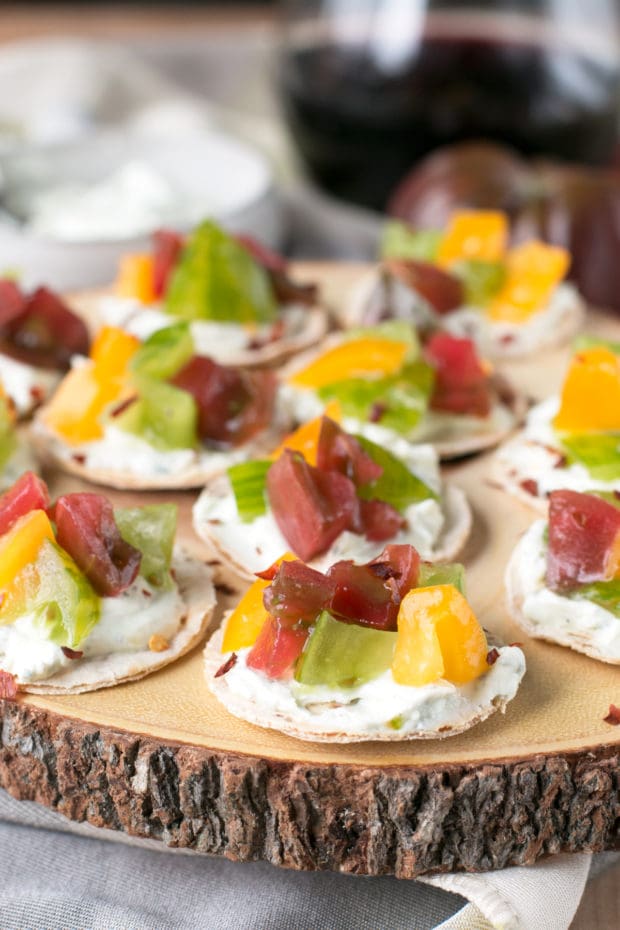 These little bites of fresh herbs, tomatoes, goat cheese and flatbread are my solution to keeping sane and still serving up a tasty bite that is oh-so Spring! It starts with something fairly simple here, folks.
My favorite pre-made thin pizza crust.
When you want to make life easy, you turn to your most trusted products. When I really want to nail a bite-size appetizer with a crispy flatbread bottom, I turn to Flatout Flatbread.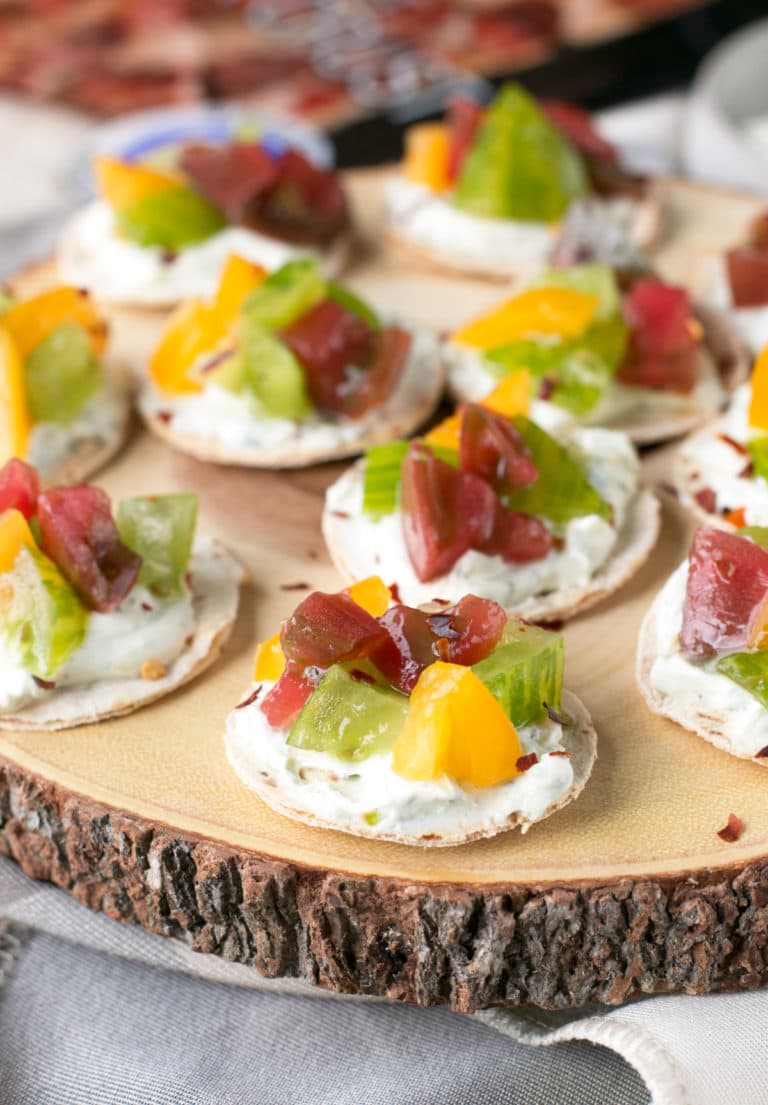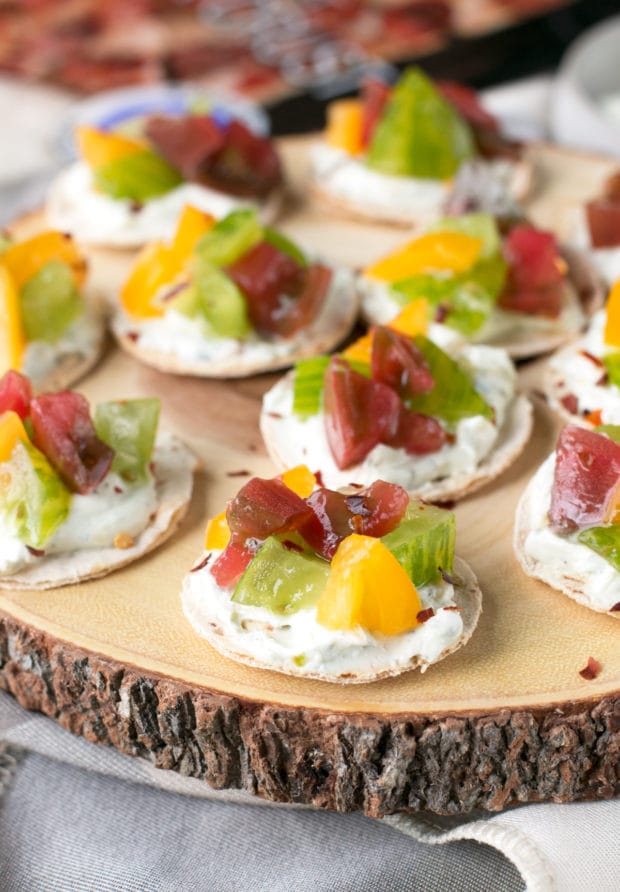 Flatout Rustic White Flatbread Pizza Crusts are the ideal bottom for these little appetizers. The rustic white pizza crust bakes up in less than 10 minutes (which is awesome for when you use these guys in flatbreads or pizzas, like my Southwestern Shrimp Flatbread) and taste rich in flavor, without being heavy in calories. Personally I like baking up bite-sized pieces of these pizza crusts instead of simply using crackers! The flavor is better, it tastes even more crispy, and they don't overwhelm the delicious toppings.
And we should really talk about these crazy good toppings. A freshly whipped herb goat cheese. Chopped, plump heirloom tomatoes. A pinch of red pepper flakes. You have tart, tangy, fresh, slightly sweet, and spicy, all piled up on bites of crispy thin pizza crust bites.
All in all, it's basically springtime in your mouth!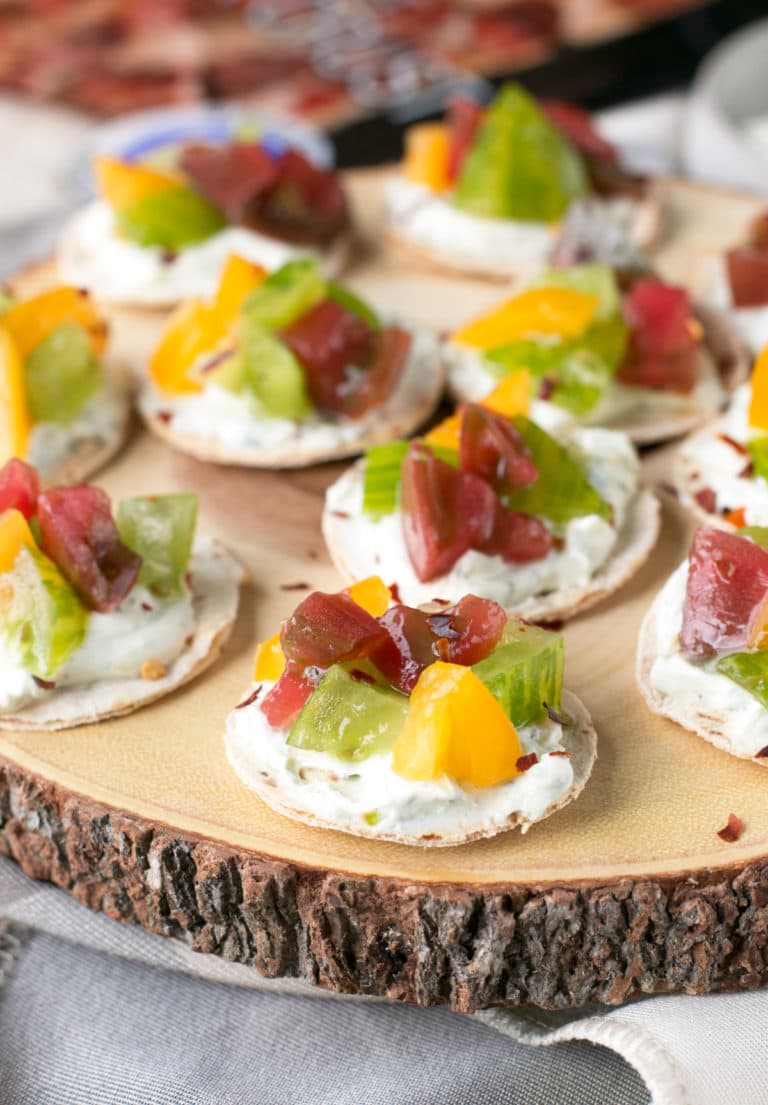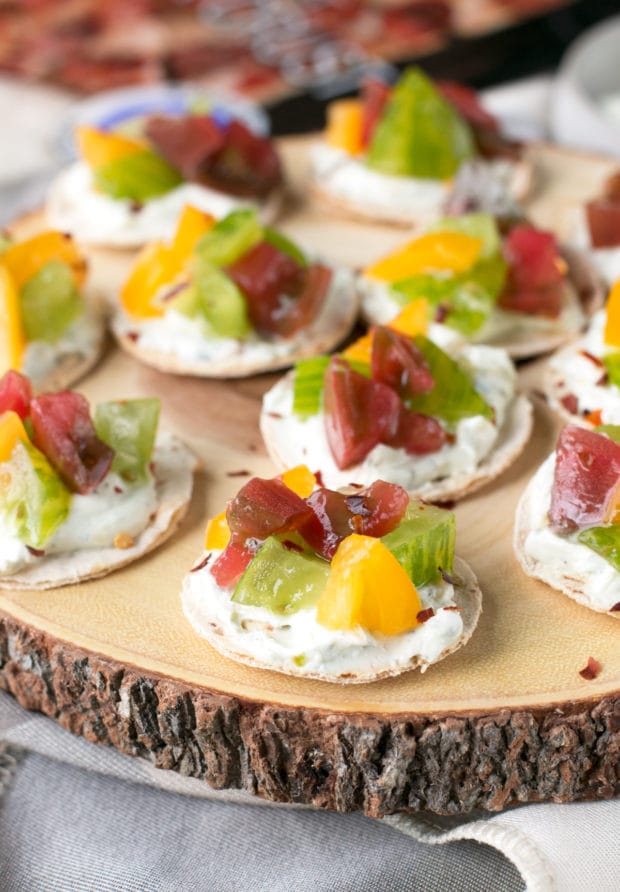 Please note that some of the links below are affiliate links. If you make a purchase through one of these links, I will receive a small commission. Thank you for supporting Cake 'n Knife!
This Recipe's Must-Haves
Make your life easier and use the tools I use! From measuring spoons to mixing bowls, the tools below are my favs to get the recipe done right.
Nordic Ware Baker's Half Sheet
All-Clad Stainless Steel Measuring Cups
All-Clad Stainless Steel Measuring Spoons
Stainless Steel Mixing Bowls
Disclosure: This post is sponsored by Flatout Flatbread! While I was compensated and given free product in exchange for this post, as always, all opinions and the recipe are my own. Thanks for supporting the brands that support Cake 'n Knife!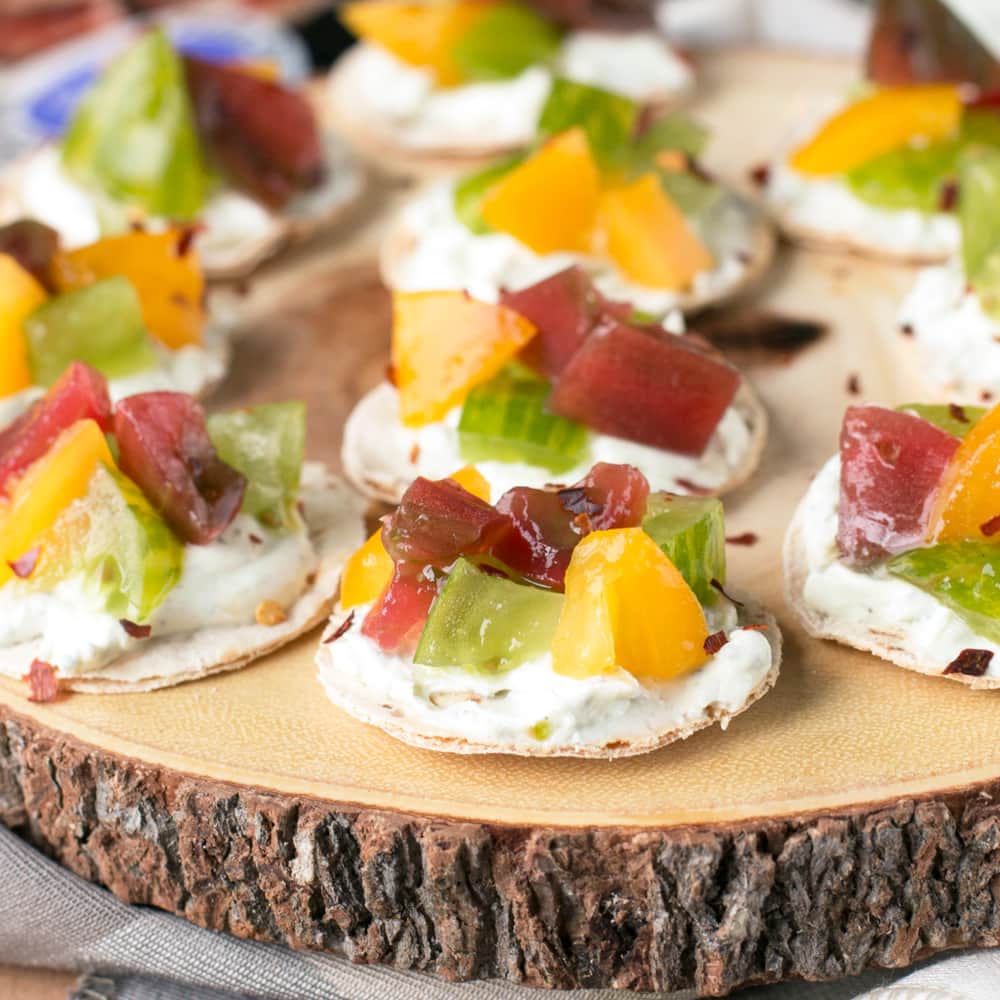 Spicy Heirloom Tomato Whipped Herb Goat Cheese Bites
Tangy, fresh herb whipped goat cheese if the ideal pairing for ripe heirloom tomatoes, piled up on deliciously toasted bites!
Ingredients
Herbed Goat Cheese
10 oz goat cheese
2 1/2 Tbsp whipped cream cheese
1/2 tsp fresh thyme leaves
1/2 tsp fresh oregano leaves
Salt and pepper
Tomato Bites
4 Flatout Rustic White Flatbread Pizza Crusts, cut into 1 1/2" rounds
3-4 heirloom tomatoes (variety of colors), chopped
1/2 tsp red pepper flakes
Instructions
Preheat oven to 350 degrees.
Place rounds of pizza crust in an even layer on a half baking sheet. Bake for 5 to 8 minutes, until the edges are golden and crisp. Set aside.
Add goat cheese, whipped cream cheese, thyme, and oregano to the bowl of a food processor. Puree until smooth. Season with salt and pepper to taste.
Spread rounds of crispy pizza crust with 2 tsp whipped goat cheese.
Top with chopped heirloom tomatoes, making sure to use a variety of colors on each round.
Sprinkle with red pepper flakes. Serve immediately.