Please note this post contains affiliate links.
Everyone should know how to make pumpkin puree in the fall. Pumpkin puree can be use in so many different ways, from sweet to savory! Why settle for what's in the can when you can make it for yourself at home (with little to no effort, I may add)?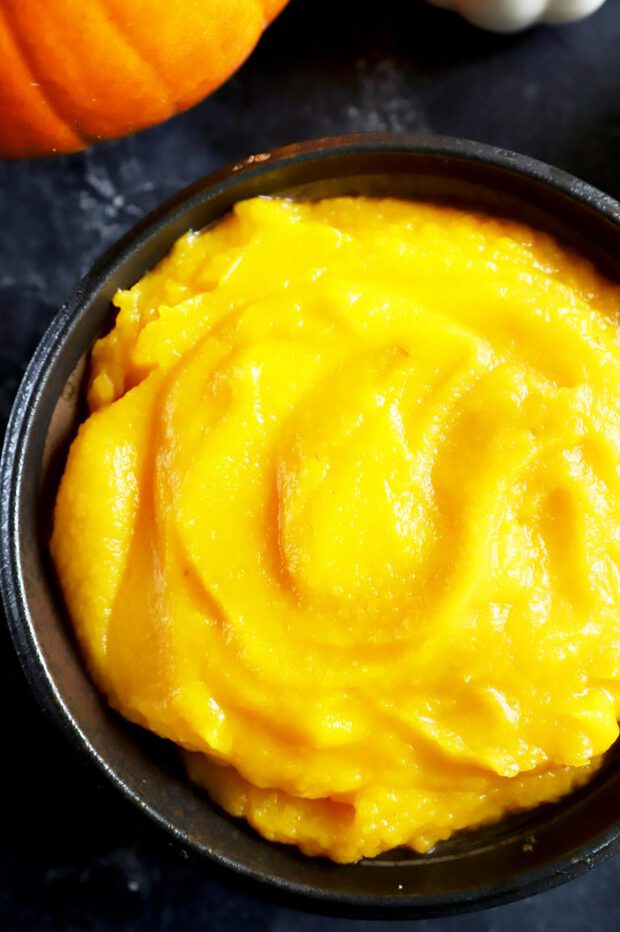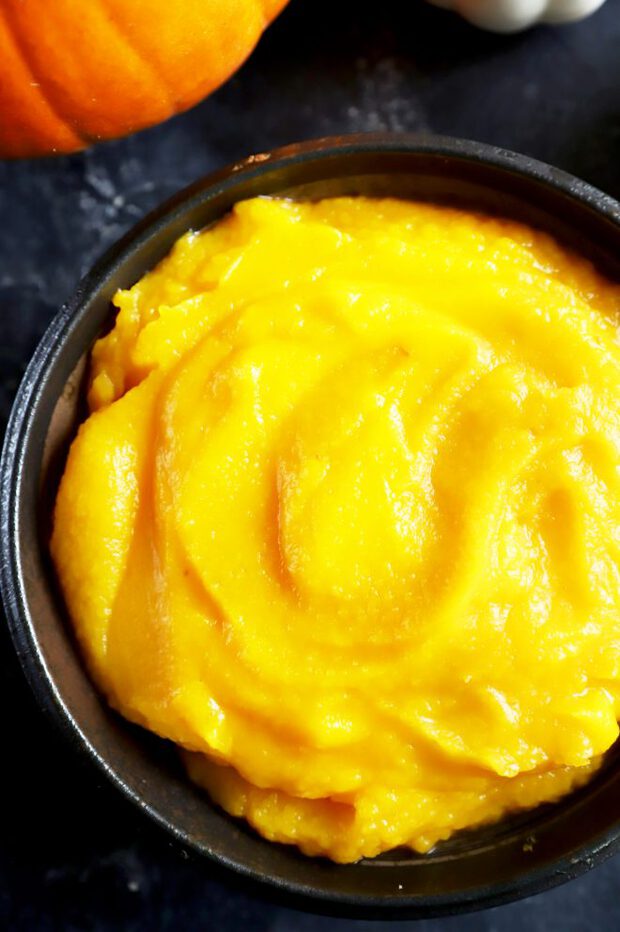 But… I can just buy pumpkin puree in can… Why should I make it at home?
I mean, first and foremost, because it tastes better. DUH.
There are some things that it doesn't matter if you buy pre-made or if you make at home (pickles are one of those in my opinion, because I'll never be able to make a kosher dill like what I can buy, and I accept that). However there are certain things that, when you make them at home, really make a difference.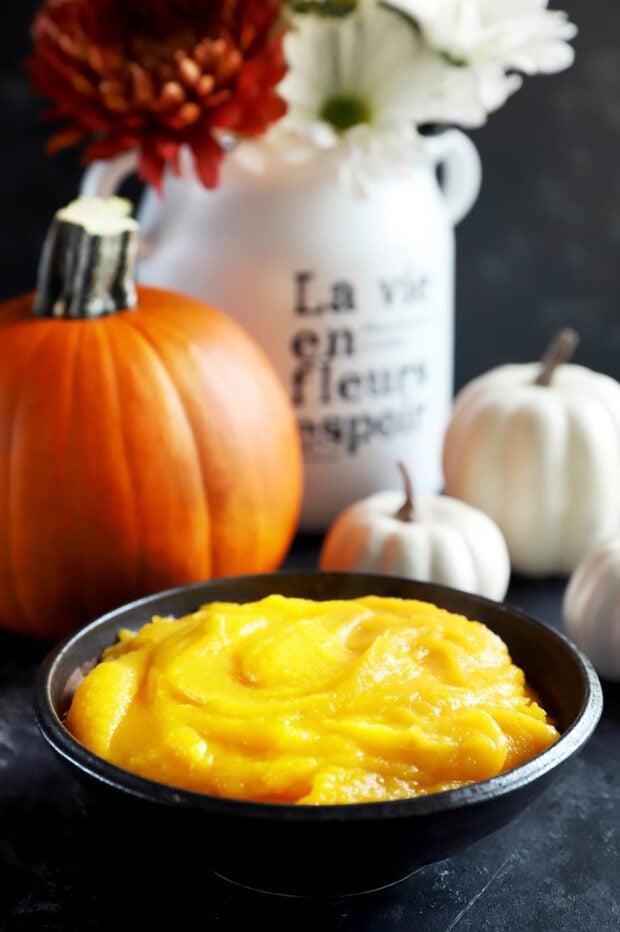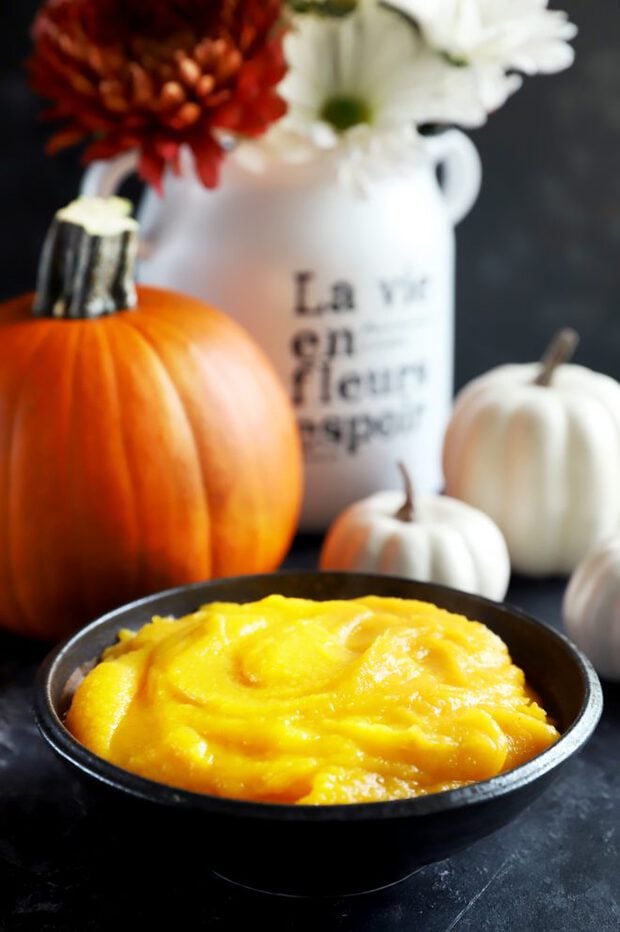 Pumpkin puree is one of those for me. I love using pumpkin all season long in both sweet and savory preparations. To me, the stuff in the can is fine, but it does tend to have a bit of a tinny flavor from the can. Yes, this can be covered up, but you can't get the richness that you can when you are roasting and pureeing those pie pumpkins yourself.
This is my simple and straightforward guide on how to puree pumpkin. In this post, I've written it out in detail with tips and tricks for you along the way. However, if you just want the specific recipe, without the frills, scroll on down to the bottom of this post for that.
Ready to dive in?
Here we go!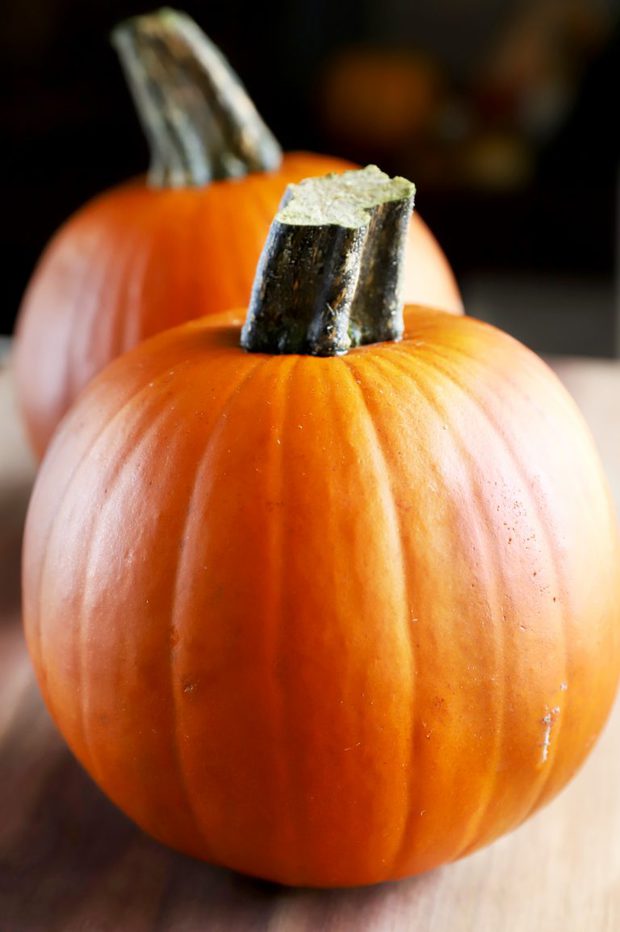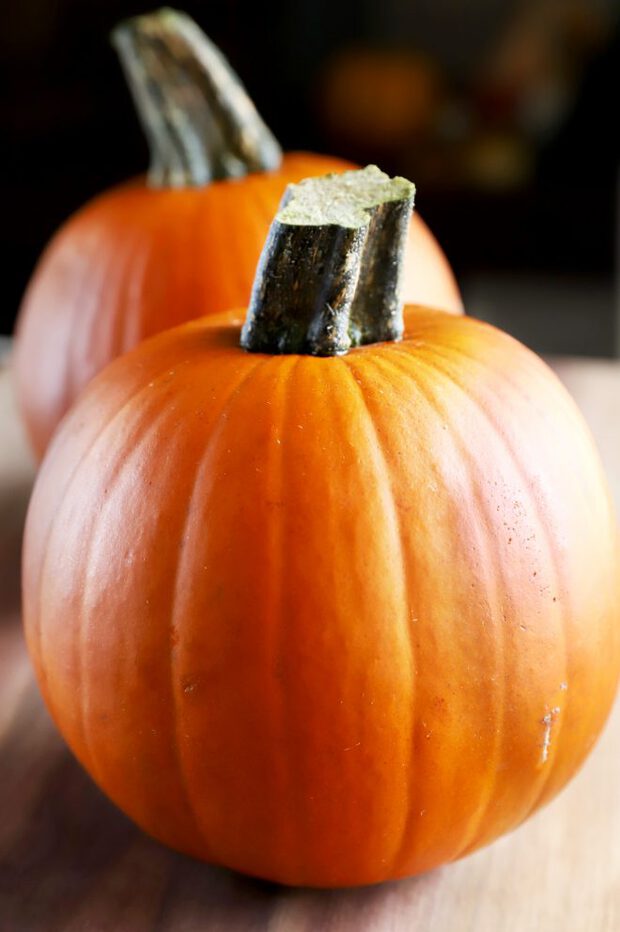 This Recipe's Must-Haves
Let's start with all the necessities.
You will need to get a 4 to 6 lbs baking pumpkin from your local grocery store or pumpkin patch.
Get out your chef's knife and cutting board so you can easily split the pumpkin. Also be sure to grab a spoon (I like using a grapefruit spoon because of the sharp pointed edges) to dig out the seeds and fibers.
You'll also need a half baking sheet for baking and either a food processor or high-speed blender like a Vitamix to finish the puree in.
How To Make Pumpkin Puree

Halve Pumpkin
Time to grab your chef's knife! To begin, while the oven is preheating, use a knife to remove the stem of the pumpkin. You don't need to dig every bit out of there, this is mostly to make sure you don't burn the stem and cause your oven/house to fill with the smell of burnt stem.
Cut your pumpkin in half from top to bottom. This can take a bit of work because pumpkins are pretty tough. Just be careful and make sure you have a good grip on the pumpkin so it doesn't go rolling away on you.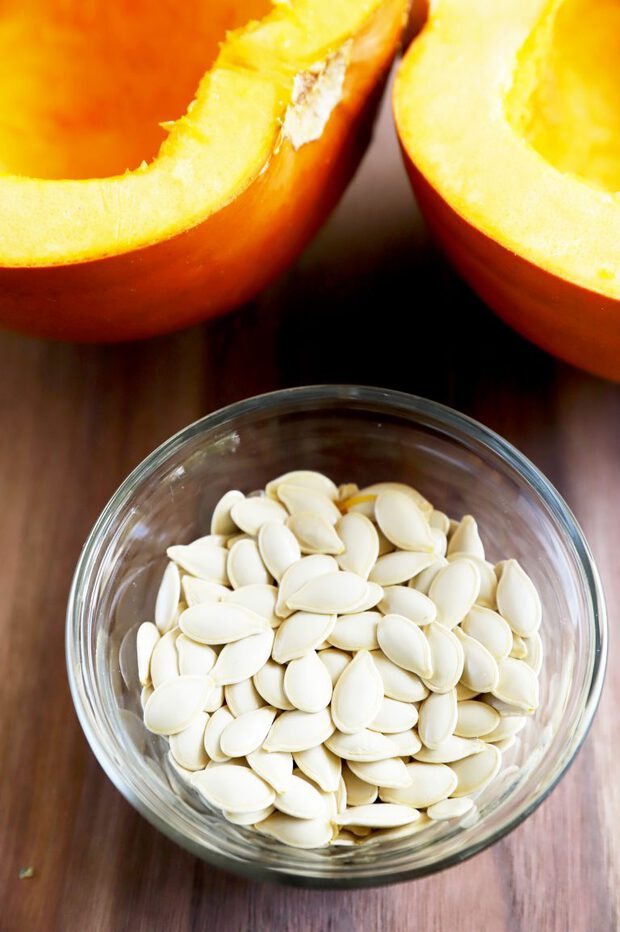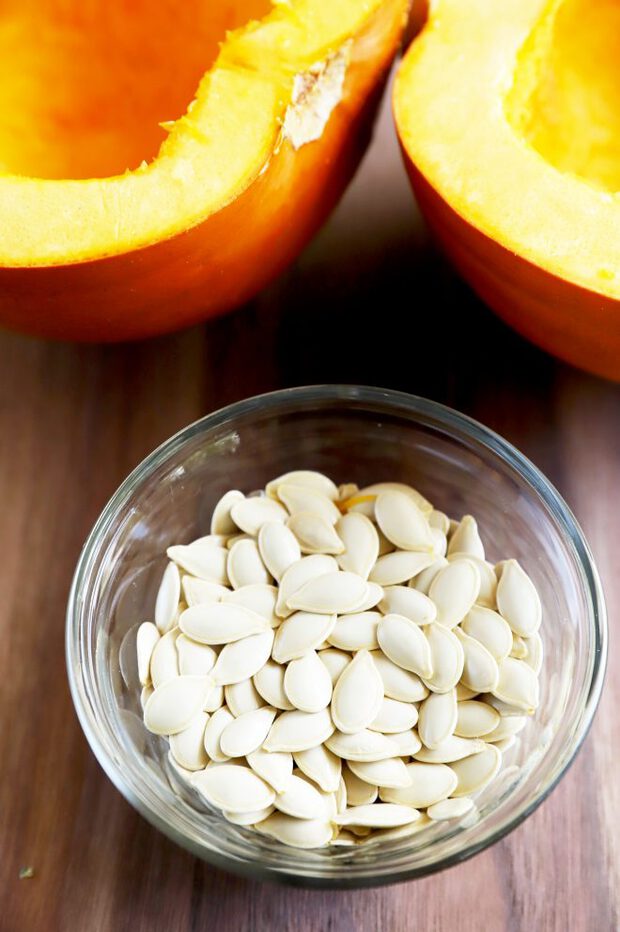 Remove Seeds and Fibers
Now that the pumpkin is halved, remove all the seeds and fibers in the center. I like to use a grapefruit spoon for this, because the sharp edges really clean the pumpkin out nicely. However, you can also use a regular spoon for this and it'll get the job done.
Be sure to save the seeds! All you have to do is remove them from the fibers and give them a good rinse in cold water. Then you can make toasted pumpkin seeds (aka my fave fall snack!).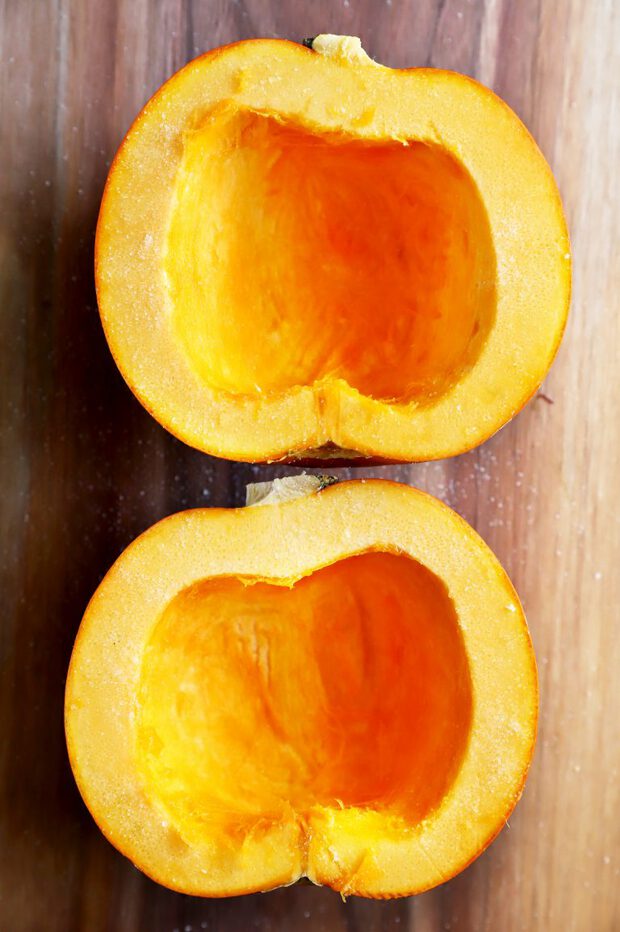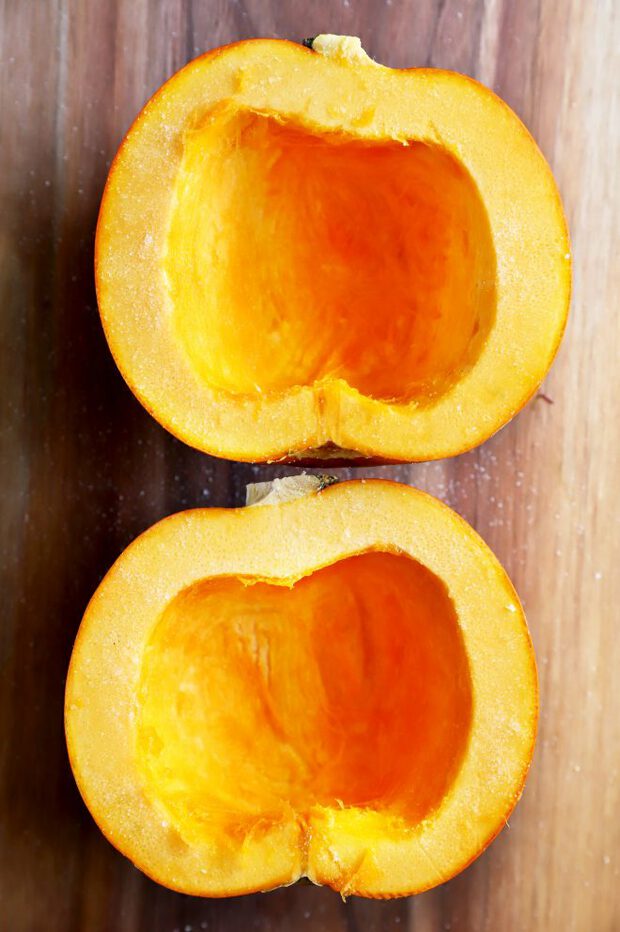 Season
Sprinkle both halves with salt evenly and place cute side down onto a prepared baking sheet.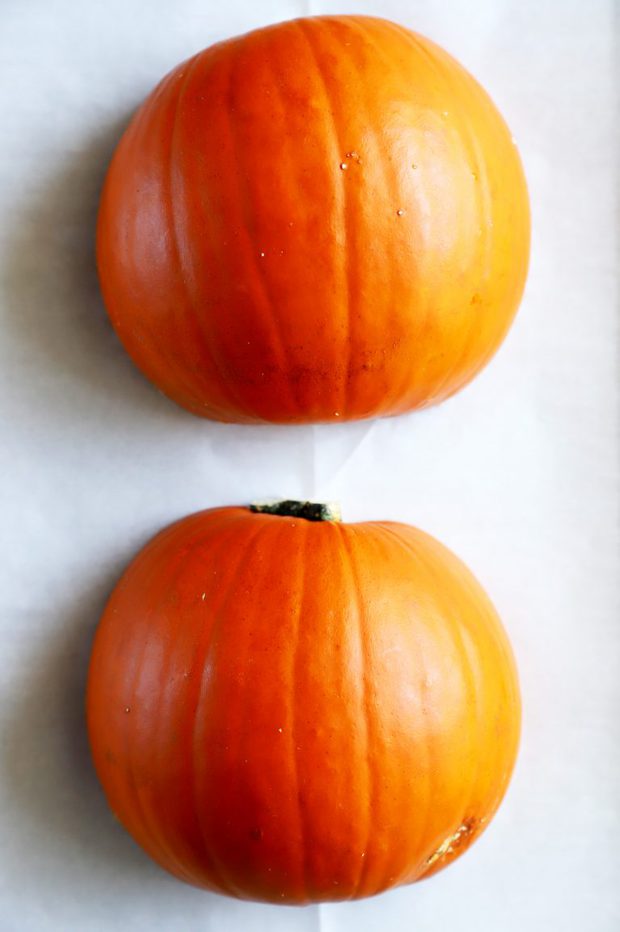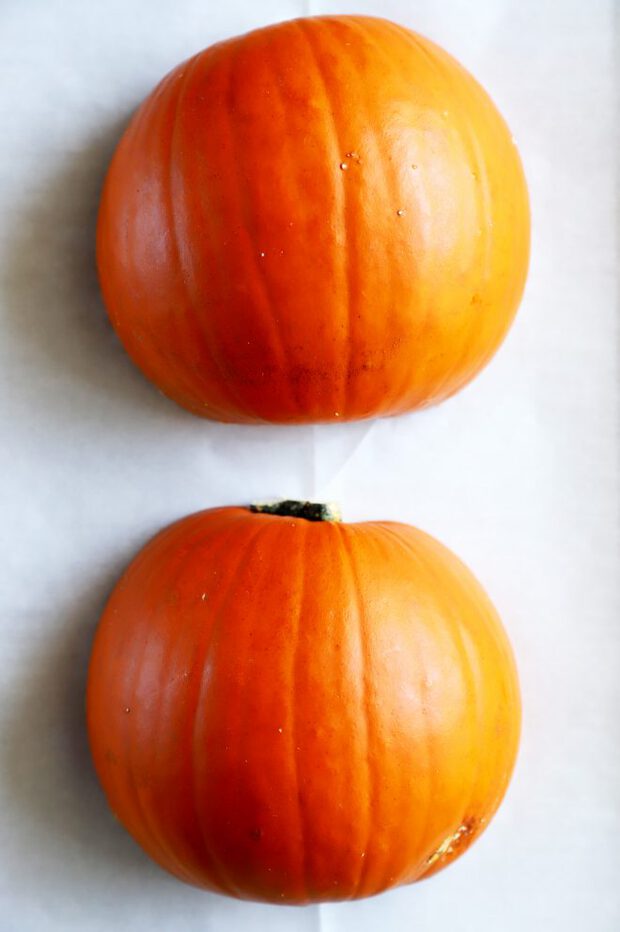 Bake
Add the baking sheet to the oven and bake for about 30 to 45 minutes. You will know when the pumpkin is done when the flesh is easily pierced with a fork.
Remove the pan from the oven and let it cool for at least an hour before moving onto the next step.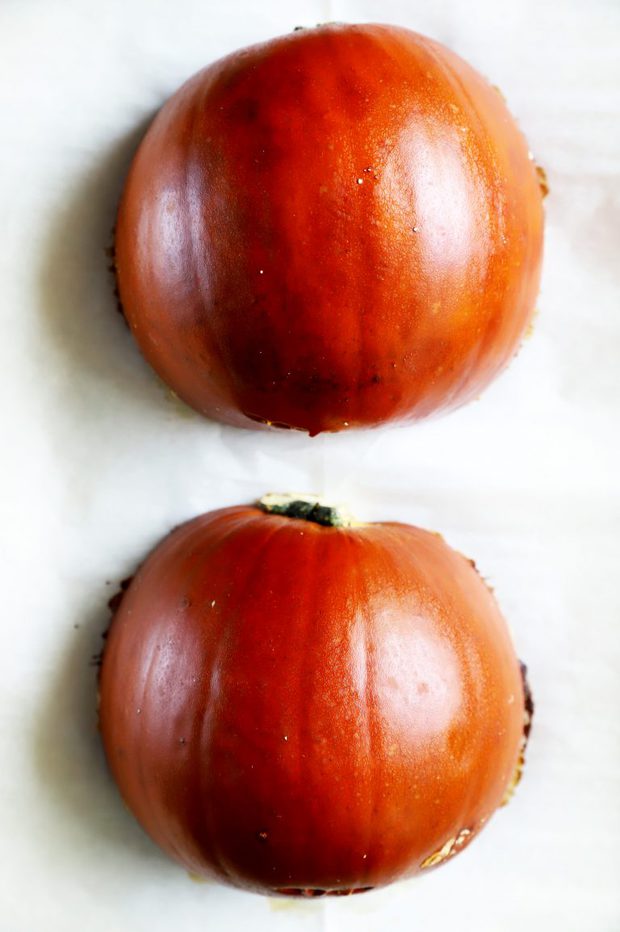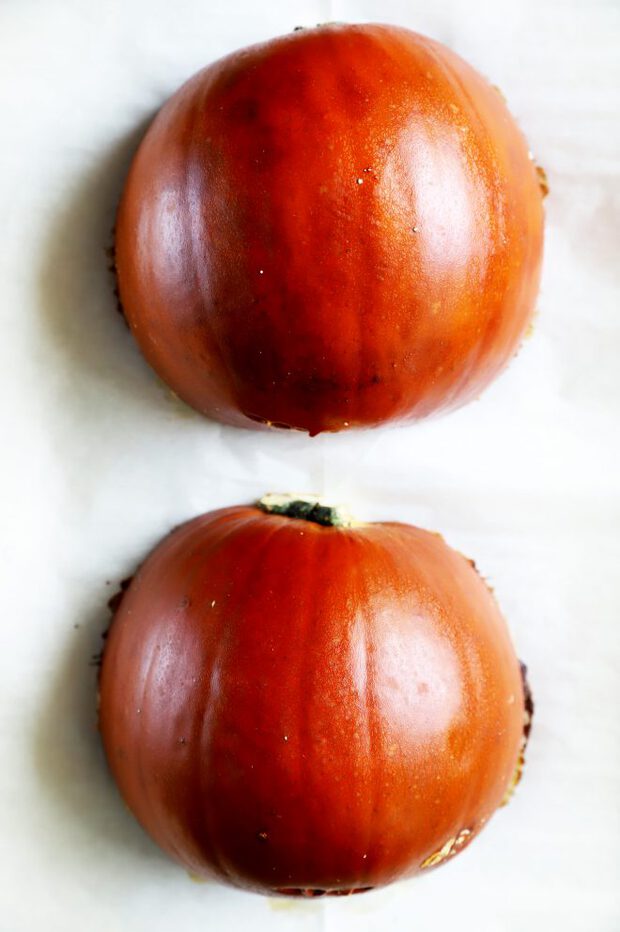 Remove Flesh
Once your pumpkin has cooled, grab a big spoon and scoop out the flesh of the pumpkin into a food processor. Make sure you get all the flesh out of the skin – you don't want to leave any behind!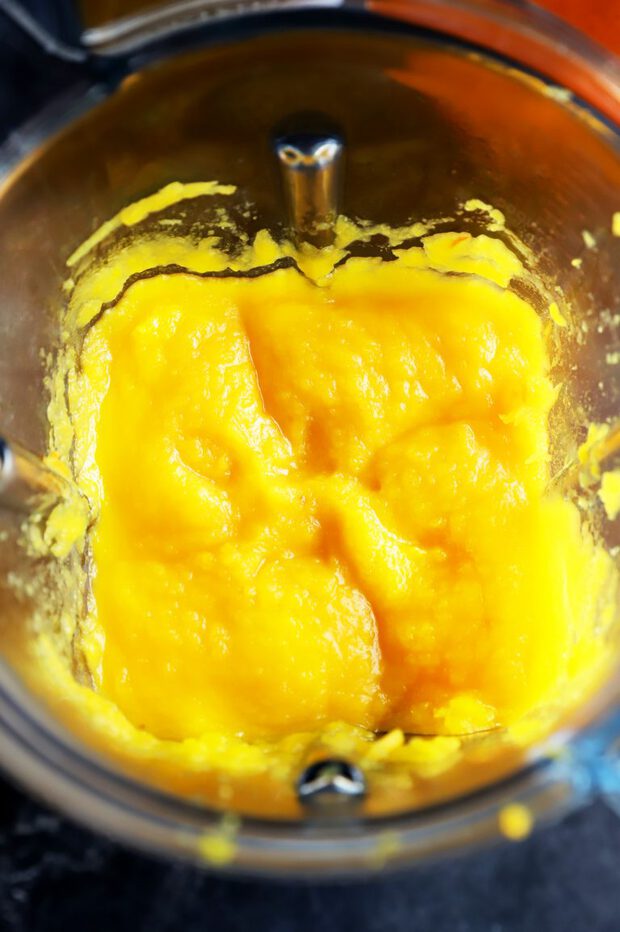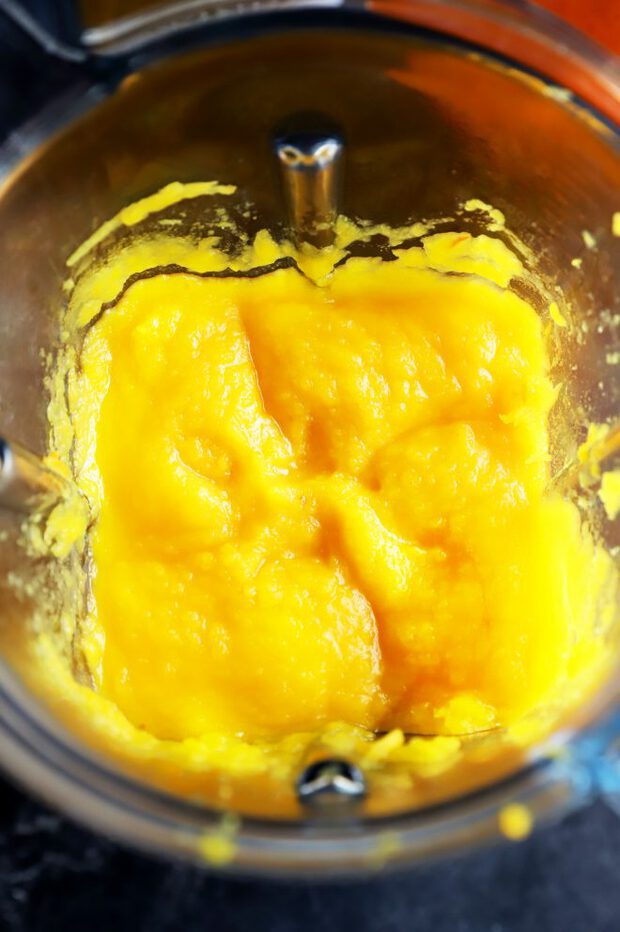 Puree
Process the pumpkin until it is nice and smooth. This takes about 4 minutes on medium-high speed.
Note that you can also use a high power blender like a Vitamix for this step. You may need to scrape down the sides as you go to make sure it all gets pureed evenly if you are using a blender.
Store the puree in an airtight container and use however you like!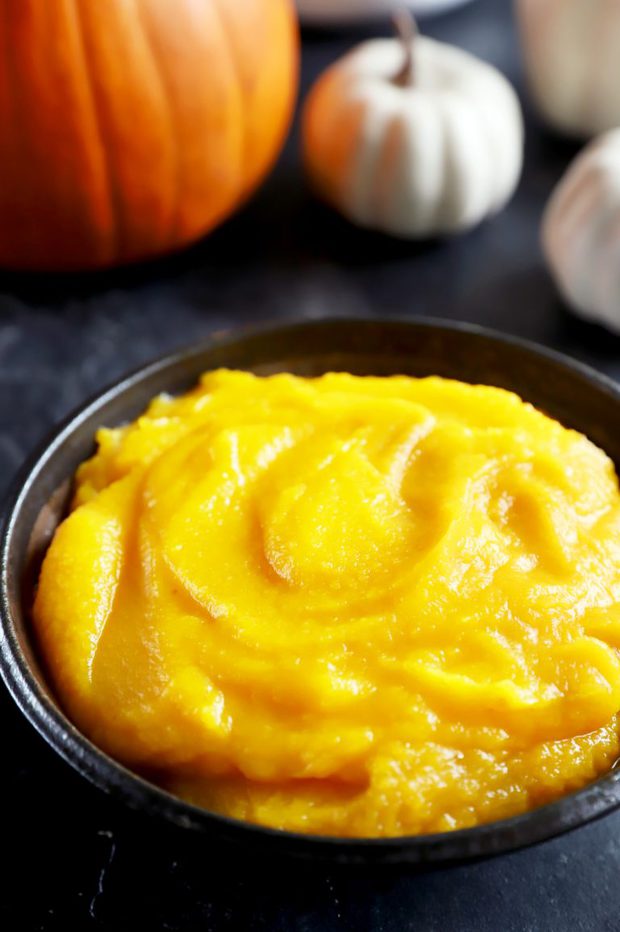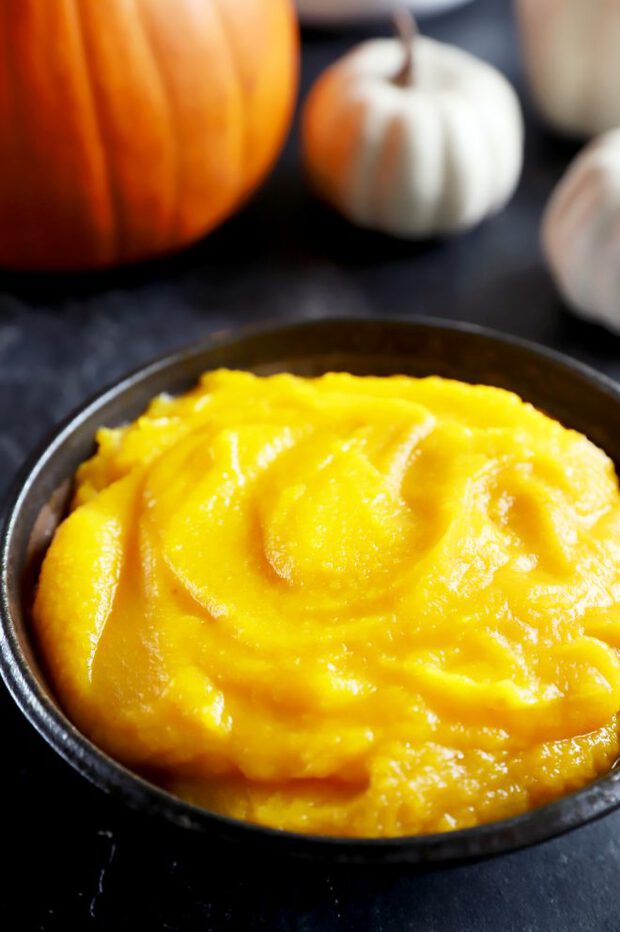 How do I store pumpkin puree?
To properly store your pumpkin puree, make sure you cool it to room temperature before adding it to an airtight container. You can store it in an airtight container for up to 1 week in the refrigerator.
Can I freeze pumpkin puree?
Yes you can! Cool the puree to room temperature and place in an airtight container or in a sealable freezer bag. Pumpkin puree can be frozen for up to 3 months, so you can make it now and have it all ready for your Thanksgiving recipes next month!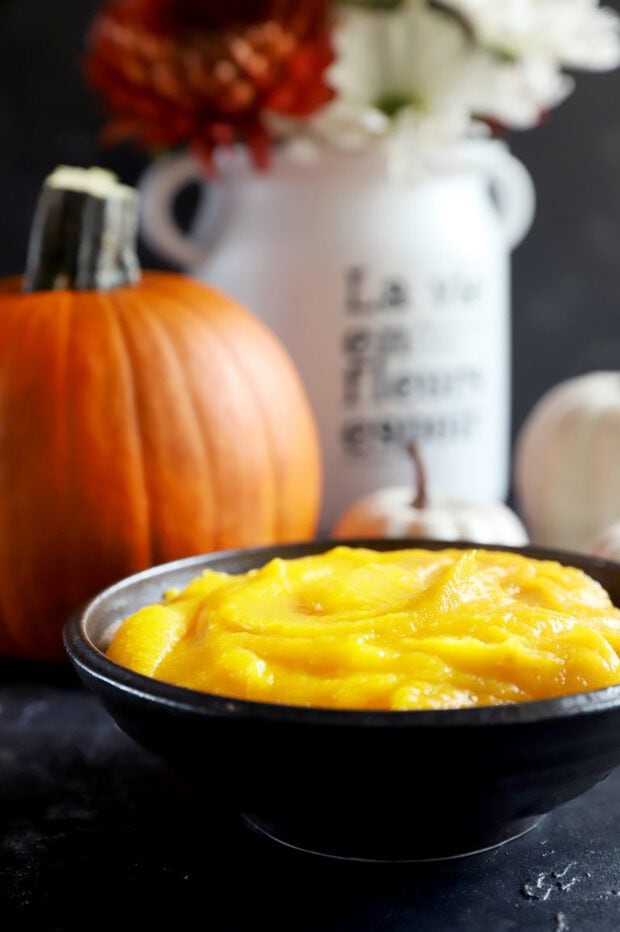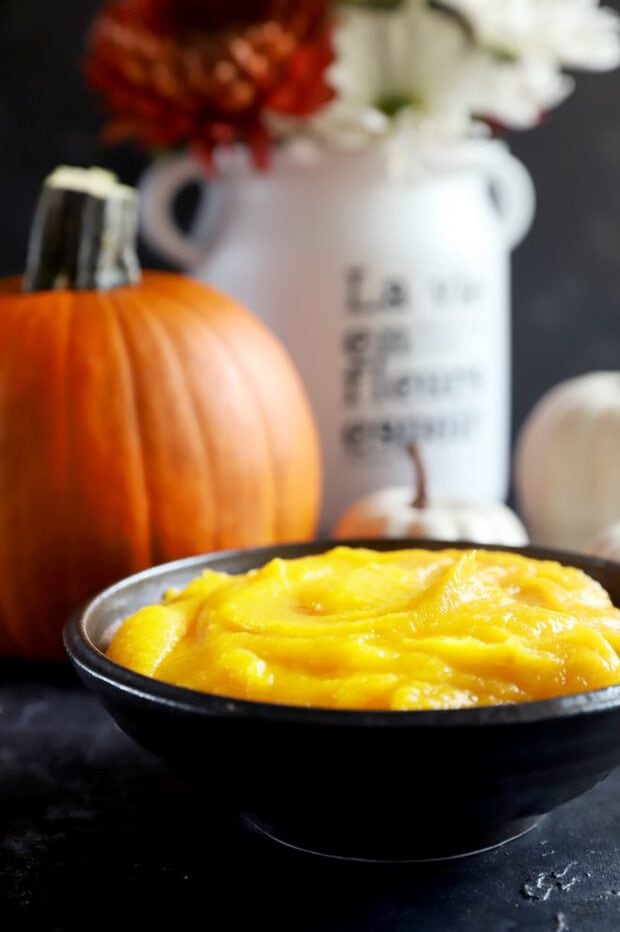 What recipes can I use pumpkin puree in?
Oh boy, there are SO MANY recipes to use pumpkin puree in! Check out the following recipes:
Pumpkin Banana Bread with Nutella Swirl
Slow Cooker Pumpkin Turkey Chili
Bourbon Hot Chocolate with Pumpkin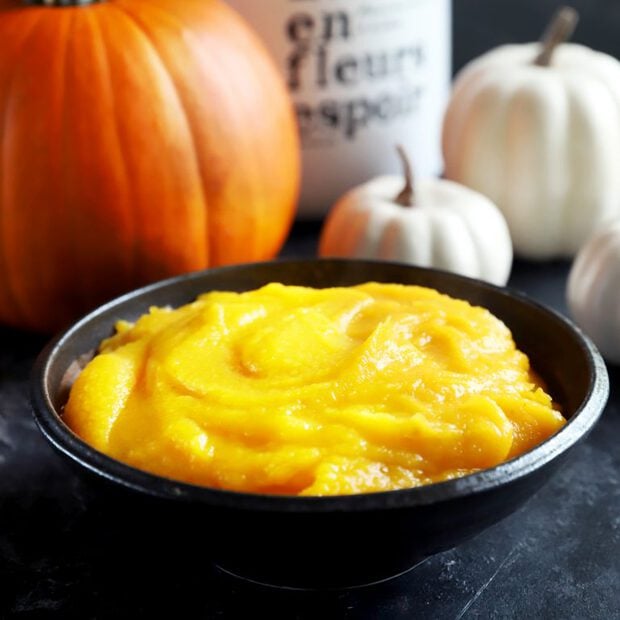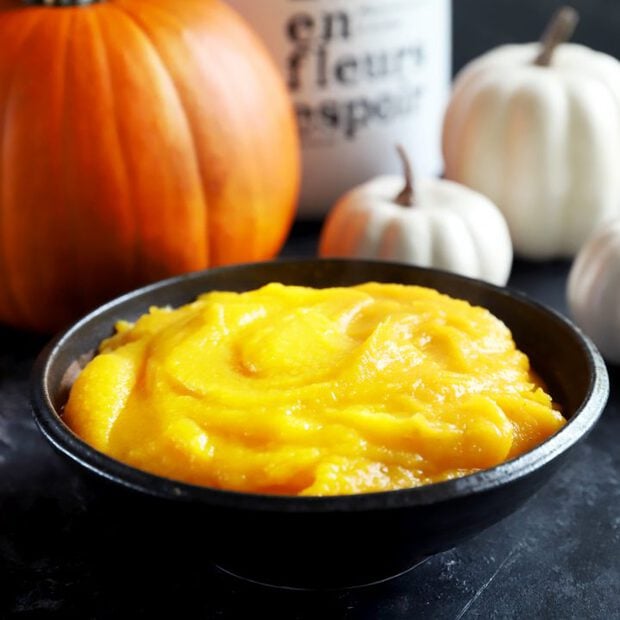 How To Make Pumpkin Puree
Yield:
Makes about 2 to 3 cups
Ditch the can and make your own pumpkin puree for all your fall cooking and baking!
Ingredients
1 4 to 6 pound baking pumpkin
1 tsp salt
Instructions
Preheat oven to 400˚F. Line a baking sheet with parchment paper. Set aside.
Remove stem from the pumpkin and split in half from top to bottom.
Remove seeds and fibers with a spoon. Reserve the seeds for later use!
Sprinkle both halves with salt, then place cut side down on the prepared pan.
Cook for 30 to 45 minutes. The pumpkin is done when a fork pierces the flesh easily.
Remove from oven and cool pumpkin on the sheet for later use.
Use a spoon to scoop out the flesh. Add flesh to a food processor, process on high until smooth, about 4 minutes.
Store in an airtight container in the refrigerator for up to 1 week. Puree can also be frozen for up to 3 months.
Recommended Products
As an Amazon Associate and member of other affiliate programs, I earn from qualifying purchases.