Please note this post contains affiliate links.
Tear Apart Sourdough Holiday Cheese Dip is the gooey, blissful combination of Cache Valley® Colby & Monterey Jack, fresh herbs, and warming spices that will be the centerpiece of your upcoming holiday gathering. It's cheese, a little spice, and everything sinfully nice. Plus, the whole recipe comes together in a little over 30 minutes!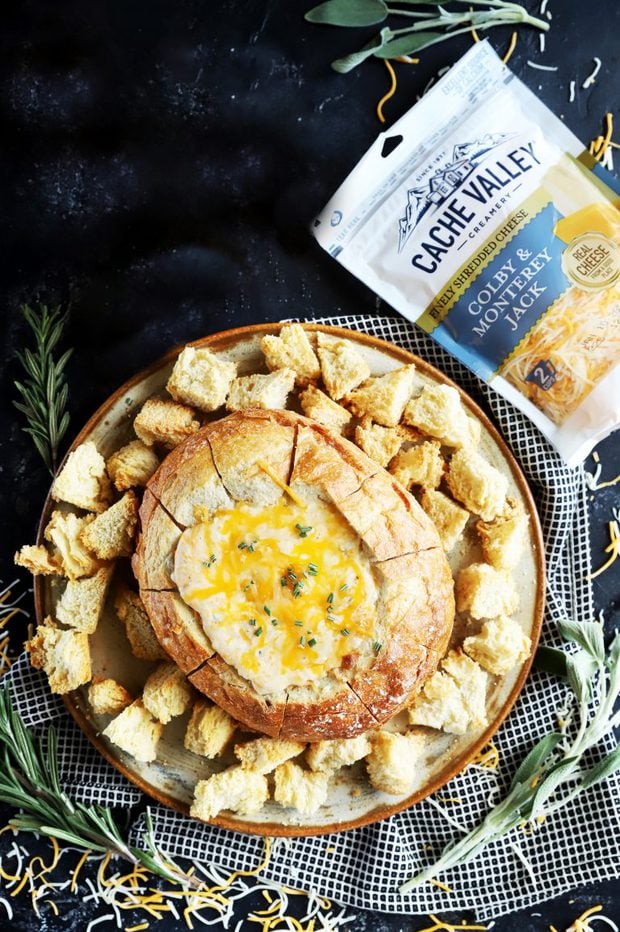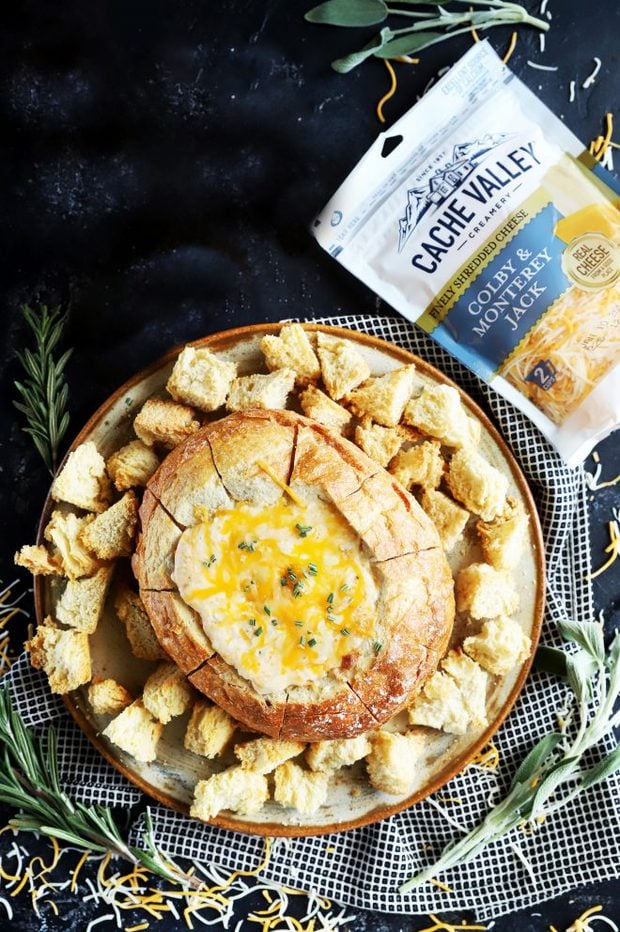 This post has been sponsored by Dairy Farmers of America . All thoughts and opinions are my own.
If there's anything I love about the holidays, it's gathering everyone I know and love around lots and lots of amazing FOOD.
Whether it's a party that I'm hosting or an impromptu girls night to relieve the stress of the holidays, there's something about sharing some downright tasty nosh with others that makes for some seriously special memories (especially when surrounded with seasonal decor and wistful holiday music… hey, are you surprised? I am a sucker for this time of year and you all know it!).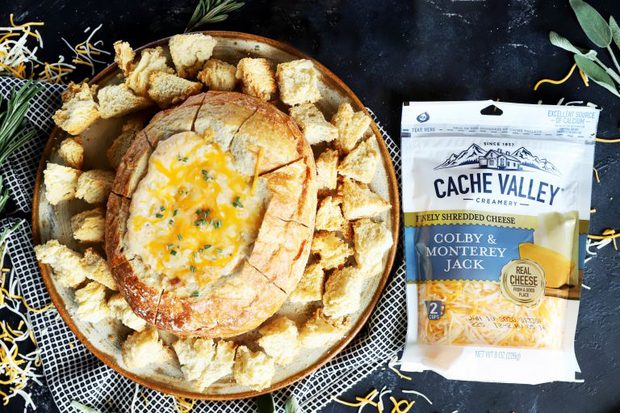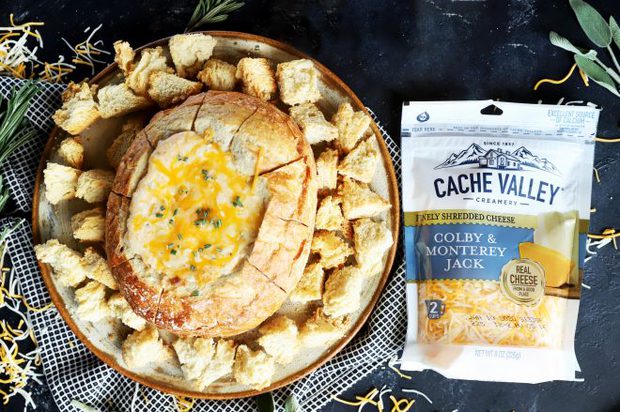 Click below to get $2.00 off TWO (2) Cache Valley Cheese Shreds at Safeway! (11/18-12/31)
So obviously, this tear-apart sourdough holiday cheese dip recipe is the one to have in your back pocket throughout the season. It's such a stinking easy recipe to make and it is so flavorful!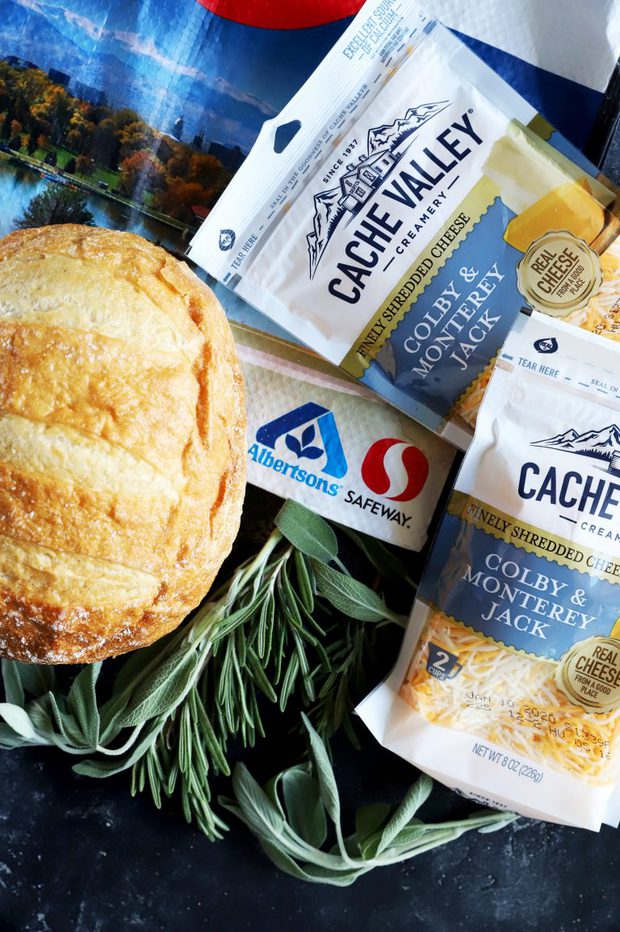 I mean, I feel like we can all get behind a gooey cheese dip, but especially so when there are Cache Valley Shreds involved. Now, you all know I have introduced you to Cache Valley Creamery before. They make the BEST cheese that's not only flavorful and extra creamy but it also has a ton of protein, calcium, and it melts like a downright dream.
That's why the Cache Valley® Colby & Monterey Jack is ideal for this cheese dip! It gives an extra level of creamy richness to the cheese dip and when combined with fresh herbs, spices, and a touch of hot sauce… Oh baby, this recipe shouts how wonderful it is from the rooftop of your taste buds!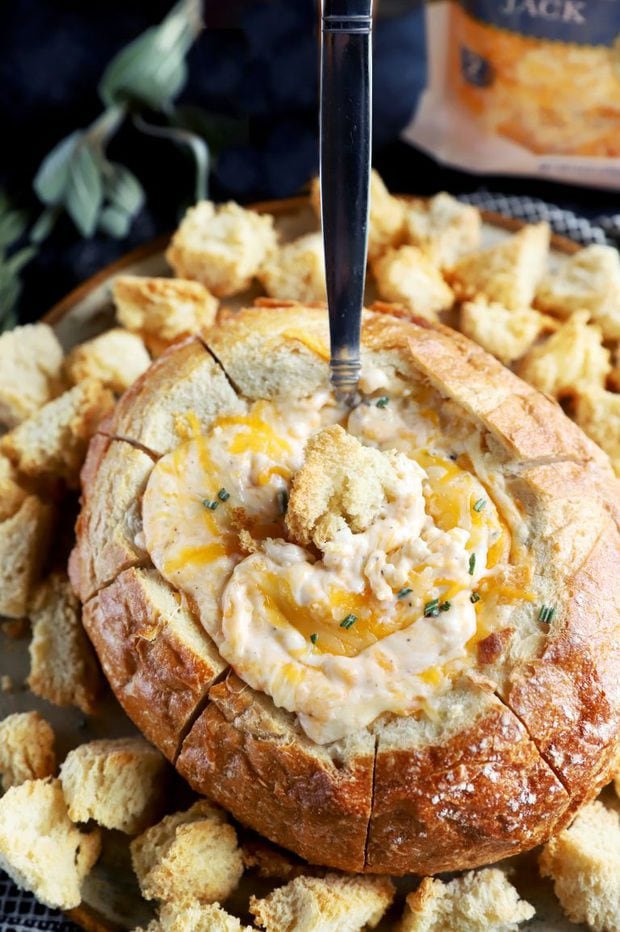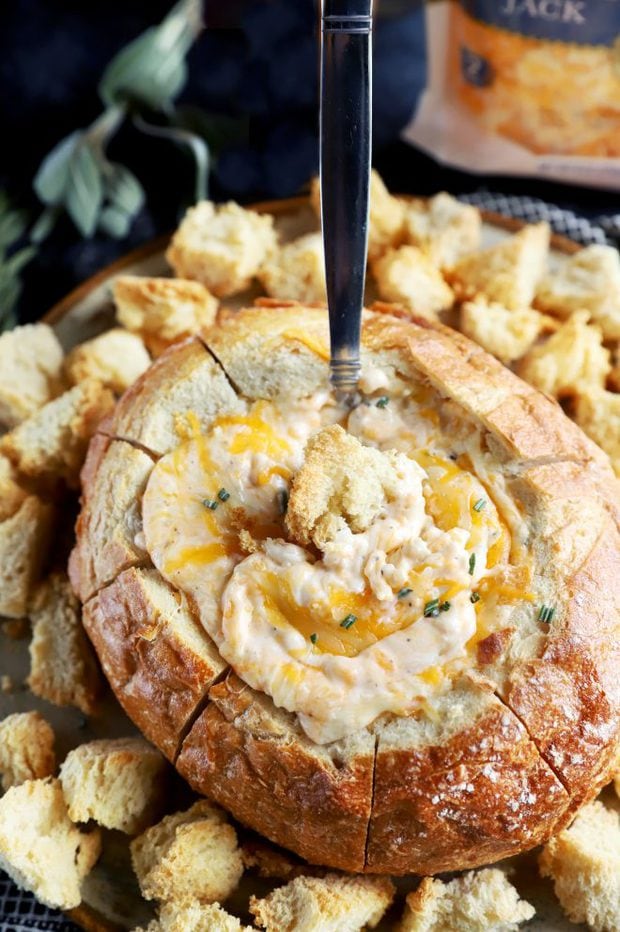 When you head to the cheese area of your local Safeway, definitely make sure to try Cache Valley Creamery out if you haven't already. All of their products, including the Cache Valley Shreds, make for a great addition to any holiday recipe you have planned. You can get excited about serving it up at your holiday events—not only because the ingredients are wholesome and straightforward but also because the brand itself is all about dedicating itself to communities and families.
Now if that isn't representing the true holiday spirit, what else is?
this recipe's must-haves
One of the more important tools for making this cheese dip is a bread knife to cut the bread bowl with.
To make the dip itself, you will also need one of your mixing bowls to stir everything together.
Finally, have a half sheet baking pan ready to bake the bread bowl and bread bites up on!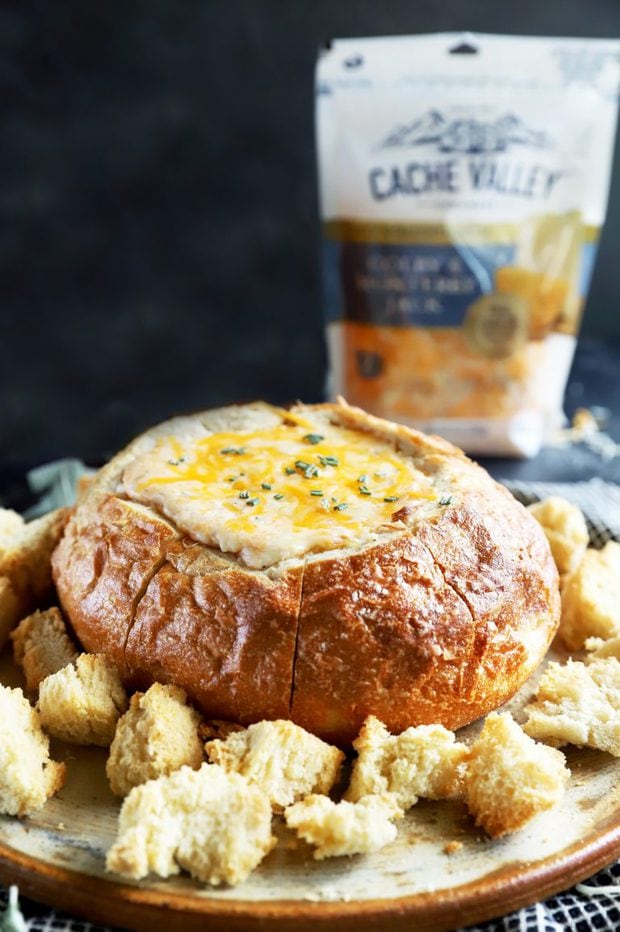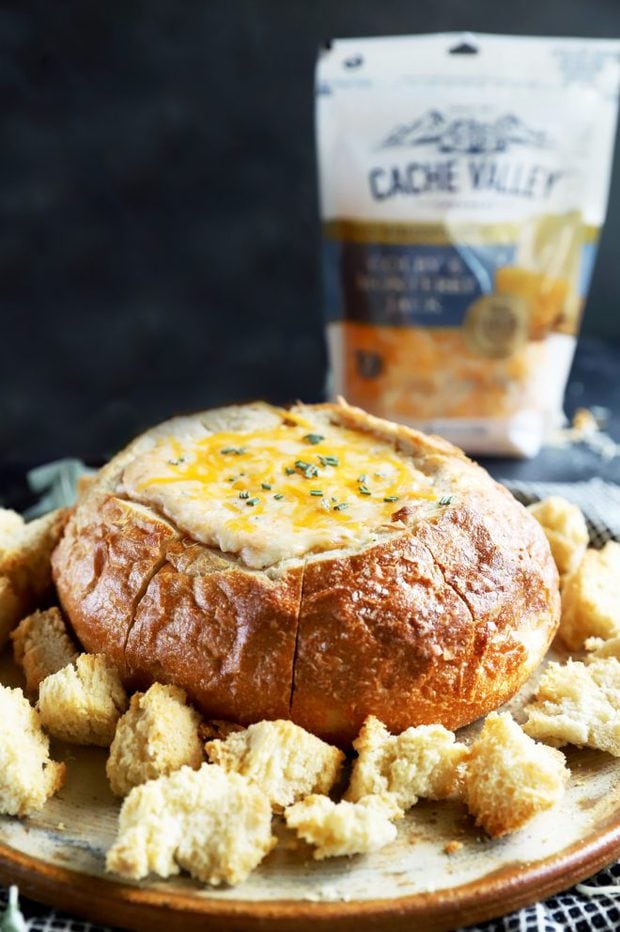 How To Make This Tear-Apart Sourdough Cheese Dip
Prep The Bread
First, you prepare the sourdough boule. Making the bread easy to pull apart is something you want to do before you add the cheese dip in the center and bake it up so it's all gooey.
To start, you remove the top of the boule. Then, you dig out the bread inside—making sure that you leave a solid border all around. You don't want to remove too much bread from the interior or it will all fall apart.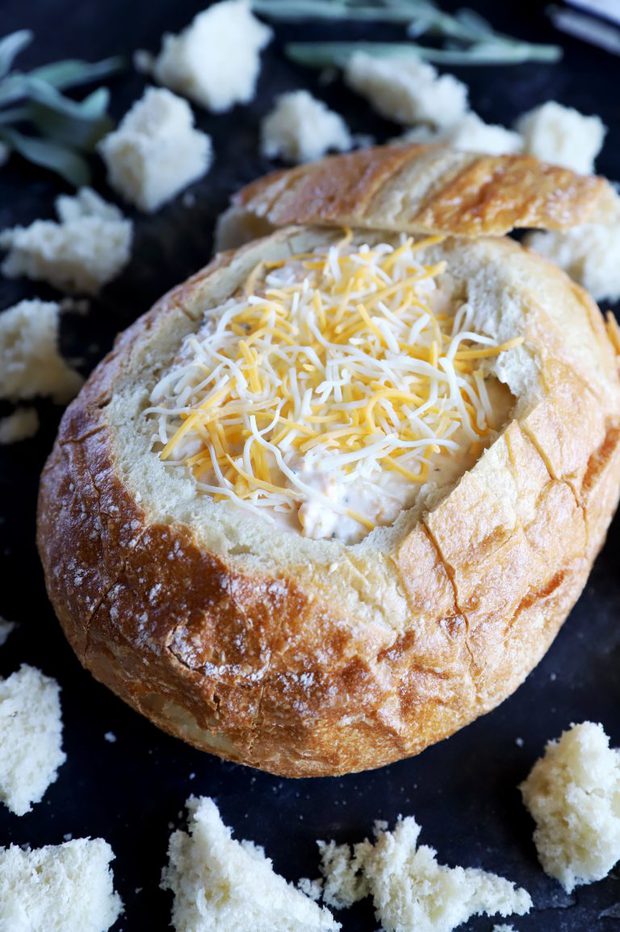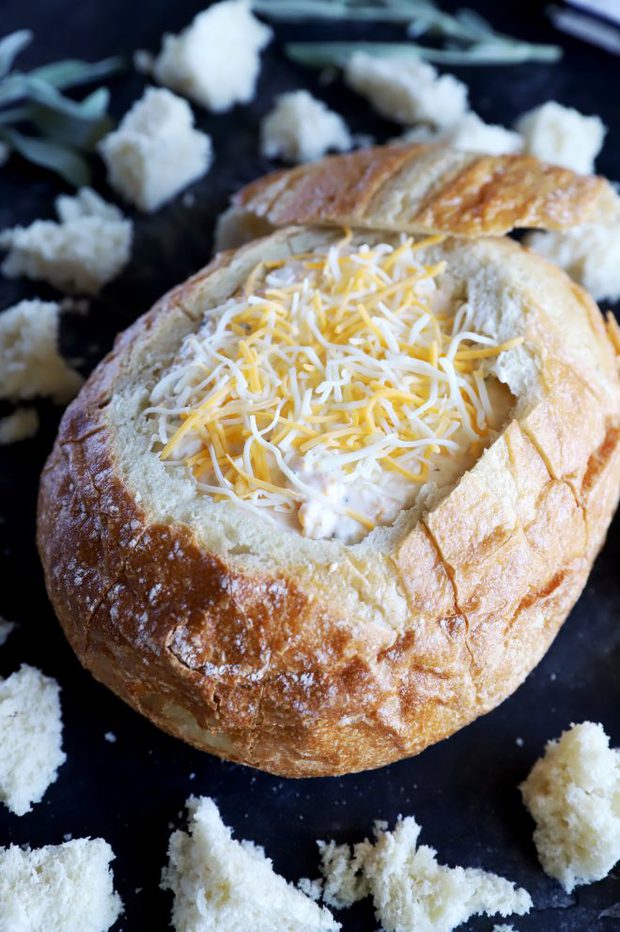 That interior bread gets cubed up and will be used later for dipping!
The final step is to slice the bread bowl itself with slits spaced apart evenly and cut down about 3/4 of the way into the loaf. Just don't pull these sections apart before baking! Simply slice them and leave them as is. It'll all stay together when it bakes, I promise.
Make The Dip
The dip is essentially mixing everything together in a bowl. Once it's all smooth and creamy, you add it to the prepared bread bowl!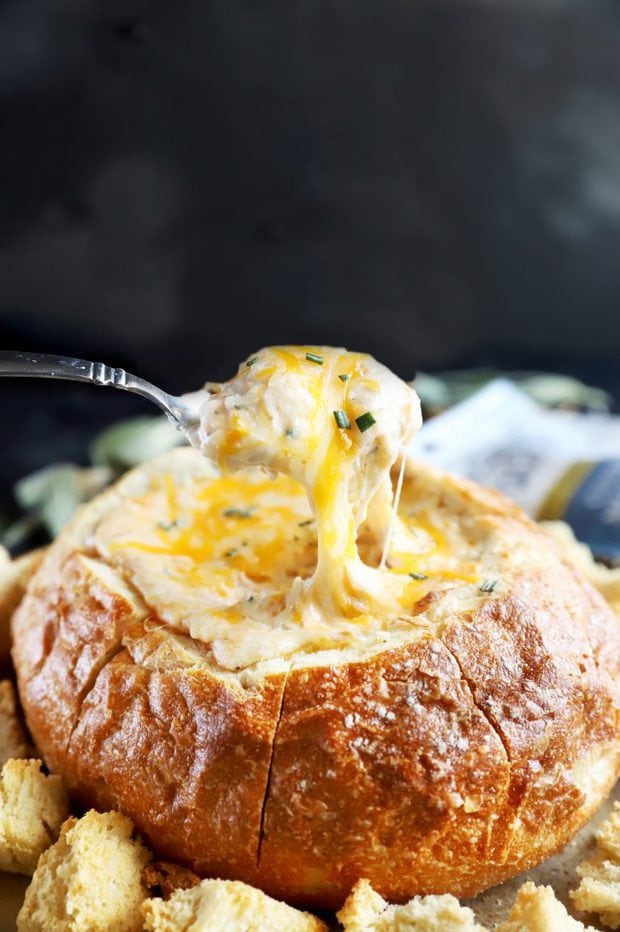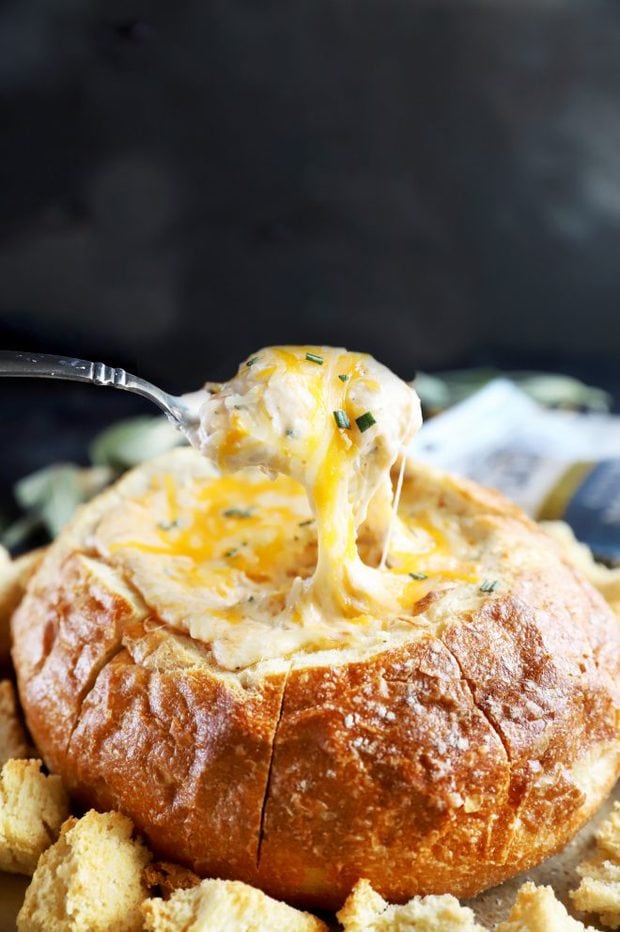 Bake
Bake up the cheese dip in the bread bowl until it's nice and creamy. At the same time, you bake up the bread cubes so they get all golden brown and crispy.
want more holiday appetizers? check out the following:
Bite-Sized Baked Bacon Brie Pockets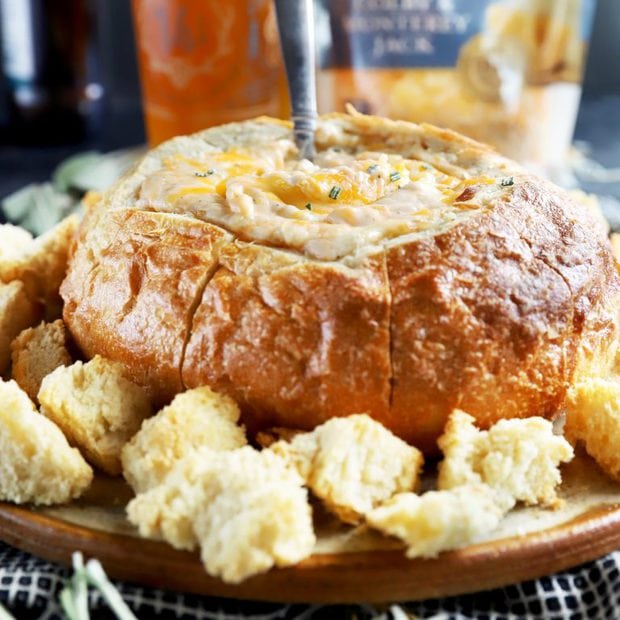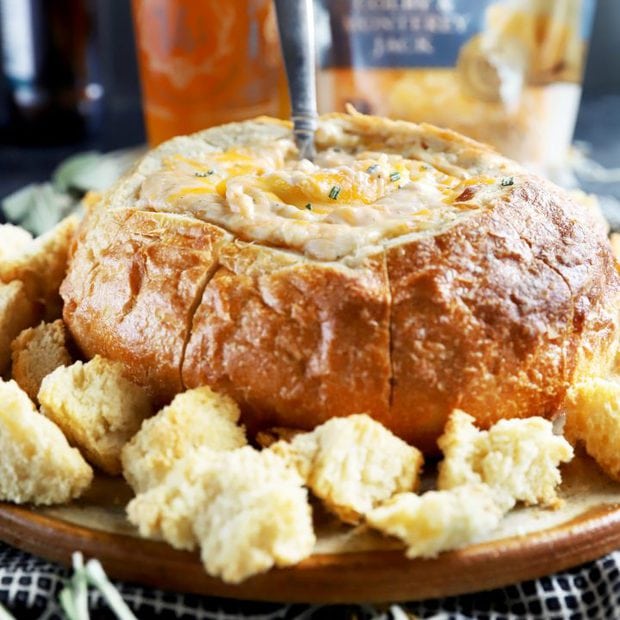 Tear-Apart Sourdough Holiday Cheese Dip
A gooey, blissful combination of cheese, fresh herbs, and warming spices that will be the centerpiece of your upcoming holiday gathering.
Ingredients
1 sourdough bread boule
8 oz cream cheese, softened
2 3/4 cups Cache Valley® Colby & Monterey Jack shredded cheese
1/2 cup low fat milk (skim or 2%)
1 tsp garlic powder
1 1/2 tsp freshly chopped rosemary + more for garnish
1 tsp freshly chopped sage
1/2 tsp hot sauce
1/2 tsp black pepper
1/4 tsp ground cloves
Instructions
Preheat oven to 350˚F. Line a baking sheet with parchment paper or a silicone mat.
Remove the top of the sourdough boule, making the top about 1 inch thick. Remove the center of the bread boule, leave a thick edge inside. Roughly chop the interior bread into small pieces. Set aside for a moment.
Slice bread around the edge of the bowl, making slices spaced about 1 1/2 inches apart. Cut only 3/4 of the way down, not all the way through.
In a medium bowl, stir together cream cheese and 2 1/2 cups shredded Cache Valley® Colby & Monterey Jack cheese until combined. Stir in milk, garlic powder, rosemary, sage, hot sauce, black pepper, and cloves until combined.
Add the cheese mixture to the boule, then sprinkle the top with the remaining 1/4 cup Cache Valley Finely Shredded Colby & Monterrey Jack Cheese. Top with the top piece of bread.
Place on the baking sheet along with the roughly chopped bread pieces.
Bake for 20 to 25 minutes until warmed through and gooey. The bread pieces should be toasted as well.
Garnish with a little chopped rosemary and serve with toasted bread pieces.