Cranberry Pomegranate Champagne Mule is a crisp and refreshing way to ring in the New Year! Bubbly champagne brings this twist on a Moscow Mule to life, so it's the ideal festive cocktail to serve up at your New Year's Eve bash.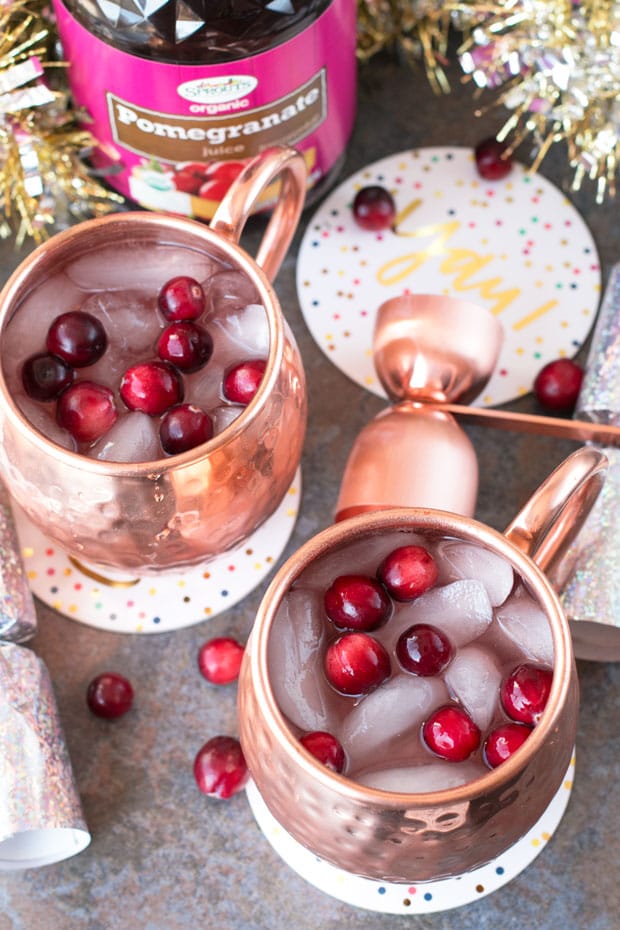 The world seems to know that I have an obsession with Moscow Mules because those copper mule mugs keep floating into my life in one way or another.
I think it's just a sign that I need to keep creating new twists on the classic recipe, which is exactly what I've done here to ring in the New Year with.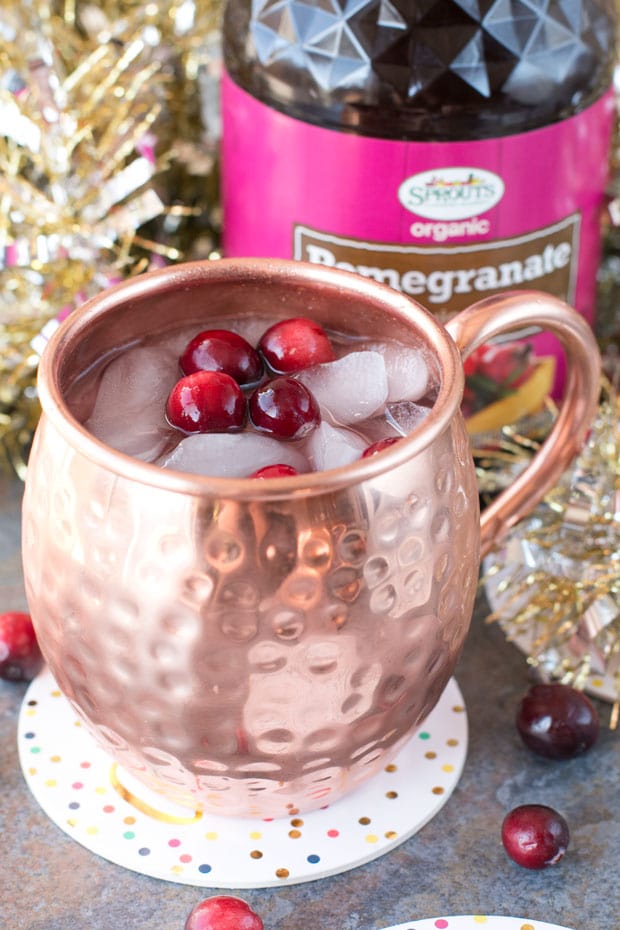 A chilled glass of champagne in hand as the ball drops is an image I've had in my head since I was a child.
Back when my parents went to insane parties that my friends and I would spy on, I just remember the popping of bottles and clinking of glasses as the countdown began.
When Sprouts asked me to think up a cocktail to say goodbye to 2016 with, I knew I had to do something with champagne.
Champagne just represents festive fun in my head, and what's more festive than ringing in a whole new year of possibility?!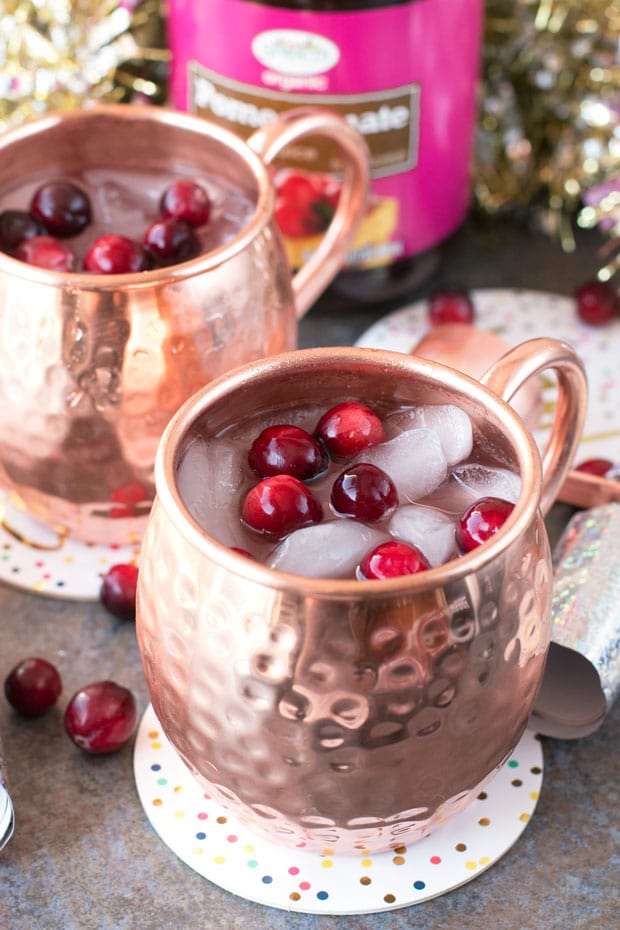 Pomegranates and cranberries are a huge part of this time of year, from flavor profiles to the symbolic nature of the pomegranate itself (Greeks smash the pomegranate at New Year's Eve and the more seeds that pop out, the luckier the year will be – something I picked up in Greece 😉 ).
I incorporated the delicious and extremely flavorful Sprouts Pomegranate and Cranberry juices to really maximize the flavor of this mule.
Both fruity juices pair so wonderfully with the fresh muddled ginger!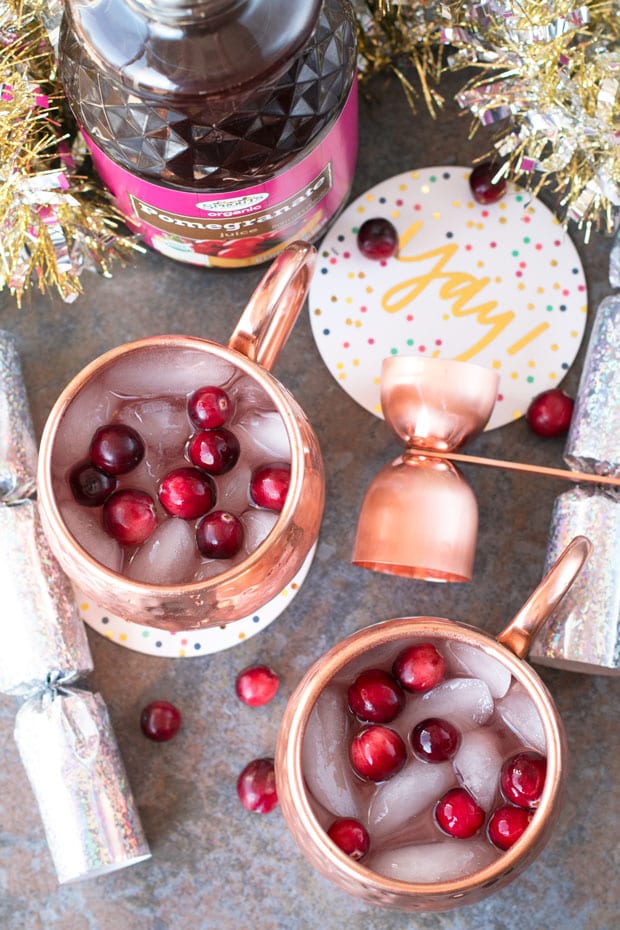 You get acid and bite from each sip, as well as some bubbly sweetness from the champagne.
My mouth is watering as I write this… I think it might be one of my top cocktails of the entire year…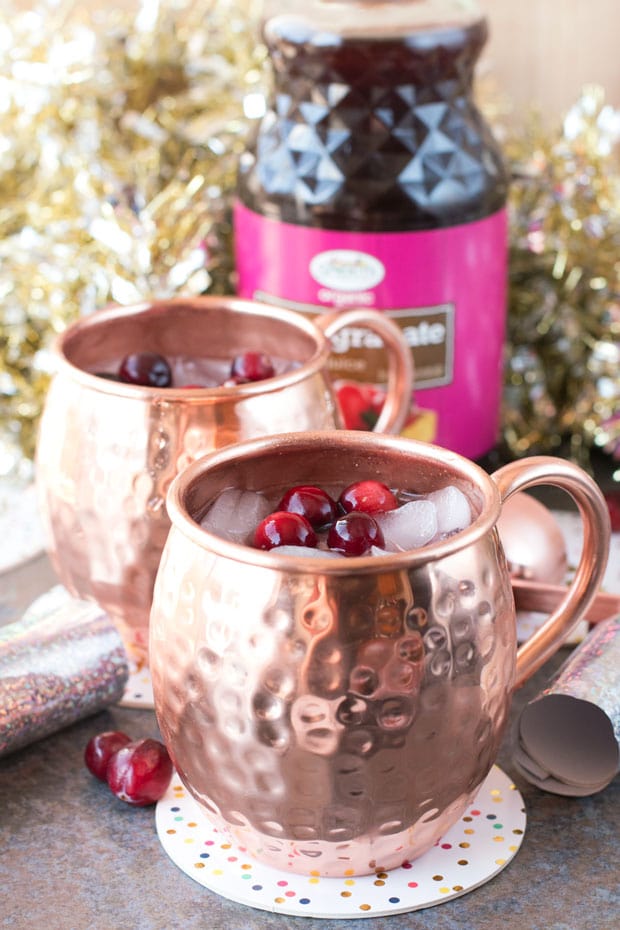 Disclosure: I received free product from Sprouts as part of this post. As always, all opinions and recipe are my own. Thanks for supporting the brands that support Cake 'n Knife!
This Recipe's Must Haves
Pin this Cranberry Pomegranate Champagne Mule recipe for later!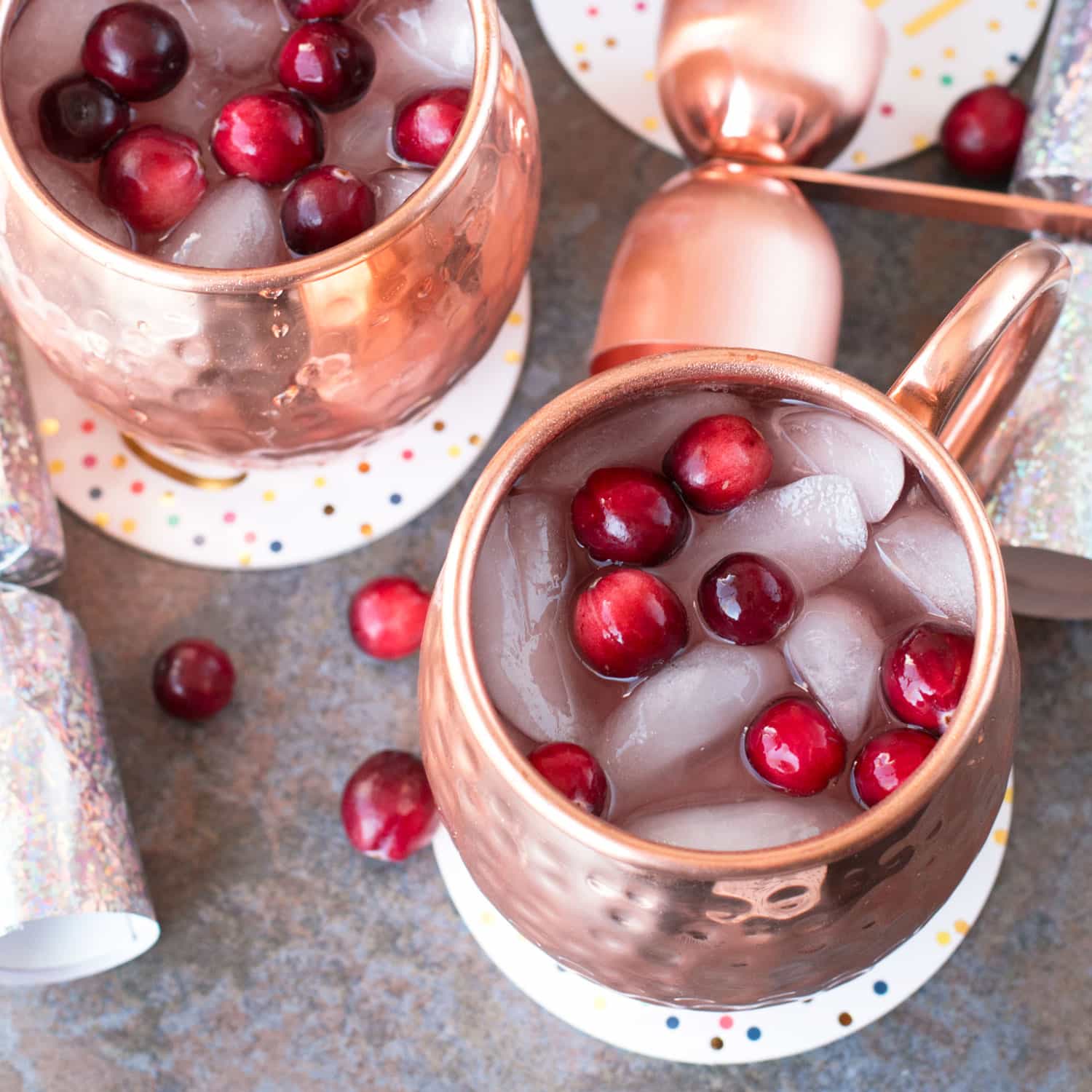 Cranberry Pomegranate Champagne Mule
The festive bright cranberry and pomegranate mixture pairs perfectly with the fresh ginger and champagne in this cocktail!
Ingredients
1/2-inch piece of ginger, peeled and sliced
1/4 oz Sprouts Cranberry Juice
1/4 oz Sprouts Pomegranate Juice
1/4 oz lime juice
2 oz vodka
Champagne
Cranberries
Instructions
In a shaker, muddle ginger with cranberry juice, pomegranate juice and lime juice.
Add vodka and fill the shaker with ice. Shake until chilled.
Strain into a copper mug and top with champagne. Garnish with fresh cranberries.